A dream so a blackberry Chia jam! why? Because it is so easy to make. I am currently addicted to the harvest madness, because our blackberry bushes give just once again everything. There are so many berries that I have already begged friends and acquaintances to come. Unfortunately, we don't have a large freezer, so I either have to process them fresh or give them away. When you consider that organic berries cost up to five euros in the supermarket, then you realize the value that hangs around in the garden. I will come up with some more in the next few days and if you are from near Regensburg, feel free to drop by and get some for free Blackberries .
Vegan berries jam … a dream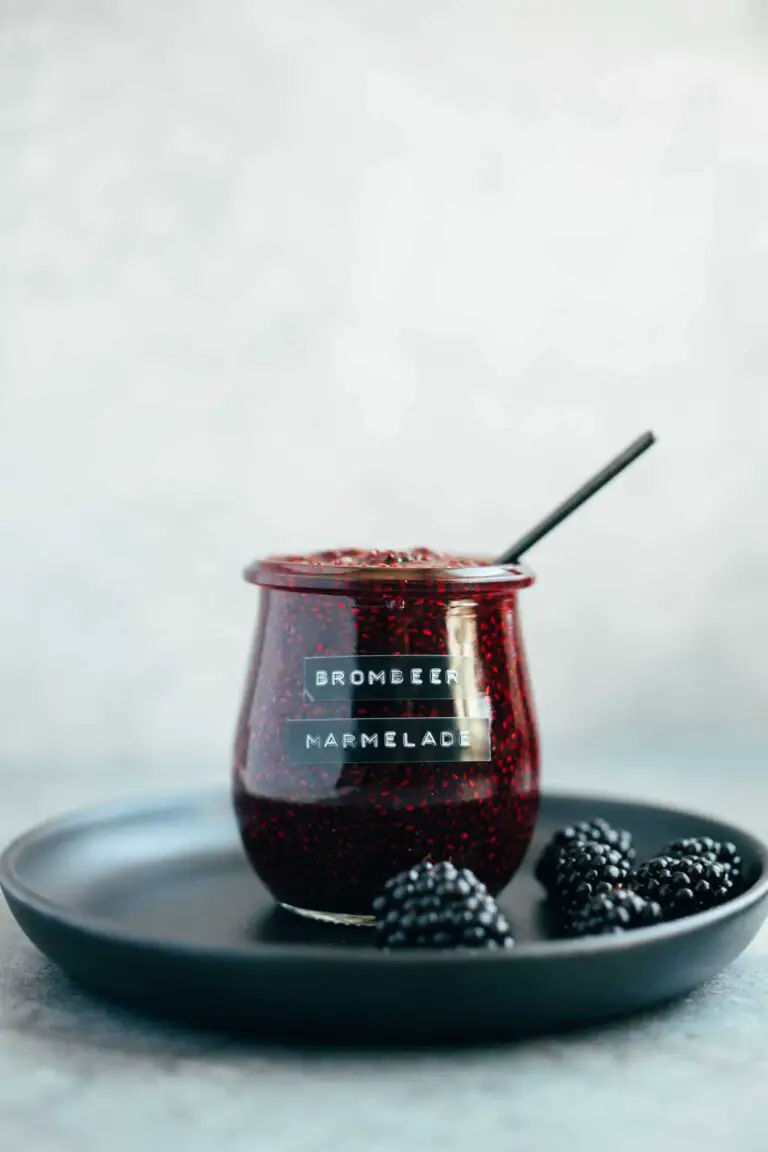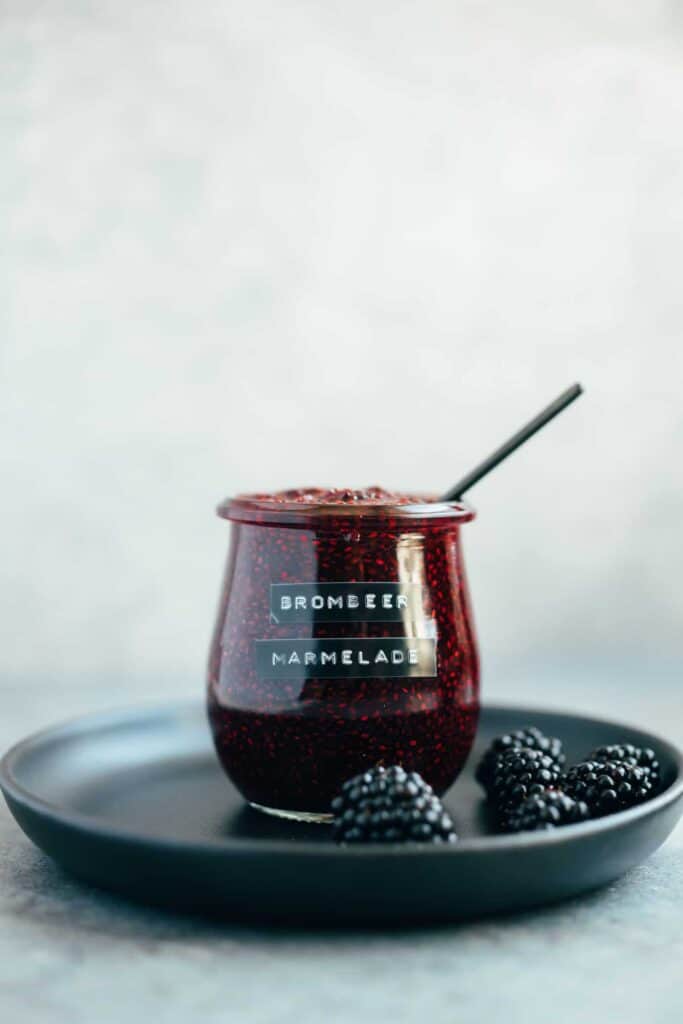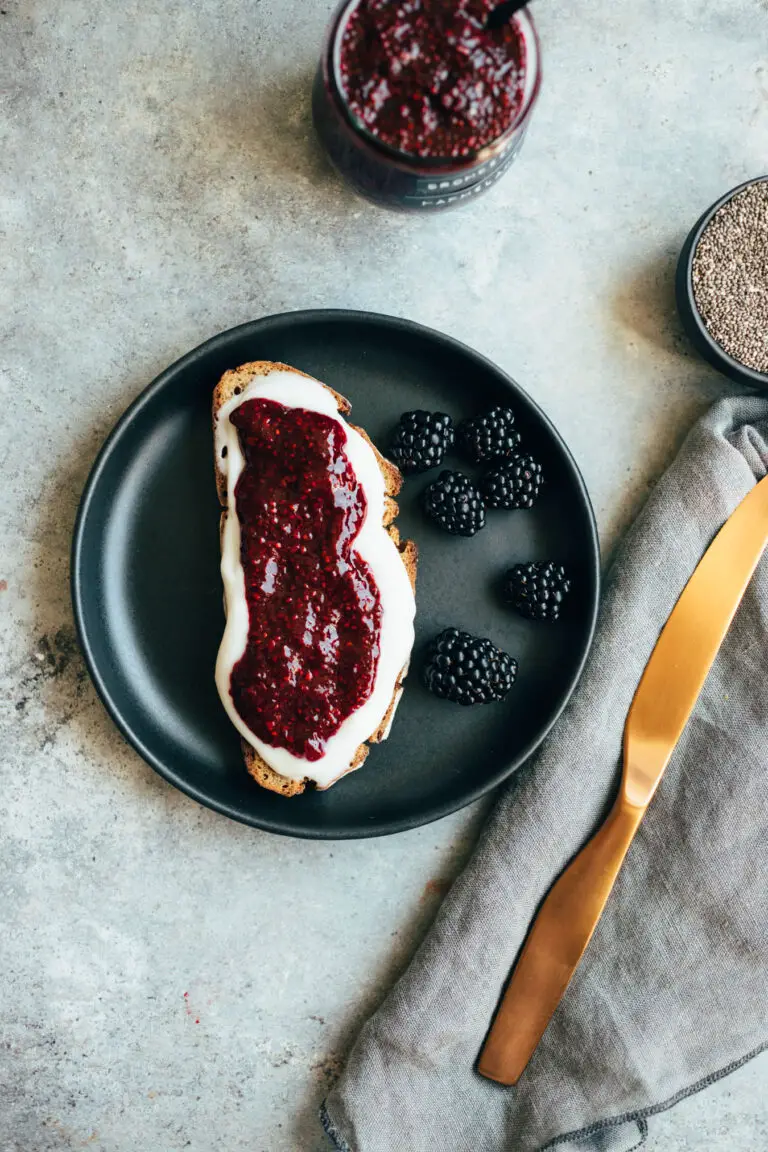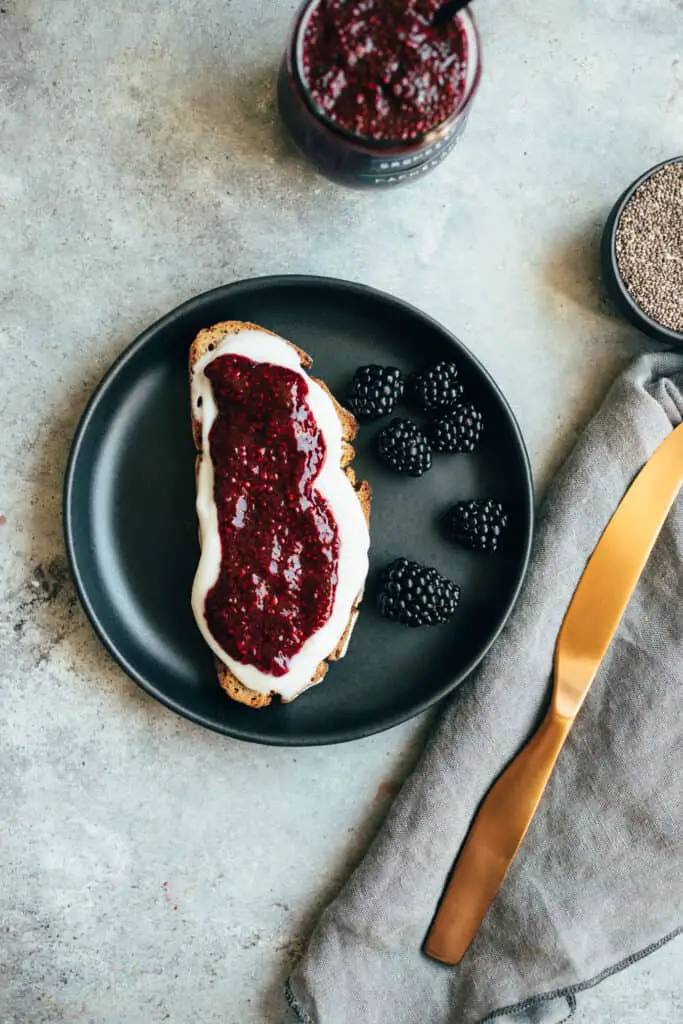 It really makes me so incredibly happy when I go to my blackberry bushes in the morning when the sun is shining. Unfortunately, the other harvest (walnuts, plums and Arrows l) did not turn out so particularly well, so I am even more pleased with the small black berries. Those who know me a bit already know that I am a great friend of as simple as possible Recipes are. Therefore, I immediately came up with the idea to make a lightning jam from it. Berries, maple syrup, chia seeds, vanilla and lemon juice. Boil once until everything thickens and fill into airtight jars, ready.
TIP: Always sterilize the jars and lids beforehand, i.e. briefly bathe them in boiling hot water or use the special program in the steamer. In this way, you ensure that no unwanted bacteria or germs cause the jam to go moldy after a short time.
How healthy are actually blackberries?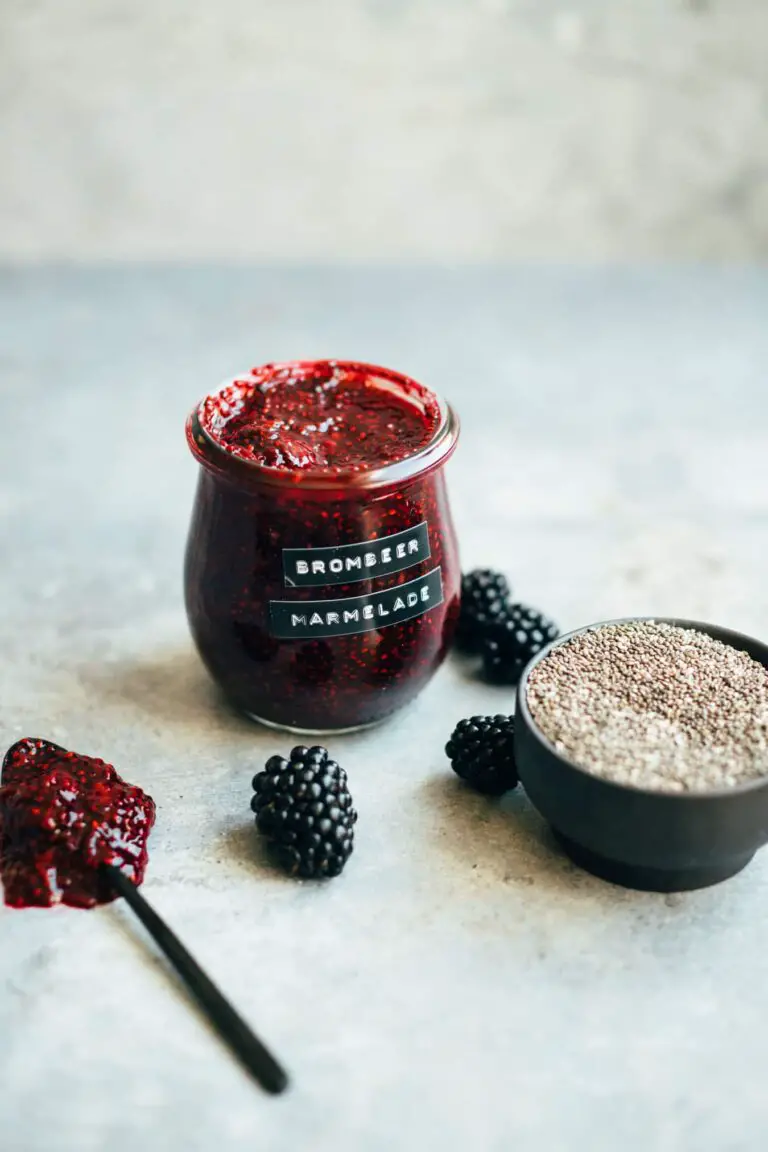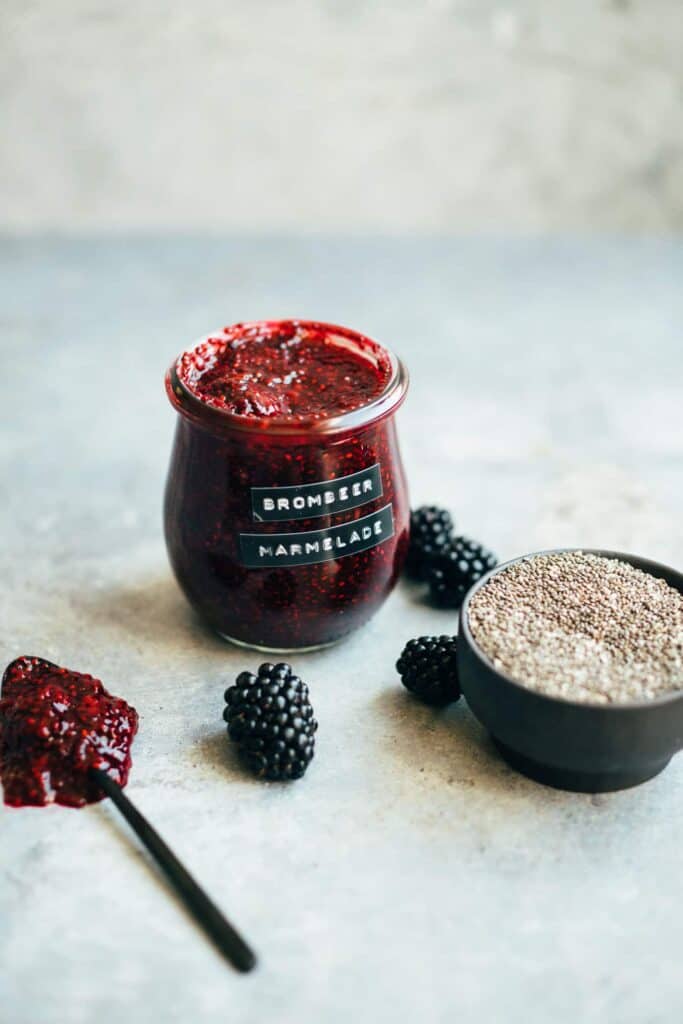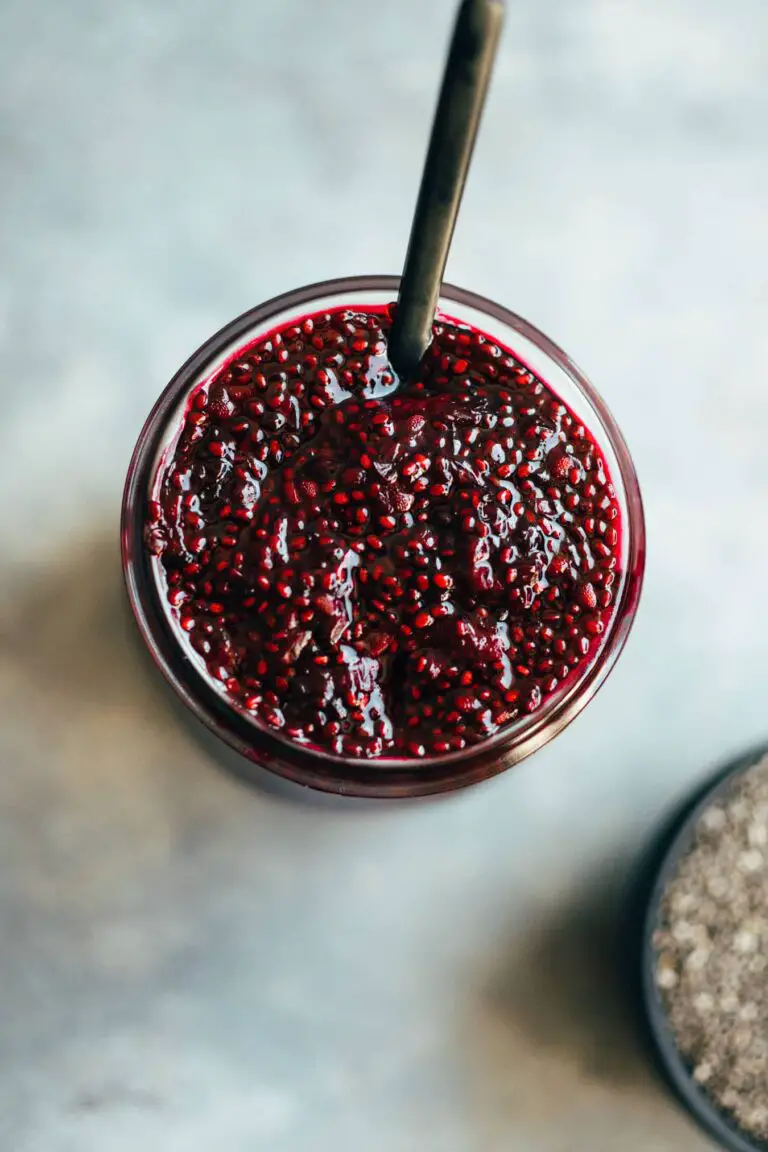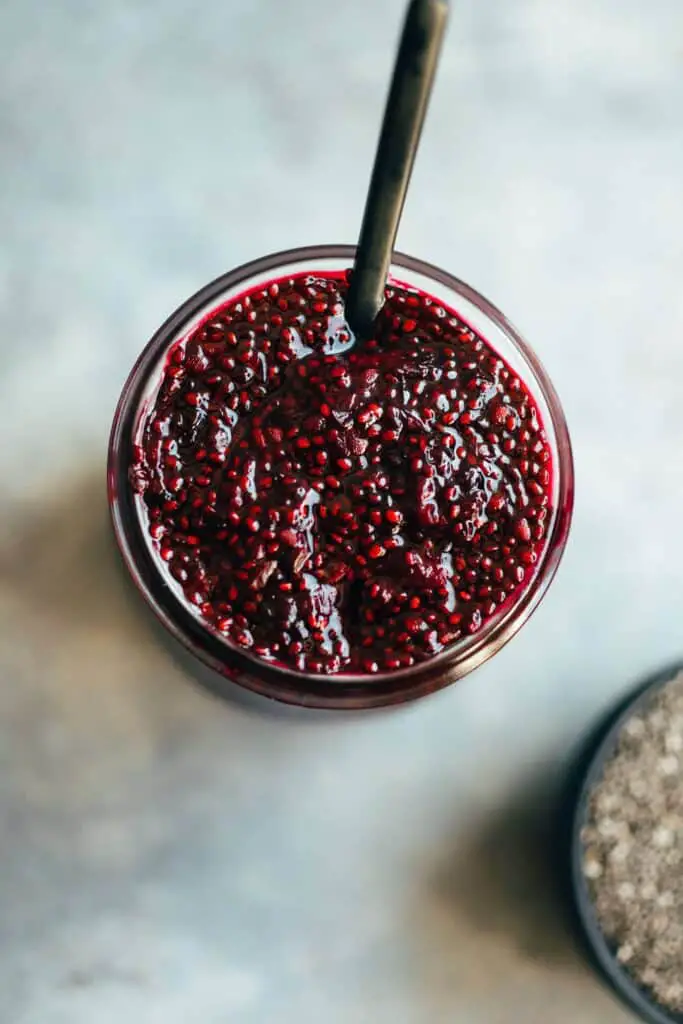 The answer to this question is clear and simple, because the dark berry is actually very healthy. More precisely, these are small vitamin bombs that are placed under among other things, have the highest content of provitamin A among berries. But also otherwise, the little beauties can really be seen:
Contain anthocyanins (secondary plant compounds) are said to have a cell-protective effect and reduce the risk of cancer according to studies
High ballast content
B vitamins (involved in many metabolic functions)
Vitamin C & E (cell protective)
Very high content of provitamin A (converted by the body into vitamin A – important for the visual process).
Low calorie with 50kcal per 100g
TIP: Blackberries are very delicate and spoil relatively quickly. It is best to store in the refrigerator and consume within 1-2 days. In the 0-degree compartment they last up to a week.
If you do not have blackberries at home, you can also make the jam with other berries of your choice. Strawberries , blueberries, gooseberries or Raspberries , everything is allowed. Alternatively, frozen berries or berry mixes will also work.
The jam goes perfectly on a slice of sourdough bread, in your favorite yogurt or as a topping to your favorite Granola :
The simple blackberry chia jam is:
Pleasantly sweet
Light acidity
versatile
Simply made
Very healthy
You love the blackberry chia jam as much as I do? Then I look forward to a review at the bottom of this page. If you post a picture, then like to use the hashtag #veganevibes.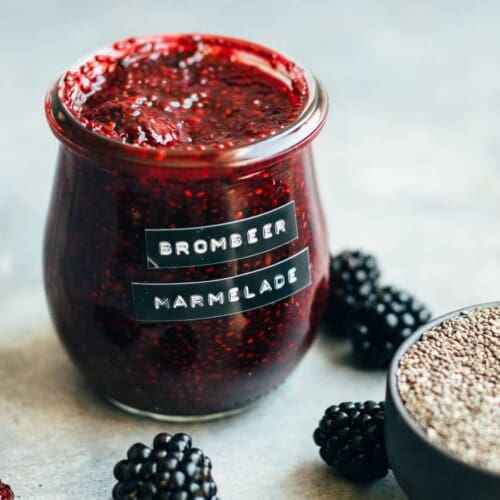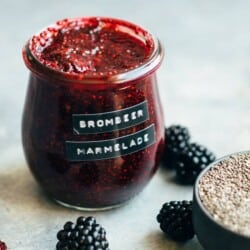 Simple blackberry chia jam
Quick, vegan jam made with fresh blackberries and healthy chia seeds. Naturally sweetened with maple syrup and boiled down in a flash. Super easy to make, perfect on a piece of sourdough bread, in yogurt or as a granola topping.
AUTOR: VEGANEVIBES
Anleitung 
Sterilize dessert glasses, i.e. briefly bathe in boiling hot water. Caution: Danger of scalding!

Wash blackberries and place in a small saucepan with maple syrup, chia seeds, lemon juice and vanilla and heat until mixture begins to simmer.

350 g fresh or frozen blackberries,

125 ml maple syrup,

56 g Chia seeds,

15 ml Lemon juice,

¼ tbspn Bourbon vanilla

Simmer for about

10 minutes on

medium heat until the berries start to break down and the liquid starts to thicken.

Pour into small, sealable jars.

Store leftovers in an airtight container in the refrigerator for up to 1 week or freeze in small portions (e.g., in an ice cube tray) and thaw as needed.
Nährwertangaben
Serving:
1
Portion
Calories:
127
kcal
Carbohydrates:
24
g
Protein:
2
g
Fat:
3
g
Saturated Fat:
1
g
Sodium:
4
mg
Potassium:
179
mg
Fiber:
6
g
Sugar:
15
g
Vitamin A:
125
IU
Vitamin C:
13
mg
Calcium:
99
mg
Iron:
1
mg