Do you know what I enjoy the most? When my milk in the Granola turns into chocolate milk. I will admit to being a chocolate-loving sweet tooth. All the more I enjoyed the creation of this recipe. Quick and easy, with bombastic chocolate flavor, crunchy nuts and of course coconut flakes. Sooooo delicious and simply a must on every Breakfast table .
Chocolate coconut granola for breakfast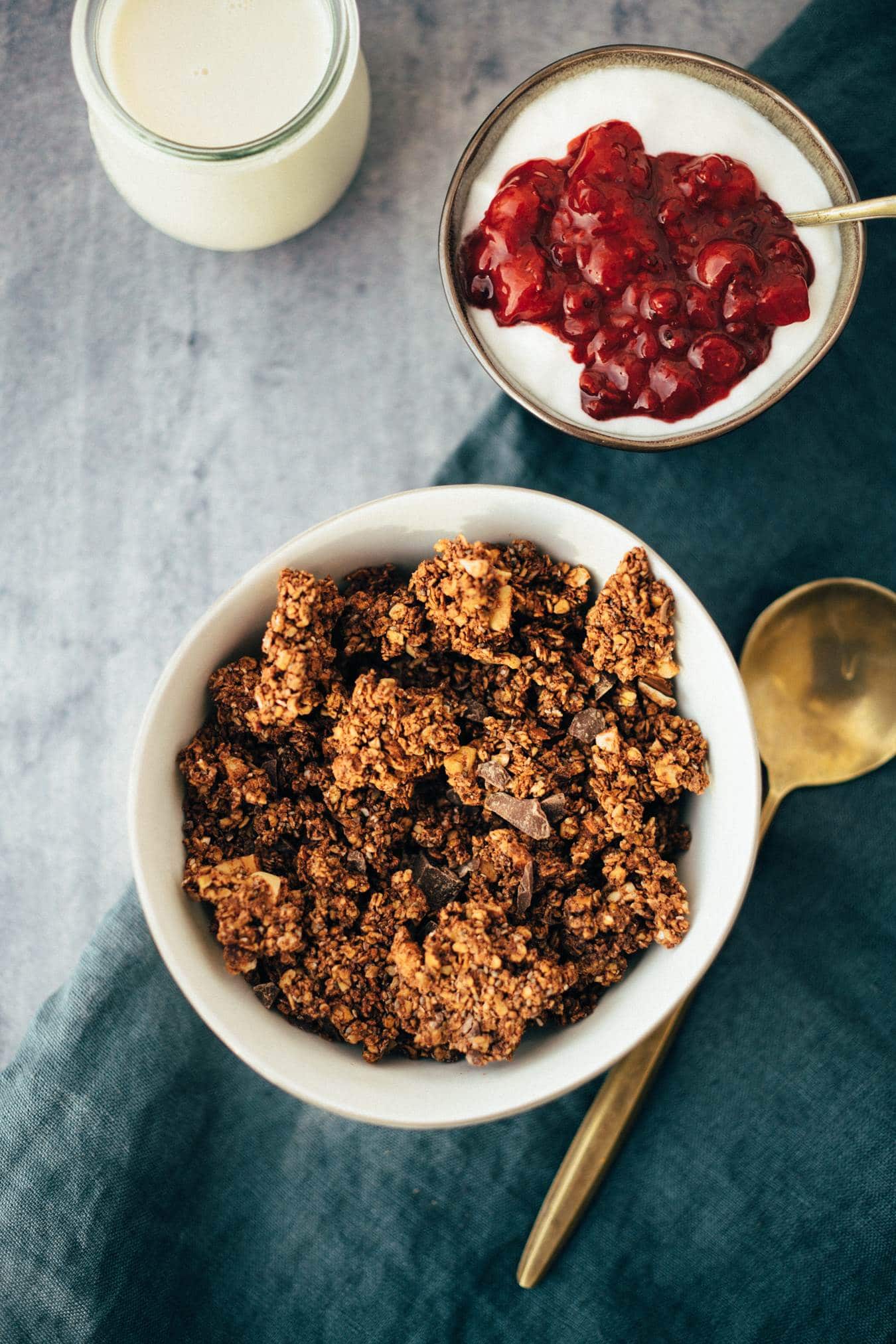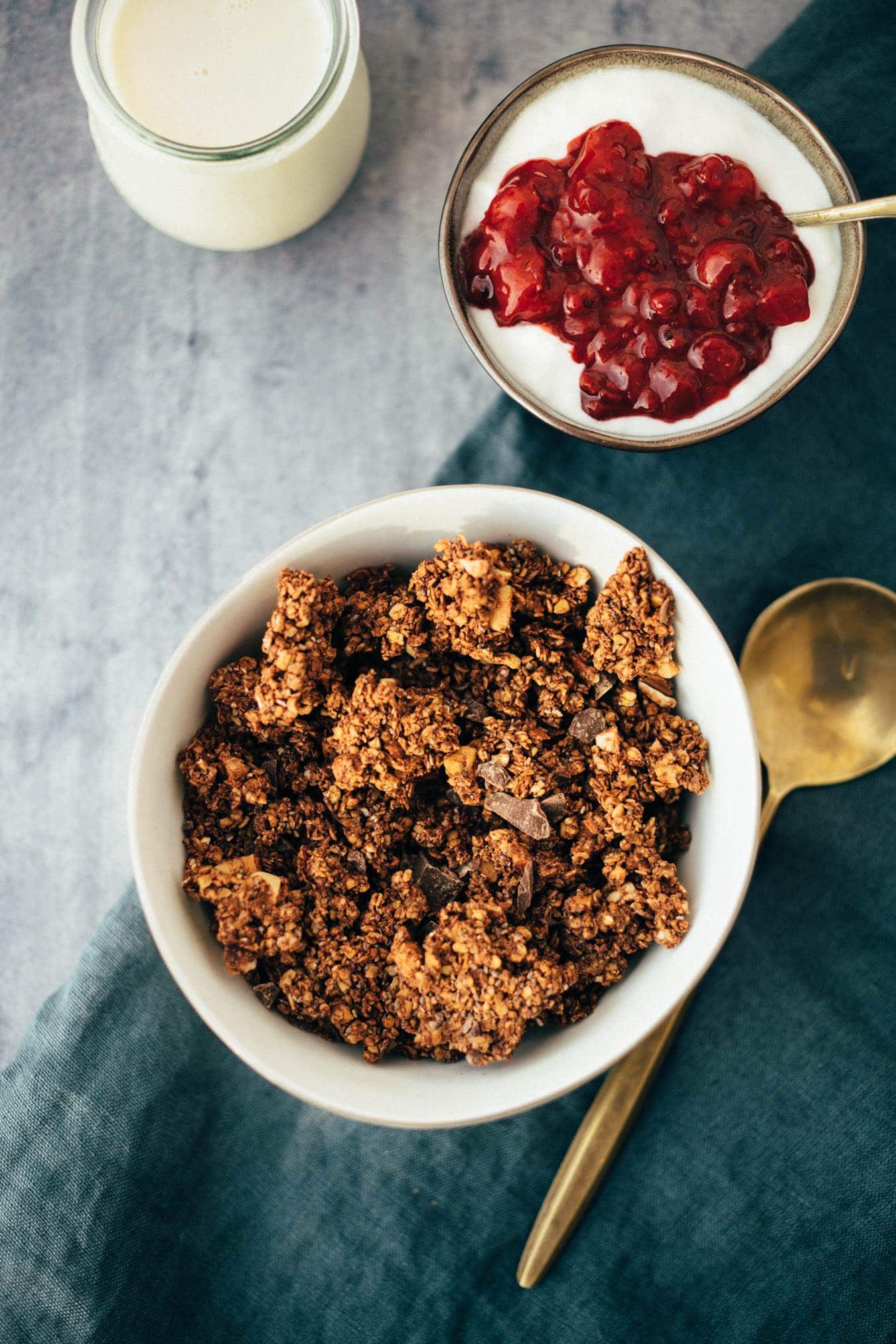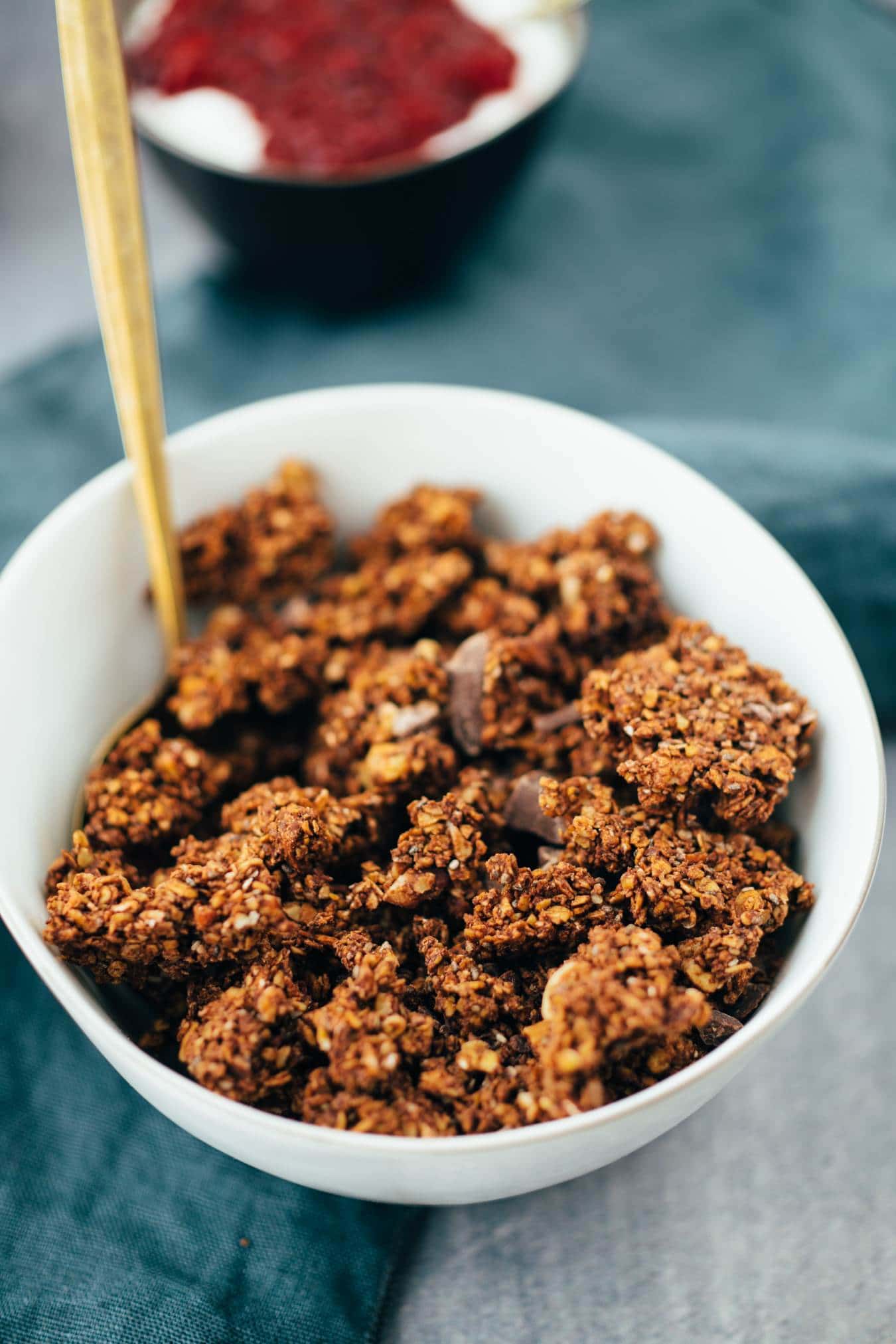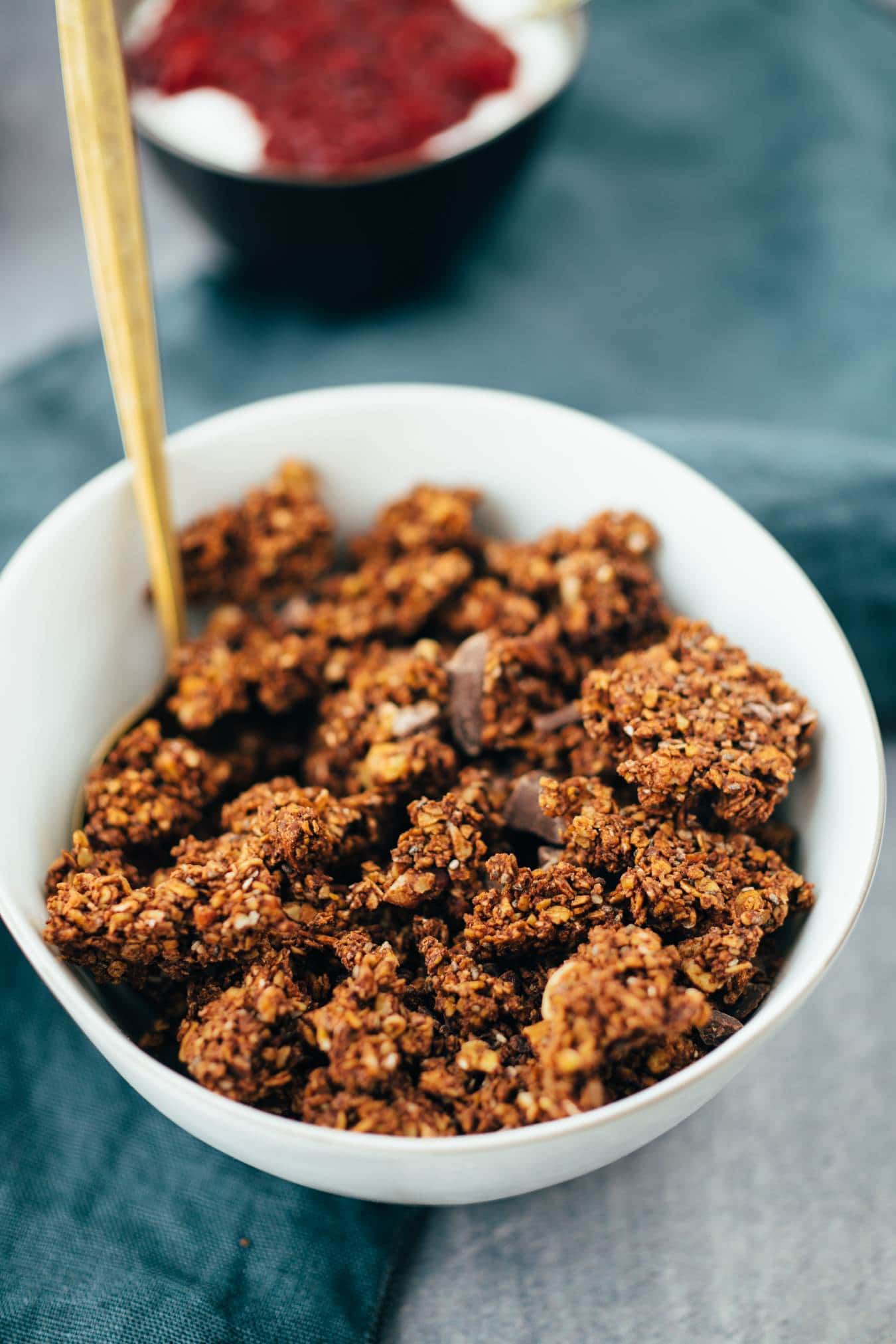 Can it actually be too much vegan chocolate? I say no, but that is certainly a matter of taste. From my point of view, chocolate is always and everywhere justified. But now exactly with philosophizing about the sweet things in life. Let's take a look at the ingredients together.
Do you also love it when your almond milk turns into chocolate milk?
Rolled oats, chopped nuts, coconut flakes, chia seeds, coconut blossom sugar, cocoa powder, coconut oil and maple syrup. Sounds manageable? It is and the preparation also takes only 10 minutes. The rest of the work is done by the oven and you are only faced with one crucial question: Should I add extra chocolate or not? I love questions like this!!!
Are Chia Seeds Really That Healthy?
Yes they are! The small power packets have it in them, are healthy and versatile:
The seeds have with 20% the highest proportion of omega-3 fatty acids found in plants and already one tablespoon covers the entire daily requirement of alpha-linolenic acid.
already 2 tbsp. cover the daily requirement of vitamin E
the seeds contain a lot of soluble and insoluble fiber, which stimulate the metabolism and detoxify it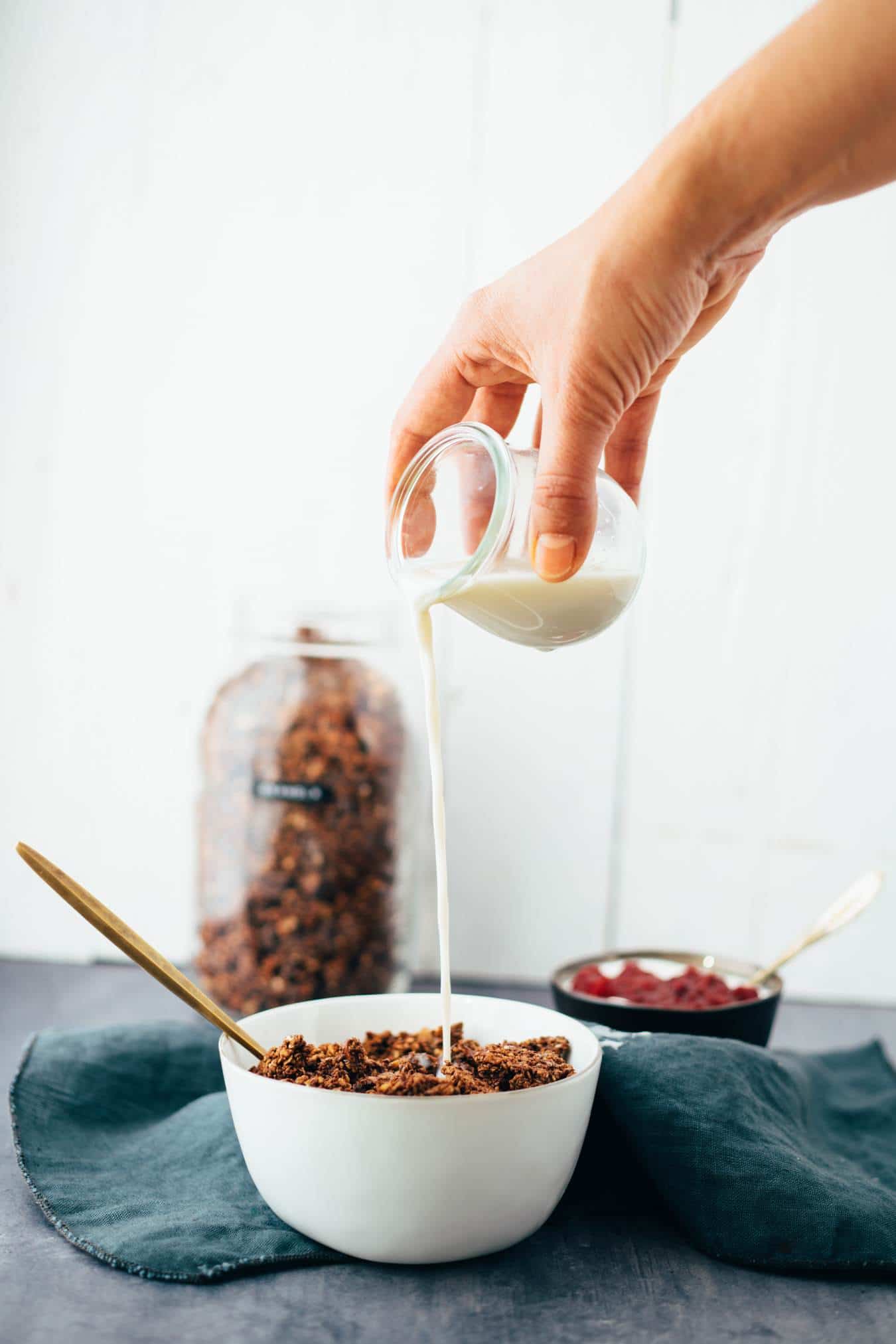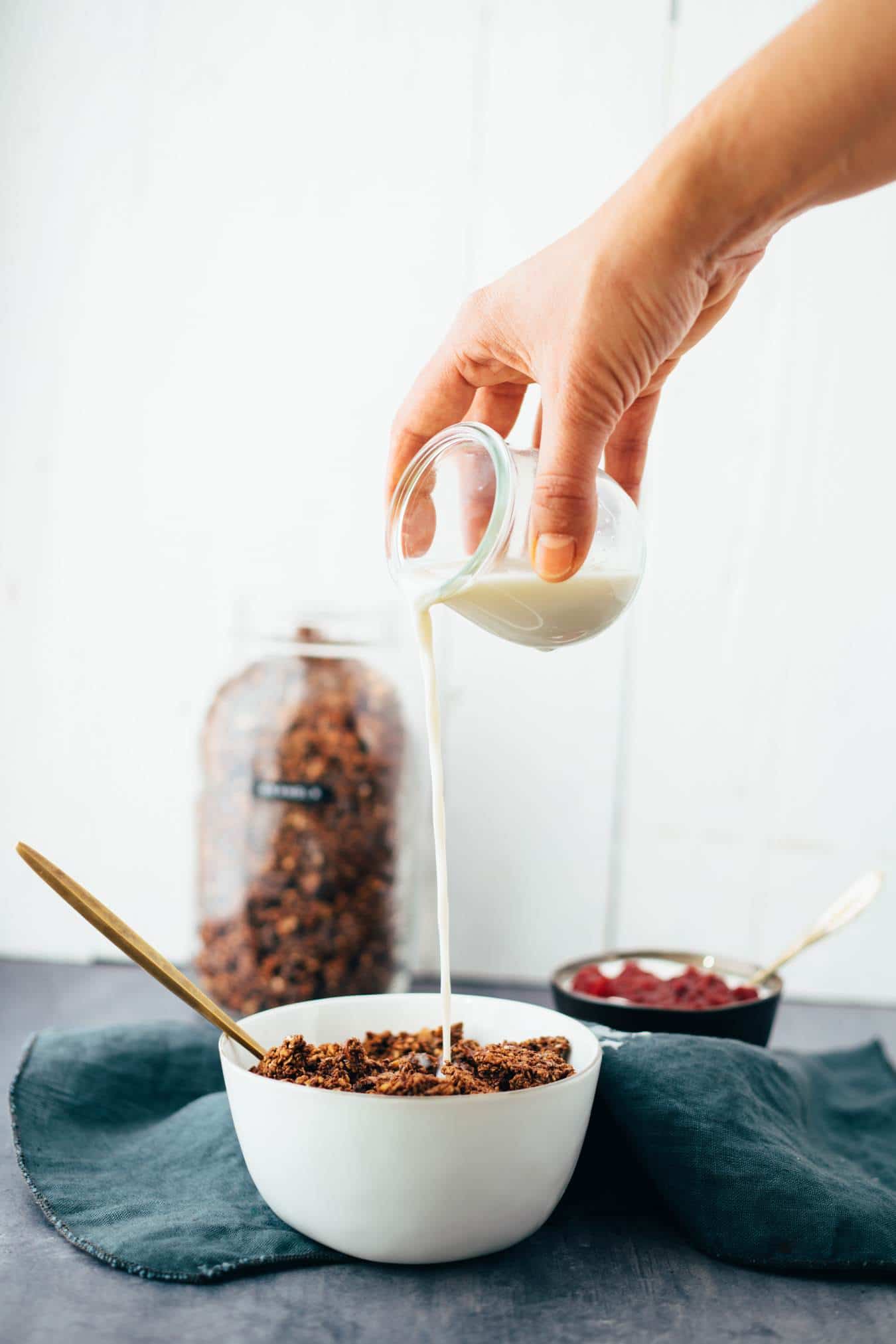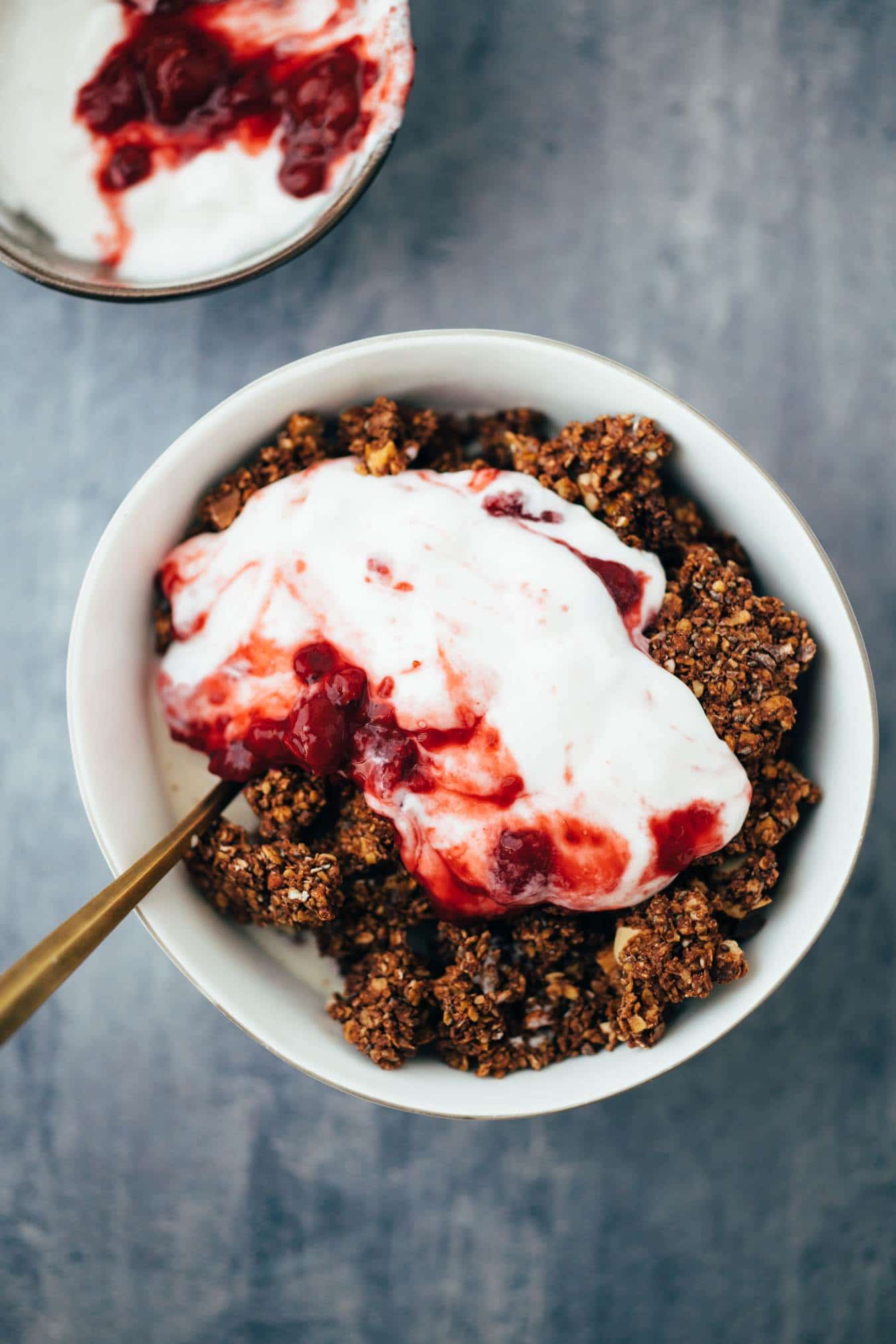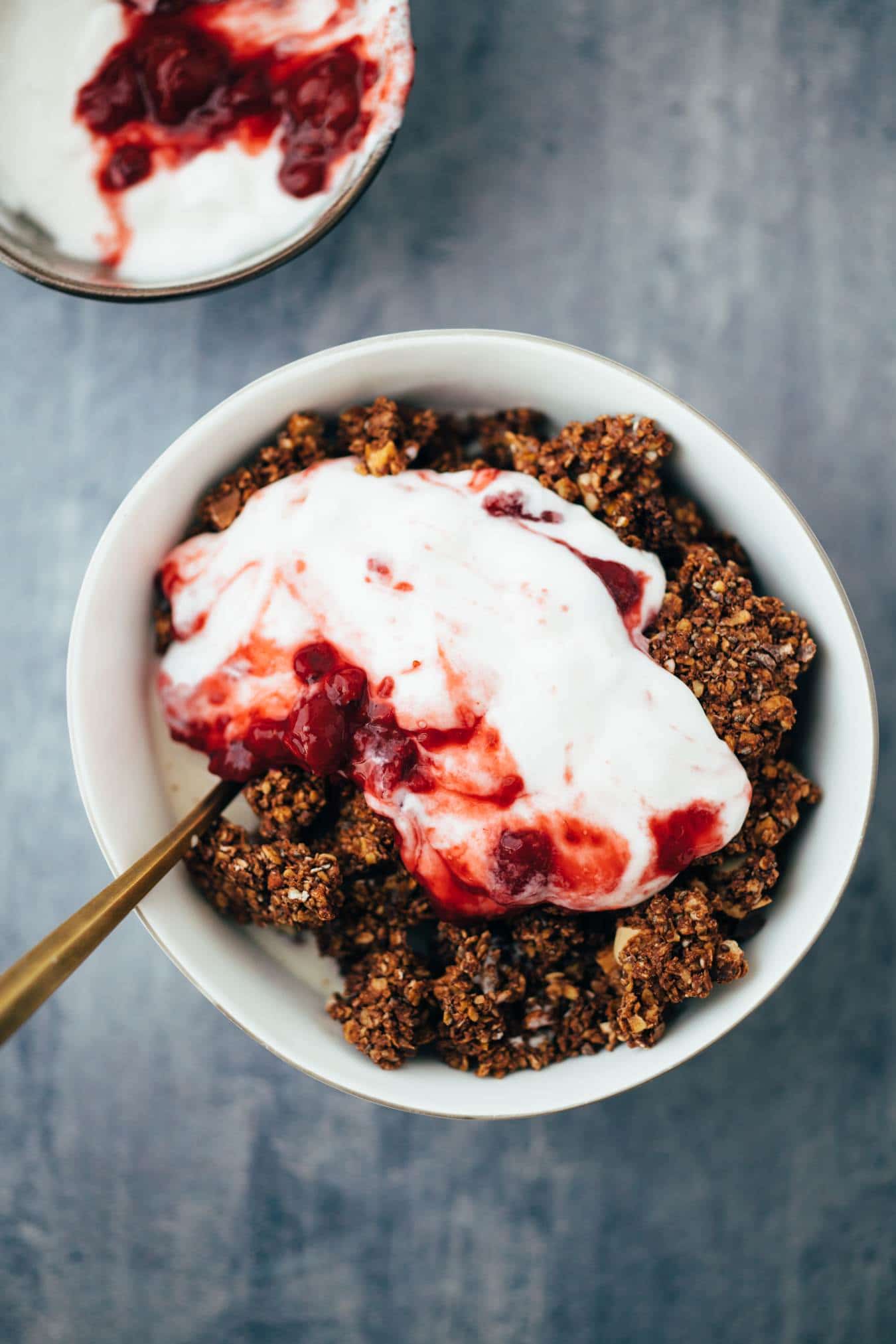 With this delicious vegan Granola dar
f course, the topping is not missing. I opted for a berry compote and coconut yogurt. But everything is allowed here, from fresh fruits and berries (I'm so looking forward to the season again), to vegan cottage cheese and yogurt of all kinds. The possibilities are endless. The perfect accompaniment is a homemade Almond milk or oat milk. PS: Even without toppings this is Granola perfect as a vegan snack in between meals.
The vegan chocolate coconut granola is:
Pleasantly sweet
Coconut nutty
Full of healthy fats
chocolatey
nutty
Easy to manufacture
Let's go with this chocolaty dream that will sweeten your day already in the morning. I wish you a lot of fun baking and of course a review at the bottom of this page. If you post a picture, use the hashtag #veganevibes.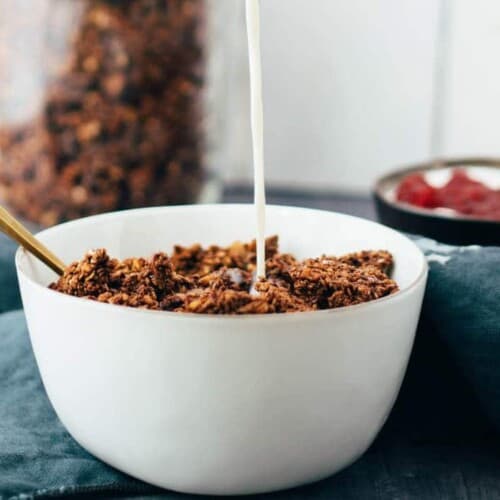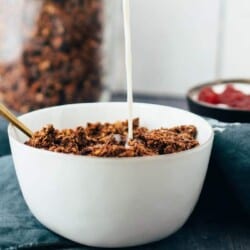 vegan chocolate coconut granola
Crunchy, coconut chocolate-coconut granola. With delicious shredded coconut, oatmeal and nuts, baked in a glaze of maple syrup and coconut sugar, finished with vegan dark chocolate. Perfect for a healthy breakfast or snack in between.
AUTOR: VEGANEVIBES
Anleitung 
Preheat the oven to 175 degrees and line a baking sheet with baking paper.


Melt coconut oil in a small saucepan or saucier over low heat.


Add rolled oats, shredded coconut, mixed nuts, chia seeds, coconut sugar, salt and cacao powder to a blender (I use MagiMix) and pulse a few times until all ingredients are loosely combined. If a blender is not available, coarsely chop all ingredients and place in a bowl.


375 g Oatmeal,

20 g Coconut shavings,

140 g mixed nuts,

20 g Chia seeds,

36 g Coconut sugar,

32 g Cocoa powder,

¼ tbspn Sea salt

Pour melted coconut oil and maple syrup to dry ingredients and pulse again until everything is evenly coated.


113 g maple syrup,

52 g Coconut oil

Now spread the finished mixture evenly over the baking sheet and bake in the oven for 20 minutes. Mix in the middle of the baking time so that everything turns evenly brown. Check heat, if granola is too brown, turn down 10-15 degrees.


Remove from the oven and allow to cool completely.


Optionally add coarsely chopped dark chocolate and garnish with fresh almond milk, coconut yogurt and fruit and enjoy!


90 g dark vegan chocolate

Store in an airtight sealable vessel at room temperature for 2-3 weeks.

Notizen
NOTES /HELPFUL ACCESSORIES:
Nährwertangaben
Serving:
1
Portion
Calories:
143
kcal
Carbohydrates:
13
g
Protein:
2
g
Fat:
9
g
Saturated Fat:
4
g
Sodium:
25
mg
Potassium:
109
mg
Fiber:
2
g
Sugar:
6
g
Calcium:
24
mg
Iron:
1.1
mg