I love Granola , that's no secret. But for on the road? Without my delicious Almond milk , the big bowl and the delicious toppings? Here comes my alternative for those days when I have to get up really early and don't have time for breakfast. Then the granola has to be ready for transport on the table. So I had the idea to just press the granola into nice round bites, cover with chocolate and Voilá! Ready are the Granola Bites TO-GO.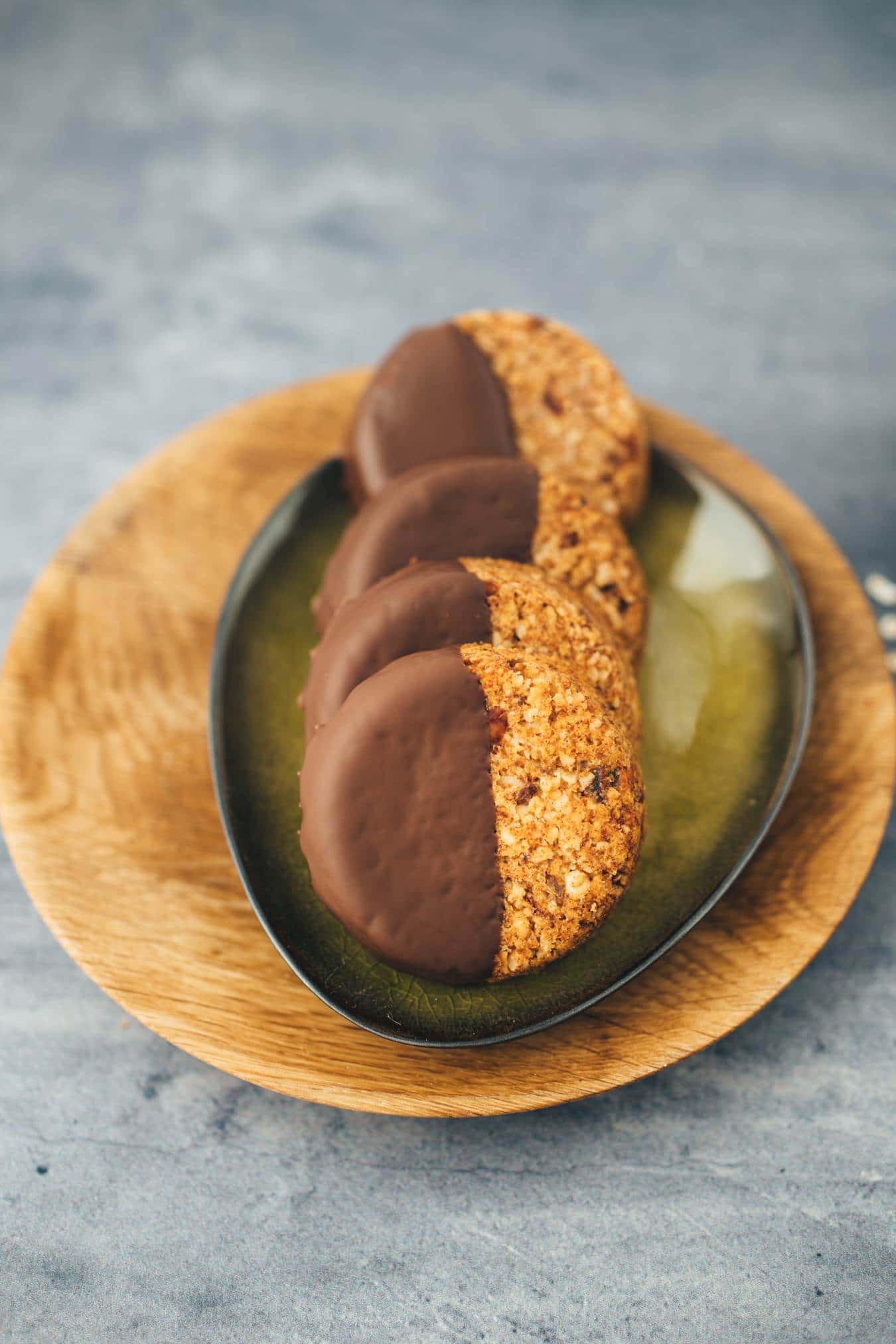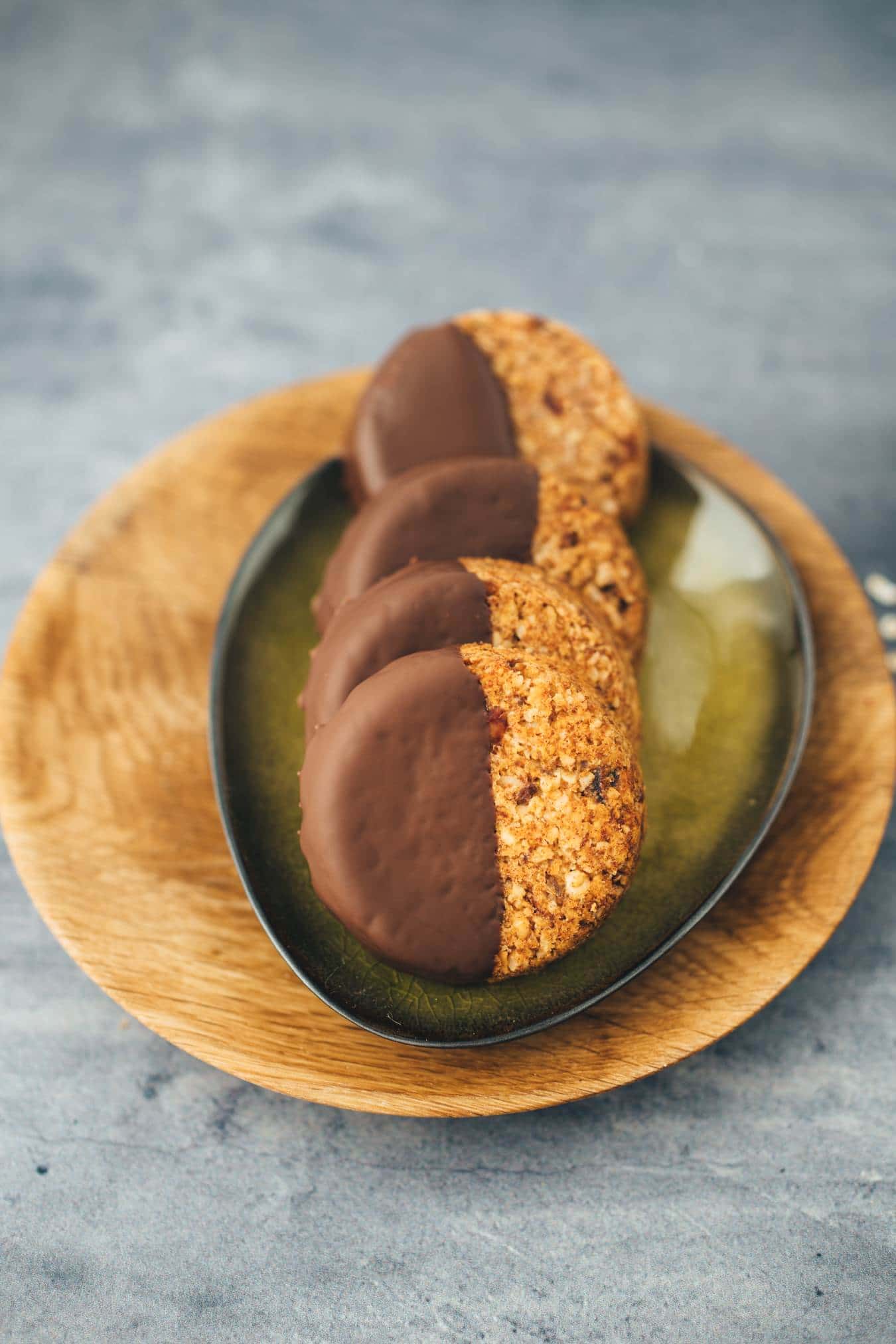 VEGAN GRANOLA TO-GO (YUMMY!)
Are you also one of those people who can't eat breakfast as soon as they get up? I always need at least one coffee or golden latte, lots of water and 30 minutes to arrive in the world. That's exactly why these little sweet granola bites are the right thing when you need to go fast in the morning. Off to the bag with the little snacks and off you go.
Of course, this breakfast is also mega healthy thanks to oatmeal, almonds, flaxseed, coconut flakes, dates, almond butter, sunflower oil or eu other neutral oil and maple syrup. Coconut oil is yes again and again with different media in the conversation and is supposed to be not so healthy. The latest research (as of August 2018) says that you can Coconut oil should absolutely avoid. why?
consists of 92% monounsaturated fatty acids (the bad fatty acids)
only 6% monounsaturated fatty acids and 3% polyunsaturated fatty acids (the good fatty acids)
thus coconut oil falls into the same category as butter, lard or other fats, which are solid at room temperature and liquid only above a certain temperature.
Thus, based on current research, I will not recommend coconut oil. Alternative oils are, for example, sunflower oil, rapeseed oil or olive oil.
CONCLUSION: Coconut oil should be avoided in the kitchen according to the current status, because it consists mainly of unhealthy monounsaturated fatty acids. Particularly suitable for frying and baking are high-heat oils such as sunflower oil or canola oil, which I will link to again and again in the individual recipes. See the very bottom of the page for the source.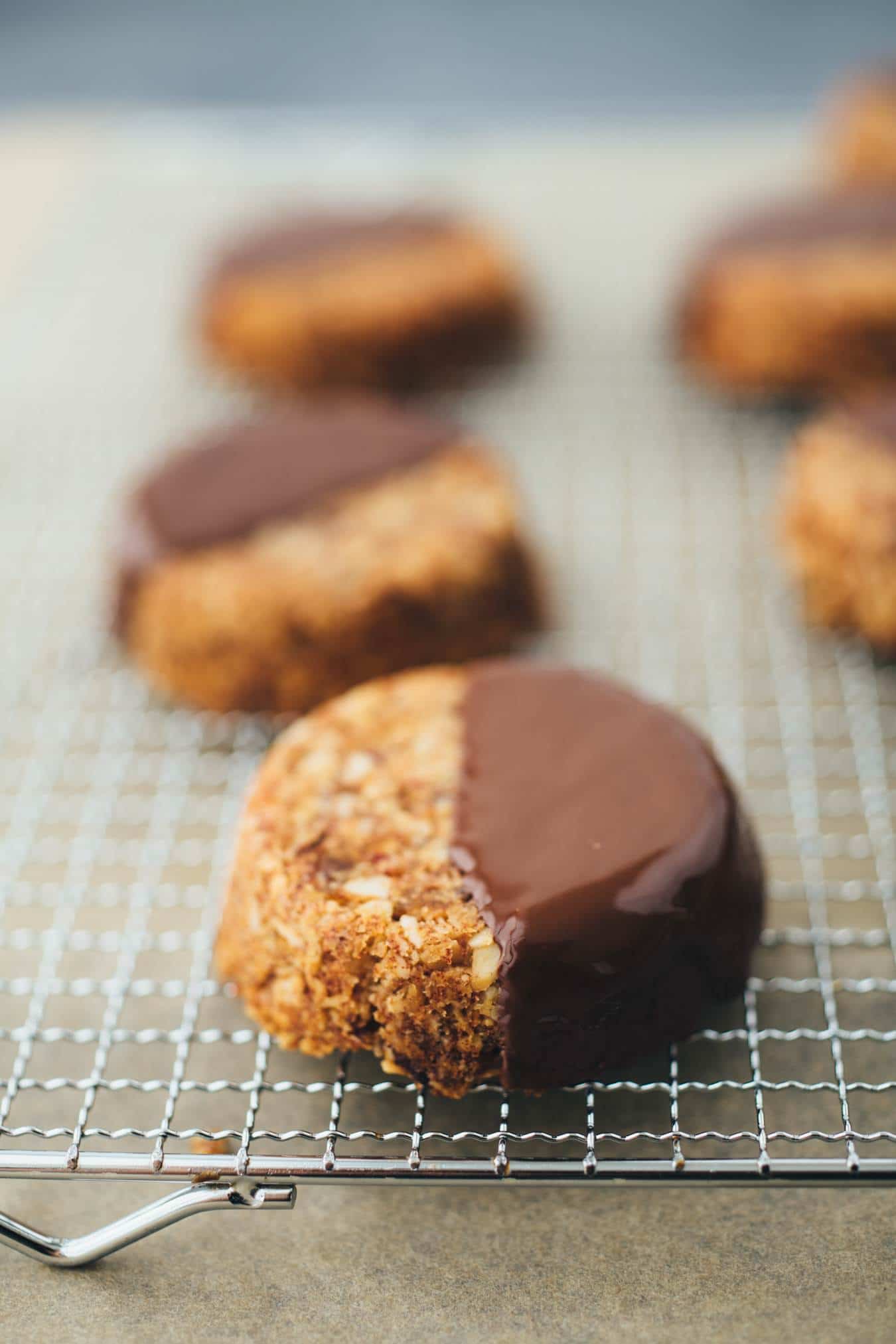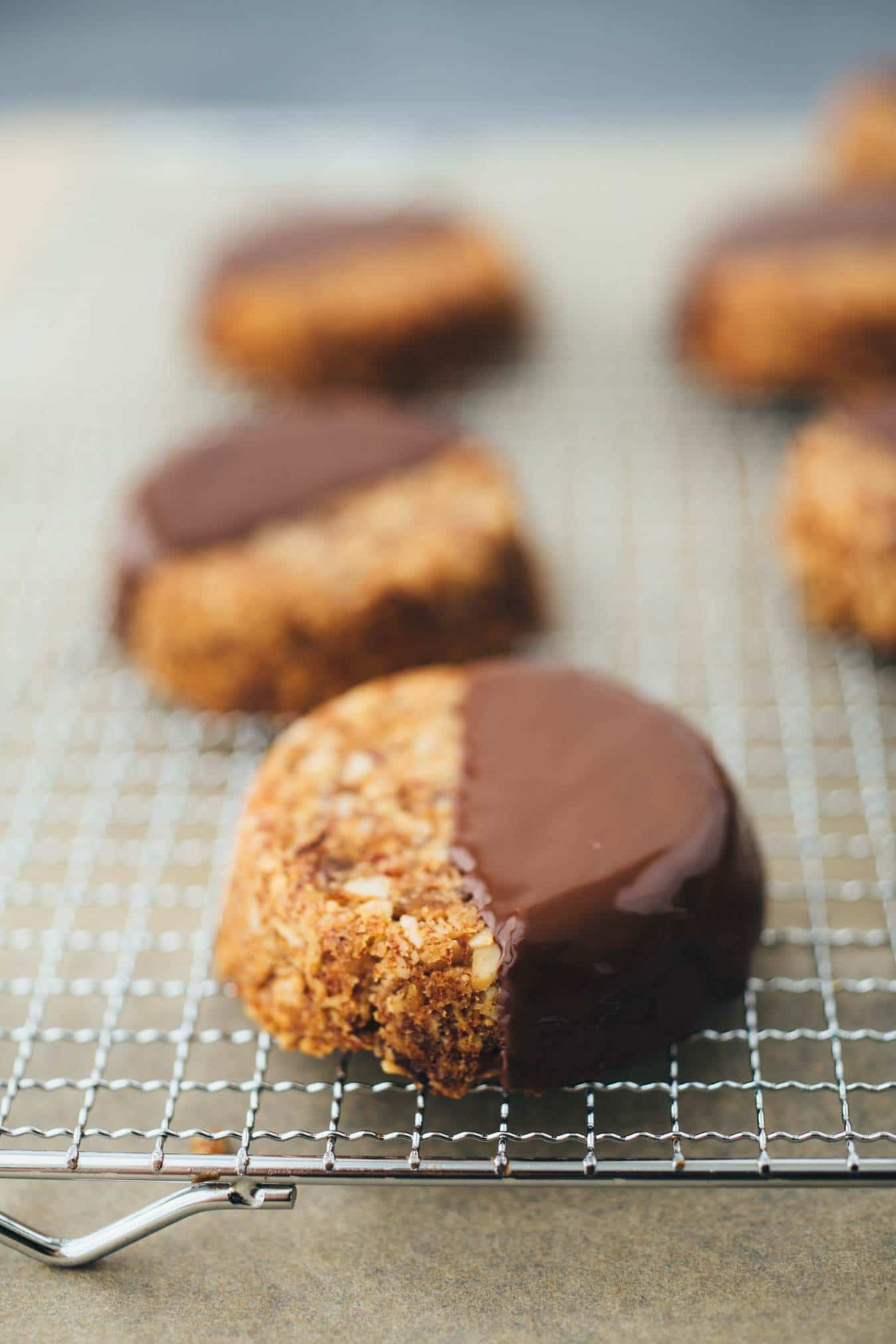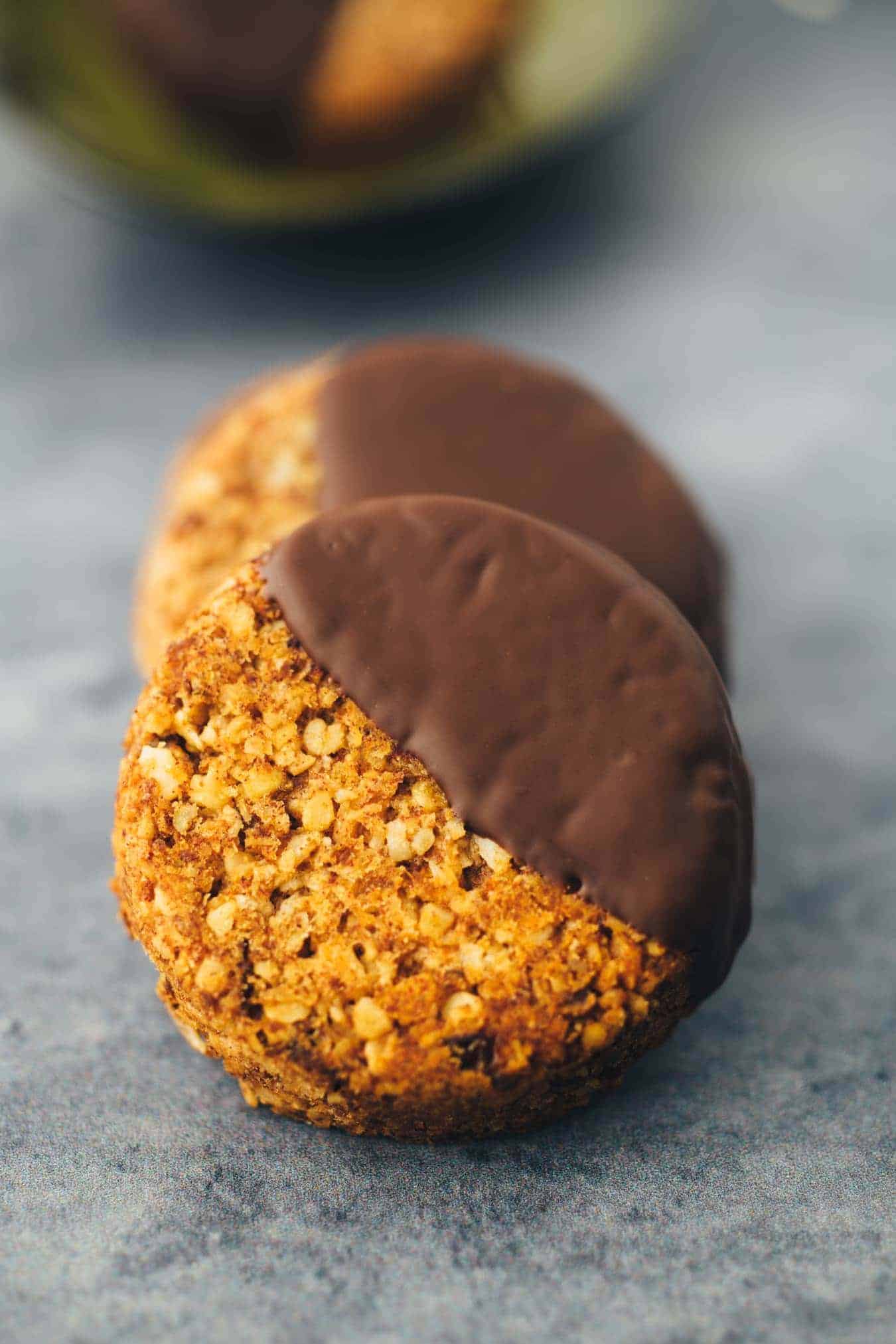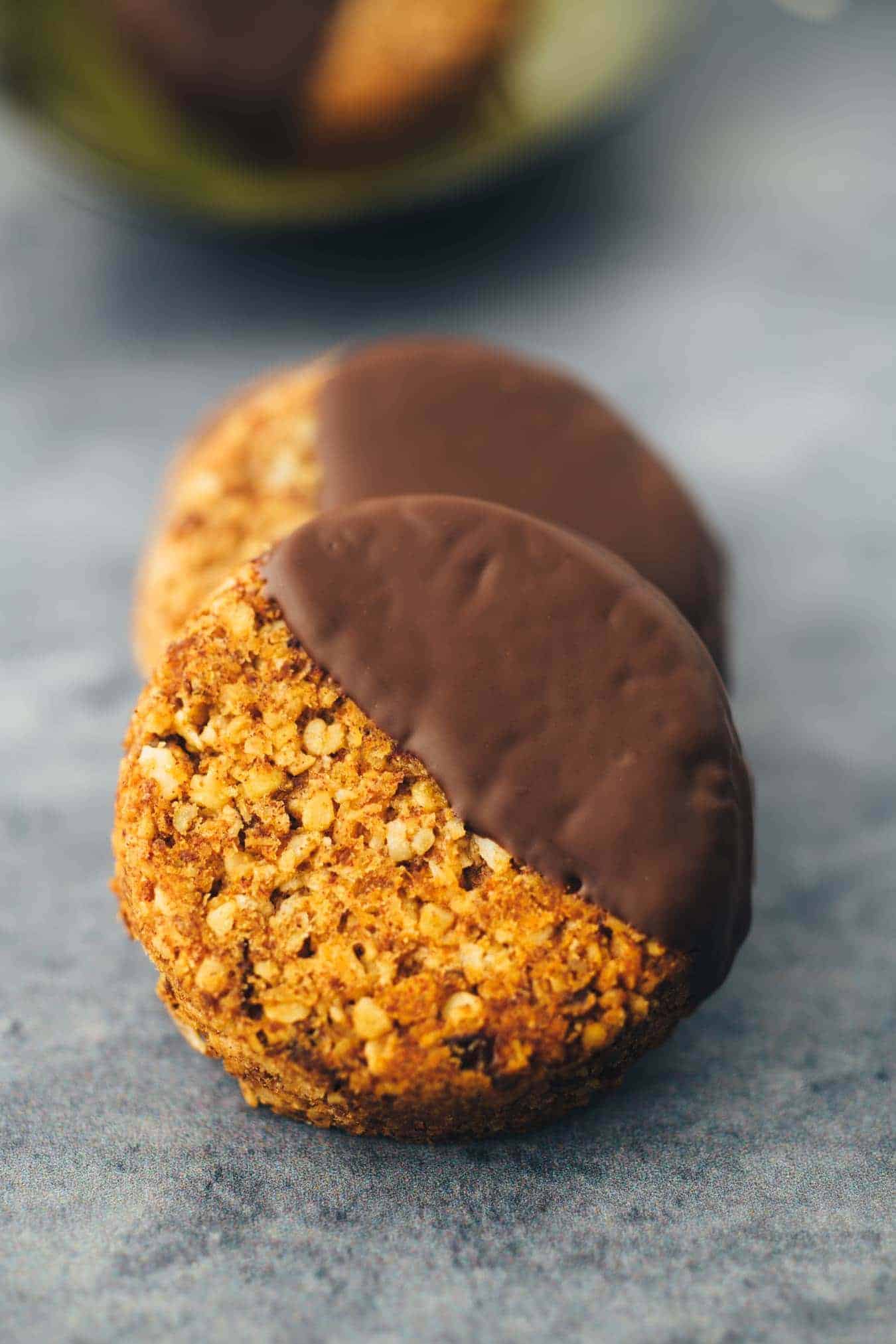 IF YOU LOVE GRANOLA THEN THESE BITES ARE A MUST HAVE
All in all, the Bites are more of a Breakfast and less of a snack. That's why I put them in the "breakfast" category.
But now a few words about the taste. They are pithy, soft inside, nice and sweet thanks to dates and maple syrup. Crunchy would be an exaggeration, I think more like a granola bar. Covered in delicious chocolate, which of course is optional. Also works wonderfully without, or with white Schoki? There are no limits to the imagination.
Chocolatey and chewy, the Granola Bites go perfectly with a cup of coffee, Immune Booster Latte , Chocolate Chia Smoothie , hot chocolate or golden milk.
The GRANOLA BITES TO-GO are:
Pithy
chocolatey
Full of healthy micronutrients
Naturally sweetened
Quickly made
Let's get started with this crunchy sweet Breakfast . I wish you a lot of fun with the Nachbacken and of course about a rating at the bottom of this page. If you post a picture, use the hashtag #veganevibes.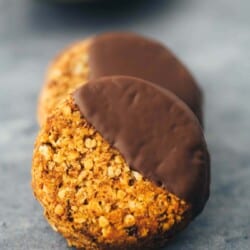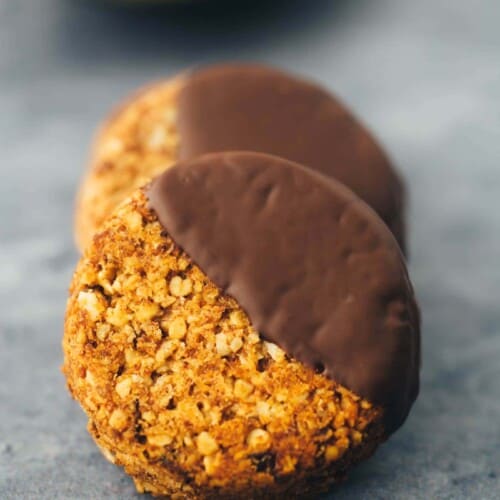 GRANOLA BITES TO-GO
Extremely delicious, crunchy-chocolatey Granola Bites for the perfect energy in between, vegan and gluten-free. Pithy, naturally sweet, chocolaty, dipped in a shell of vegan chocolate.
AUTOR: VEGANEVIBES
Anleitung 
Preheat oven to 160 degrees and provide a muffin tray. Grease lightly if necessary. I skip this step because once the bites are cooled, they fall out of the mold with a gentle tap.


In a medium bowl, coarsely mix together rolled oats, flaked almonds, flaxseeds, coconut flakes, sea salt, and Medjool dates.


90 g gluten free oatmeal,

30 g Flaked almonds or chopped almonds,

28 g ground flaxseed,

49 g Coconut flakes,

1 Pinch sea salt,

5 Medjool dates

In a small saucepan, heat almond butter, coconut oil and maple syrup over low heat until coconut oil is melted and everything is well combined while stirring.


30 g Almond butter or almond paste,

45 g Frying and baking oil (sunflower oil),

60 ml maple syrup,

49 g Coconut flakes

Pour into the bowl with the dry ingredients and mix everything well. The best way is with a silicone spatula or by hand.


Spread evenly into muffin tin and press down. Put in the oven and bake for 15-20 minutes. The Granola Bites are ready when they are lightly golden brown around the edges. Remove from the oven and allow to cool completely. Only after cooling, carefully tap out of the mold.

Optional: Melt chocolate in a water bath and coat each side of the bites completely with chocolate. Cool completely and let chocolate harden (best in the refrigerator). enjoy!

100 g dark vegan chocolate

Place remaining bites in a resealable box and store in the refrigerator or freezer. In the refrigerator they last about 1 week, in the freezer up to 4 weeks.

Notizen
NOTES /HELPFUL ACCESSORIES:
Nährwertangaben
Serving:
1
Piece
Calories:
197
kcal
Carbohydrates:
18
g
Protein:
2
g
Fat:
13
g
Saturated Fat:
7
g
Sodium:
4
mg
Potassium:
223
mg
Fiber:
3
g
Sugar:
12
g
Vitamin A:
15
IU
Calcium:
40
mg
Iron:
1.6
mg