It's Monday again my dears (at least today as I write this Recipe writing) and incredibly uncomfortable outside. These are the days when I need a warm porridge in the morning to get me going. I have heard that there are people who take ice-cold showers after getting up. Really? I can't even imagine it, but maybe I'll manage to implement this ritual someday. It's supposed to be really, really healthy. Well, this morning I definitely thought of warm and sunny Bali, because an acquaintance did her yoga training there. I couldn't help but remember this incredibly delicious RAWnola at Peloton Supershop. Maybe I can get a few rays of sunshine in the cold and wet Bavaria?
Vegan rawnola? Yes, please!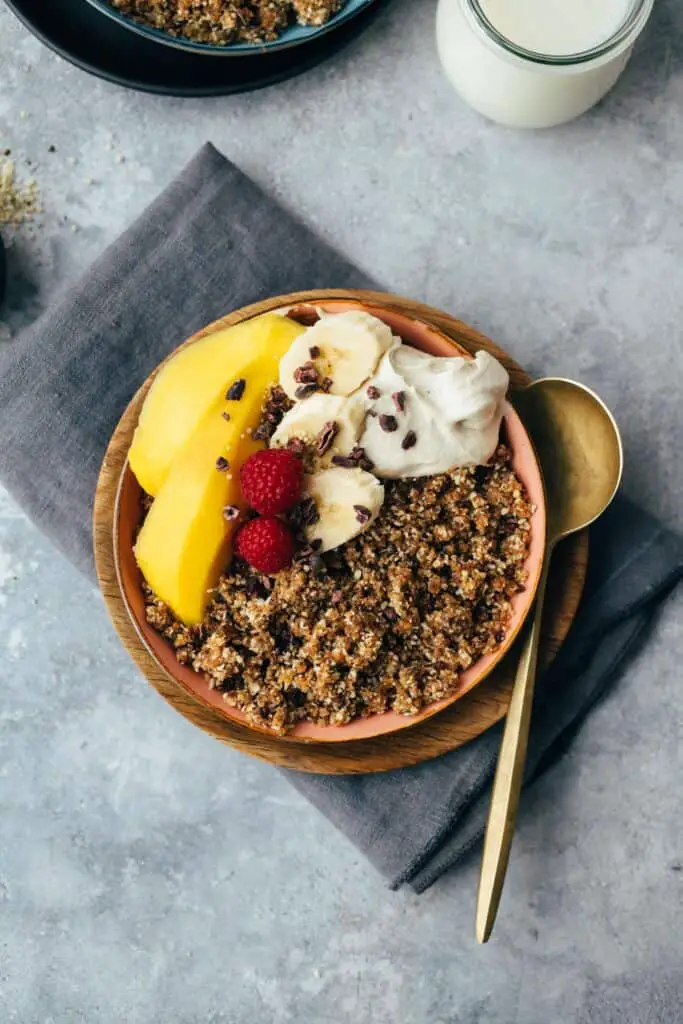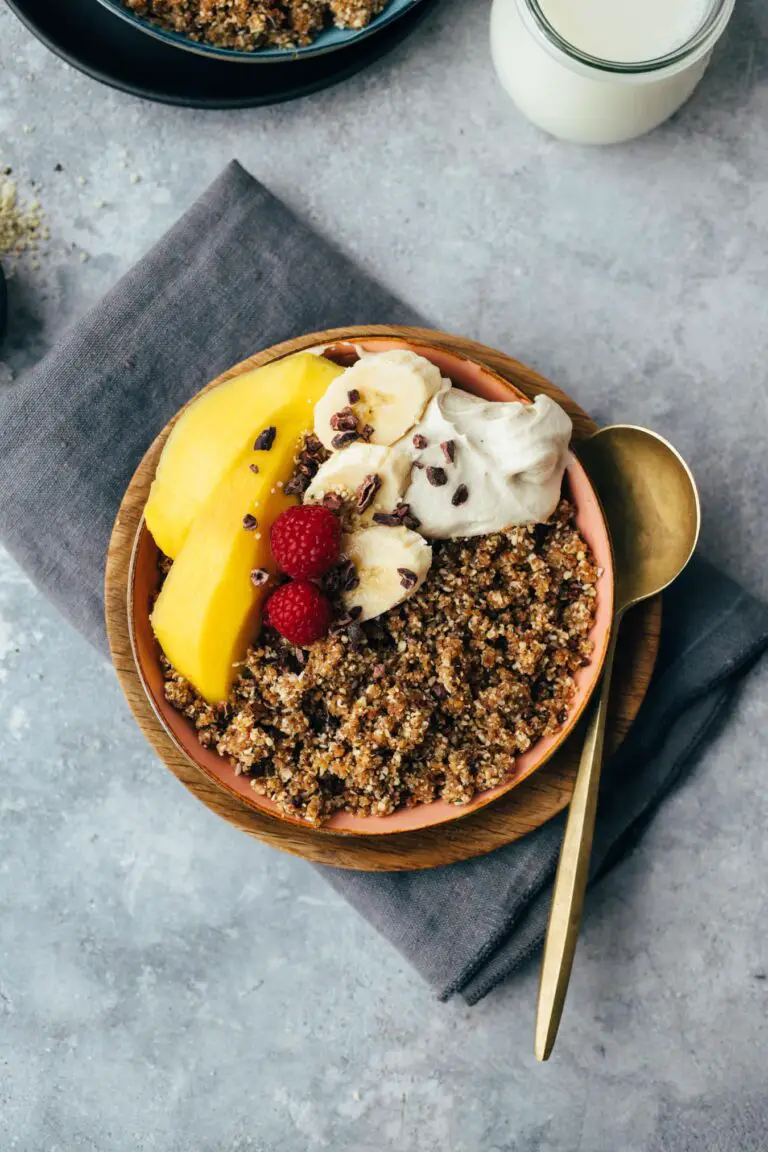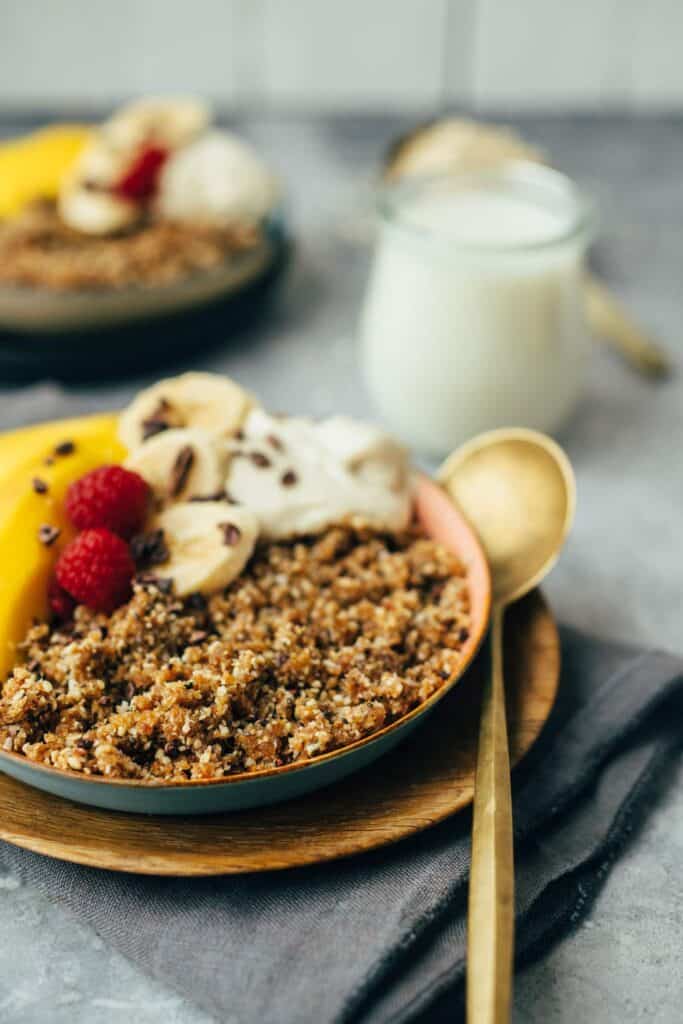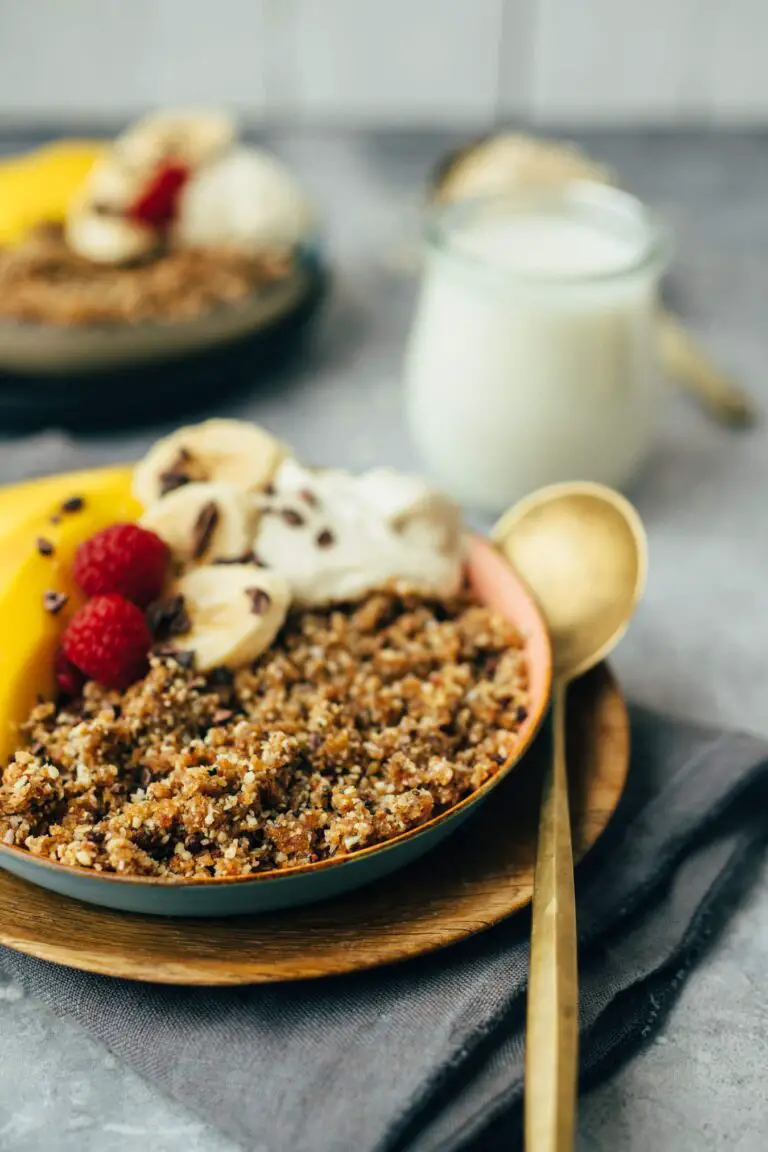 It couldn't be easier, provided you use a good food processor. I link you below, the unit I work with (no sponsorship). Walnuts Medjool dates, rolled oats, flaxseed meal, hemp seeds, chia seeds, coconut flakes, cacao nibs, cinnamon and a pinch of salt.
According to your Depending on your personal preferences, you can add other adaptogens of your choice, such as Ashwanghanda, Brahmi and Schisandra. Shortly I will publish a detailed Writing knowledge articles about Adaptoge, stay tuned!
Is oatmeal actually raw food?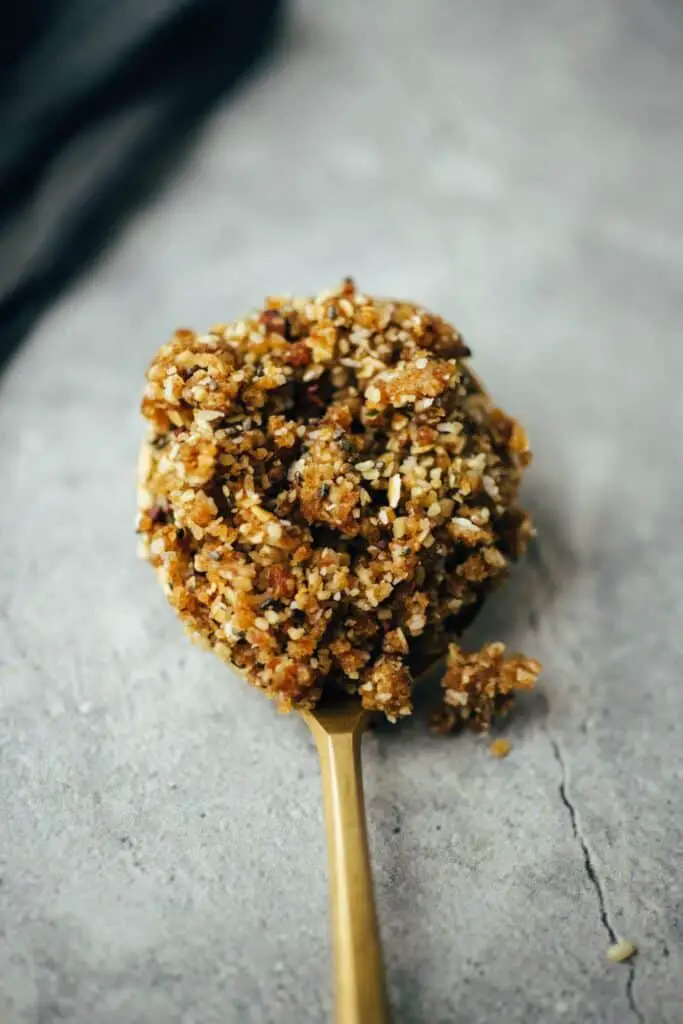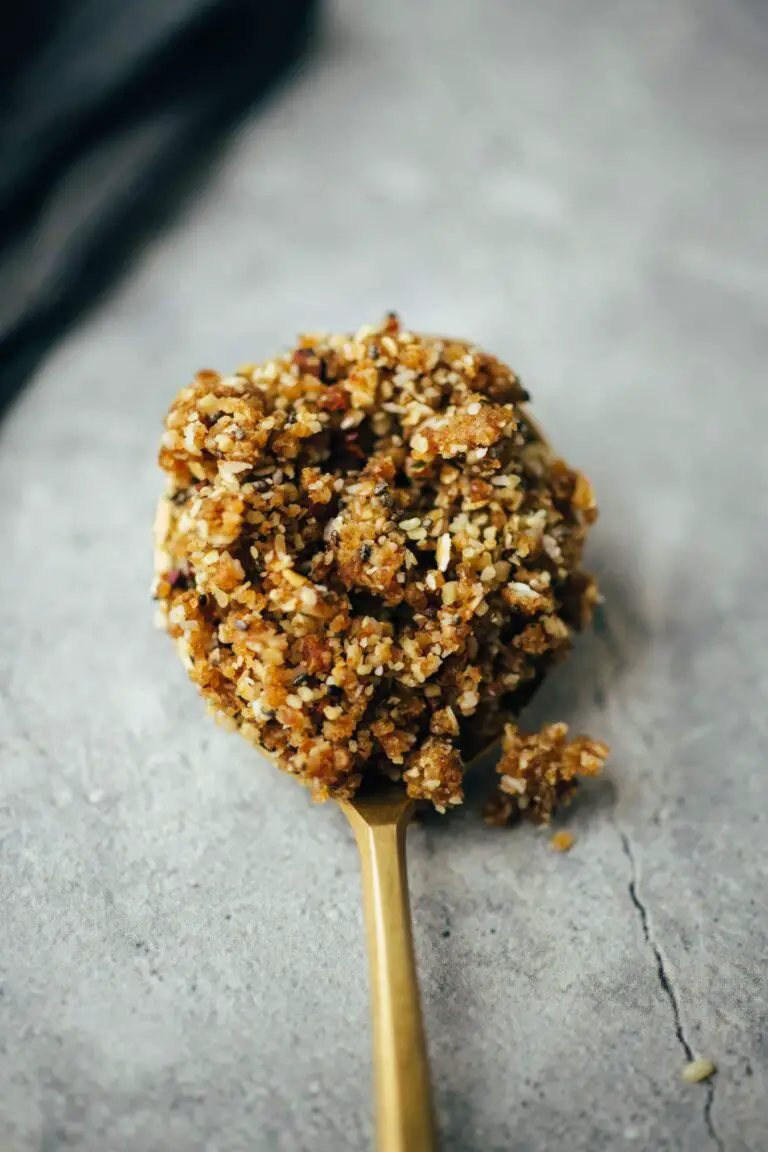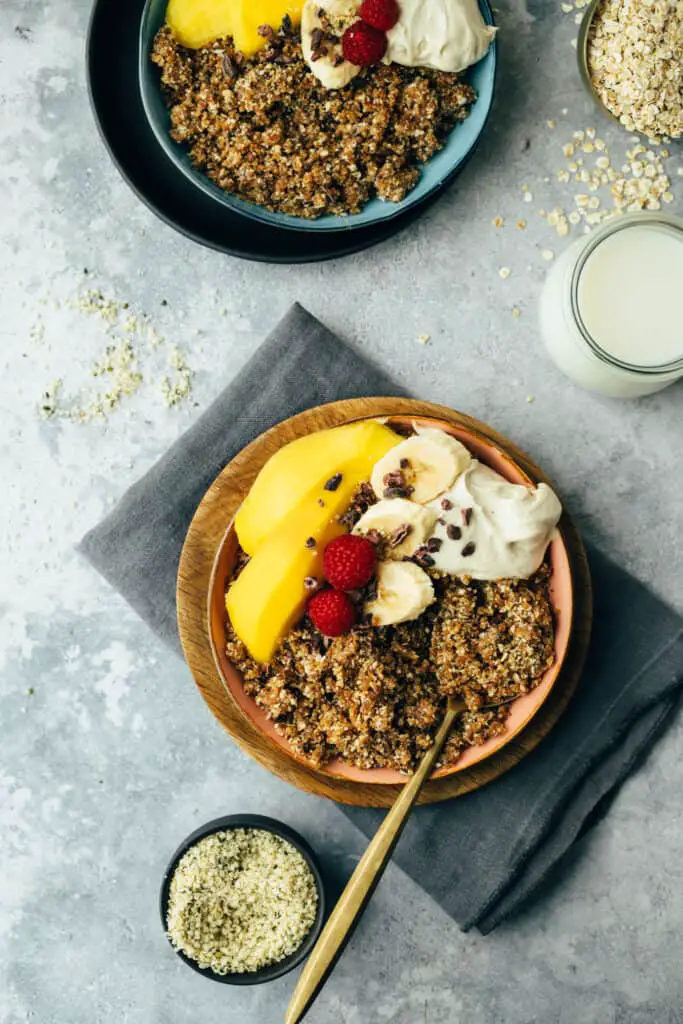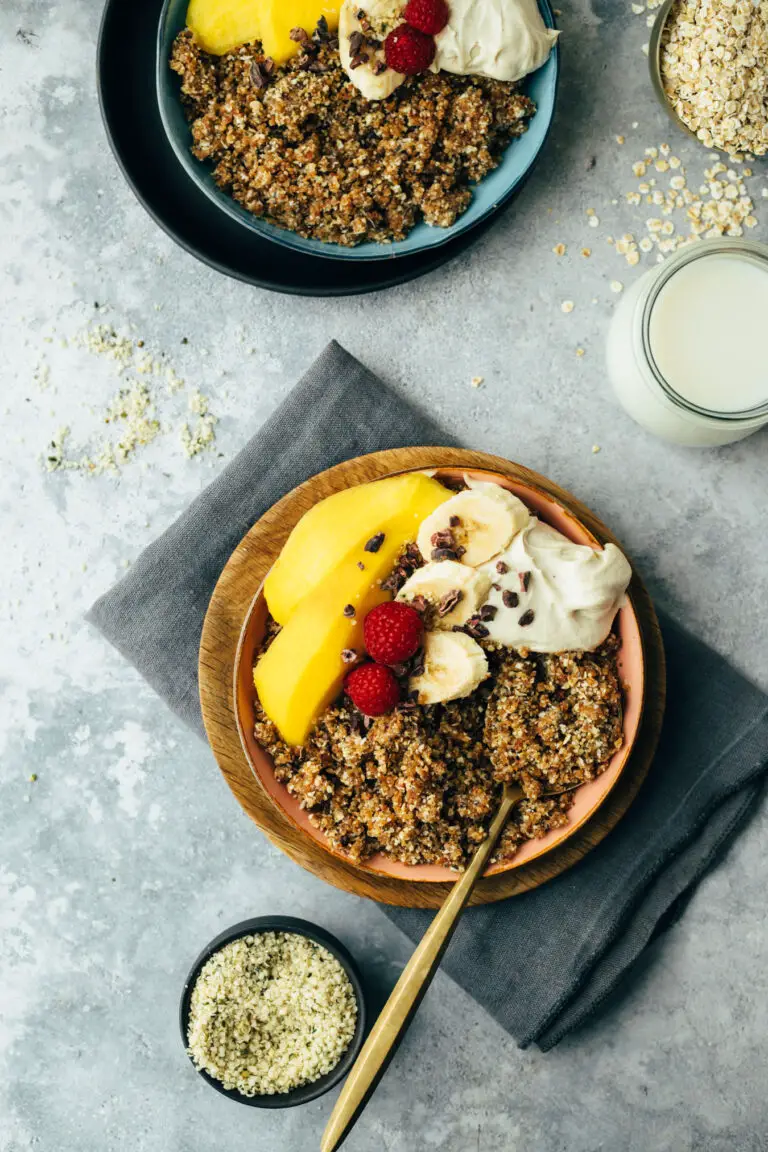 I asked myself the same question and went looking for you. Basically, anything raw is anything that has been heated less than 42 degrees so that as many nutrients as possible are retained in the food. Oatmeal is often heated with hot steam in industrial processing, and this can sometimes exceed 42 degrees. That's why there are also flakes that are specially Raw food are marked. Now if you can just find a gluten-free option? Congratulations. Honestly, I have quite normal oatmeal in organic quality at home. I hope you still like me now?
Joking aside, this RAW nola provides you with full power. It's incredibly delicious and nutritious at the same time and you can either eat it plain, sprinkle it over your Porridge sprinkle, together with vegetable yogurt and fresh fruit, or/and pour fresh plant milk over it.
Ideal for this I find a vegan hot chocolate or a Golden milk . It can't get any better than this.
The vegan RAWnola (5 minutes) is:
Pleasantly sweet
Coconut nutty
Full of healthy Micronutrients
chocolatey
nutty
Easy to manufacture
Let's go with this raw food dream that will sweeten your day already in the morning. I wish you a lot of fun with the Nachbacken and of course about a rating at the bottom of this page. If you post a picture, feel free to use the hashtag #veganevibes.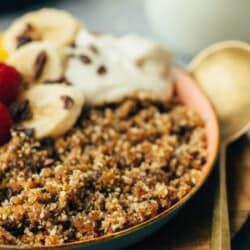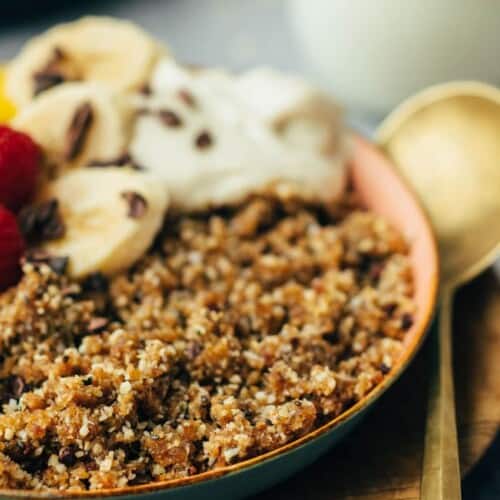 Vegan RAWnola (5 minutes)
Naturally sweetened, nutrient dense and crazy delicious raw granola or simply RAWnola. With delicious shredded coconut, oatmeal, walnuts and lots of superfoods like chia, flax and hemp seeds. Perfect for a healthy breakfast, topping or snack in between.
AUTOR: VEGANEVIBES
TO SERVE:
Vegetable yogurt to taste

homemade or purchased

Fresh fruit at will

I have used mango, banana and raspberries

Nut puree

such as hazelnut puree
Anleitung 
Place all ingredients one at a time in a food processor and pulse a few times at first, then process at a steady speed to a fine RAWnola.

90 g Oatmeal,

180 g Walnuts,

100 g Medjool dates,

40 g Coconut shavings,

10 g Chia seeds,

10 g hempseed,

9 g Flaxseed,

10 g Cocoa nibs,

½ tbspn Cinnamon,

A pinch of sea salt,

raw cacao powder (32 g),

dried fruit of your choice (10-20g)

Store in an airtight sealable vessel at room temperature for 2-3 weeks.

Pour into glass and enjoy.
Notizen
*If you are using other dates that are a little drier, just soak them in hot water for 10 minutes, drain the water and then use them.
**I always grind my flaxseeds myself, because in the purchased flaxseed meal the valuable linseed oil is already extracted.
Nährwertangaben
Serving:
1
Portion
Calories:
124
kcal
Carbohydrates:
8
g
Protein:
2
g
Fat:
10
g
Saturated Fat:
2
g
Sodium:
1
mg
Potassium:
117
mg
Fiber:
2
g
Sugar:
4
g
Vitamin A:
15
IU
Vitamin C:
0.2
mg
Calcium:
22
mg
Iron:
0.7
mg