Banana Bread as Granola ? Yes! That's exactly what we're talking about today and my husband was amazed when the whole house smelled like banana bread. Thereby, to his surprise, no Banana Bread came out of the oven, but a whole tray full of Granola . Personally, I could literally lay into breakfast variations like this. The crunch of the oatmeal combined with the nuts, along with the pleasant sweetness from bananas and coconut blossom sugar. Since I must think now immediately times, whether I make then still another sheet for our trip to Austria next week. So for the whole family … YASSS!
Who loves the smell of banana bread? ME!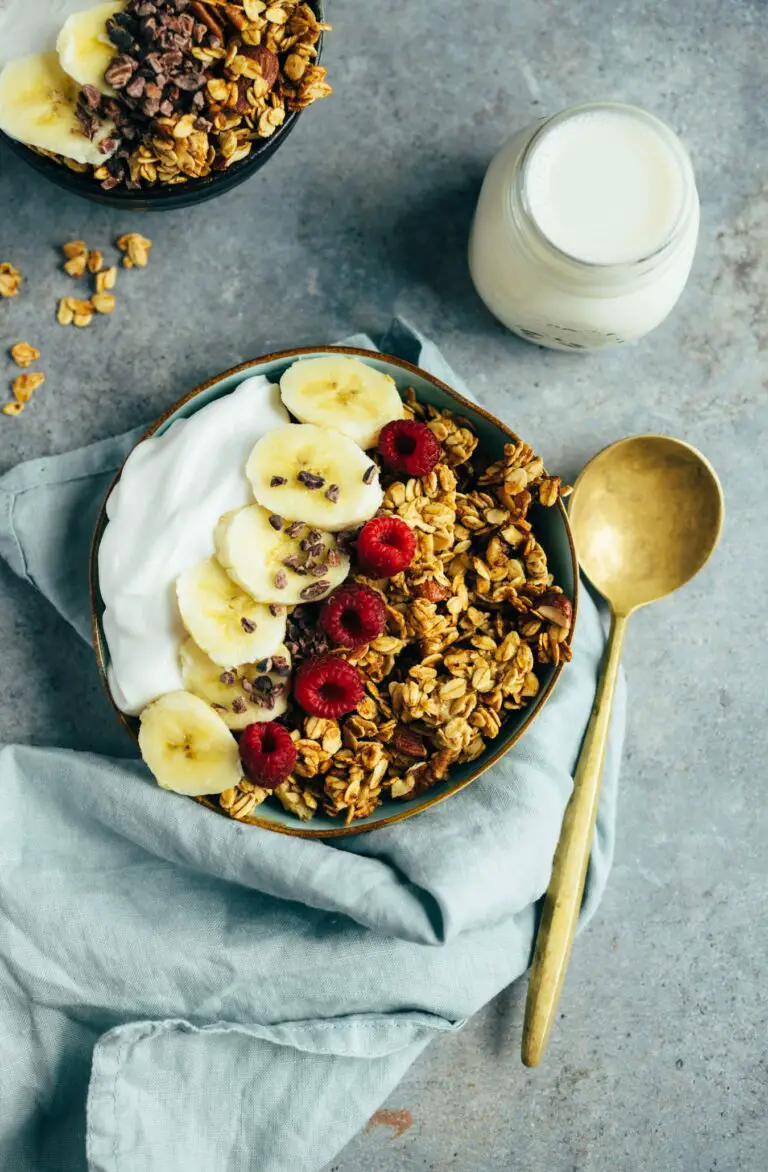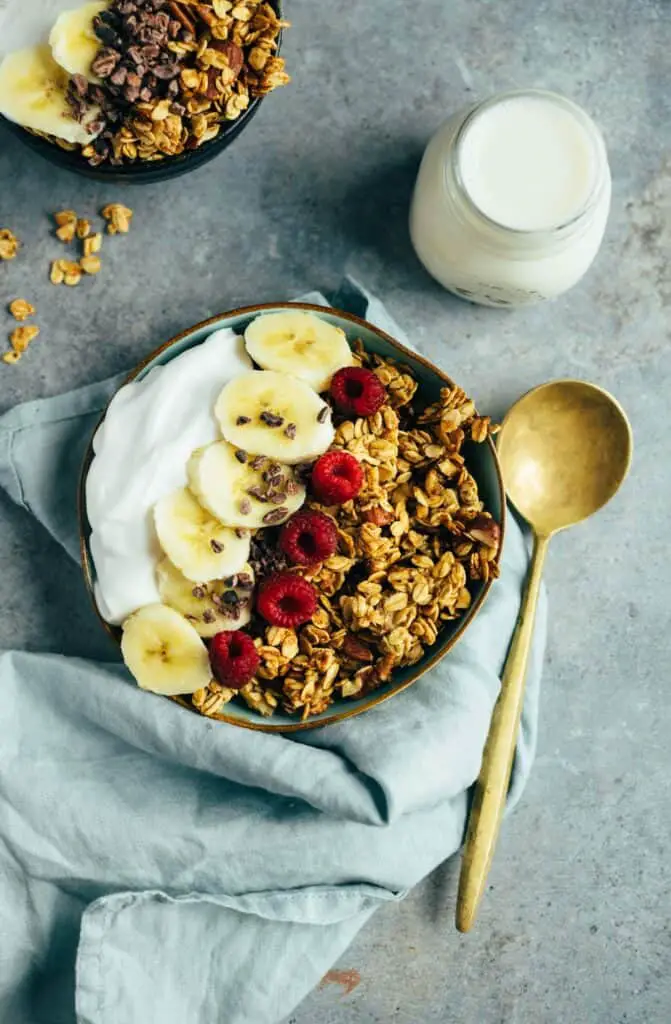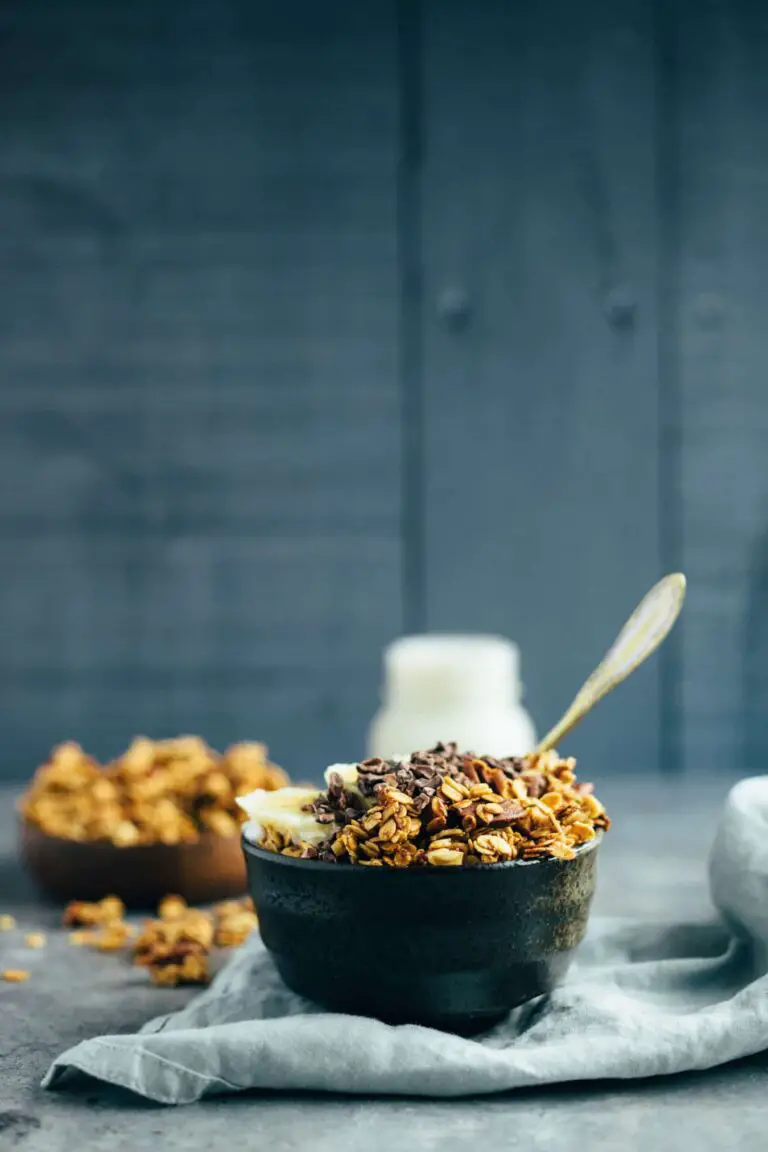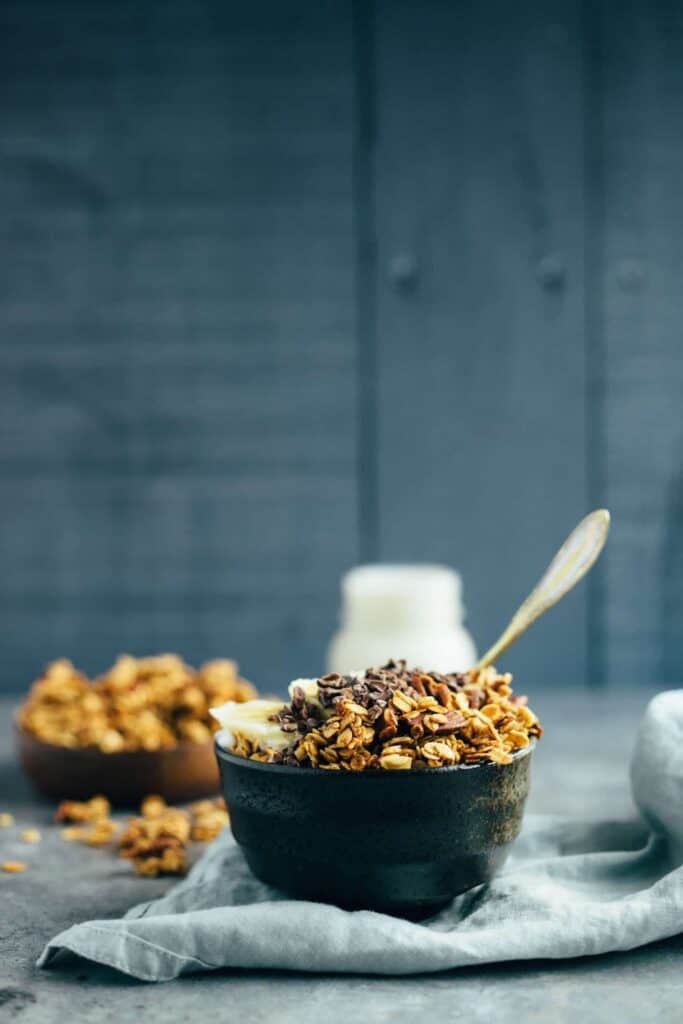 Rolled oats, mixed nuts, coconut blossom sugar, maple syrup, a ripe banana, baking oil, Flaxseed , cinnamon, vanilla and a pinch of salt. Sounds simple and it is. The only important thing is that the banana should be as ripe as possible. Only then is it really sweet and can be processed into a fine puree.
Are ripe bananas really healthier?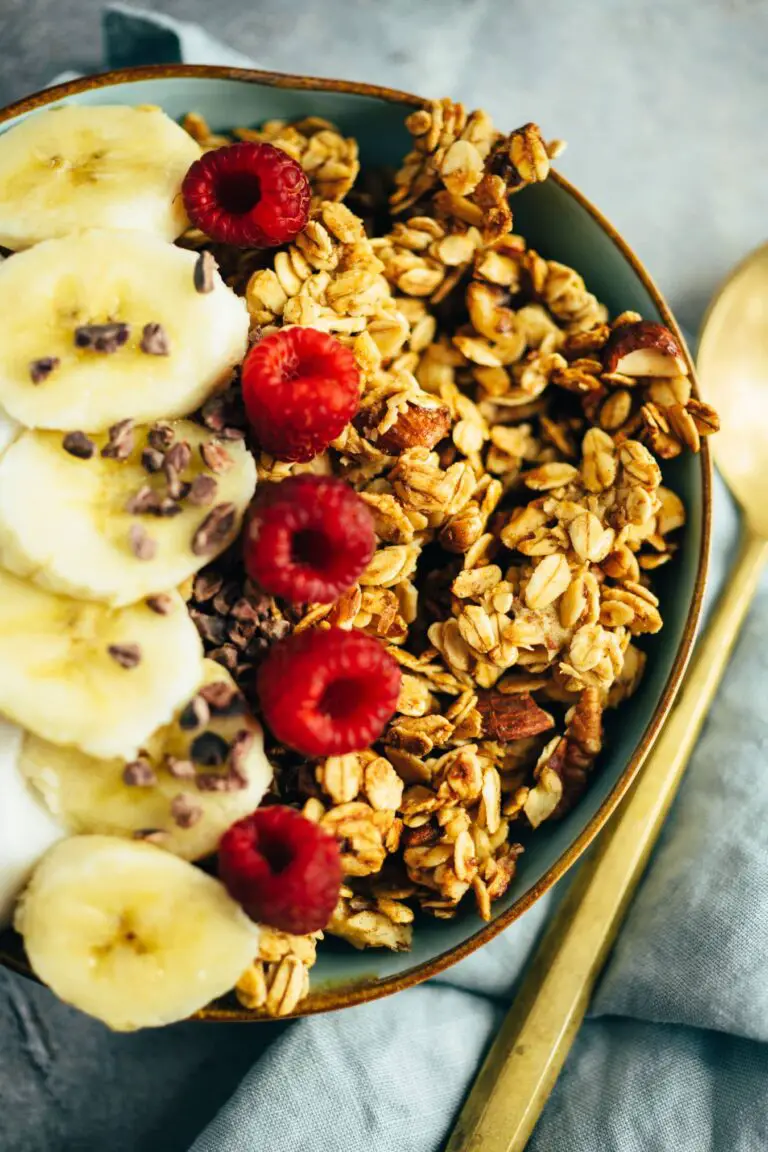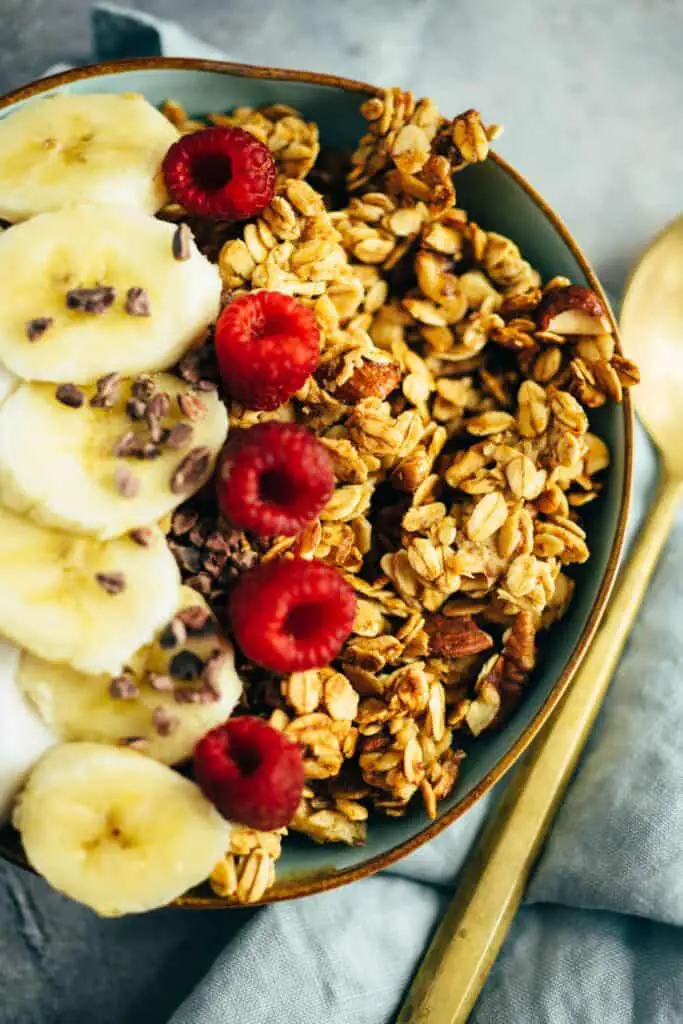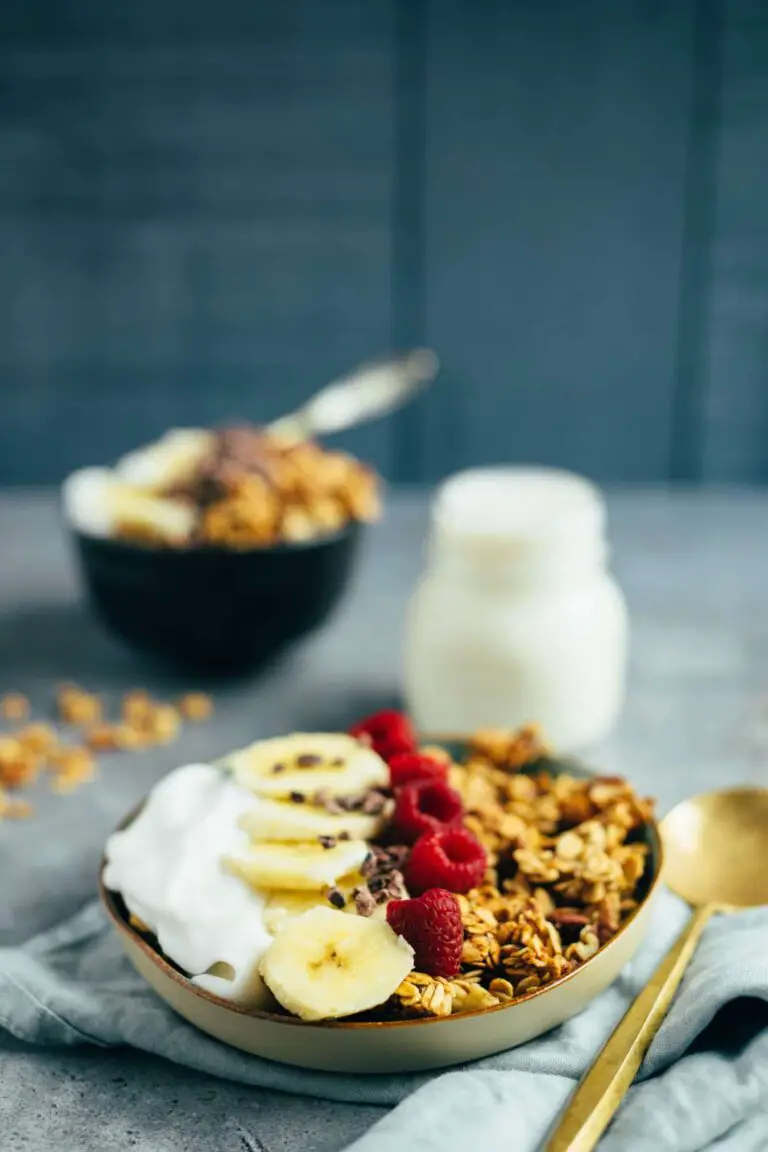 Today we want to get to the bottom of this question. Green or ripe Bananas , which variant is now really healthier? For me personally, they can't be too overripe, then they don't taste as good to me. As soon as the outside of the peel starts to turn brown, I prefer to leave it a bit longer and then freeze it for delicious banana ice cream.
In general, bananas are excellent sources of carbohydrates and provide quick energy. If you want to learn more about the positive properties of Bananas then click here and you will be taken directly to my detailed blog article.
In terms of nutritional values it is important to know that with the degree of ripeness of bananas also the content of nutrients changed. The riper the bananas, the more enzymes are produced in starch and then converted into mono- and disaccharides (sugars).
Here again a small overview:
green bananas: low sugar content, good choice for people with diabetes or elevated blood sugar levels (always consult with a doctor or nutritionist)
Yellow bananas: Higher sugar content, easier to digest, more antioxidants and anti-cancer properties.
completely yellow with black spots: substance called TNF (tumor necrosis factor) is produced, can fight malignant cells, high sugar content
Ideal with this Banana Bread Granola fits homemade Almond – or Oat milk . You can give free rein to your creativity when it comes to toppings. Starting from fresh berries, coconut yogurt, fruits, superfoods, to dried berries and cacao nibs. Perfect is the Granola by the way also simply in between as Snack (I'm thinking of the facial expression of some colleagues when they smell the delicious scent of banana bread, envy factor). Yummy!
The vegan Banana Bread Granola is:
Pleasantly sweet
nutty
Full with healthy fats
Crunchy
How banana bread
simple to be produced
Let's go with this crunchy dream that will sweeten your day already in the morning. I wish you a lot of fun baking and of course a review at the bottom of this page. If you post a picture, use the hashtag #veganevibes.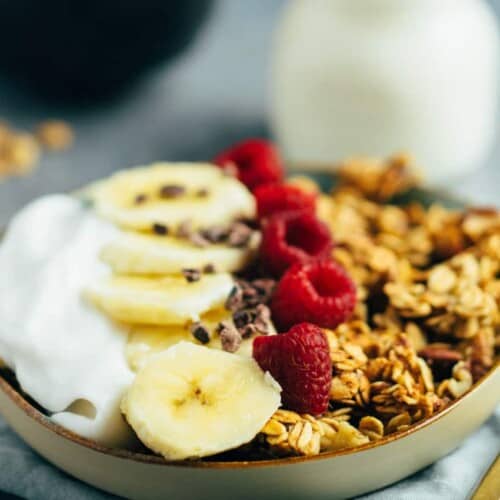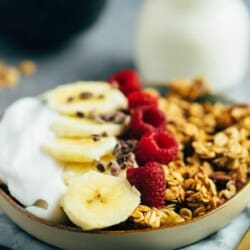 vegan banana bread granola
Crunchy, nutty-sweet granola. With delicious nuts, oatmeal and banana puree, baked in a glaze of maple syrup and coconut sugar. Perfect for a healthy breakfast or a snack in between.
AUTOR: VEGANEVIBES
Toppings:
Coconut yogurt

Fresh fruits
Anleitung 
Preheat the oven to 175 degrees and line a baking sheet with baking paper.

First, place banana in a large bowl and mash with a fork until a fine pulp is formed.

Add rolled oats, mixed nuts, coconut blossom sugar, maple syrup, frying and baking oil (or melted coconut oil), flax seeds, cinnamon, vanilla and salt and mix well once.

Spread the finished mixture evenly over the baking sheet and bake in the oven for 20 minutes.

Remove from the oven and allow to cool completely.

Garnish with fresh almond milk, coconut yogurt, fruit and optional toppings. enjoy!

Store in an airtight sealable vessel at room temperature for 2-3 weeks.
Nährwertangaben
Serving:
1
Portion
Calories:
150
kcal
Carbohydrates:
13
g
Protein:
3
g
Fat:
10
g
Saturated Fat:
1
g
Sodium:
17
mg
Potassium:
105
mg
Fiber:
2
g
Sugar:
6
g
Calcium:
19
mg
Iron:
1
mg