Vegan Flapjacks! Finally I have a solution how to combine raisins, dried apricots, Pumpkin seeds coconut shavings and many other delicious ingredients in one bar. Bar get. At first I was a bit skeptical whether it would all taste really delicious in the end. But after my first bite, any doubts evaporated and I found myself in Snacking -heaven. This Bolt will always accompany me from now on, during sports, on the way to the summit or if once again a longer hike with the huskies is pending. Simply a dream my dears and here we go.
Vegan flapjacks – love at first sight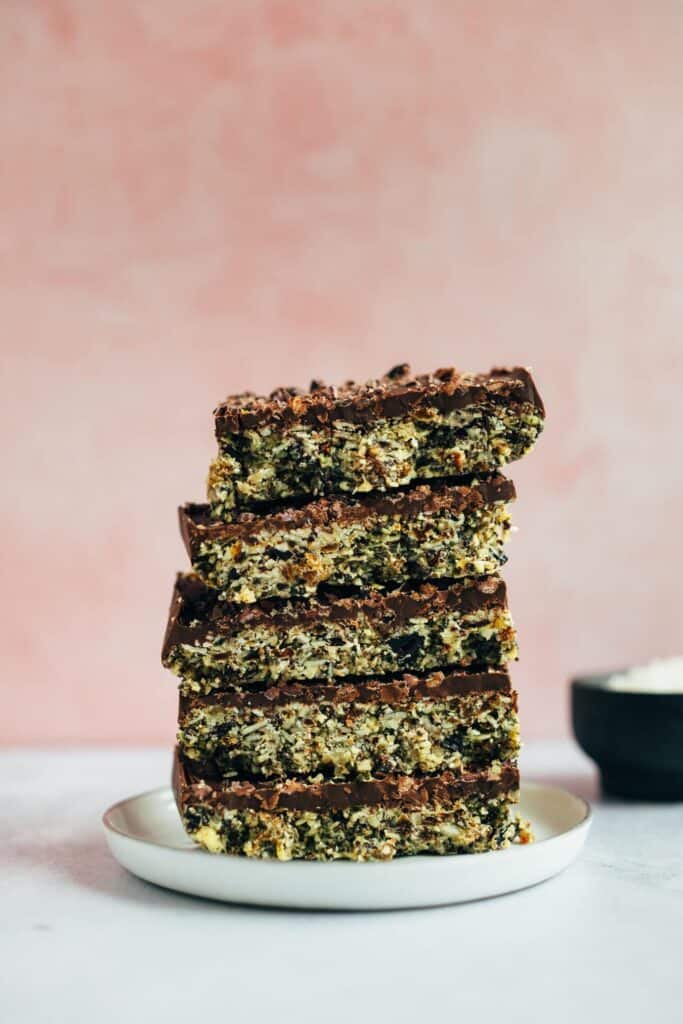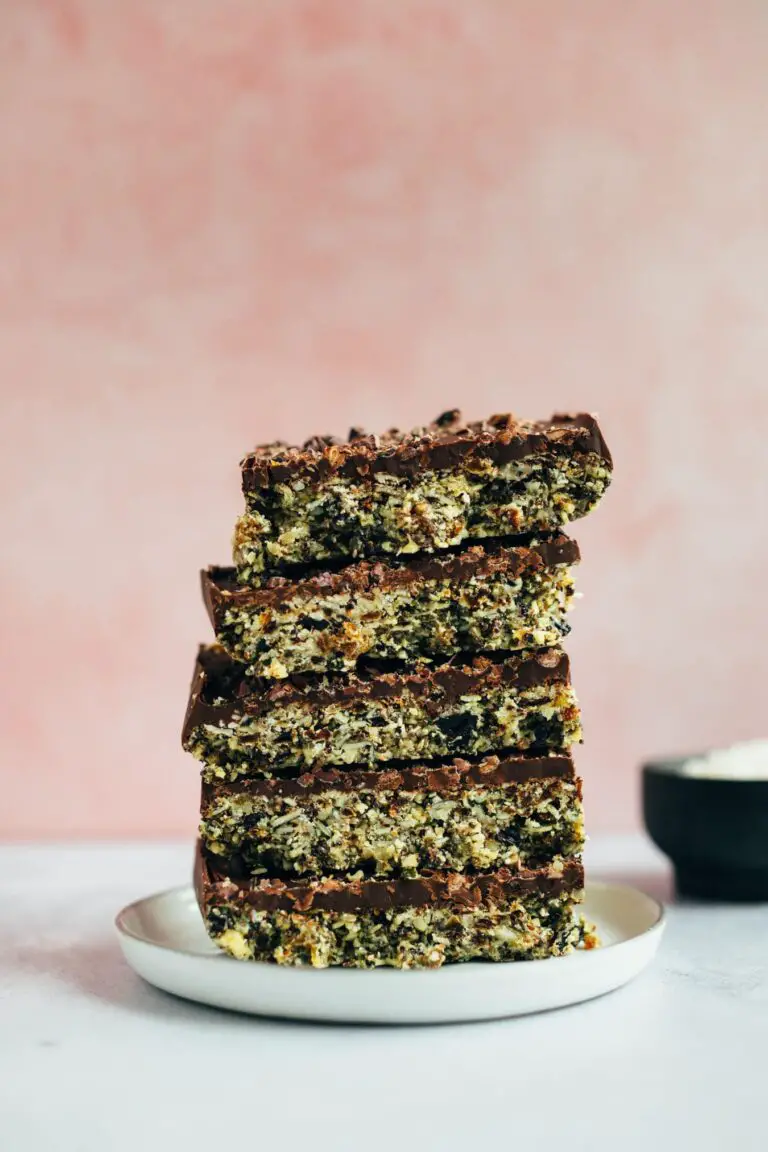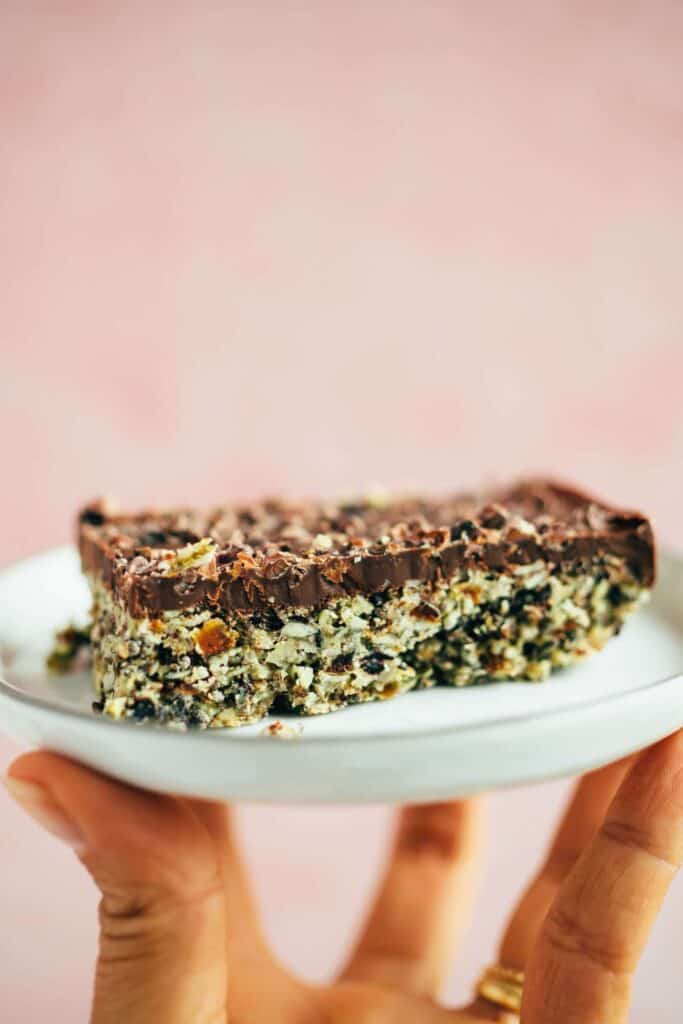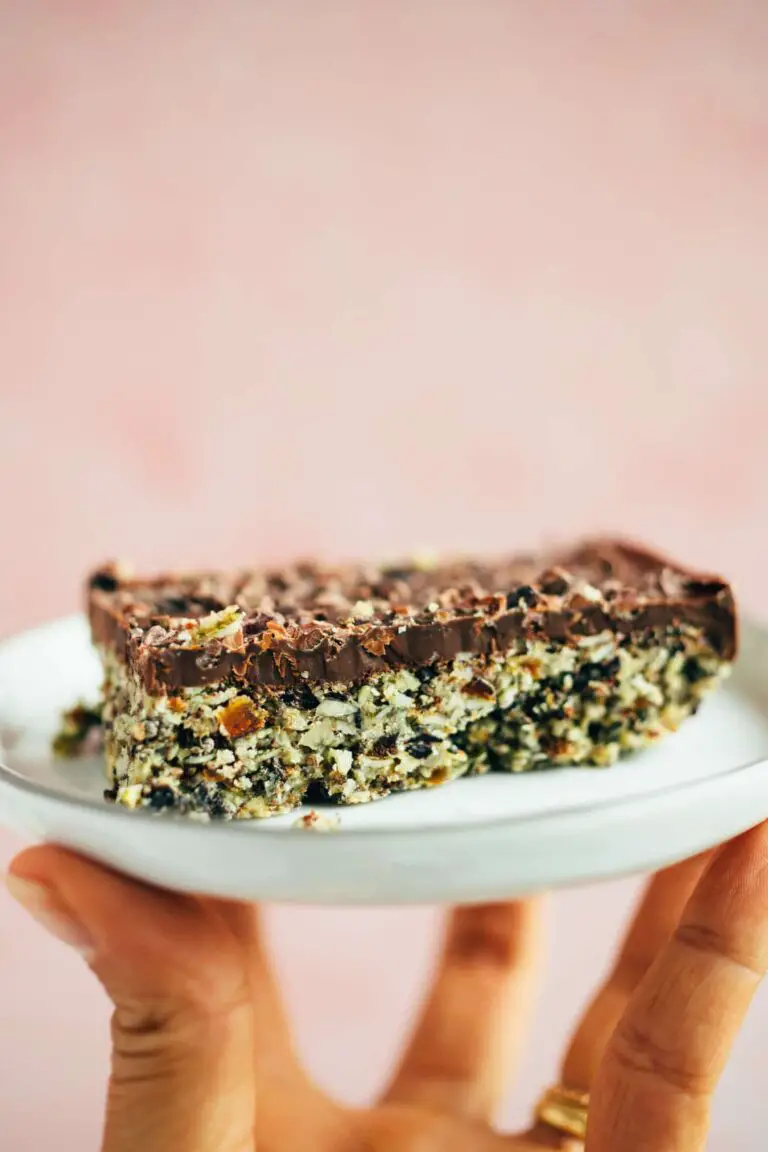 I always find dried fruit a bit difficult by itself, but packed in a bar, I love it more than anything. It is also always worth doing the work yourself, because then you know for sure what is in it. Palm oil? Wrong. Our today's Ingredients list is limited to wonderfully simple ingredients, but they have it all in terms of nutrient density. Cranberries, raisins, sour cherries Pumpkin seeds, shredded coconut, Chia seeds , walnuts, Dates , bourbon vanilla, cocoa butter and dark vegan chocolate.
What actually is cocoa butter?
Cocoa liquor is produced during the processing of cocoa beans. After being fermented and dried after harvesting , the roasting takes place. For this purpose, the shell of the beans is removed and they are ground into a cocoa mass. When the mass is subsequently pressed, fat escapes and this is the cocoa butter.
Here is a brief overview of the fat composition of cocoa butter:
60% saturated Fatty acids
33% simple unsaturated fatty acids
Rest: multiple unsaturated fatty acids
Conclusion: Cocoa butters are relatively low in nutrients and certainly not a superfood. However, in our recipe today, they serve an important purpose. Since it is solid at room temperature, like coconut oil, it is wonderful for holding our seeds and dried fruits together.


Where can I buy cocoa butter?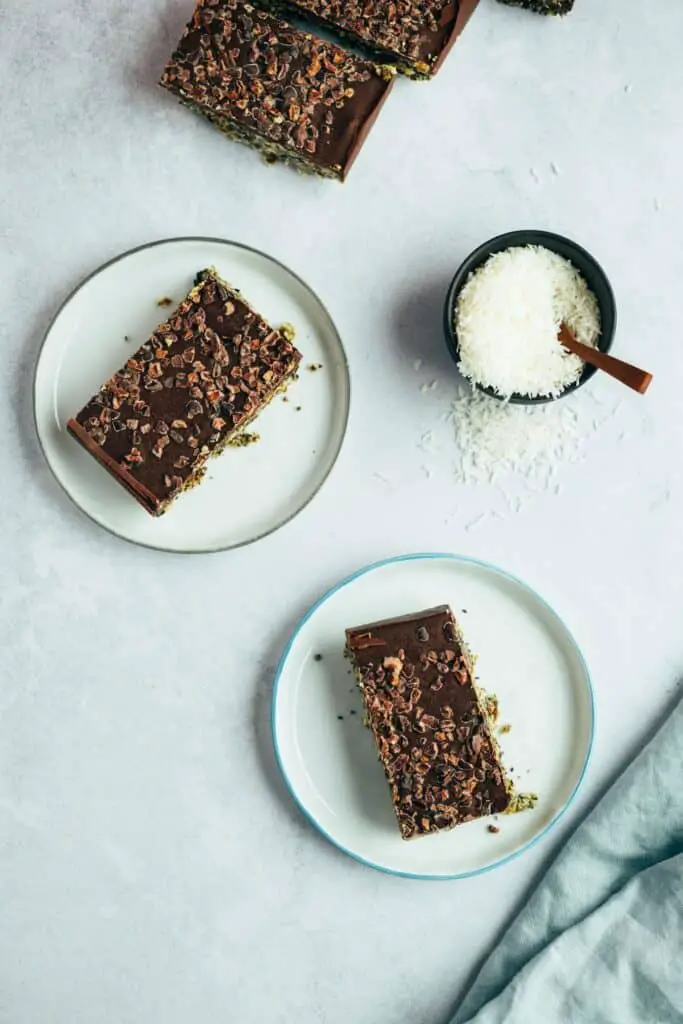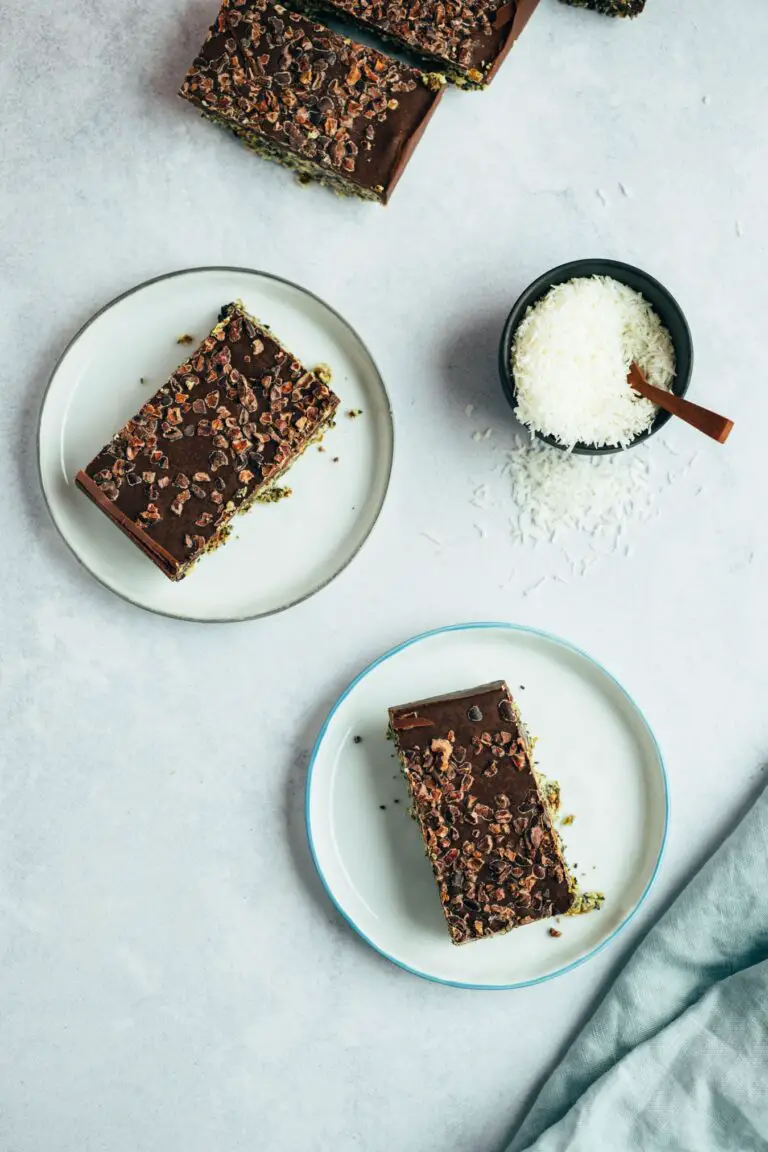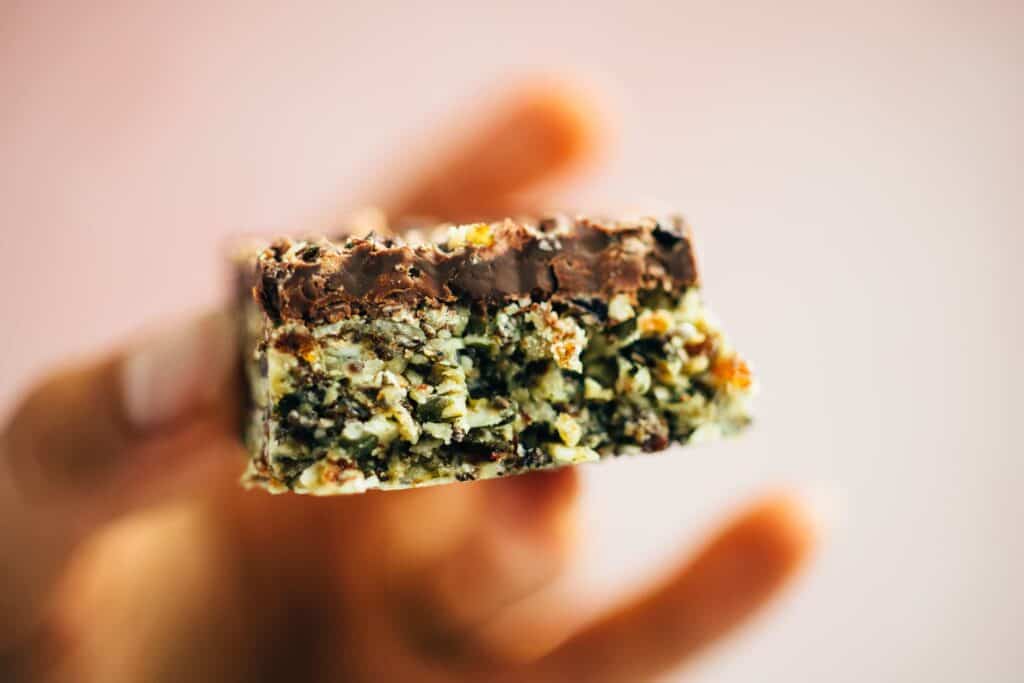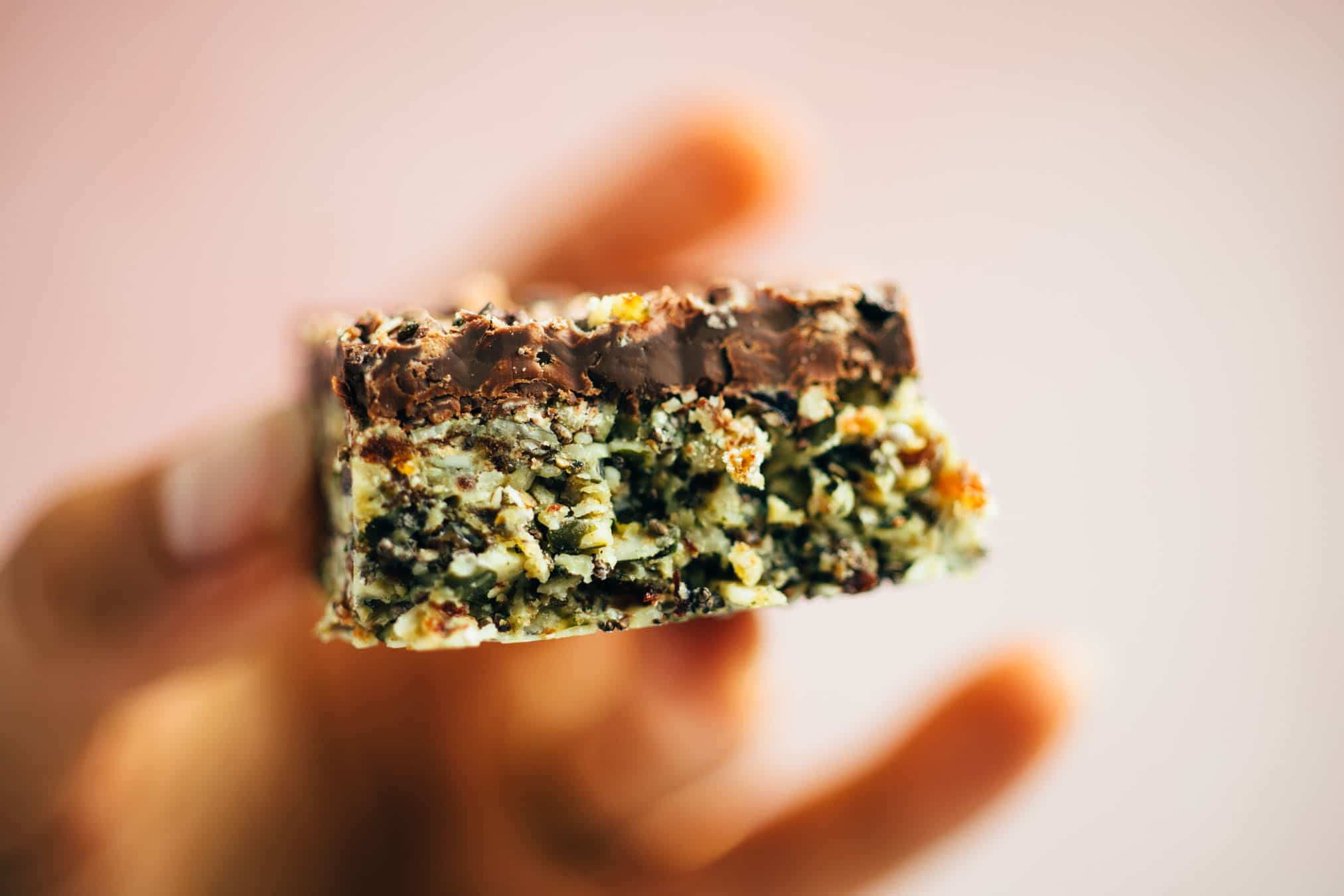 You can get them online or at any well-stocked organic supermarket. I have linked you below in the Recipe my favorite brand linked (no sponsorship!).
Practical are the Flapjacks especially because you can take them anywhere. I pack them mostly in my lunchbox and so they have already saved me from hypoglycemia in Meetings, or saved during long car rides.
TIP: For a more exotic version, replace the raisins and canberries with dried mango and pineapple. For a little superfood boost, you can also add 1-2 tablespoons of goji berries.
Get started with these delicious, versatile Energy Bars . I wish you a lot of fun in recooking and of course a review at the bottom of this page. If you post a picture, use the hashtag #veganevibes.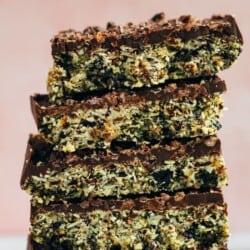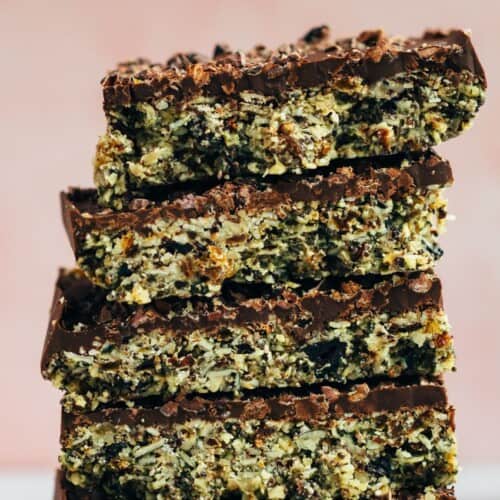 Vegan Flapjacks (25 minutes!)
Extremely delicious and nourishing energy bars for the perfect energy in between, vegan and gluten-free. Pithy, nutty, pleasantly sweet, topped with dark chocolate.
AUTOR: VEGANEVIBES
Anleitung 
Line a 20x20cm baking pan with baking paper. Set aside. For silicone molds, omit this step.

Melt the cocoa butter carefully over a water bath.

Carefully melt dark vegan chocolate over a water bath.

Place raisins, cranberries, dried apricots, pumpkin seeds, walnuts and dates on a large cutting board and chop into small pieces. Alternatively, work with a food processor. I use my Magimix here.

50 g Raisins,

50 g Cranberries,

50 g dried apricots,

100 g Pumpkin seeds,

50 g Coconut shavings,

100 g Walnuts,

100 g Medjool dates

Place mixture in a large bowl and mix through. Add shredded coconut, chia seeds, bourbon vanilla and sea salt. Mixing.

50 g Coconut shavings,

80 g Chia seeds,

¼ tbspn Bourbon vanilla,

1 Pinch sea salt

Pour the liquid cocoa butter over the mixture and stir with a silicone spatula or wooden spoon until everything is well combined.

Pour into the prepared mold and press down once with your hands until you have an even, smooth surface.

Pour melted chocolate over the top and smooth.

Place in the refrigerator and allow to set for

20-25

minutes.

When the cooling time is over, remove from the mold and cut into 16 even pieces.

enjoy! Store leftovers in an airtight box in the refrigerator. In the freezer up to 4 weeks.
Nährwertangaben
Serving:
1
Piece
Calories:
256
kcal
Carbohydrates:
20
g
Protein:
6
g
Fat:
18
g
Saturated Fat:
7
g
Cholesterol:
1
mg
Sodium:
6
mg
Potassium:
313
mg
Fiber:
6
g
Sugar:
9
g
Vitamin A:
127
IU
Vitamin C:
1
mg
Calcium:
57
mg
Iron:
3
mg