First of all, I ask the most important question: Do you know anyone who does NOT like candy bars? Candy Bar like? Not me! At some point, everyone has a craving for chocolate bars, otherwise they wouldn't be selling like hotcakes at gas stations and last-mile supermarkets. Most of the bars we buy are anything but healthy. Wheat flour, sugar and additives. Therefore, my suggestion is that today we together once delicious and especially healthy Chocolate bar make. Who is with us?
vegan chocolate bar – very simple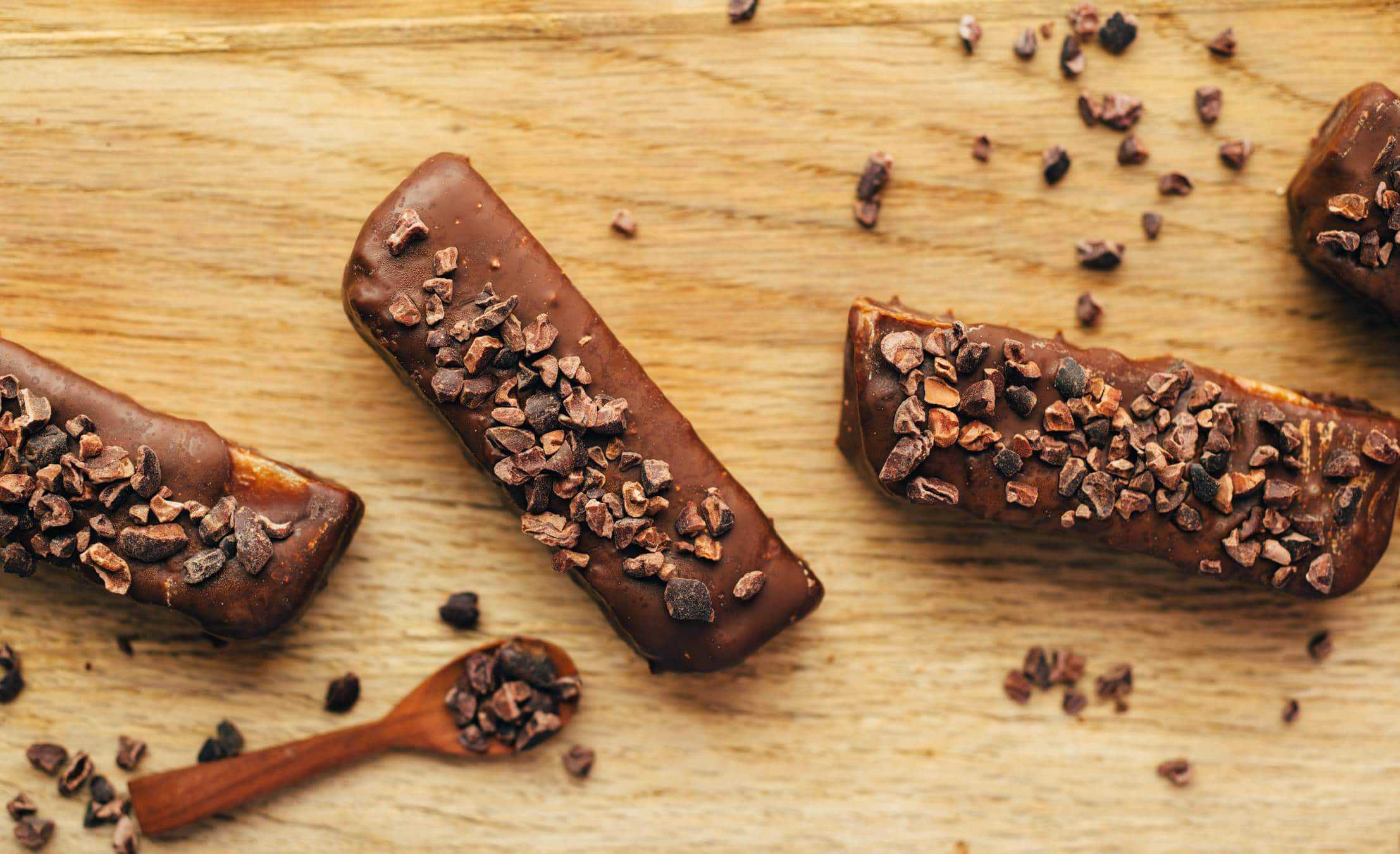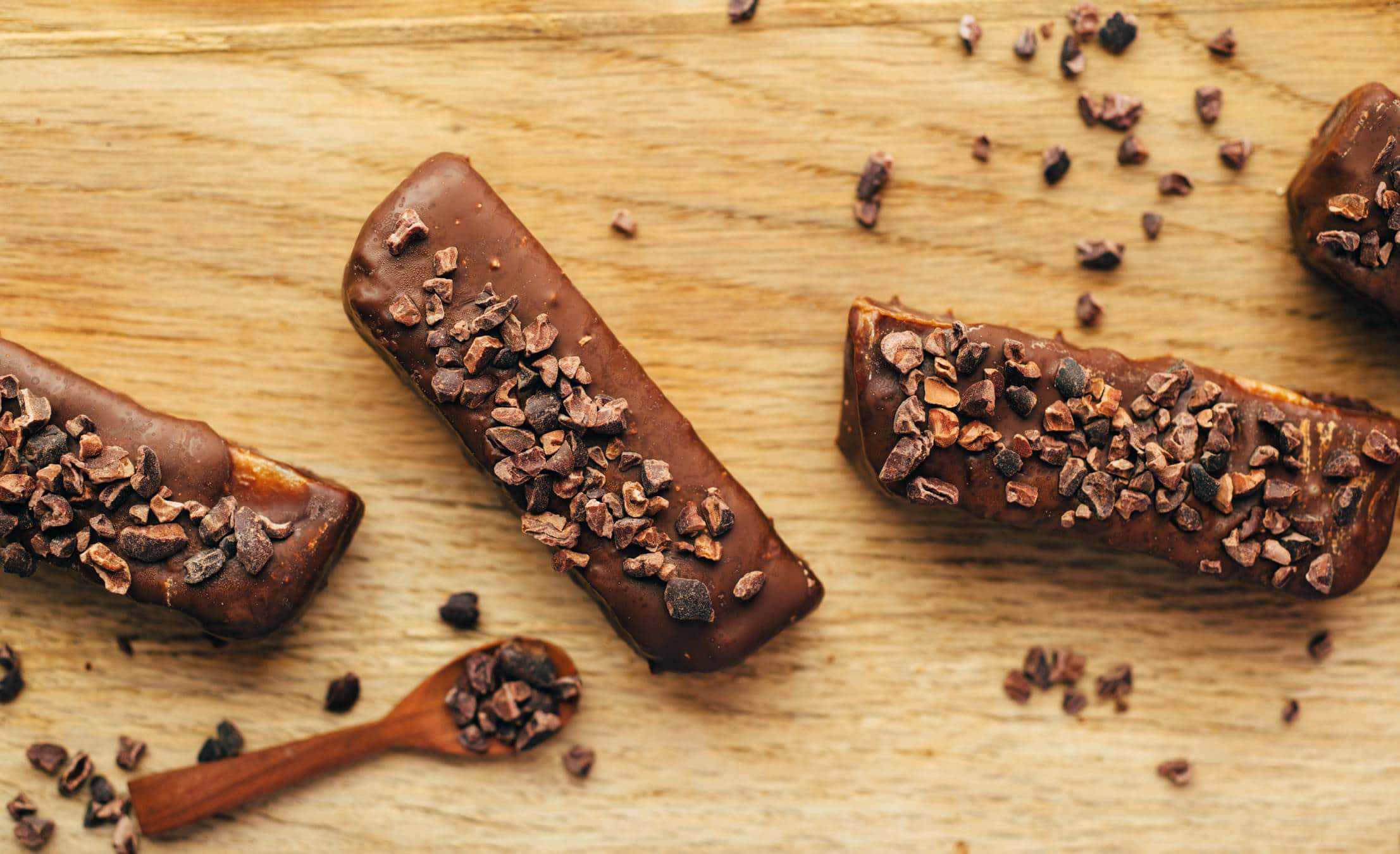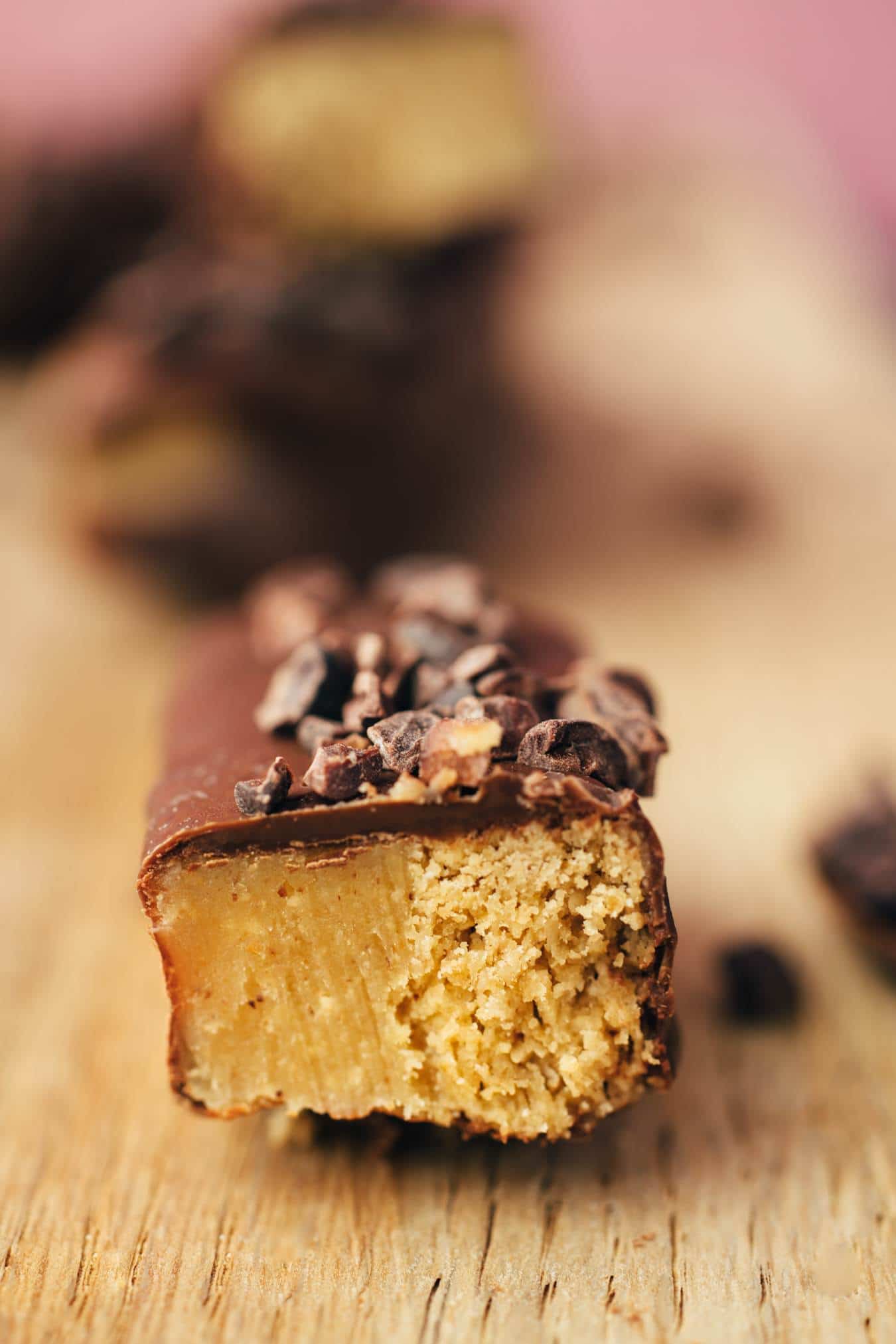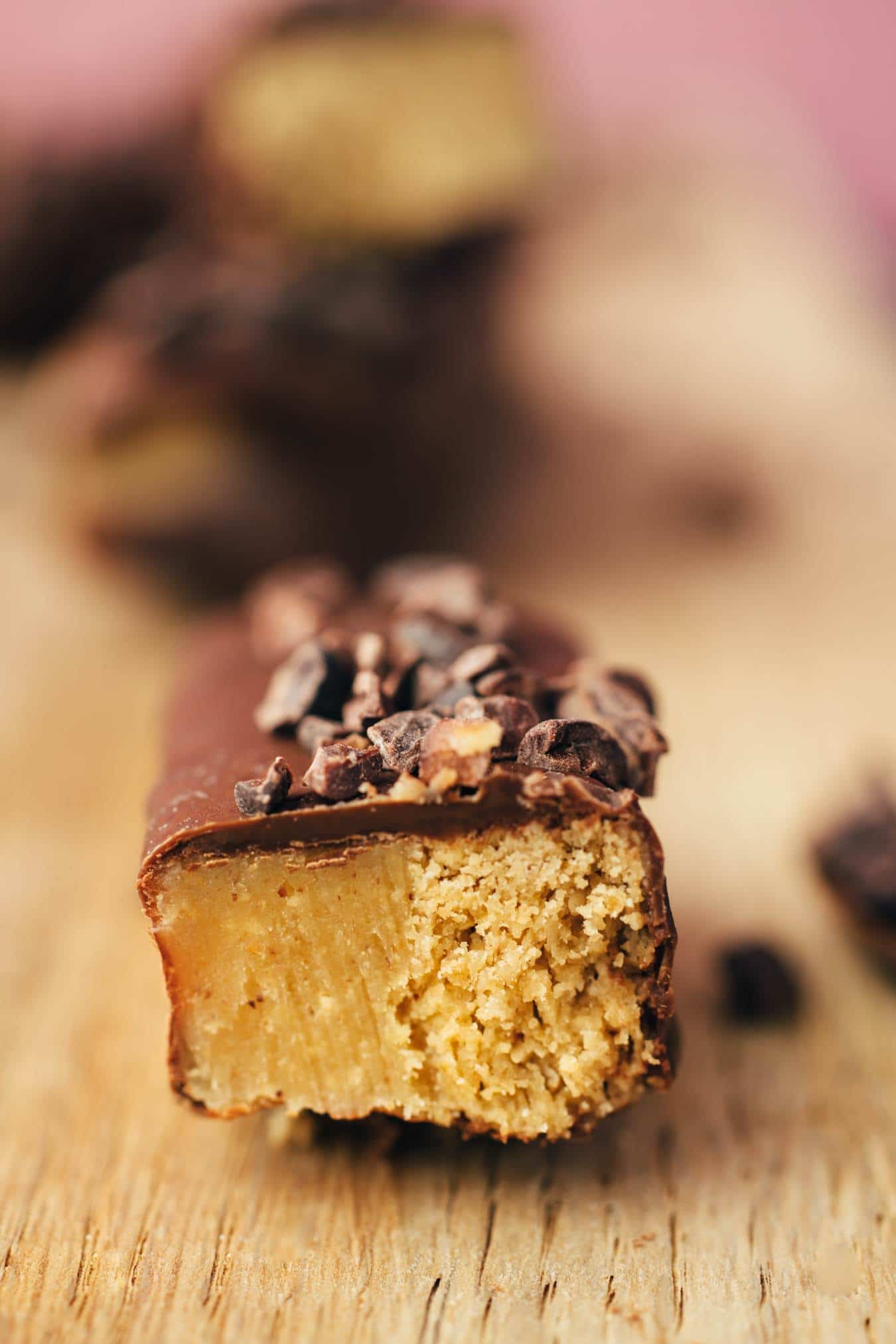 Survived a day in the refrigerator? But then the vegan chocolate bars have lasted a long time.
Let's start with the floor. Oat flour, hazelnut butter, maple syrup, coconut oil and vanilla. Sounds much better than the supermarket version. The result is even better, because the soil becomes really nice and crumbly and forms the perfect basis for our bars.
In addition, oat flour or oats in general is much more valuable than light wheat flour and is particularly rich in:
Biotin
Vitamin B1
Magnesium
Vegan chocolate bars that make you want more? Then you are exactly right here.
We continue with the delicious second layer of homemade caramel. The ingredient list very manageable (you already know that from me): Hazelnut butter, maple syrup, tahini, cocoa butter, and a pinch of salt. I can already promise you that this layer will melt in your mouth. It's a bit like caramel in taste, but not as chewy, instead fluffy and creamy. Together with the friable bottom simply a dream. At the end comes only chocolate that coats the bars. Very tasty!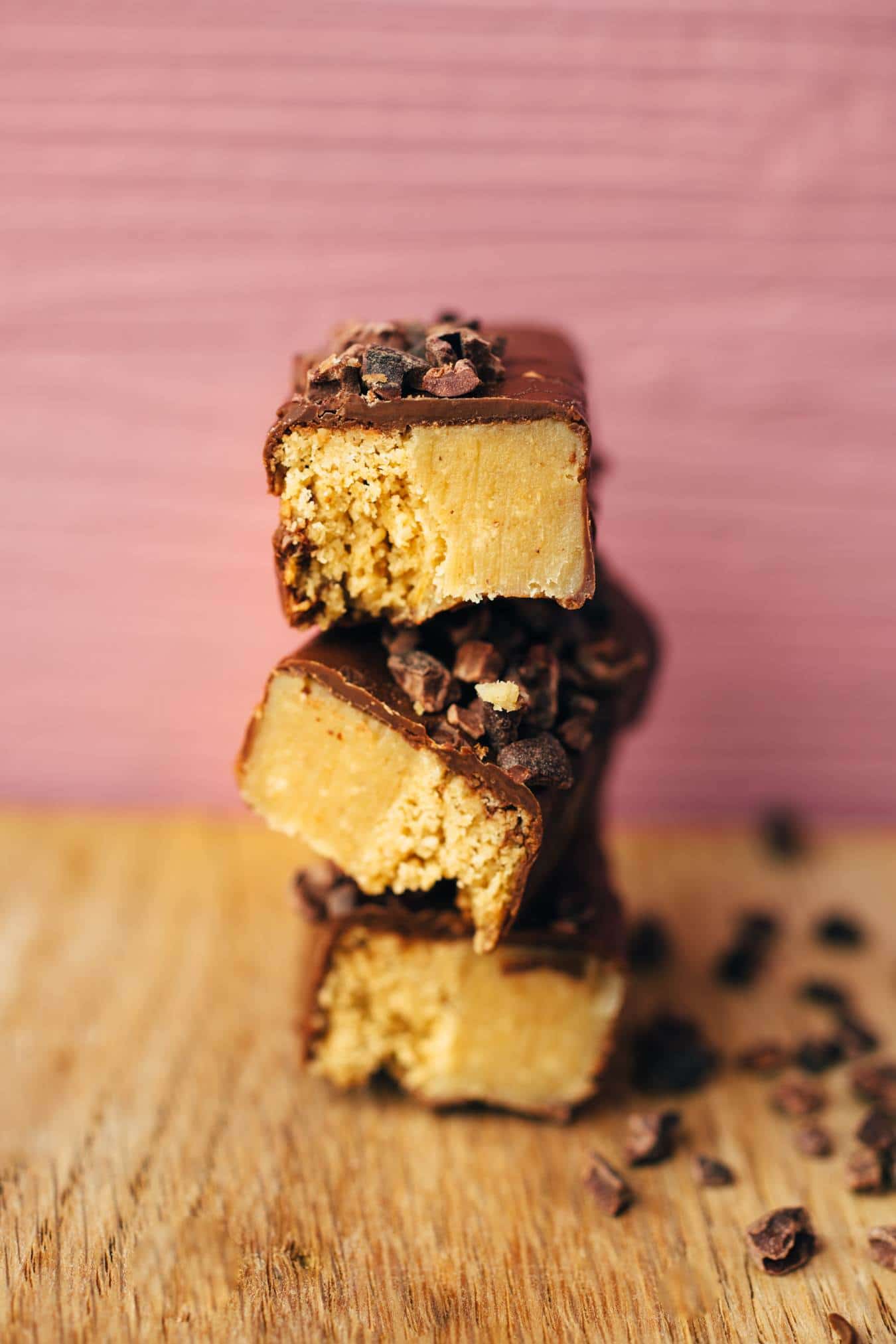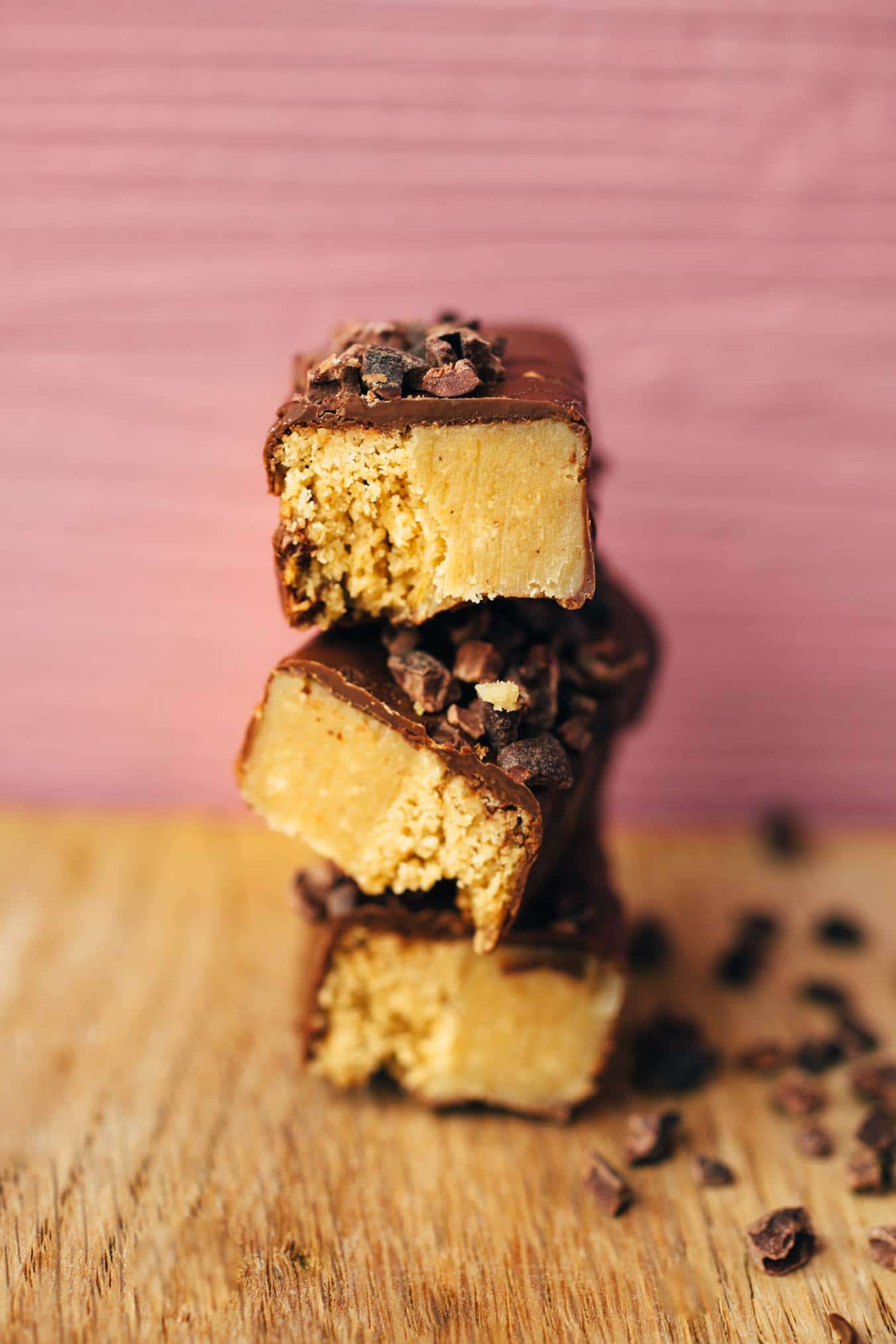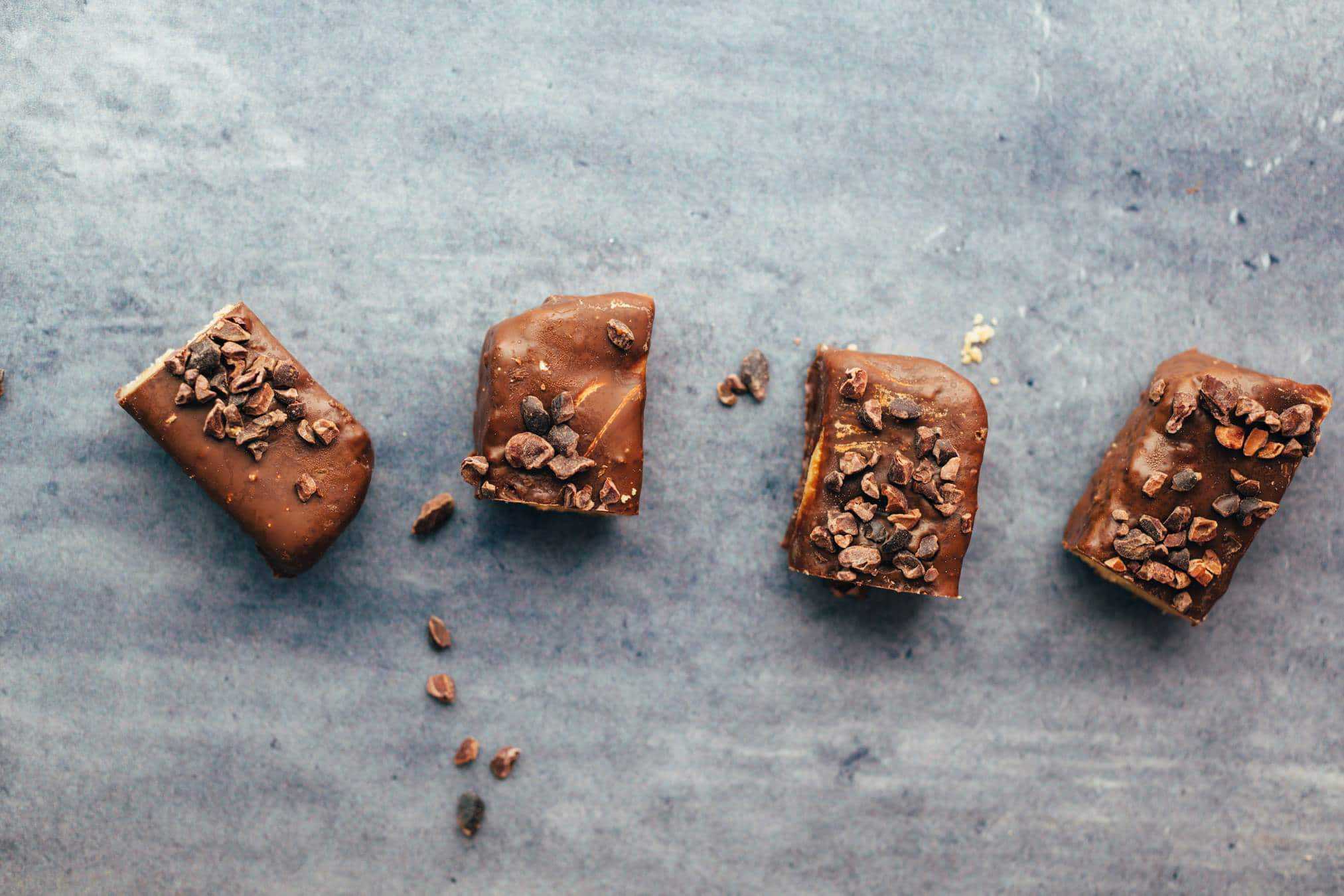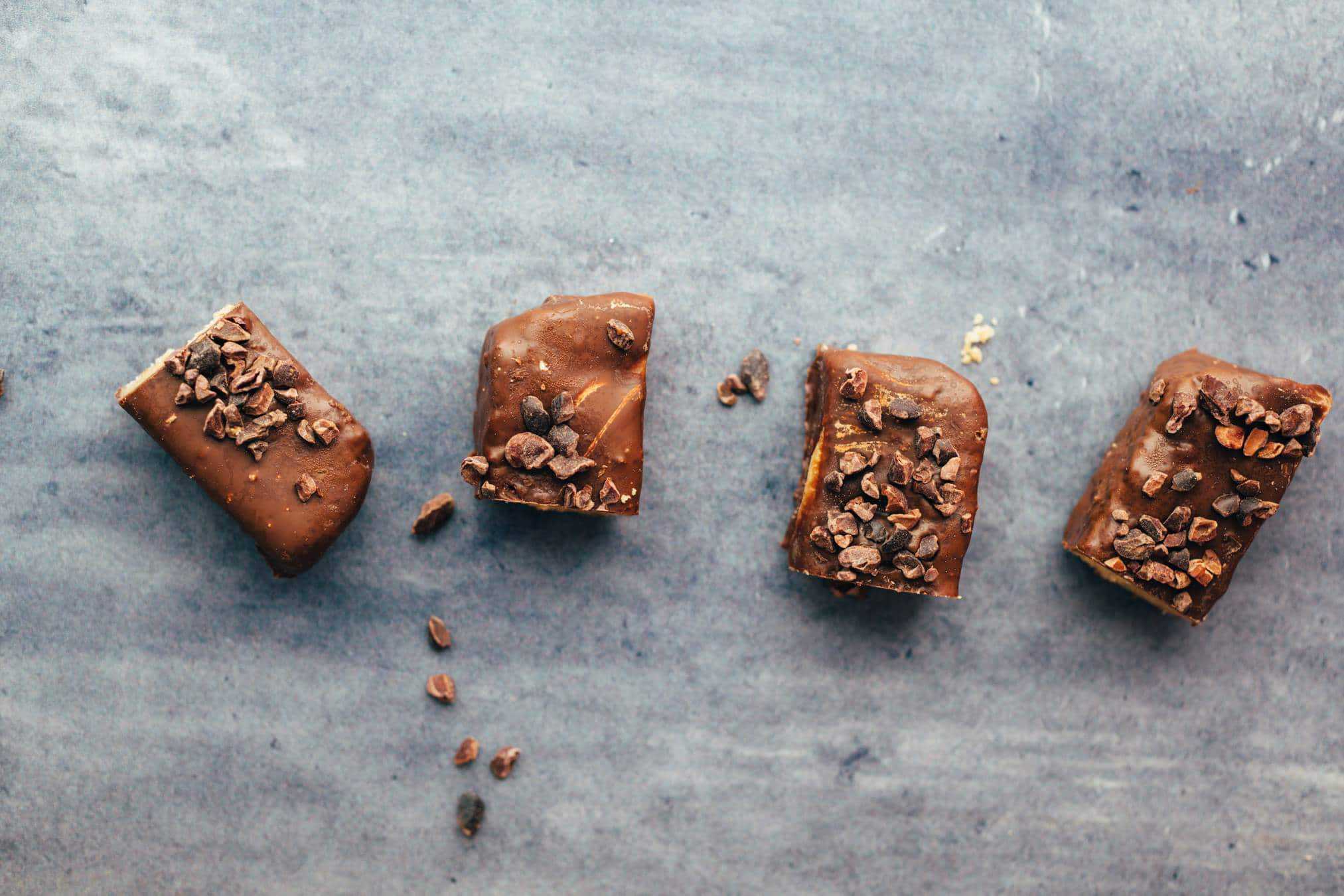 Still need arguments why these delicious bars are just right?
As a snack with coffee
As a vegan dessert
Just because!!!
The included hazelnut puree gives you even more brain power. Hazelnuts are full of healthy fatty acids and rich in a whole variety of minerals.
Are you into superfoods? Then I recommend you to mix in Lucuma powder or a vegan protein powder. The bars get a special antioxidant kick from the cocoa nibs that I sprinkle on top of the chocolate coating. More information below in the recipe.
The bars go perfectly with a cup of tea, Immune Booster Latte , Chocolate Chia Smoothie , hot chocolate or golden milk .
The simple vegan candy bars are:
Creamy caramel
chocolatey
Delicately melting
Naturally sweetened
Quickly made
Let's go with this dream made of chocolate. I hope you enjoy "baking" and of course about a review at the bottom of this page. If you post a picture, use the hashtag #veganevibes.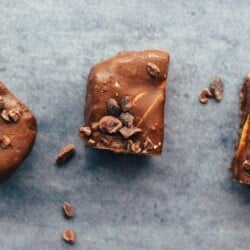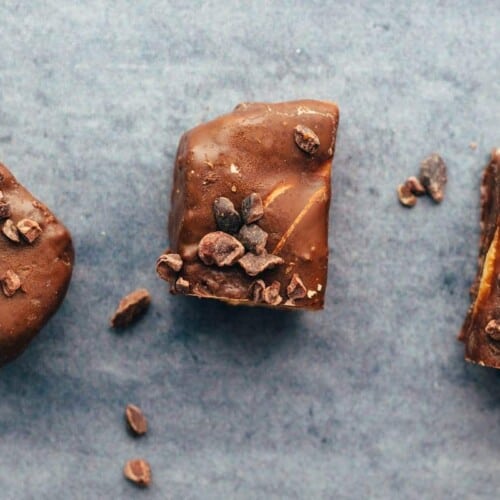 Simple vegan candy bar
Extremely delicious, caramel-chocolate, vegan and gluten-free chocolate bars for the perfect chocolaty temptation in between meals. Creamy, tender-melting, with a crumbly base made from oatmeal.
AUTOR: VEGANEVIBES
FOR THE CHOCOLATE COATING:
Anleitung 
Line a king cake pan (25x11cm) with baking paper and press it down well so that it fits the edge as well as possible.


Preheat oven to 150 degrees.


Mix all ingredients FOR THE BOTTOM in a mixing bowl and mix until a uniform dough is formed. Pour into the king cake pan and press down until everything is evenly distributed in the cake pan. I like to work here with moistened fingers so that nothing sticks.

115 g Oatmeal,

15 g Hazelnut butter,

30 ml maple syrup,

30 ml Coconut oil melted,

¼ tbspn Bourbon vanilla ground

Put in the oven and bake for 20 minutes. After baking time, remove from oven and let cool completely.


FOR THE CREAMY CARAMEL LAYER mix all the ingredients in a small bowl and pour over the base, smooth out and leave to set for about 2 hours in the freezer or overnight in the refrigerator.

30 ml maple syrup,

130 g Hazelnut butter,

78 ml maple syrup,

30 g Tahini,

60 g Cocoa butter,

A pinch of salt

Towards the end of the freezing time, melt the chocolate in a water bath. Optionally add the cocoa butter.


300 g vegan dark chocolate,

30 g Cocoa butter

Cut bars from refrigerator or freezer (let thaw for 10 minutes) into 8 slices.


Dip each bar into the chocolate bath and drain on a draining rack. Tread with cocoa nibs and allow to harden completely. enjoy!


It is best to store in an airtight container in the refrigerator, as the caramel layer melts at room temperature. The bars last up to 2 weeks in the refrigerator.

Notizen
NOTES /HELPFUL ACCESSORIES:
Nährwertangaben
Calories:
426
kcal
Carbohydrates:
50
g
Protein:
6
g
Fat:
26
g
Saturated Fat:
18
g
Sodium:
12
mg
Potassium:
245
mg
Fiber:
6
g
Sugar:
35
g
Vitamin C:
0.2
mg
Calcium:
99
mg
Iron:
4.8
mg