The other day at the gas station I caught myself. As if in a trance, I almost wanted to reach for a well-known Chocolate bar reach for. A dream of Coconut flakes coated with melt-in-the-mouth chocolate. No, I thought, today I'll make myself a healthier version. After all, I don't want to give up this sweet sin completely, and sometimes you need a really good one. Chocolate bar. Should also make happy?
The Vegan Mutiny on the Bounty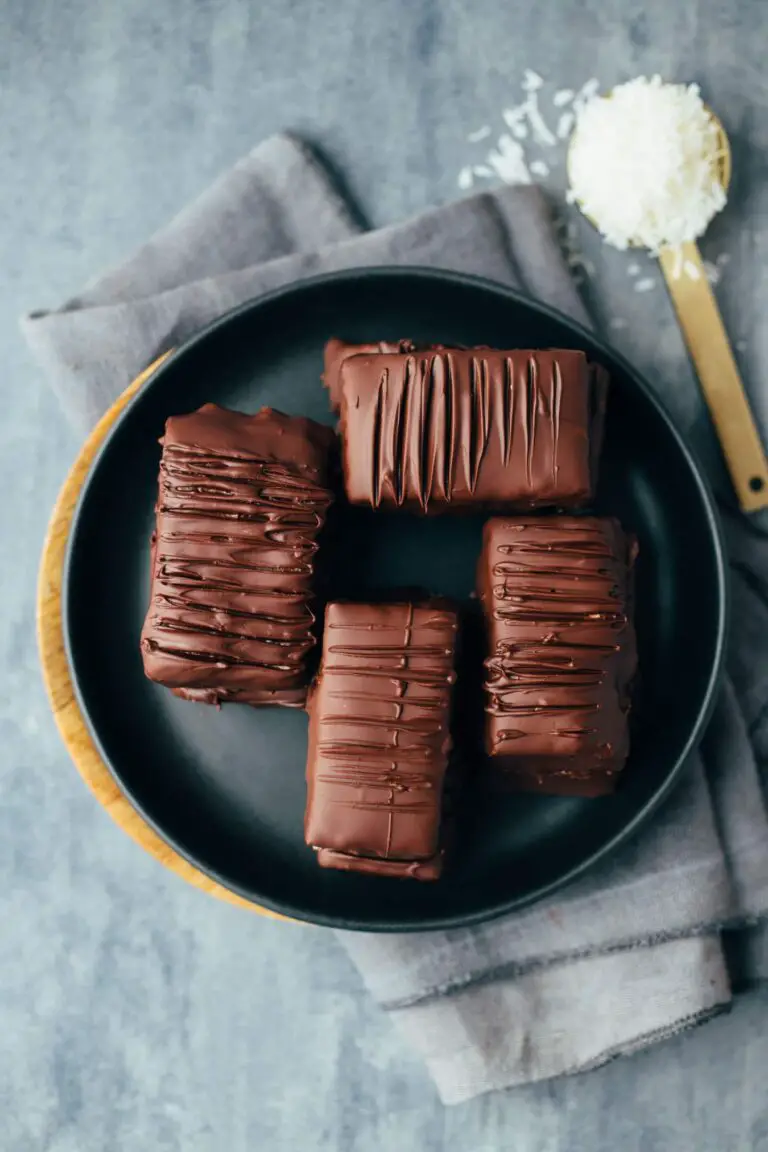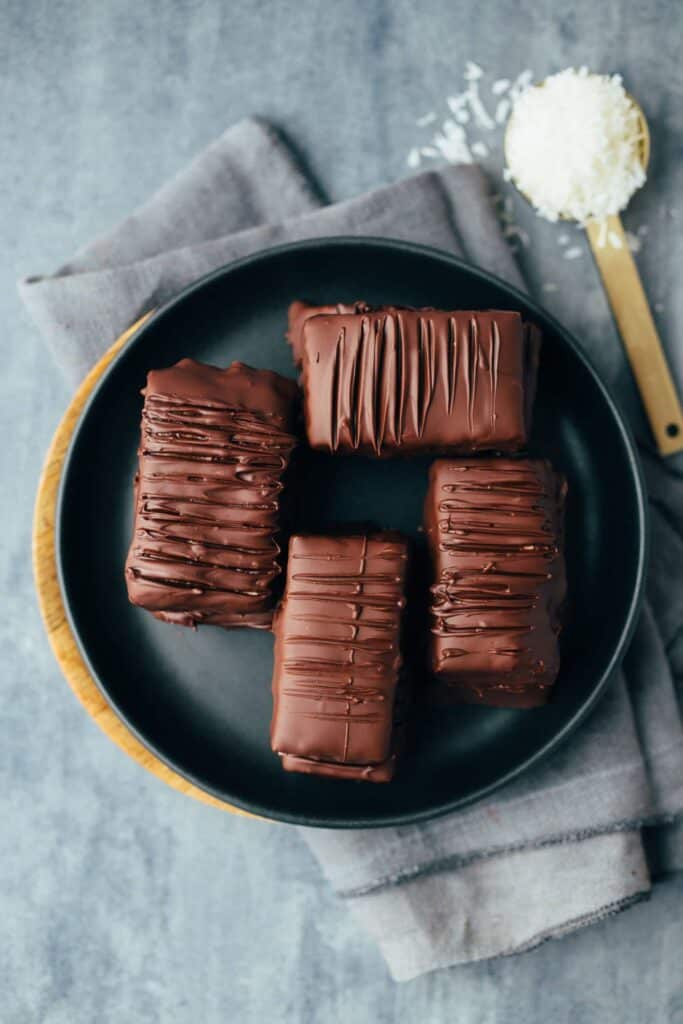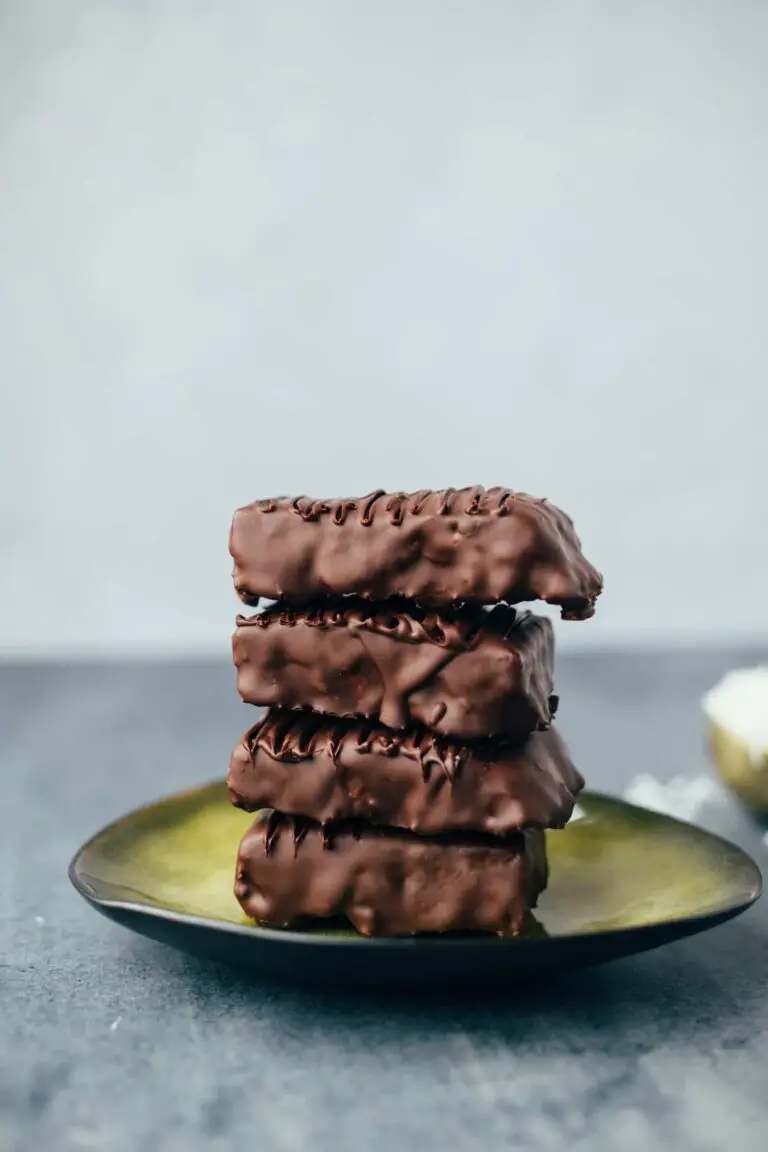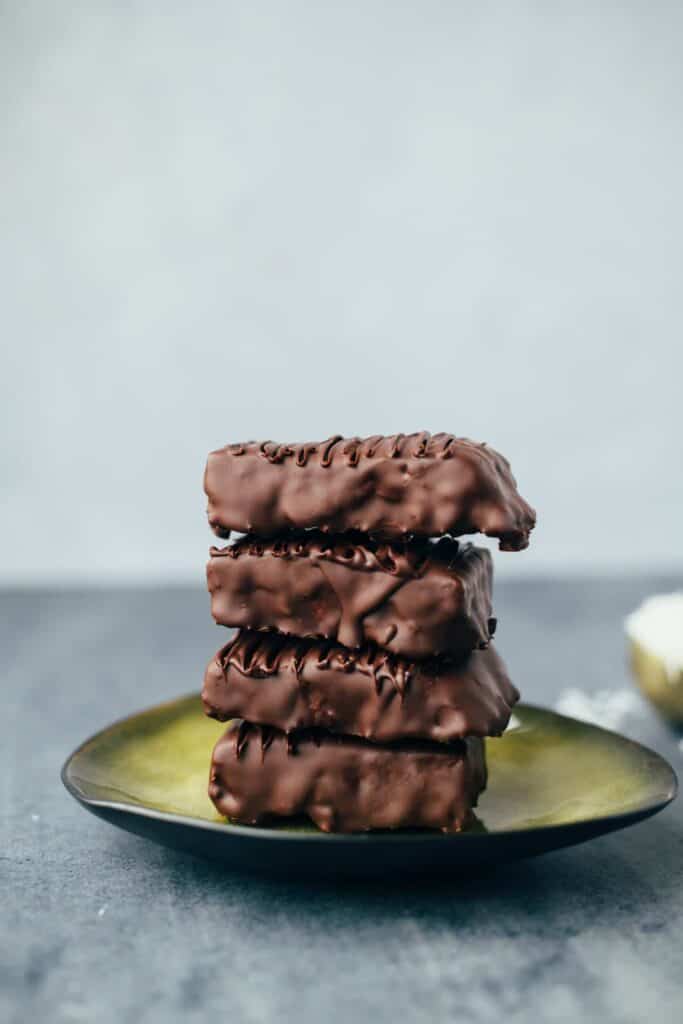 If only sailors back then had known how easy vegan bounties were to make. I'm sure they would have made some. Whereas the bars would probably have melted away in their hands at the temperatures. For our today's Recipe we actually need only 6 ingredients. Coconut oil, shredded coconut, agave syrup, almond flour, bourbon vanilla and a pinch of salt. To this is added a coating of delicious dark Chocolate . If you like, you can also use vegan milk chocolate.
Vegan Bounty What?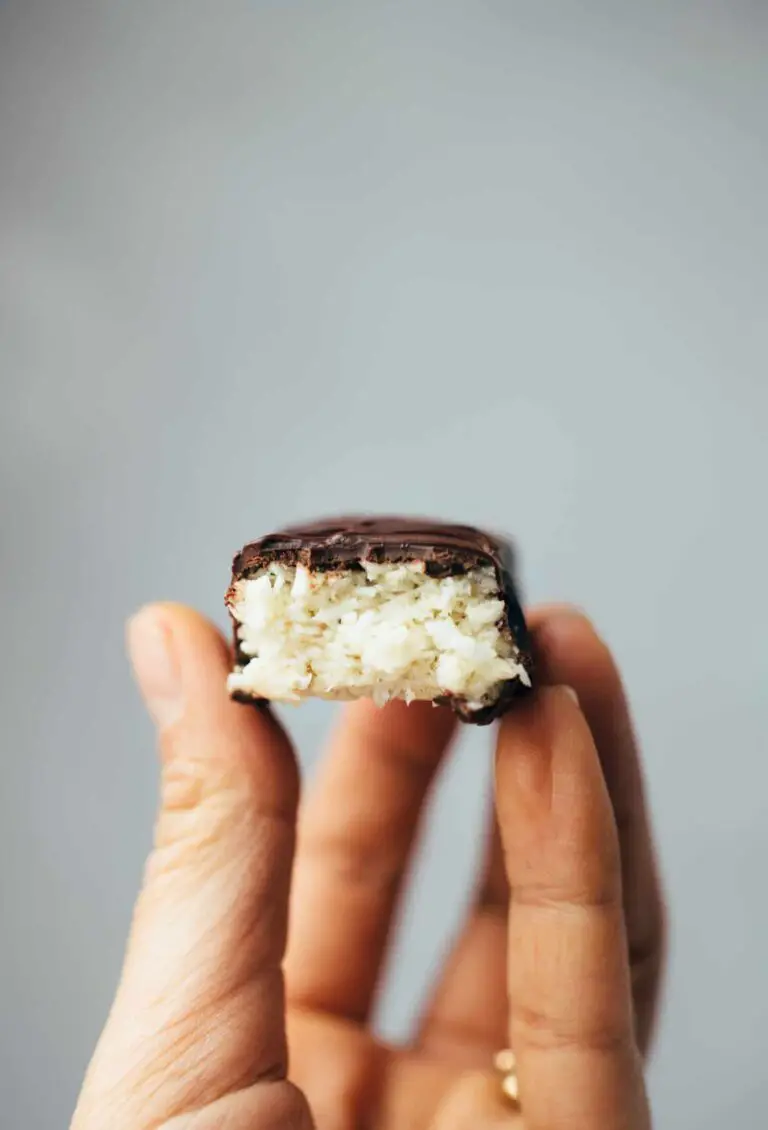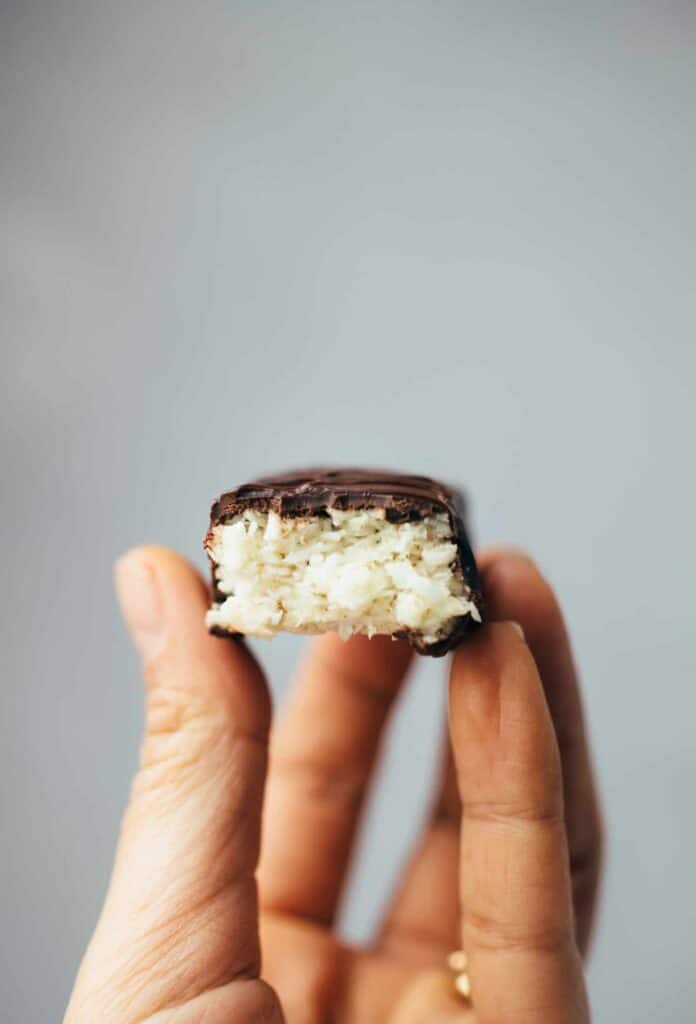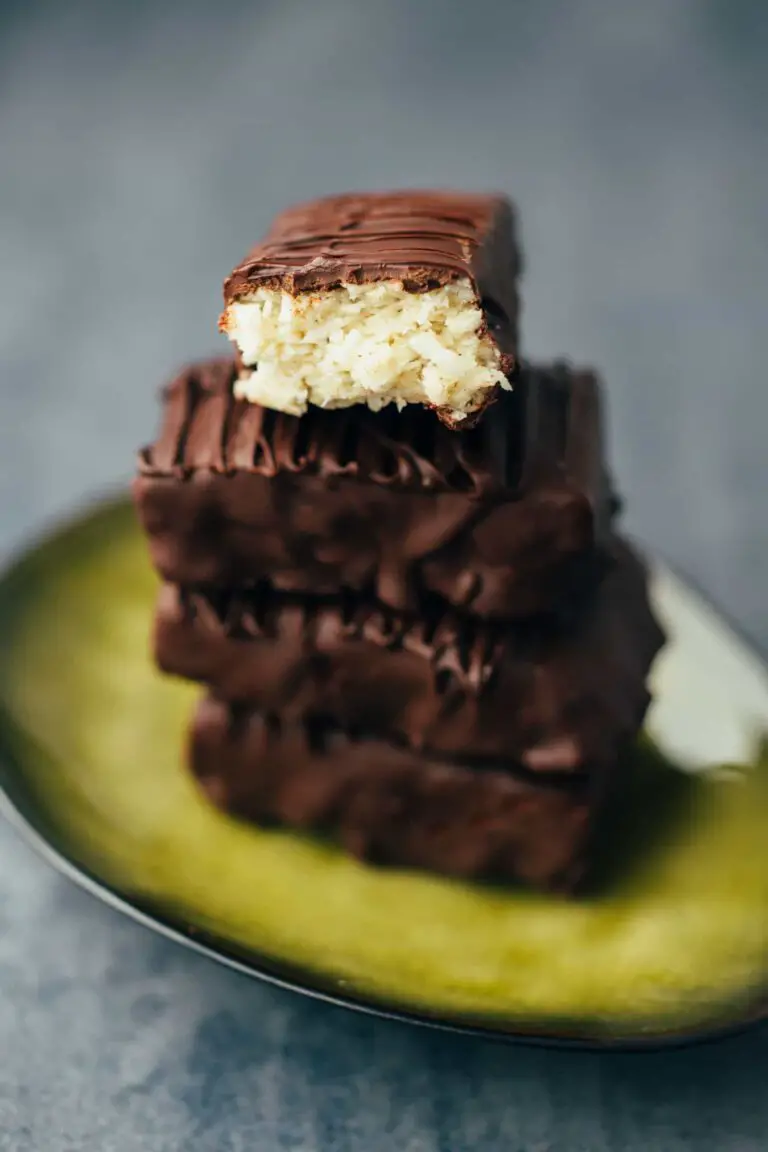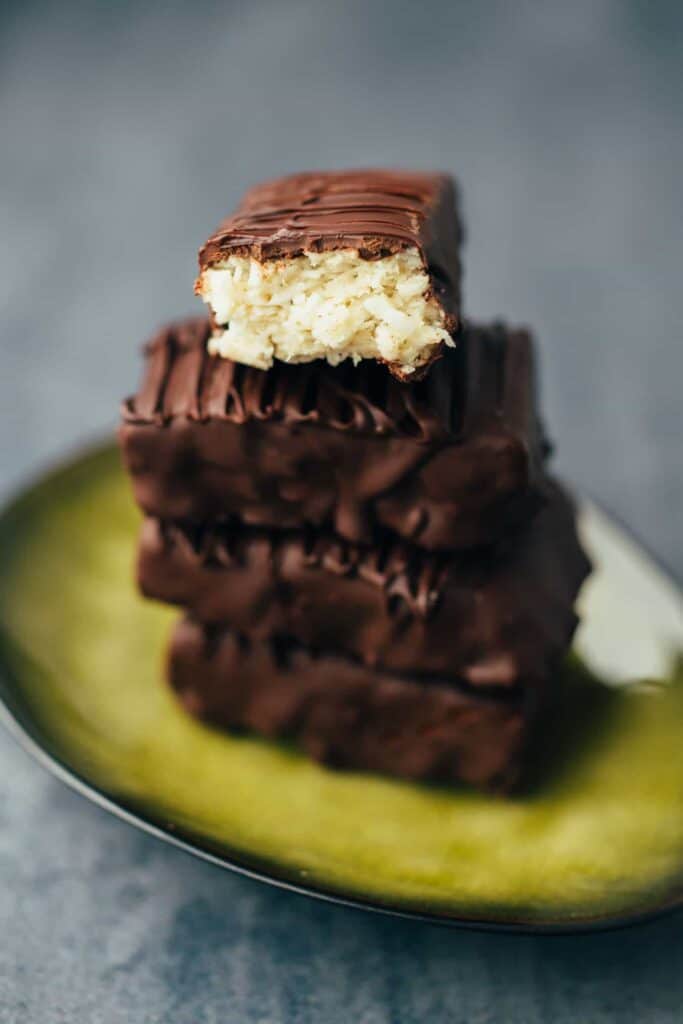 Exactly! Heard correctly and manufacture, as promised, is quite simple. The filling is simply made from the individual ingredients stirred together, hand to form a square Block molded and covered with dark dark chocolate.
The size of the Bolt you decide all by yourself and if you like, you can also make vegan mini bounties out of them. Do they fit for me just always (ok maybe not exactly to the Breakfast ), best as a vegan dessert or snack.
Still a small info to the Almond flour Here you can also use ground almonds.
Almond flour vs. ground almonds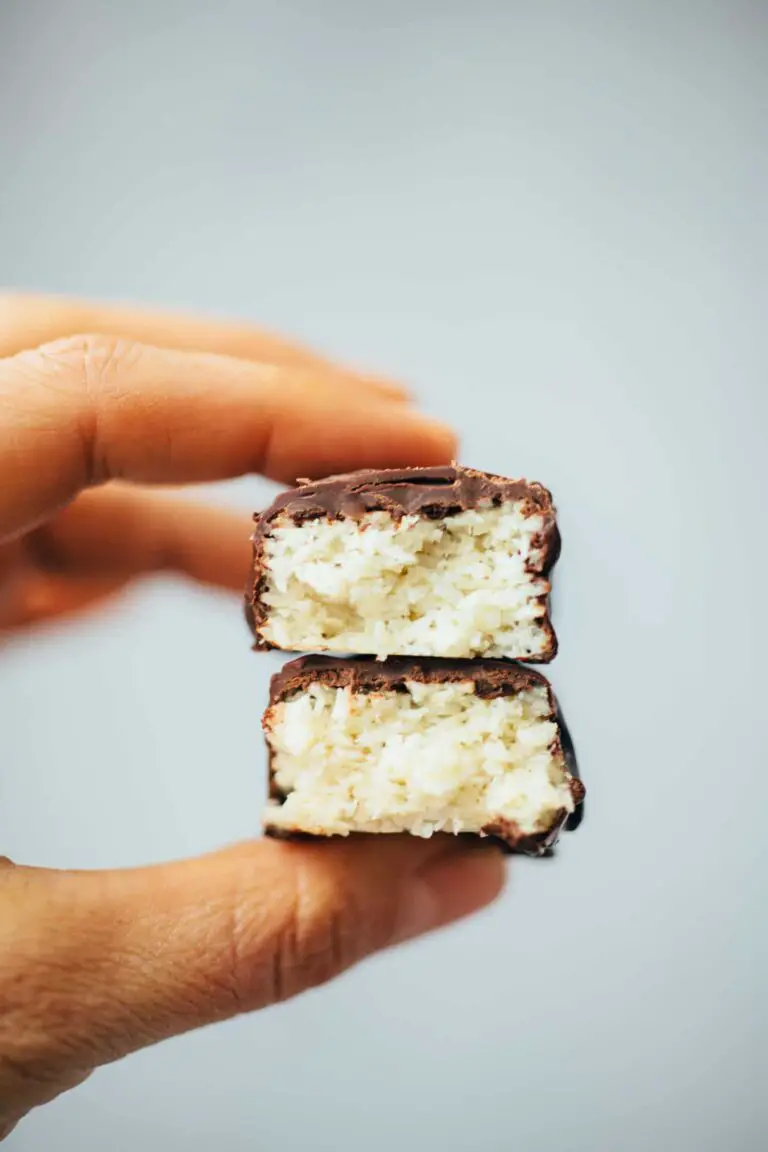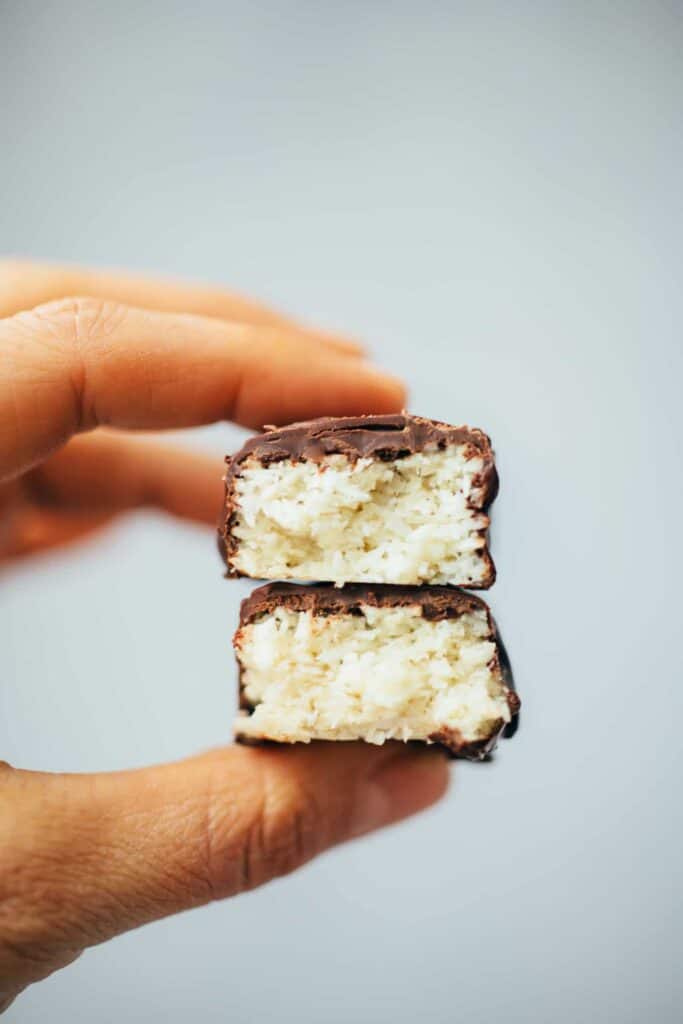 What is actually the Difference between almond flour and ground almonds?
Ground Almonds: Here, almonds are simply finely ground whole with or without shells and still contain all valuable oils, vitamins and minerals
Almond flour: Arises as a "waste product" during the extraction of almond oil. Accordingly here the valuable oil already completely or partially removed, depending on whether you use deoiled or buy partially oiled almond flour
In general, I think both are good, however, almond flour and ground almonds serve a different purpose. Almond flour is actually more of a flour that is drier and absorbs liquid better. Ground almonds tend to make the dough heavier, oilier and more substantial. I note with each Recipe which product is better here.
The bars go perfectly with a hot chocolate (for chocolate shock), Immune Booster Latte , Chocolate Chia Smoothie , or golden milk . Alternatively I recommend my Bounty Tart .
The simple vegan candy bars are:
Coconutty
chocolatey
Delicately melting
Natural sweetened
Quickly made
Let's go with this dream of Coconut and Chocolate . I hope you enjoy "baking" and of course about a review at the bottom of this page. If you post a picture, use the hashtag #veganevibes.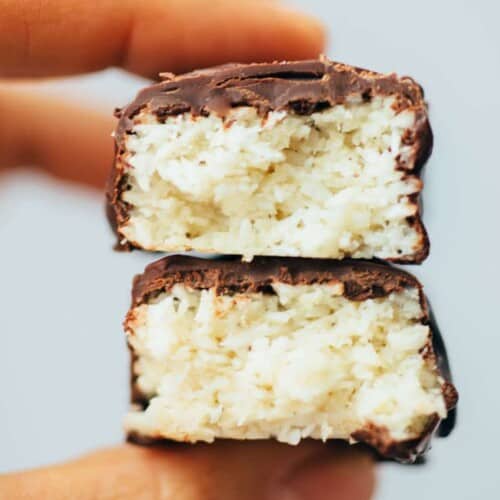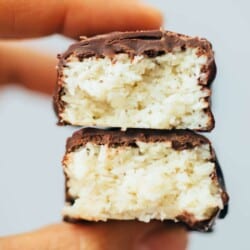 Simple vegan bounty bar
Extremely delicious, coconut-nutty, vegan and gluten-free chocolate bars for the perfect exotic temptation in between meals. Pleasantly sweet, delicately melting, with a delicious coconut filling.
AUTOR: VEGANEVIBES
FOR THE CHOCOLATE COATING:
Anleitung 
Place coconut oil and agave syrup in a small saucepan and heat over medium heat until oil has melted and everything is well combined.

30 ml Coconut oil melted,

45 ml Agave syrup

In a bowl, mix together shredded coconut, almond flour, bourbon vanilla and sea salt. Add coconut oil-agave syrup mixture and stir well once until everything is combined and a loose mixture is formed.

200 g Coconut shavings,

75 g Almond flour,

¼ tbspn Bourbon vanilla ground,

A pinch of sea salt

Place baking paper on a baking sheet, pour coconut mixture on top and shape into a 20x20cm square with your hands.

Place baking sheet in freezer and let harden for 20 minutes. For those who can't fit the baking sheet in the freezer, simply transfer to a smaller freezer-safe surface.

In the meantime, melt dark chocolate over a water bath and (optionally) stir in cocoa butter.

200 g vegan dark chocolate,

optional 30g cocoa butter

After

20 minutes

, remove coconut mixture from freezer and portion with a knife. With me it became 16 bars.

Cover individually with chocolate and draw a pattern in the chocolate as you like. Allow to harden completely in the refrigerator. enjoy!

It is best to store in an airtight container in the refrigerator. The bars last up to 2 weeks in the refrigerator.
Nährwertangaben
Serving:
1
Bolt
Calories:
196
kcal
Carbohydrates:
13
g
Protein:
2
g
Fat:
16
g
Saturated Fat:
11
g
Sodium:
4
mg
Potassium:
67
mg
Fiber:
3
g
Sugar:
8
g
Vitamin C:
0.2
mg
Calcium:
29
mg
Iron:
1.5
mg