Where should I start? "Snickers, Raider" (anyone as old as me remembers it), or simply a bar with a base of nougat filled with caramel and peanuts, coated with a thick layer of chocolate Chocolate . Simply put, it's a dream come true for all those who have enjoyed grabbing a candy bar at the gas station and at some point said: Stop it, I want something healthy and not a glucose shock. Coincidentally, these bars also taste much better than the namesake (at least that's how I feel) and fill you up faster. Well, enough arguments for this ingenious snack? Then let's get started.
Vegan candy bar that tastes like "Snickers"? Give it to me!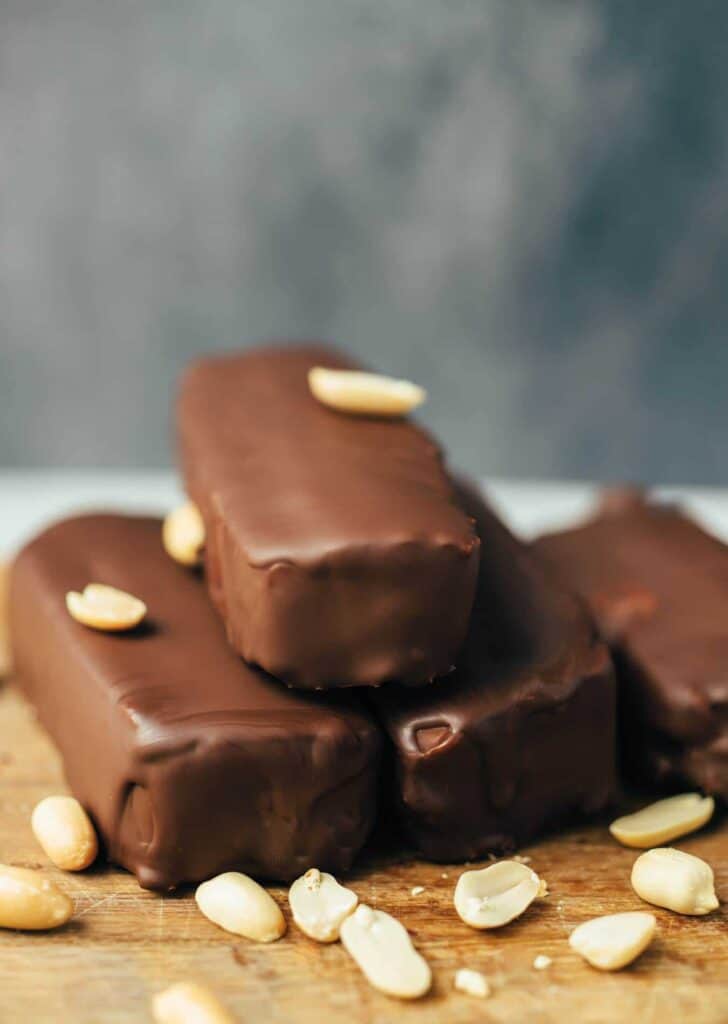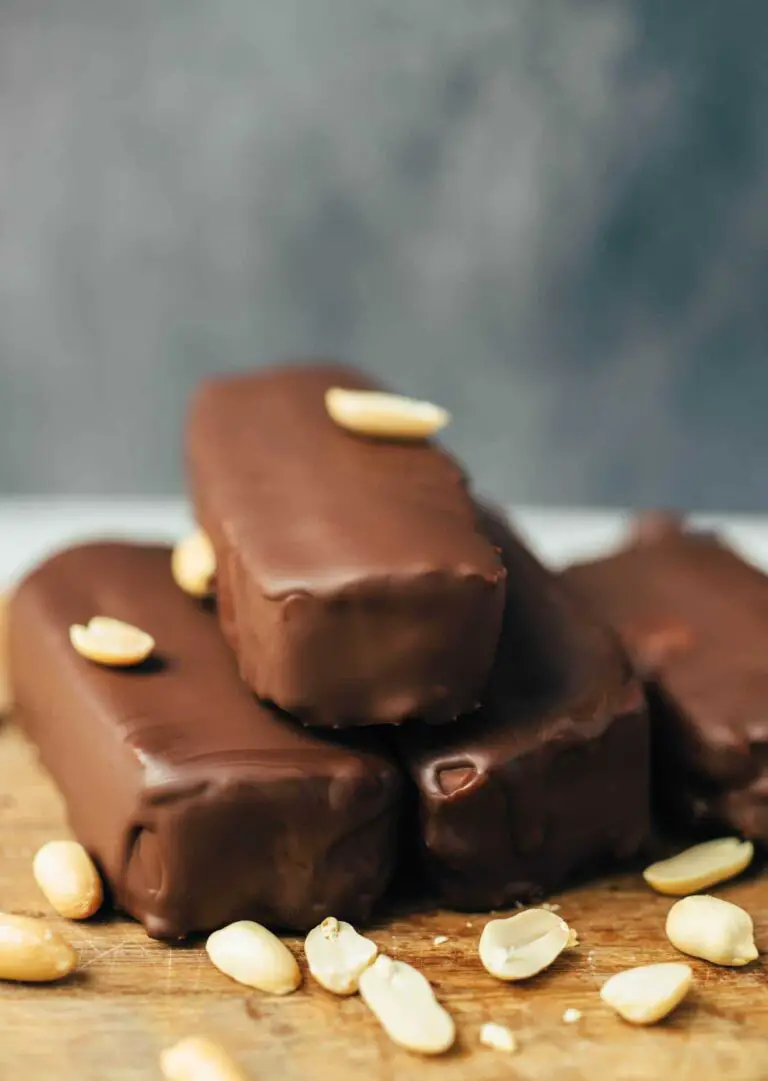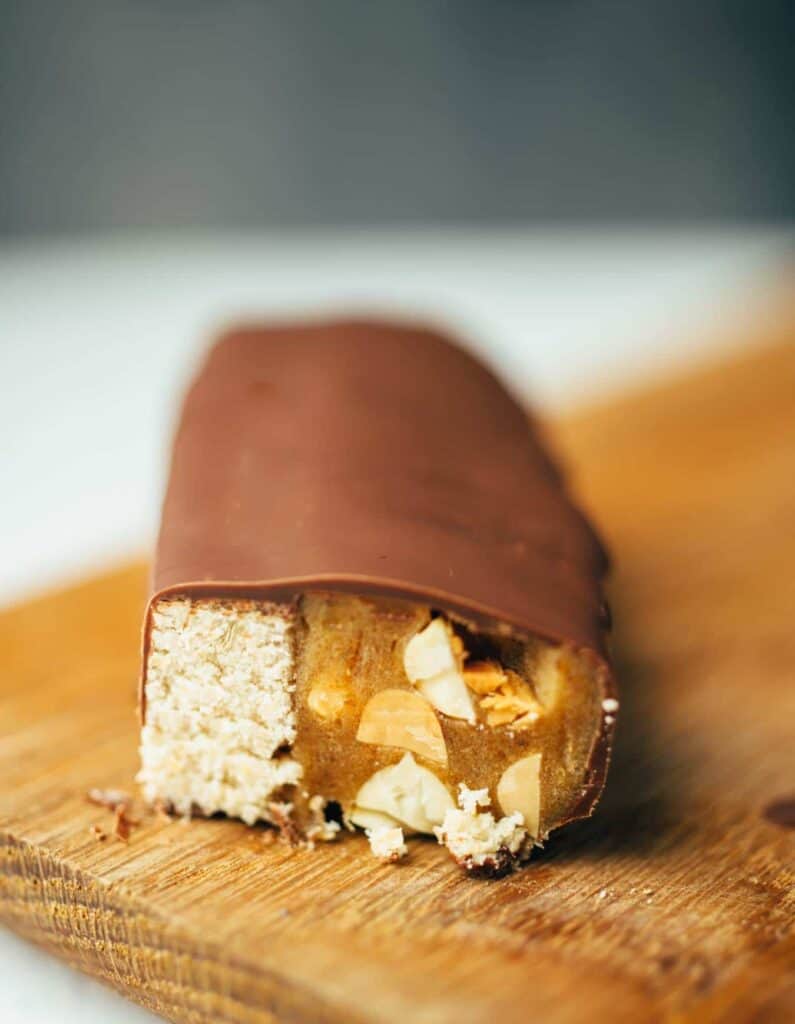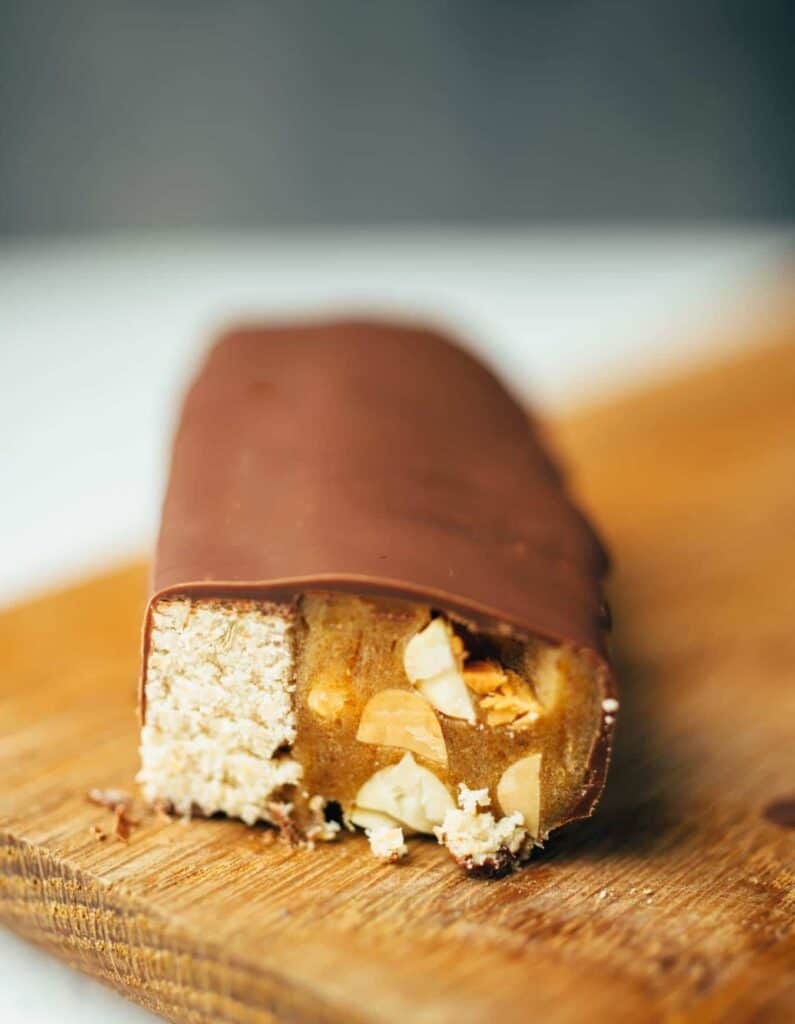 The list of ingredients is actually manageable and you don't need any special equipment. The base is a delicious layer of vegan nougat that I made from rolled oats, coconut flour, rice syrup, Coconut oil , Oat milk and a pinch of salt. On top is a layer of caramel made with Medjool dates, almond butter, tahini, coconut oil, maple syrup, vanilla, a pinch of salt and peanuts(Yuhuu!!! ).
The crowning touch is a thick layer of vegan chocolate coating. Ready! Sounds simple, is simple!
Super delicious vegan Snickers bar
This time I was actually faced with the question of which form to use. The problem was that all the standard shapes were too big. Who wants to shop for a paper-thin Snickers or triple the amount? That's why I went looking for it and found it in my parents' garage. In the middle of the garbage separation was a perfectly rinsed plastic ice cream package, about 10x20cm. Perfect! Upcycling made easy, I would say. Whereas, to be honest, you should actually stop buying plastic packaging in the first place. Yes, dear owners, or you simply pack your ice cream in biodegradable containers in the future?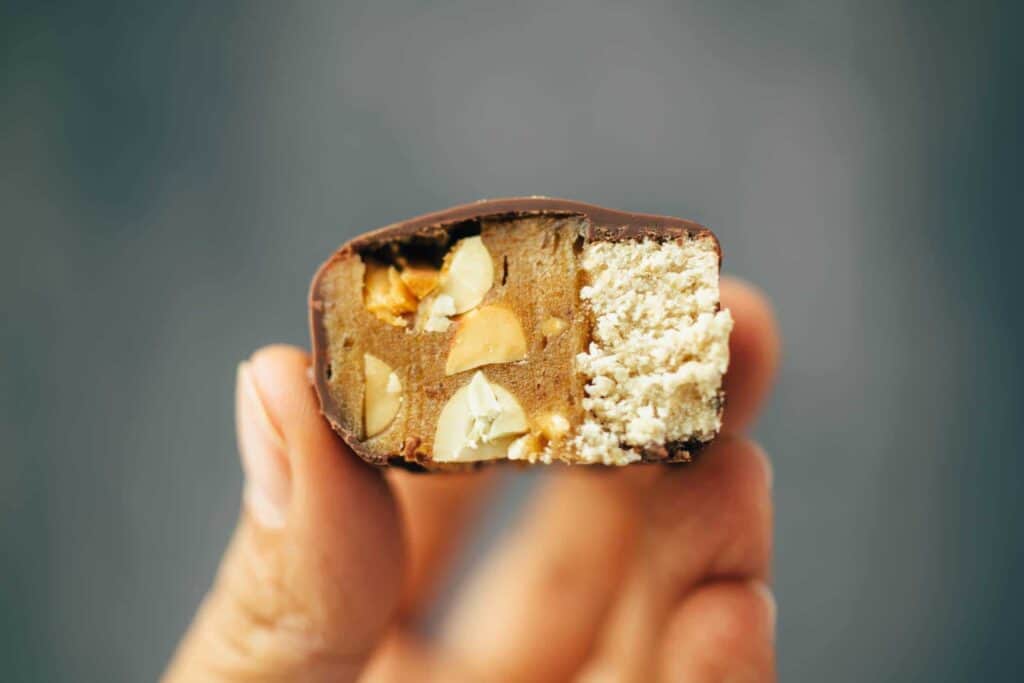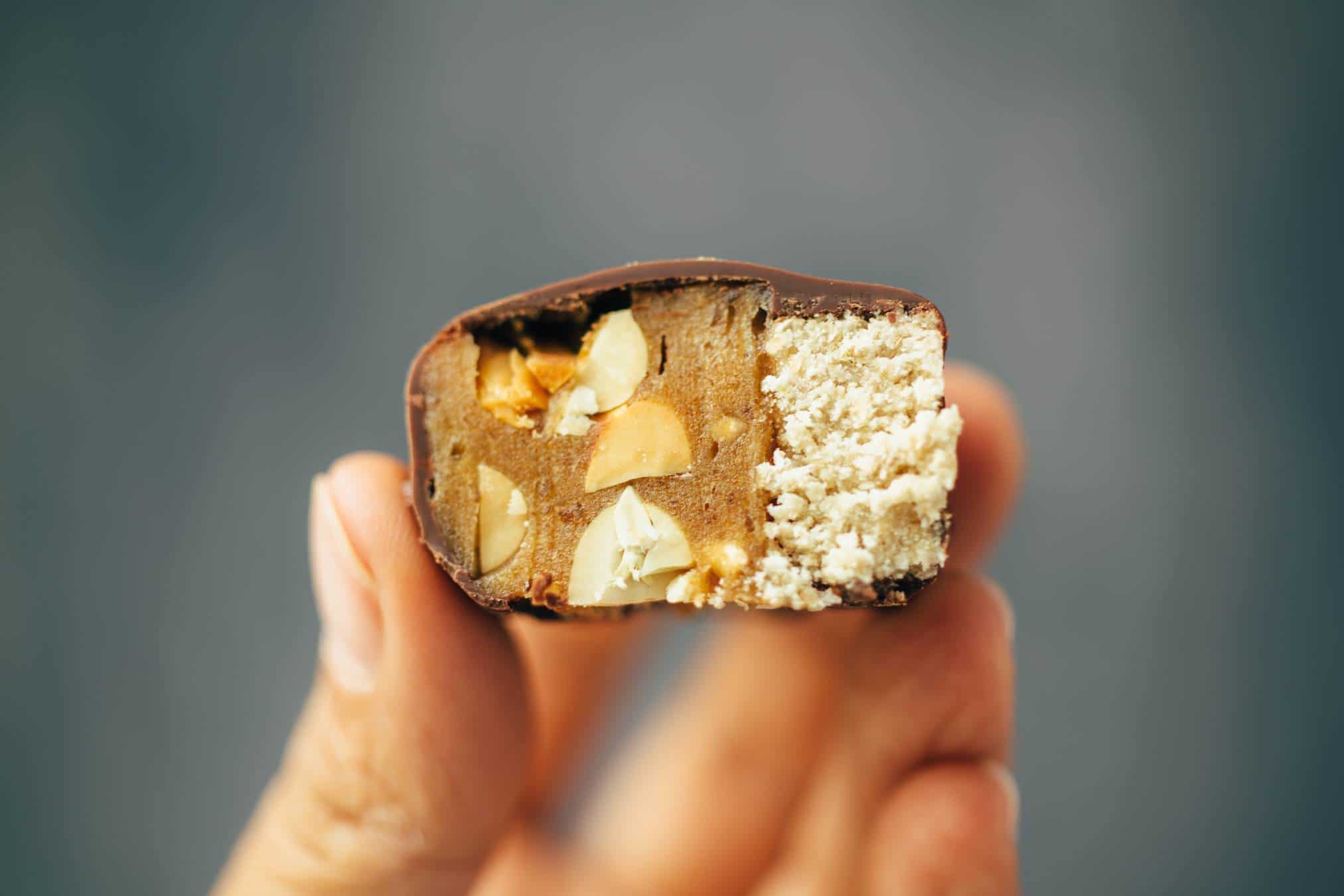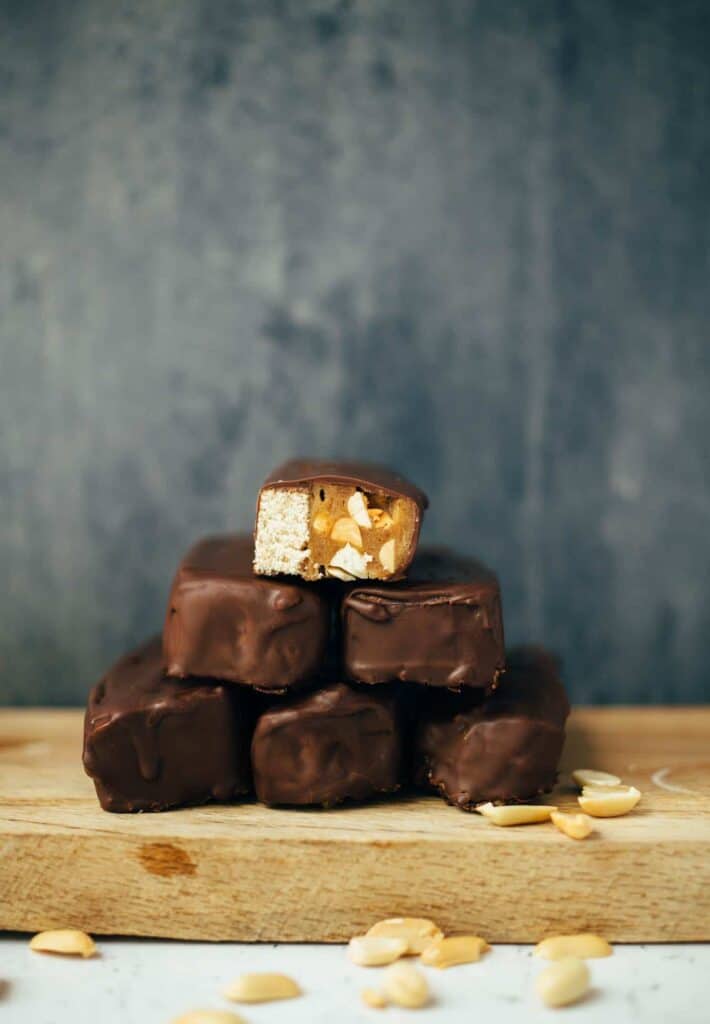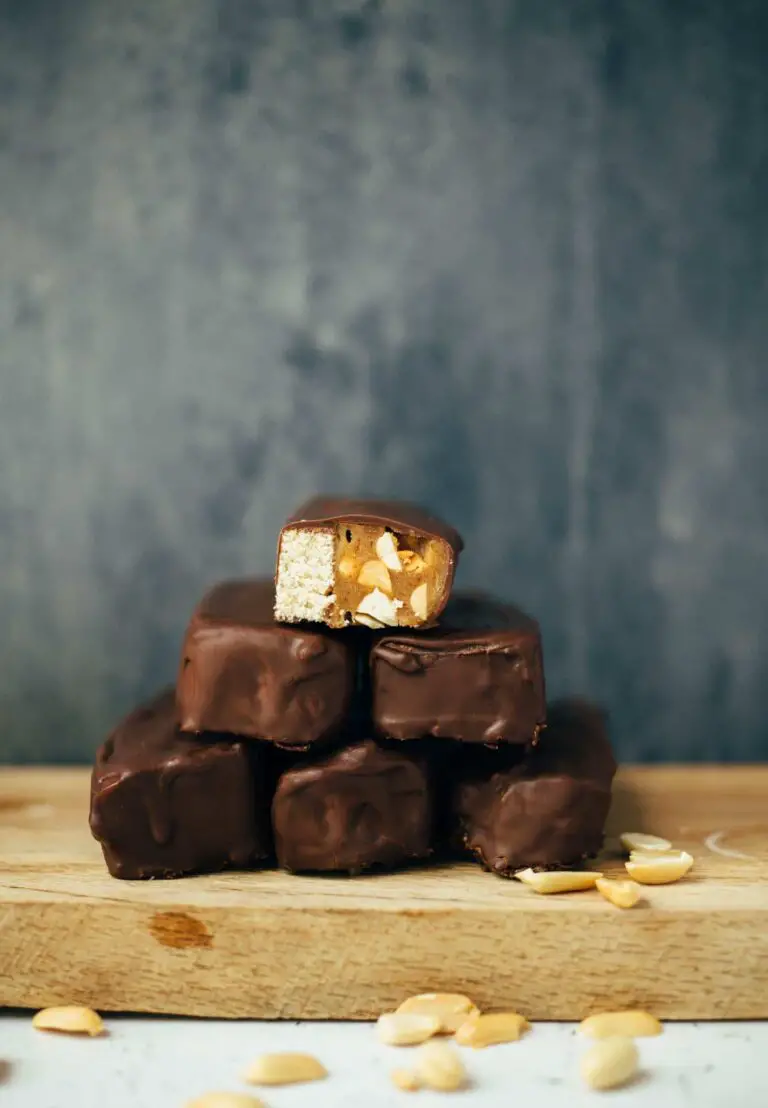 Here are a few more tips and tricks for making the "Snickers":
The perfect shape should be between 10×20 to 20x20cm. The larger the shape, the flatter the bars will be.
When pressing in the base and caramel, I like to use a glass with a flat bottom that I wet beforehand so nothing sticks. For the fine work I use my fingers, but always moisten them too, otherwise everything sticks(and you have to lick it off in the worst case).
To make the baseI use the small container of my Blendtec(advertising, as brand name), alternatively any other food processor works or (if the oat flour is already ground) simply your hands.
If the dates are a little dry, soak them in boiling hot water for 10 minutes. This makes them soak up some water and easier to work with. I use quite large Medjool dates, which are very soft in themselves, so I don't soak them extra.
Always melt chocolate at a low temperature. I also often tend to work with too much heat, with the result that the chocolate becomes spotty when cooling. Tip: Melt only 2/3 of the total amount, remove from the water bath and then add the rest first. The heat melts everything evenly and the temperature is maintained.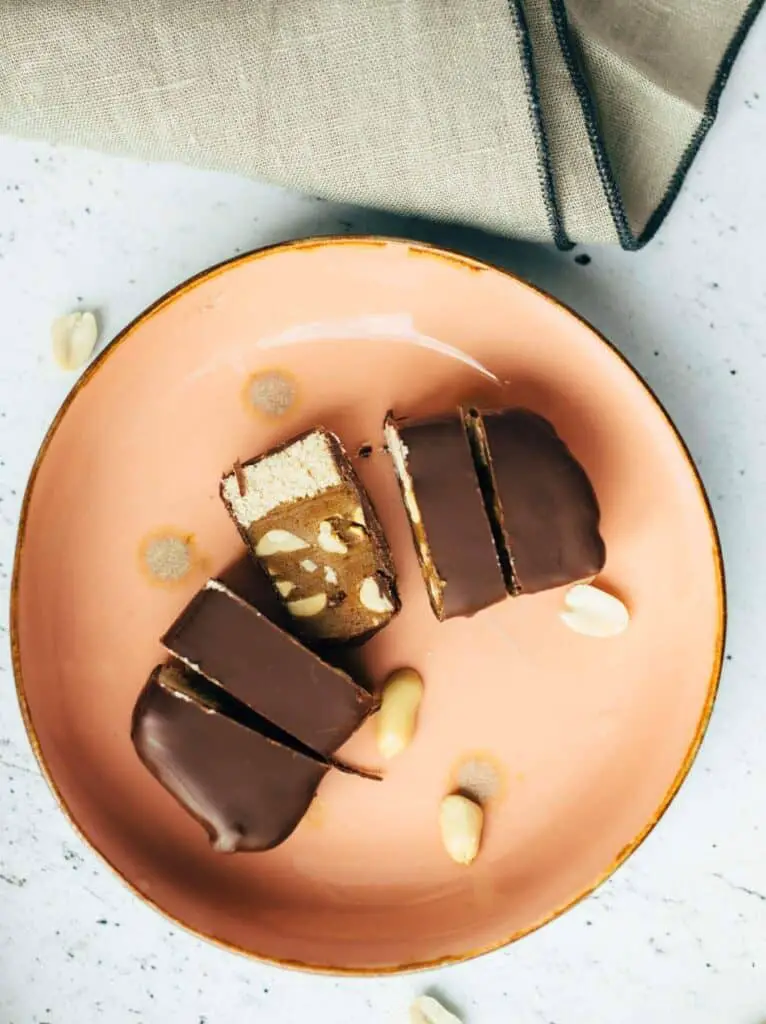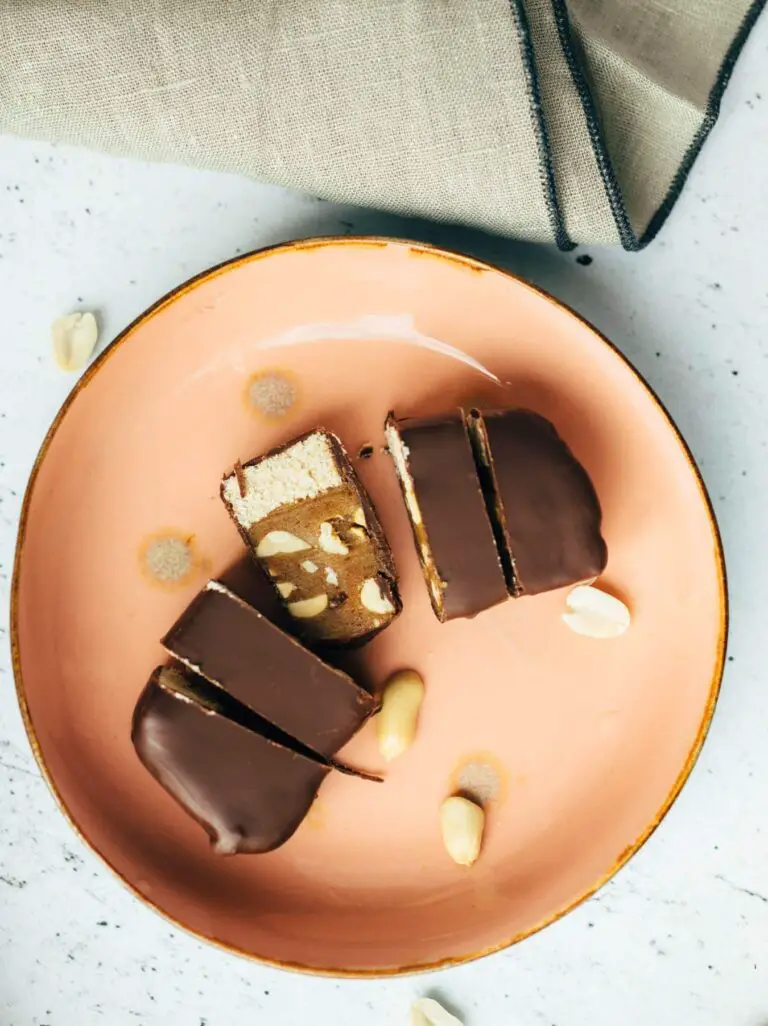 RAW Tip: For those of you who want to work 100%. RAW work, I recommend replacing the roasted nuts with raw peanuts or other raw nuts and making the chocolate coating yourself. To do this, melt 100g of raw cacao, along with 200g of cacao butter, 80g of maple syrup and a pinch of salt over a water bath (it's best to use a thermometer and stay below 42 degrees).
The "Snickers" go perfectly with a Chocolate Chia Smoothie, Immune Booster Latte or Strawberry Protein Smoothie .
Vegan "Snickers" bars (gluten-free):
Peanutty

Chocolatey

Caramel
Naturally sweetened
Quickly made
Let's go with this dream of nuts, caramel and chocolate. I hope you enjoy "baking" and of course about a review at the bottom of this page. If you post a picture, use the hashtag #veganevibes.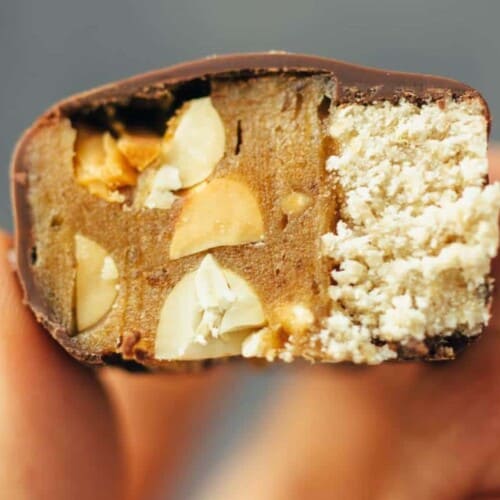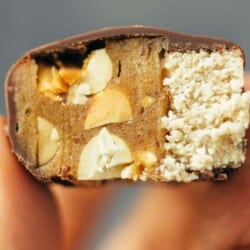 Vegan "Snickers" bar (gluten-free)
Extremely delicious, nutty-chocolatey vegan, gluten-free "Snickers" for the perfect energy in between meals or as a delicious dessert. Creamy, caramel, chocolatey, with delicious chocolate coating. On request also in RAW!
AUTOR: VEGANEVIBES
FOR THE NOUGAT BASE:
90

g

Oatmeal

*I grind gluten-free oatmeal myself in the Blendtec (advertising, because brand name)

60

g

Coconut flour

30

ml

Rice syrup

alternatively date syrup or coconut blossom syrup

15

ml

Coconut oil
FOR THE CHOCOLATE COATING:
Optional: 15g cocoa butter

so that the chocolate becomes more liquid
Anleitung 
Line a 20×10 to 20x20cm baking pan with baking paper, leaving edges of the baking paper protruding so that the finished bars can be easily lifted out of the pan again (see picture). I'm using (upcycling) a used ice cream container here.

To make the dough, first place the rolled oats in a food processor or high-powered blender and blend until a fine flour is formed. Alternatively, use ready-milled (gluten-free) oat flour.

Add all remaining ingredients for the NOUGAT BOTTOM and mix to a uniform dough. Press into the mold and set aside.

90 g Oatmeal,

60 g Coconut flour,

30 ml Rice syrup,

15 ml Coconut oil,

a pinch of salt,

60 ml Oat milk or another plant milk

For the nougat layer Process all ingredients except the peanuts in a food processor to caramel. Finally, fold in the peanuts and spread evenly over the base

.

a pinch of salt,

210 g Medjool date,

30 g Almond butter or almond paste,

15 g Tahini,

80 ml Coconut oil,

¼ tbspn Bourbon vanilla ground,

100 g roasted or raw peanuts,

A pinch of salt

Place in the freezer and allow to freeze.

In the meantime, melt chocolate (see tips earlier in the text).

Remove bars from freezer, unmold and cut into 8 even bars.

Bathe in the melted chocolate, drain and cool completely until the chocolate is solid, enjoy!

150 g vegan dark chocolate coating,

Optional: 15g cocoa butter

Enjoy and place remaining bars in a resealable box and store in the refrigerator or freezer. Store in the refrigerator for up to 2 weeks, in the freezer for up to 4 weeks.
Notizen
NOTES /HELPFUL ACCESSORIES:
Nährwertangaben
Serving:
1
Piece
Calories:
446
kcal
Carbohydrates:
40
g
Protein:
7
g
Fat:
30
g
Saturated Fat:
17
g
Sodium:
30
mg
Potassium:
454
mg
Fiber:
8
g
Sugar:
25
g
Vitamin A:
60
IU
Calcium:
73
mg
Iron:
3.5
mg