Yes how? Isn't there already a Chocolate ice cream on veganevibes.de? That's right, however, this is based on aquafaba. But what difference does it make? A big one, because the Aquafabaeis is also mega delicious, but nowhere near as creamy as this. Honestly, I could literally lay into this Recipe and I feel like I've finally found the perfect recipe for a brilliantly creamy, vegan chocolate ice cream. Is it really perfect? Okay, there is one small catch, but you'll find that out further down in the text.
Creamy, creamy, creamy and chocolaty- chocolate ice cream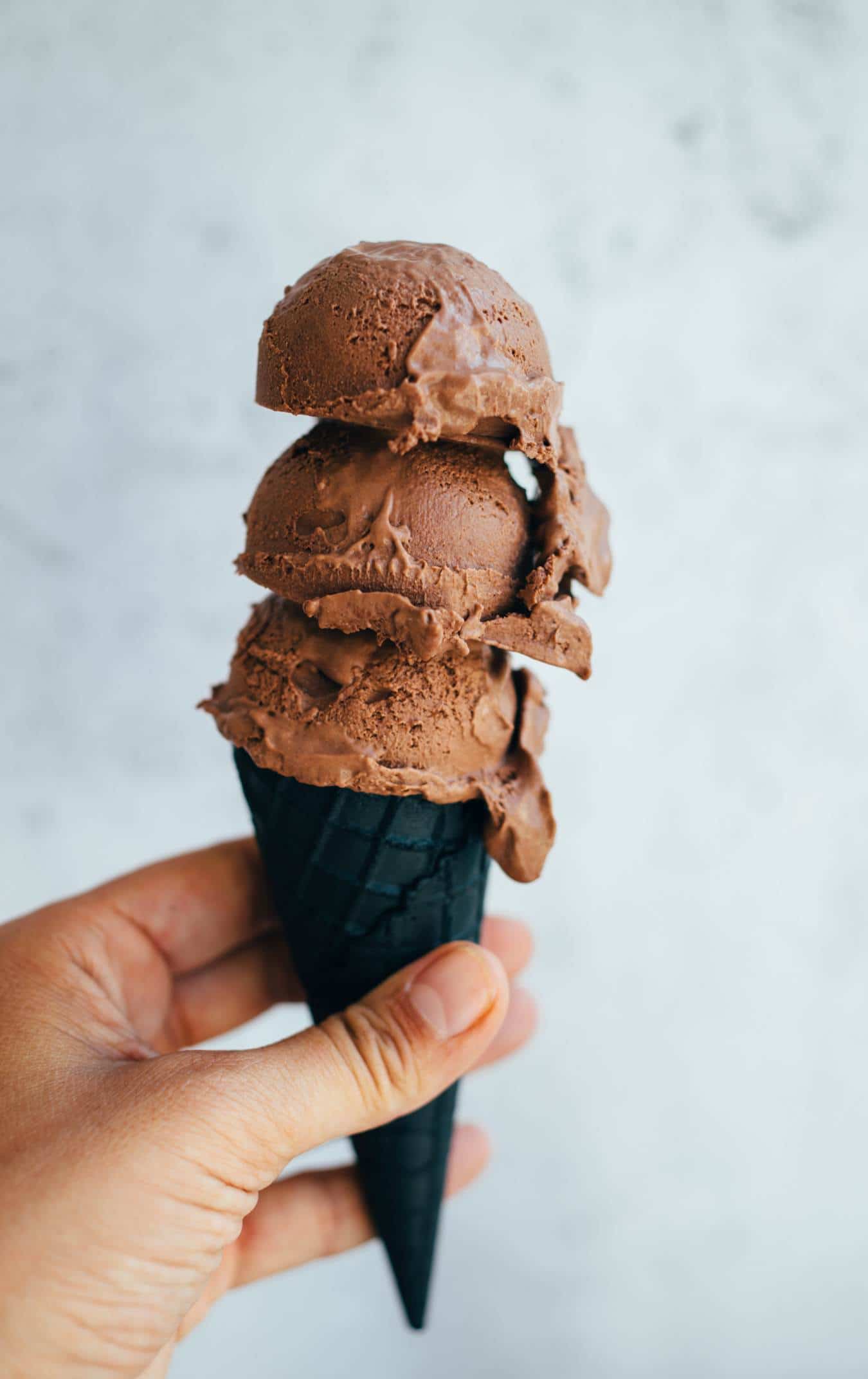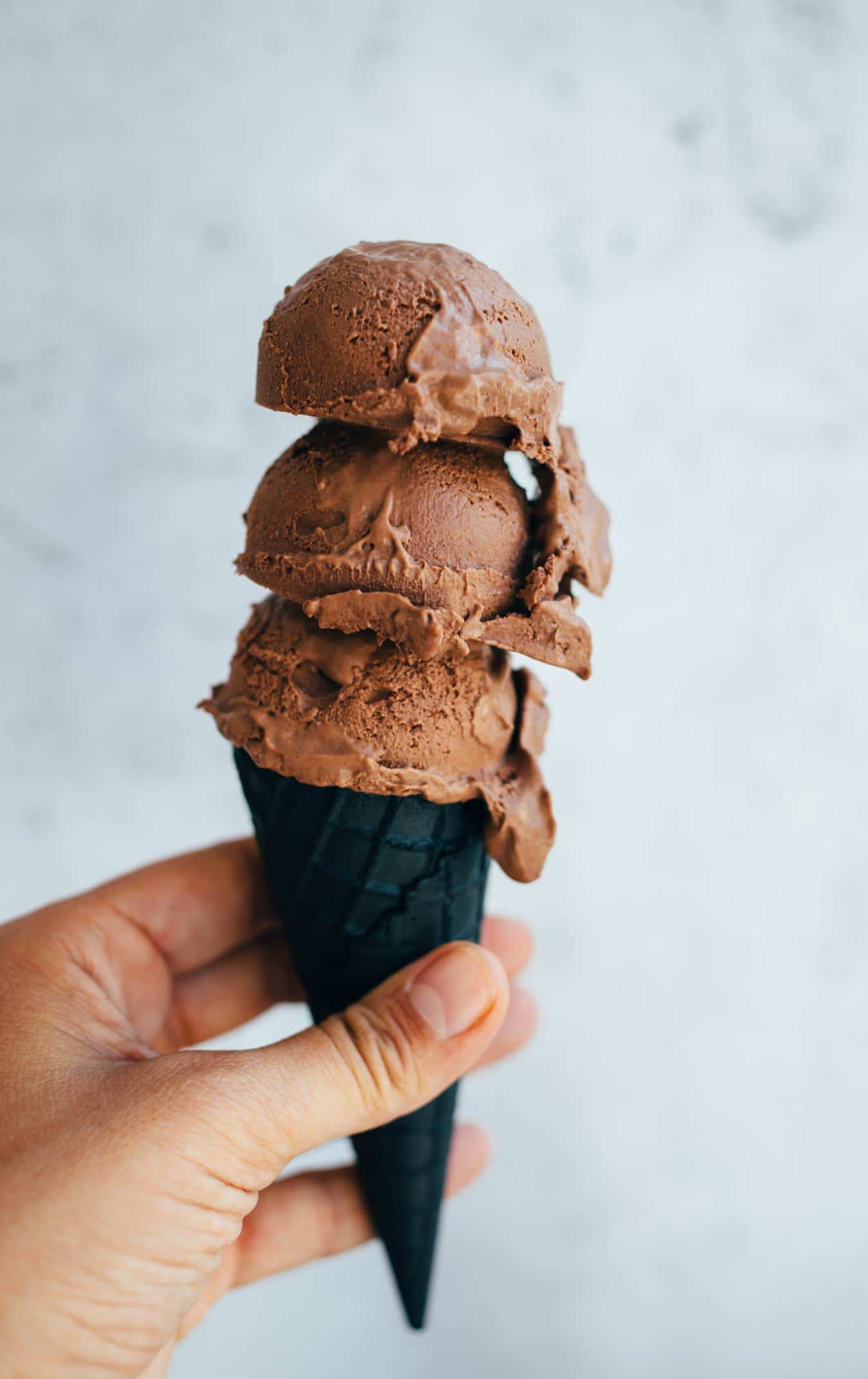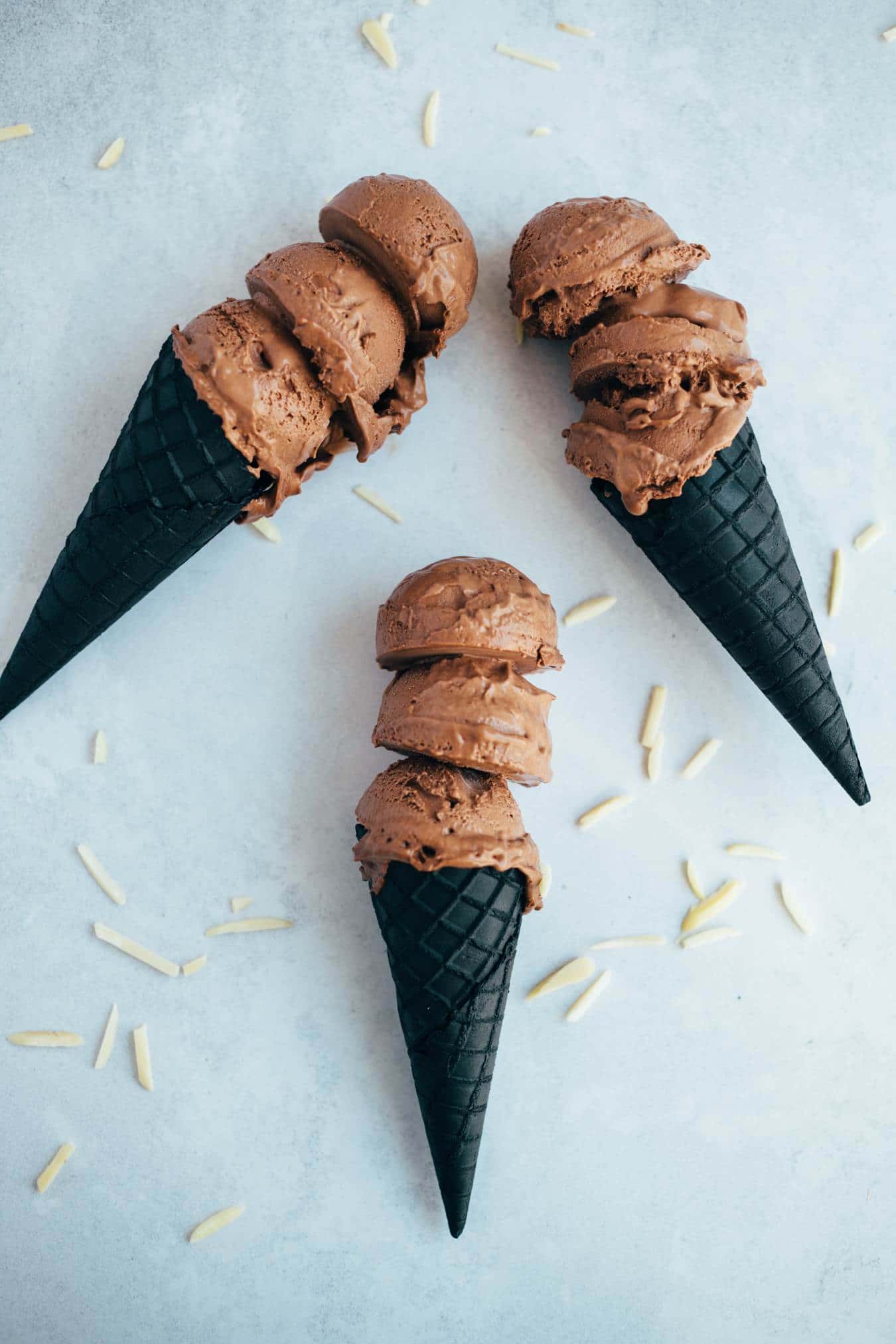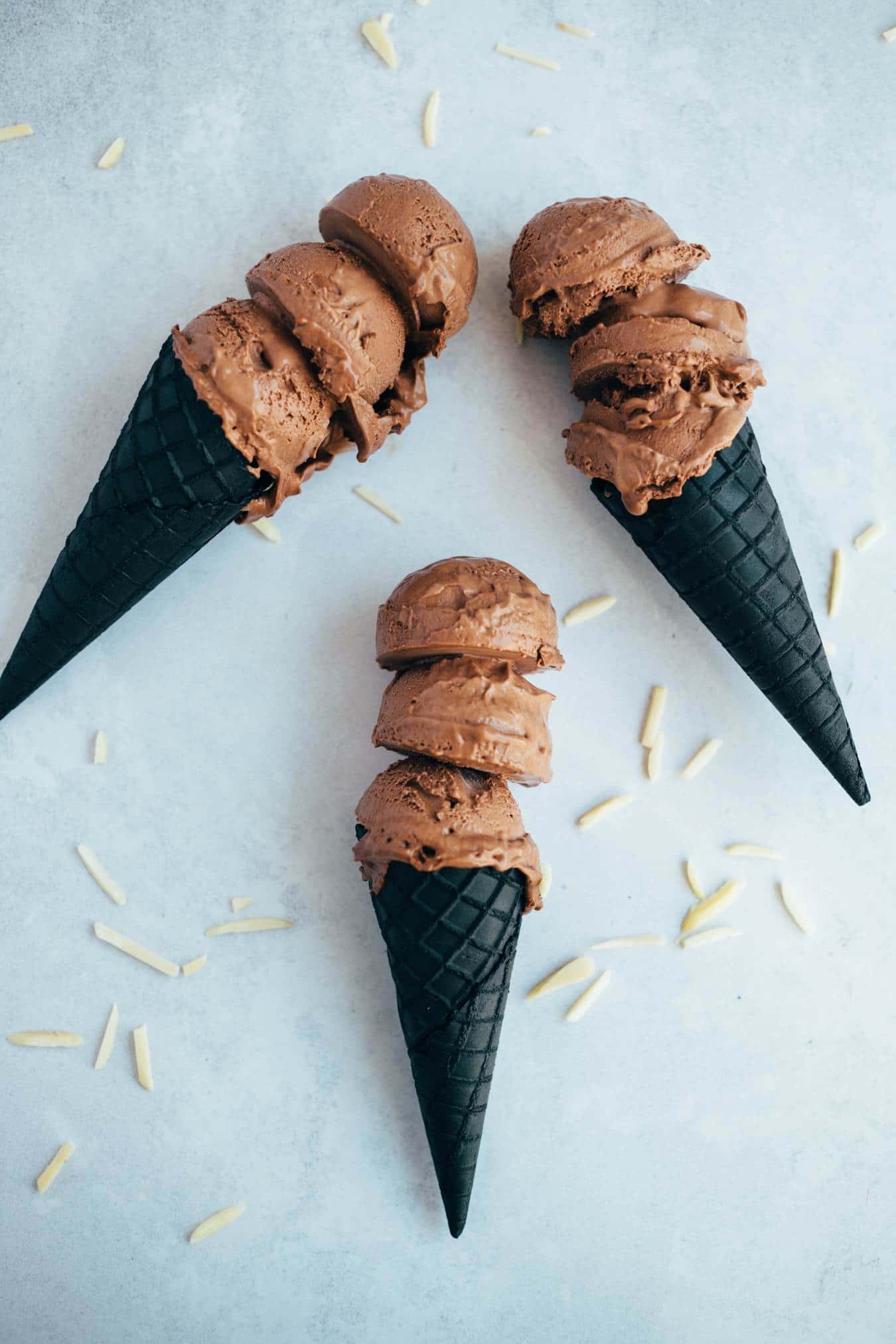 Let's start with the ingredients. We need coconut milk, Almond milk , cocoa powder, vanilla, raw cane sugar and Xanthan Gum (AD). Now please be sure to read on, because xanthan gum is a natural binder that makes for a stunning creaminess. You want to leave it out? No problem, it still becomes a Ice cream but unfortunately not nearly as creamy. Since I discovered xanthan gum for myself, it has a permanent place on the shelf and is used especially in the production of vegan ice cream!
6 ingredients, a blender, an ice cream maker – Voilá
There are only a few small things to consider during production:
The blender should definitely be powerful enough to process the cashews and the rest of the ingredients into a fine measure. Personally, I use a Blendtec (advertising, as brand name ) and am very satisfied with the result.
It is best to soak the cashews . Either in cold water, for 6 hours in a covered bowl or for 1 hour in boiling hot water. I don't soak the cashews beforehand because it's not necessary with my powerful blenders. However, there are nutrition experts who believe that nuts should always be soaked, because the "activation" makes them easier for people to digest. You decide!
The ice cream maker should be used in any case (if you have one) because only then the ice cream becomes really creamy. Of course, it also works without, but due to the lack of "stirring" during freezing, the ice cream will not be as creamy. You can help by stirring manually again and again during the freezing process. If you plan to make ice cream more often, then it is definitely worth buying an ice cream maker.
Other than that, there's not much else to consider, except for one point I already mentioned in the introduction (yes!). This ice cream has a significant disadvantage to the one with Aquafaba: It has a lot more calories. To be more precise, one scoop of Aqufaba chocolates ice cream has 85kcal calories and the one in this recipe 169kcal. Ok, I would say we just stop counting calories right now.
Is the consistency the same as that of "normal" ice cream?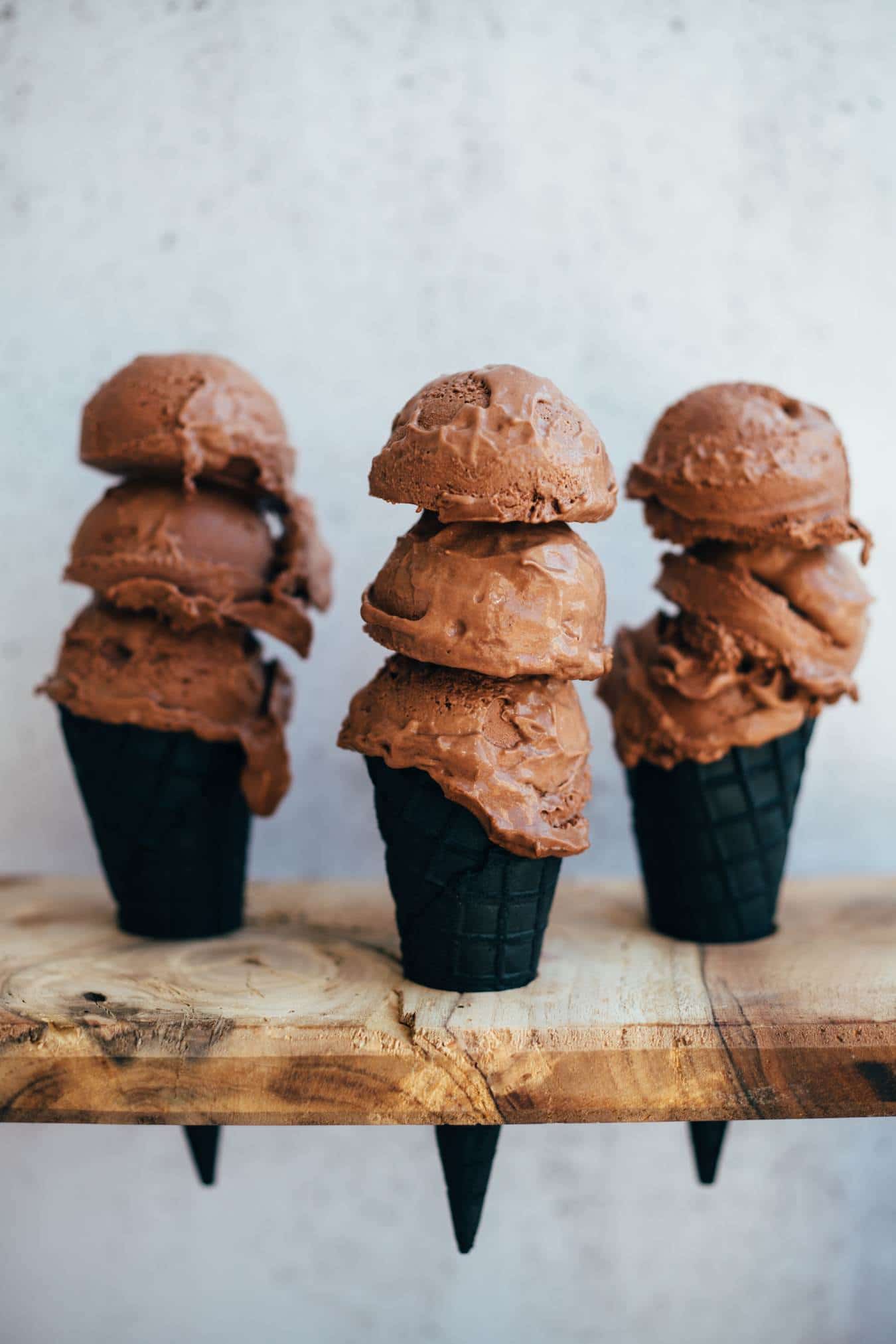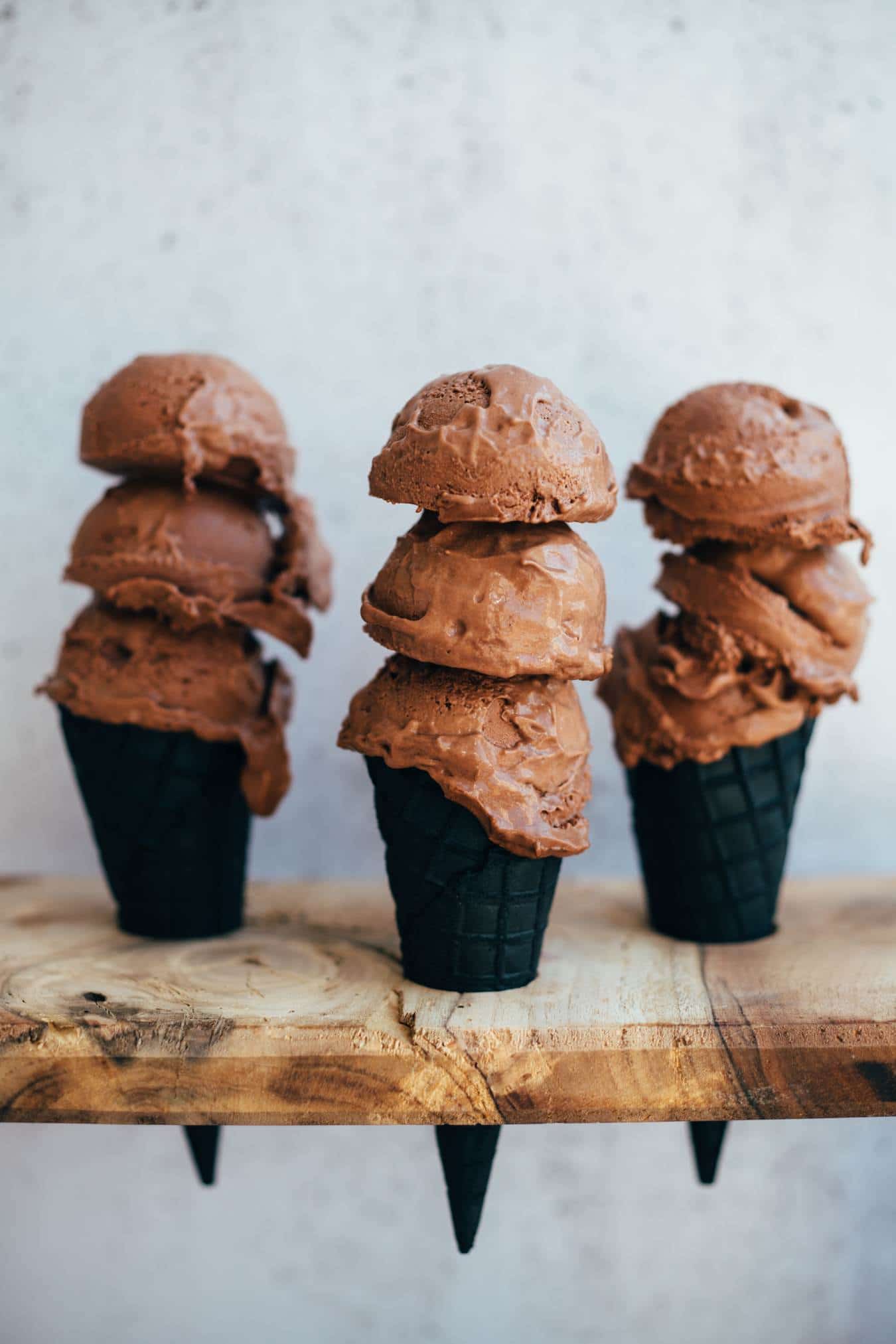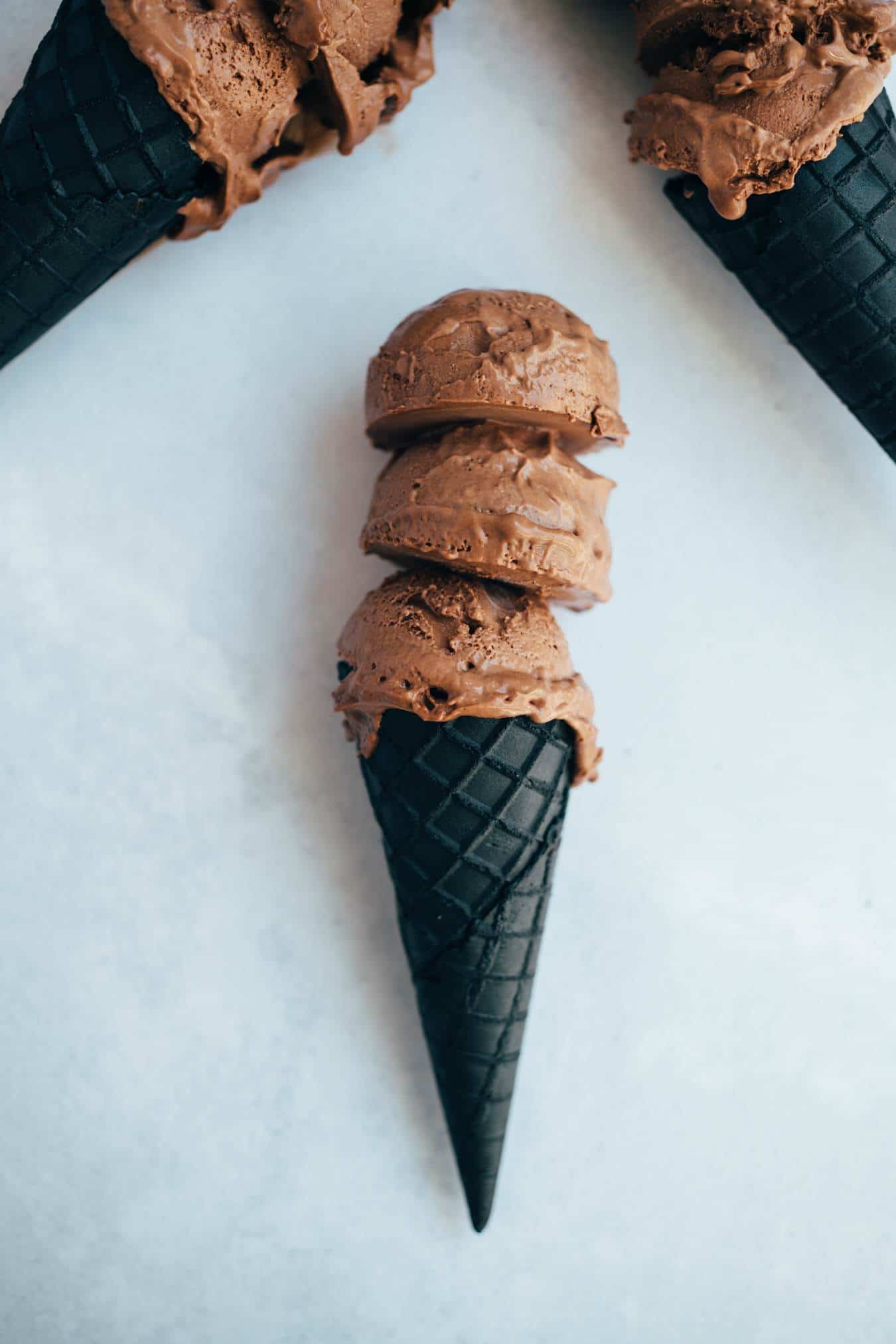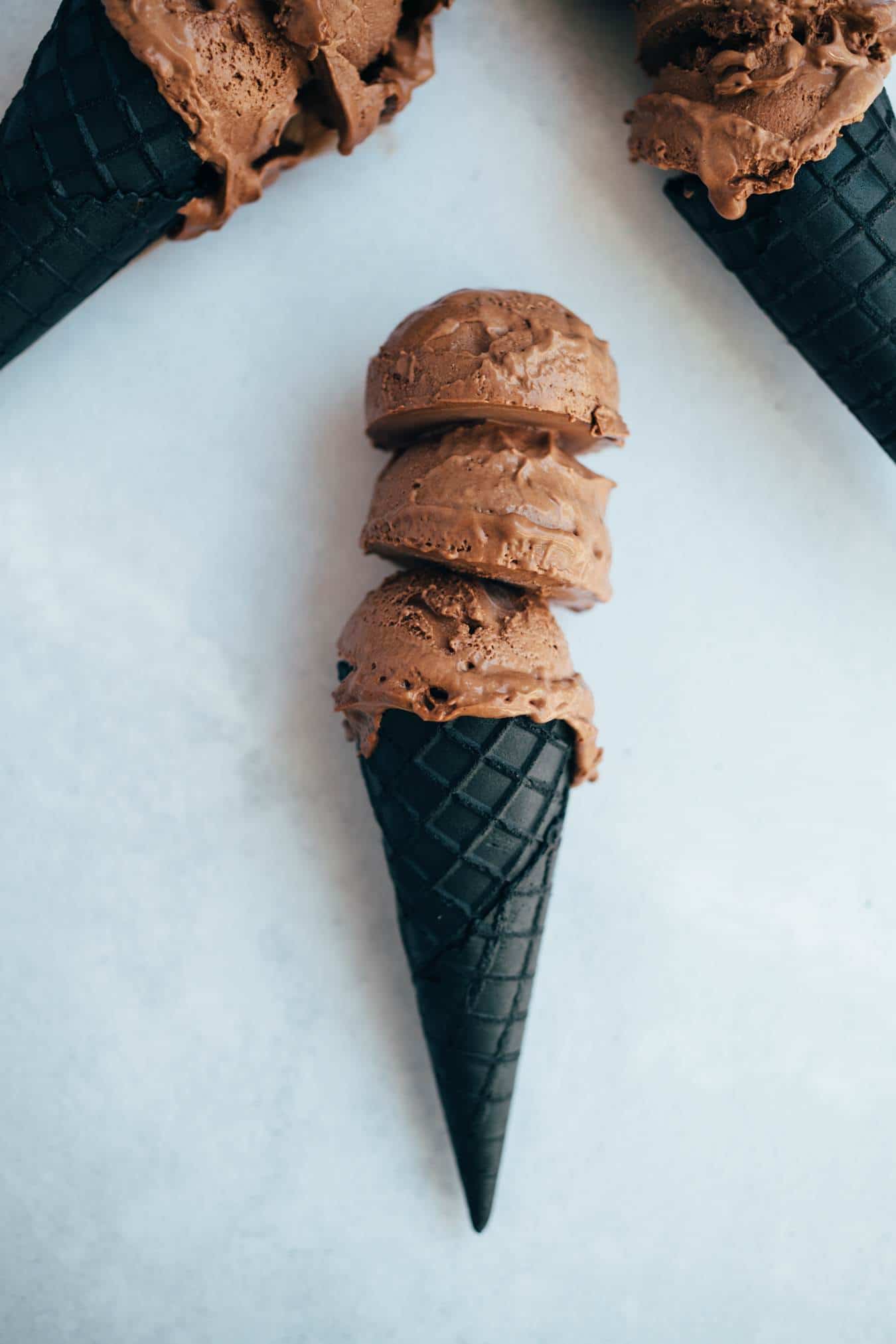 Yes, and from my personal point of view, it tastes even better because it is incredibly creamy and tastes so intensely of chocolate.
If you like this Ice cream as Dessert serve, then it looks great in an Ice cream cone (AD). You want to make an absolute mega calorie bomb out of it? Then top it with Coconut cream chocolate sauce and almond slivers (dinner will be cancelled).
The 6 ingredient super creamy chocolate ice cream is:
chocolatey
creamy
Light
Easy to manufacture
Delicately melting
If you love chocolate ice cream as much as I do, I'd love a review at the very bottom of this page. If you post a picture, use the hashtag #veganevibes.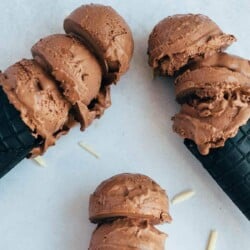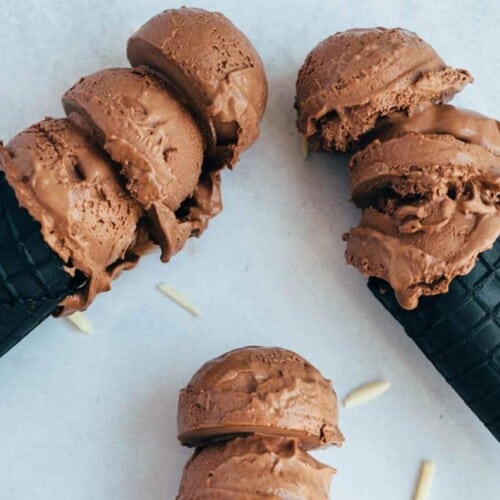 6-Ingredient Super Creamy Chocolate Ice Cream
Simple instructions for making super creamy chocolate ice cream based on cashews, coconut and almond milk. Creamy, chocolaty and deliciously fluffy with only 6 ingredients.

AUTOR: VEGANEVIBES
Anleitung 
(optional) Prepare ice cream maker.

Place all ingredients in a high-performance blender and blend on high speed for about 2 minutes until everything has turned into a creamy liquid.

400 ml Coconut milk,

250 ml Almond milk,

100 g Cashews,

80 g Cocoa powder,

½ tbspn Bourbon vanilla ground,

100 g Raw cane sugar,

½ tbspn Xanthan Gum

Pour liquid into ice cream maker and process according to manufacturer's instructions to make creamy ice cream.

Alternatively, without an ice cream maker, pour into a freezer-safe box, cover and freeze for at least 6-10 hours. It is best to stir with a spoon 1 time per hour to make the ice cream a little creamier.

Portion with an ice cream scoop and garnish with desired toppings and enjoy!

Coconut cream,

Almond sticks,

Chocolate sauce,

Ice cream cones (black vegan)

Leftover ice cream lasts up to several weeks in the freezer.
Notizen
NOTES /HELPFUL ACCESSORIES:
Nährwertangaben
Serving:
1
Ball
Calories:
169
kcal
Carbohydrates:
16
g
Protein:
2
g
Fat:
12
g
Saturated Fat:
7
g
Sodium:
90
mg
Potassium:
128
mg
Sugar:
12
g
Vitamin C:
0.3
mg
Calcium:
41
mg
Iron:
1.8
mg