Again and again I find myself in an identical scenario. I sit in the meeting and take a look at the Snacks . I'm very likely to find cookies from the discount store there, and only if I'm very lucky will I find a bowl of trail mix. Not to mention some meeting participants who then tell me that they haven't even had breakfast yet and help themselves to the cookies at the same moment. Not wanting to be a know-it-all, I shut up, think my piece, and crave a healthy snack: Bliss Balls Or even Energy Balls .
Energy Balls – But healthy snacking would be so easy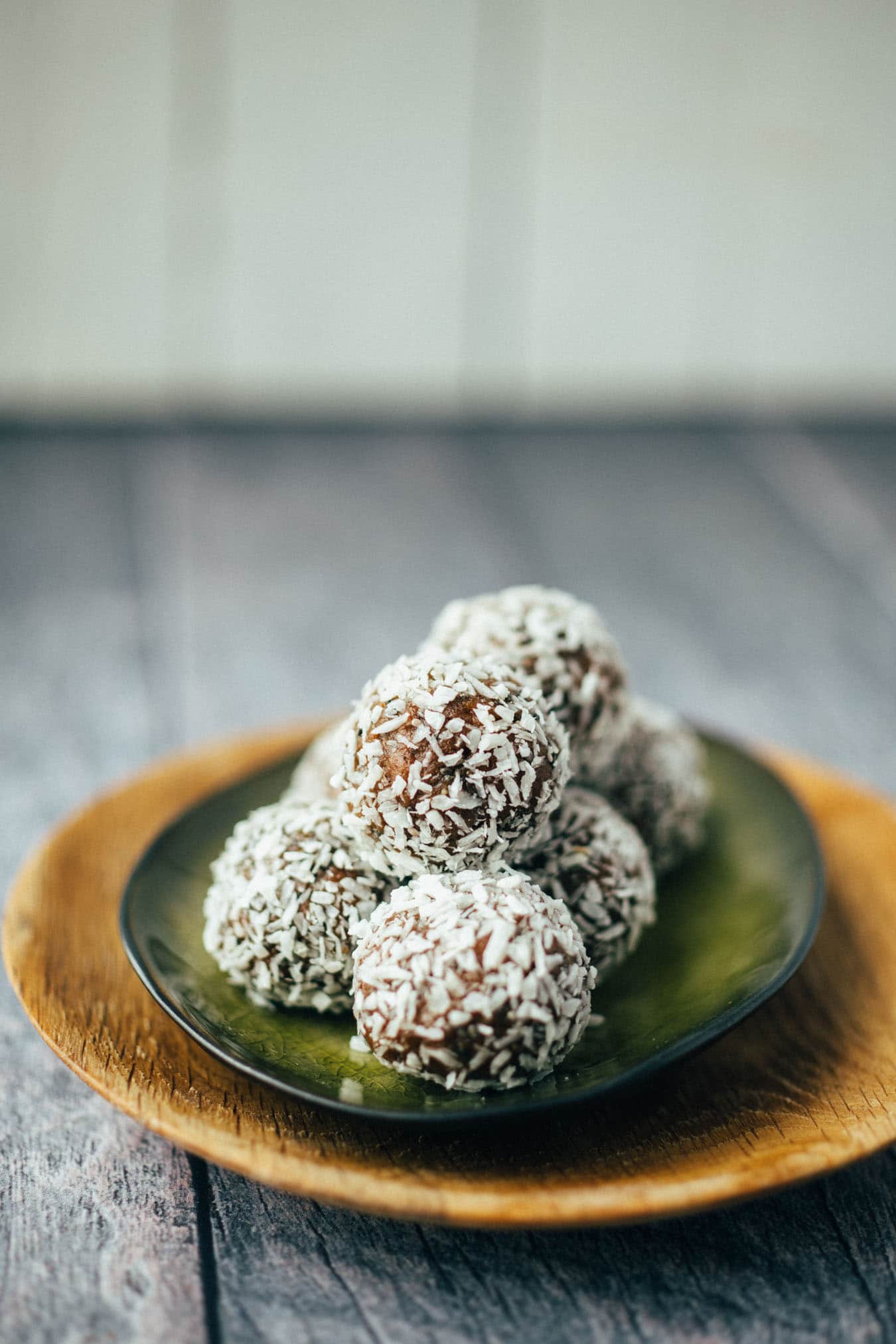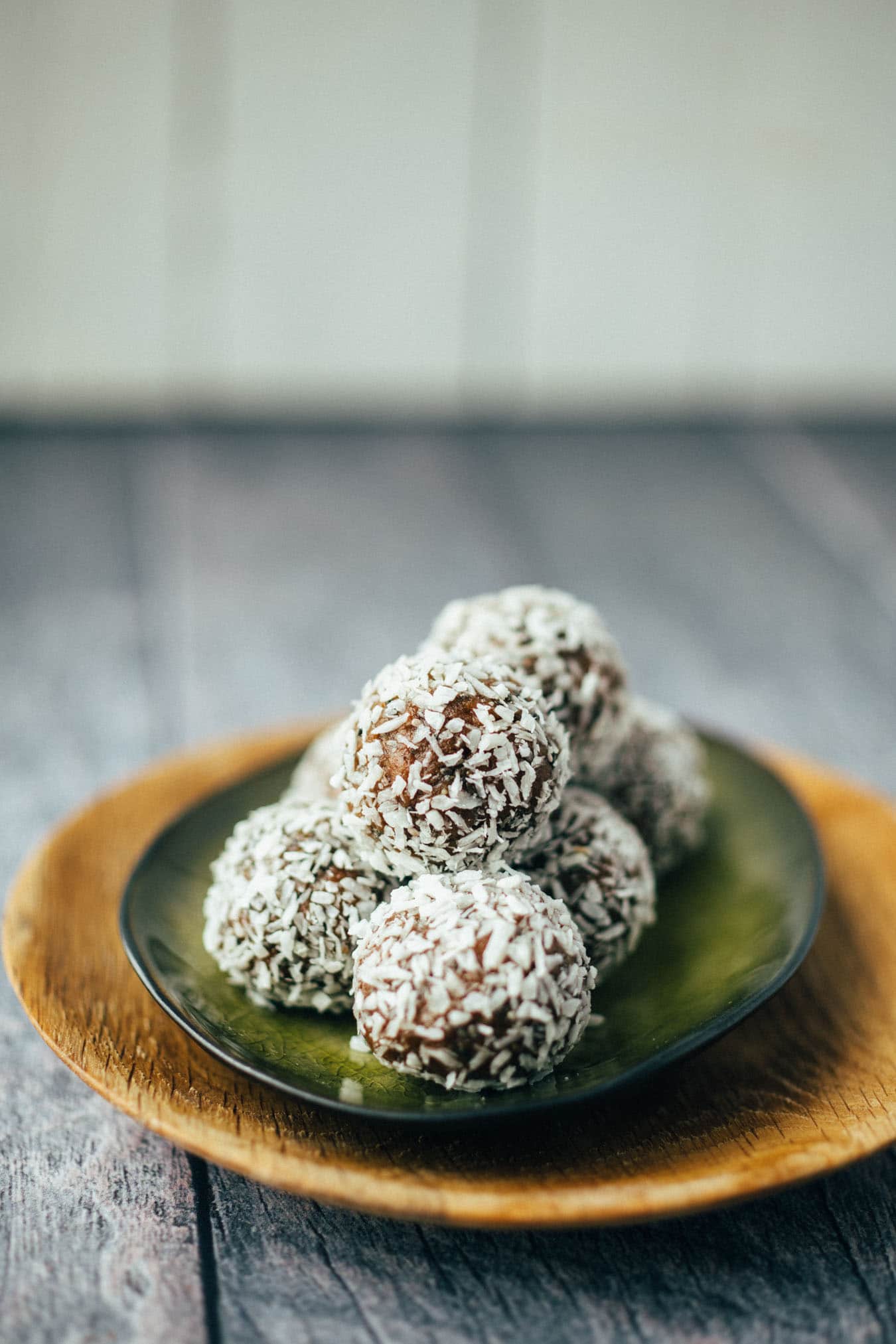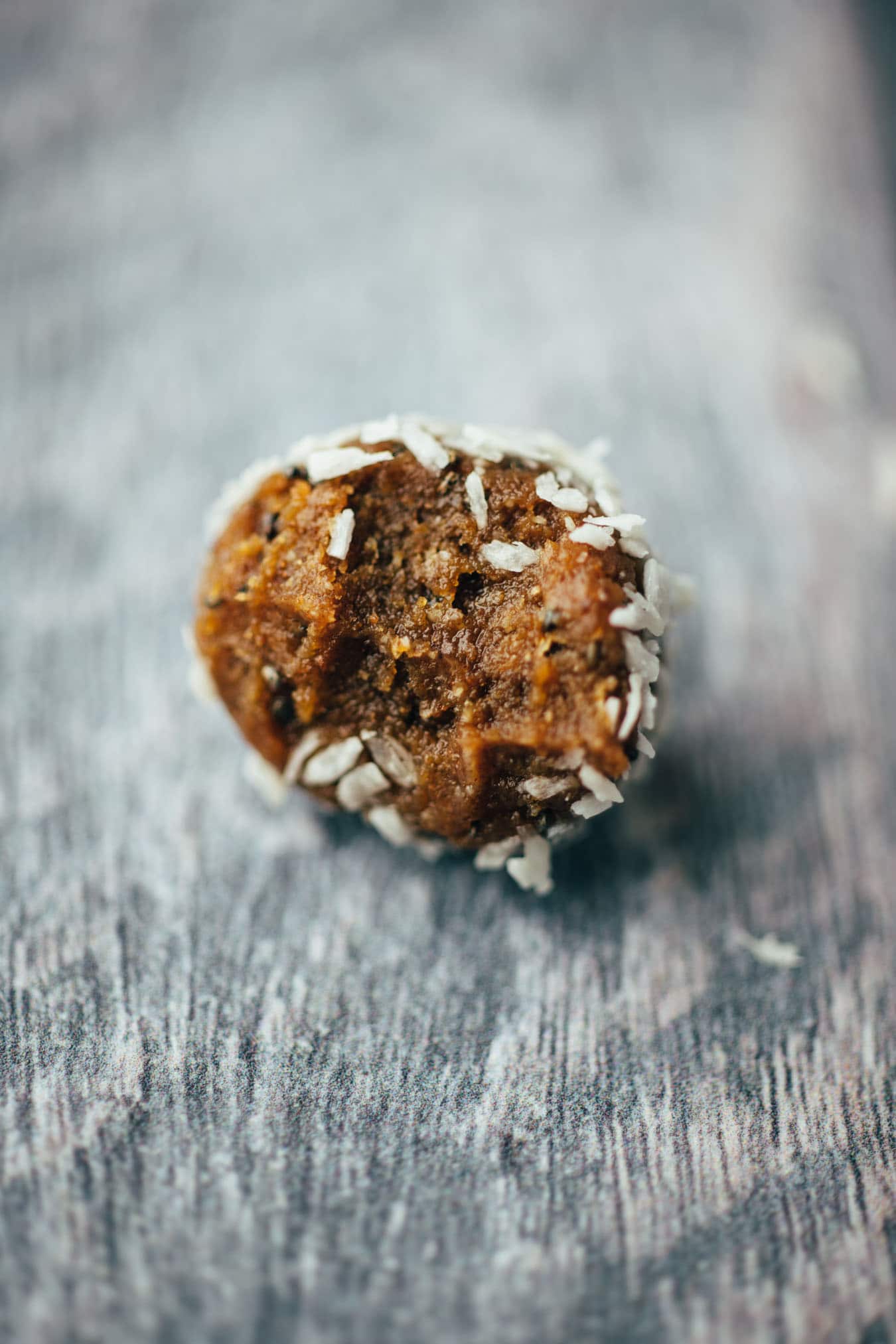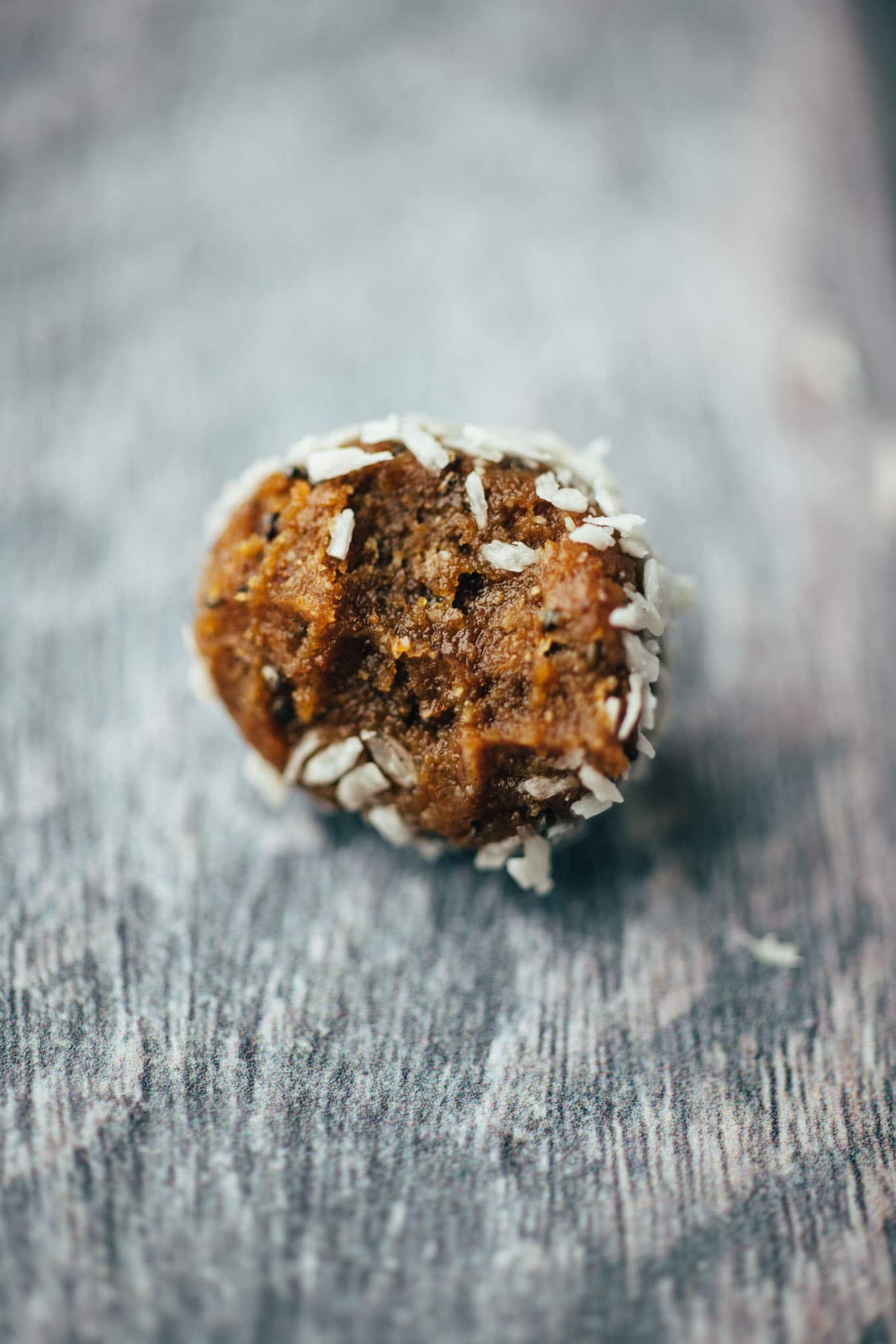 Well, everyone can decide for himself what he snacks. However, anyone who wants to jump on the healthy snack bandwagon with me is welcome to do so. The advantage of Bliss Balls is that the list of ingredients is more than manageable. You will look in vain for white flour, sugar and questionable food additives. Let's start with the list of ingredients: Dates , almond paste, walnuts, chia seeds, cinnamon, a pinch of salt. The beauties are rolled in coconut flakes. That`s it. As simple as it get's.
Vegan snacks for more energy – bring it on!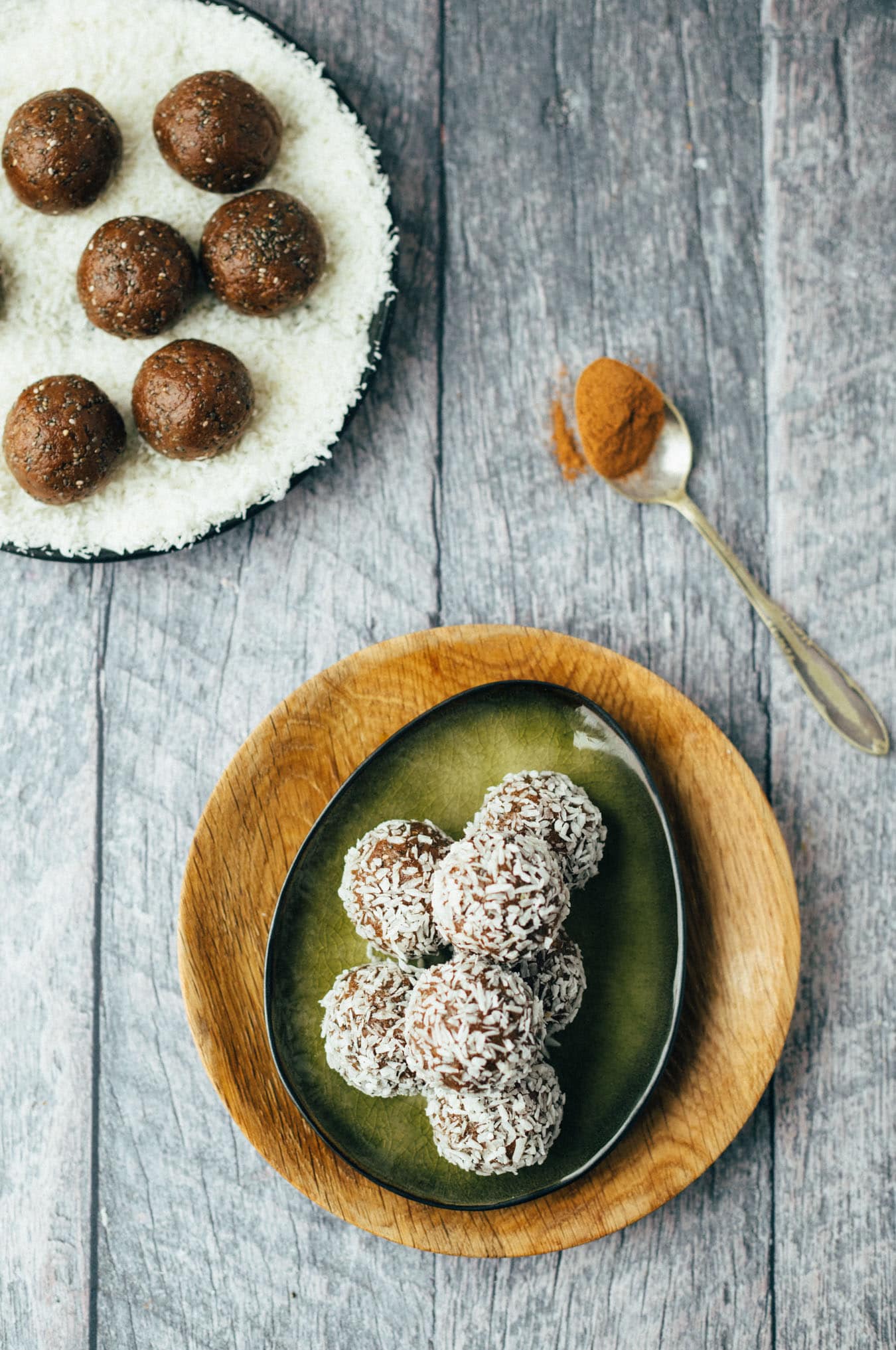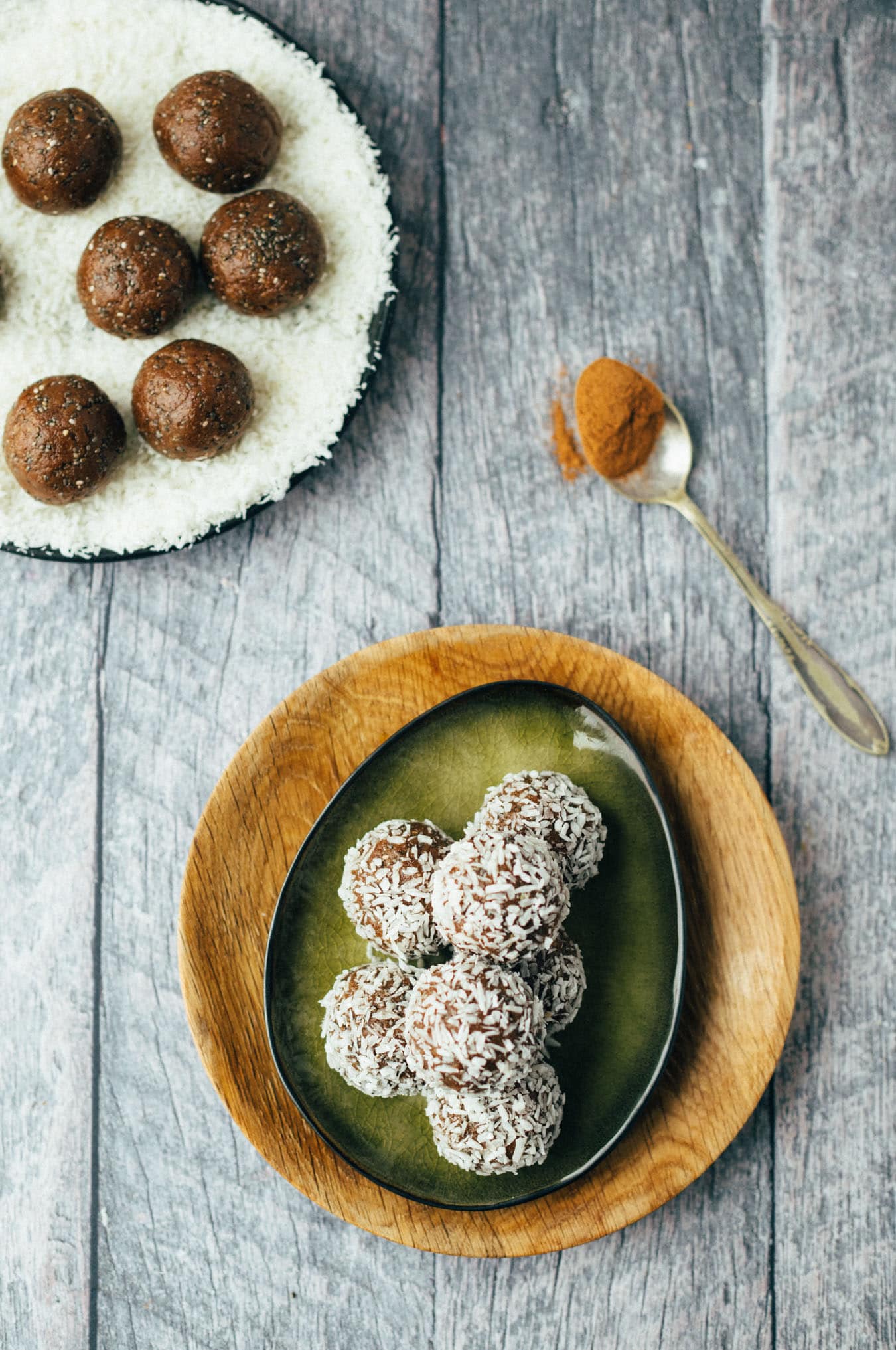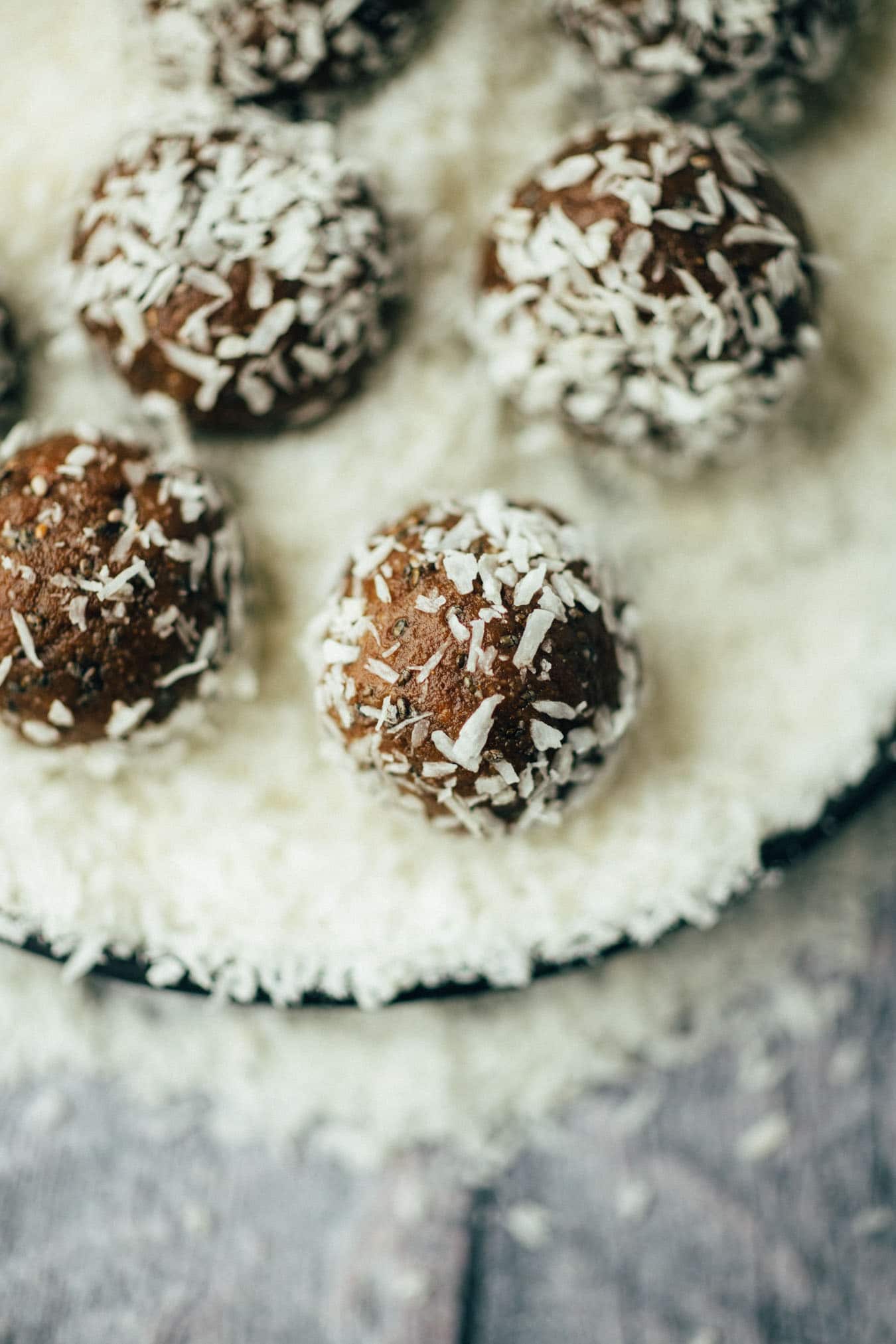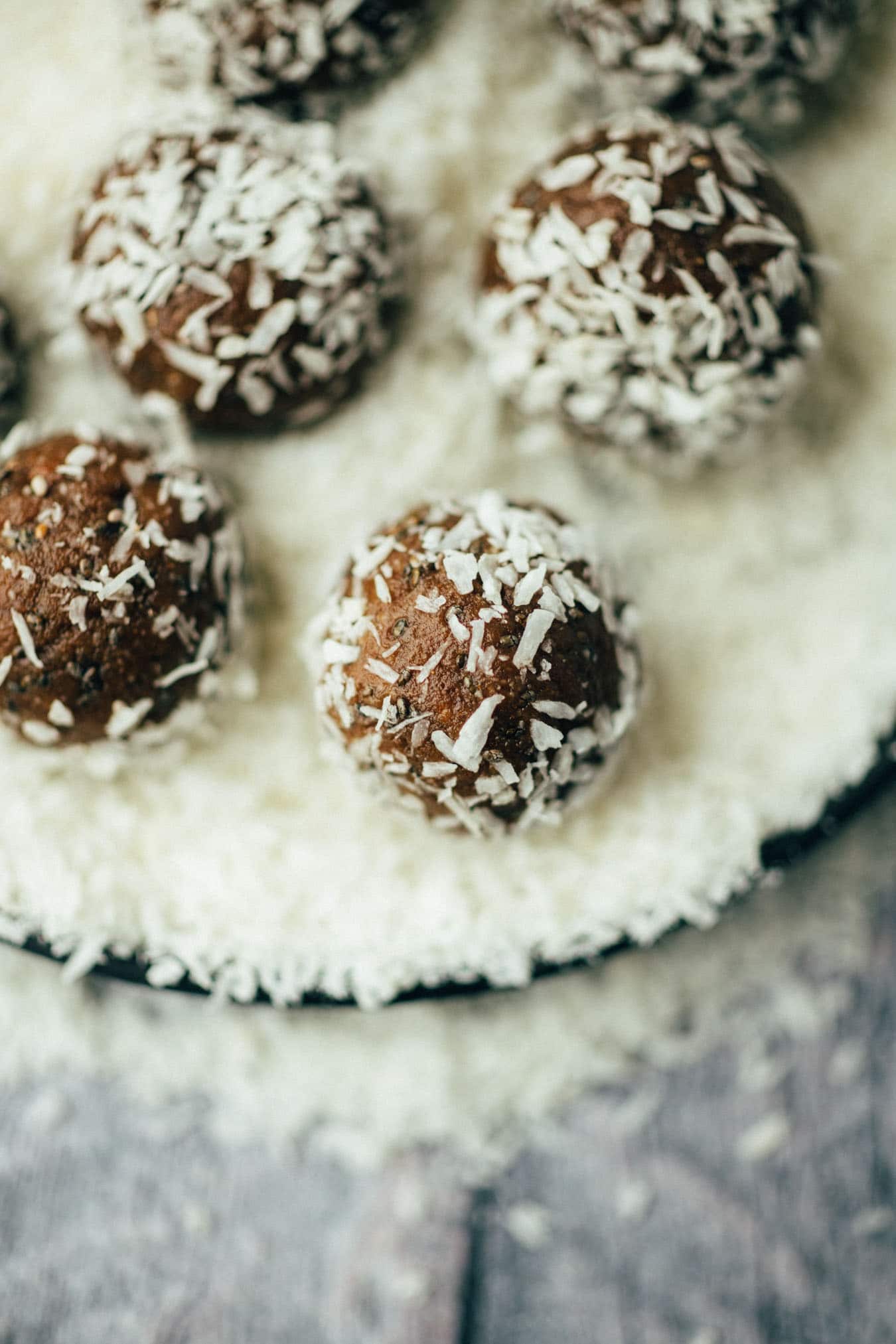 You do not have Walnuts in the house? No problem, any other nut will do. But let's take a look together at Walnuts that are really very healthy.
high content of monounsaturated and polyunsaturated fatty acids
rich in vitamin E
contain important B vitamins
can prevent cardiovascular diseases and favorably influence blood lipid levels
contain potassium, iron, magnesium and calcium
I'm really totally in love with walnuts, especially since I have a huge walnut tree right outside my kitchen. October and November (so now) is harvest time, what more could you want?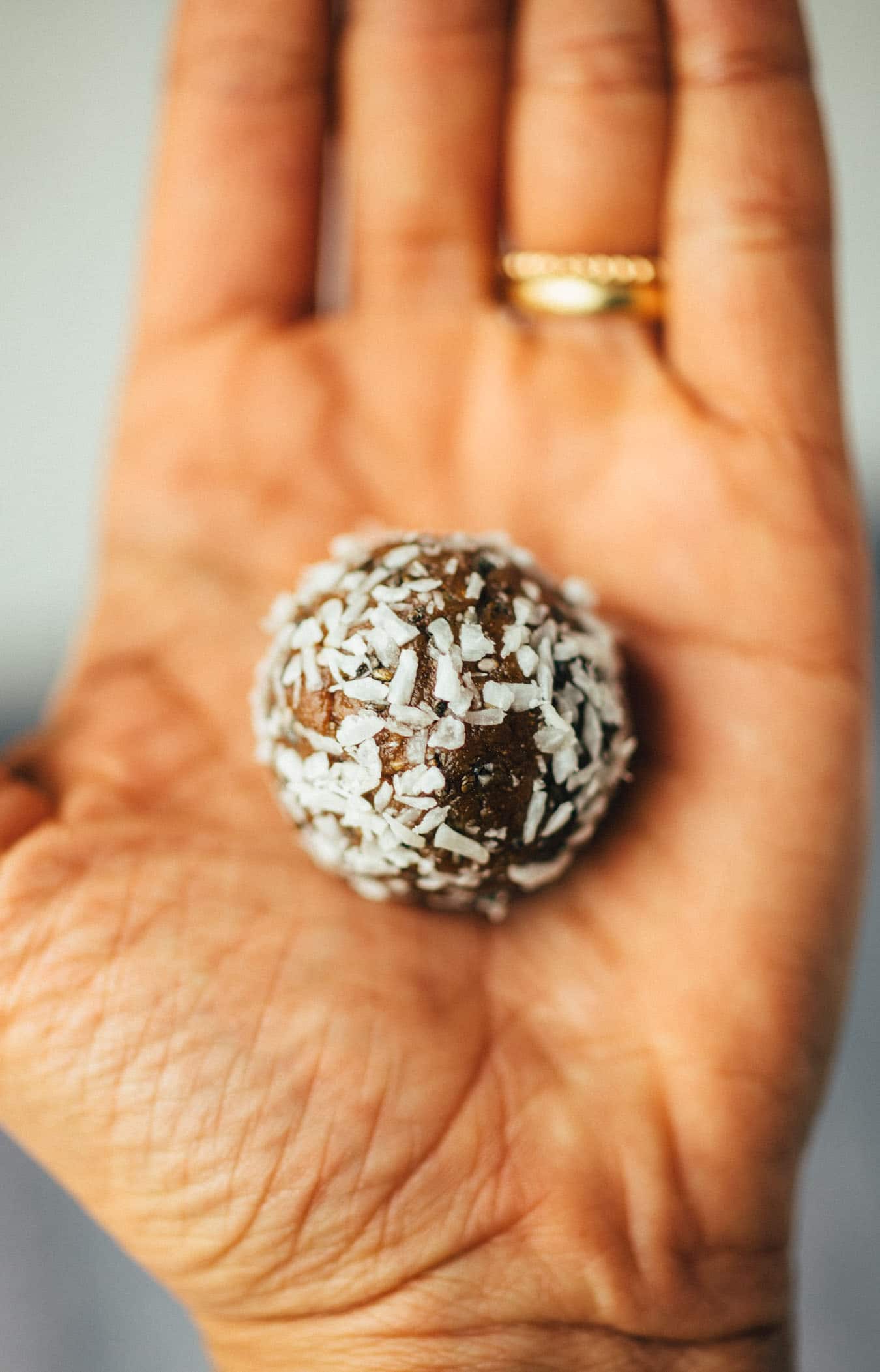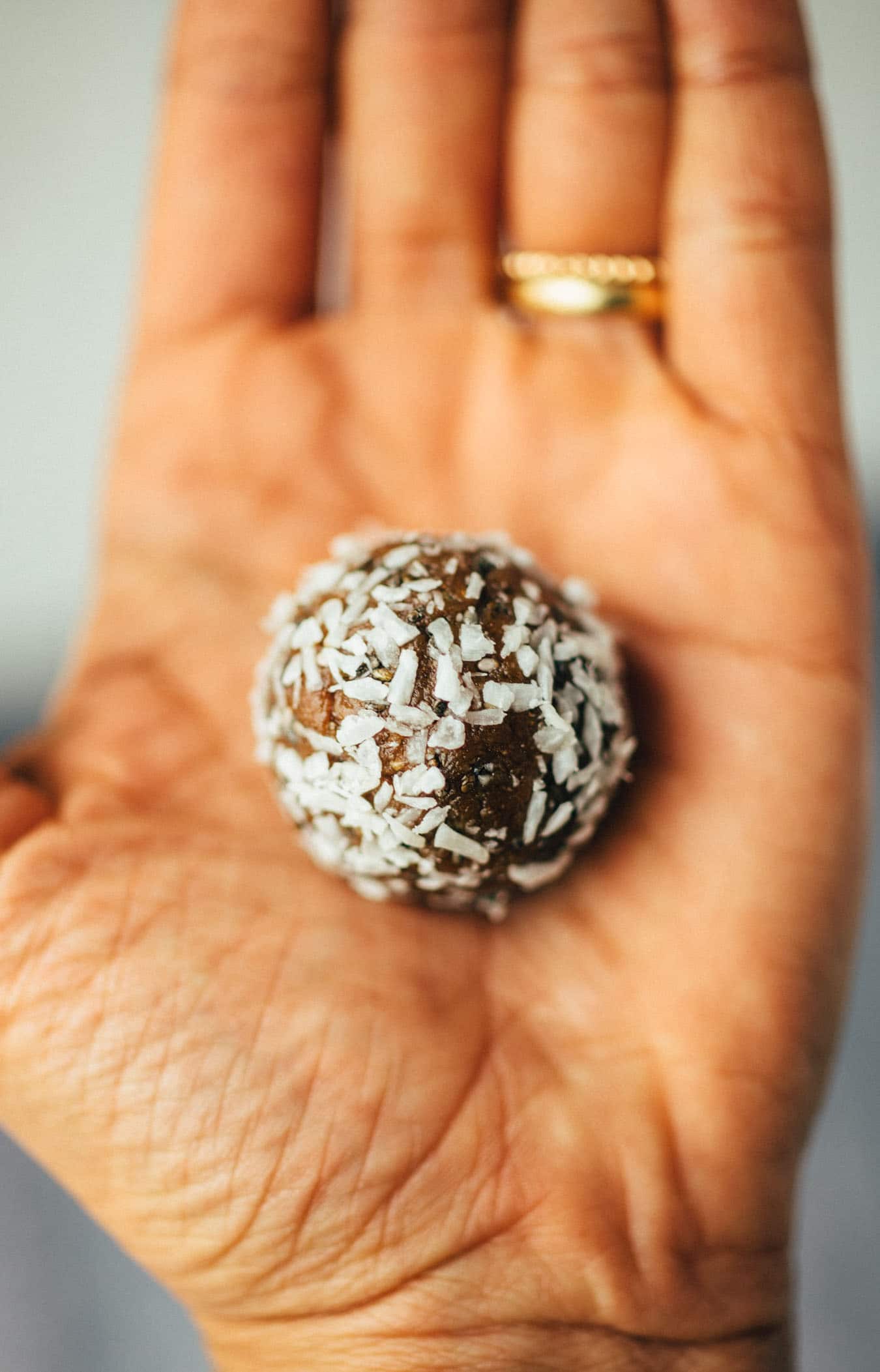 I find the Energy Balls especially because I can take them with me everywhere. They already have a permanent place in my lunch box in my purse, so to speak. So they have saved me from hypoglycemia in meetings, or from our morning run with the Huskies.
If you would like to try some other flavors, I recommend my Chocolate Blueberry Energy Balls , Chocolate Coconut Energy Balls or Raw Brownie Bites .
Get started with these delicious, versatile Energy Balls . I wish you a lot of fun in recooking and of course a review at the bottom of this page. If you post a picture, use the hashtag #veganevibes.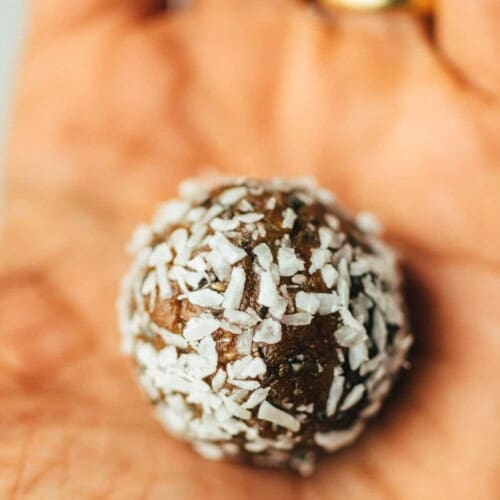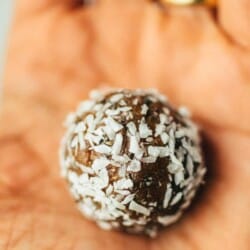 Energy Balls with walnuts and cinnamon (15 minutes!)
Extremely delicious and Energy Balls for the perfect energy in between, vegan and gluten-free. Pithy, nutty, pleasant sweetness, rolled in delicious coconut flakes.
AUTOR: VEGANEVIBES
Anleitung 
If dates are very hard, soak in hot water for

30 minutes

and strain before processing. For high quality Medijool dates, this step can be ignored as the dates are usually soft enough.

For the dough, place all ingredients in a food processor (I use my MagiMix here) or high-powered blender and blend until a uniform dough is formed. This should be nice and sticky, but not too dry.

288 g Medijool dates,

200 g Walnut kernels,

40 g Almond paste or another nut paste,

3,5 g Chia seeds,

1 Pinch sea salt,

1 tbspn Cinnamon,

30 g Sunflower seeds (optional)

TIP: Be sure to mix long enough until the dough becomes really nice and oily and forms a lump.

With wet hands, form 18 balls weighing about 25g (an ice cream scoop is also recommended here) and roll in the coconut flakes.

TIP: Let Energy Balls soak in the refrigerator for one night, then they become really delicious.

Place remaining bars in a resealable box and store in refrigerator or freezer. In the refrigerator they last about 1 week, in the freezer up to 4 weeks.
Nährwertangaben
Serving:
1
Piece
Calories:
129
kcal
Carbohydrates:
14
g
Protein:
2
g
Fat:
8
g
Saturated Fat:
1
g
Sodium:
6
mg
Potassium:
169
mg
Fiber:
2
g
Sugar:
11
g
Vitamin A:
25
IU
Vitamin C:
0.2
mg
Calcium:
22
mg
Iron:
0.5
mg