Brownies are the quintessential classic and I hate to say no when offered a piece. Nuts, chocolate, ahhh, just delicious. There are already two brownie recipes on veganevibes.de and today I would like to present you another one: delicious, raw brownie bites . This is the solution for all who want to snack healthy, with the absolute WOW factor in the mouth.
A vegan brownie in ball shape – get ready to snack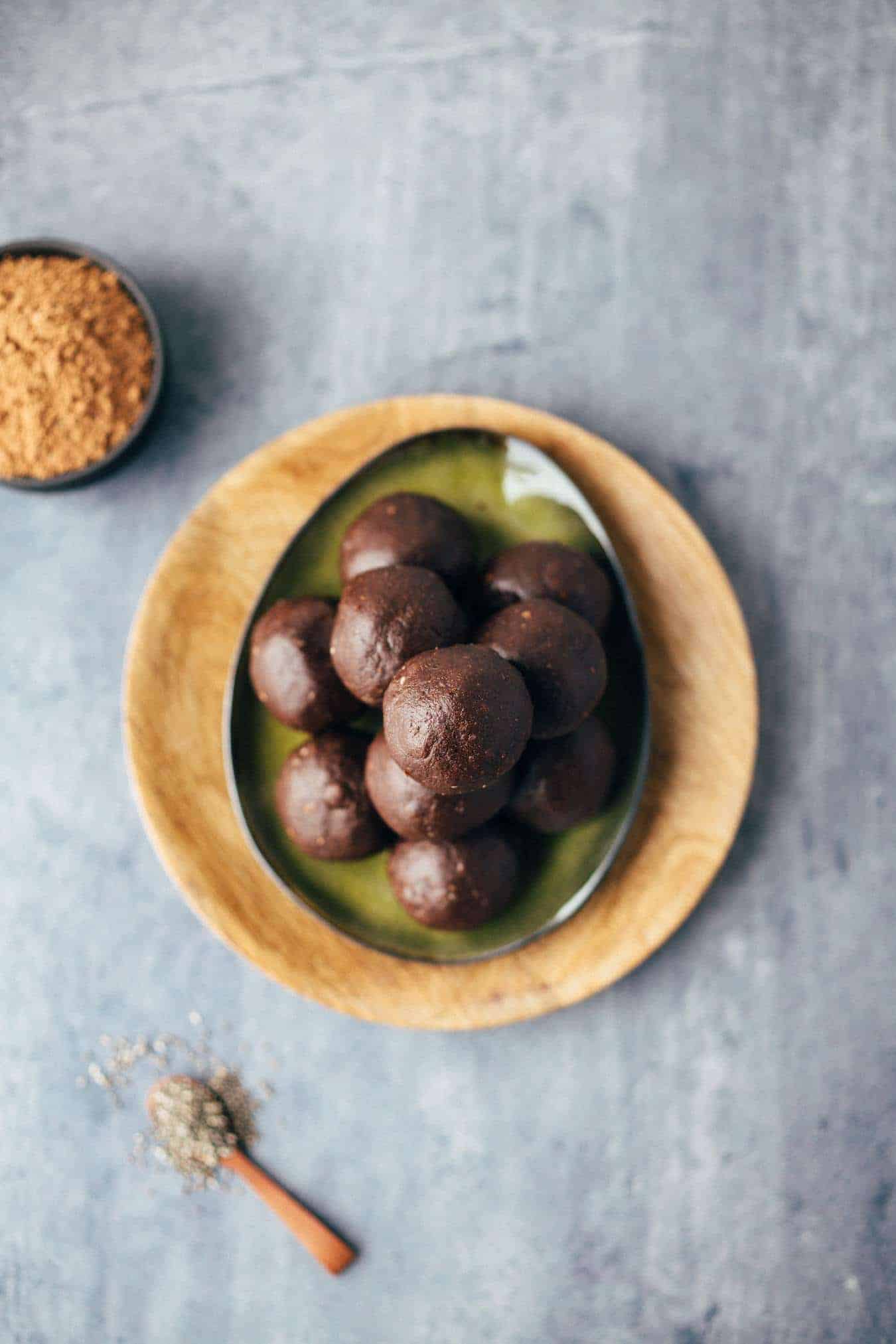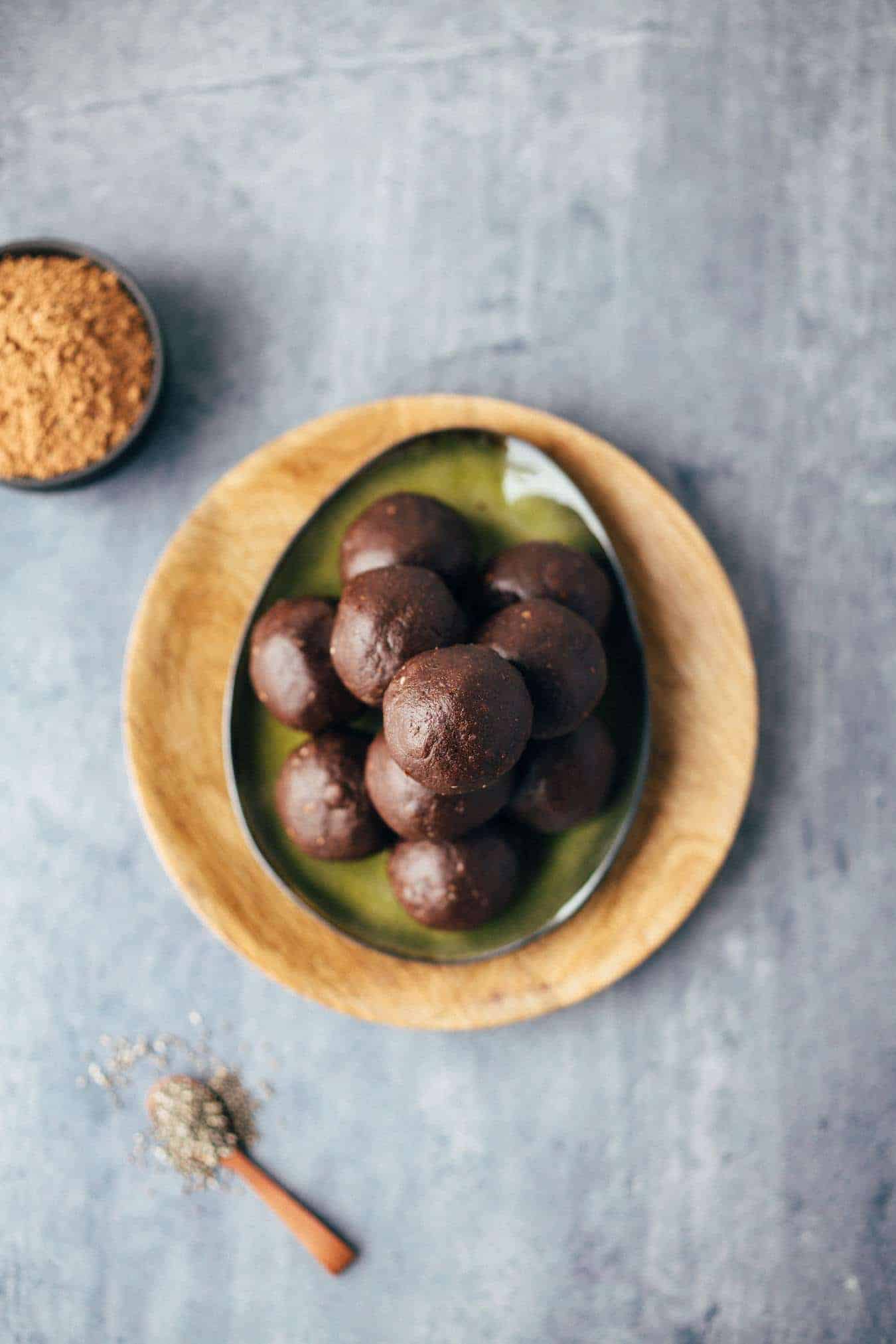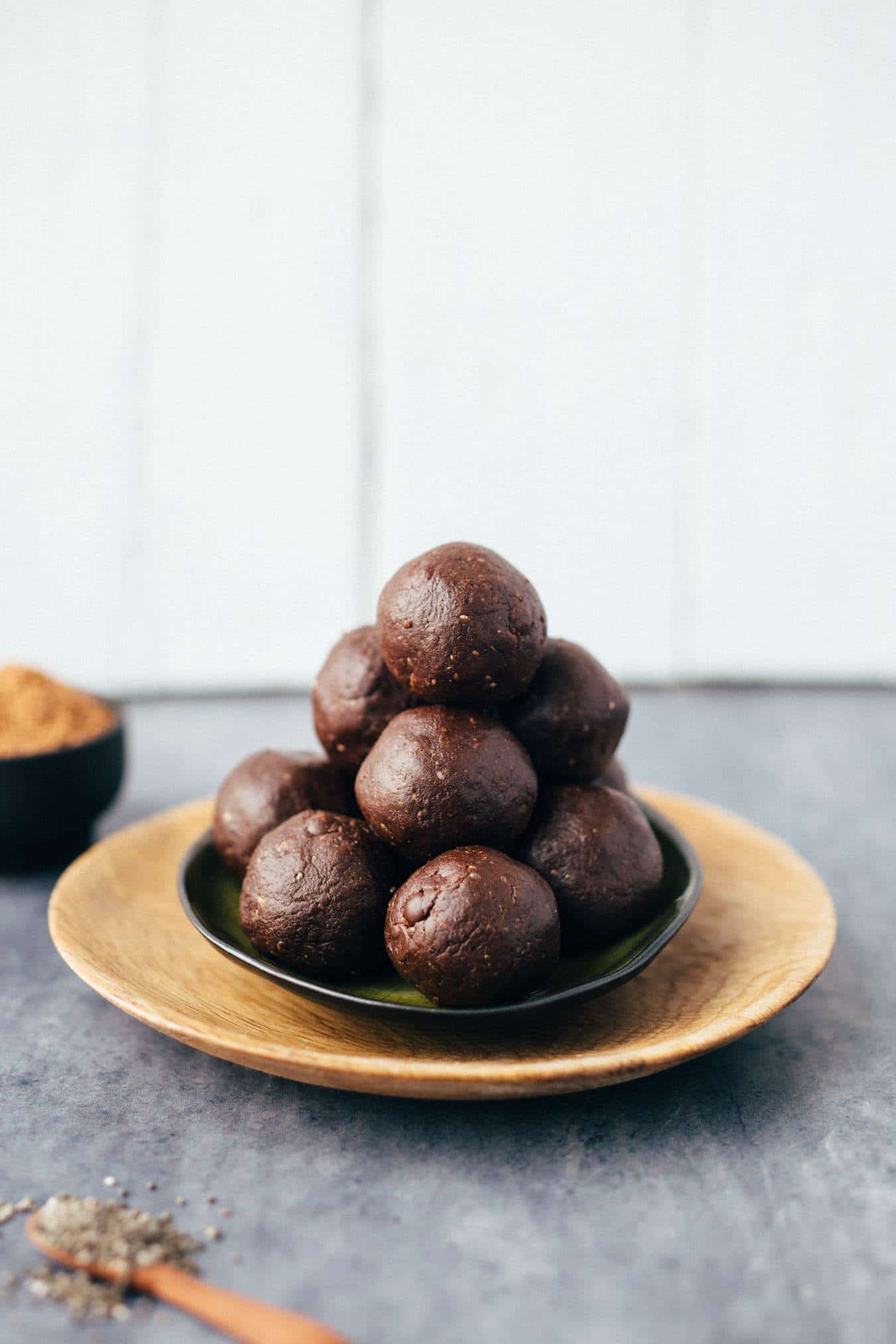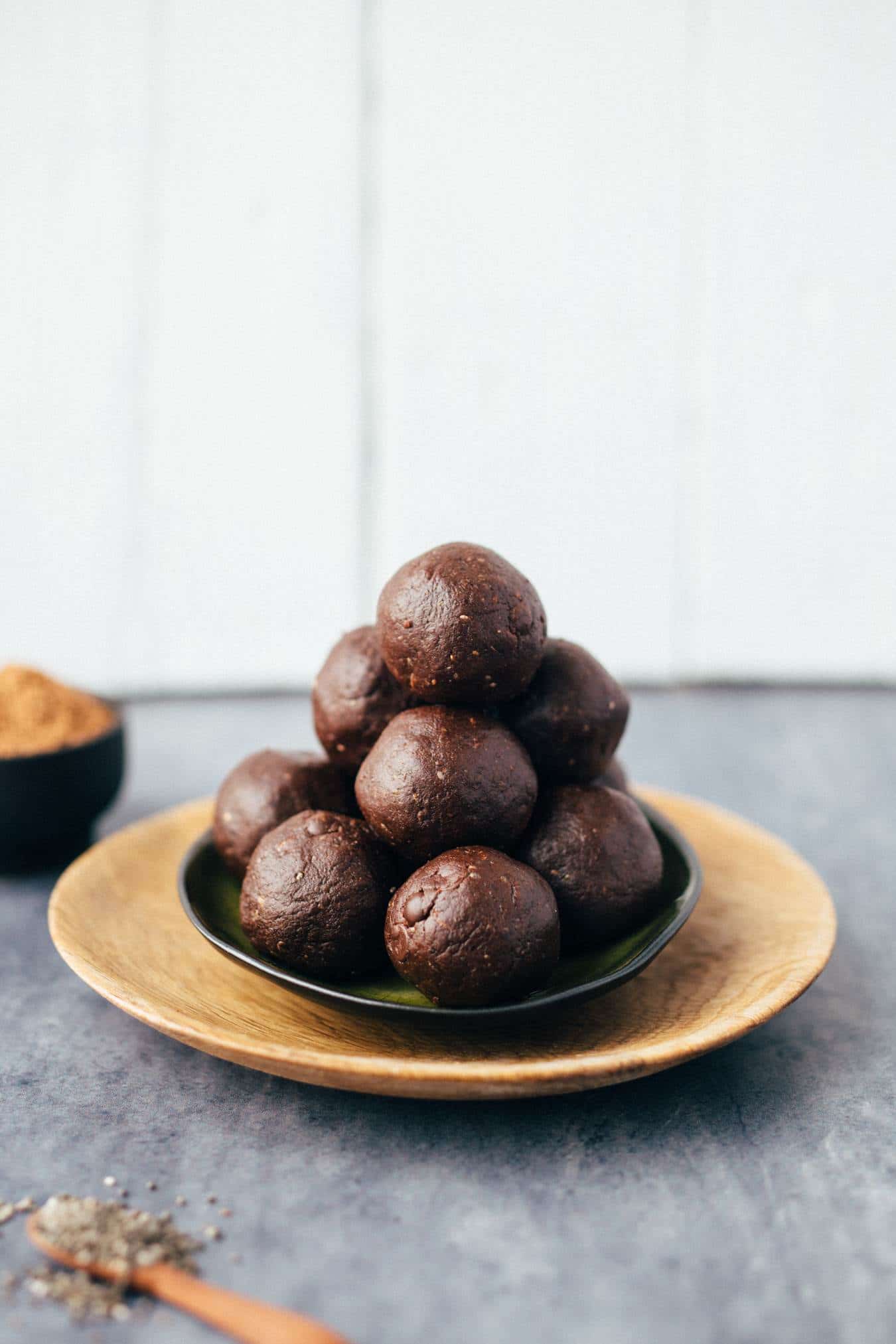 The ingredient list is pretty darn short this time, as there are only seven ingredients in these tempting little Brownie Bliss Balls. Rolled oats, ground flax seeds, cocoa powder, nut butter, maple syrup and vanilla. If you like, you can top it off with a high-quality protein powder (AD) and make it a pre- or post-workout snack. The dark, vegan chocolate drops can be replaced with cacao nibs. At the latest then you have pure superfood.
I love snacks like these especially when I'm out with my two huskies because Bliss Balls give quick, easy-to-digest energy. Who wants to be in a bad mood and have an empty stomach?
Bliss Balls or Smart Bites give quick, easy-to-digest energy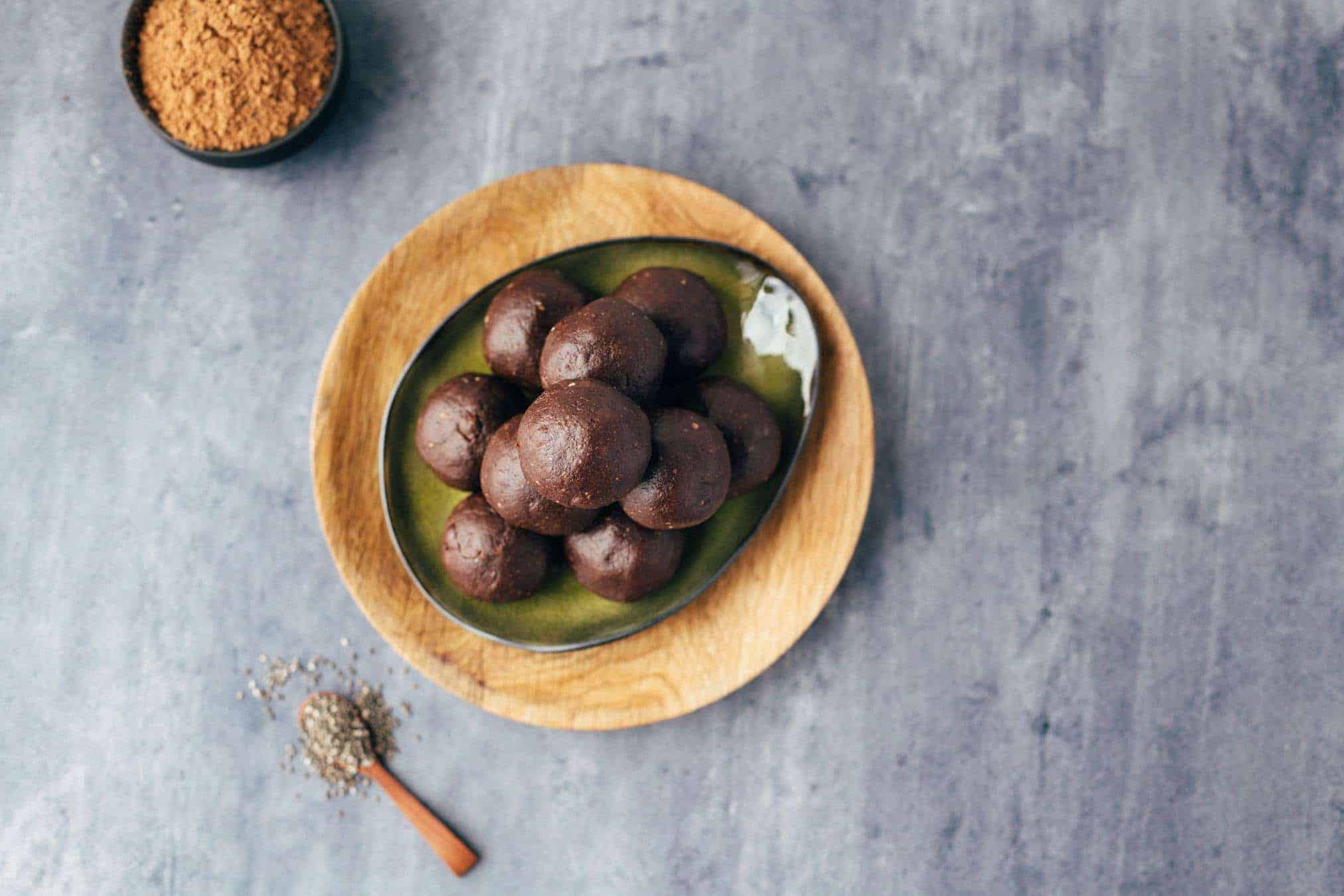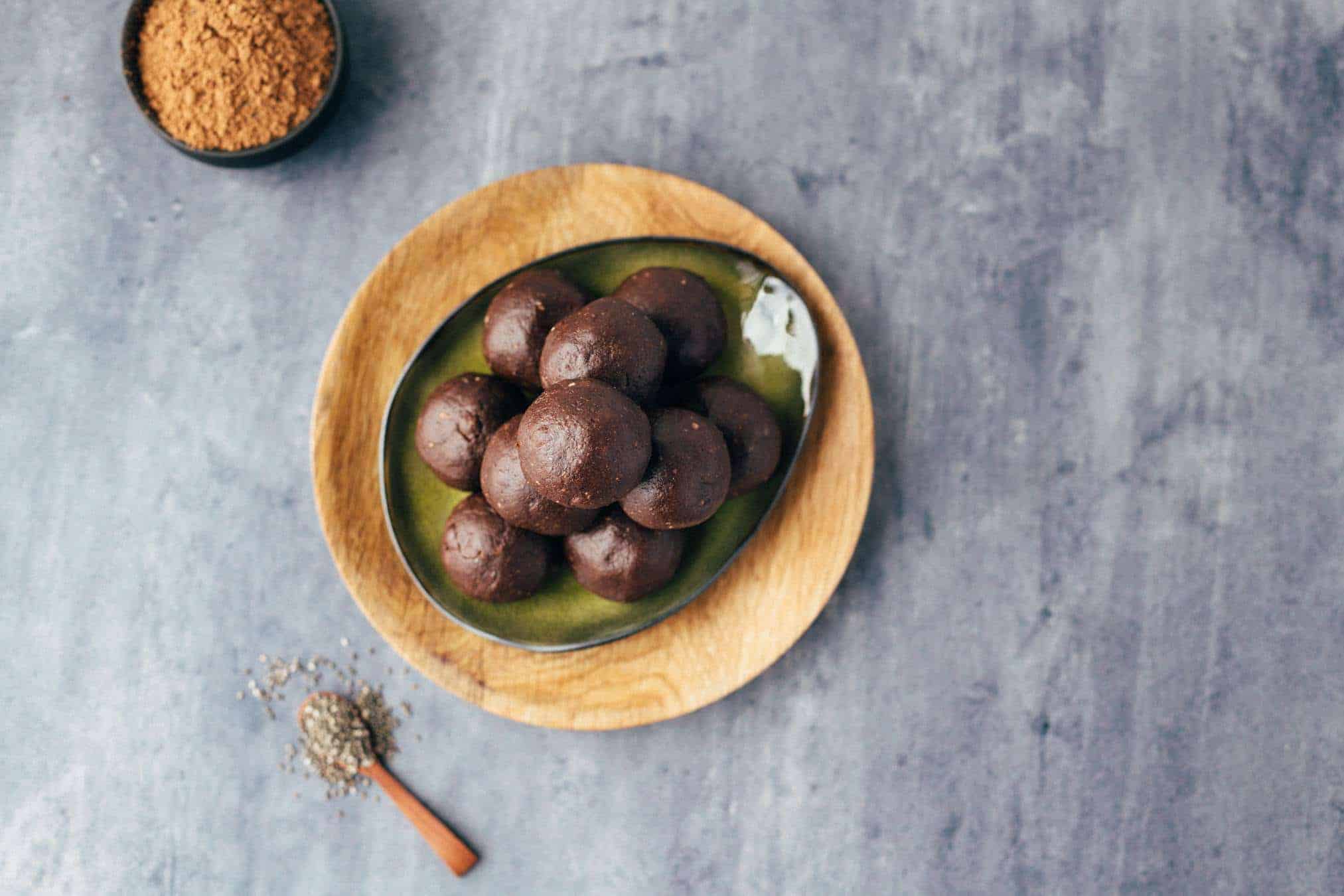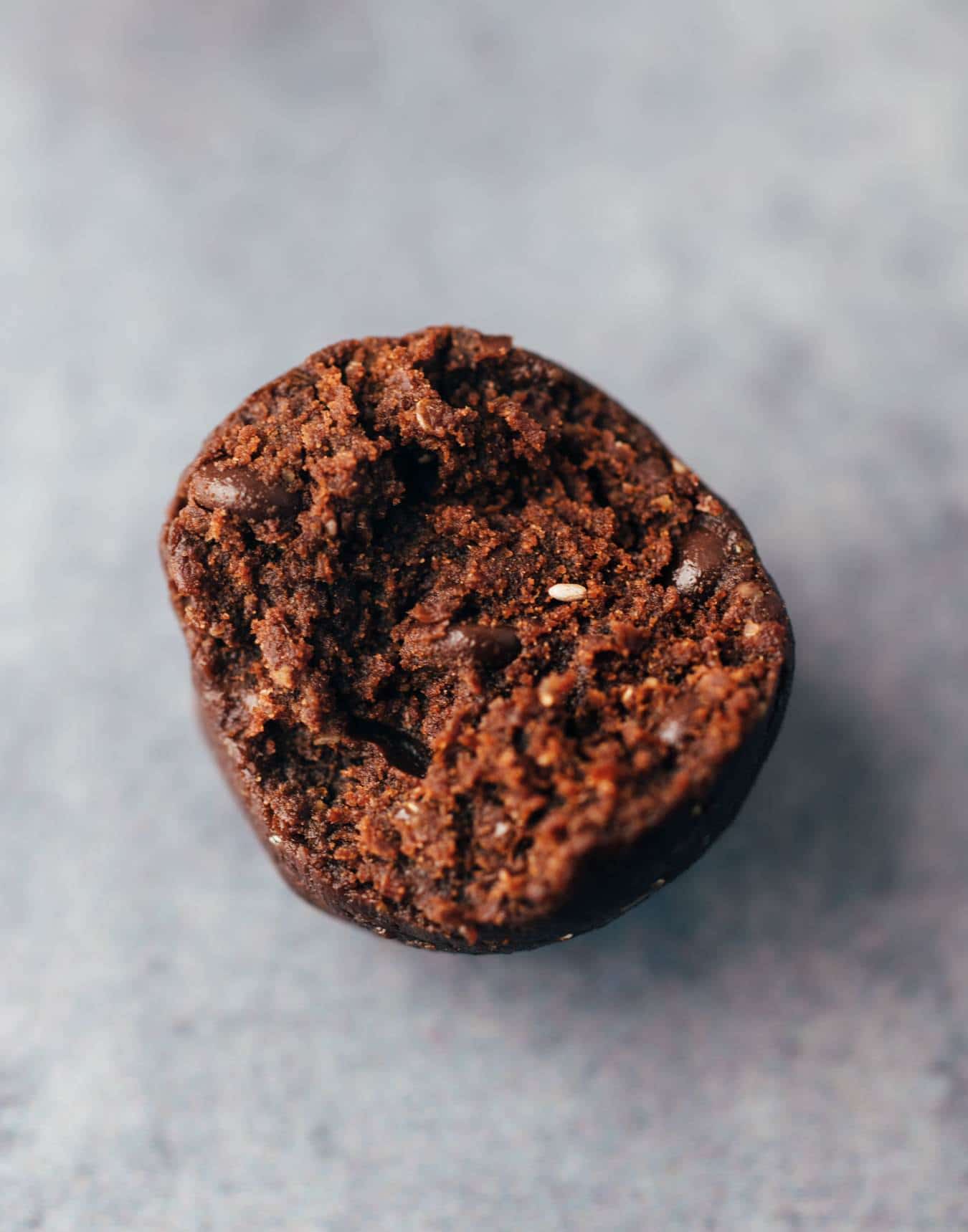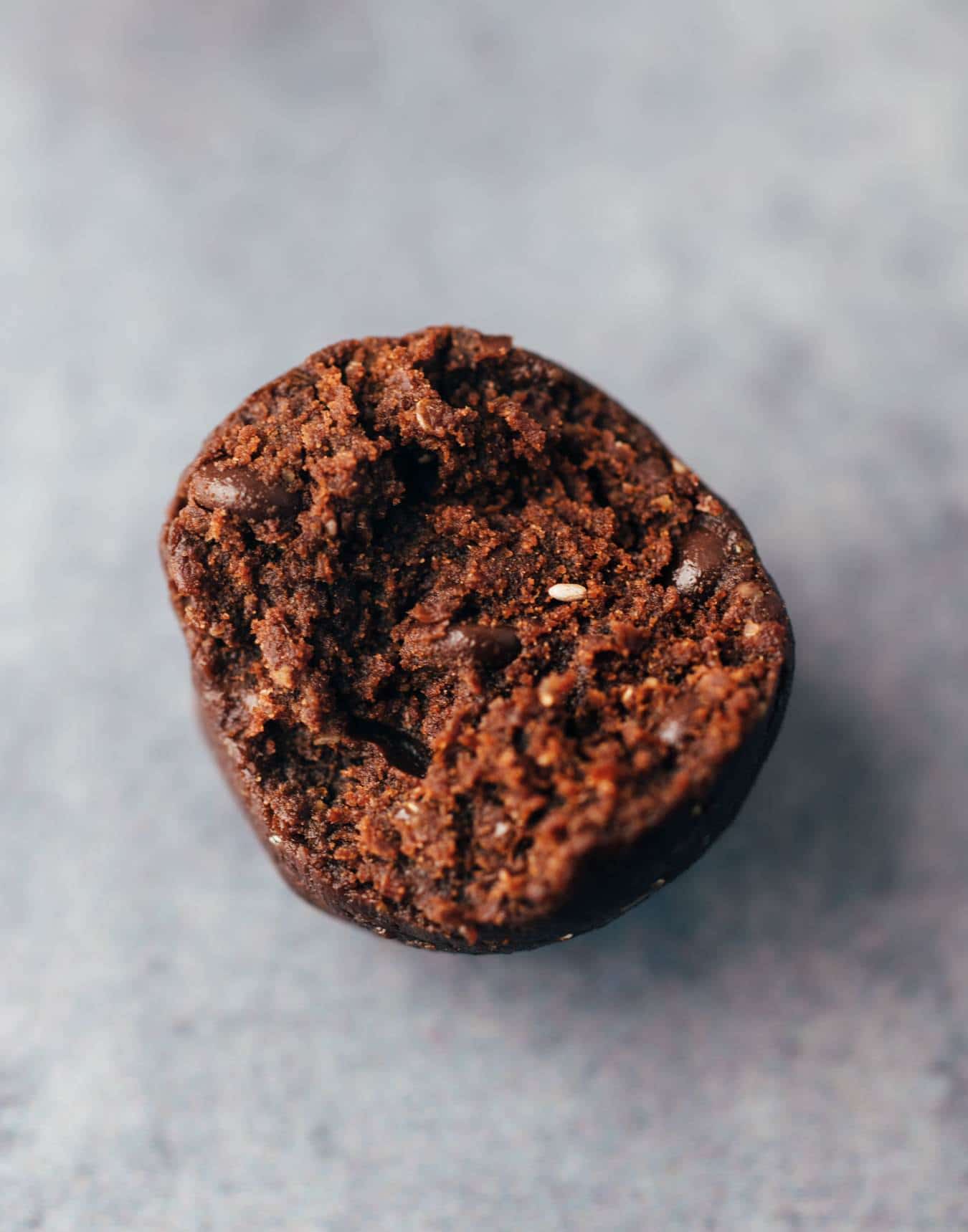 Why exactly are these brownie bites so healthy? This is due to the ingenious selection of ingredients. Let's start with the oatmeal. They are very healthy, because:
they contain extra fiber
Minerals, such as iron, phosphorus, zinc and magnesium
have the highest B1 and B6 content of all cereals
provide high quality vegetable protein and low fat
To this is added crushed or ground flaxseed. This can definitely be called a local superfood, as it is full of healthy micronutrients. Its high content of omega-3 fatty acids (also called alfa-linolenic acid) is particularly exceptional. In addition, there are omega-6 and omega-9 fatty acids. Important practical tip: It is always best to grind flaxseed yourself, as the valuable flax oil has already been removed from the flaxseed meal from the supermarket. If you grind it yourself, you can ensure that all the important and healthy nutrients are preserved.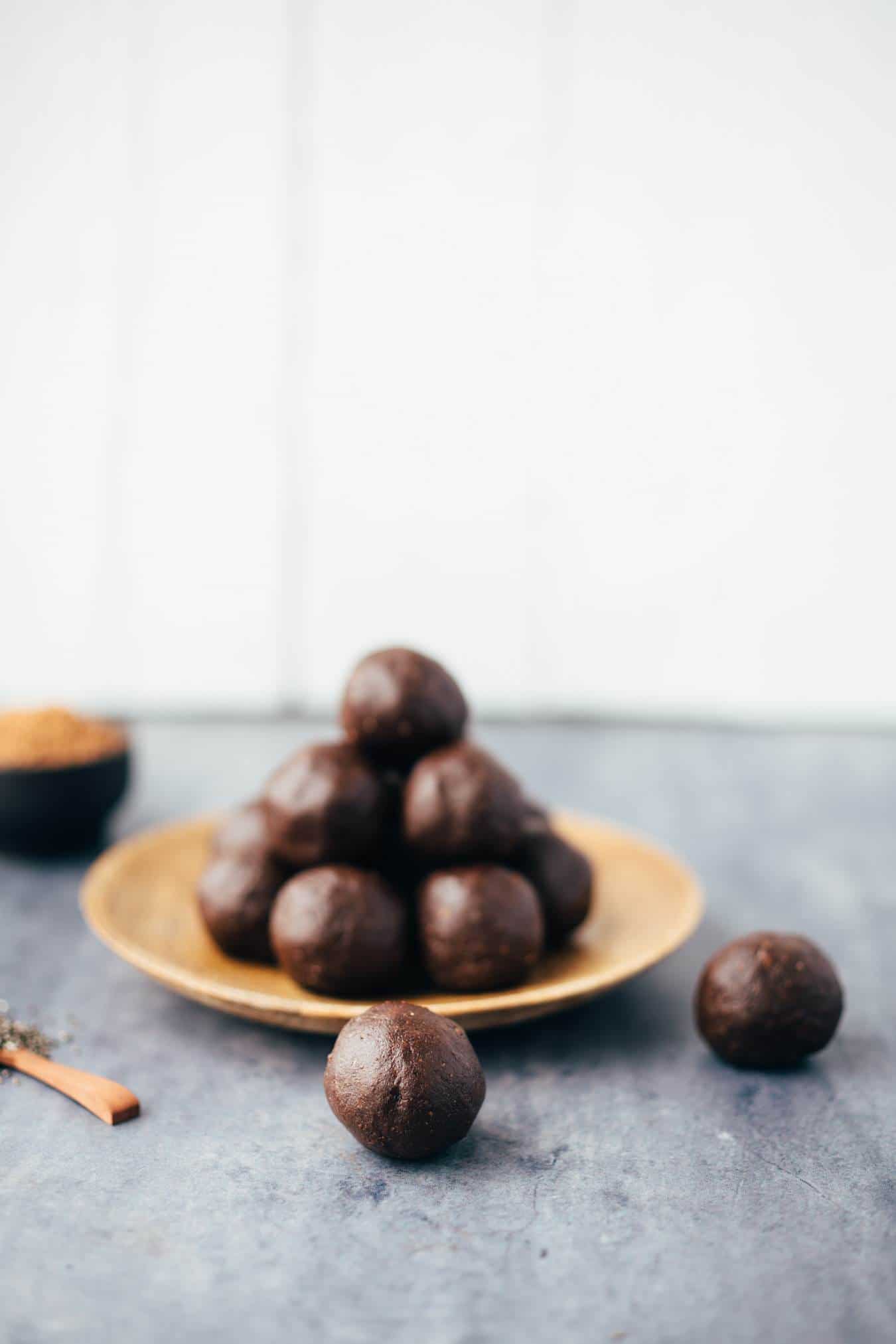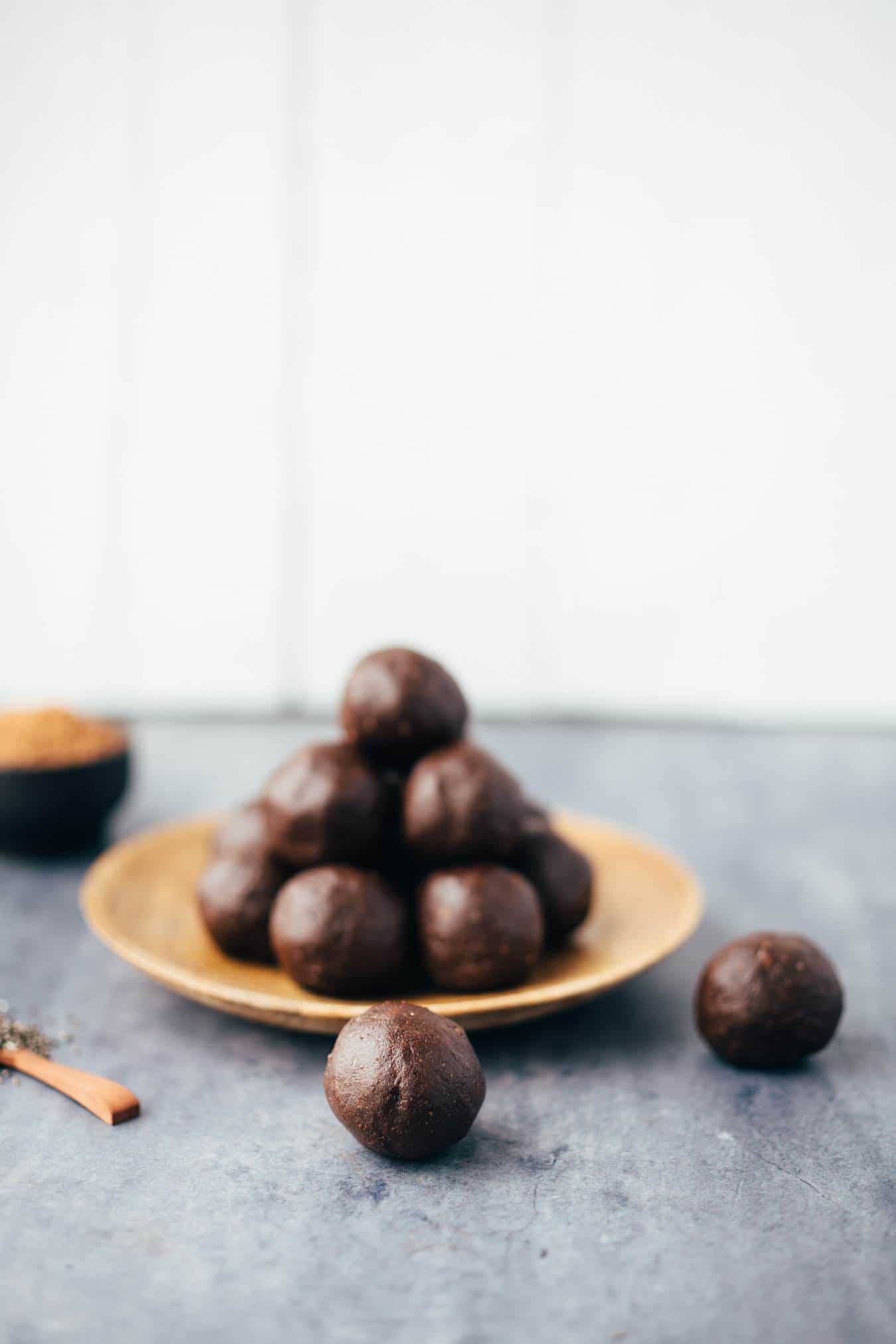 Healthy and delicious! In terms of taste, you can look forward to a creamy, chocolatey-nutty temptation that virtually melts in your mouth and has a slightly sticky effect on the palate. Well get a taste for the healthy snack?
Chocolatey and nutty, these brownie bites pair perfectly with a café latte with Almond milk , Immune Booster Latte , Chocolate Chia Smoothie , hot chocolate or golden milk .
The raw brownie bites (15 minutes) are:
nutty
chocolatey
Full of healthy micronutrients
Naturally sweetened
Quickly made
Let's go with this dream of nuts and cocoa. I wish you a lot of fun with seam rolling and of course about a rating at the bottom of this page. If you post a picture, use the hashtag #veganevibes.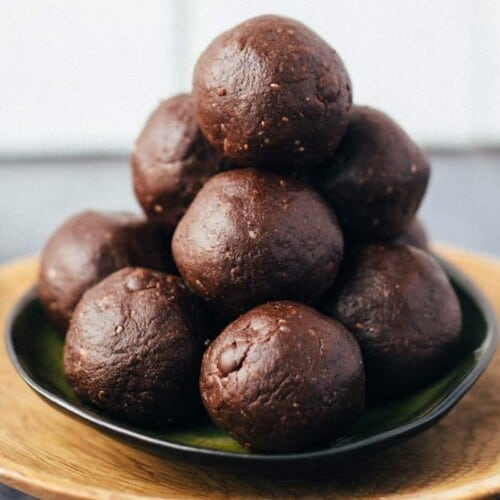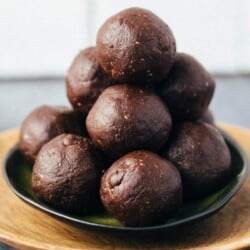 Raw Brownie Bites (15 minutes!)
Extremely delicious, nutty-chocolatey vegan, gluten-free bites for the perfect energy in between (or before/after exercise). Creamy, high protein, with delicious dark chocolate drops.
AUTOR: VEGANEVIBES
Anleitung 
To make the dough, first put the rolled oats in a food processor (I use my MagiMix here) or high-powered blender and blend until a fine flour is formed. Alternatively, use ready-milled oat flour.

As a second step, process the flax seeds, if not already done, in the same way in the food processor to a fine flour.

Now add all the remaining ingredients(EXCEPT THE CHOCOLATE DROPS) to the Food Processor and process until you have a fine, slightly crumbly, but still sticky dough. At the end, mix in the chocolate drops.

48 g Oatmeal,

59 g raw cacao powder,

42 g ground flaxseed,

190 g Almond paste or another nut butter,

Optional: ½ – 1 tsp coconut oil,

Optional: 2 tablespoons more dark,

Optional: 2-3 tablespoons walnuts

Shape into 20 balls with wet hands (an ice cream scoop works well here) and roll again in extra chocolate drops if desired.

60 g dark vegan chocolate drops

Enjoy and place remaining bites in a resealable box and store in the refrigerator or freezer. Store in the refrigerator for up to 2 weeks, in the freezer for up to 4 weeks.
Notizen
NOTES /HELPFUL ACCESSORIES:
Nährwertangaben
Serving:
2
Piece
Calories:
77
kcal
Carbohydrates:
4
g
Protein:
3
g
Fat:
6
g
Sodium:
2
mg
Potassium:
133
mg
Fiber:
2
g
Calcium:
42
mg
Iron:
0.9
mg