Let's get back to an all-around talent that each of us wanted in the kitchen. Not all year round, but at least in the Autumn . We are talking about Pumpkin puree and I have already philosophized long and wide in one of my last blog posts about how excited I am about it. It's just so versatile, for Cookies , cakes, soups and many vegan main dishes . Today I opted for a sweet version that you can always treat yourself to in between (yes I know, these things have calories, but they are just so damn good). These vegan Cookies are soft, sweet, spicy and a really great contrast to the classic chocolate-nut variants that usually smile at you from the supermarket shelves.
Vegan pumpkin ginger cookies, sounds delicious right?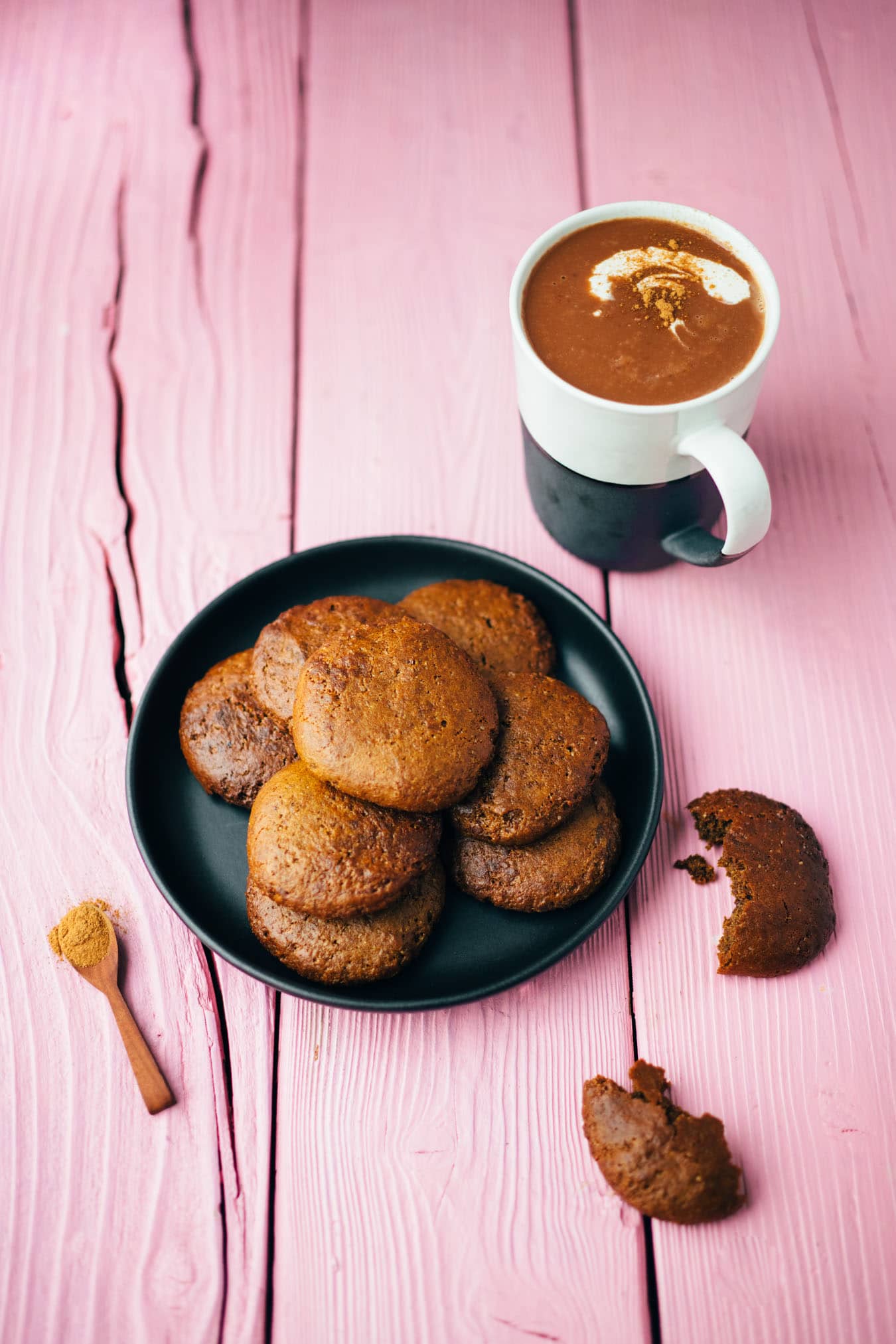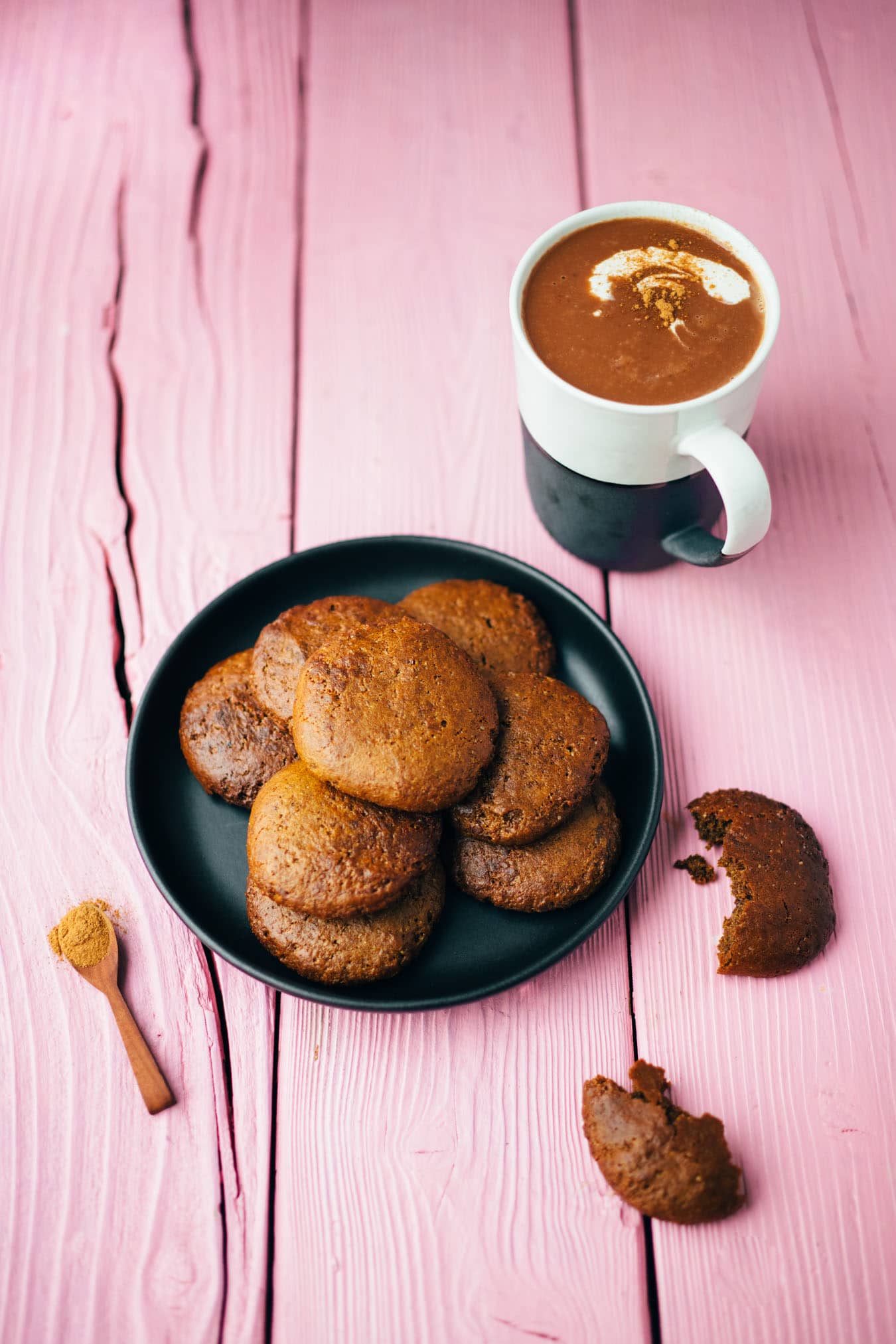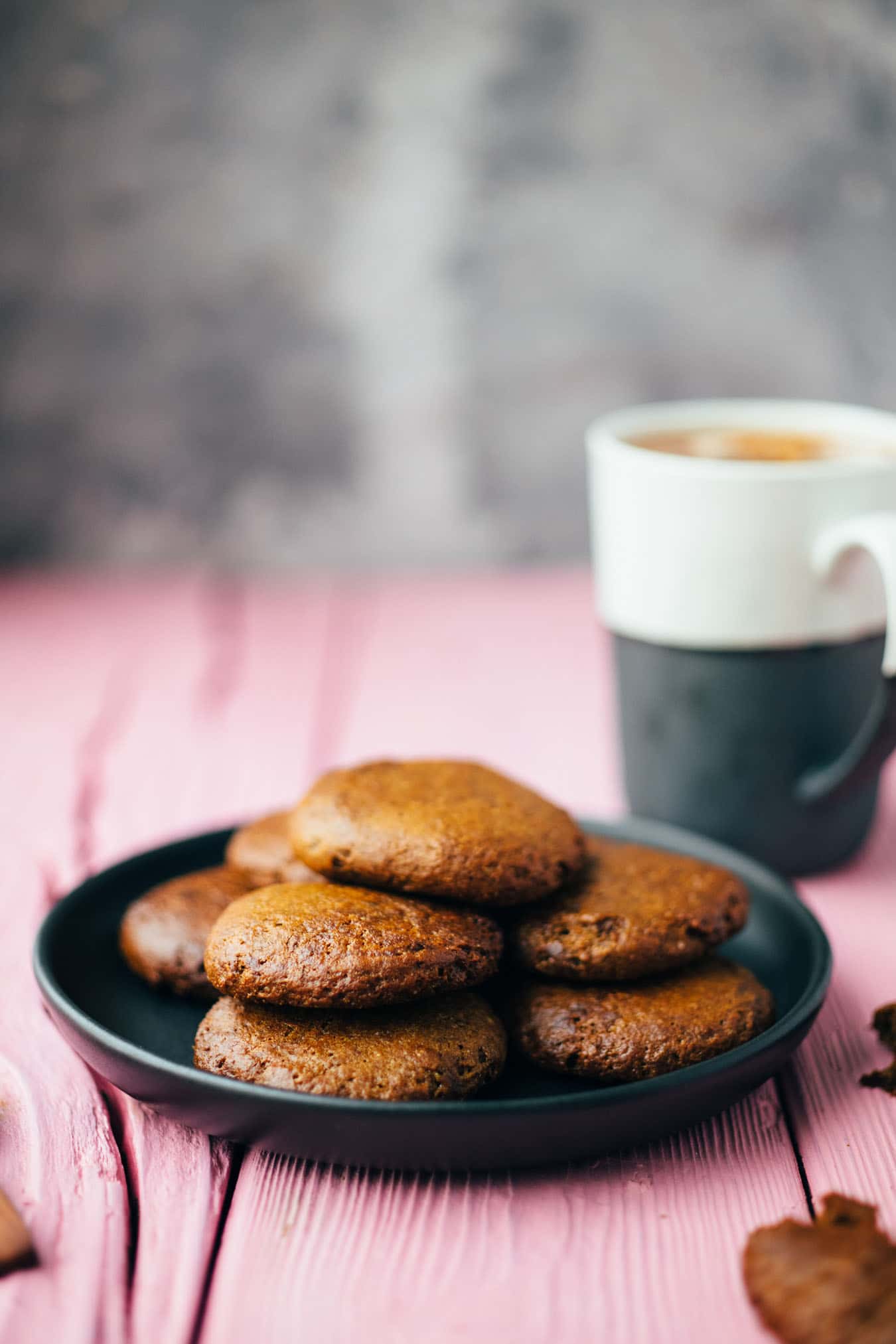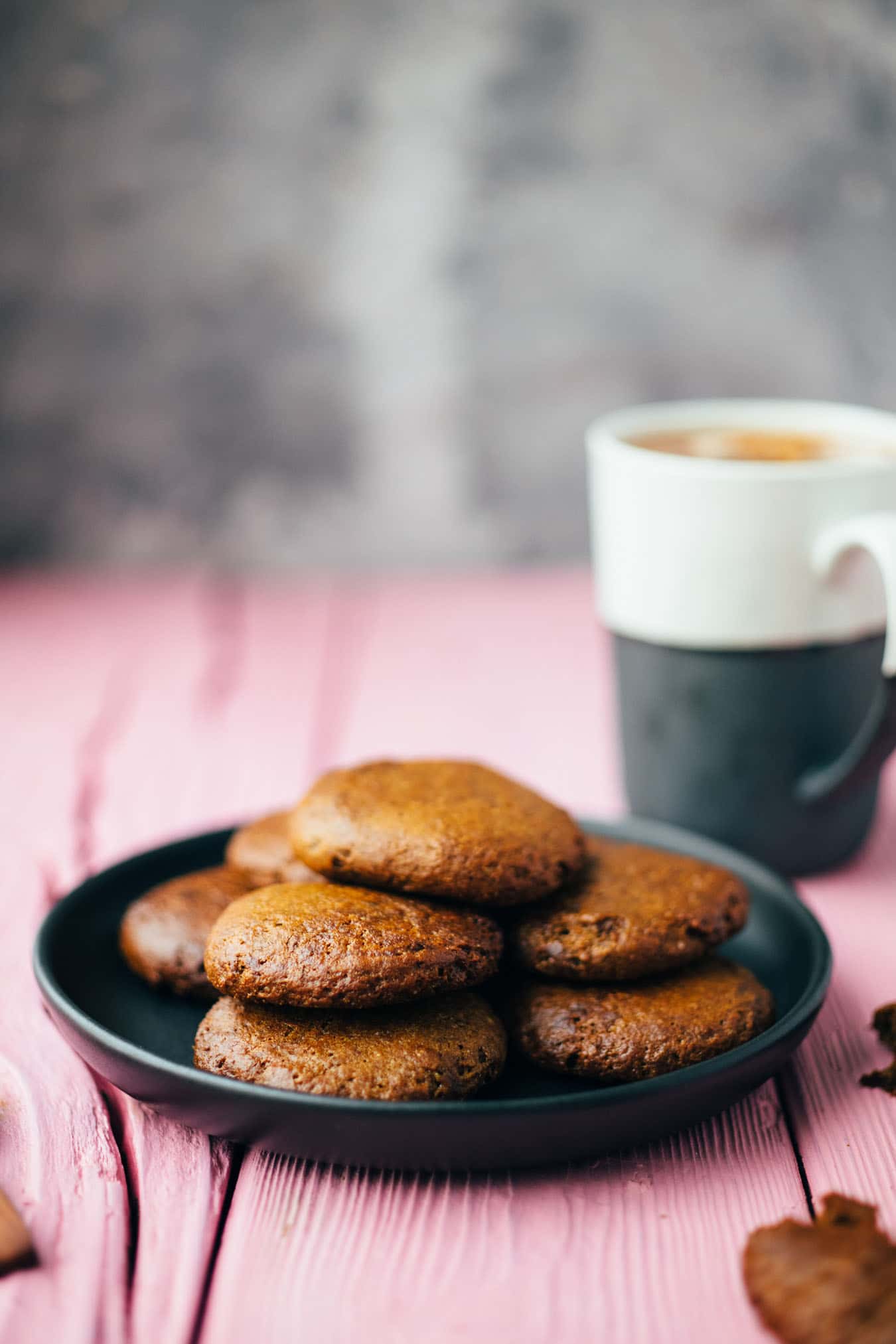 Let's get to the ingredients. Pumpkin puree , neutral baking oil, flaxseed flour, fine spelt flour or gluten-free flour mixture , almond flour, baking soda, baking powder, molasses, raw cane sugar, cinnamon, ginger, cloves and a pinch of sea salt.
Molasses, what is that supposed to be? Molasses, or more precisely sugar cane molasses carries the nickname "black miracle" and is characterized by its strong, aromatic flavor. The viscous syrup tastes a little bitter and licorice. Molasses is a very high-quality by-product that is produced during the manufacture of sugar. Just in the autumnal , christmas Kitchen, the strong syrup is very popular.
It's vegan cookie time baby!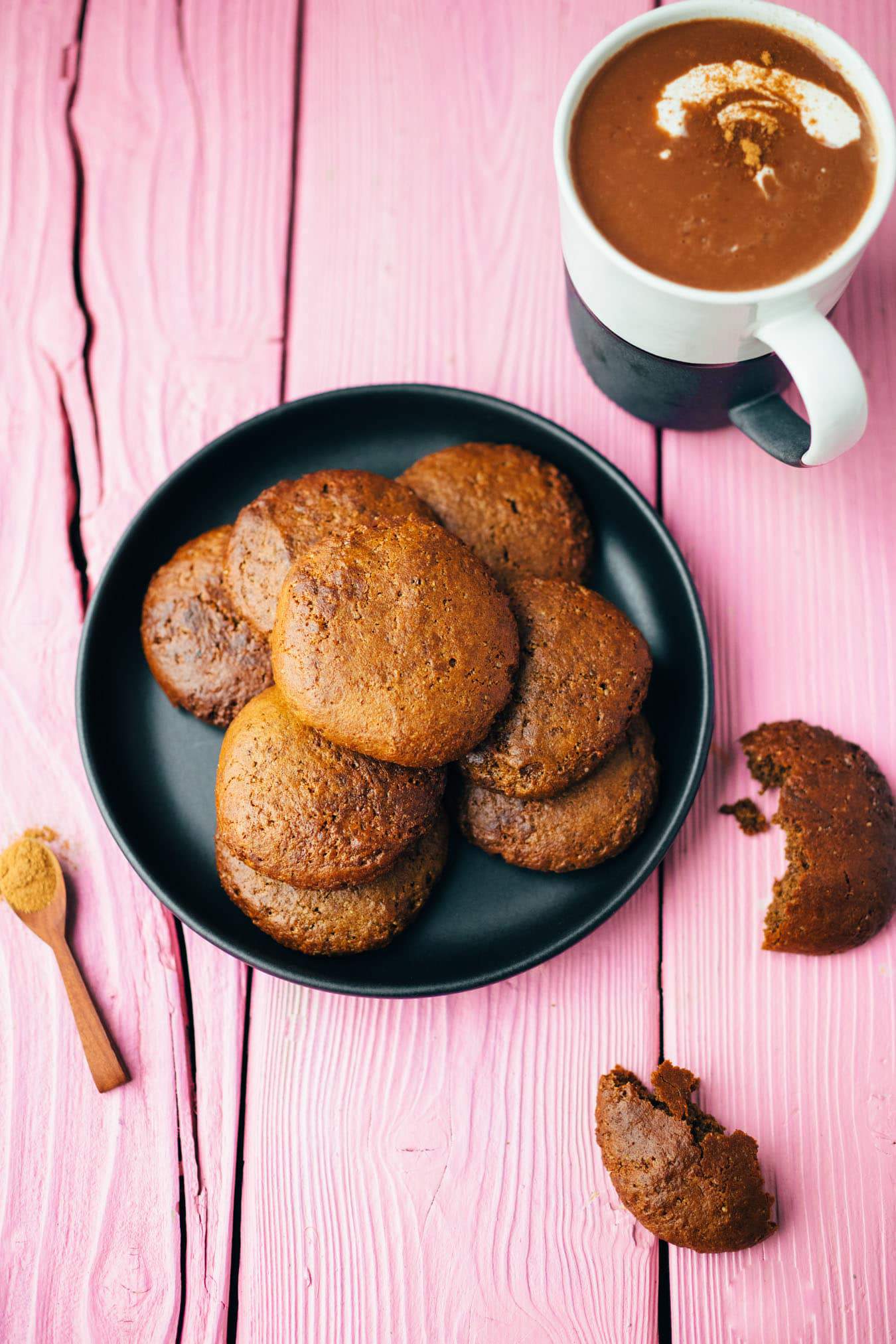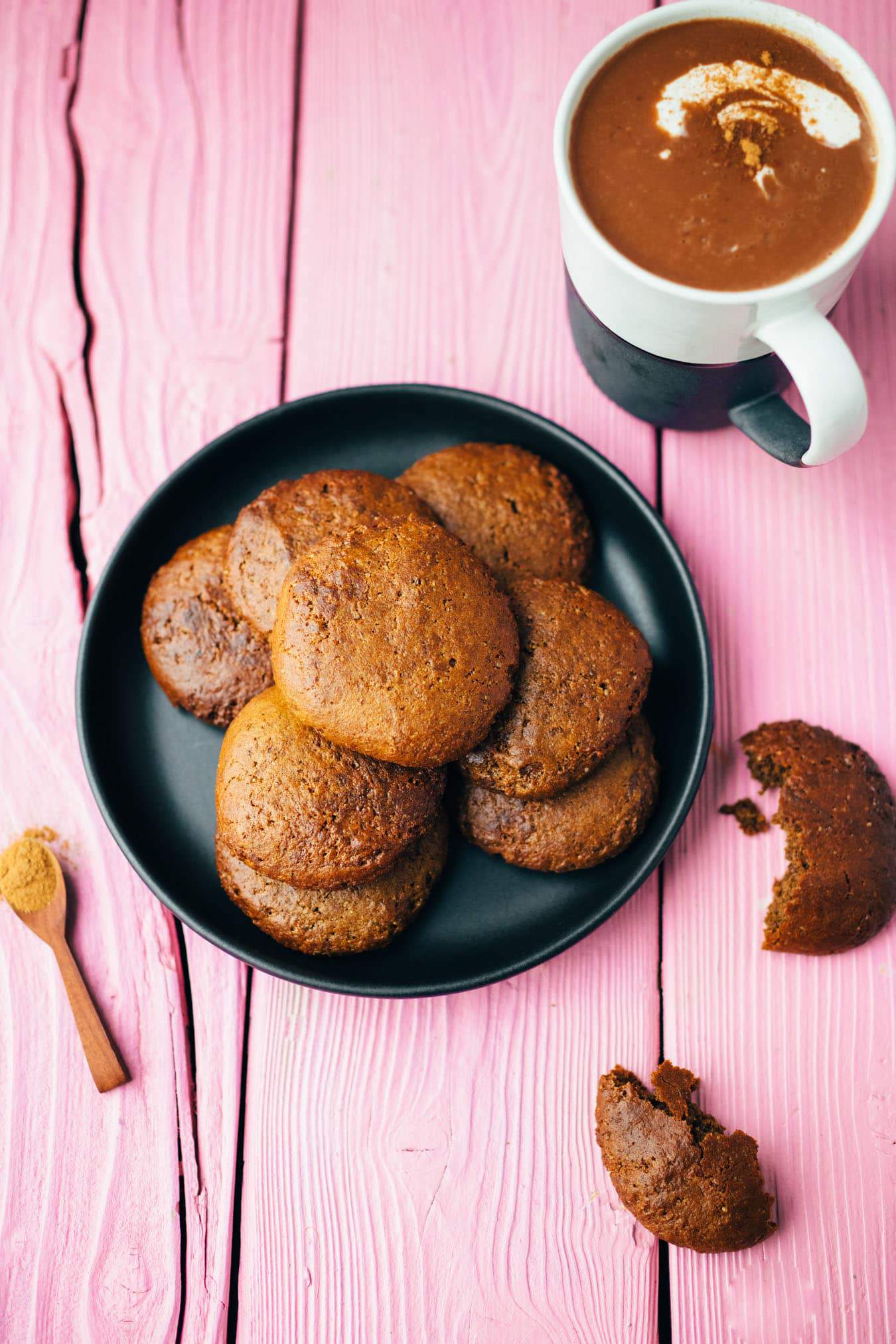 Yummy Yummy! I will admit that I've been a little careful about what I eat lately. Not because of the quality, but I am now every day in the kitchen and test various dishes, which usually taste damn delicious. This can then quickly get out of hand if there is no other taker (husband, friends, family, dog) nearby to help out. Anyway, I don't need a size zero and I want to feel healthy and fit. Phuu, then such a small cookie in the afternoon may be already times.
Perfect with a simple vegan hot chocolate or who has to fight with a small infection, the ultimate Cold tonic . By the way, it also tastes so great.
If you are in the mood for other cookies, I recommend you my Bear paw cookies , Cinnamon cookies or the Christmas gingerbread cookies .
Are you ready? With a tray, oven and a handful of ingredients, you're ready to go.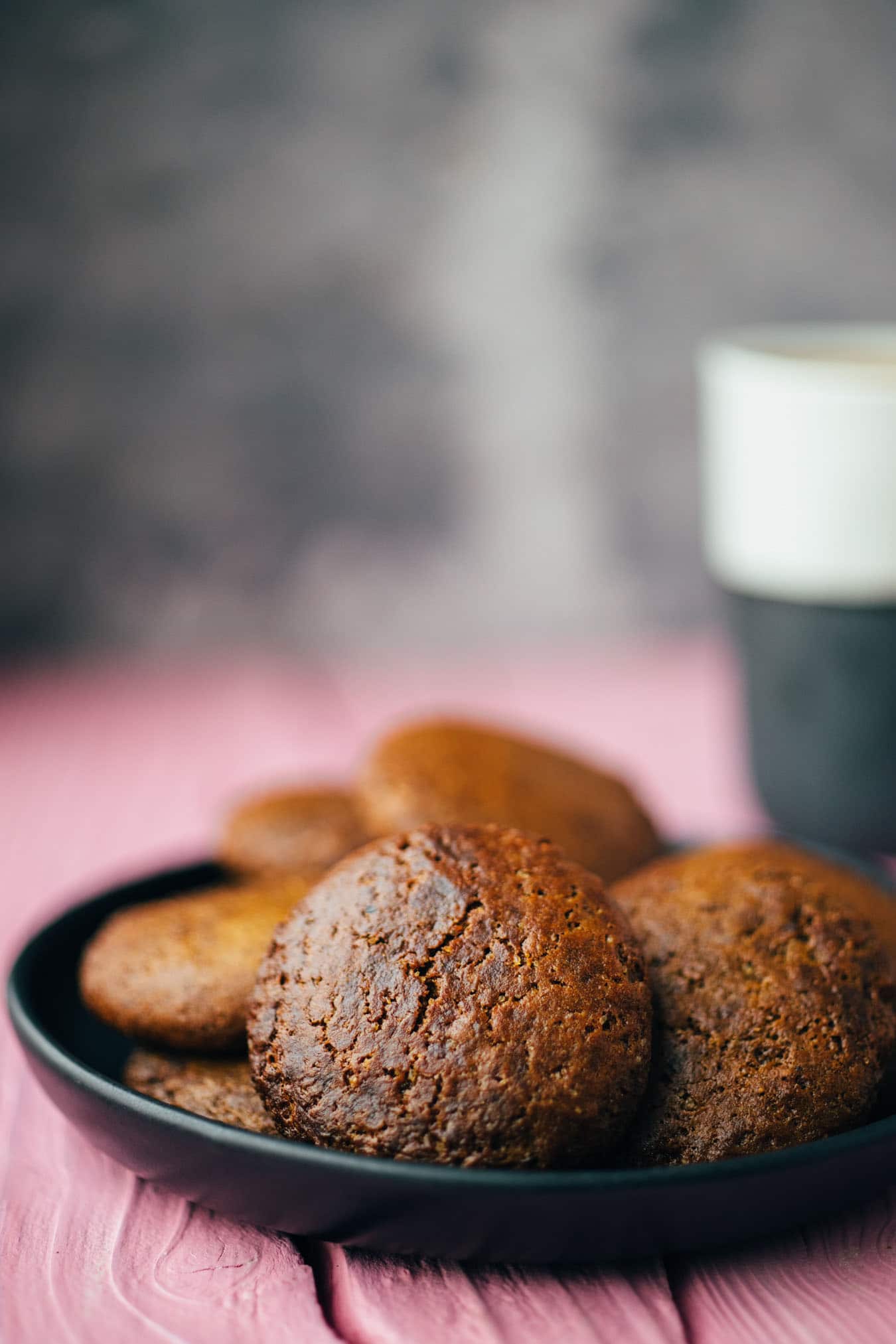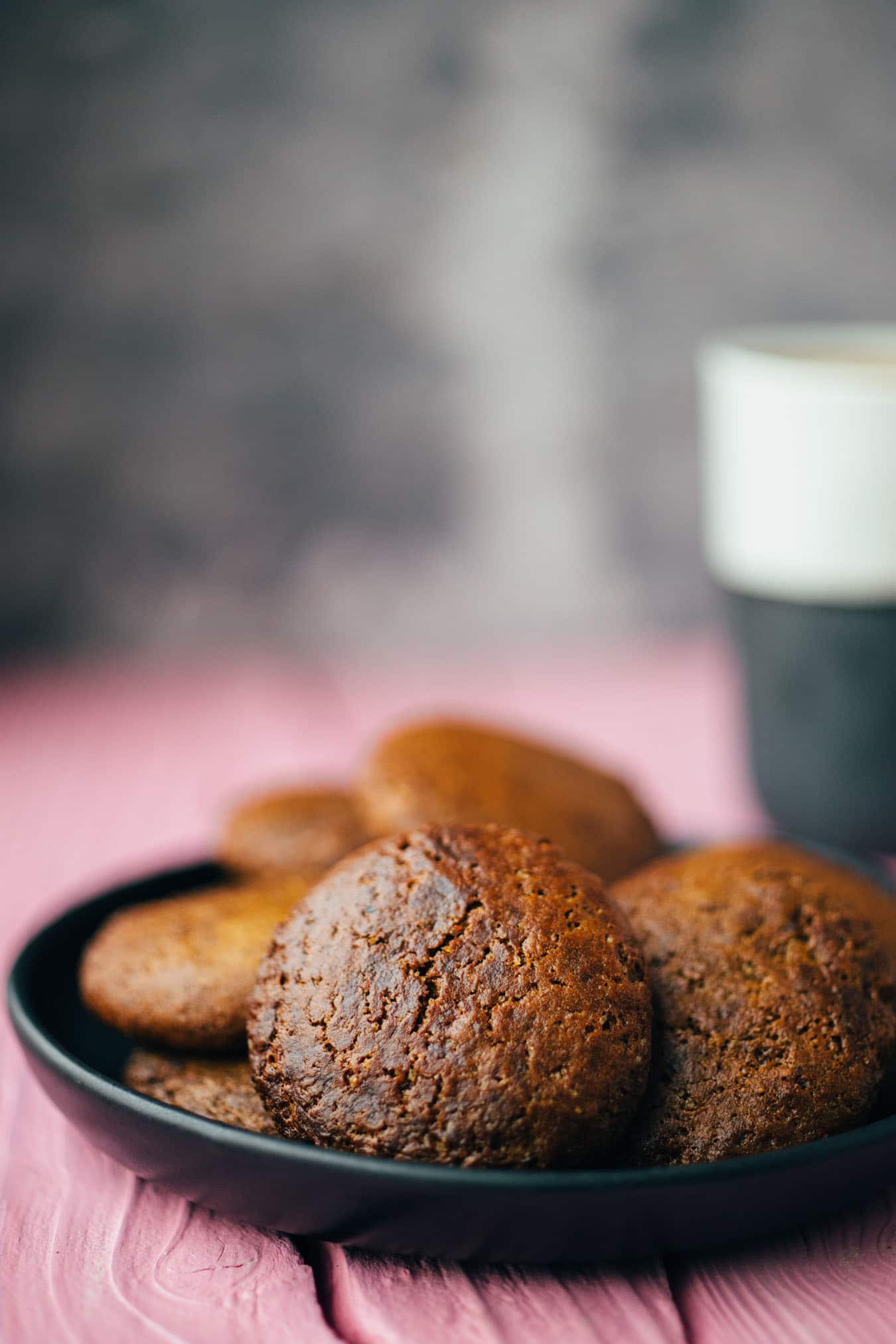 Are you ready for these awesome cookies with pumpkin puree and ginger? You are
Quickly made
sweet
Crispy
simple
Spicy
Autumnal
Let's go with these incredibly delicious vegan Cookies I hope you enjoy baking them and of course you can rate them at the bottom of this page. If you post a picture, use the hashtag #veganevibes.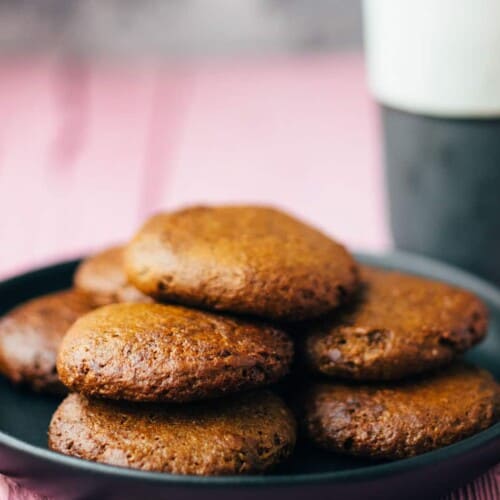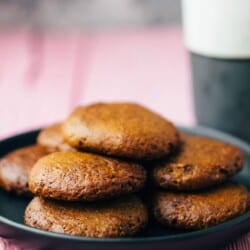 Pumpkin Ginger Cookies (25 minutes)
Vegan pumpkin ginger cookies made with fine spelt flour, naturally sweetened and nice and spicy thanks to the molasses. A crispy-sweet long-lasting cookie, perfect together with a delicious hot drink and a nice change from classic cookies.
AUTOR: VEGANEVIBES
FOR THE DOUGH:
56

ml

Frying and baking oil or other heat-resistant oil

30

g

Molasses

I take the one from Rapunzel, but have linked an alternative that you can order through Amazon

56

g

Almond flour

No ground almonds Alternative: use more spelt flour or gluten-free flour mix

1

EL

Flaxseed meal

I grind whole leis seeds myself, alternative: soy flour

100

g

Raw cane sugar

alternatively brown sugar or coconut blossom sugar

2

tbspn

Baking powder

½

tbspn

Baking soda

½

tbspn

Bourbon vanilla

ground

½

tbspn

Cinnamon

½

tbspn

Ginger

A pinch of ground cloves
Anleitung 
Preheat oven to 175 degrees, line baking sheet with parchment paper.

FOR THE DYING

Add

pumpkin puree

, cooking and baking oil, molasses, almond flour, fine spelt flour, flaxseed flour, raw cane sugar, baking powder, baking soda, bourbon vanilla, cinnamon, ginger, cloves, and sea salt all to a food processor or one at a time in a large bowl and process until smooth.

82 g Pumpkin puree homemade or bought,

56 ml Frying and baking oil or other heat-resistant oil,

30 g Molasses,

56 g Almond flour,

125 g fine spelt flour or gluten-free flour mix,

1 EL Flaxseed meal,

100 g Raw cane sugar,

2 tbspn Baking powder,

½ tbspn Baking soda,

½ tbspn Bourbon vanilla,

½ tbspn Cinnamon,

½ tbspn Ginger,

A pinch of ground cloves,

A pinch of sea salt

Put the dough in the refrigerator for

5-10 minutes

and let it rest. This step is important for the flaxseed meal to develop its swelling and binding properties.

Dust hands with a little flour and shape into 14 even balls. Go onto the baking sheet and flatten.

Put in the oven and bake for 12 minutes. At this baking time they become nice and soft. If they want to get drier, increase baking time to 15 minutes.

Remove from the oven and allow to cool completely. enjoy!
Nährwertangaben
Serving:
1
Piece
Calories:
118
kcal
Carbohydrates:
15
g
Protein:
2
g
Fat:
6
g
Saturated Fat:
3
g
Sodium:
10
mg
Potassium:
26
mg
Fiber:
1
g
Sugar:
7
g
Vitamin A:
910
IU
Vitamin C:
0.2
mg
Calcium:
16
mg
Iron:
0.7
mg