Fruity Strawberry -Sorbet my dears, but where is please the Summer ? I'm sitting here with a wool blanket and wearing warm slippers, which I actually wanted to put in the basement along with the winter clothes a long time ago. Let me take a look at the weather forecast. Good news, because tomorrow 26 degrees are announced. I can finally enjoy my new sorbet in the hammock. The story with the hammock I also funny, because actually I gave it to my husband for his birthday. Let's just say he didn't explicitly ask for one. It was more my dream to relax among the trees in our backyard. Well, then somehow my gift became his gift and now I'm hanging out in it. Anyway, not so interesting and especially not important. The one thing that is highly relevant, however, is a refreshing, delicious strawberry sorbet. Let's go, I would say.
Fruity vegan strawberry sorbet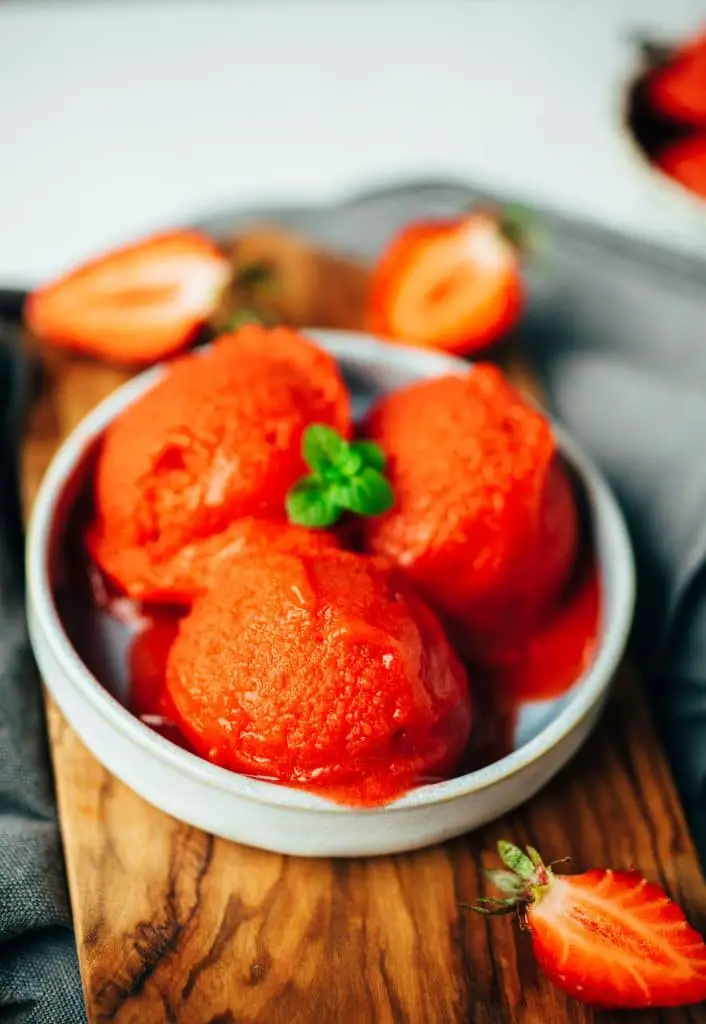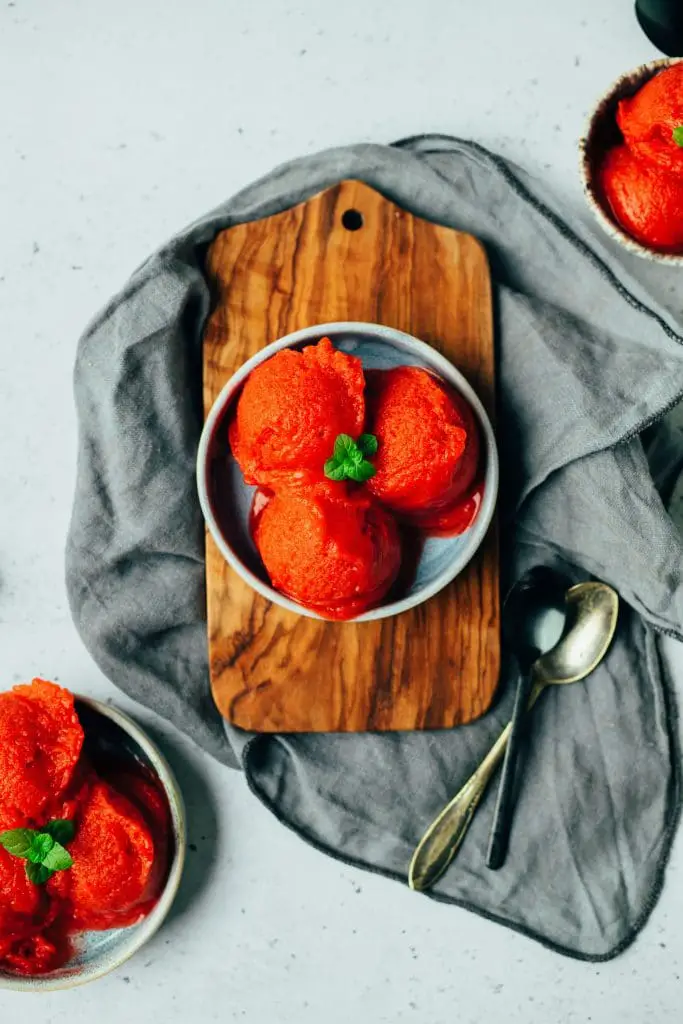 Fresh Strawberries are the main ingredient in this simple Dessert . If you can't get fresh ones, you can always use frozen berries. Simply put it in the high-performance blender and you're done. I'm working with fresh strawberries, raw cane sugar, maple syrup, lemon juice and lemon zest today. This all goes together in the blender and is pureed super fine.
Attention now comes the trick, because the sorbet I put this time not in a large mold, but in an ice cube mold. why? Because the processing is easier and you no longer lose time defrosting. Do you know the situation when you spontaneously want to eat a scoop of sorbet but have to wait 20 minutes for it to thaw? That's exactly the problem you won't have if you freeze it in portions in ice cube form.
TIP: Freezing in ice cube molds has many advantages, you can portion the quantities better and don't have to defrost everything at once.
Make vegan sorbet yourself, of course!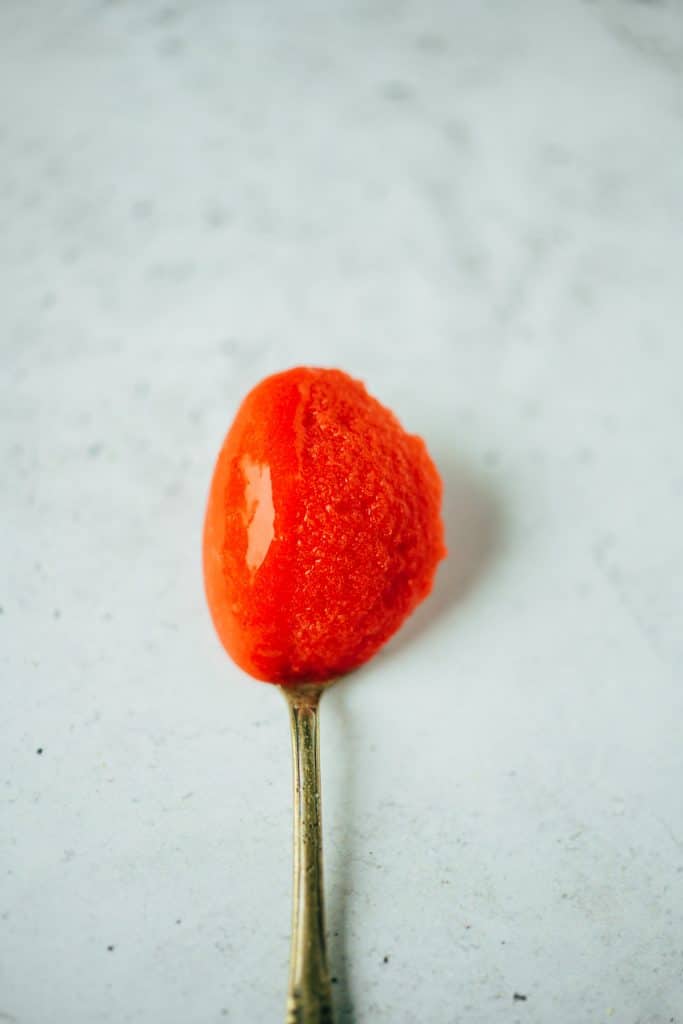 I am actually a big fan of creamy Ice cream flavors , but this sorbet has convinced me. It is fruity, pleasantly sweet, with a subtle note of acidity from lemon.
There is one more thing I wanted to discuss with you and that is whether you should generally buy organic strawberries or conventional as well. I have done some research here and would like to share my experience with you. First of all, a general info about strawberries, they are rich in:
Vitamins, minerals, trace elements and bioactive substances
Manganese (important for bones, connective tissue and metabolism)
Vitamin C with 58.8g per 100g (more than the lemon with 53g/100g).
Bioactive substances (secondary plant compounds ferulic acid & ellagic acid, as well as dietary fiber).
It is important to eat the berries as fresh as possible, because the valuable ingredients are quickly lost during prolonged storage.
Are organic strawberries really better?
I can only answer this question very personally, because I think that Organic strawberries are absolutely better than conventionally grown ones. Strawberries have, unlike other fruits, only a very thin skin and consist of 85% water. The thin cover offers virtually no protection against the numerous pesticides used in non-organic cultivation. The delicious Berries are delicate and susceptible to rot and fungal diseases. For this reason, they are intensively treated with pesticides and it is clearly detectable at the end.
In organic farming, no pesticides are used, the plants are given more space and more robust varieties are used. All in all, it makes the end product a little more expensive, but I think it should be worth it for our health and the environment. Did you know that the production of one kilo of strawberries uses up to 280 liters of water? This is also the reason why in southern Spain the groundwater level is permanently falling in many areas and the water is becoming saline. Ultimately, nature and wildlife suffer because birds can no longer find sufficient water, wetlands dry out and ecosystems change.
We have a choice of what ends up in our cart and I definitely reach for the organic strawberries.
If it is not necessarily the strawberry sorbet today, then I recommend you my Fudge Brownie Ice Cream , Mango ice cream , Mars bar or creamy vanilla ice cream .
Are you ready for this easy and sure to succeed strawberry sorbet? It is:
Refreshing
fruity
Pleasant acidity
Strawberry-ig
sweet
Let's go with this incredibly delicious vegan sorbet, I hope you enjoy recreating it and of course about a review at the bottom of this page. If you post a picture, use the hashtag #veganevibes.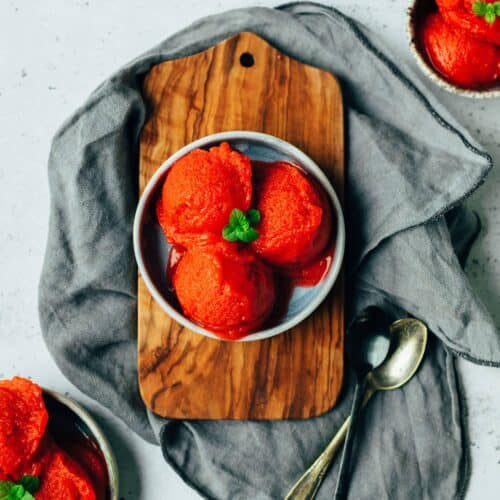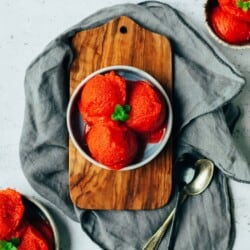 Fruity strawberry sorbet
Refreshing and fruity sorbet made from fine strawberries and lemon juice, naturally sweetened with maple syrup. Perfect as a cool down in between or to finish a fine summer menu.
AUTOR: VEGANEVIBES
500

g

fresh organic strawberries

washed, cleaned and halved

50

g

Raw cane sugar

60

ml

maple syrup

60

ml

Lemon juice

Equivalent to the juice of one lemon

Lemon zest of one organic lemon

or 1 tsp dried lemon peel
Anleitung 
Provide blender and ice cube tray (preferably silicone).

Place organic strawberries, raw cane sugar, maple syrup, lemon juice and lemon zest in a high-powered blender and blend on high speed until smooth.

500 g fresh organic strawberries,

50 g Raw cane sugar,

60 ml maple syrup,

60 ml Lemon juice,

Lemon zest of one organic lemon

Taste once and add more maple syrup or raw cane sugar depending on the sweetness of the strawberries and personal taste preferences.

Pour into ice cube trays and place in the freezer for at least

4 hours

or overnight.

Just before serving, remove from freezer, place cubes in blender and blend on low speed to a fine sorbet. Garnish with fresh mint leaves and serve!

TIP Make sure to let it thaw for

5-10 minutes

, then it is much easier to process.

Remaining sorbet keeps up to 4 weeks in the freezer.
Nährwertangaben
Serving:
1
Portion
Calories:
50
kcal
Carbohydrates:
13
g
Protein:
1
g
Fat:
1
g
Saturated Fat:
1
g
Sodium:
1
mg
Potassium:
96
mg
Fiber:
1
g
Sugar:
11
g
Vitamin A:
6
IU
Vitamin C:
32
mg
Calcium:
15
mg
Iron:
1
mg