Fudge Brownie Ice cream OMG! Yes, Yes, Yes! I needed this Ice cream so badly, especially because I have no desire to constantly buy it in the supermarket at mega overpriced prices. Who knows me, knows that I love the Ice cream of Ben&Jerrys love, however, I find the price really crass. If you consider that the "normal" ice cream from cow's milk costs a whopping two euros less. Simply the madness, so I prefer to do it myself. Then I also know exactly what's in it and can determine the sugar content myself. The Ice cream season is slowly starting and I can not wait to make many more Ice cream varieties to make. So it remains exciting.
Fudge Brownie Ice Cream aka Ben & Jerry's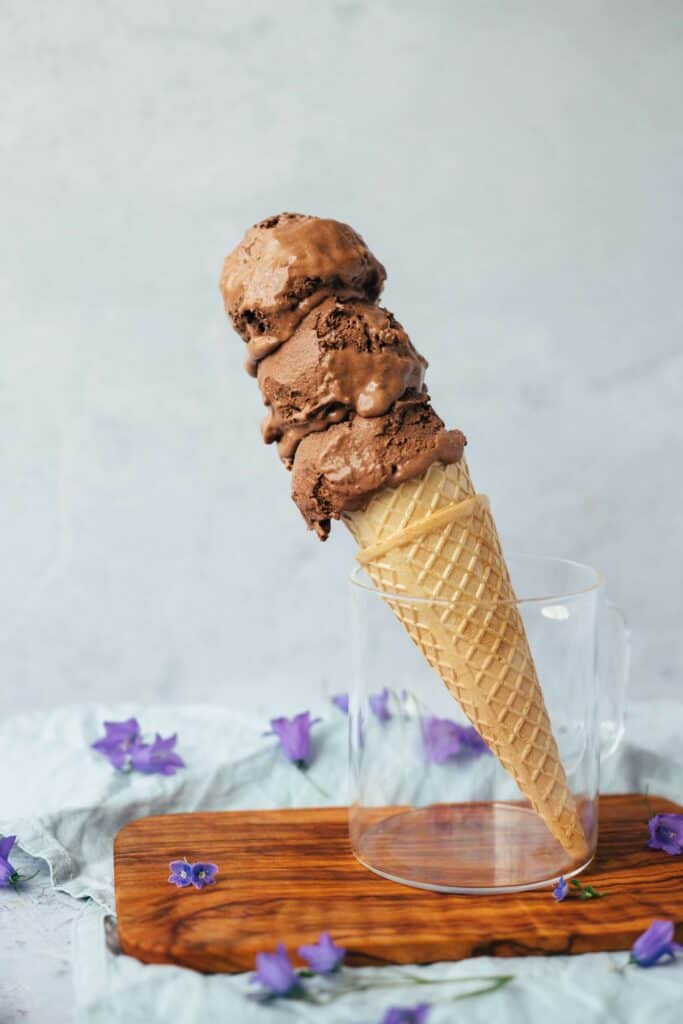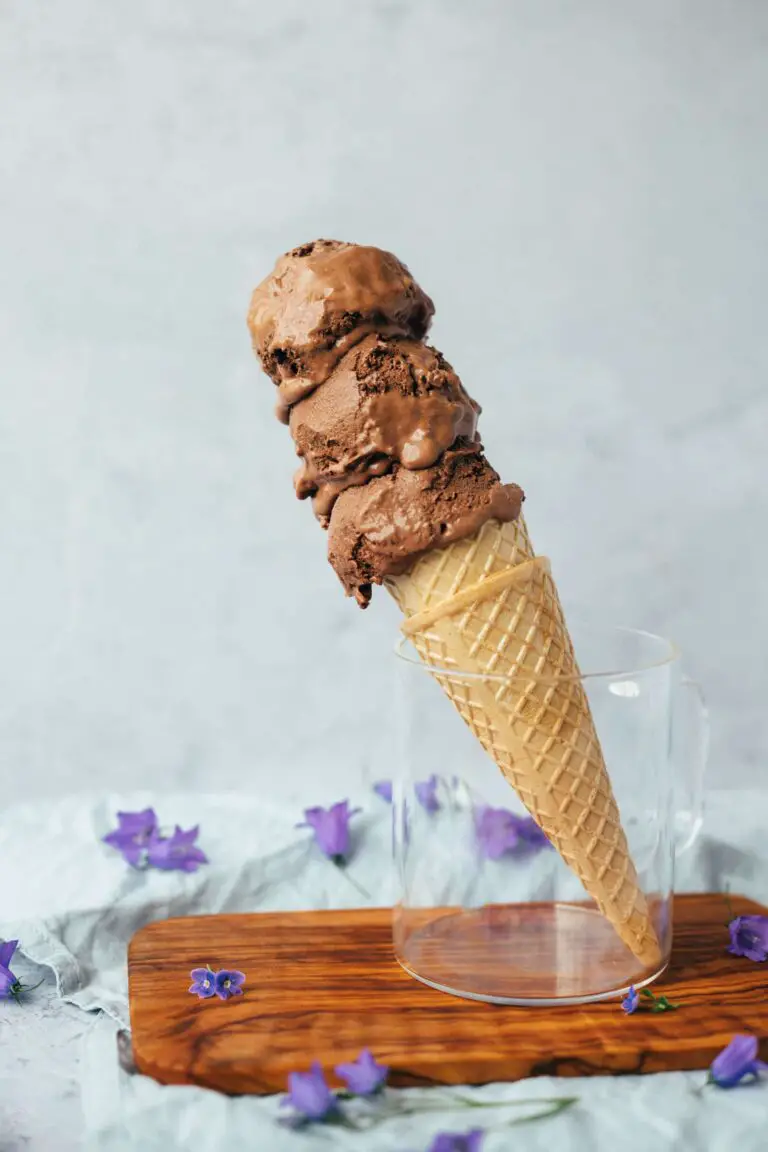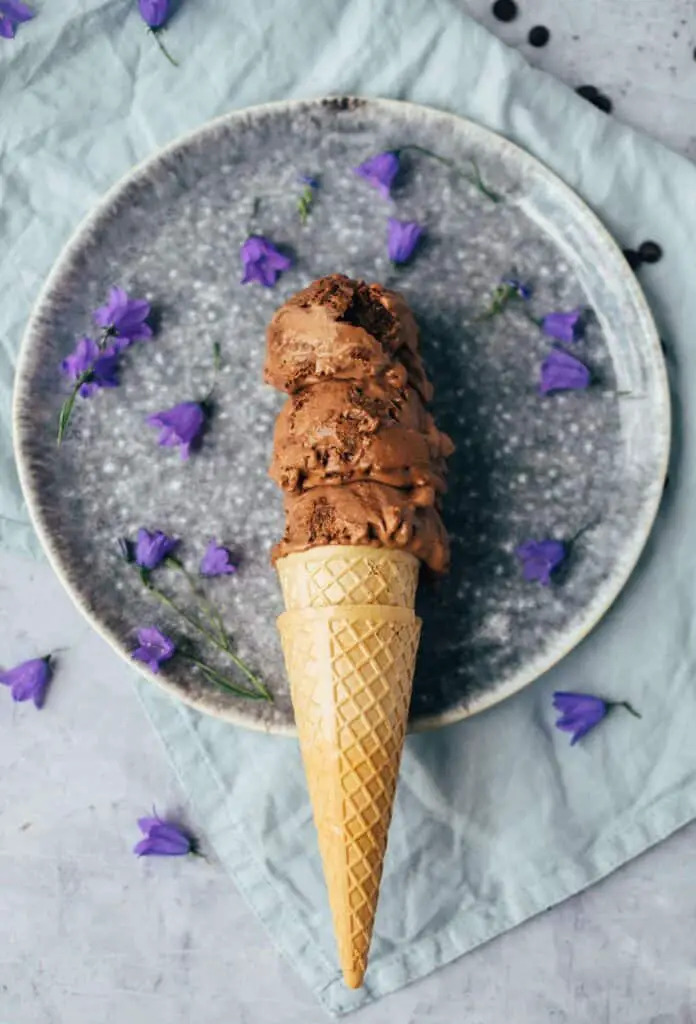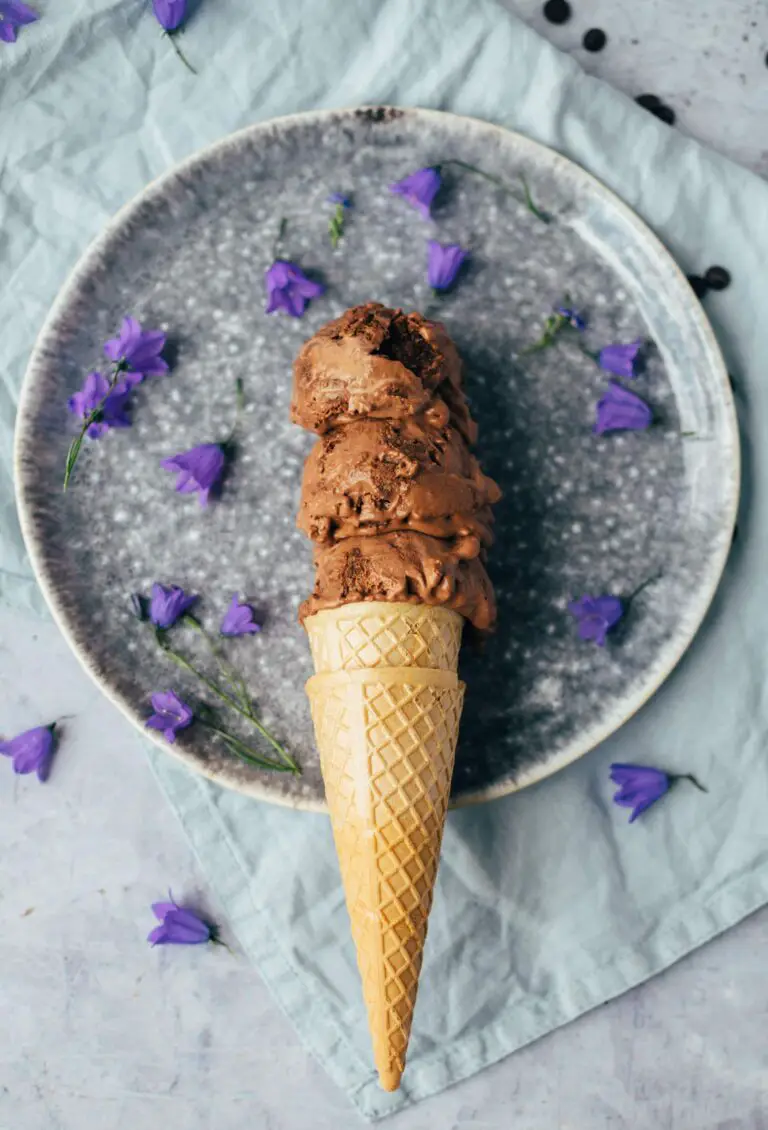 You may be asking yourself if the ice cream tastes the same as Ben & Jerry's ice cream. The answer is NO. why? Because industrially produced ice cream always tastes a tad different, especially because different types of sugar and emulsifiers are used. The ingredient list at B&J is quite long, but very manageable for our homemade version. Honestly, I think that even made ice cream tastes a lot better.
Let's start with the Brownie start, oat flour, gluten free flour mix , coconut blossom sugar, cocoa, Plant milk , nut butter, vanilla and salt. This is made into a fine dough and goes into the oven. For the ice cream we need Vegetable cream , plant milk, raw cane sugar, cashews, cocoa, vanilla and xanthan gum. Off into the mixer and straight into the ice cream maker. If you don't have an ice cream maker, you can just freeze it as is. More about the methods below.
TIP: Xanthan gum is a natural binder that is also approved for organic foods. I always have it at home and especially our ice cream makes it really nice and creamy.
6 ingredients, a blender, an ice cream maker – the ice cream is ready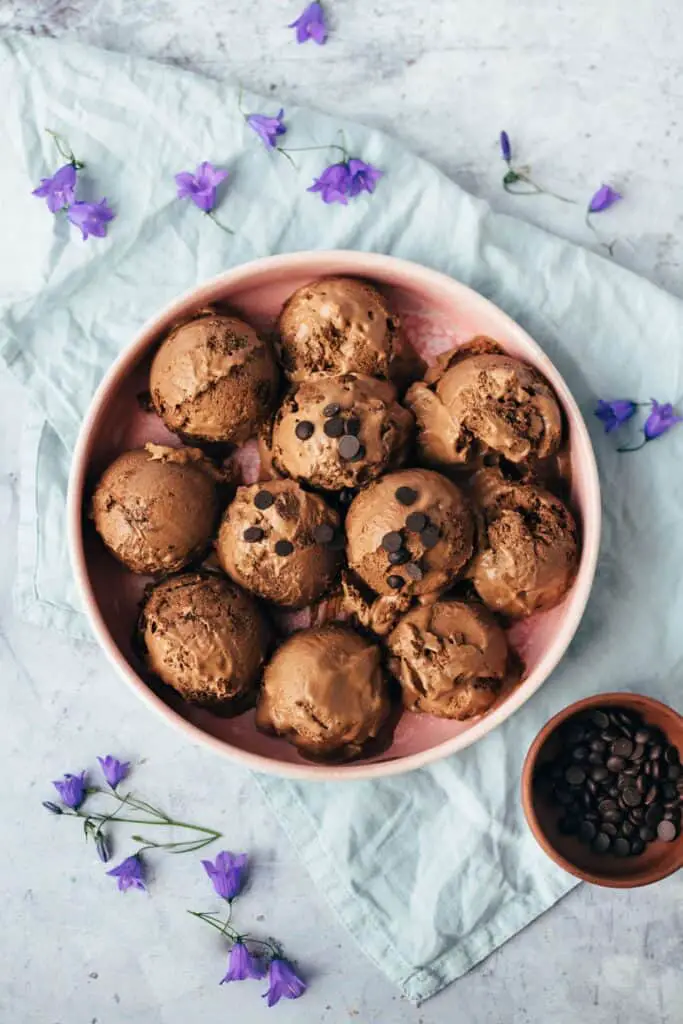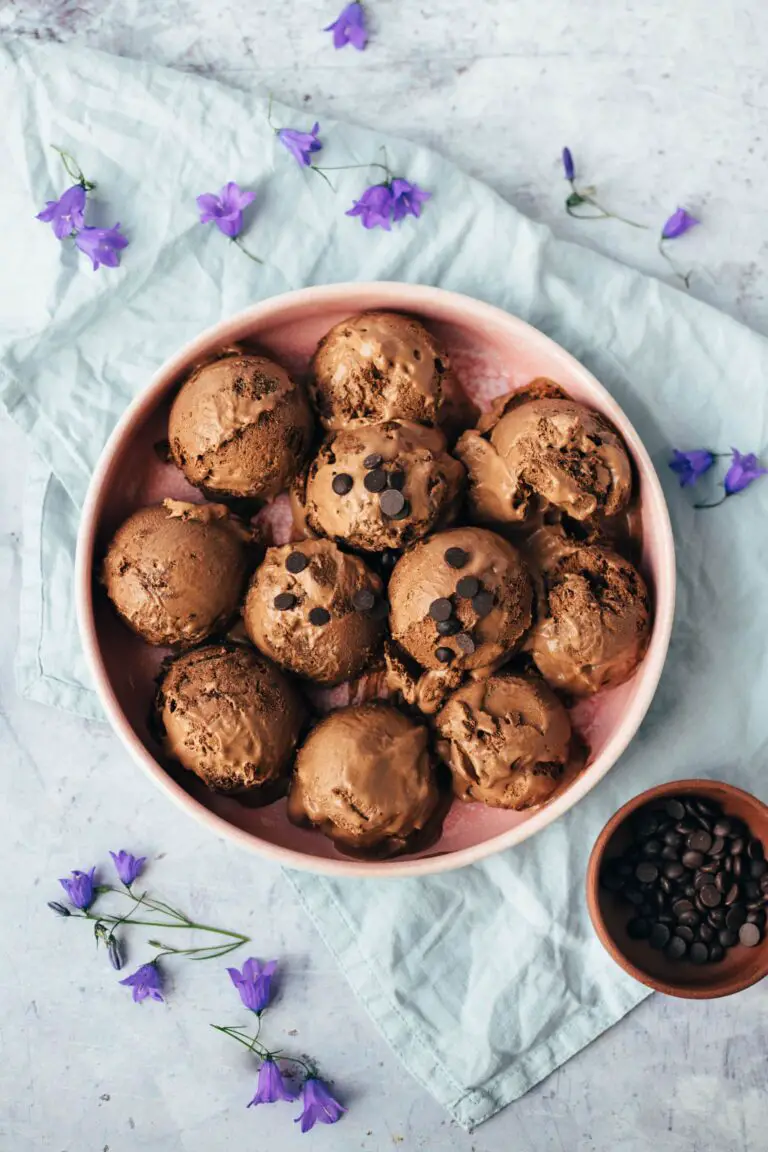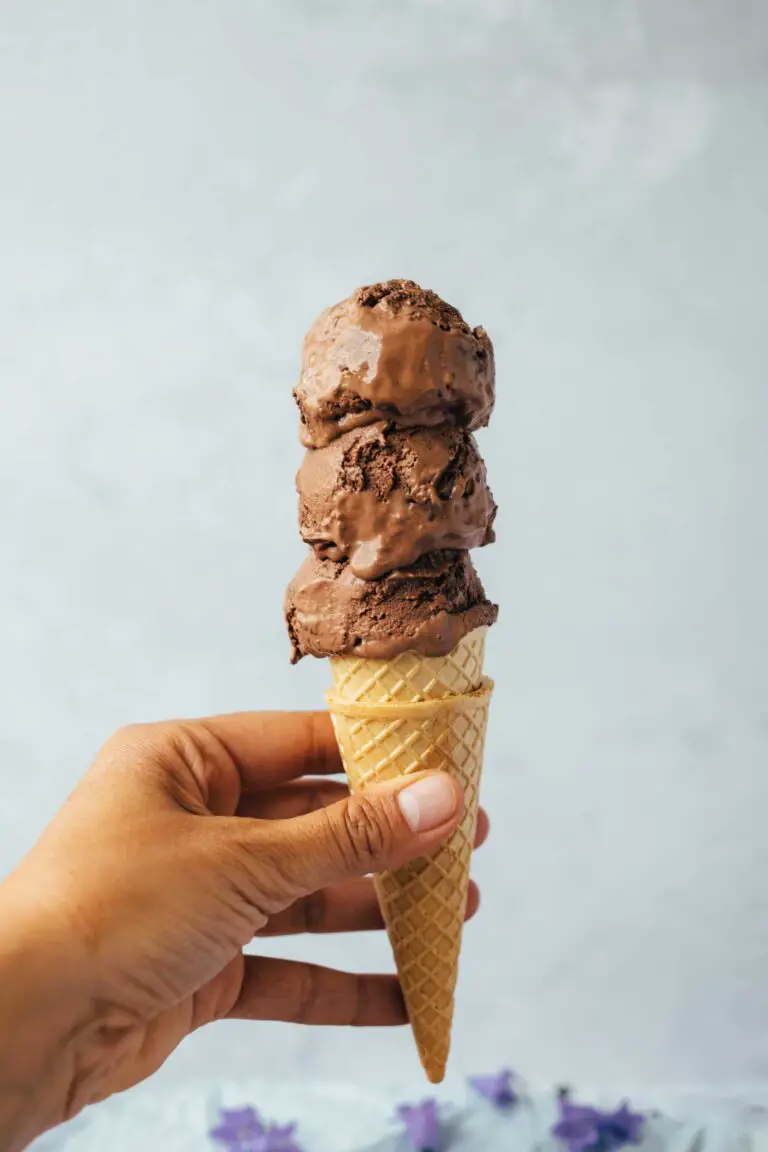 To make sure the ice cream really succeeds, there are a few things to keep in mind:
Be sure the blender is powerful enough to process the cashews and the rest of the ingredients into a fine liquid. Personally, I use a Blendtec(advertising, unpaid) and am super happy with the result.
The cashews should be soaked if the blender isn't that good (I don't soak them). Click here for instructions on how to properly soak cashews.
The ice cream maker should be used if possible (a purchase is worthwhile), because only then the ice cream becomes really creamy. Of course, you can do it without, but the lack of "stirring" during freezing makes the ice cream more crystalline and not as creamy. You can help by stirring manually again and again during the freezing process. Birthday, Christmas, Name Day? Just get a good ice cream maker as a gift. I've linked you to my machine below.
TIP: I still have a tip, due to the Brownies extends the defrosting process a little. That's why I recommend you allow some extra time. Not that the guests have to wait longer than planned.
Does the vegan ice cream taste like "normal" ice cream?
My answer is a resounding "YES" and from my personal point of view, it tastes even better because it is incredibly creamy and tastes so intensely of chocolate. The fudge brownie pieces make it super interesting and provide maximum ice cream enjoyment.
Portion scoops and spoon onto an ice cream cone or directly from the box. This Ice cream provides maximum fun
The fudge brownie ice cream is:
chocolatey
creamy
With brownie pieces
Easy to manufacture
Delicately melting
If you like the fudge Brownie Ice cream as much as I do, then I'd be happy to see a review at the bottom of this page. If you post a picture, use the hashtag #veganevibes.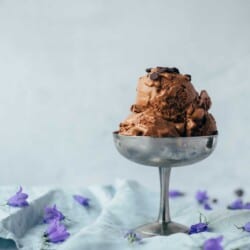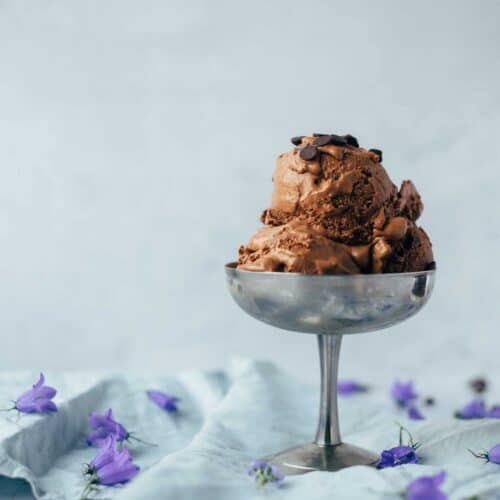 Fudge Brownie ice cream (after Ben & Jerry's)
Simple instructions for making a fudge brownie ice cream "Ben & Jerry's style) based on cashews, cream and vegetable milk. Creamy, chocolatey and with super fudgy brownie pieces.
AUTOR: VEGANEVIBES
TOPPINGS (optional):
Vegan cream

Chocolate sauce
Anleitung 
(optional) Prepare ice cream maker.

Preheat oven to 175 degrees (convection oven).

Prepare brownie mold, grease (optional) and dust with a little cocoa.

FOR THE BROWNIE put all the ingredients in a bowl and mix until a uniform dough. The batter should not be too firm and should be easy to pour into the brownie mold (see video). If too liquid, add a little more flour, if too solid add a little more vegetable milk.

70 g Oatmeal,

40 g gluten free flour mix,

80 g Raw cane sugar,

200 ml Plant milk,

90 ml Nut butter,

¼ tbspn Salt,

¼ tbspn Bourbon vanilla,

80 g dark vegan chocolate drops

Pour into the brownie mold and place in the oven. Bake for 20-25 minutes. Remove from oven and let cool completely and set aside.

FOR THE CHOCOLATE ICE CREAM Place all the ingredients in a high-performance blender and blend on high speed for about 2 minutes until everything has turned into a creamy liquid.

¼ tbspn Bourbon vanilla,

400 ml Vegetable cream,

250 ml Almond milk,

100 g Cashews,

80 g Cocoa powder,

½ tbspn Bourbon vanilla ground,

100 g Raw cane sugar,

½ tbspn Xanthan Gum

Pour liquid into ice cream maker and process according to manufacturer's instructions to make creamy ice cream.

Alternatively, without an ice cream maker, pour into a freezer-safe box, cover and freeze for at least 6-10 hours. It is best to stir with a spoon 1 time per hour to make the ice cream a little creamier.

Portion with an ice cream scoop and garnish with desired toppings and enjoy!

dark vegan chocolate drops,

Vegan cream,

Ice cream cones,

Chocolate sauce

Leftover ice cream lasts up to several weeks in the freezer.
Nährwertangaben
Serving:
1
Ball
Calories:
284
kcal
Carbohydrates:
35
g
Protein:
5
g
Fat:
16
g
Saturated Fat:
4
g
Cholesterol:
1
mg
Sodium:
131
mg
Potassium:
247
mg
Fiber:
3
g
Sugar:
27
g
Vitamin A:
40
IU
Calcium:
95
mg
Iron:
2
mg