How can I possibly say that I have the best vegan brownie recipe have? Well, he who has, has or he who can, can. No, I'm not that arrogant. However, I have this Brownie now so often baked, tasted and of course eaten itself. That is exactly why I would like to proudly announce that for me it is the best. The only downside, once again, is the calorie count and how do you think I keep it together when I'm constantly handling such yummy things? Well, these are the downsides of being a food blogger. Even though it's vegan, it still has calories. Then I top the whole thing but times with an extra scoop of homemade Vanilla ice cream .
The best vegan brownie – yes really the best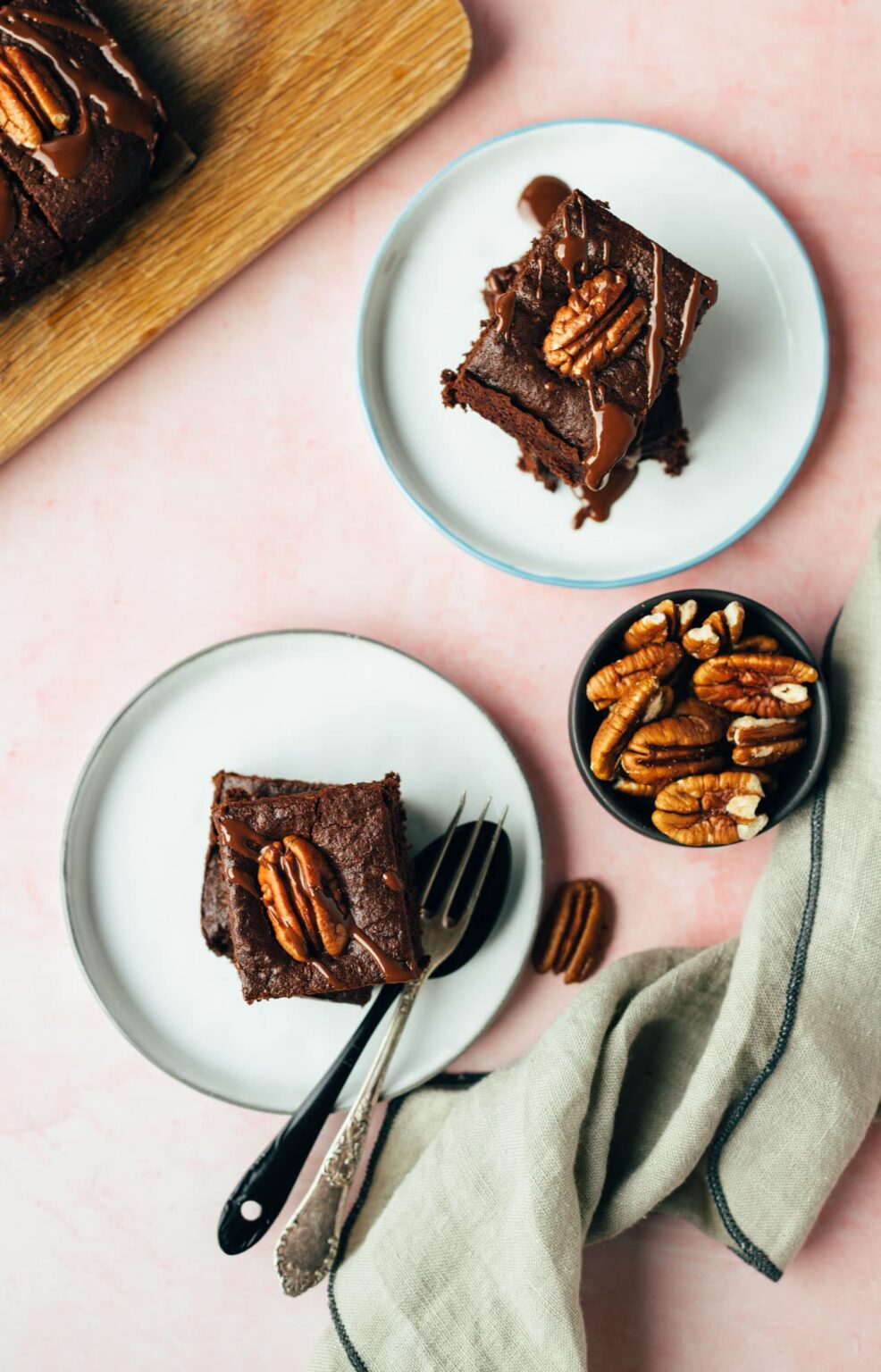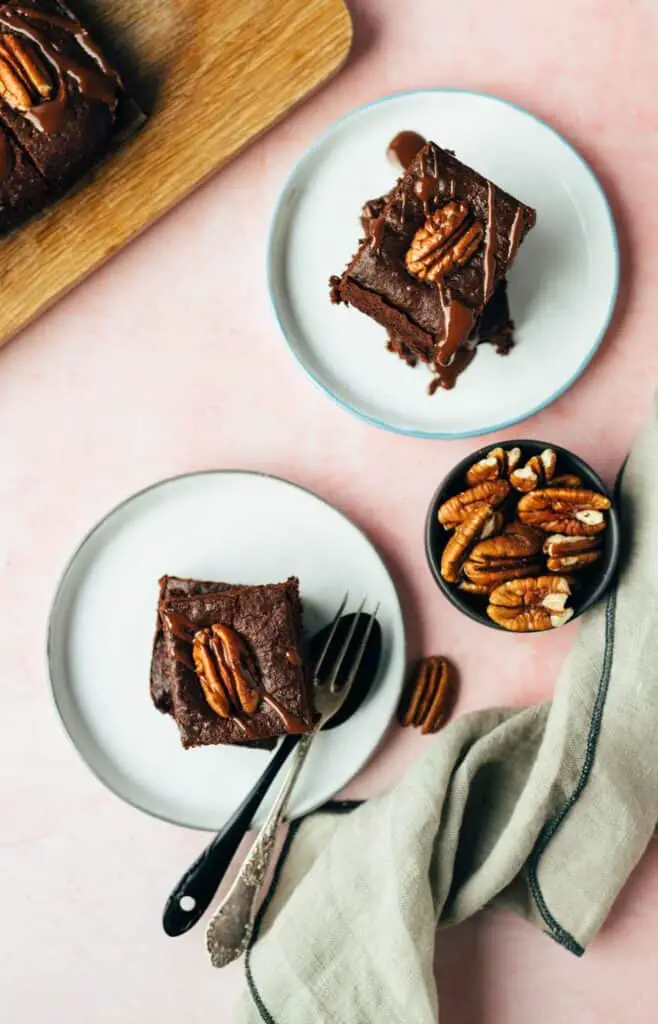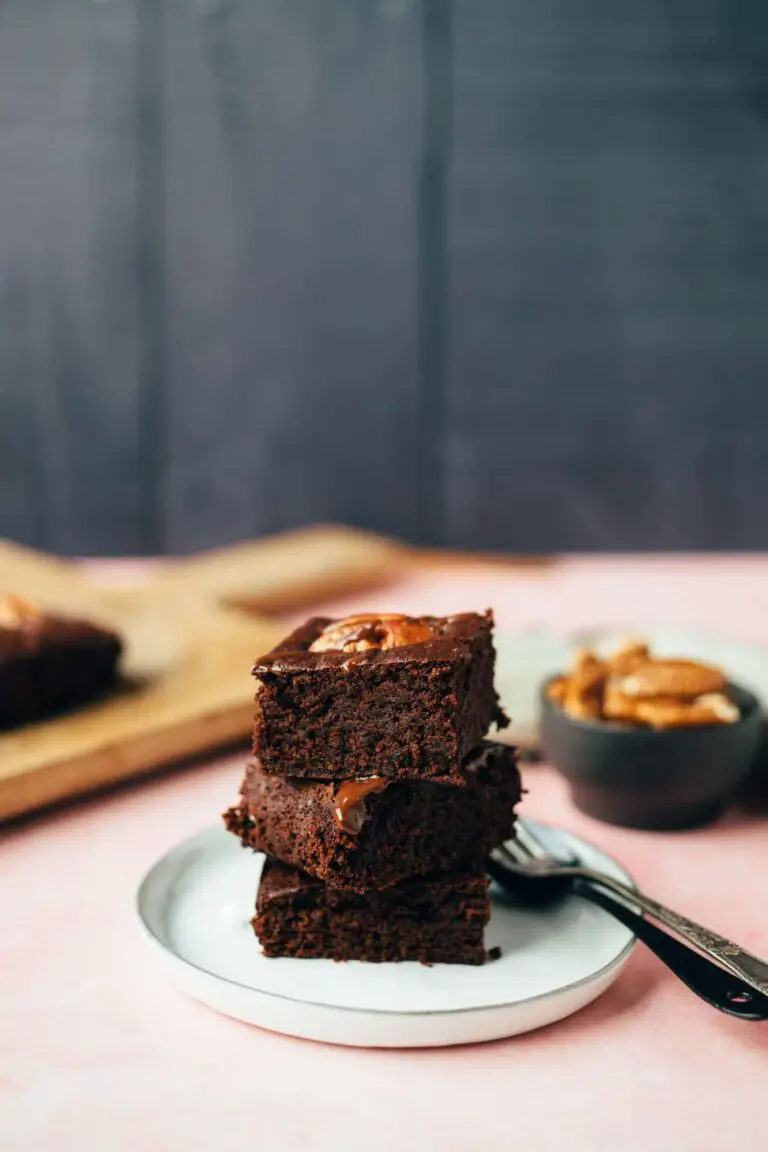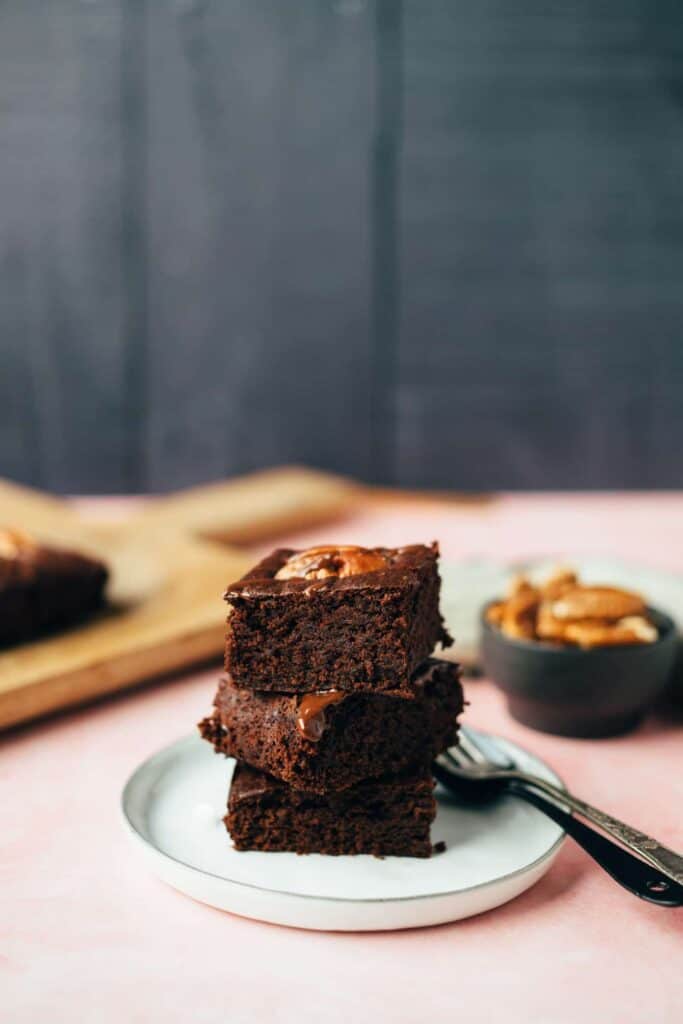 What goes into this fudgy yummy Brownie ? Vegan margarine, apple pulp, sugar, Flaxseed eggs , fine spelt flour, cocoa powder, baking powder and a pinch of salt. The beauty is topped with pecan kernels and chocolate drops. It all sounds like perfectly normal ingredients, so what's the secret now? The sugar! Yes, that's right. Not the sugar, but the sugars, because I mix different sugars together. Raw cane sugar, whole cane sugar and coconut blossom sugar. This gives the Brownie a slightly caramel flavor.
I use light spelt flour, however anything goes when it comes to flour. Wheat flour, whole wheat flour or even my gluten free flour mix . Here are a few more tips to make your vegan baking experience a success:
Preheat: Preheat the oven sufficiently, preferably as the first step.
Grease: Always grease the baking pan well and/or line it with baking paper. I usually grease everything with margarine or a little oil and then dust cocoa powder into the mold. For light cakes I use flour, for dark cakes cocoa.
Sifting: If you are making the dough by hand, I recommend sifting the cocoa and flour into the bowl. Otherwise, lumps may form that are difficult to dissolve during the baking process.
A sweet something (with vanilla ice cream) a day keeps the doctor away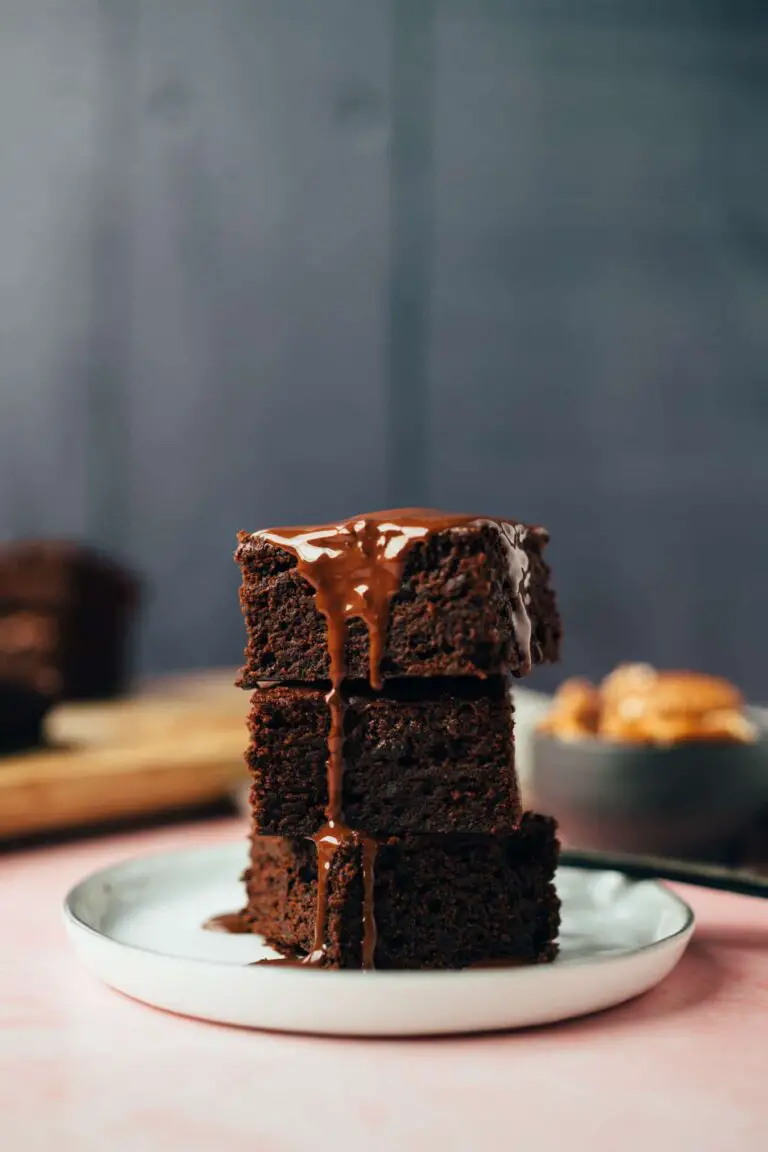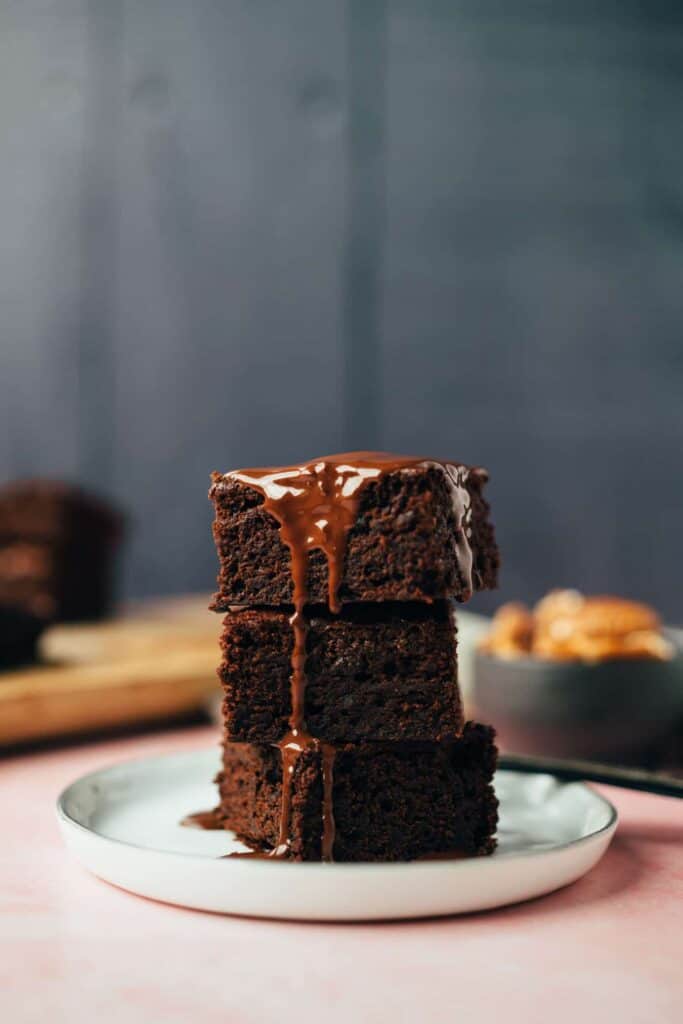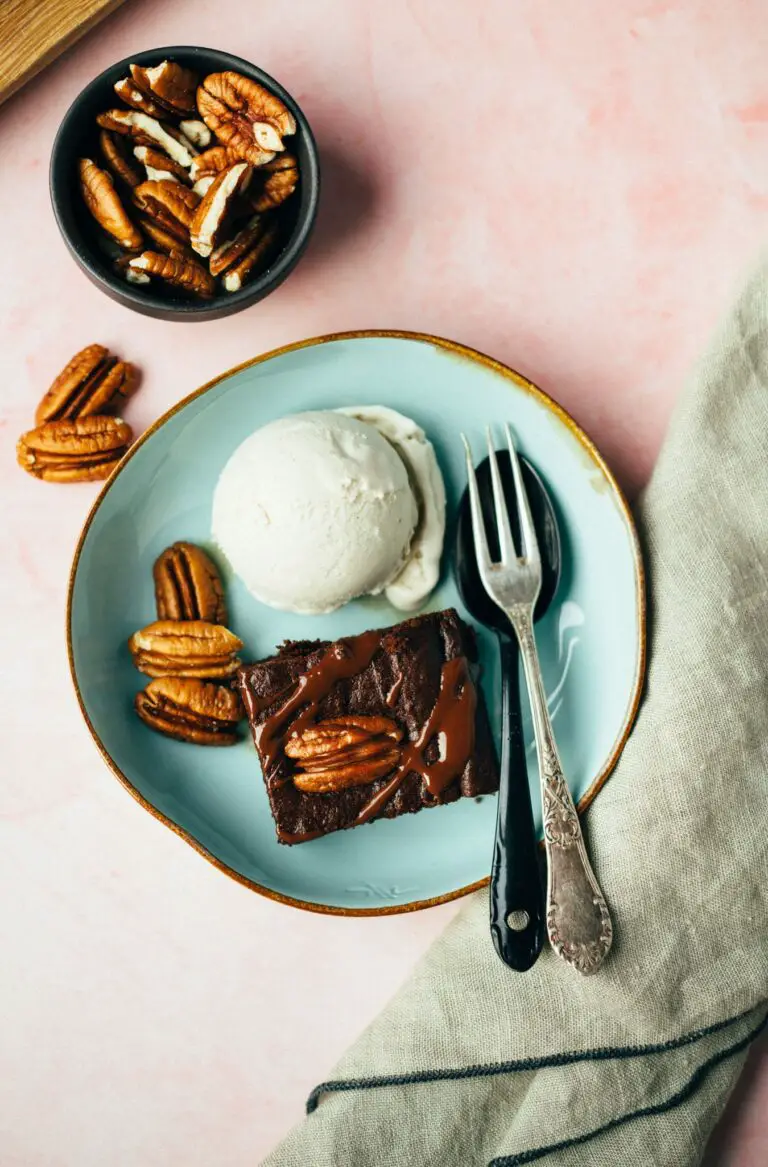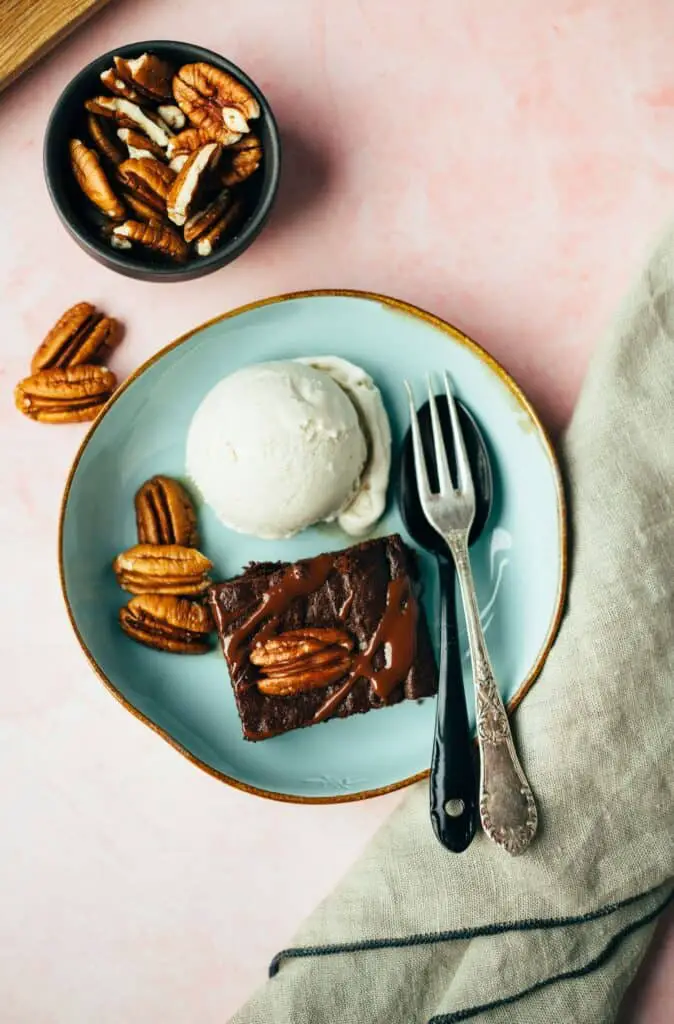 A pleasure that tastes (almost) everyone! Do you know anyone who doesn't like brownies? yes? Then feel free to tag the person below in the comments. A moment of silence for the Brownie -NoMöger and off we go with our Recipe . Oven on and go!
The best vegan brownies are:
rich
Fudgy
chocolatey
Addictive
simple to be produced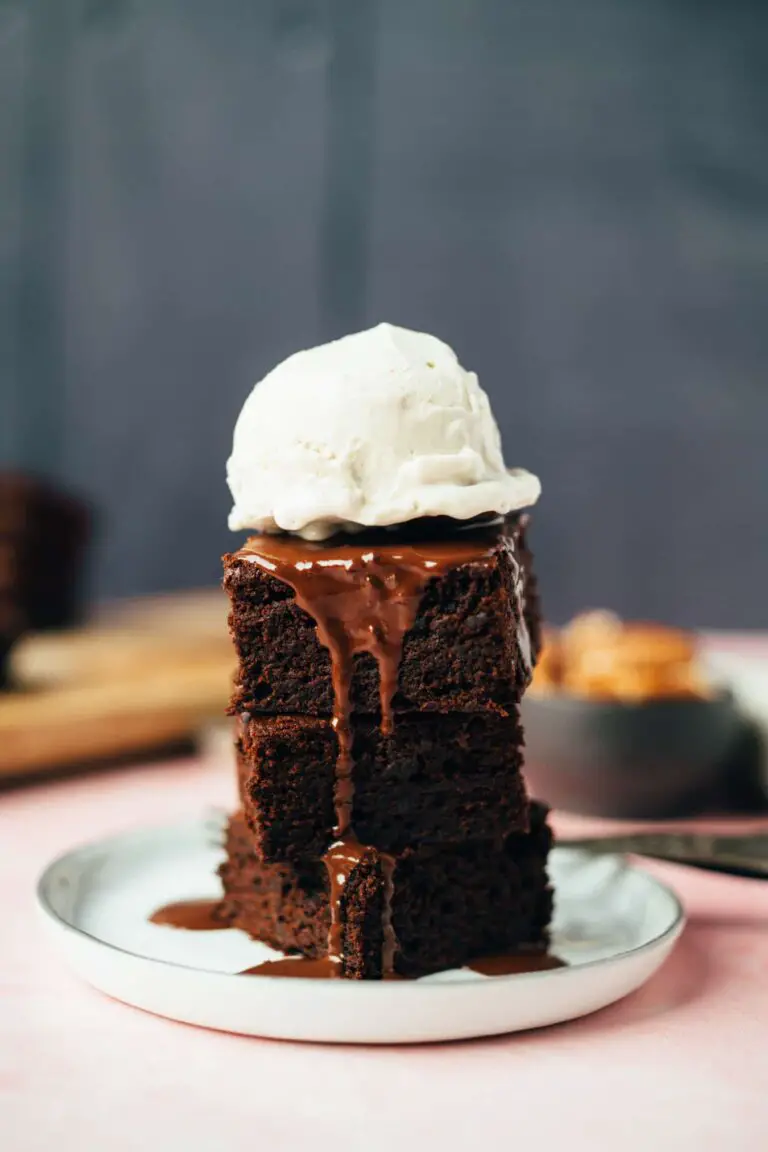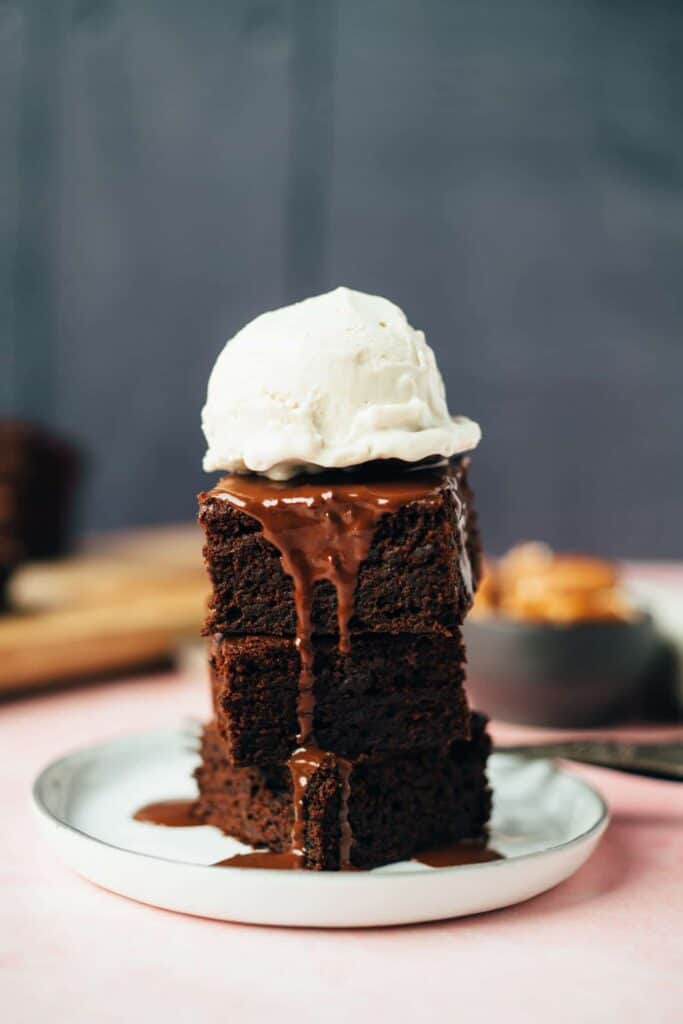 I love to combine the brownies with a scoop of homemade Vanilla ice cream to combine. However, this is equally true for the Plum cake the simple Plum galette , or the caramelized apples .
I wish you in any case a lot of fun with the Nachbacken and of course about a review at the bottom of this page. If you post a picture, use the hashtag #veganevibes.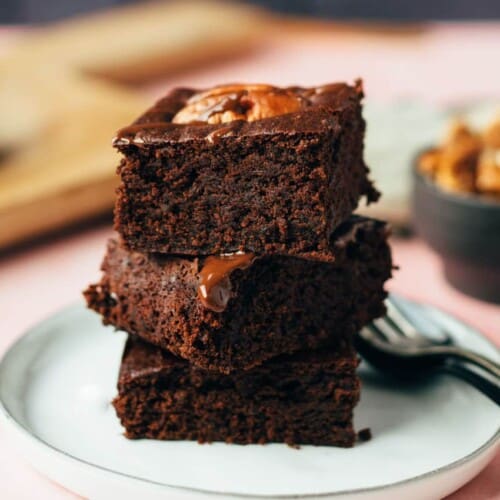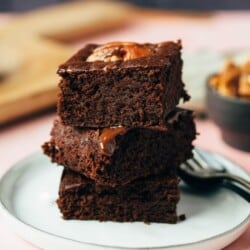 The best vegan brownie
Simple vegan brownie that is incredibly delicious and fudgy. Fits perfectly as a small vegan sweet in between, or to the extensive Kaffeekränzchen. Deliciously juicy thanks to apple pulp, with a light caramel note from coconut blossom sugar. What more could you (or woman) want?
AUTOR: VEGANEVIBES
21

g

Flaxseed meal + 135ml water

Makes 3 flaxseed eggs

90

g

vegan margarine

I take organic alsan, melted

30

g

Apple pulp

Note, apple pulp is without added sugar, applesauce is already added sugar

100

g

Raw cane sugar

if not at hand, simply use more of the other sugars

50

g

Whole cane sugar

if not at hand, simply use more of the other sugars

50

g

Coconut sugar

if not at hand, simply use more of the other sugars

125

g

Fine spelt flour Tpy630

alternatively use wheat flour, whole wheat flour or gluten-free flour mixture

65

g

Cocoa powder

1

tbspn

Tartar baking powder

½

tbspn

Bourbon vanilla

ground

¼

tbspn

Sea salt
FOR THE TOPPING:
33

g

Pecans

60

g

vegan

dark chocolate drops, optional
Anleitung 
Place flaxseed eggs in a large baking bowl, stir and allow to thicken briefly.

21 g Flaxseed meal + 135ml water

Melt margarine in a small saucepan and set aside.

Preheat the oven to 180 degrees and grease a baking dish (about 20×20 cm) with a little margarine and dust with cocoa powder (optional).

Add melted margarine to flax eggs and mix well.

Add apple pulp, raw cane sugar, whole cane sugar and coconut blossom sugar and continue stirring until everything is well mixed.

30 g Apple pulp,

50 g Whole cane sugar,

50 g Coconut sugar,

100 g Raw cane sugar

Place a sieve over the baking bowl and sift in the flour and cocoa powder.

125 g Fine spelt flour Tpy630,

65 g Cocoa powder

Add baking powder, vanilla, and sea salt and work into a uniform dough.

½ tbspn Bourbon vanilla,

¼ tbspn Sea salt,

1 tbspn Tartar baking powder

Pour the batter into the baking pan and smooth it out. Optionally top with pecans and sprinkle with chocolate drops.

Place in the oven and bake for

25 minutes

until the corners are dry and the brownie top is nicely baked through.

Remove from the oven and allow to cool completely.

Cut into 15 pieces and remove from baking pan and serve optionally with a scoop of vanilla ice cream and melted chocolate. enjoy!

Dark vegan chocolate,

Homemade

Store leftovers in an airtight box at room temperature. Can be kept in the freezer for up to one month.
Nährwertangaben
Serving:
1
Brownie
Calories:
176
kcal
Carbohydrates:
25
g
Protein:
2
g
Fat:
9
g
Saturated Fat:
2
g
Sodium:
89
mg
Potassium:
16
mg
Fiber:
2
g
Sugar:
17
g
Calcium:
14
mg
Iron:
1
mg