Hazelnut ice cream is one of my Favorite ice cream flavors and I am overjoyed to now have a Recipe to it on veganevibes.de to have. At the moment you don't have much fun in life, unless you make yourself comfortable at home. However, it's one of those things when you can't meet anyone and the grill starts yawning with loneliness. Please don't get me wrong, it may be absolutely right to protect as many people as possible from Corona. However, loneliness, isolation and the constant wearing of masks can also make you ill. So I very much hope for a middle ground between protection, preservation of fundamental rights, and people coming together in a safe way. Guys, it's really lonely when you have to eat a box like this full of homemade hazelnut ice cream all by yourself.
Hazelnut ice cream – vegan – with and without ice cream maker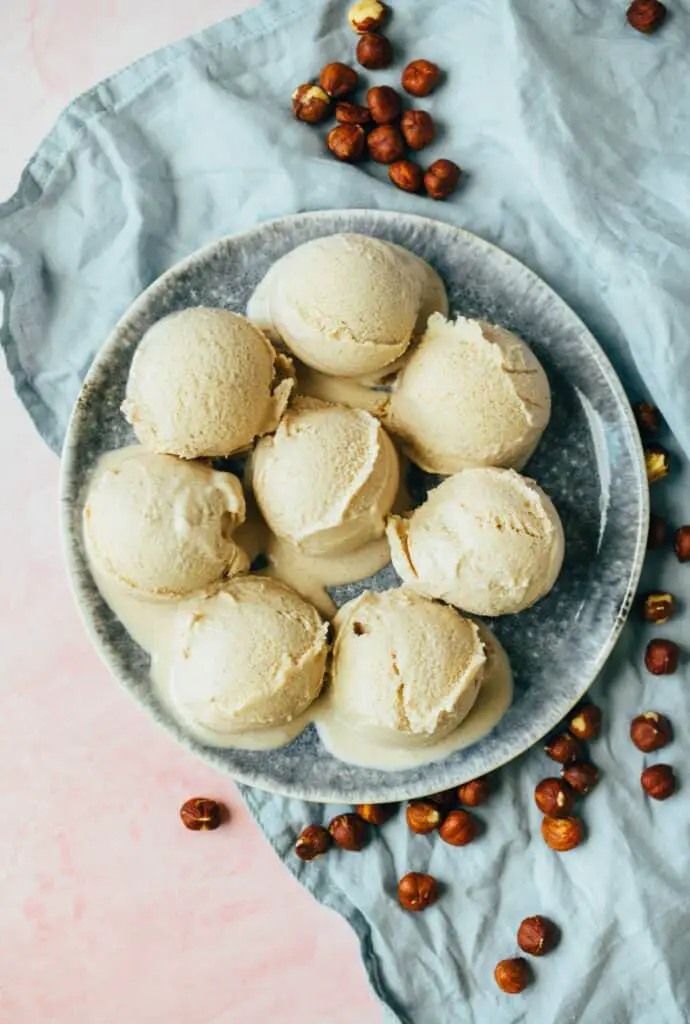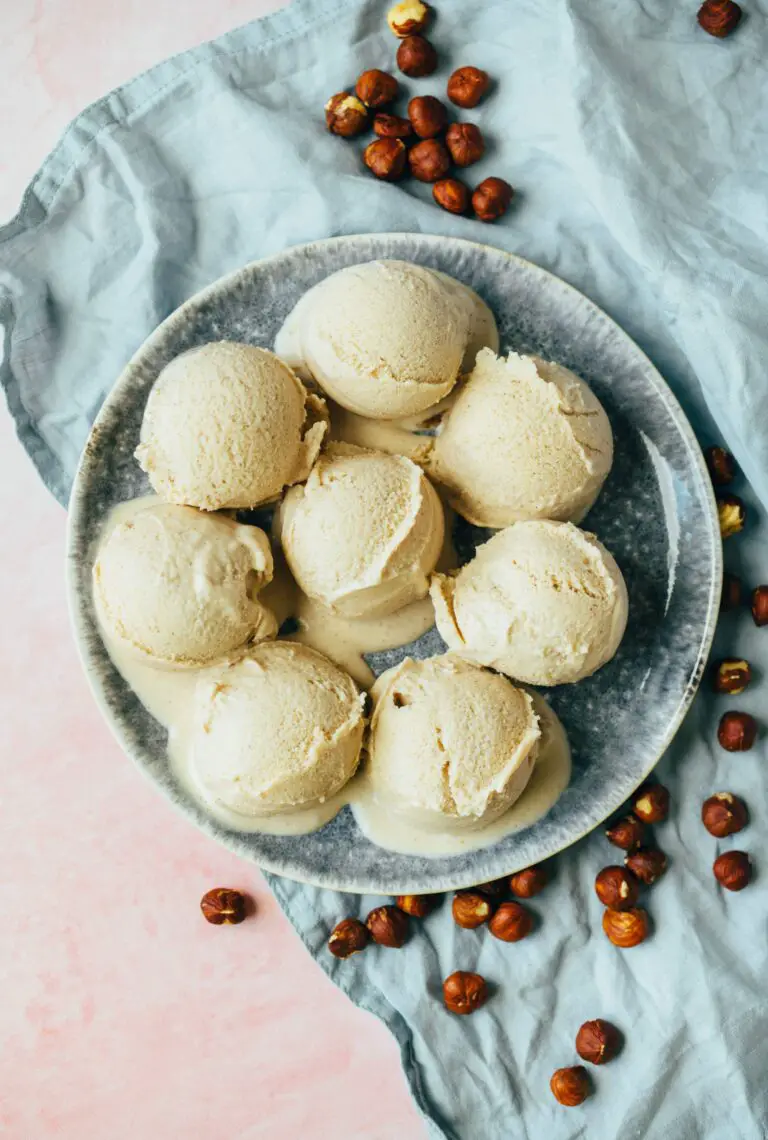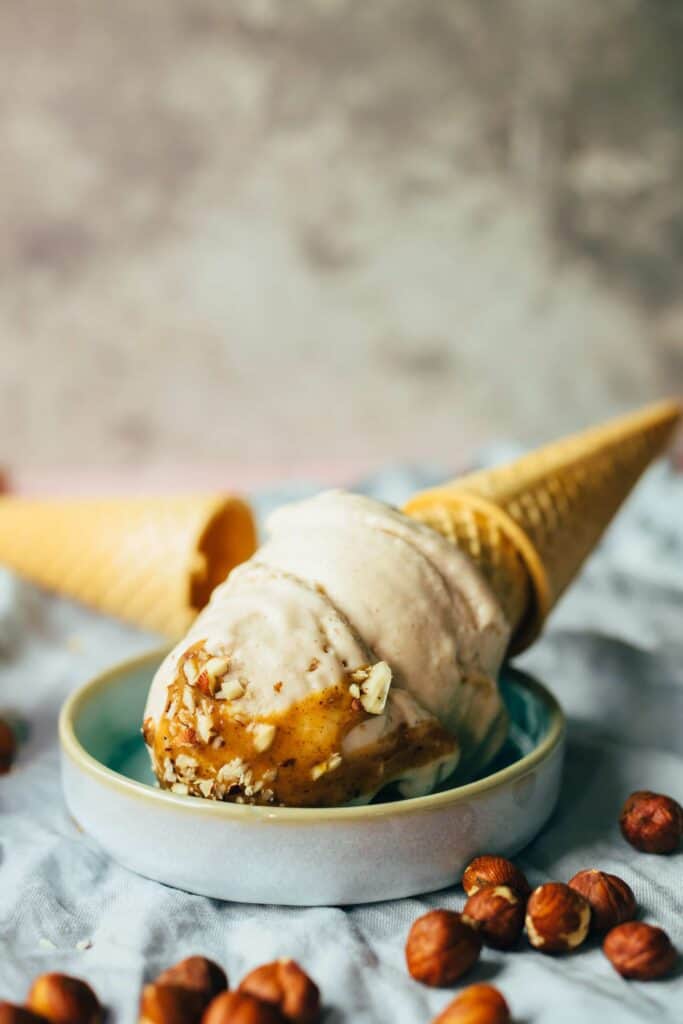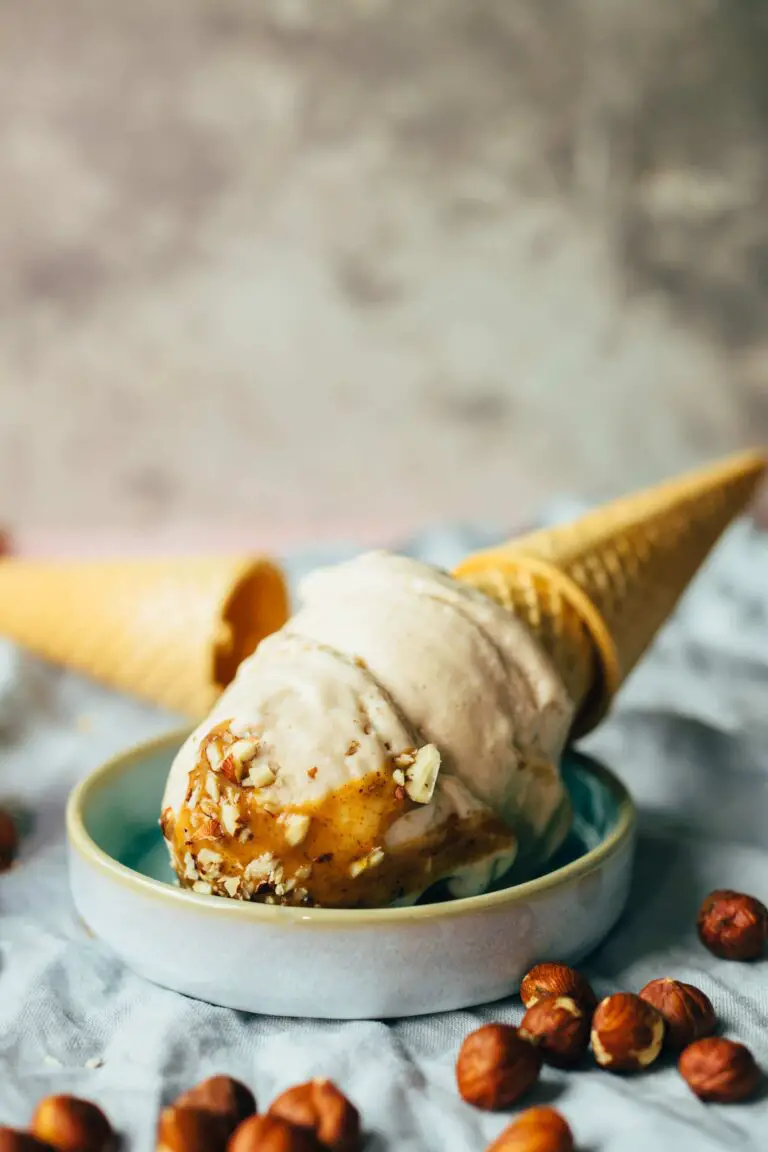 This time I have chosen a completely new variant. There are already ice cream variations like the Vanilla ice cream here on the site, which are made on the basis of cashew nuts and coconut milk. Then there are variants with Aquafaba which are also very tasty and particularly low in calories. Today I decided to use vegetable cream as a base. soy cream, hazelnut butter, Vegetable milk , raw cane sugar, maple syrup, bourbon vanilla, cinnamon and xanthan gum.
TIP: Hazelnut puree usually consists of roasted hazelnut kernels and naturally brings the wonderful roasted aroma. You can also make the puree yourself, here are the instructions . I finished buying it and linked my favorite below.
A (vegan) ice cream always goes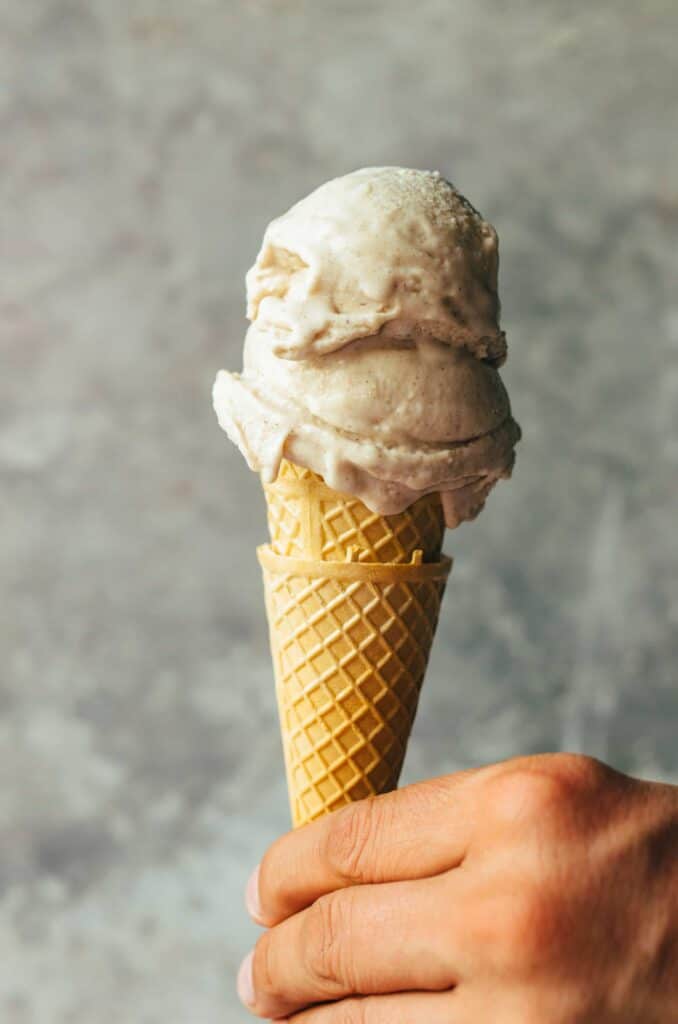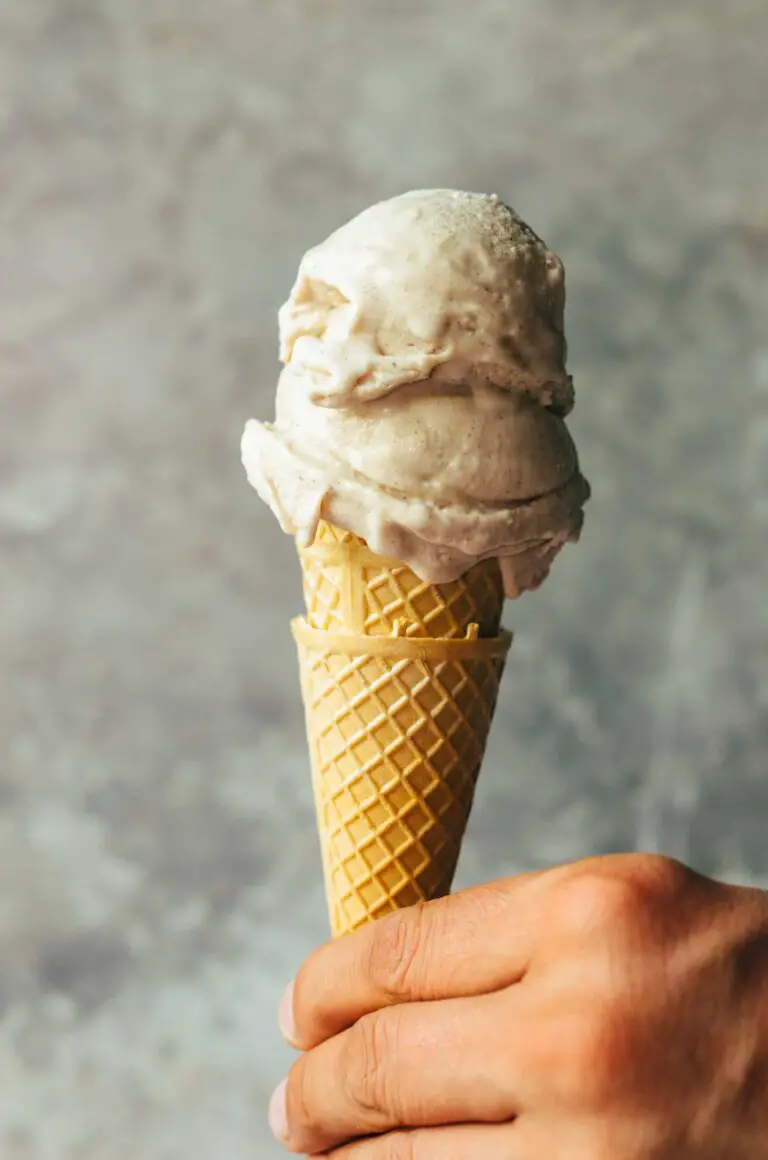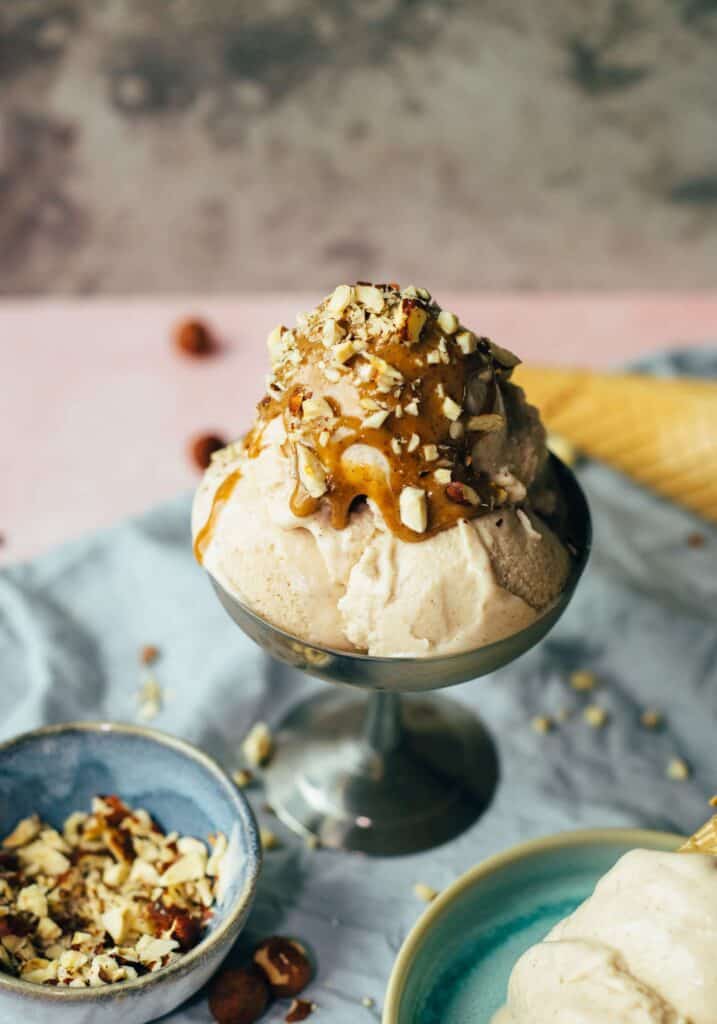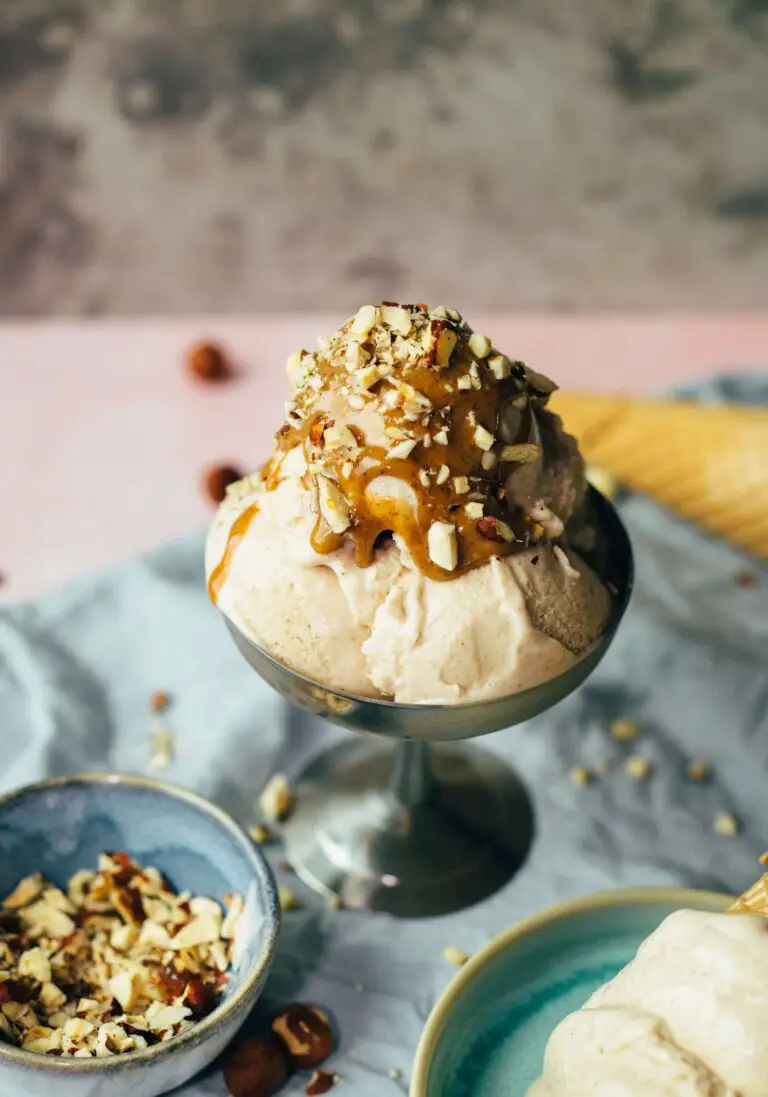 In addition to the ingredients, it also depends on your equipment. Once again, I would like to emphasize how important a good high-performance blender is. Personally, I use a Blendtec (advertising since brand name), which I have linked below. However, any other high speed blender will also work. The second important helper is an ice cream maker, which is not mandatory, but that Ice cream makes a good tick creamier and especially faster:
NOTICE:
WITHOUT ice cream maker the ice cream is not as creamy, forms more crystals when freezing and takes longer. If a creamier consistency is desired, ideally stir once per hour.
WITH ice cream maker the ice cream becomes really great creamy, in my case a one with star. I have linked you below to the device I use. However, any standard ice cream maker will work for this recipe.
Are hazelnuts actually healthy?
Well, what do you think? It is certain that nuts in general are very healthy, but what exactly have Hazelnuts to offer? I have gone on a search for you.
Hazelnuts are said to have a positive effect on cholesterol levels and memory performance.
Fat content at 63 percent (mostly mono- and polyunsaturated fatty acids)
Rich in B vitamins (B1, B2, B3, B6, B9)
Rich in potassium, calcium, magnesium, copper and zinc
Other than that, there's not much else to consider except that you should definitely be creative when making them and, most importantly, have fun. I have the Ice cream extra still decorated with a delicious cream of maple syrup and nut puree. Because that was not enough, add finely chopped hazelnuts.
This vegan Ice cream is super creamy, nutty, and pleasantly sweet. For me, the perfect dessert, for which, as you know, there is always room (no matter how full you are).
The Creamy Vegan Hazelnut Ice Cream (with and without ice cream maker)
Hazel-nutty
creamy
versatile
Easy to manufacture
Delicately melting
If you love hazelnut ice cream as much as I do, I'd love a review at the very bottom of this page. If you post a picture, use the hashtag #veganevibes.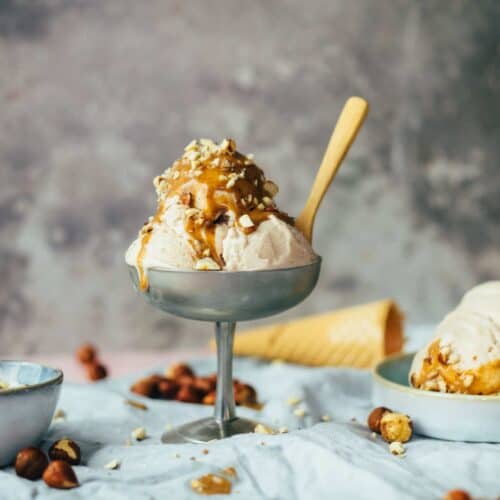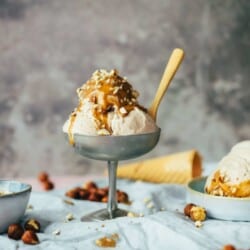 Creamy vegan hazelnut ice cream
Vegan hazelnut ice cream, with or without ice cream maker. The preparation is simple and the list of ingredients is short. A sweet, creamy temptation, vegan, lactose-free and versatile and damn tasty.
AUTOR: VEGANEVIBES
Anleitung 
Depending on the ice cream maker, prepare device for ice cream production.

FOR THE HAZEL NUT ICE, place all ingredients except the xanthan gum in a high-powered blender and blend until smooth. Add the xanthan gum at the very end and mix in.

450 ml Almond milk,

400 ml Vegetable cream,

140 g Raw cane sugar,

30 ml maple syrup,

90 g Hazelnut puree,

1 tbspn Bourbon vanilla ground,

½ tbspn Cinnamon,

A pinch of sea salt,

100 g optional: cashew nuts,

optional: 1 tsp xanthan gum, makes the ice cream much creamier

Place in ice cream maker and prepare according to manufacturer's instructions. Alternatively, pour into a freezer-proof mold and place in the freezer. To increase creaminess, mix once per hour with a fork. Freeze for at least 6

hours

, ideally

10 hours

.

60 ml maple syrup,

60 ml Hazelnut puree,

chopped hazelnuts to taste

To serve, remove, let thaw for 5 minutes, portion with an ice cream scoop and arrange in dessert bowls or an ice cream cone. Garnish with desired toppings and enjoy!
Notizen
*Calorie bruise without ice cream cone, toppings and the optional cashews.
Nährwertangaben
Serving:
1
Ball
Calories:
178
kcal
Carbohydrates:
28
g
Protein:
1
g
Fat:
8
g
Saturated Fat:
4
g
Sodium:
81
mg
Potassium:
135
mg
Fiber:
1
g
Sugar:
27
g
Vitamin A:
5
IU
Calcium:
70
mg
Iron:
1
mg