Ice cream, ice cream baby! But this time please super fruity! I love Ice cream and just can't get enough of it. Vegan ice cream comes yes more and more in the supermarkets, but sometimes costs up to 8 euros? I really spend a lot of money on food and I'm always open to trying new great products. However, I had to gulp when I saw the new vegan flavors from my favorite ice cream maker in the US. The vegan ice cream should actually cost 2 euros more? I went straight to the cashier and asked if I thought that was a mistake? No, not at all! A whopping 2 euros more. No thanks, then I make my Ice cream my own ice cream.
VEGAN ICE BABY!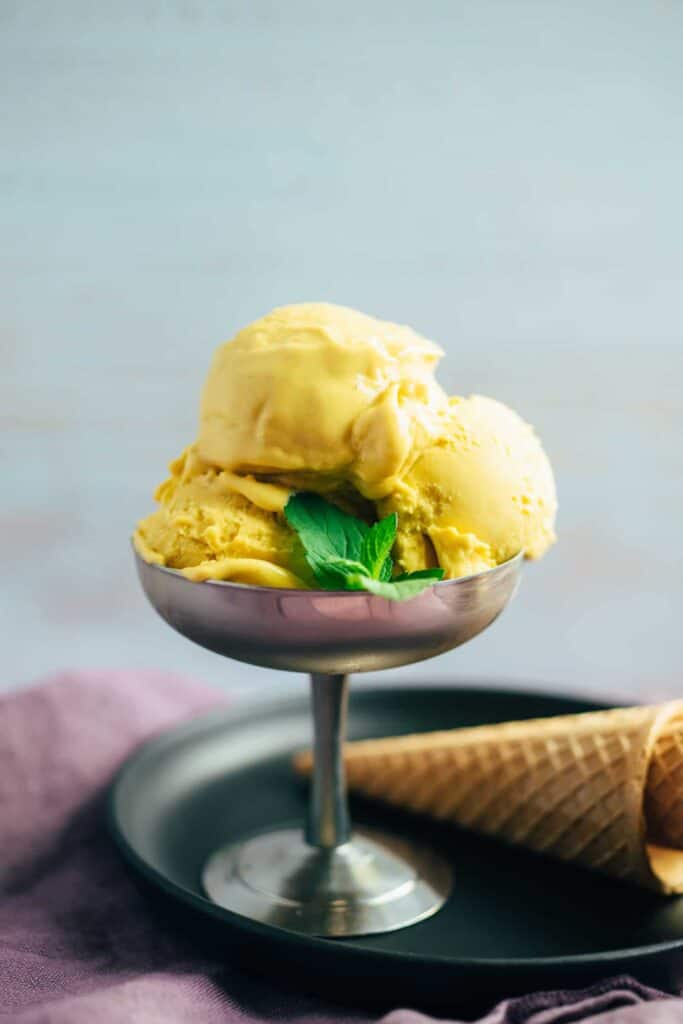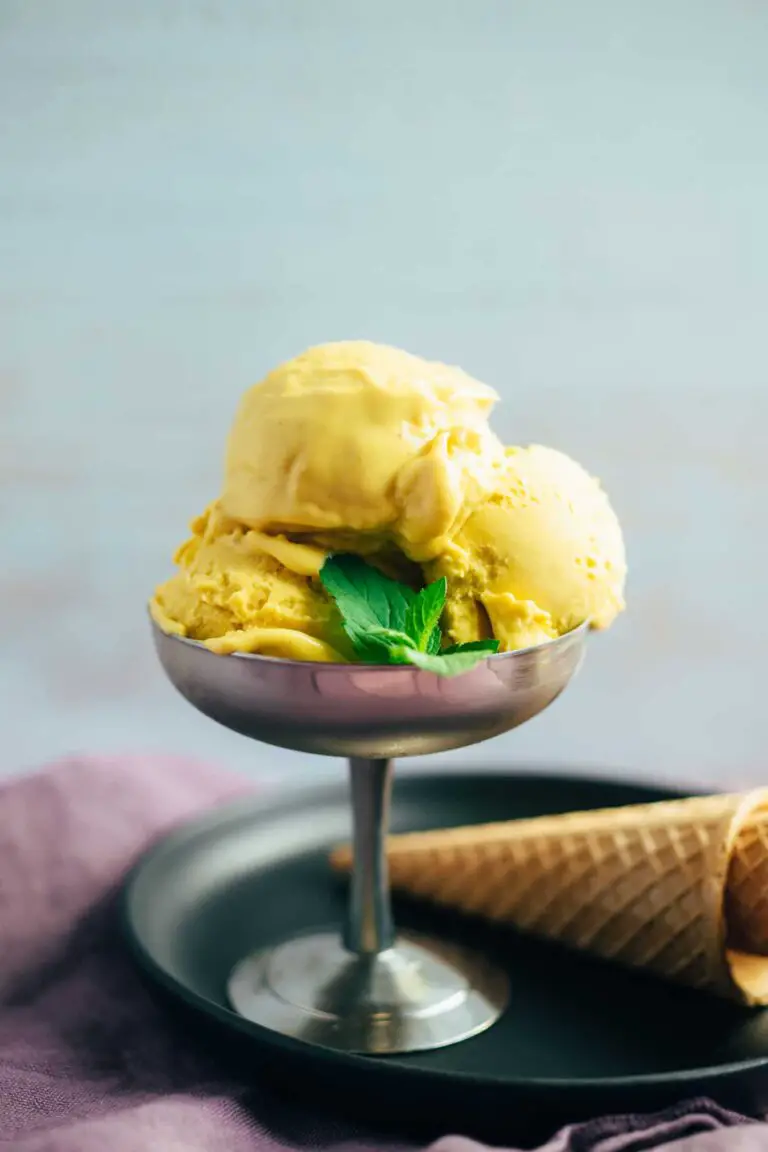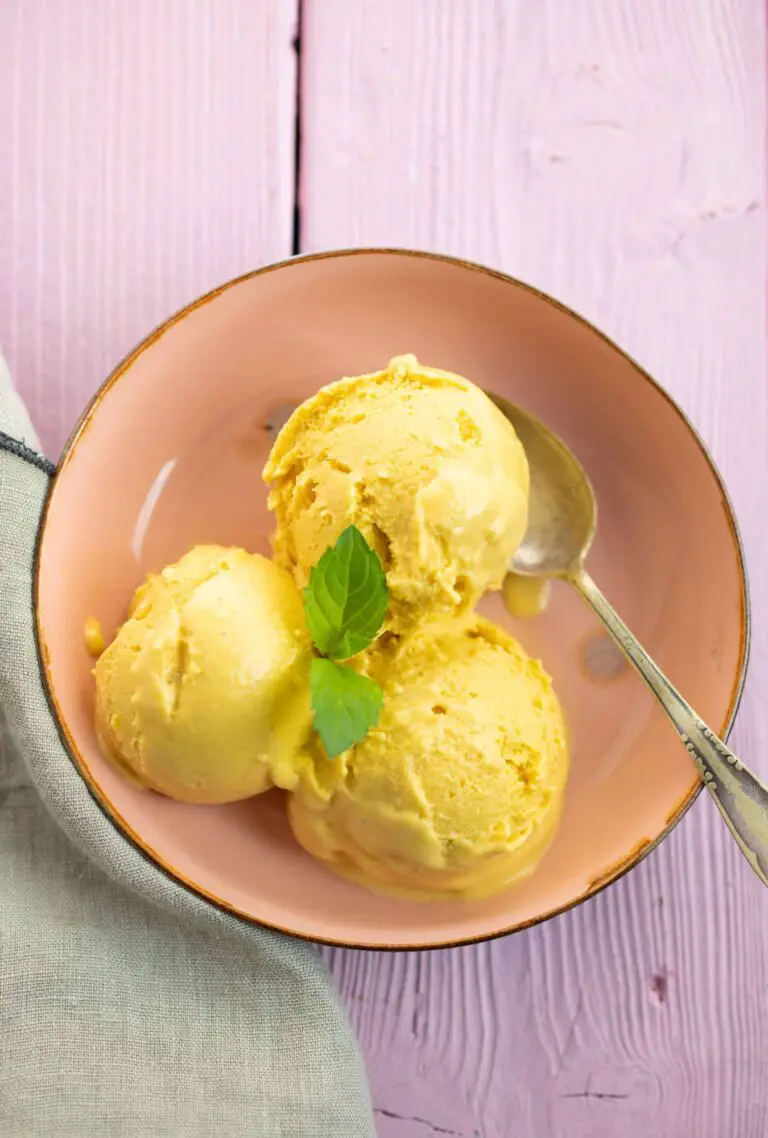 Our ice cream today is fruity and creamy at the same time. The creaminess comes from the soaked cashews. In addition Aquafaba that gives the Ice cream a really nice fluffiness gives. Vanilla, raw cane sugar, maple syrup, lemon juice and mango pieces from the jar complete the recipe. The first and most important step is to soak the cashews. As usual, here are instructions for three different methods further down the recipe. For the production of Aquafaba I have created an extra Blog article created, so that you also succeed safely. Now all you need is a good high-powered blender to make the mango puree really nice and creamy.
Mango Tip: I have tried this Recipe with fresh fruit as well as with mango pieces from the jar. My conclusion is that the fruits from the jar work better because they have a much more intense flavor. Moreover, you can be sure that the fruits from the jar are really ripe. With fruits from the supermarket one reaches nevertheless from time to time beside it.
At Aquafaba I have a little helper that makes sure that the vegan beaten egg whites remains fluffy. Xanthan Gum! Sounds a bit strange, but it is purely natural and works wonders. I highly recommend it to anyone and have linked it in the recipe below.
Is mango actually healthy?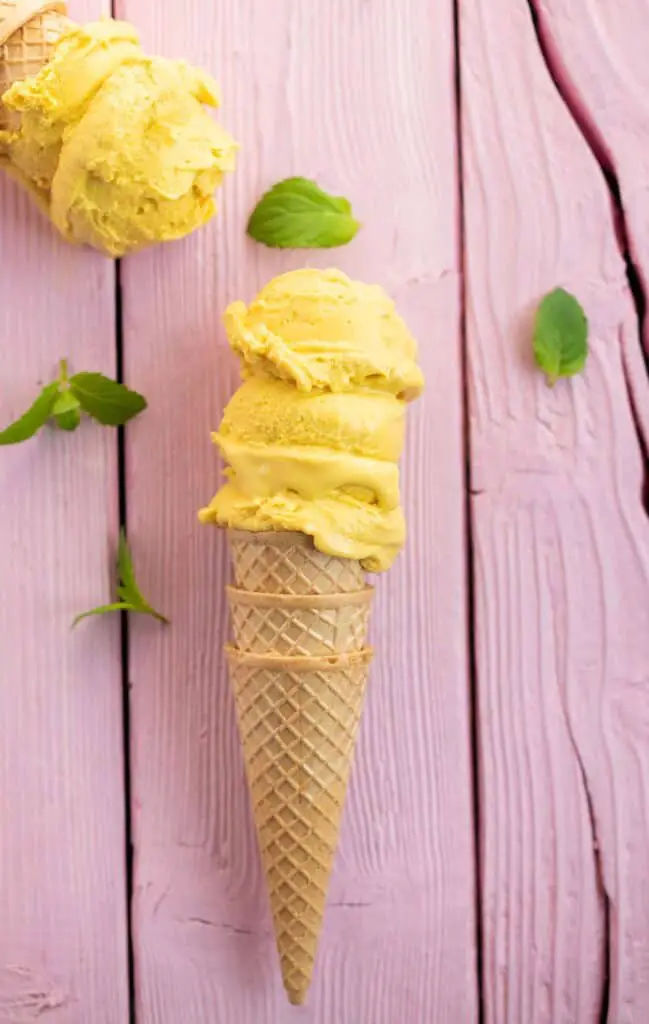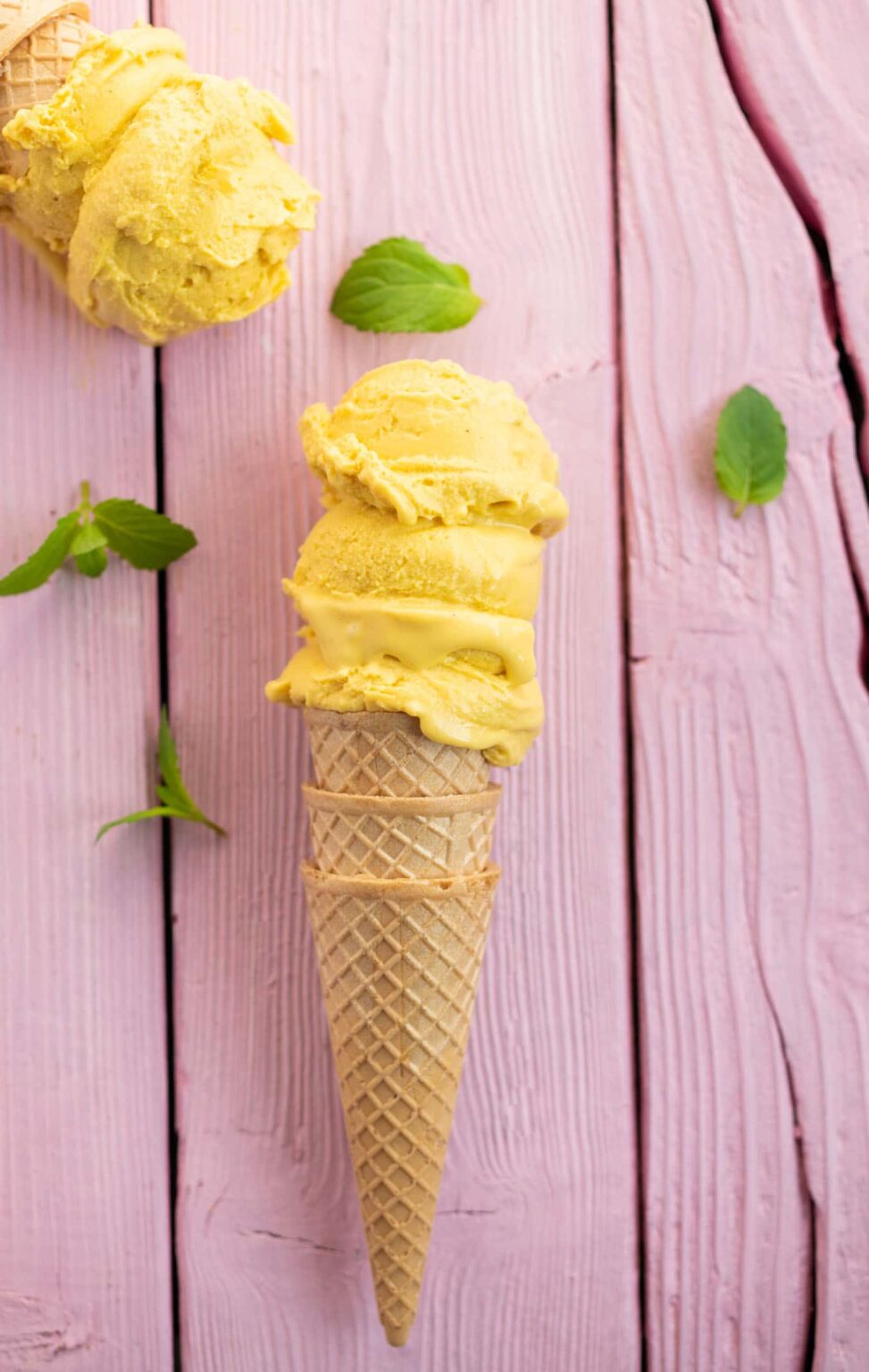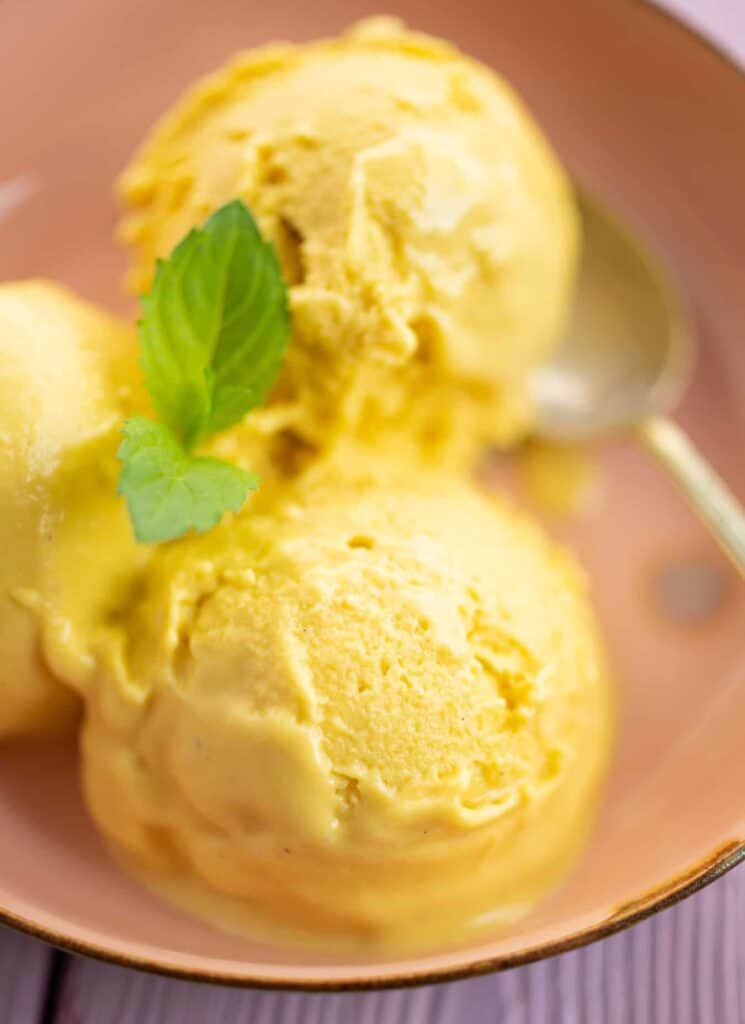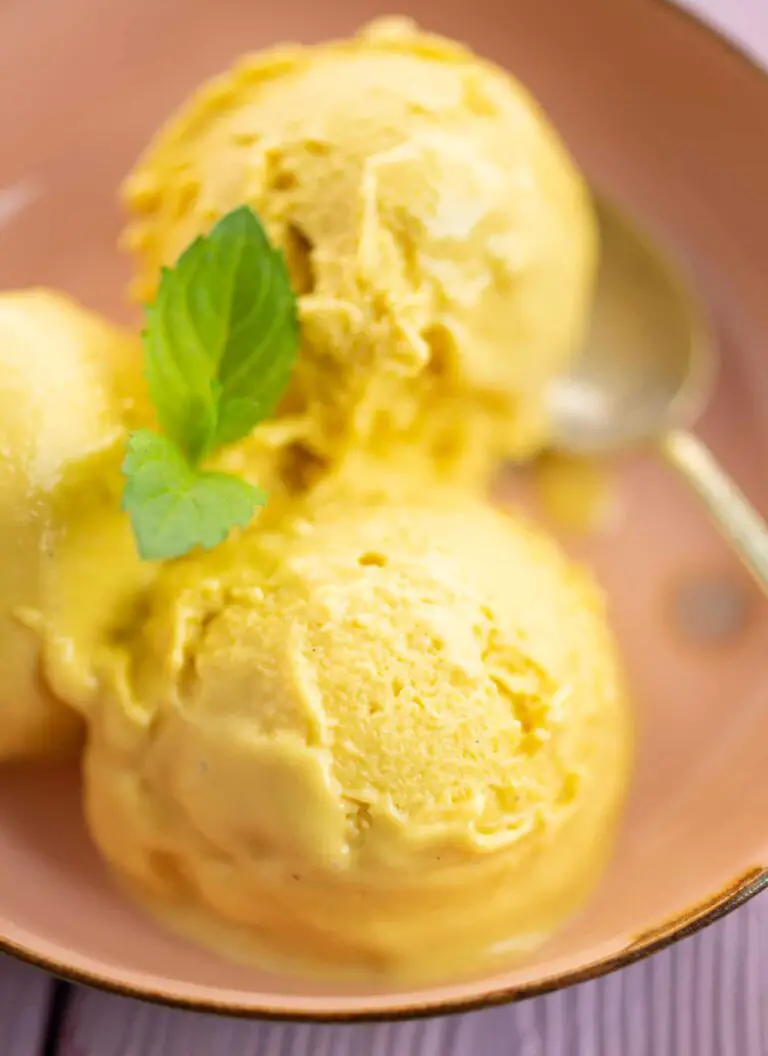 Absolutely! Honestly, I can't think of any reason right now why you shouldn't include mangoes in your diet. Here are the most important facts about mangoes:
Contain up to 3g beta-carotene (important for healthy vision) per 100g
Vitamin E, C and B vitamins
Calcium, magnesium and potassium
Folic acid (important for pregnant women and with desire to have children)
60kcal per 100g pulp
My dears, I would say let's go with our wonderful Ice cream . If mango is not your taste, try another ice cream flavor. Chocolate , Stracciatella , Strawberry or Cookie Dough .
The creamy creamy mango ice cream (with or without ice cream maker) is:
fruity
Vitamin- and mineral rich
creamy
Easy to manufacture
Natural sweet
If you are also such a big fan of vegan ice cream like me, then I would be happy about a review at the bottom of this page. If you post a picture, use the hashtag #veganevibes.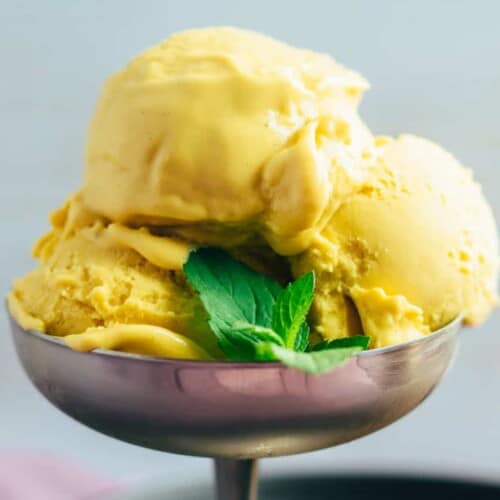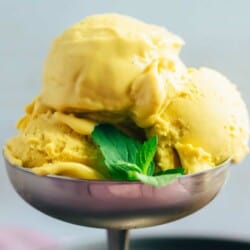 Creamy mango ice cream (with or without ice cream maker)
Vegan mango ice cream with aquafaba, succeeds with or without ice cream maker. Easy to make, with few ingredients. A sweet, creamy temptation, vegan, lactose-free and lower in calories than conventional ice cream.
AUTOR: VEGANEVIBES
425

g

Chickpeas – strained and collected the water.

this is the aquafaba! One can (or jar) yields about 120ml of liquid

¼

tbspn

Xanthan Gum

can also be omitted, but then the vegan beaten egg whites lose firmness

31

g

Raw cane sugar

or powdered sugar

350

g

Mango pieces from the jar

alternatively use ripe, juicy mango and add 2 tablespoons pineapple juice

60

ml

maple syrup

30

ml

Lemon juice

alternatively lime juice

100

g

Cashew nuts

soaked, according to one of the methods below*.

¼

tbspn

Bourbon vanilla ground

Optional: finely diced mango pieces to taste
Anleitung 
Soak cashews according to one of the above methods.

Make one serving of aquafaba. Set aside.

425 g Chickpeas – strained and collected the water.,

¼ tbspn Xanthan Gum

Place raw cane sugar, mango pieces, ancho syrup, lemon juice, cashews, and vanilla in a high-powered blender and blend to a fine puree.

¼ tbspn Xanthan Gum,

31 g Raw cane sugar,

350 g Mango pieces from the jar,

60 ml maple syrup,

30 ml Lemon juice,

100 g Cashew nuts,

¼ tbspn Bourbon vanilla ground

Pour puree into the bowl with the aquafaba and gently fold in with a silicone scraper until evenly combined.

Pour into a freezer-proof box, smooth out and place in the freezer for about

10 hours

.

Alternatively, use an ice cream maker and process according to manufacturer's instructions to make creamy ice cream.

Shape into balls with an ice cream scoop. Enjoy on an ice cream cone or in a small bowl.

Optional: finely diced mango pieces to taste

Keeps up to 3 months airtight in the freezer.
Notizen
Click here for the cashew soaking guide
SUPER-QUICK-SOAK METHOD: If you really don't have time at all, put the cashews in a pot, fill it up with water and bring the whole thing to a boil. Shortly after the boiling point, turn off, drain and use.
QUICK SOAK METHOD: In this method, you soak the cashews in hot water (uncovered) and let them steep for 60 minutes. Then strain and mix.
LONG-SOAK METHOD: Place cashews in a bowl and pour cold water over them. Let steep covered for at least 6 hours or preferably overnight. Strain, wash off briefly, use.
Ice cream maker https://amzn.to/2Jz71Vj
Ice cream scoop https://amzn.to/2S7OiUU
Nährwertangaben
Serving:
1
Ball
Calories:
217
kcal
Carbohydrates:
34
g
Protein:
7
g
Fat:
7
g
Saturated Fat:
1
g
Sodium:
7
mg
Potassium:
327
mg
Fiber:
5
g
Sugar:
18
g
Vitamin A:
490
IU
Vitamin C:
18.1
mg
Calcium:
44
mg
Iron:
2.4
mg