Blackberry Crumble cake is a true poem! I love crumble cake simply over everything, no matter whether Cherry , Apple or anything else Fruit , which is just ripe and juicy. The Summer has dared to show itself after all and at the moment we have really great bathing weather here. Just a few days ago we were at the lake around here and it was just gorgeous. Thanks to Corona with a little more distance, but who swims in the lake 1.5m to the next person? I certainly don't, because I need my Space (laugh). In any case, I hope that the hot temperatures will continue for a while and we can still enjoy August to the fullest. It's not necessarily high season for our huskies right now, but even they can find cool places to linger. Currently, the staircase is high on the cool tiles towards the basement. When the sun disappears on the horizon, then it's also straight into the garden for running and exploring.
Vegan blackberry crumble cake, where have you been so long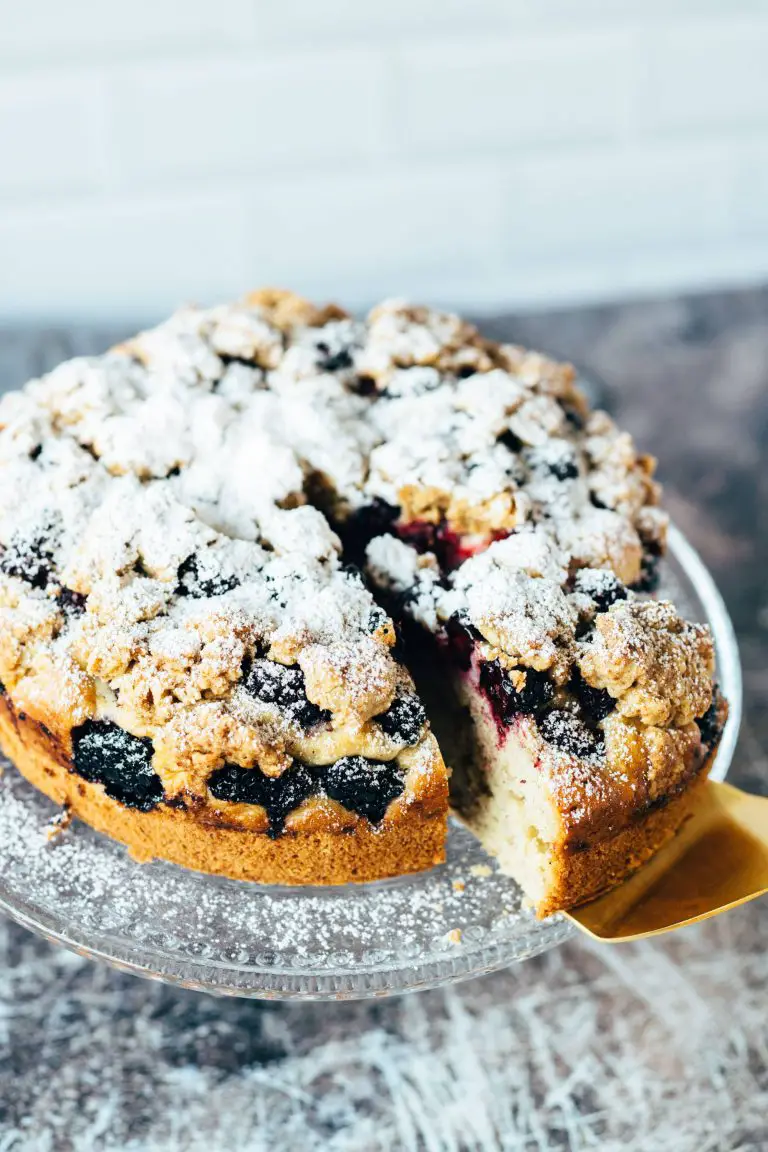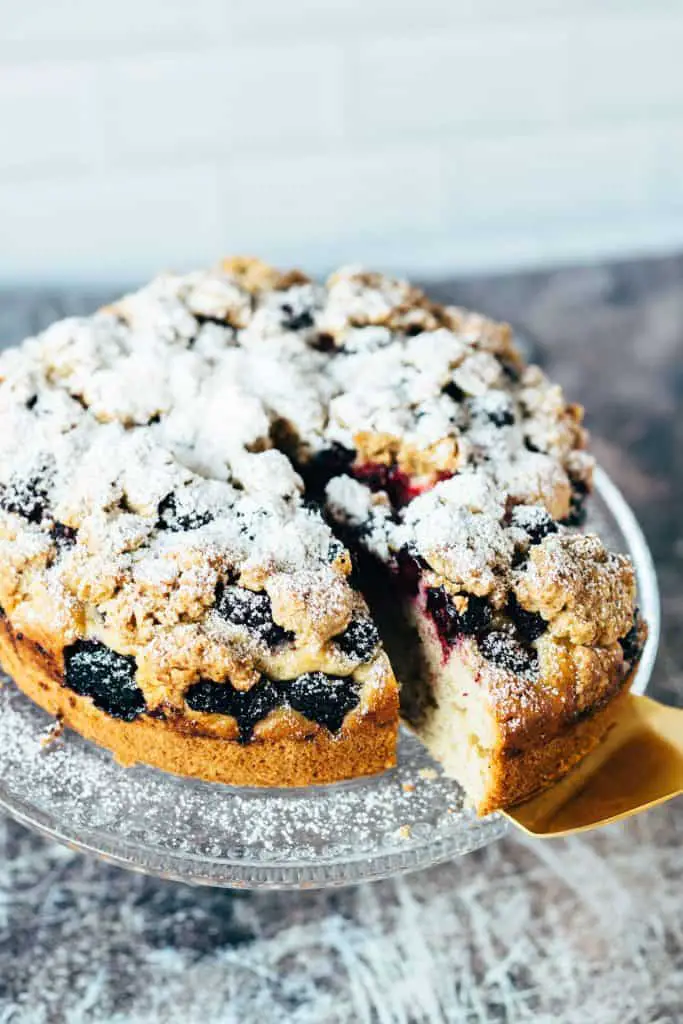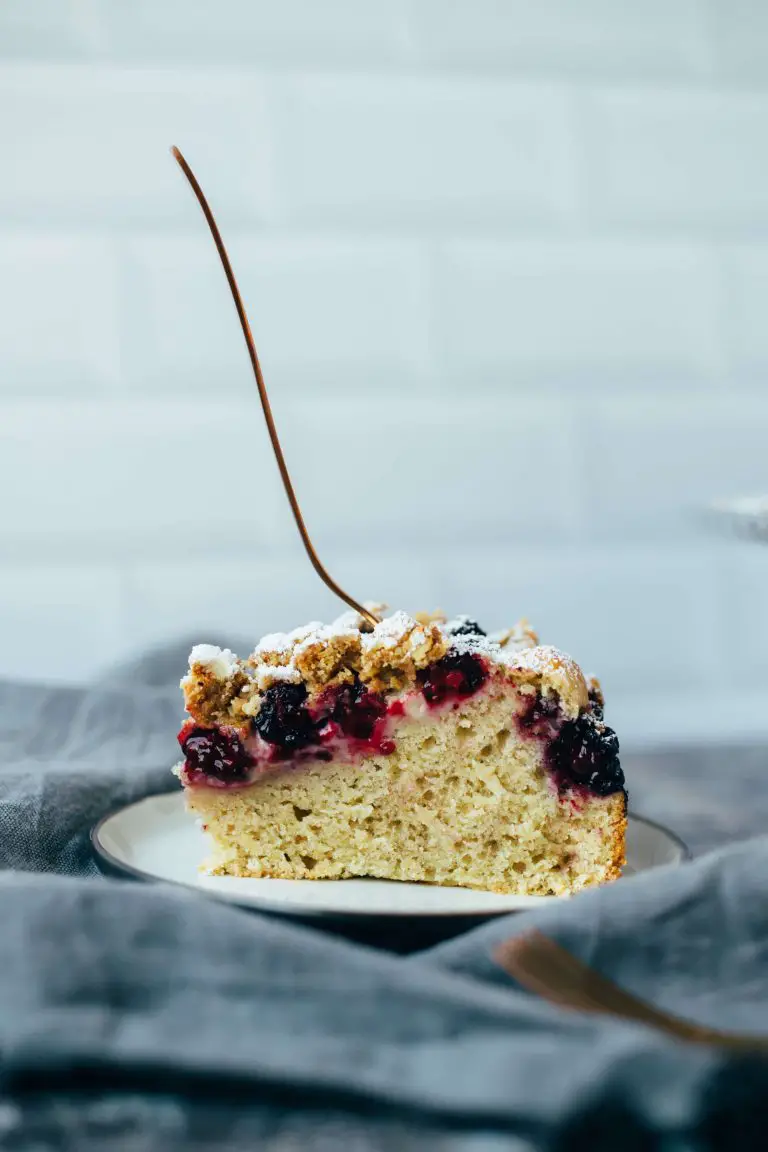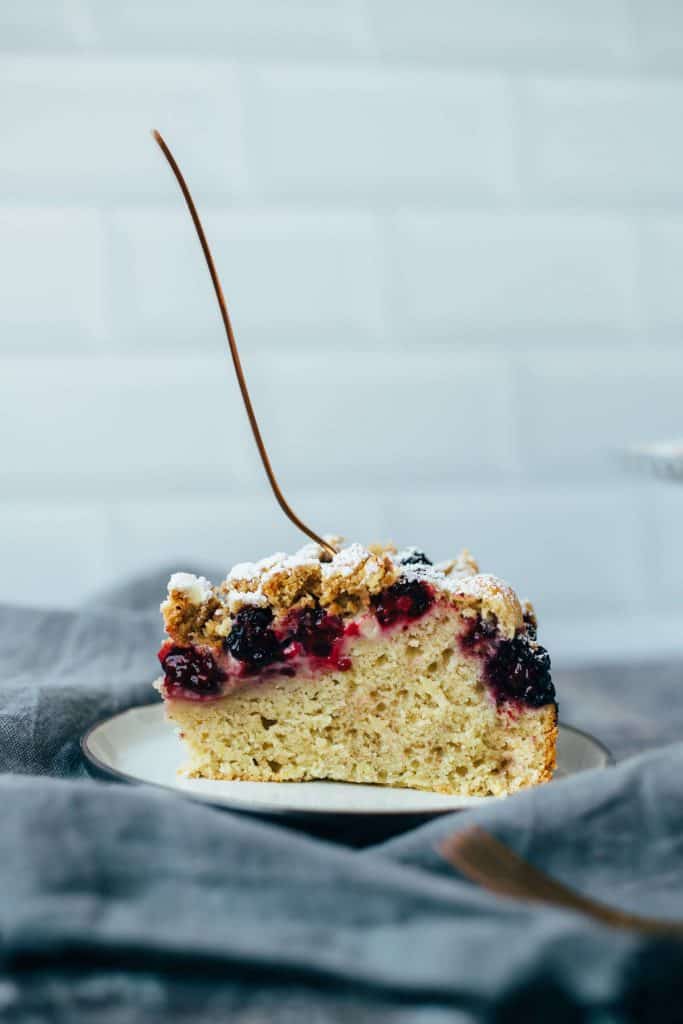 The blackberry cake consists of three main components. sponge cake, Blackberries and crumble. First we make the sponge cake from baking powder, apple cider vinegar, Vegetable milk , melted margarine, banana, cane sugar, spelt flour, vanilla and a pinch of salt. This is all blended into a fine, even batter and poured into a springform pan. On top are the blackberries, which in my case I picked fresh from the garden.
The crowning glory is the crumble made from margarine, spelt flour, rolled oats, spelt flour and cinnamon. Swish, put it in the oven and after 40 minutes the cake is ready. Whip cream, put on coffee and enjoy I would say. Are you in?
A vegan cake just always goes, right?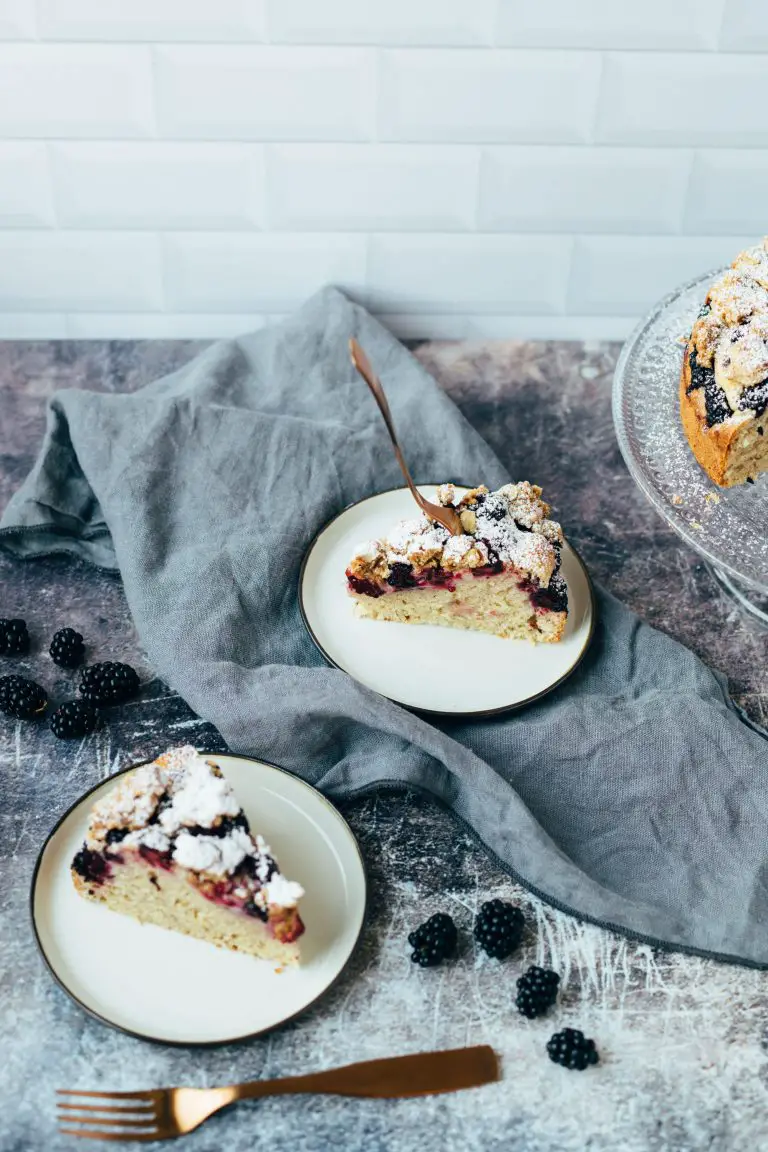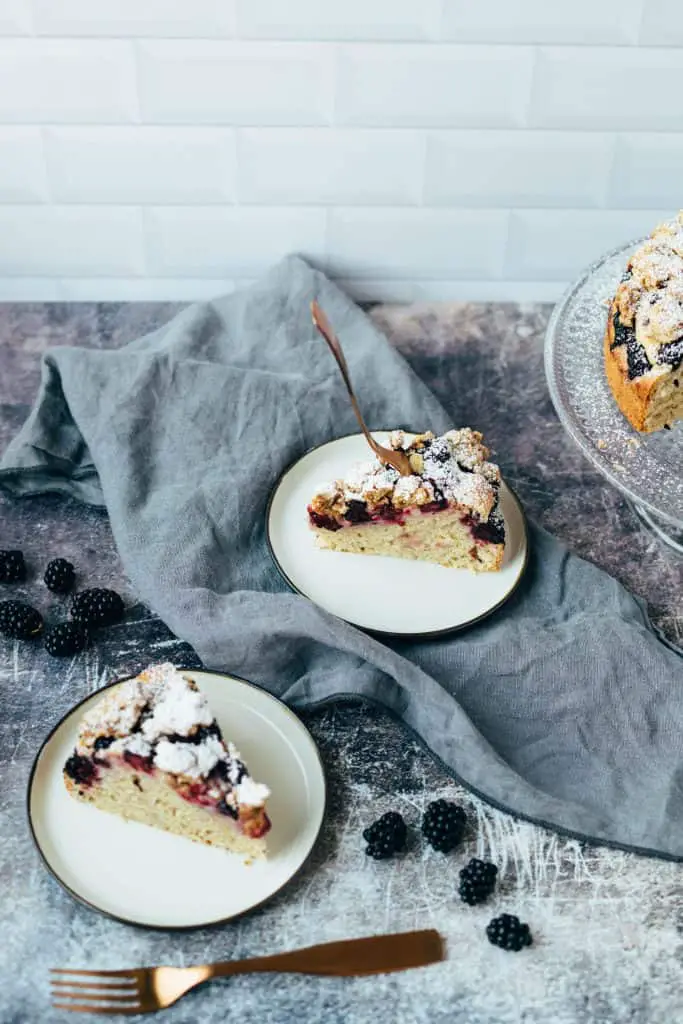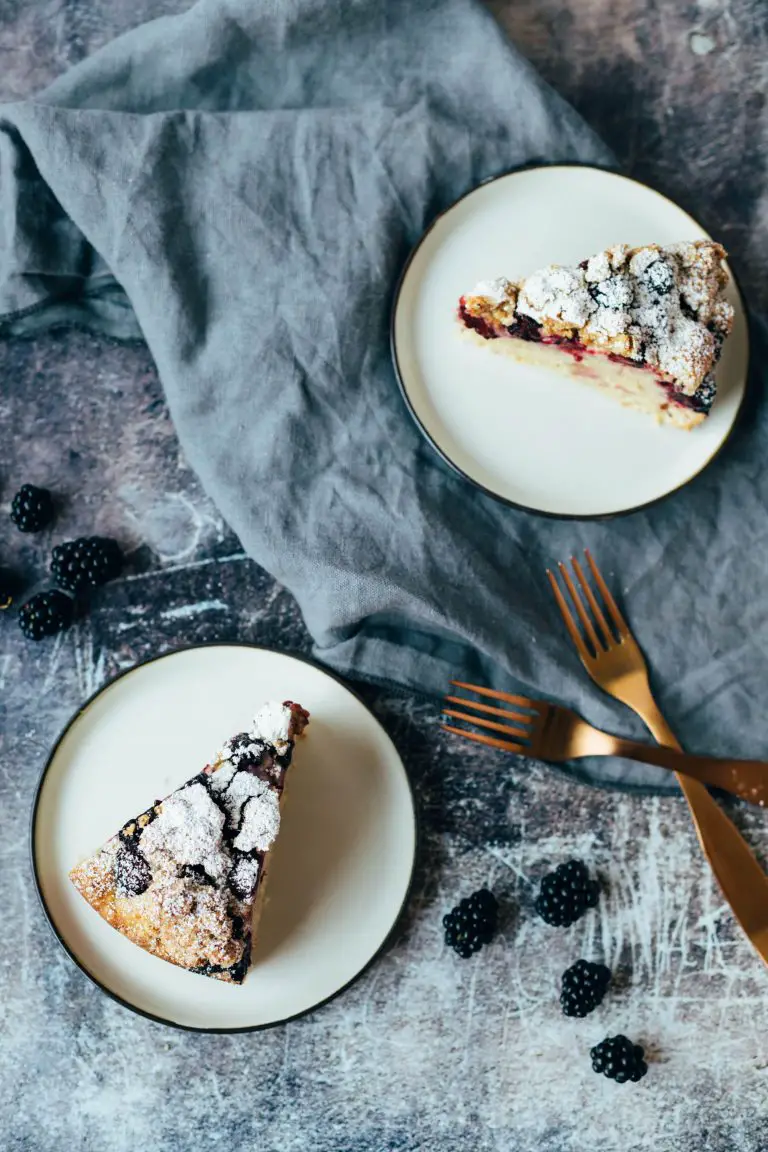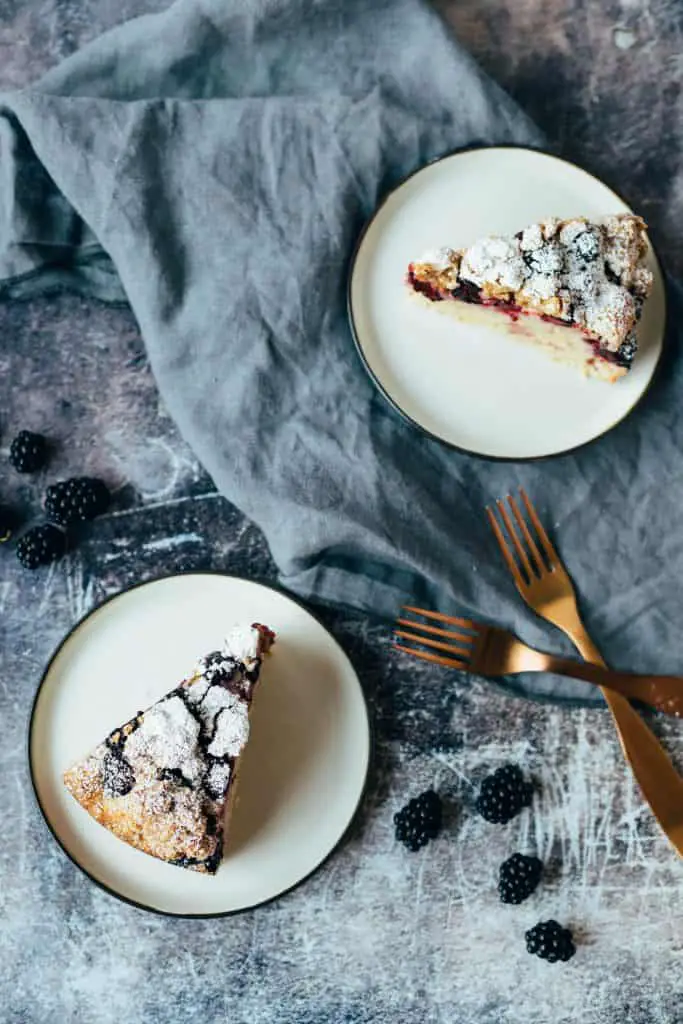 I find this Recipe ingenious because it is so simple. Actually, there are only a few things you can do wrong and I would like to show you those in the following points. After all, there's nothing worse than sitting in front of a dry, un-fluffy Cake cake. I love it at Coffee party to show that also vegan Cake taste incredibly delicious. Many people still have the prejudice that vegan baked goods do not taste good. Do we want to convince them otherwise? Let's go!
The dough should be nice and even, not too firm and not too runny. The consistency may vary depending on the flour used. That's why it's always worth taking a close look. If too liquid, add a little more flour. If too dry, add a little more vegetable milk. In the video I show the consistency of the dough again exactly.
Do not stir the dough for too long, otherwise you will stir out the leavening power of the baking powder in combination with the vinegar. Stir only until the dough is smooth and uniform. Ready!
If you use frozen blackberries, roll them once in flour. When thawing, the berries become slightly watery and this can look unsightly in the final result.
At the end of the baking time, do the chopstick test by poking the dough with a wooden chopstick. If it comes out dry, the cake is done. If dough sticks to wooden stick, bake for another 10 minutes and then test again.
How healthy are actually blackberries?
Blackberries are incredibly healthy and full of vitamins, minerals and trace elements:
B vitamins (B1, B2, B3, B5, B6)
Vitamin C
Vitamin E
Potassium
Calcium
Iron
Zinc
Beta-carotene
Flavonoids and antioxidants
Very low in calories with 44 kcal per 100g
If you have the opportunity to Blackberries to come, then grab it. They are a true Superfood , regional and super delicious. We have a few shrubs here in the garden and I am over the moon about them. Just ask your neighbors, grandma or friends. I am sure that there is also a shrub hiding near you. Blackberry bush hiding near you.
Then it can start now with our blackberry crumble cake. I hope you enjoy baking and of course about a review at the bottom of this page. If you post a picture, use the hashtag #veganevibes.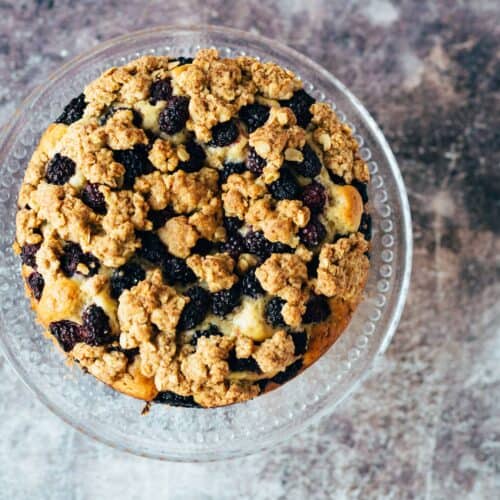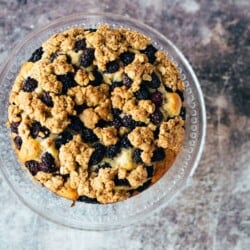 Blackberry crumble cake
Simple, juicy and fluffy blackberry crumble cake, made with fine spelt flour, juicy blackberries, topped off with delicious cinnamon crumbles.
AUTOR: VEGANEVIBES
TOPPING:
200

g

fresh blackberries

alternatively frozen blackberries rolled in flour

50

g

fine spelt flour

alternatively wheat flour or another flour of choice

30

g

Oatmeal

40

g

melted margarine

alternatively a neutral baking oil

30

g

Coconut blossom sugar

alternatively raw cane sugar or cane sugar

½

tbspn

Cinnamon

ground
Anleitung 
Preheat the oven to 175 degrees and line a 20cm springform pan with baking paper (bottoms) and brush the sides with a little margarine.

FOR THE CAKE Pour vegetable milk into a large bowl, add apple cider vinegar and baking powder. Stir briefly. The liquid should now foam slightly.

125 ml Plant milk,

3 tbspn Baking powder,

7,5 ml Apple cider vinegar

Add fine spelt flour, mashed banana, raw cane sugar, melted margarine, cinnamon, bourbon vanilla and salt. Stir until a smooth dough is formed.

250 g fine spelt flour,

1 Piece ripe banana,

100 g Raw cane sugar,

100 g melted margarine,

¼ tbspn Bourbon vanilla ground,

1 Pinch of salt

Check the consistency of the dough, it should be easy to pour into the mold, but not too runny (see video). If too runny add more flour, if too solid add more vegetable milk.

Pour into the mold and smooth out.

Spread the blackberries on the dough and set aside.

FOR THE CRUMBLE Knead spelt flour, oat flakes, melted margarine, coconut blossom sugar and cinnamon with your hands until everything is well combined. One piece at a time, spread the crumble evenly over the blackberries.

50 g fine spelt flour,

40 g melted margarine,

30 g Coconut blossom sugar,

½ tbspn Cinnamon,

30 g Oatmeal

Put in the oven and bake for

40 minutes

.

When the baking time is over, use a wooden stick to check if the cake is done. If the wooden stick comes out "clean", remove from oven and let cool completely.

Cut into pieces and serve optionally with powdered sugar and cream.

Store in an airtight container at room temperature for up to 3 days.
Nährwertangaben
Serving:
1
Piece
Calories:
353
kcal
Carbohydrates:
53
g
Protein:
6
g
Fat:
13
g
Saturated Fat:
3
g
Sodium:
130
mg
Potassium:
153
mg
Fiber:
7
g
Sugar:
19
g
Vitamin A:
764
IU
Vitamin C:
7
mg
Calcium:
48
mg
Iron:
2
mg