Cherry Crisp, or cherry Crumble or maybe cherry crisp? I have rarely had such a hard time finding the right name for a Recipe for a recipe. The Americans and the English have one thing ahead of us and that is finding simple terms. In German, a lot of things sound so rough and angular. You always try to iron it out a little nicely, but the bottom line is that it still sounds awful. After a lot of back and forth, I decided to go with the Crisp and that's where it stayed. Summertime is Cherry time and I have already ventured today on the tree to harvest delicious cherries. After pondering for a long time what to do with the red beauties, I came up with the idea of the crisp. At the same time I had in my head cinema a beautiful, sunny afternoon in the garden with a delicious iced coffee, cherry crisp and completely creamy vanilla ice cream on top. Well, who's in? I have already snacked, I admit.
Cherry Crisp, Crumble or Crisp?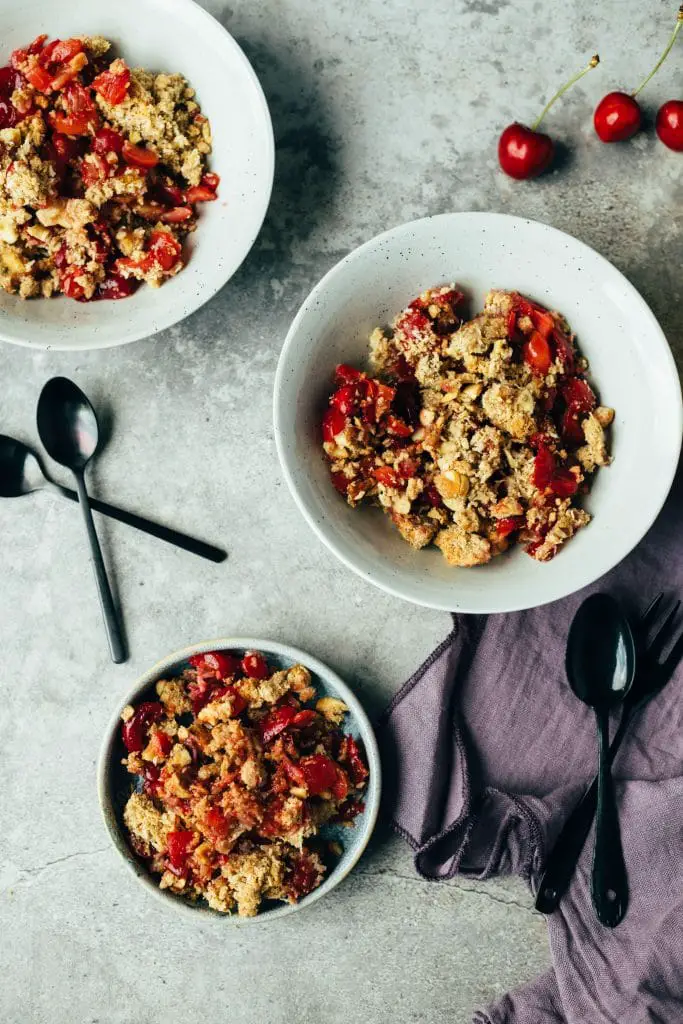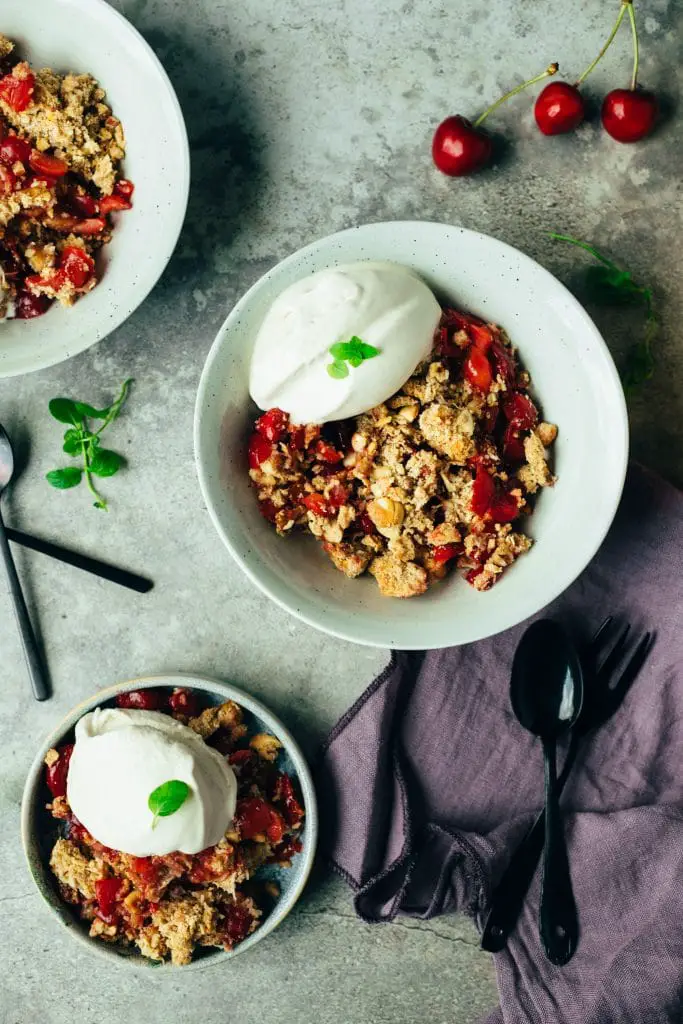 Cherries , cherries, cherries, our cherry tree is a true miracle and this year gives us a rich harvest. My husband has built the ladder professionally, so nothing can happen and I can safely harvest my cherries. Wash, pit, and let the cherry fun begin. We need cherries, cornstarch, lemon juice and maple syrup for the base. All this is mixed well. If the Cherries are not particularly juicy, then I add some cherry or apple juice.
For the topping we need oat flour, mixed nuts, nut puree, coconut flakes and raw cane sugar and some water. Mix everything well until it becomes a great, soft crisp or Crumble has become. Many recipes use a lot of oil or margarine in the crisp. Unfortunately, both foods contain a lot of fat and calories, but hardly any fiber and other valuable plant substances. I try to avoid margarine because it contains a lot of saturated fatty acids. These can have a negative impact on arterial health.
TIP: Try it once oil and margarine-free and with nut puree from whole nuts. The advantage is that in a nut puree the whole nut is processed and thus also valuable fiber and other valuable ingredients of the plant, which are otherwise simply "filtered away".
How healthy are actually cherries?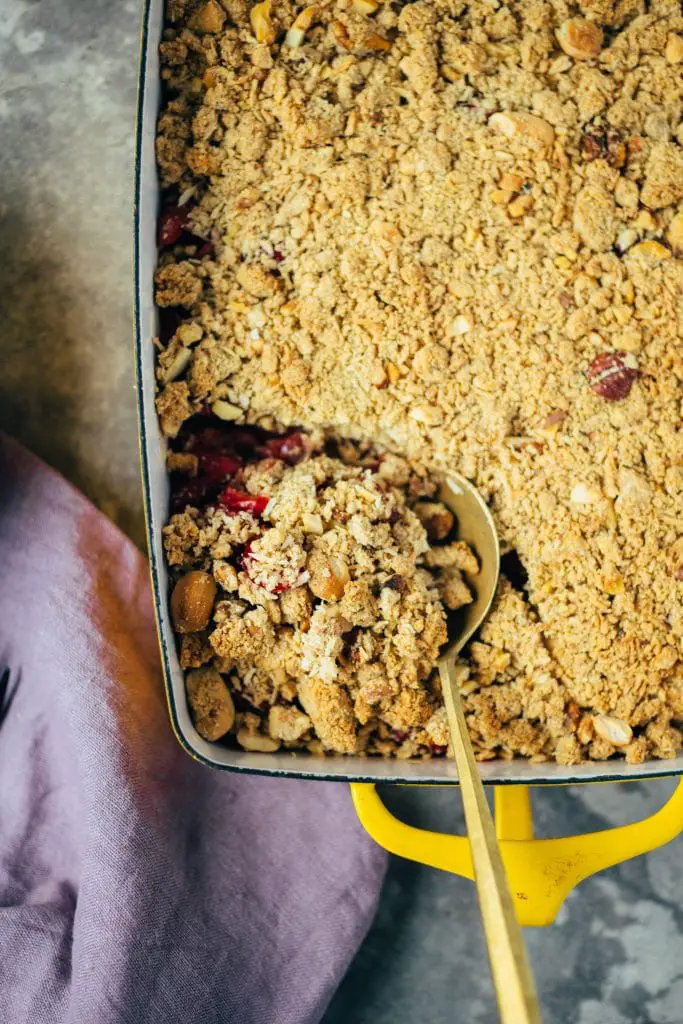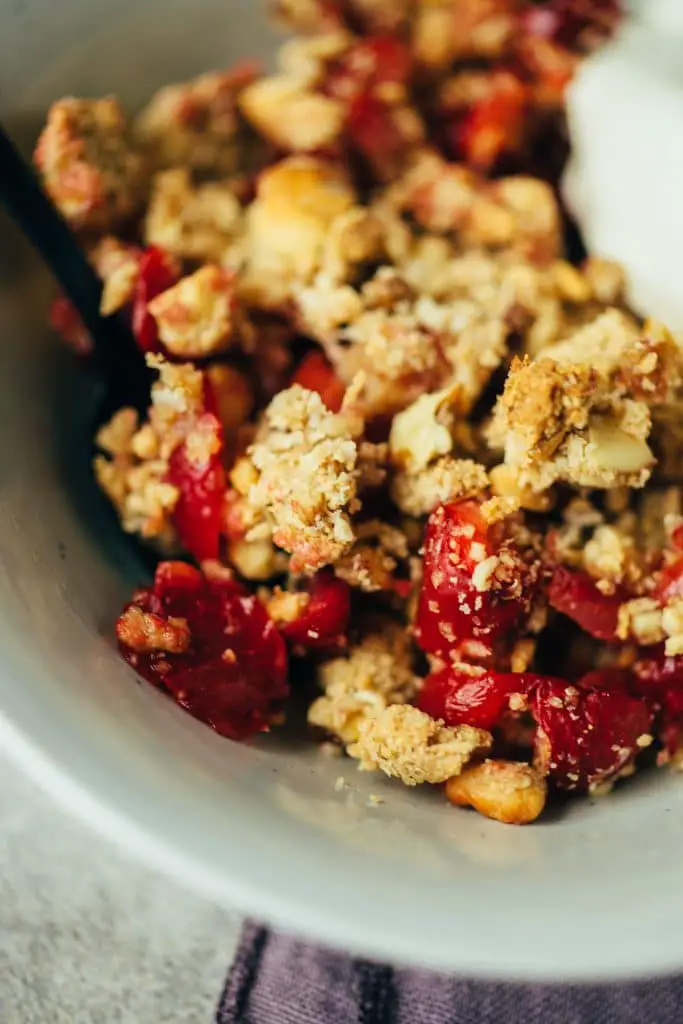 "Don't eat too many cherries and don't drink water with them or you'll get a stomach ache". Who still knows the saying from their parents or grandparents? I definitely did and I believed it for a long time. Shall we clear up the claim? It is an old wives' tale . Abdominal pain can occur if you eat excessively of the red fruits. Let's face it, this happens to all foods, or how do you feel after eating an entire watermelon? Well, let's turn our attention to the ingredients of the red beauties, they are much more important, aren't they?
High content of antioxidants(protect against free radicals and thus against aging processes)
Have a mild dehydrating effect thanks to 230mg of potassium per 100g
Rich in folic acid with 50mg per 100g
Full of anthocyanins, which have been shown to counteract cell damage from free radicals
Rich in vitamin C, A, and B vitamins
All in all the Cherry a wonderful fruit and I can't wait to harvest fresh from our tree again shortly. If possible, look for cherries from organic cultivation, because the skin of the fruit is very thin and, accordingly, many pesticides can be absorbed and stored.
Then you can start now with our delicious and juicy Cherry or Kirsch Crisp. If you feel more like a cake today, I recommend my delicious Chocolate cherry cake . Please a scoop homemade vanilla ice cream do not forget to add one scoop. Gladly also two bullets.
I hope you enjoy baking and of course about a review at the bottom of this page. If you post a picture, use the hashtag #veganevibes.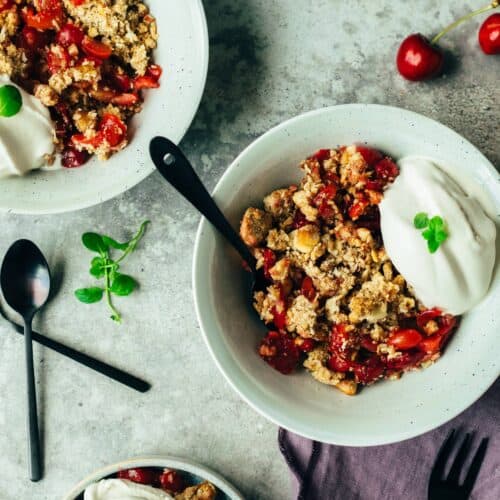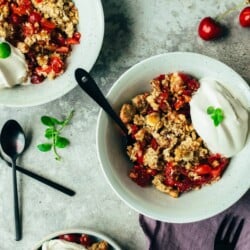 Cherry Crisp (oil-free, gluten-free)
Juicy, vegan cherry crisp from the oven with fresh cherries and a delicious topping of oat flakes, coconut flakes and nuts. Perfect as a summer dessert with a scoop of homemade vanilla ice cream.
AUTOR: VEGANEVIBES
FOR THE CHERRIES:
1000-1200

g

sweet cherries

washed and pitted

45

ml

maple syrup

or other sweetener of choice

15

g

Cornstarch

alternatively arrowroot flour or gluten-free flour mixture

15

ml

Lemon juice

or lime juice, in the case of fresh lemon, add a little zest.

150

ml

Cherry juice

alternatively apple juice or water, if the cherries are not very juicy
FOR THE CRISP:
120

g

Oatmeal

I grind the flour myself from whole rolled oats, alternatively use another gluten-free flour or almond flour

55

g

Coconut shavings

100

g

mixed nuts

coarsely chopped, I use a mixture of walnuts, cashews and pecans

80

g

Raw cane sugar

or use another sweetener of your choice, use a little more for coconut blossom sugar

60

g

Nut puree

I use almond puree, please always mix nut purees well beforehand, as the oil tends to settle out
TOPPING:
Vegan vanilla ice cream

Peppermint leaves to taste
Anleitung 
Preheat oven to 175 degrees Celsius and prepare a loaf pan of about 30x20cm.

FOR THE CHERRIES Put lemon juice, cornstarch, maple syrup in a bowl and mix until cornstarch is dissolved and well combined.

45 ml maple syrup,

15 g Cornstarch,

15 ml Lemon juice

Add cherries and stir well until everything is evenly mixed.

1000-1200 g sweet cherries

NOTE: If the cherries are not juicy enough, add about 150ml of cherry or apple juice.

Place in baking dish and set aside.

FOR THE CRISP. Combine oat flour (gluten-free for gf version), shredded coconut, mixed nuts, raw cane sugar, nut puree and (optional) cherry or apple juice in a bowl and mix well with a silicone scraper or your hands. Add sips of lukewarm water and knead until the mixture is moist to the touch and can be shaped, but is still crumbly.

150 ml Cherry juice,

120 g Oatmeal,

55 g Coconut shavings,

100 g mixed nuts,

80 g Raw cane sugar,

60 g Nut puree

Pour crisp evenly over cherries, press down lightly and place in oven.

Bake for

40 minutes

until the crisp is lightly browned.

Remove from the oven and let cool slightly.

Serve as desired and garnish (optional) with vegan vanilla ice cream and fresh mint leaves.

Vegan vanilla ice cream,

Peppermint leaves to taste

Store in an airtight container in the refrigerator for up to 3 days. Gladly warm up again gently.
Notizen
Calorie data without vanilla ice cream.
Nährwertangaben
Serving:
1
Portion
Calories:
319
kcal
Carbohydrates:
47
g
Protein:
6
g
Fat:
15
g
Saturated Fat:
5
g
Sodium:
30
mg
Potassium:
445
mg
Fiber:
6
g
Sugar:
33
g
Vitamin A:
80
IU
Vitamin C:
9
mg
Calcium:
49
mg
Iron:
1
mg