Beet, my great love! There are not only the beet but also pink and yellow beetroot. I have also used the latter in this Recipe used. Often we tend to buy the same fruits and vegetables all the time (at least that's how I feel). For this very reason, it is important to reach for other varieties from time to time. Our intestines are particularly happy about the variety and many experts explicitly advise eating up to 40 different vegetables per week. Don't worry, this includes all fruits, seeds and kernels. Why is all this so important? I explain this again in detail further down in the text.
Caramelized beet, sounds good right?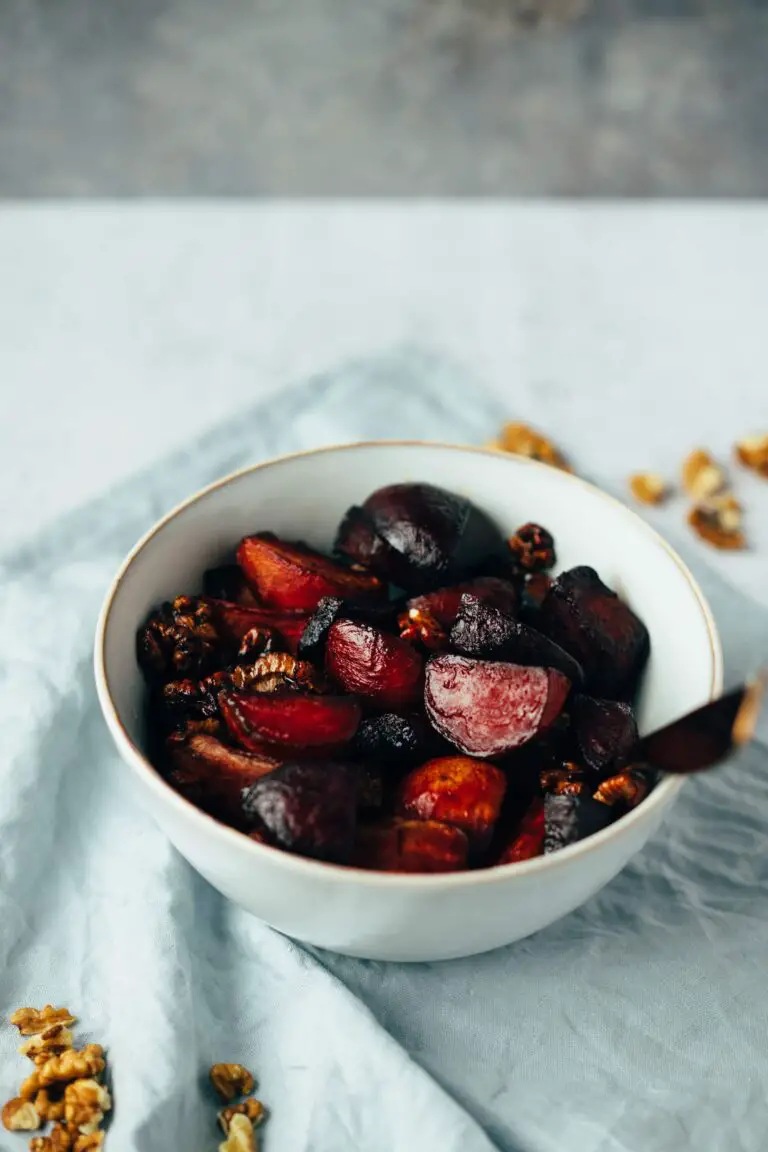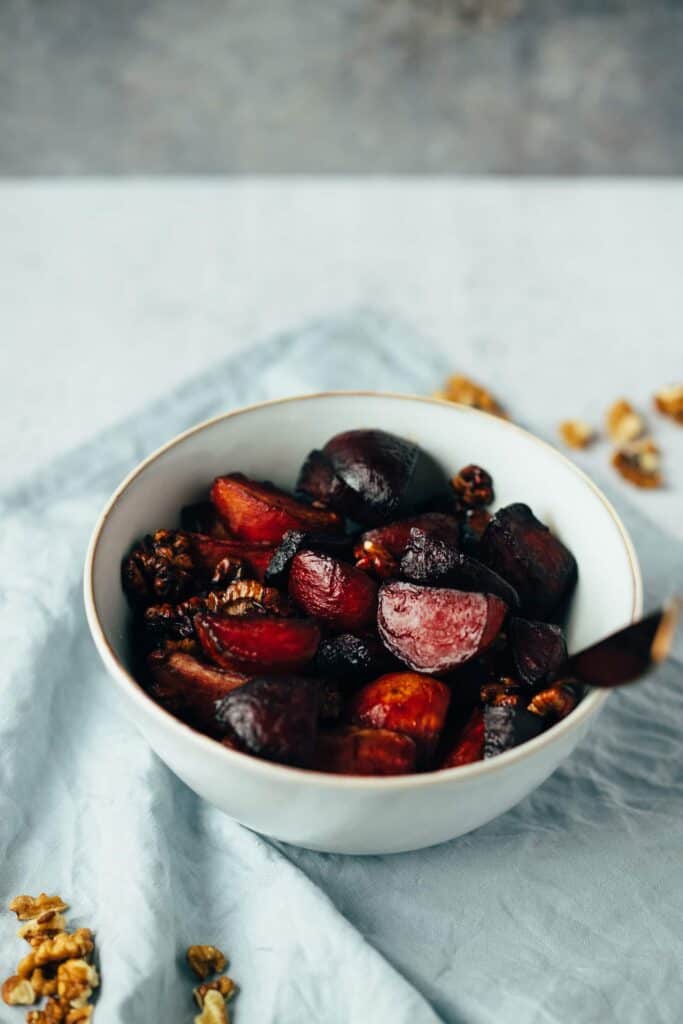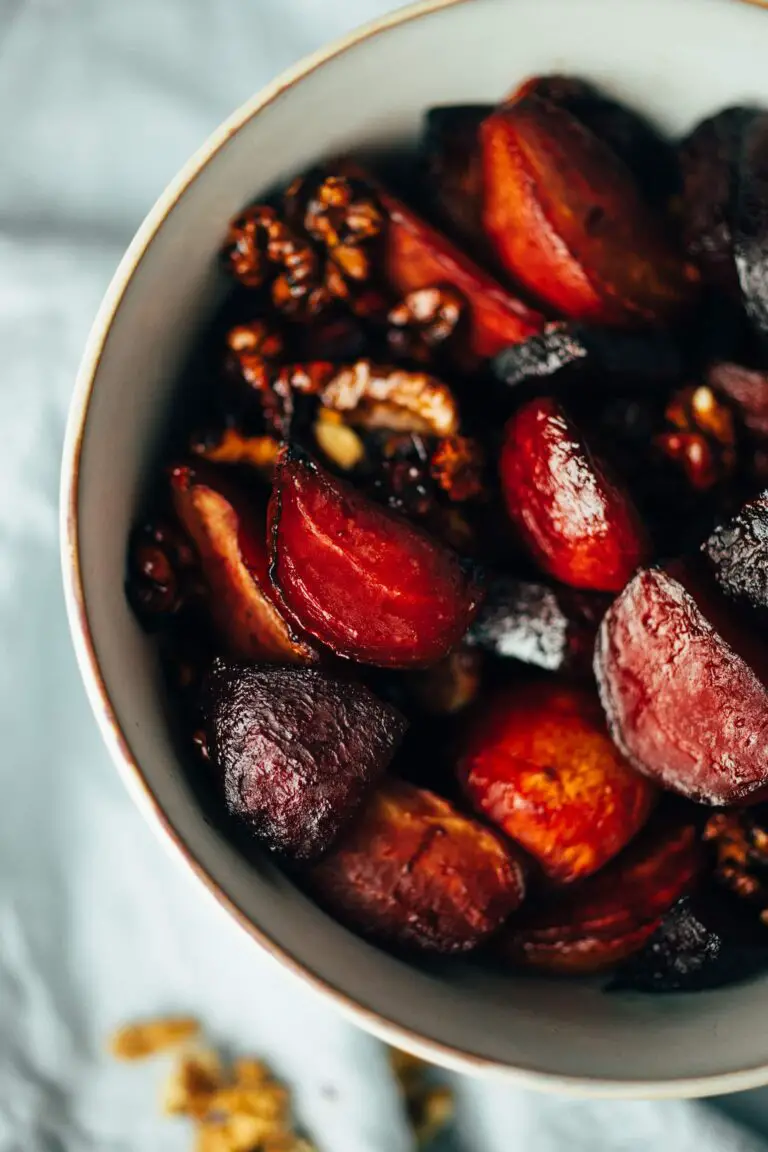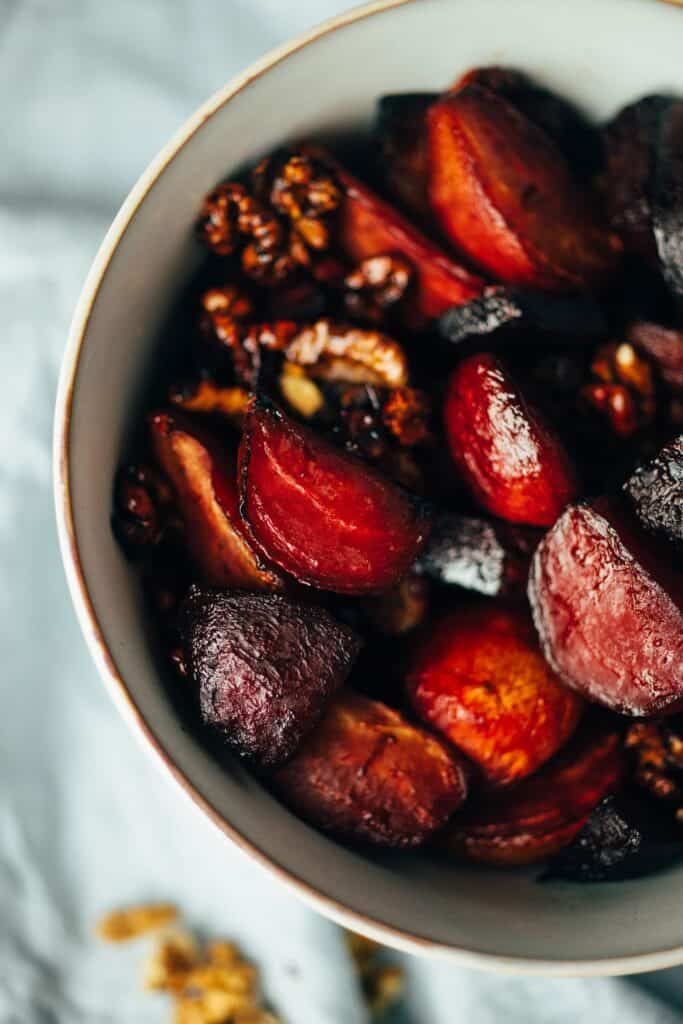 Especially in the Winter I long for warm dishes, preferably with really nice flavors, straight from the oven. The warmth from the inside does you good and above all you feel full, but without annoying food coma. With this Recipe I think of course already on the holidays, because in just four weeks is already Christmas again. Combined with my hearty Nut Roast , boiled potatoes and a great roast sauce, you can certainly convince even the last vegan skeptic.
The great thing about this recipe is the possibility of preparation and that really saves time when it is then times gets hectic.
TIP: Cut the beet the night before and pour the marinade over it. Cover and allow to infuse overnight in the refrigerator or at room temperature. The next day, put it in the oven and let it stew.
Vegan side dishes, easy and sooo delicious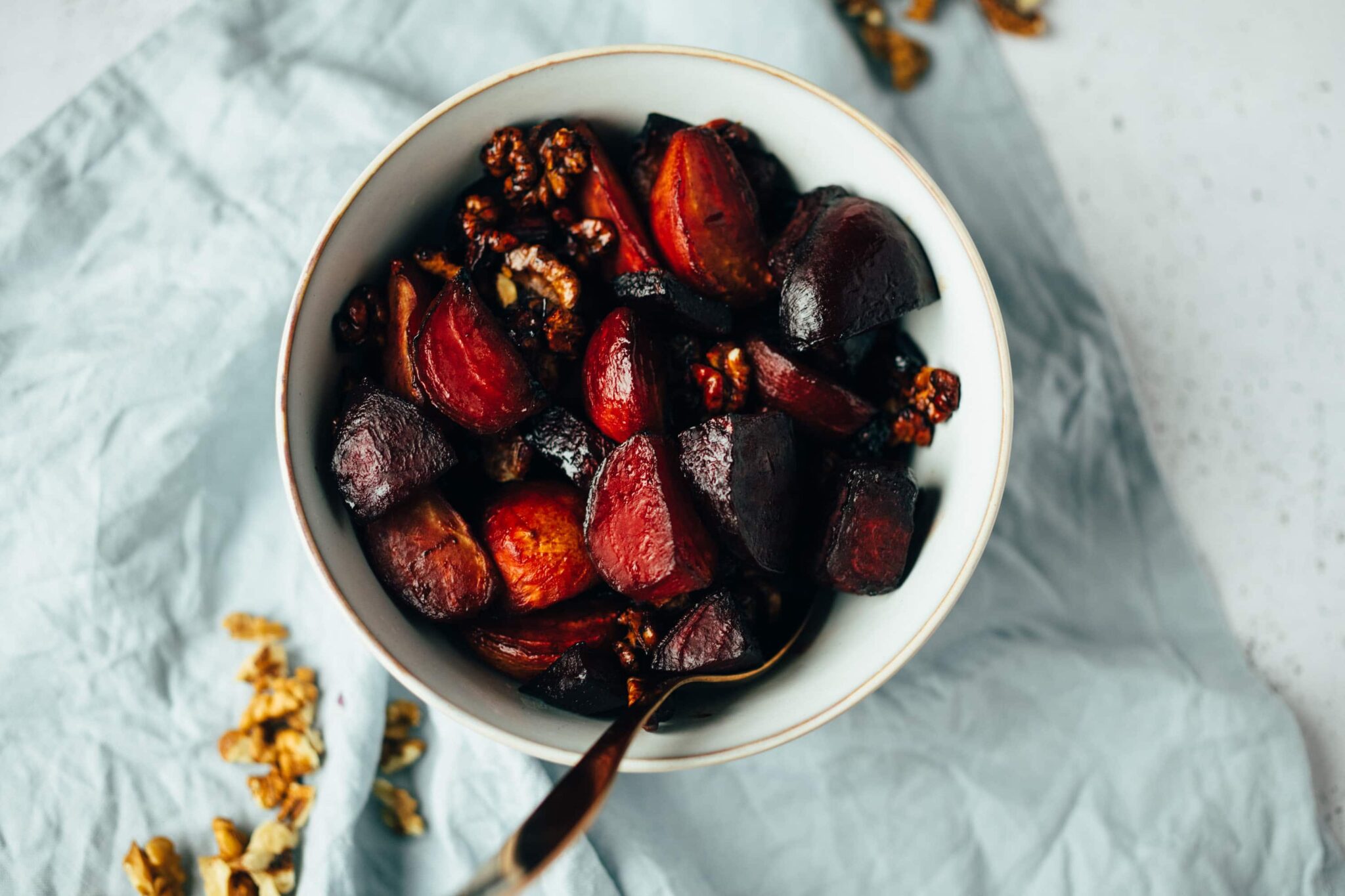 Beet , orange juice (preferably freshly squeezed), frying oil, maple syrup, balsamic vinegar, tamari (or another soy sauce) and walnuts. These are the ingredients we need for our culinary feast.
I have promised yes and still give a few tips on how to improve your microbiome (the bacteria, fungi, viruses and archaea in the intestine) is best kept healthy. Did you know that about 70% of immune cells are located in the intestine? For a long time, I did not like that at all aware and all the more I became interested in the subject at some point.
The good bacteria in the gut depend on good food and we give them that by eating as many different plants as possible:
Studies have compared the microbiome health of people with a very meat-heavy diet to people who eat a plant-based diet. The result? The higher the proportion of different plants (vegetables, fruits, nuts and seeds) in the diet, the healthier the microbiome.
The benefits of a healthy microbiome? Better digestion, improved mood and a lower risk of developing chronic diseases.
A one-sided diet (= always the same foods, whether plant-based or not) increases the likelihood of taking in too little fiber and starch. However, precisely these two macronutrients are the ideal food for the healthy bacteria in the intestine.
TIP: Simply reach for unfamiliar fruits and vegetables that you may not have noticed before. Your health will thank you.
Vegan Christmas can come
Maybe you are still looking for suggestions for a complete Christmas menu ? Then I recommend you my guide or click through the recipes with the hashtag #Christmas or #Winter .
The braised beet with walnuts is:
aromatic
simple to be produced
filling
Good combinable
Extremely tasty
I wish you a lot of fun with the re-cooking and of course I am happy about a review at the bottom of this page. If you post a picture, use the hashtag #veganevibes.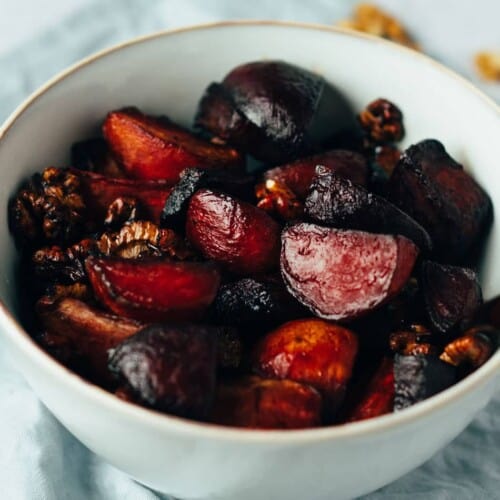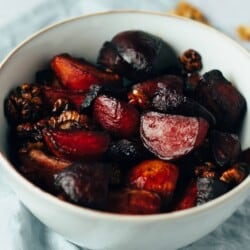 Braised beet with walnuts
Braised beet from the oven with a delicious marinade that makes the root vegetable caramelize in the oven. Versatile to combine and ideal with various festive dishes.
AUTOR: VEGANEVIBES
4

Piece

medium beet

gladly also yellow, or pink beetroot

15

ml

Frying oil

or another high-heat oil, alternatively water

35

ml

Orange juice

or juice of half an orange

45

ml

maple syrup

alternatively coconut blossom sugar or raw cane sugar

30

ml

Balsamic vinegar

30

ml

Tamari

or another (gluten-free) soy sauce of your choice

100

g

Walnuts
Anleitung 
Preheat oven to 180 degrees convection.

TIP: Beetroot can stain hands and surfaces. Wear gloves, protect clothing and surfaces.

Peel beet and cut into wedges (see video!).

Place in a medium casserole dish.

For the marinade, put oil (alternatively water), orange juice, maple syrup, balsamic vinegar and tamari in a bowl and mix with a spoon.

15 ml Frying oil,

35 ml Orange juice,

45 ml maple syrup,

30 ml Balsamic vinegar,

30 ml Tamari

Pour over the beets in the baking dish and stir again.

Place in the oven and braise for

30 minutes

(preferably covered).

Remove from oven (do not turn oven off) and stir in walnuts. Return to the oven and cook for another

15-30 minutes

(or until the beet is tender).

100 g Walnuts,

black pepper to taste

Keep an eye on the temperature during the baking time, if the walnuts become too brown or even start to burn, turn down the temperature and bake a little longer.

Enjoy immediately or store covered in the refrigerator for up to 3 days. Reheat in the oven or steamer.
Nährwertangaben
Serving:
1
Portion
Calories:
242
kcal
Carbohydrates:
14
g
Protein:
5
g
Fat:
20
g
Saturated Fat:
2
g
Sodium:
423
mg
Potassium:
169
mg
Fiber:
2
g
Sugar:
9
g
Vitamin A:
18
IU
Vitamin C:
5
mg
Calcium:
37
mg
Iron:
1
mg