Slowly, slowly, slowly we are heading towards Christmas and such a carpaccio would fit quite well into the menu. This delicious Appetizer I have made super often, even in "non-vegan" times. Somehow I've always found raw meat a bit disgusting and what better way than to take a healthy beet plant based version? So slowly come with me in any case the Vegan Christmas Vibes and I am really looking forward to celebrate the first christmas together with my husband in our new home. Christmas in our new home. Of course, you can always make this dish regardless of the holidays. Depending on your mood, it is suitable for any time of year and Beet has really concentrated plant power. More about this further down in the text.
Concentrated beet power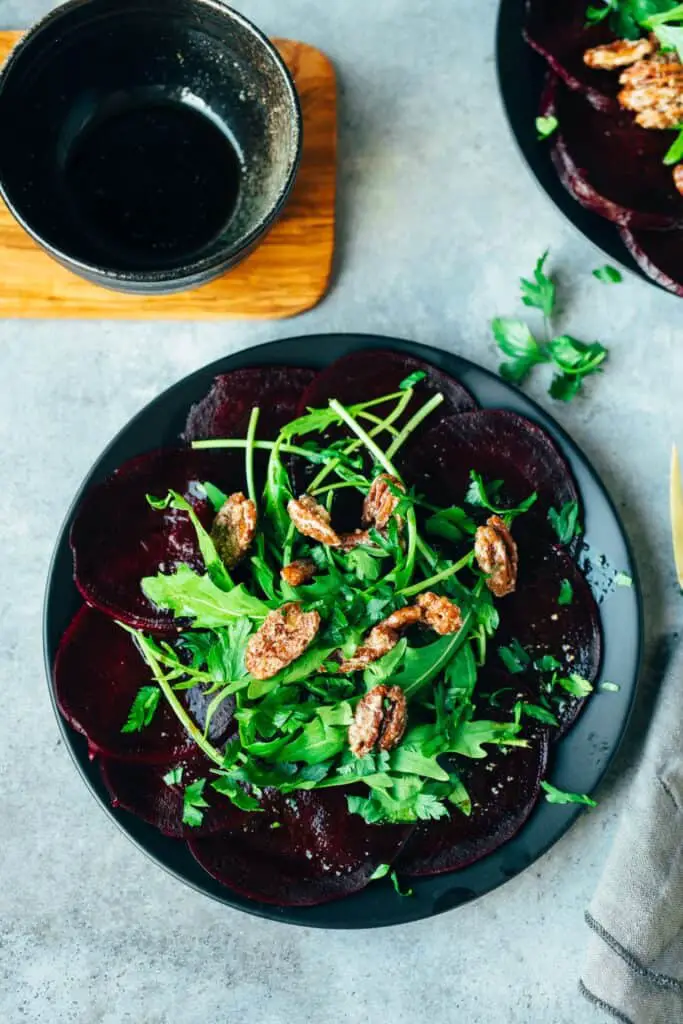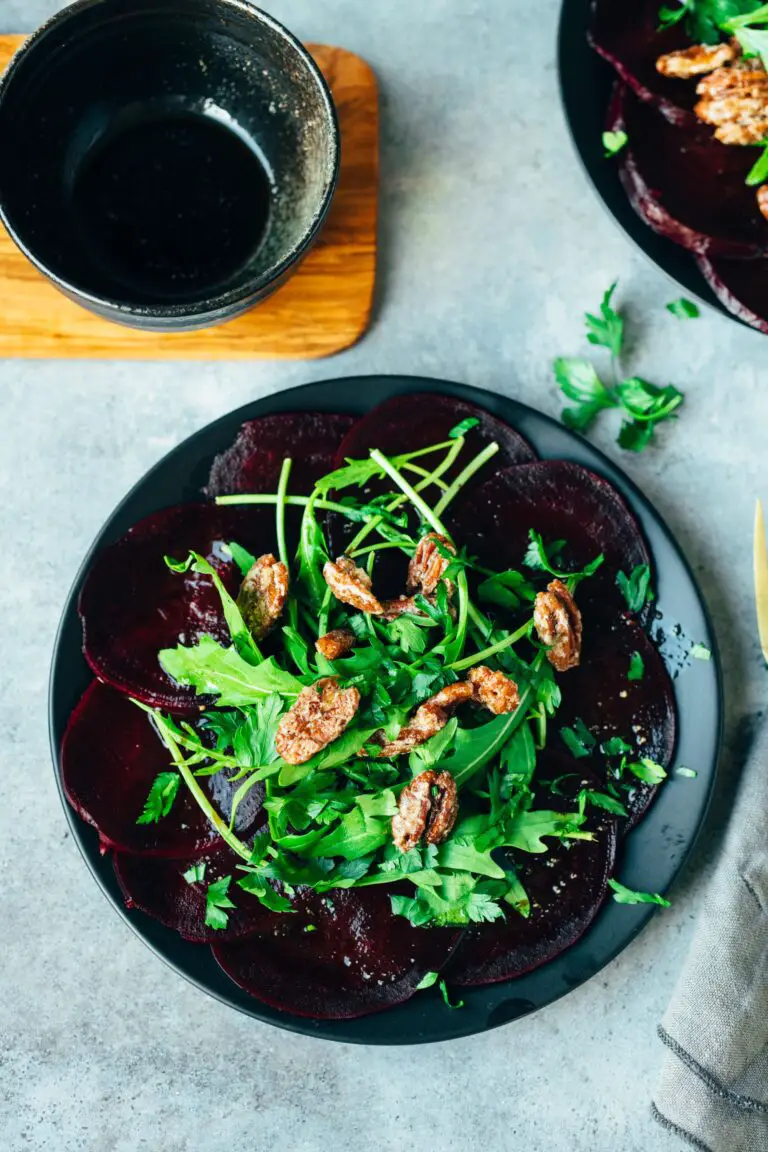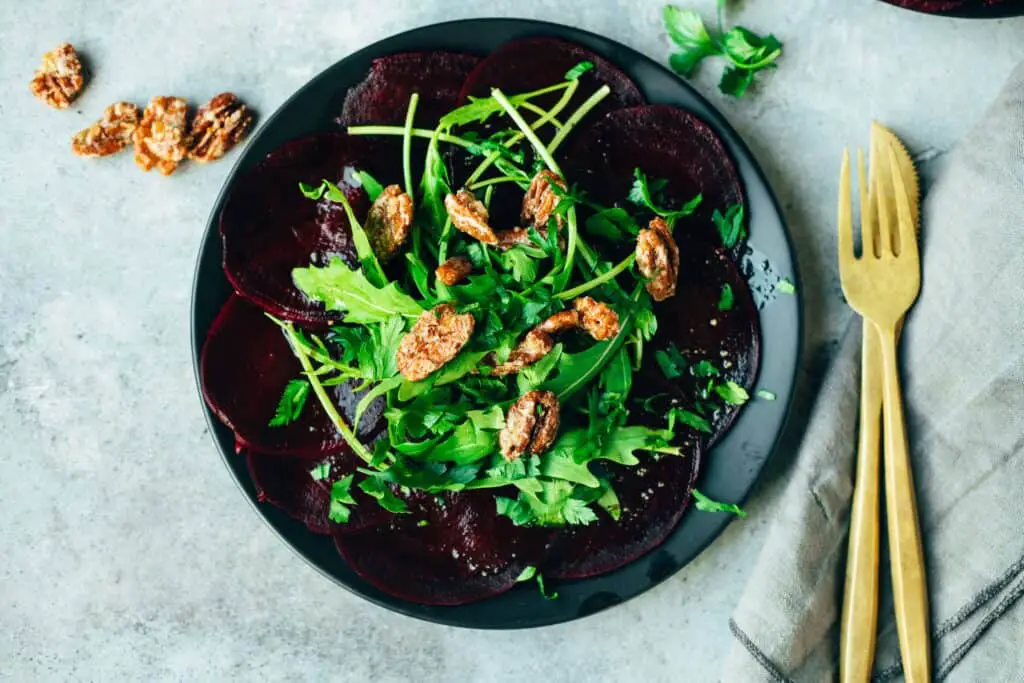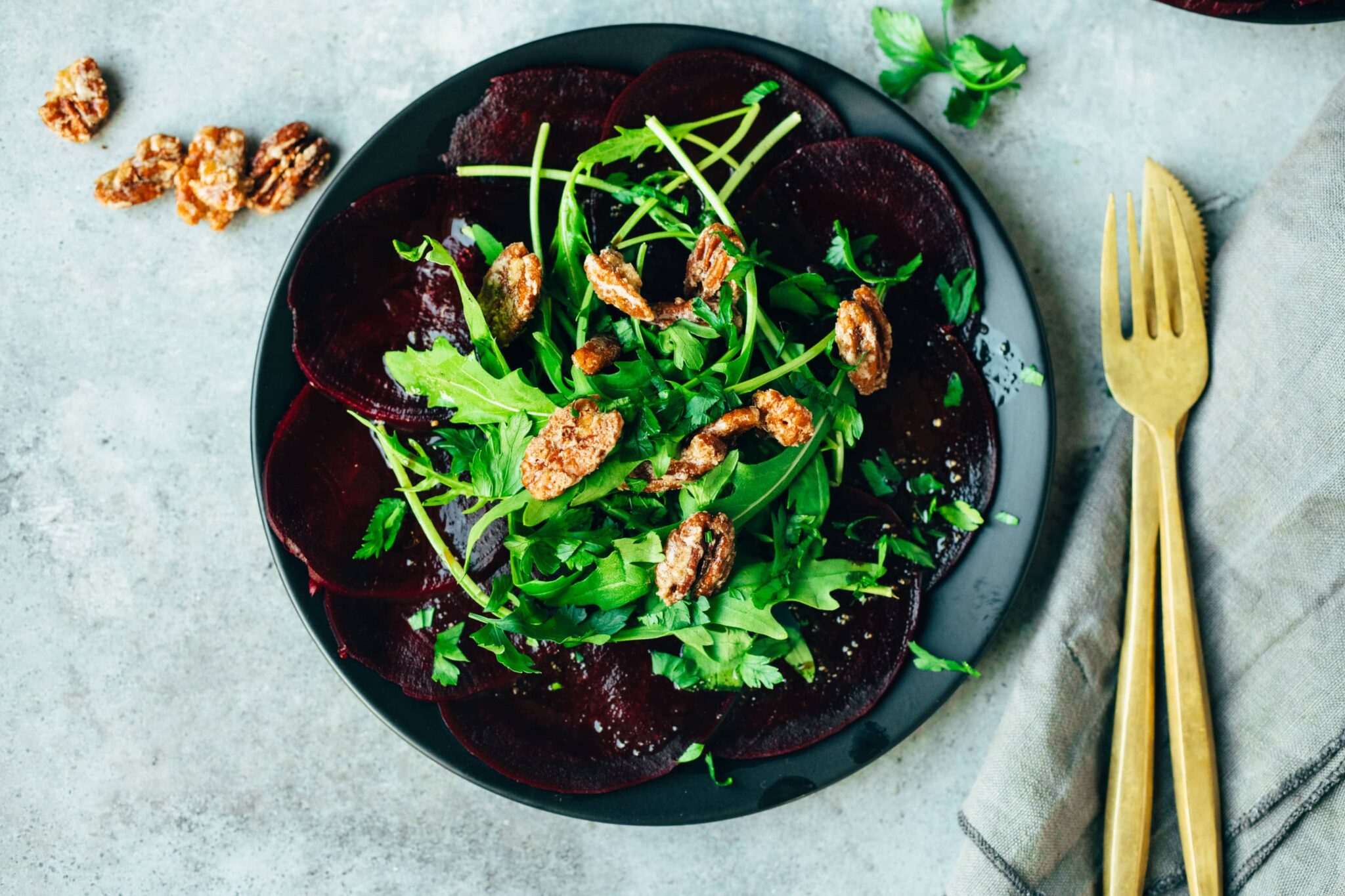 With our today's Recipe you have the choice how fast it should go. Either you take ready cooked beet (then it goes lightning fast) or you cook the tuber yourself. This is also quite simple and just requires a little more time. Personally, I prefer to cook it myself because it simply tastes better. But maybe I'm imagining it?
Once sliced and placed on the plate, the carpaccio is finished with a fine Balsamic Vinaigrette refined vinaigrette. Then add arugula on top and finish with roasted pecans. That's about it.
How healthy is this root vegetable?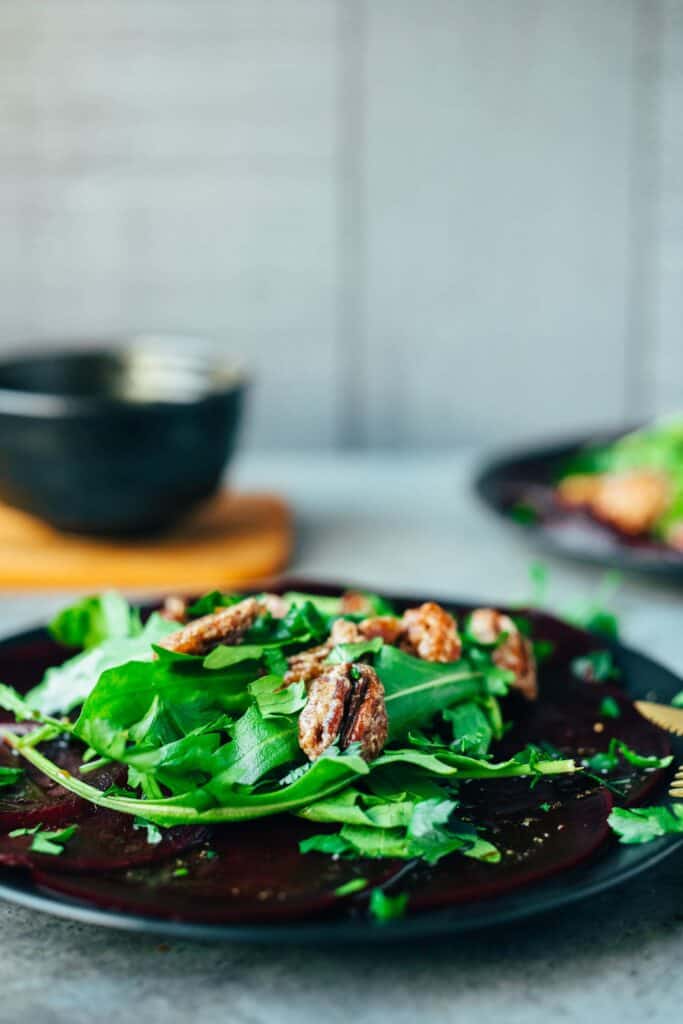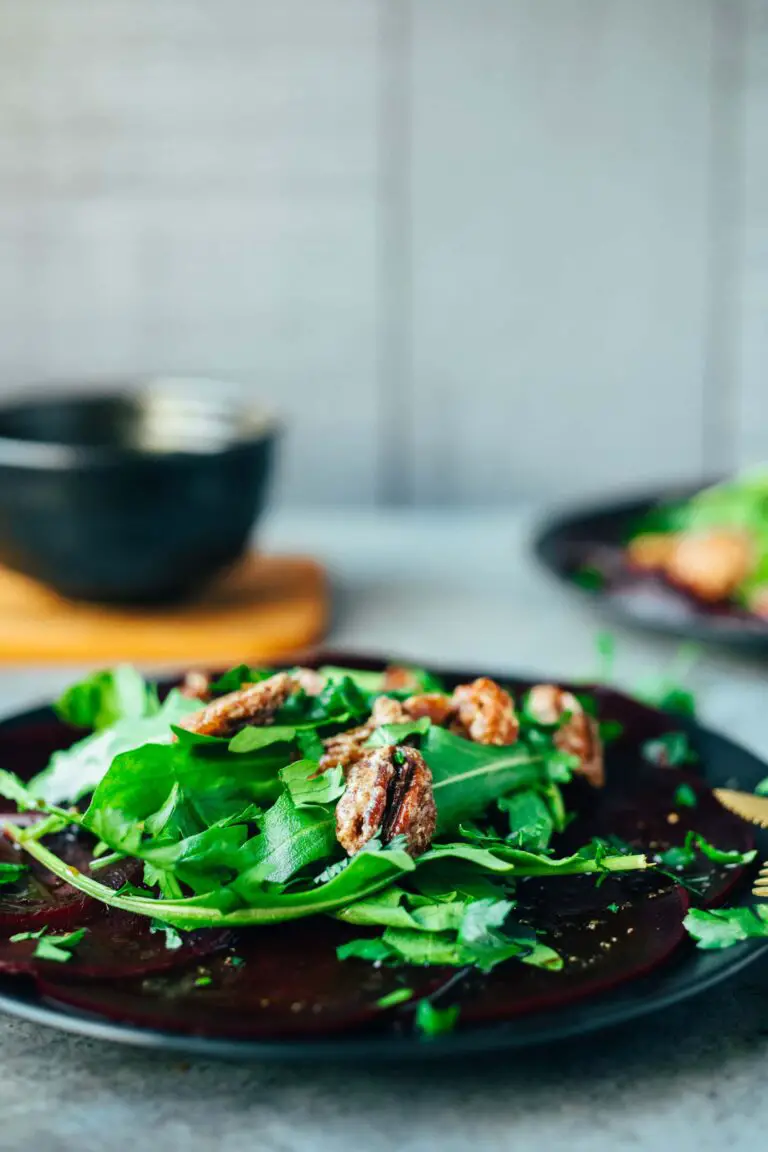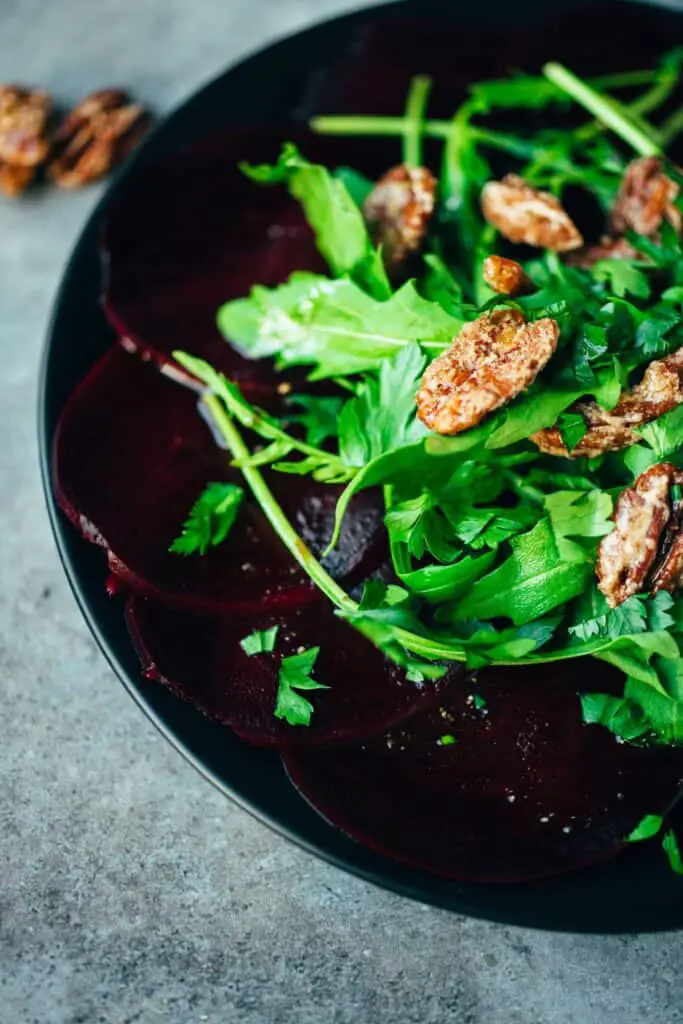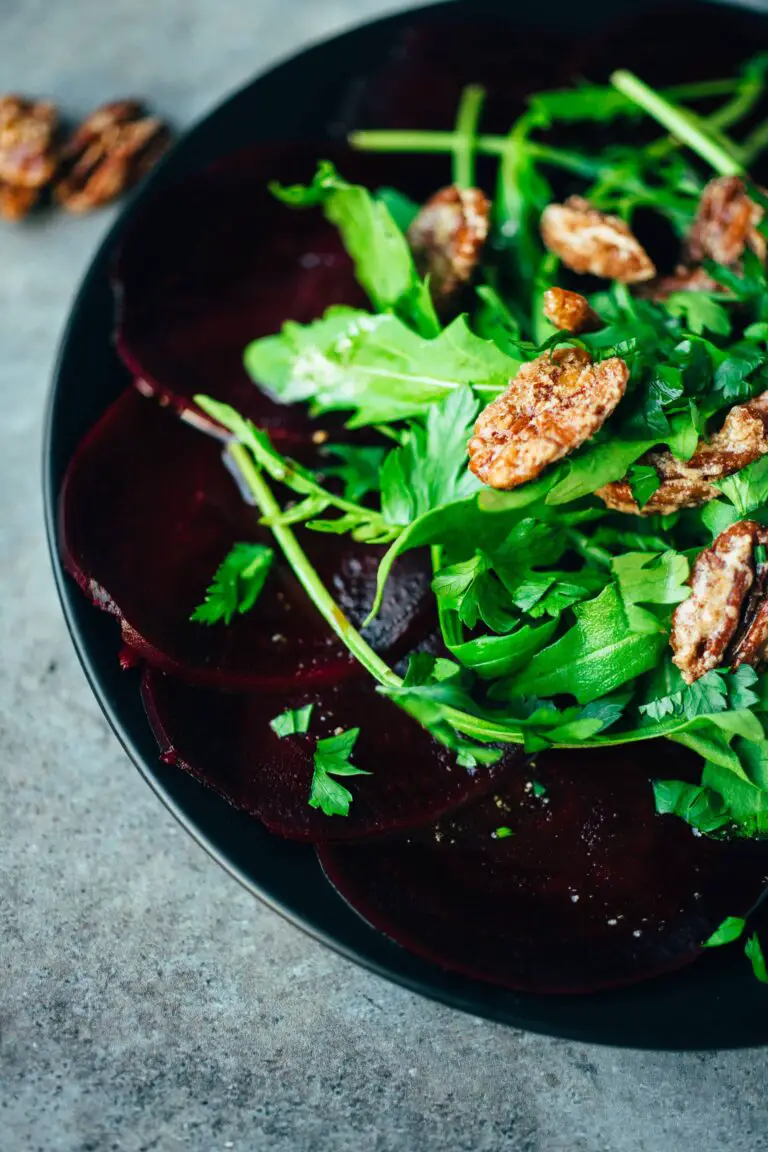 The red tuber is currently making it more and more often into the Press. why? Because it really is something very special. I can remember remember our former family healer, who used to help us whenever we were were x-rayed, prescribed beet. The earth vegetable is to reduce the radiation neutralize and somehow that sounded so cool to me as a kid and that's why I've always loved them.
Beet is actually one of the most underrated root vegetables. The beet is full of vitamins, minerals and phytochemicals. More specifically, it delivers:
Vitamins A, C, B and folic acid
Iodine, calcium, potassium, magnesium, phosphorus and Sodium
Betaine (can reduce the risk factor homocysteine for Reduce heart disease)
Anthocyanins (can have a cancer-protective effect)
Nitrate (can lower blood pressure, blood circulation promote, support digestion) *here the science argues currently, to what extent nitrate from vegetables is beneficial to health and at what point it becomes harmful can be (for example, from artificial fertilizers. In my opinion, nitrate from naturally grown, organic vegetables definitely beneficial for the Health.
What is certain is that regular consumption of beetroot can support the formation of mitochondria. Mitochondria are the power plants of the cell and ensure that we are supplied with energy. Especially for athletic active people can be of great benefit, so it is best to bring beet to the table every day in the form of powder, cooked tuber, raw vegetables or freshly squeezed juice.
With what can you best combine the carpaccio? I find it very tasty as an appetizer to the Feast roast or various other Main dishes . Want dessert? How about a fine Vanilla ice cream topped with caramelized pecans ?
The beet carpaccio is:
hearty
Wintery
aromatic
Super healthy
Perfect light dish
Well, did you get a craving for this delicious plant-based Appetizer ? I wish you a lot of fun in recooking and of course a review at the bottom of this page. If you post a picture, use the hashtag #veganevibes.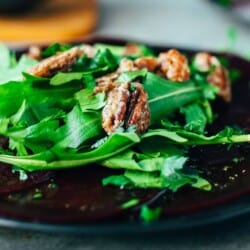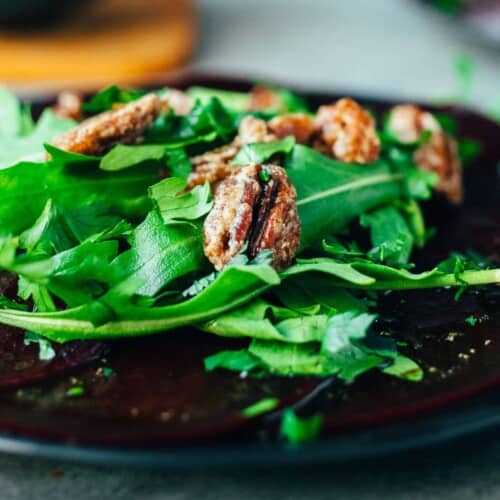 Beet carpaccio
Delicious and simple recipe for a vegan beet carpaccio with pecans and arugula
AUTOR: VEGANEVIBES
FOR THE SALAD:
270

g

Beet tubers

(equivalent to 2 medium sized tubers)

22

g

Arugula

alternatively lamb's lettuce

40

g

candied pecans
SUPPLIES (optional):
Spelt bread

Pumpkin seeds to taste
Anleitung 
NOTE: Beetroot stains strongly. If in doubt, wear gloves and protect clothing with a cooking apron.

If using raw beetroot, bring water to a boil in a medium saucepan. Turn down the heat a little, put in the tubers and simmer for about

45 minutes

. The addition of salt is not necessary. Do not cut beet before cooking, otherwise it will "bleed" in the water. At the end of the cooking time, check with a knife if it is cooked. Then drain the cooking water and briefly quench with cold water. Allow to cool completely before further use.

Step 1) is omitted when using cooked beetroot.

FOR THE VINAIGRETTE, place all ingredients in a bowl and stir until well combined.

15 ml Olive oil,

22,5 ml Balsamic vinegar,

7,5 ml maple syrup,

Sea salt to taste,

Black pepper to taste

Then cut beet tubers into slices with a knife and arrange in a circle on plates.

Add arugula on top and drizzle vinaigrette over the top.

TIP: drizzle beet slices with the vinaigrette 2-3 hours before serving and allow to infuse well. This intensifies the taste. Add arugula and pecans just before serving.

Spelt bread,

Spelt roll,

Pumpkin seeds to taste

Tastes best fresh.
Nährwertangaben
Serving:
1
Portion
Calories:
254.33
kcal
Carbohydrates:
26.31
g
Protein:
3.23
g
Fat:
15.67
g
Saturated Fat:
1.79
g
Sodium:
189.95
mg
Potassium:
479.34
mg
Fiber:
4.67
g
Sugar:
20.41
g
Vitamin A:
305.58
IU
Vitamin C:
8.27
mg
Calcium:
53.2
mg
Iron:
1.49
mg