Slowly it goes again in the direction of Christmas and what could be nicer than a kitchen that smells of caramelized Pecans smells. I am currently on the trip to save more and more plastic. To be honest, I find it more difficult than I thought. Too quickly, one or the other packaged product ends up in the shopping cart again. A good example is Tofu which I love more than anything. Where can I get Tofu that is NOT wrapped in plastic? Then please also preferably by mail, because I live in the country (in our village there is not even a grocery store). I did a little research and found a supplier that at least ships nuts and co #plasticfree. More about this further down in the text.
I love pecans.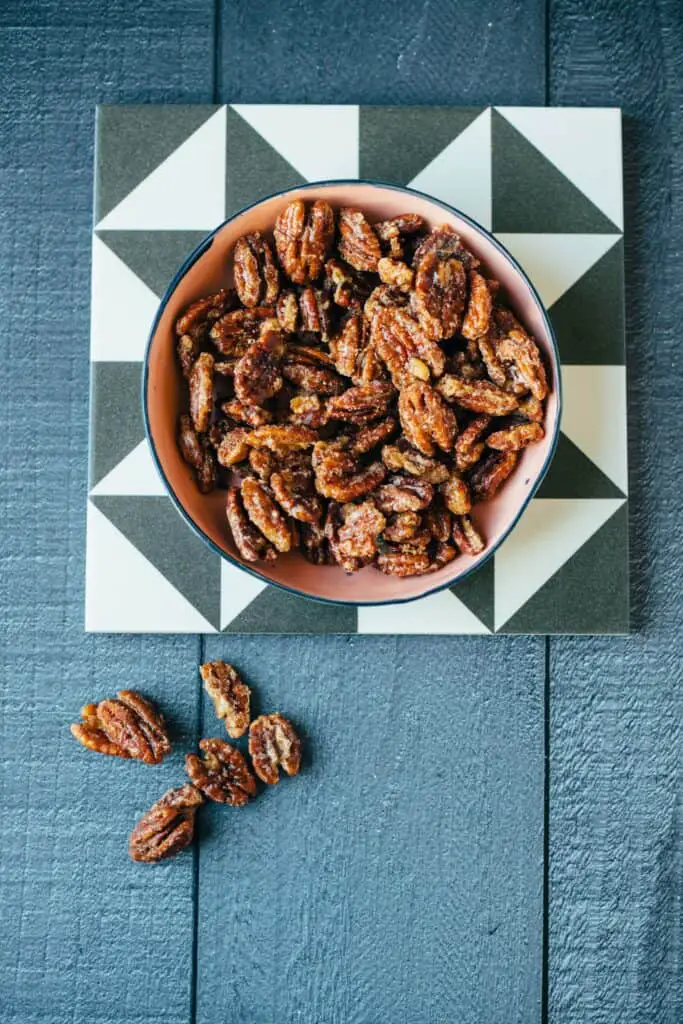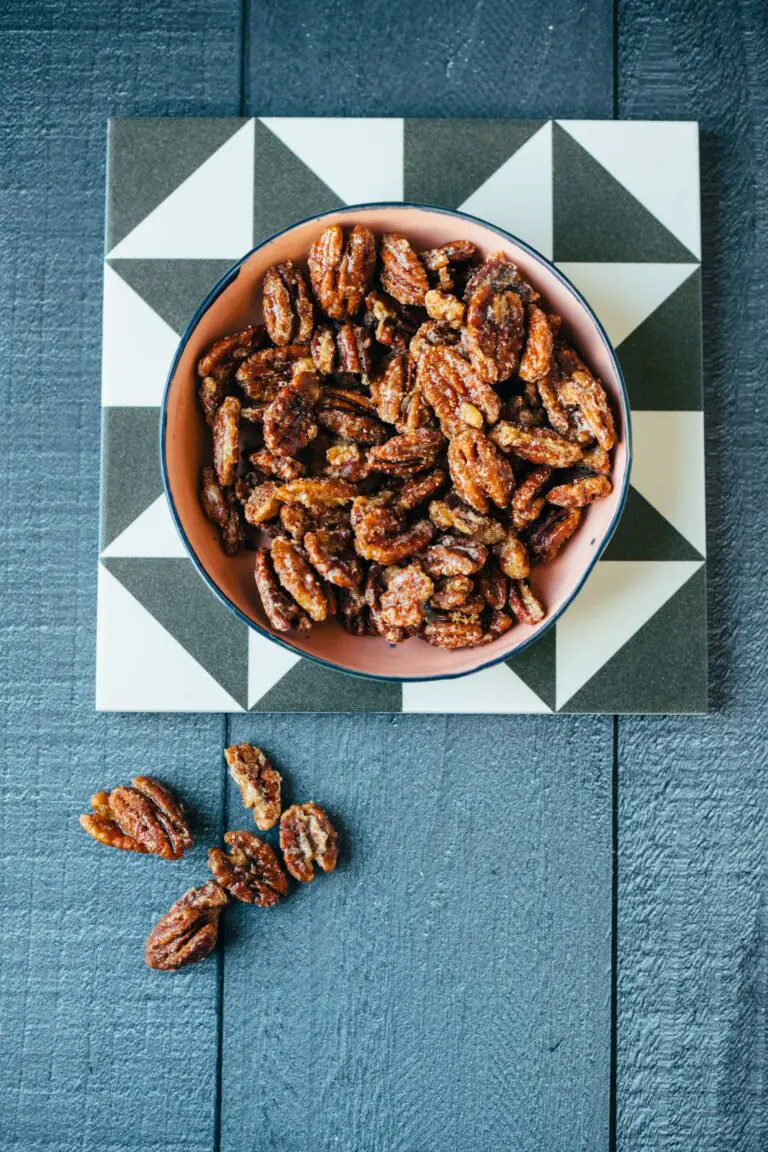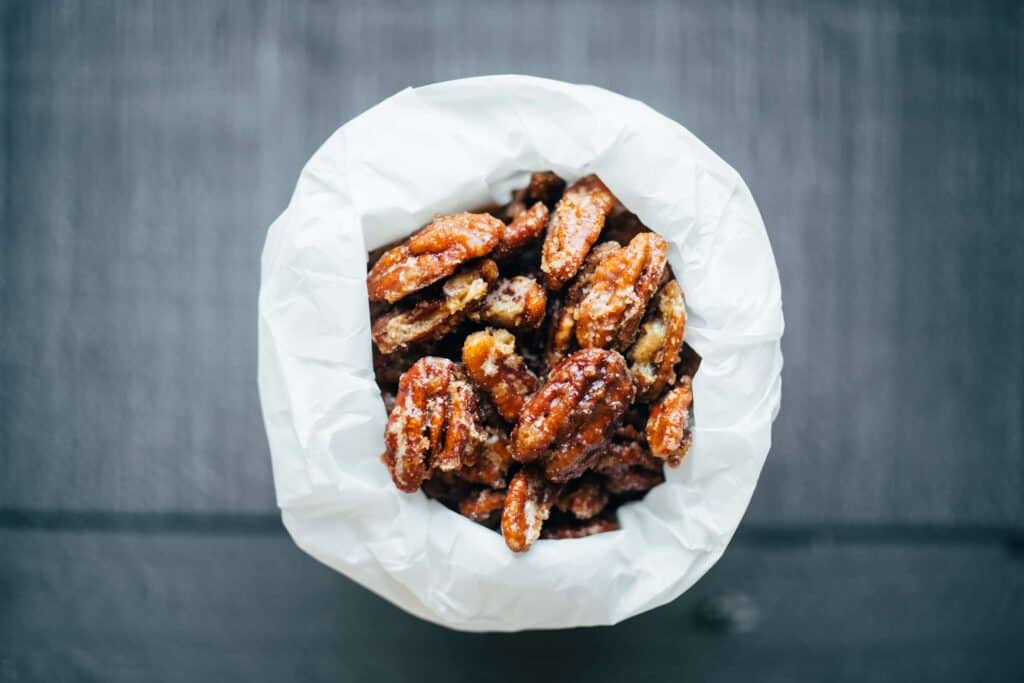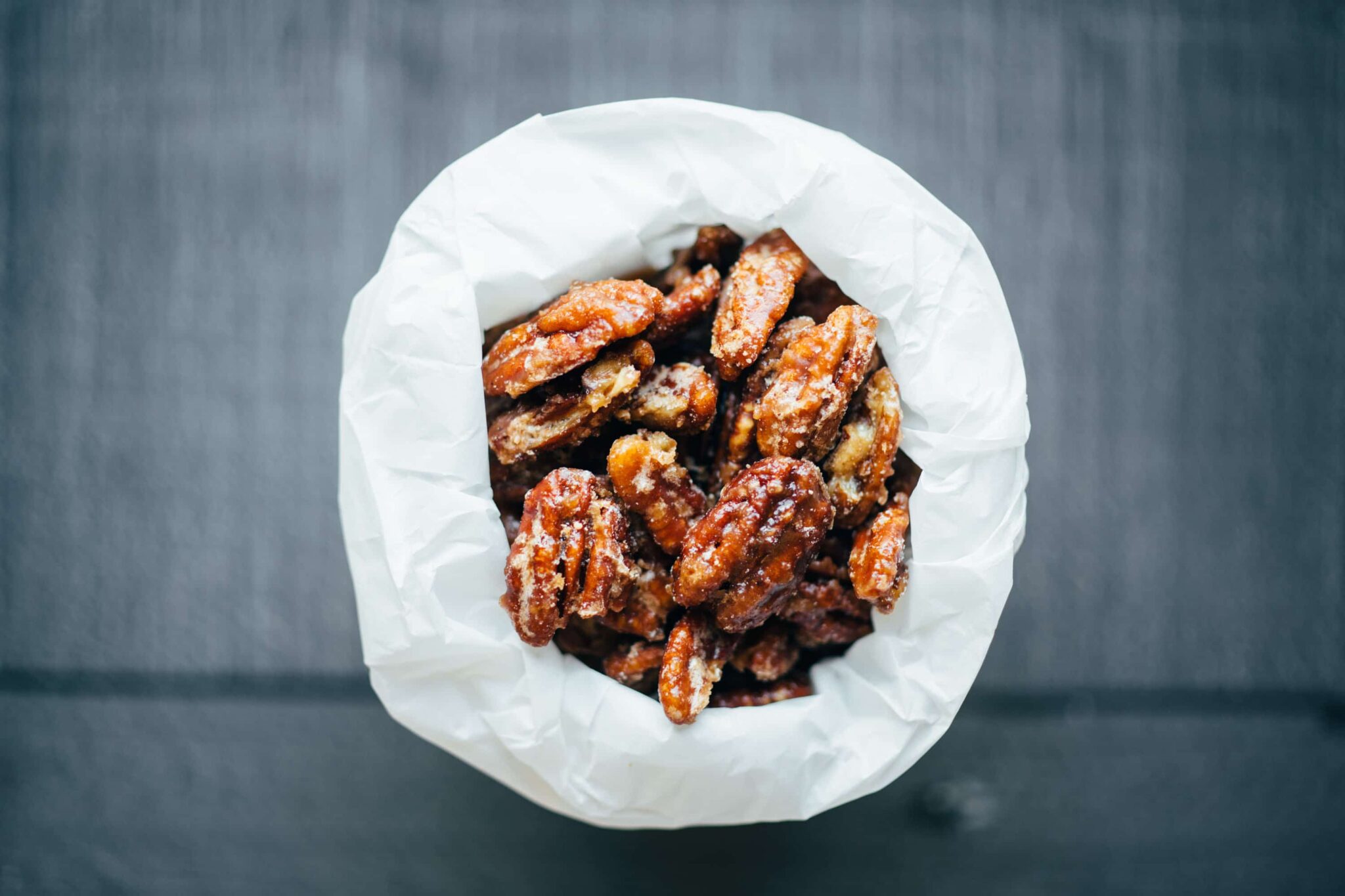 I have always loved caramelizing and I think back to some of my father's funny attempts. The started a few years ago his own Walnuts from the garden. Sometimes it went well and sometimes it went so wrong that the whole kitchen stank of smoke. In any case, I paid close attention and made a mental note of everything that didn't work. All in all, in fact, it is not so difficult, Nuts to caramelize in the pan:
Temperature: Even if it is tempting and it might go a tad faster. DON'T. The pan must not be too hot, otherwise the sugar can burn quickly. This is already the case from 200 degrees.
Water: Mixing sugar with water allows the sugar to be heated more slowly. This also makes caramelization absolutely sure to succeed.
Stir: Constant stirring is another key to success with this recipe. Without stirring, something can burn quickly and the result will not be uniform.
Caramelize nuts properly, it's magic!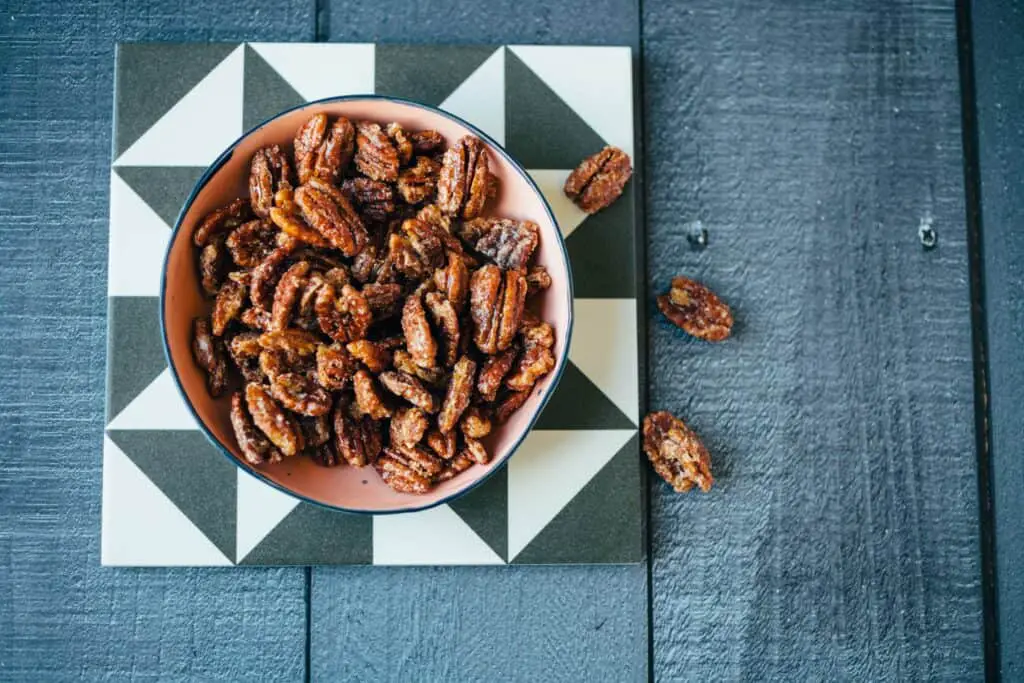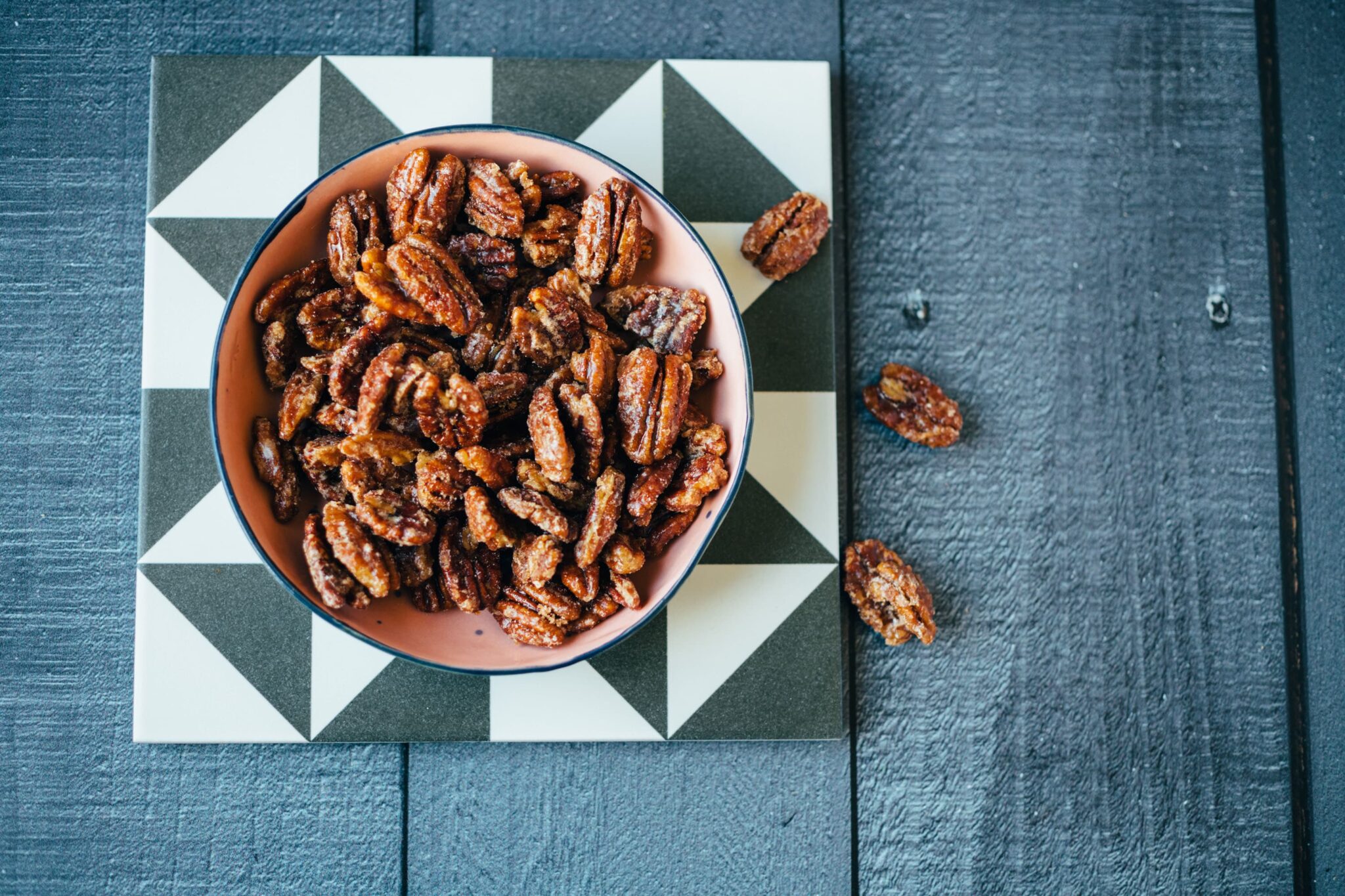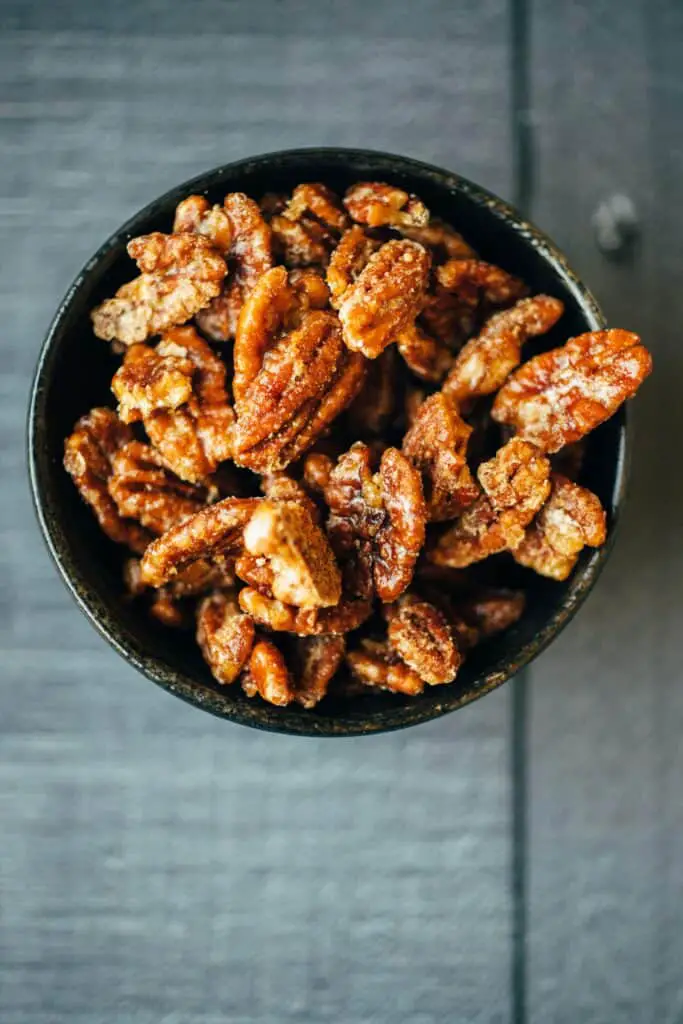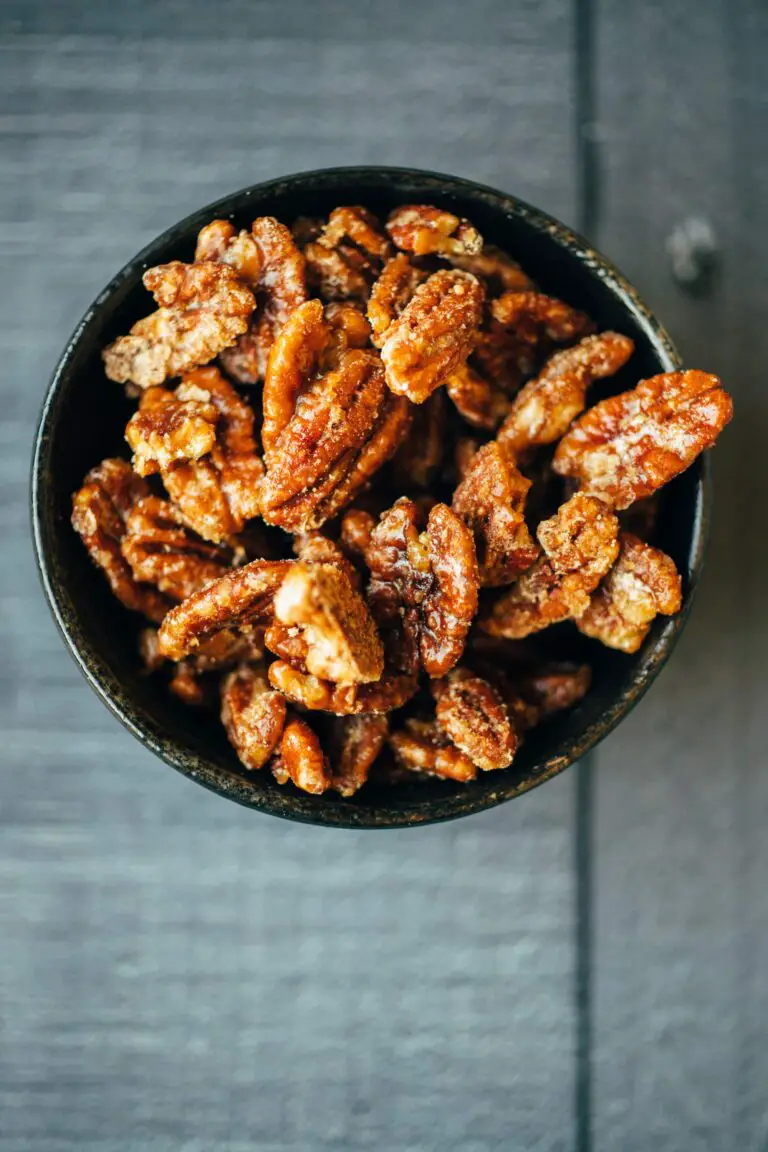 You know what the worst part about caramelized or roasted nuts is for me personally? That the things are usually in a little bowl somewhere, always staring at me. I can't help it most of the time, because they literally invite me to reach for them again and again. But the good news is that Pecans not only taste good, but are also pretty darn healthy. Now that might have been a bit of an understatement, because I would even argue that they are a real nutritional bomb.
How healthy are actually pecans:
High content of Monounsaturated and polyunsaturated fatty acids (can have a positive effect on the cardiovascular system and blood vessels)
Rich in Potassium, calcium, magnesium and Iron
Vitamins A, B, E and K
100g contain over 700kcal (so consume in moderation)
Very High fiber
Sounds good, doesn't it? And now still my top tips on how you can best combine the Nüsschen:
Who wants to buy his nuts plastic-free, I have linked the source of supply below at the ingredients (advertising since brand mention, but bought myself and no connection to the company).
Just caramelize the pecans:
versatile
Crisp
sweet
Simply made
Irresistible
Are you also such a big Pecan fan like me? Then I look forward to a review at the bottom of this page. If you post a picture, then like to use the hashtag #veganevibes.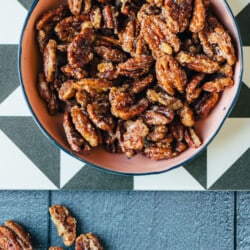 Caramelize pecans simply
Delicious roasted pecans, gently caramelized with a crunchy shell. Perfect for snacking or as a topping for many sweet or savory dishes.
AUTOR: VEGANEVIBES
Anleitung 
Heat pan over medium heat.

Pour in the sugar and water and wait, stirring, until the liquid begins to simmer.

50 g Raw cane sugar,

50 ml Water

TIP: Even if it takes a little longer, please heat gently. If the whole thing gets too hot, it can easily burn.

Pour in pecans and wait until water evaporates, stirring constantly.

Once the liquid becomes creamy and the nuts are completely caramelized, remove heat and let cool, preferably on a permanent baking mat and heatproof plate.

Keeps several days uncovered at room temperature (until they are all eaten away).
Nährwertangaben
Serving:
1
Portion
Calories:
85.75
kcal
Carbohydrates:
6.39
g
Protein:
0.92
g
Fat:
7.2
g
Saturated Fat:
0.62
g
Sodium:
0.25
mg
Potassium:
41
mg
Fiber:
0.96
g
Sugar:
5.4
g
Vitamin A:
5.6
IU
Vitamin C:
0.11
mg
Calcium:
7
mg
Iron:
0.25
mg