Once again, some people are asking why my husband and I are making such a fuss and not eating the roast on Christmas not eat the roast? Well, the answer is quite simple, because adopting a vegan lifestyle and founding it is and was blog is and was the best decision of my life. I can still remember our first vegan christmas remember, everything was still so fresh that we even ate a piece of duck. Yes, guys, I'll be honest, I only did that for the sake of the family. The second and third vegan Christmas it was already completely different, there we had our own Roast with it. Makes you wonder what we'll do this year when we're invited back. Answer: Take this deliciously hearty nut roast and feast for all it's worth!
The perfect vegan nut roast for Christmas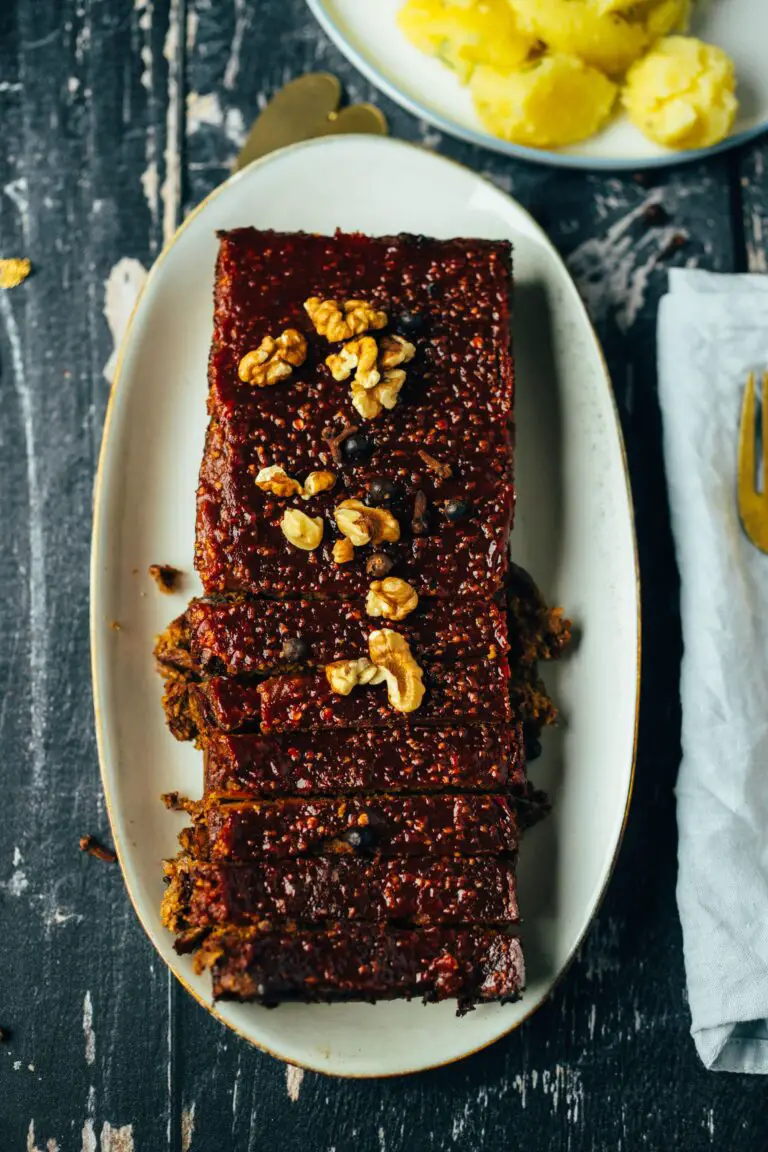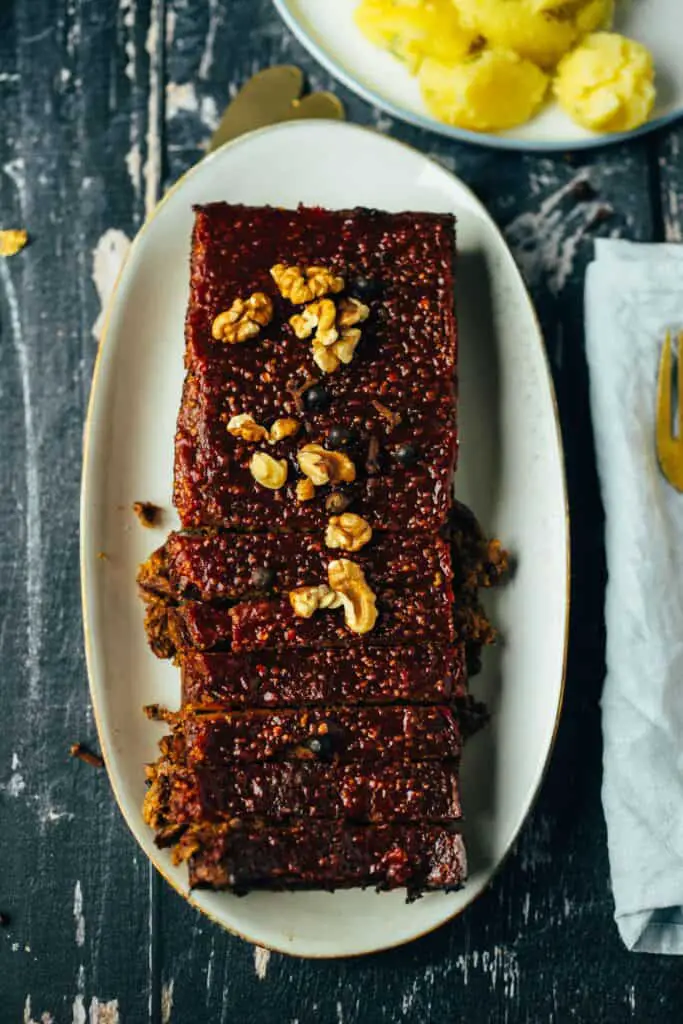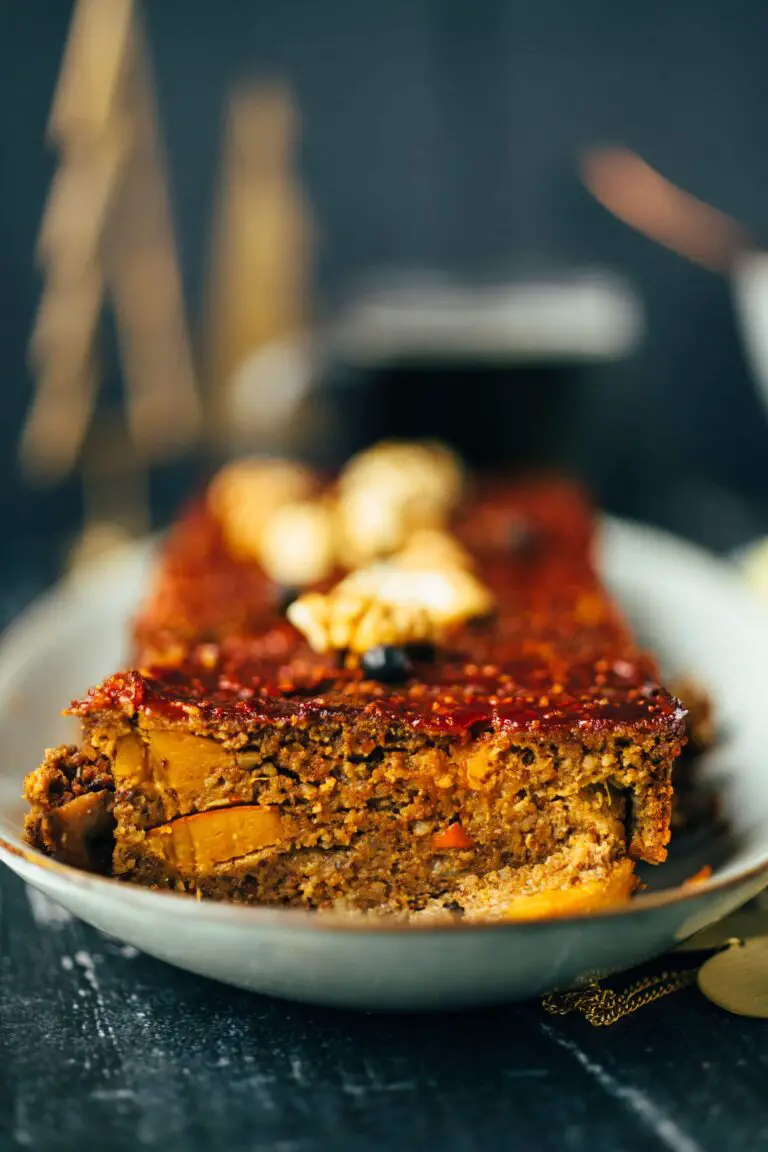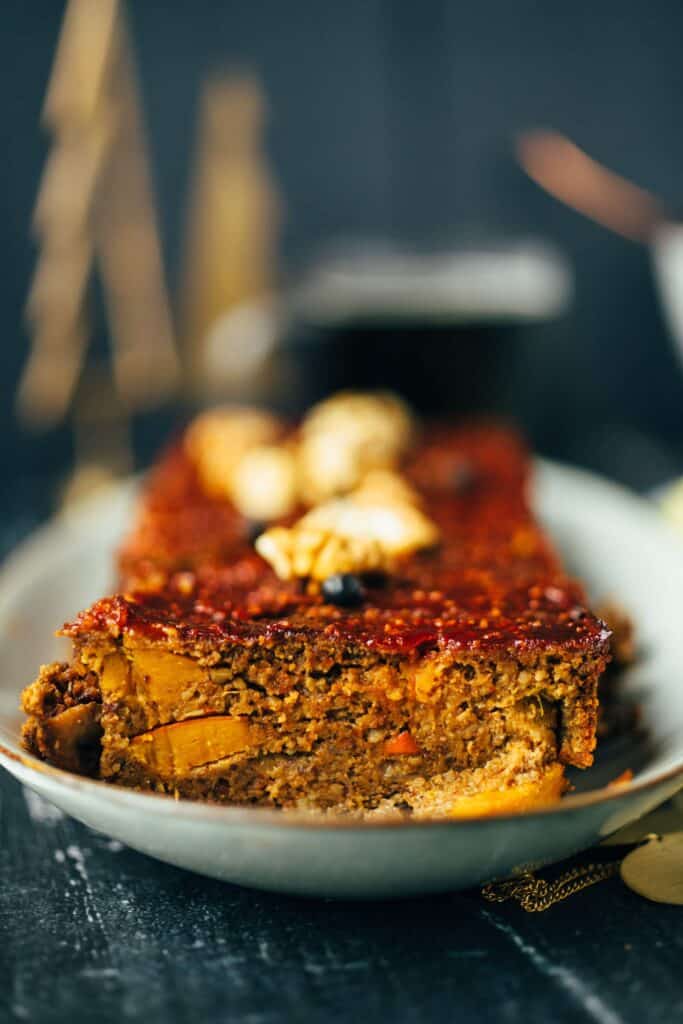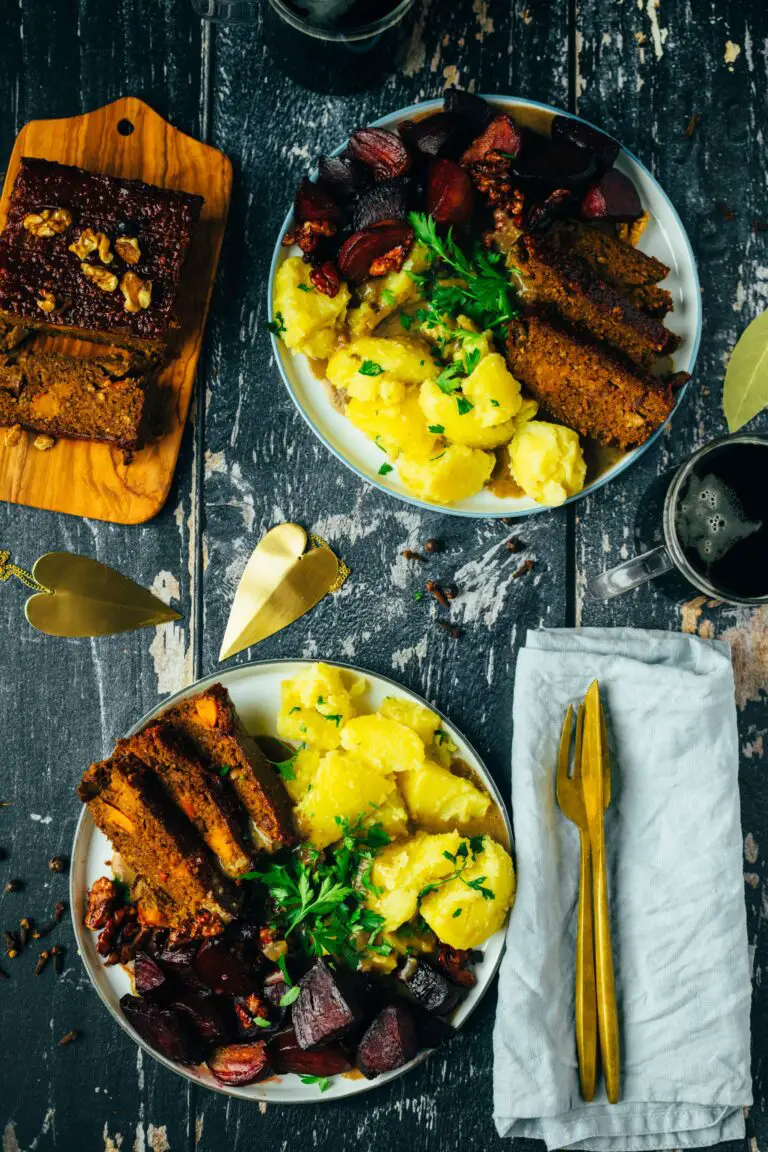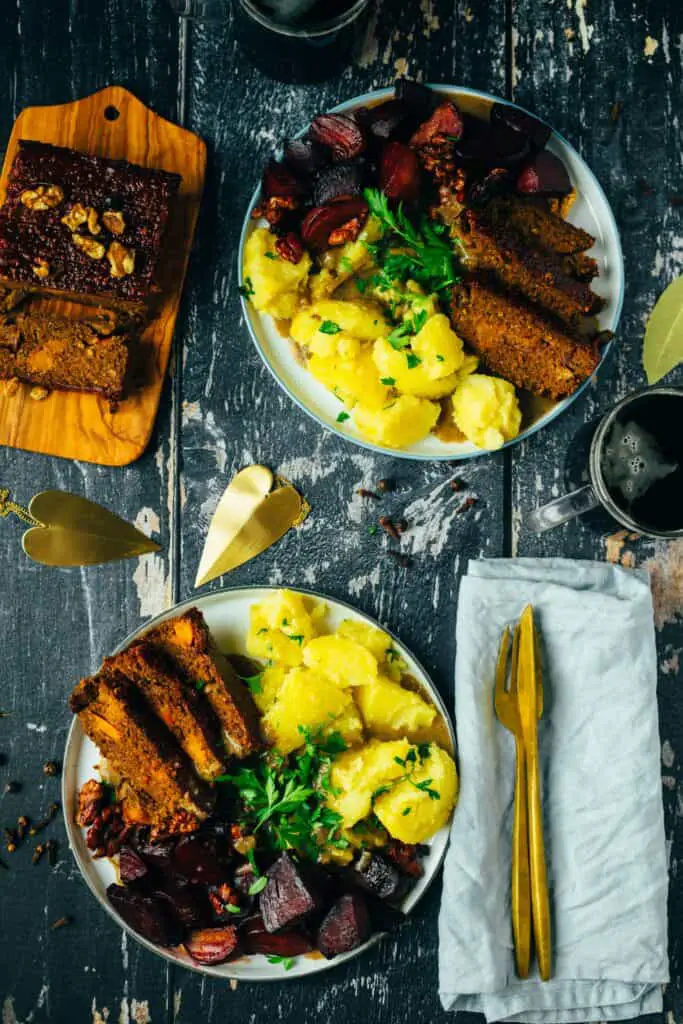 There is already a Roast recipe on this blog, however this one is completely different. In today's version, nuts and vegetables are the main ingredients and the highlight is the glaze of ketchup, Tamari maple syrup, apple cider vinegar, garlic and chili.
For the roast itself you don't need exotic ingredients either, but mixed nuts, oatmeal, oil, onion, mushrooms, pumpkin, Italian herbs, garlic granules, smoked paprika, sage, thyme, black bell pepper, cinnamon, nutmeg, tamari, Flax eggs and breadcrumbs. More magic also does not come, because the production is really simple.
TIP: If you want to prepare the roast a day ahead, no problem. Just make the dough for it, press it into the baking pan and put it in the fridge covered. The next day put in the oven and bake.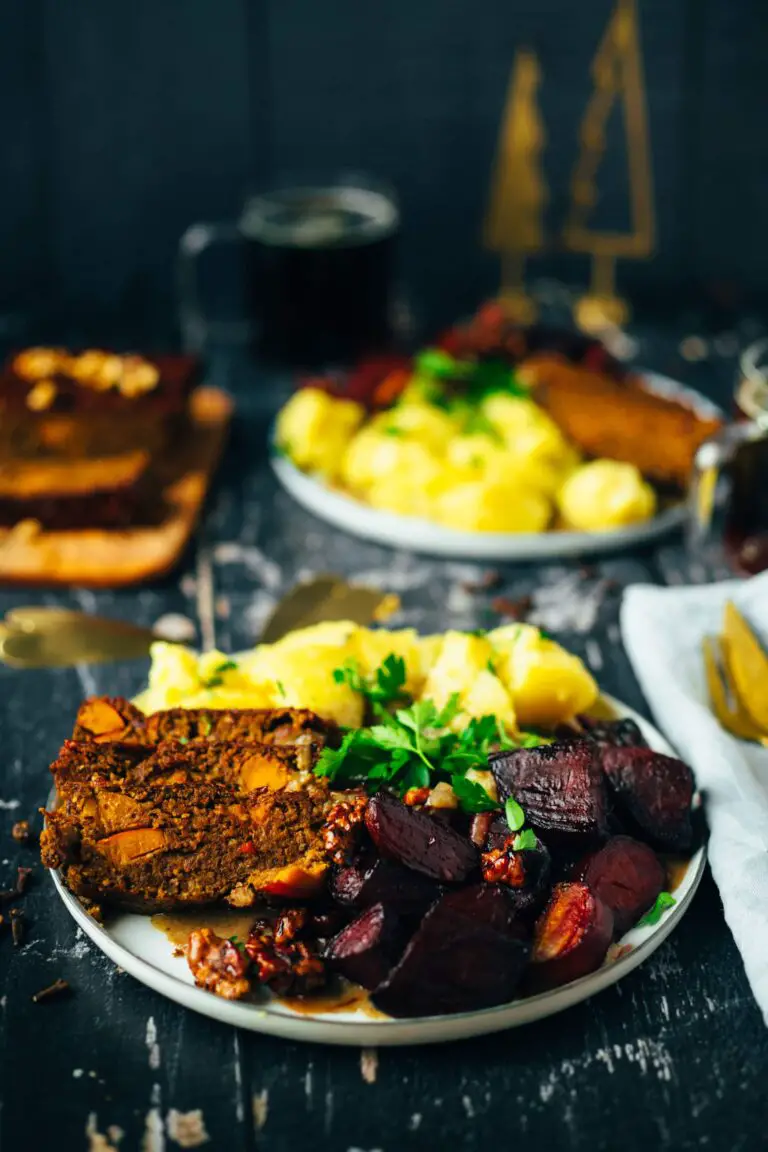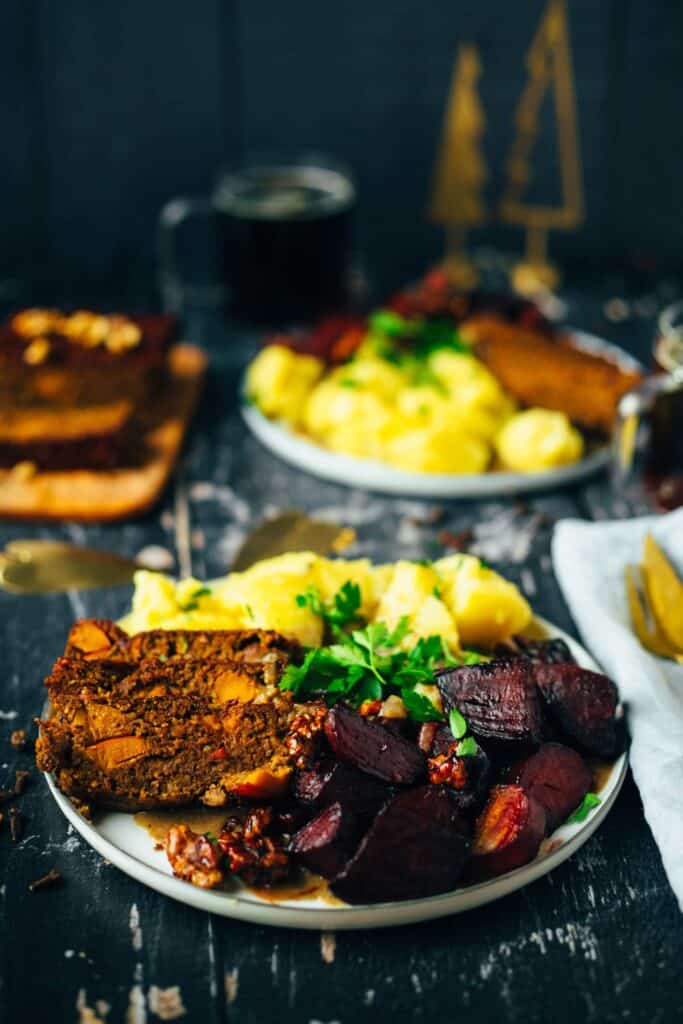 Is it Christmas again?
It's still a little while away, but believe me, time is actually racing towards Christmas Eve again. At first you do not notice the Gingerbread in the supermarkets and at some point you are literally overwhelmed by the chocolate Santa Clauses. Personally, I'm already looking forward to the first snow, because I love to let our huskies romp around full of joy and frolic (pictures follow on Instagram @veganevibes, I hope you already follow me)?
To make your celebration of love and especially your roast as successful as possible, here are my top tips for a super relaxed Christmas:
Organization: If you prepare several things in the kitchen at the same time, it can get stressful. That's why I always prepare everything beforehand, weighed out and cut into bowls and dishes. Then everything goes quickly and the probability of forgetting something is rather low.
Prepare: Ask yourself what you can prepare the day before. Maybe the gravy, or the side dishes? The dessert in any case. It's really worth planning a little bit here, you want to spend some time with your guests after all.
Test cooking: I always recommend with pleasure. Afterwards, you will know exactly whether the dish really tastes as you had hoped and how long you need to prepare it. When it gets serious and the guests arrive, you are the sovereign and casual professional who stands behind the stove with a smile.
Vegan side dishes for your Christmas dinner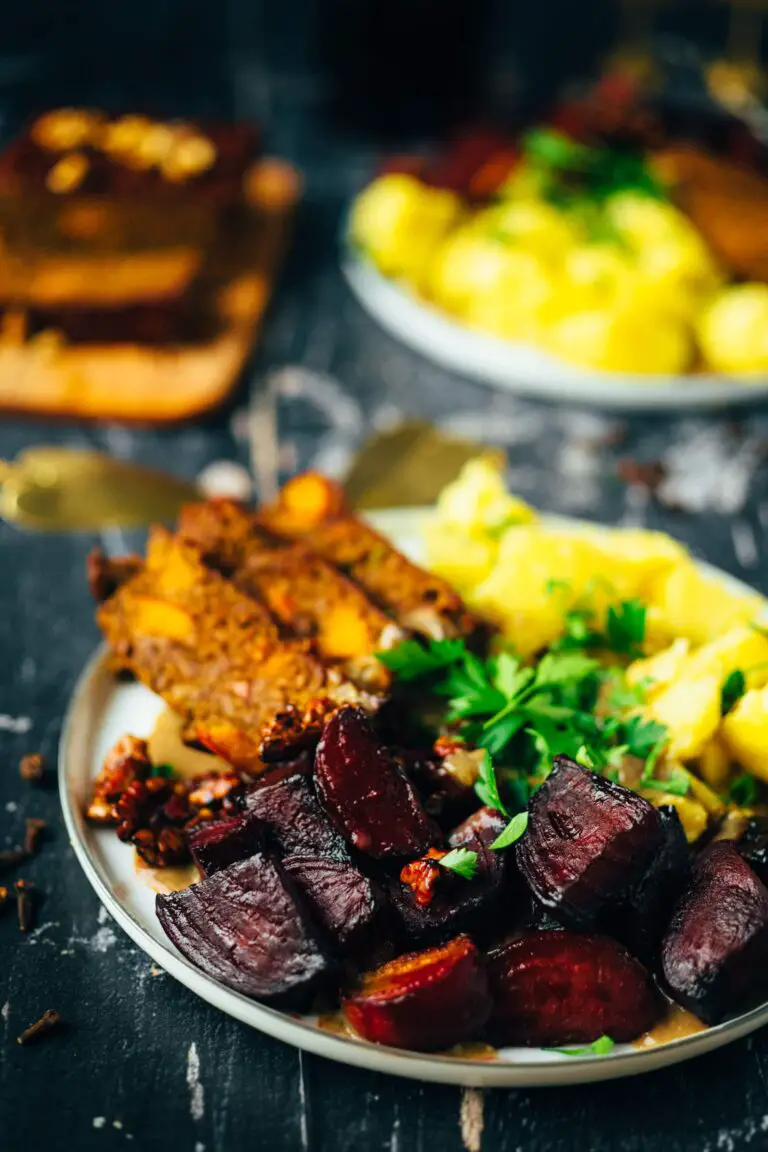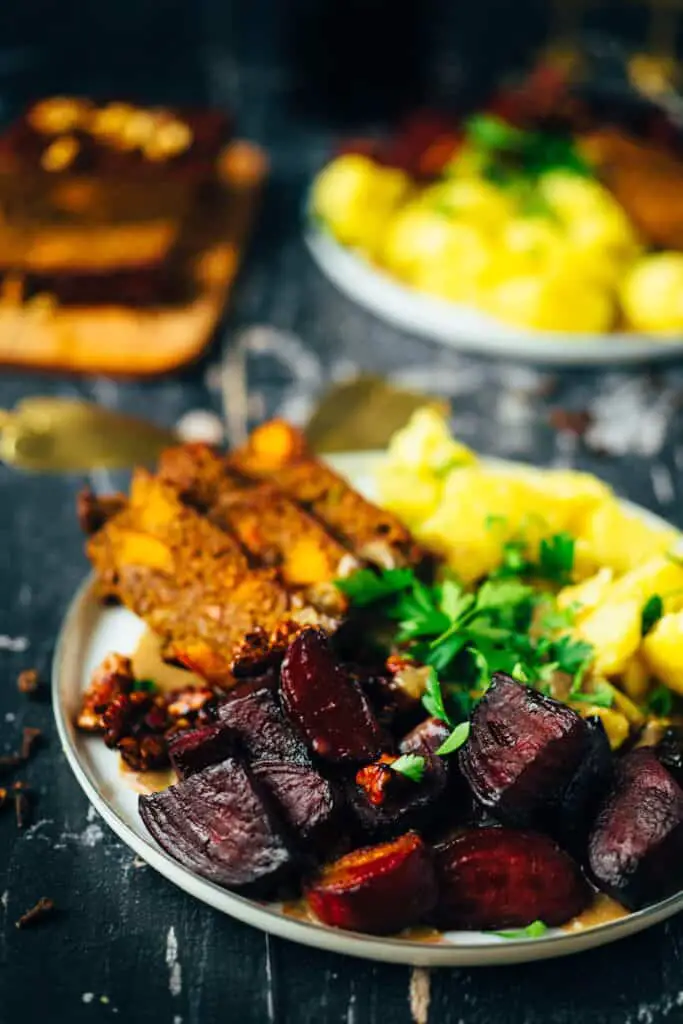 What goes with our Roast ? boiled potatoes, mashed potatoes , steamed vegetables of all kinds, winter red cabbage, in the oven roasted beet and of course a super delicious vegan gravy. Everything is allowed and you are welcome to get creative here.
Here are a few more suggestions for a suitable dessert: Vegan panna cotta , Caramelized apples with pecans , super creamy Chocolate ice cream or a Chocolate dessert . I would say Christmas can come.
The festive vegan nut roast is:
Hearty
simple to be produced
filling
Festive
Fixed Consistency
Extremely tasty
I hope you enjoy recreating this delicious nut roast and of course I'm happy to receive a review at the very bottom of this page. If you post a picture, use the hashtag #veganevibes.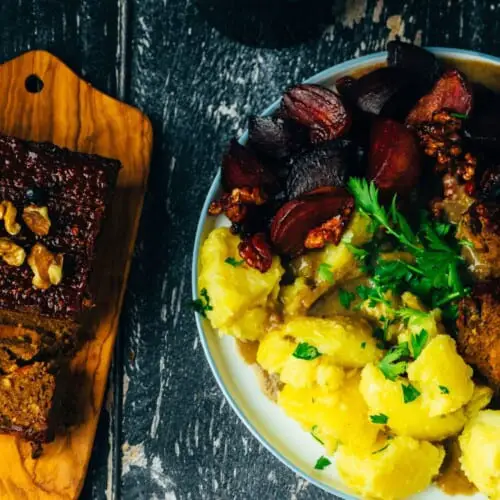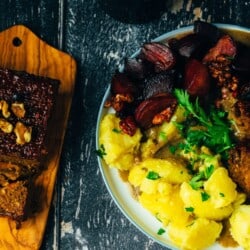 Festive nut roast with glaze
Festive vegan nut roast with glaze of roasted nuts, vegetables and winter herbs. Firm structure that is perfect for slicing. Ideal for pre-cooking.

AUTOR: VEGANEVIBES
Anleitung 
Scramble flaxseed eggs and set aside.

Preheat oven to 160 degrees convection. Line baking sheet with a permanent baking mat or baking paper. Spread nuts on top and roast in preheated oven for

5 minutes

. Remove from the oven and let cool briefly. IF THE ROAST IS MADE IMMEDIATELY AFTERWARDS, START THE OVEN RIGHT AWAY.

Place in a high-powered blender or food processor and grind until fine. Depending on taste, leave a few coarser pieces.

Heat a large frying pan with frying oil, add onion, mushrooms and squash. Pour in a little water and simmer until the pumpkin is cooked.

30 ml Frying oil or other high heat oil,

110 g red onion,

100 g Mushrooms,

140 g Hokkaido pumpkin

In a large bowl, add Italian herbs, garlic granules, smoked paprika, sage, thyme, cinnamon, nutmeg, salt, pepper, soy sauce, flaxseed one, breadcrumbs and oat flour and knead with your hands until a uniform dough is formed.

2 Piece Flaxseed eggs,

2 tbspn Italian herbs*,

1 tbspn Paprika powder,

½ Sage,

½ Thyme,

½ tbspn Cinnamon,

¼ tbspn Nutmeg,

30 ml Tamari,

75 g gluten free oat flour,

A pinch of sea salt,

Black pepper to taste,

86 g Breadcrumbs

Line or grease loaf pan with baking paper and press dough into it. Heat oven to 175 degrees and put roast in it.

In the meantime, mix the GLASUR mix. To do this, place all ingredients in a small bowl and stir with a spoon or whisk until smooth.

22,5 ml Tamari,

15 ml Apple cider vinegar,

½ tbspn Garlic granules,

1 Bird Eye Chili,

60 g Ketchup

Remove roast from oven and brush with glaze. Put back in the oven and bake for another

15-20 minutes

.

At the end of the baking time, remove from the mold and cut into slices. Gladly leave in the oven at 120 degrees convection and

In the meantime HOMEMADE GRAVY make.

½ tbspn Garlic granules,

1 Bird Eye Chili,

30 ml Frying oil or other high heat oil,

110 g white onion,

2 Garlic cloves,

500 ml Vegetable broth,

34 g Nutritional yeast,

15 ml Tamari,

3 tbspn Cornstarch,

optional bay leaf,

Black pepper to taste

Put the pan on the stove and heat with 2 tablespoons of frying oil.

Add the onion and garlic and sauté a little. Deglaze with vegetable stock and stir once. Add nutritional yeast, tamari and cornstarch dissolved in water and bring to a boil once. Taste once and season with fresh pepper and olive oil to taste.

(optional) with a little soy cream in a high-powered blender until a fine, creamy sauce is formed.

To serve, place one or two slices of vegan roast on each plate, add beet and boiled potatoes and top with sauce. enjoy!

Boiled potatoes,

Braised beet,

Parsley to taste,

Non-alcoholic dark beer

Best fresh. Roast can be baked and stored covered in the refrigerator up to 3 days before serving or frozen, preferably sliced, for up to 4 weeks.
Notizen
*2 tablespoons basil, 2 tablespoons oregano, 1 tablespoon rosemary, 1 tablespoon thyme, 1 teaspoon sage, put in a small sealable jar and keep the rest.
Nährwertangaben
Serving:
1
Piece
Calories:
361
kcal
Carbohydrates:
30
g
Protein:
11
g
Fat:
24
g
Saturated Fat:
8
g
Sodium:
876
mg
Potassium:
485
mg
Fiber:
6
g
Sugar:
5
g
Vitamin A:
543
IU
Vitamin C:
6
mg
Calcium:
62
mg
Iron:
3
mg