Finally we have scones again! I love this delicious triangular pastry more than anything. Summer is taking a short break for us and I'm trying to focus even more on the blog and my training as a vegan nutritionist. It won't be long before I'm through with my advanced training. It is really exciting to see how well researched the vegan diet has become and how easy it is to eat a purely plant-based diet. However, some people still feel emboldened to make fun of the new trend of "plant based lifestyles". It was unnatural and one would have to supplement synthetically. Unfortunately, these same people do not ask themselves the question of how the B12 gets into the meat. Certainly not naturally, or when was the last time you saw a pig running happily in a meadow? I think I will write a detailed knowledge article about B12 soon. Now though, let's focus on our delicious scones!
Vegan scones with caramelized bananas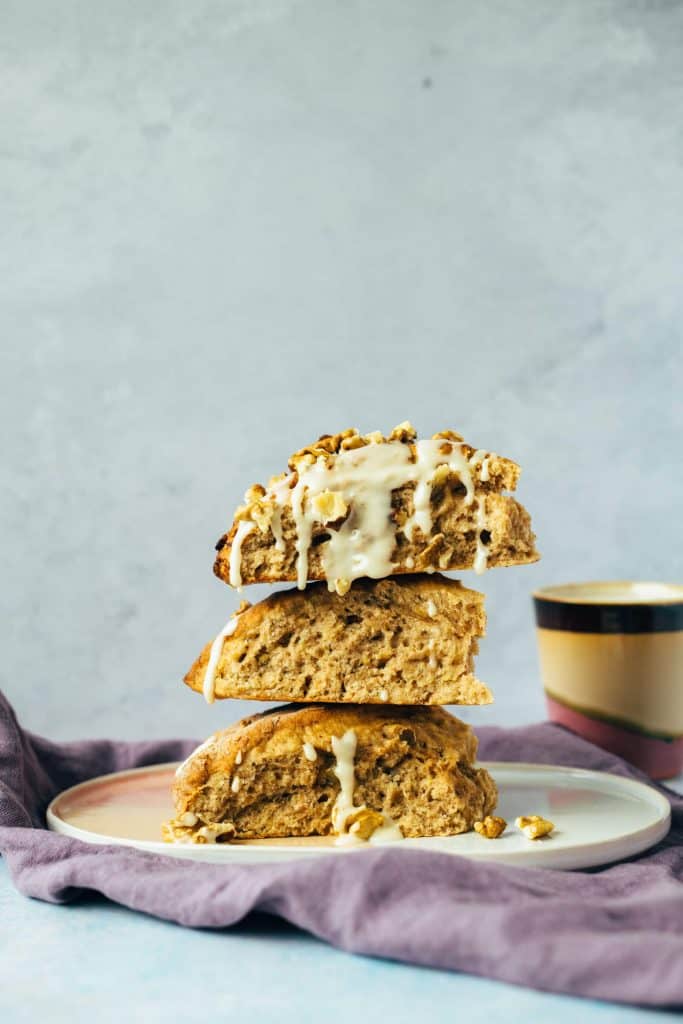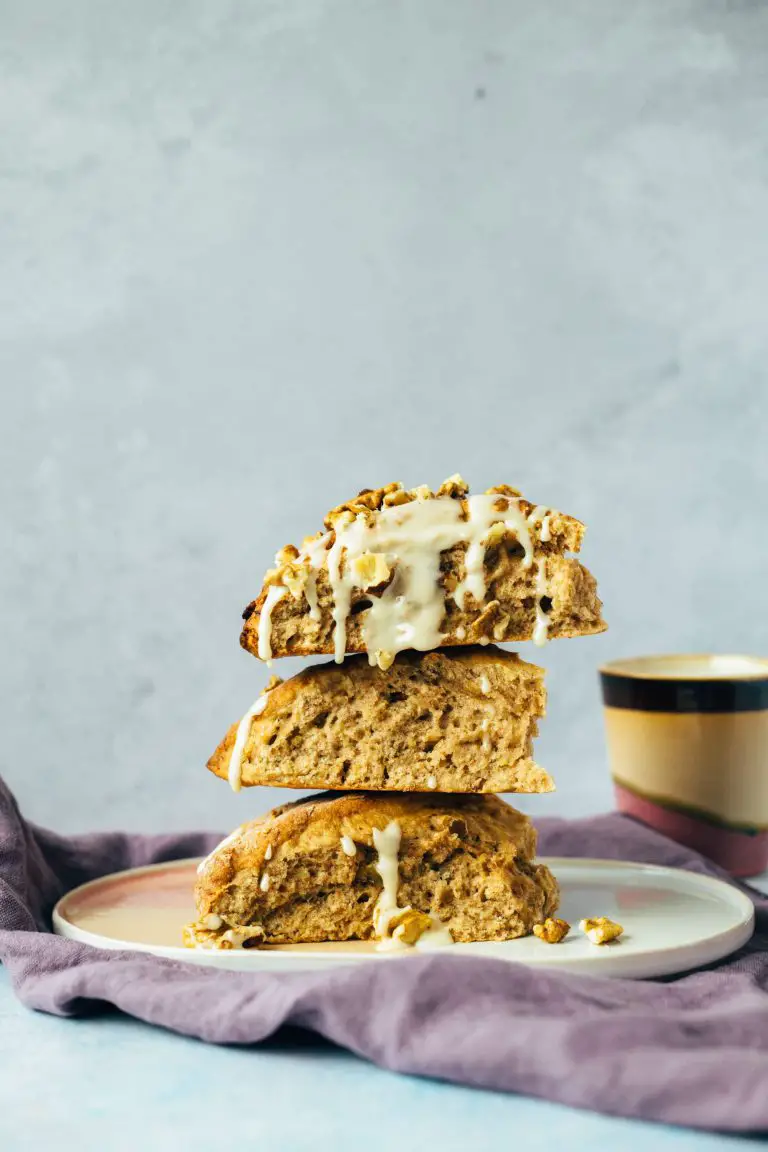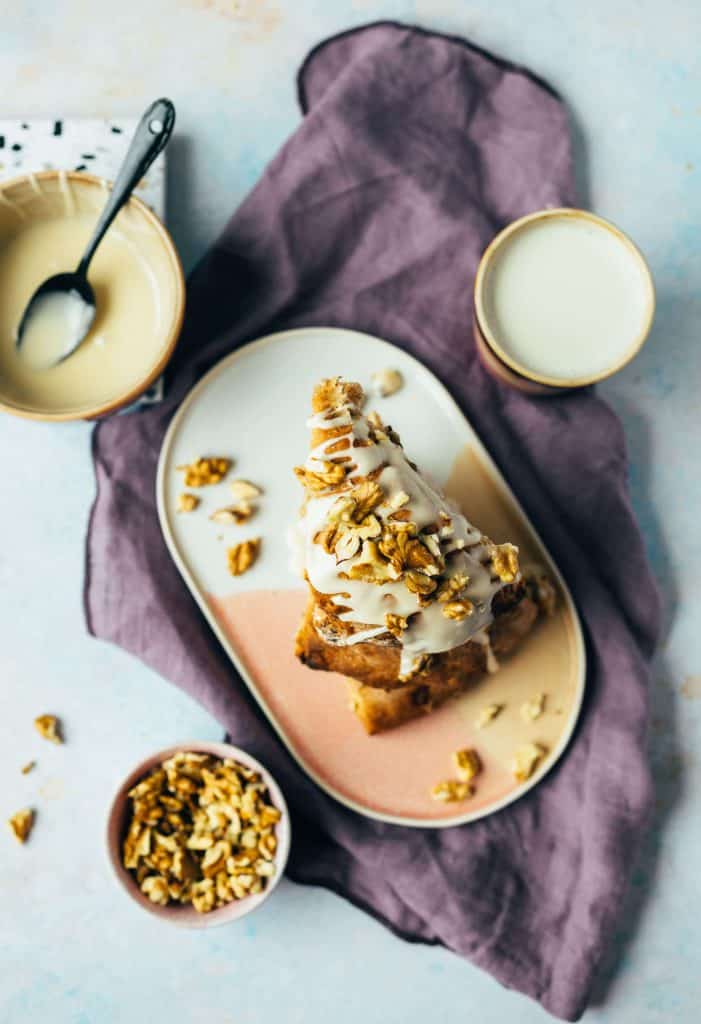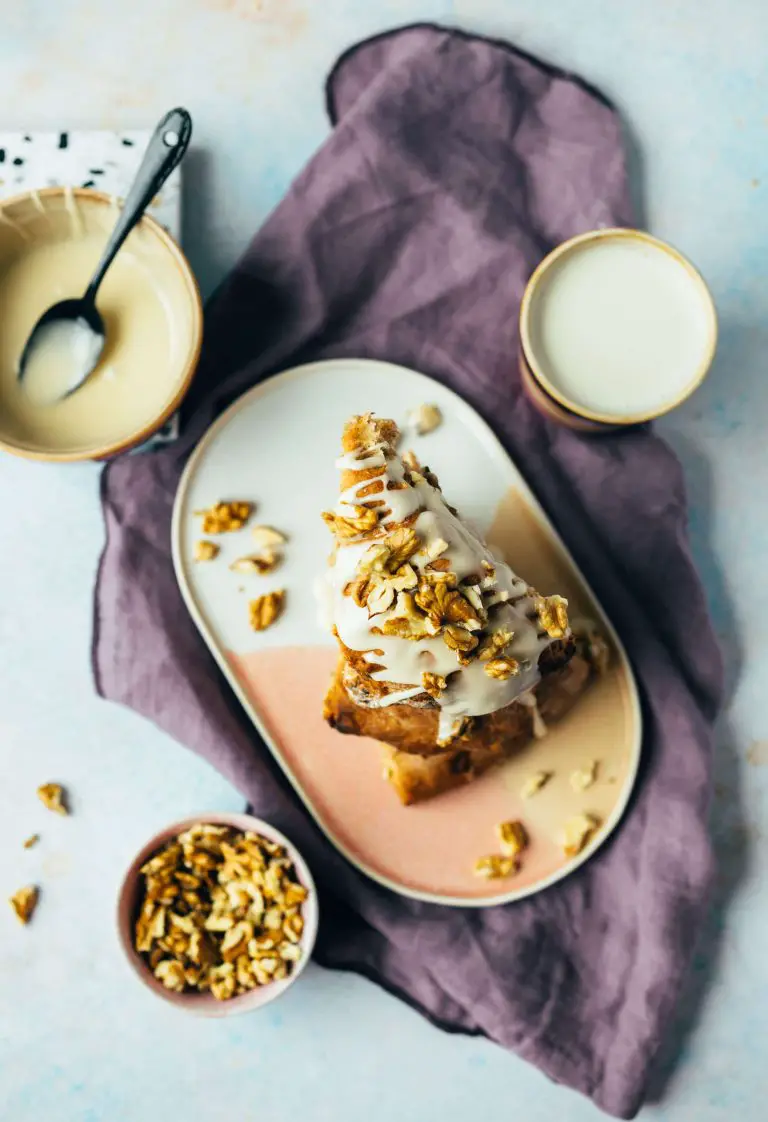 You may have noticed that I've become a big fan of oil-free baking. why? First of all, I find that you can almost not taste the difference to oily Baked goods almost no taste at all, and besides, you save a lot of calories. Baking without oil also always means that it is more complete. Oil is a processed food and is absolutely fine in small amounts. With cakes and pastries, however, large quantities are very often used and I would rather avoid them. It's all in the mix! I also always bake in between recipes with oil or margarine. Nevertheless, here once again summarizes the advantages of an oil-free baking method:
Less calories, oil has a very high caloric density with about 850-900 calories per 100ml.
More complete, because oil no longer has fiber. Nut puree, for example, is made from whole nuts and contains the whole, whole nut. Important! Oil-free does not mean fat-free, we get important essential and predominantly unsaturated fatty acids for example from nuts or other foods
Oil can be replaced very easily with other whole foods such as nut mousse, coconut mousse, applesauce, ripe banana or plant-based yogurt.
Oil-free baking is super easy!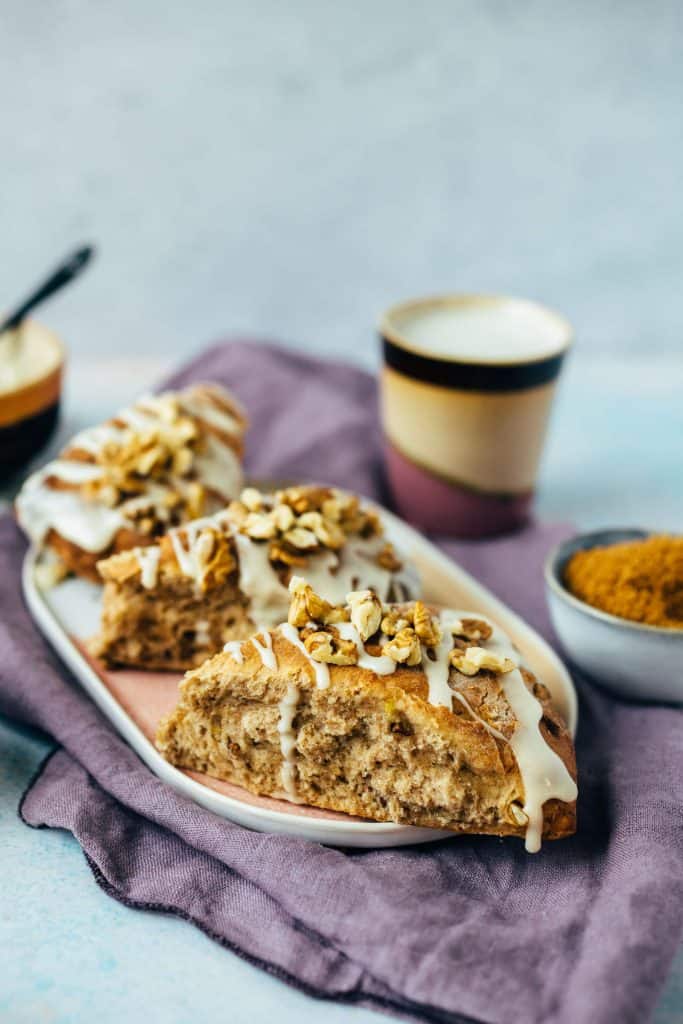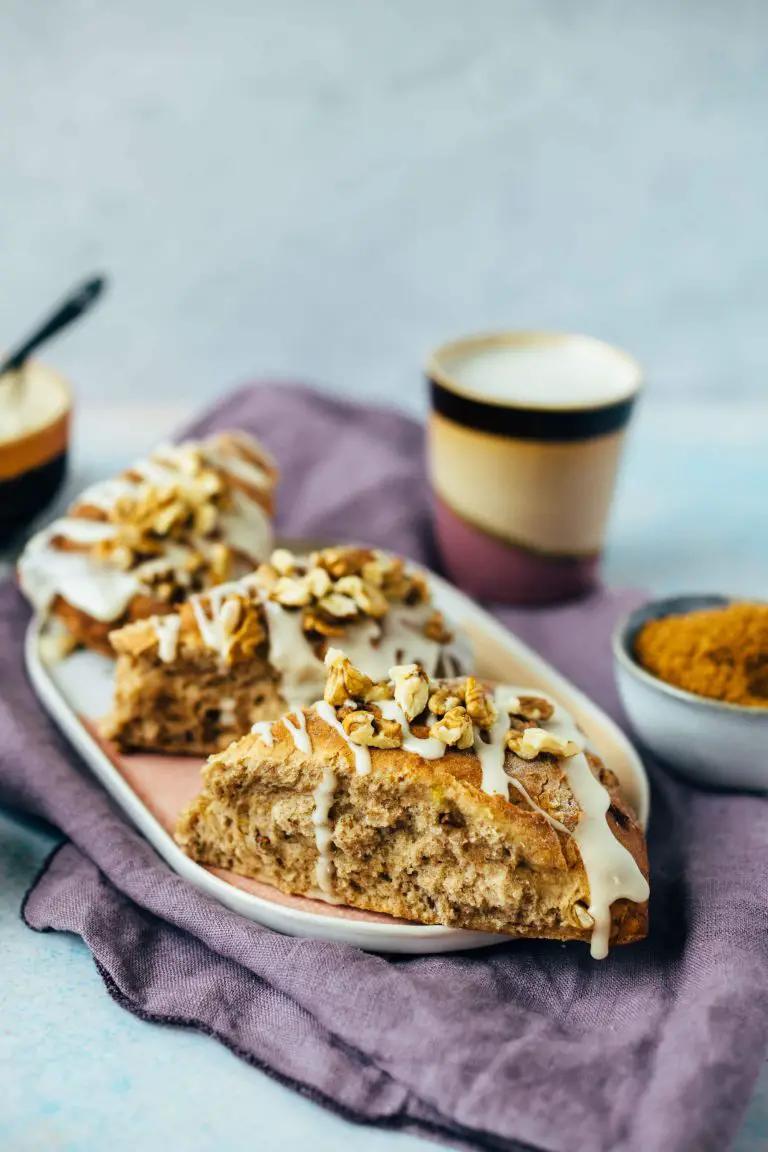 The preparation of the recipe is really simple. The chopped bananas are first caramelized in a little coconut milk, cinnamon and coconut sugar in a pan. This gives them a wonderful aroma.
Spelt flour, baking powder, baking soda, apple cider vinegar, chopped walnuts, bourbon vanilla, salt and coconut milk. All of this is combined with the caramelized bananas to form a compact dough. It is then shaped into a 2-3 cm thick slice and placed directly on the baking sheet. Cut into 8 equal pieces with a knife and put in the oven.
TIP: For a gluten-free version, feel free to use my gluten-free flour blend or another gluten-free flour and add 1 tsp carob bean gum for a better binding.
Vegan scones my loves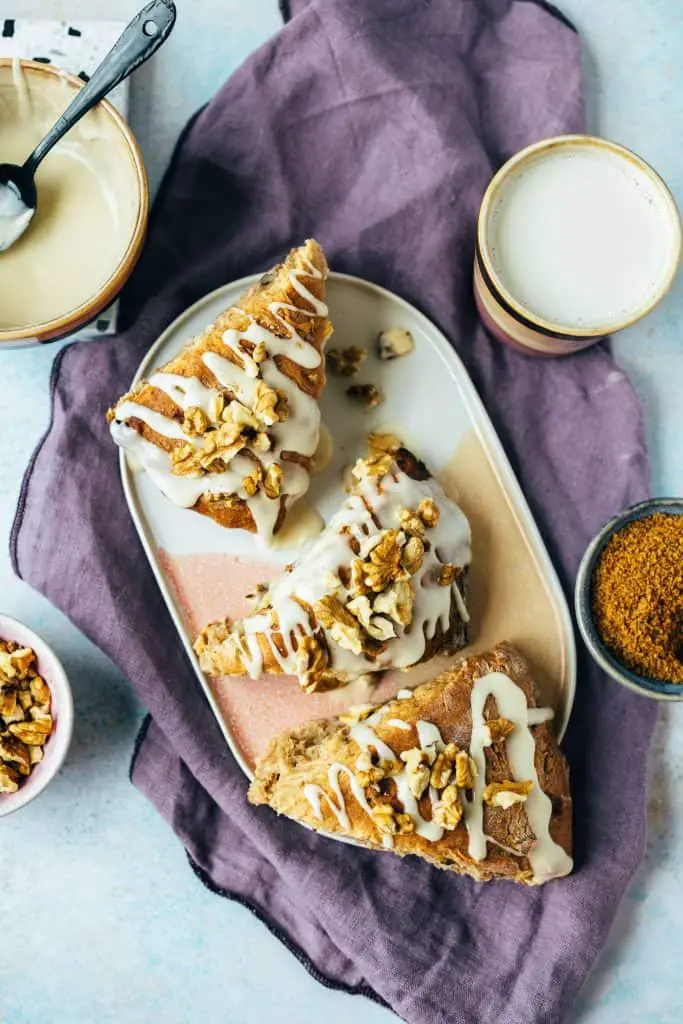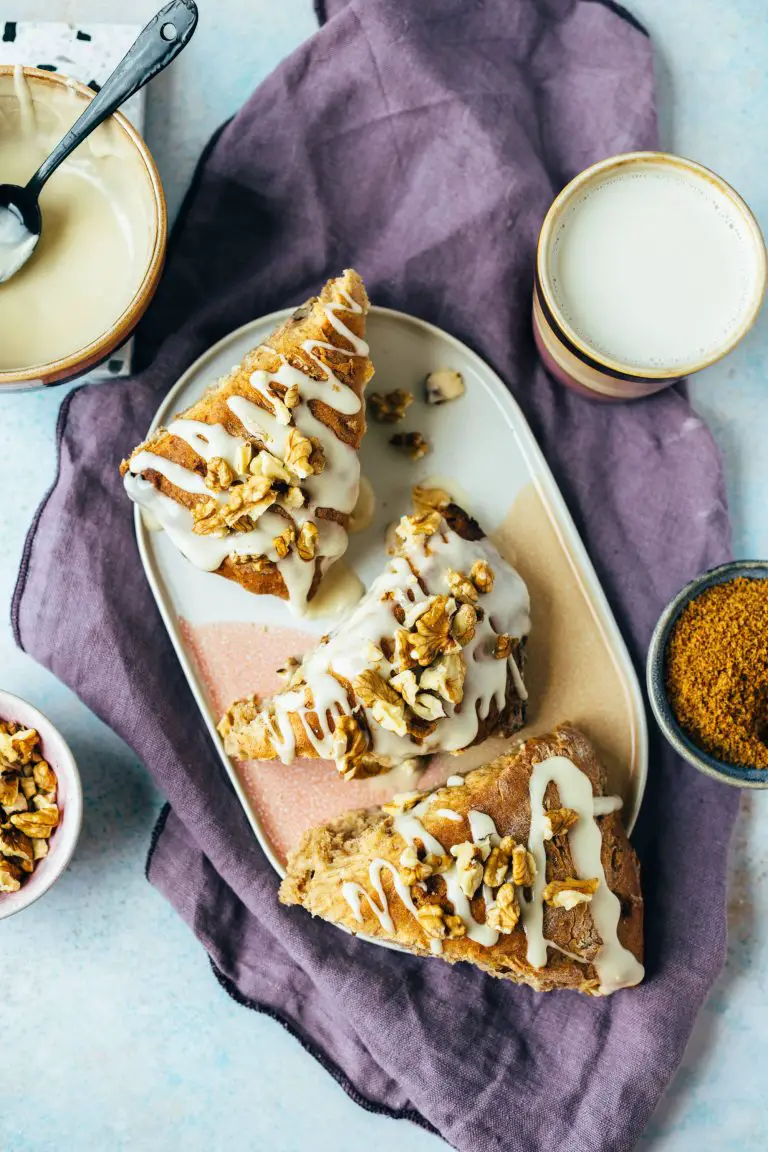 What goes with the scones? Absolutely a hot drink, for example, a cappuccino with almond milk, hot chocolate or creamy latte with CBD oil. Somehow I'm already getting into the autumnal mood with wood stove, blanket, book, hot drink and scones.
We summarize: The scones take just 35 minutes, are naturally sweetened, oil-free and super delicious!
Scones with caramelized bananas (35 minutes)
Locker & Fluffig
Super fruity -nutty
Perfectly sweet
Vegan & gluten free on request
Quick and easy to make
Well, are you ready for these American sweet sins? I wish you a lot of fun in recooking and of course a review at the bottom of this page. If you post a picture, use the hashtag #veganevibes.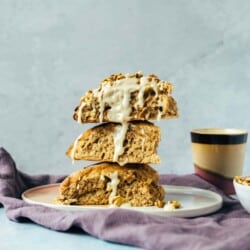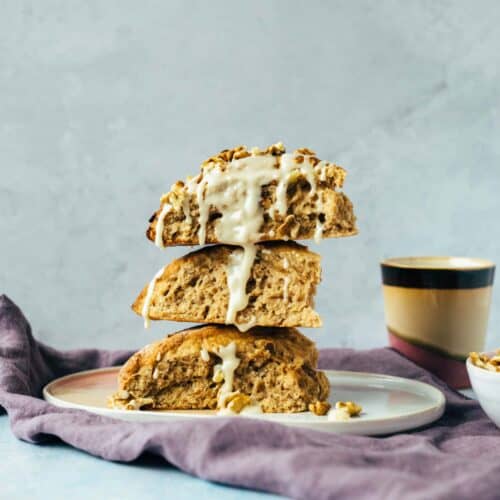 Scones with caramelized bananas (35 minutes)
Incredibly moist scones with caramelized bananas. Vegan and gluten-free on request. Fluffy, nutty with a sweet frosting of powdered sugar and maple syrup. Ideal as breakfast or for a vegan coffee party.
AUTOR: VEGANEVIBES
FOR THE CARAMELIZED BANANAS:
FOR THE REST OF THE DOUGH:
FOR THE FROSTING:
1

tbspn

maple syrup

OPTIONAL: chopped walnuts for decoration
Anleitung 
Preheat the oven to 200 degrees and line a baking sheet with a permanent baking mat or baking paper.

FOR THE CARAMELLIZED BANANES, heat a pan, add 2 tablespoons coconut milk, coconut blossom sugar and cinnamon and stir to caramelize. This step takes about 5 minutes, see video.

30 g Coconut blossom sugar,

30 ml Coconut milk,

½ tbspn Cinnamon

First mix the dry ingredients, for this add spelt flour, raw cane sugar, baking powder, baking soda, vanilla, cinnamon and salt in a large baking bowl and mix with a whisk.

1/2 tbspn Baking soda,

55 g Raw cane sugar,

250 g cups fine spelt flour,

1 tbspn Baking powder,

¼ tbspn Bourbon vanilla,

¼ tbspn Sea salt,

½ tbspn Cinnamon

Add caramelized bananas, coconut milk, nut puree, apple cider vinegar and walnuts and mix loosely with the help of a fork.

2 Piece ripe bananas,

150 ml Coconut milk or other unsweetened plant milk,

30 g Nut puree,

50 g Walnuts,

7,5 ml Apple cider vinegar

Depending on the consistency of the dough, add more flour (if too wet) or more vegetable milk (if too dry) and continue mixing and kneading until a compact dough is formed.

Place directly on the prepared baking sheet and shape into a round disc 2-3cm thick. Cut once into 4 even pieces and then cut in half again to make 8 even, triangular scones.

Do not pull apart further, the scones are easy to break apart after baking.

Put in the oven and bake for 17-20 minutes. The scones should be nicely risen and golden brown around the edges.

In the meantime, prepare the FROSTING. To do this, put powdered sugar, plant milk and maple syrup in a small bowl and stir until everything is well combined. Start with LESS liquid or the frosting will quickly become too thin.

55 g Raw cane sugar,

30 g Organic powdered sugar,

1 tbspn maple syrup,

2 tbspn Coconut milk or another vegetable milk

Remove from the oven and allow to cool completely.

Break apart, top with frosting and decorate with chopped walnuts. enjoy!

OPTIONAL: chopped walnuts for decoration

Store remainder in an airtight box at room temperature for up to one week. Can be kept frozen (without frosting) for up to one month.

IMPORTANT: Be sure to cover scones or store in an airtight box, otherwise they can dry out quickly.
Nährwertangaben
Serving:
1
Piece
Calories:
290
kcal
Carbohydrates:
40
g
Protein:
6
g
Fat:
12
g
Saturated Fat:
6
g
Sodium:
113
mg
Potassium:
98
mg
Fiber:
5
g
Sugar:
14
g
Vitamin C:
1
mg
Calcium:
22
mg
Iron:
3
mg