A vegan chocolate cake that is also ultra delicious? Yes, that's exactly what we're doing today. Just recently, I once again had a discussion about the topic of gluten intolerance and whether it is not simply imagination. My answer was quite pragmatic, just leave it out consistently and eat it again after 3 weeks. If your body reacts to it and shows symptoms, then it is likely that you may have an intolerance. Otherwise, it can also be just imagination, in which we humans are top performers. If you are fine with gluten, then there is nothing wrong with consuming it either. From my point of view, best in the form of an organic, whole grain. Otherwise, feel free to be surprised by this delicious cake, which is completely without oil and gluten. Let's get started.
Vegan chocolate cake – gluten-free, oil-free – tastes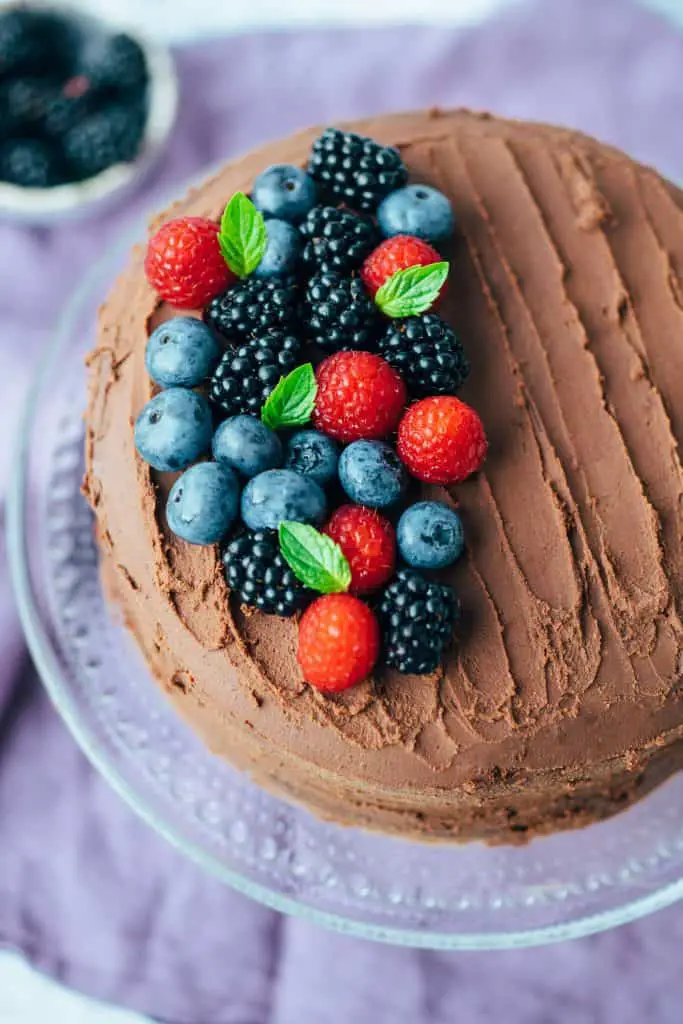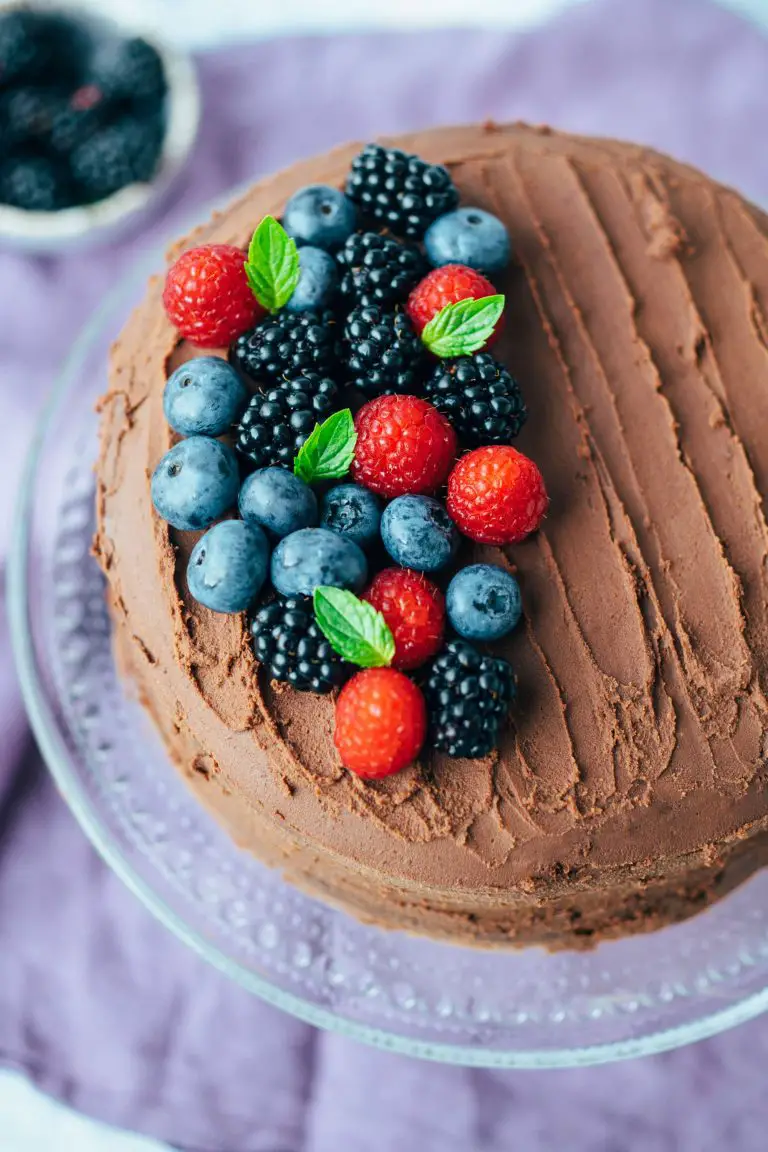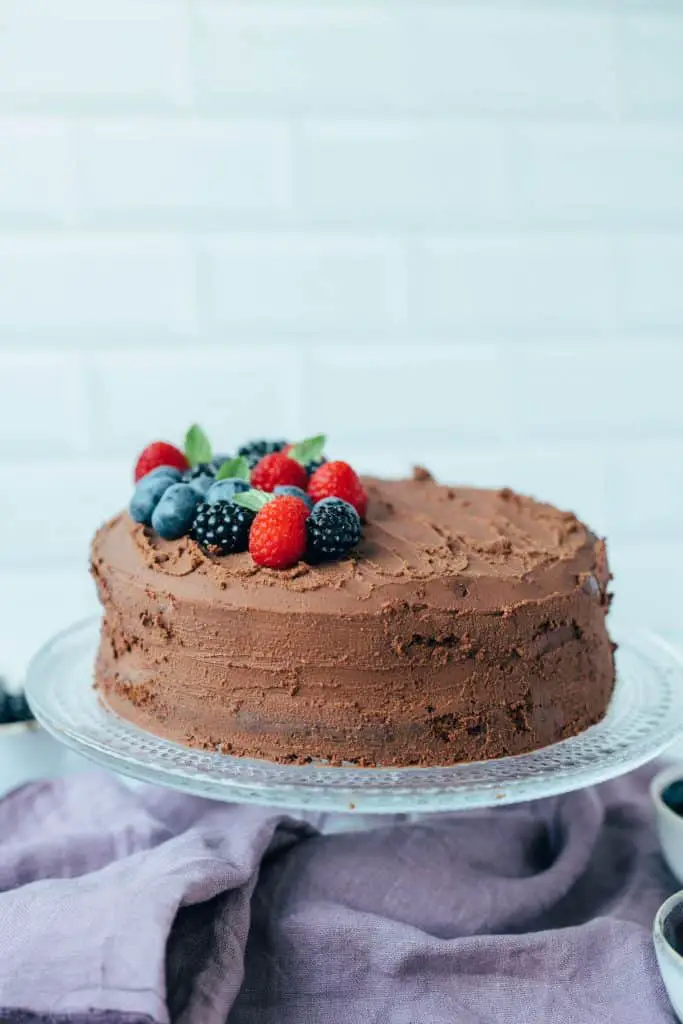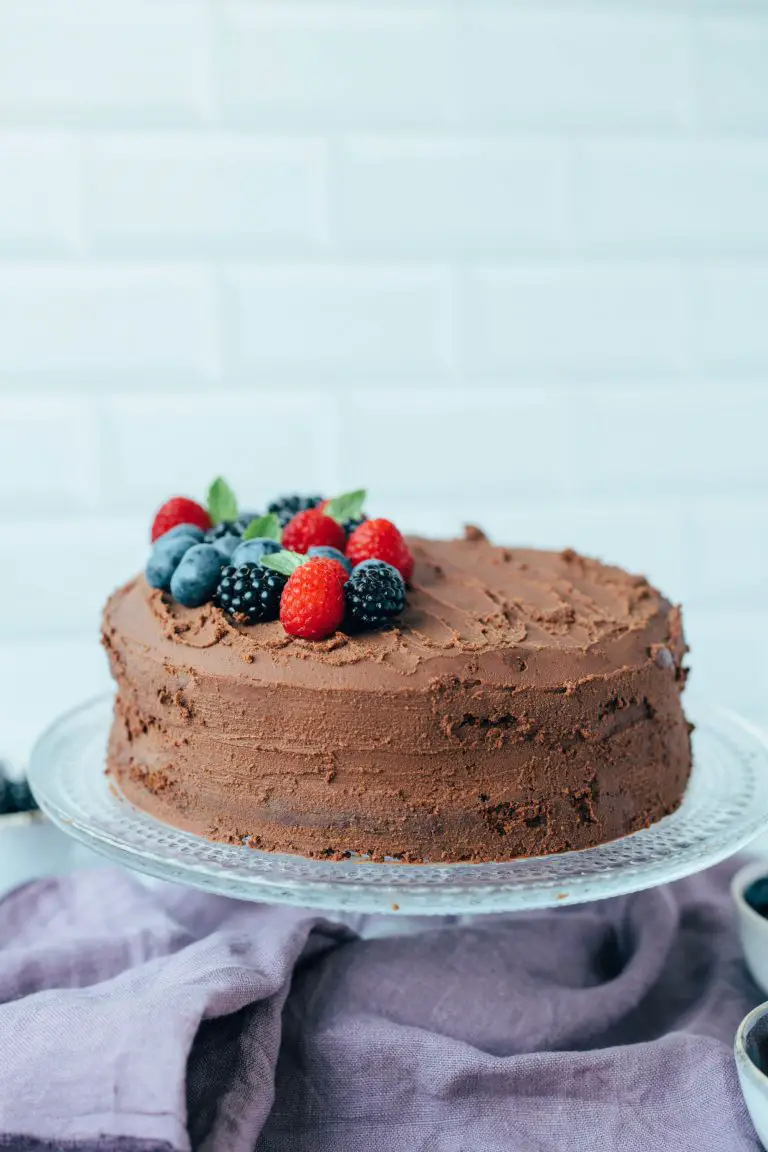 First of all, we make the two bases, which I bake in springforms 20cm in diameter. Oat flour, buckwheat flour, gluten-free flour blend, cocoa powder, coconut blossom sugar, raw cane sugar. Mix well once to break up any lumps in the flour. For the wet ingredients mix vegetable milk, baking powder, apple cider vinegar and wait until it foams.
TIP: The vegetable milk should never be too cold, otherwise it can not react with the acid and alkali from baking soda and vinegar. If you take them directly from the refrigerator, then briefly warm them in a milk pot to lukewarm. Please also do not let it get too hot, that would also be counterproductive.
Into the liquid is then added maple syrup, applesauce and melted dark chocolate, bourbon vanilla and a pinch of salt. Finally, mix everything well until a smooth dough is formed. Be careful not to stir too long, otherwise you'll stir out the leavening power of the dough and it won't rise well.
Vegan chocolate cake in summer, autumn, spring and winter?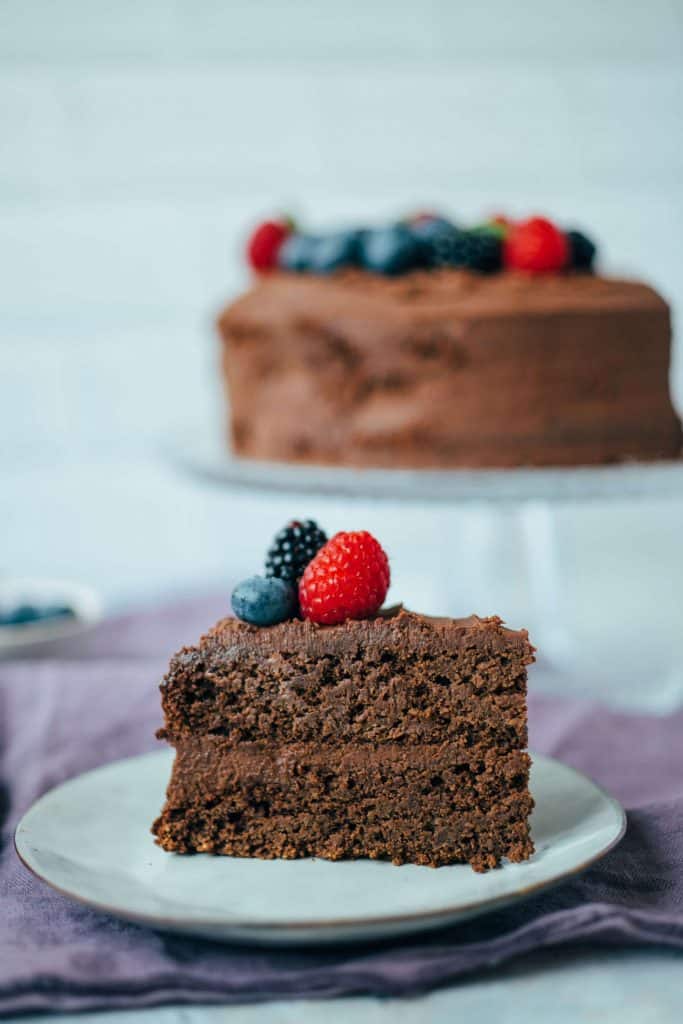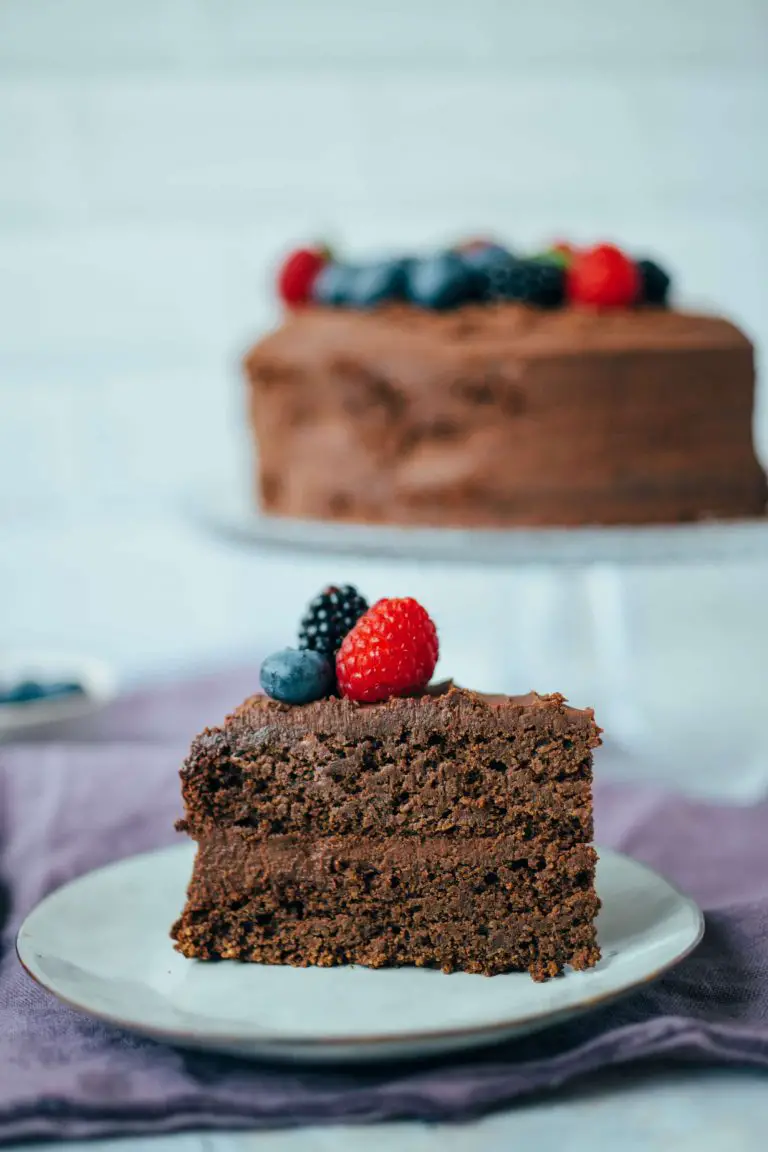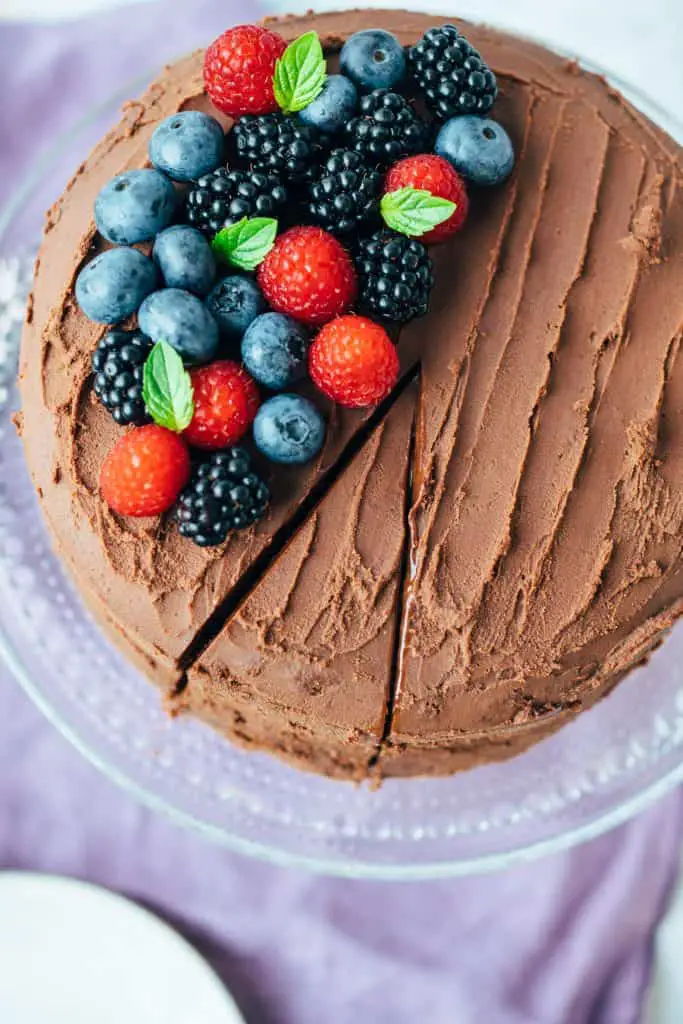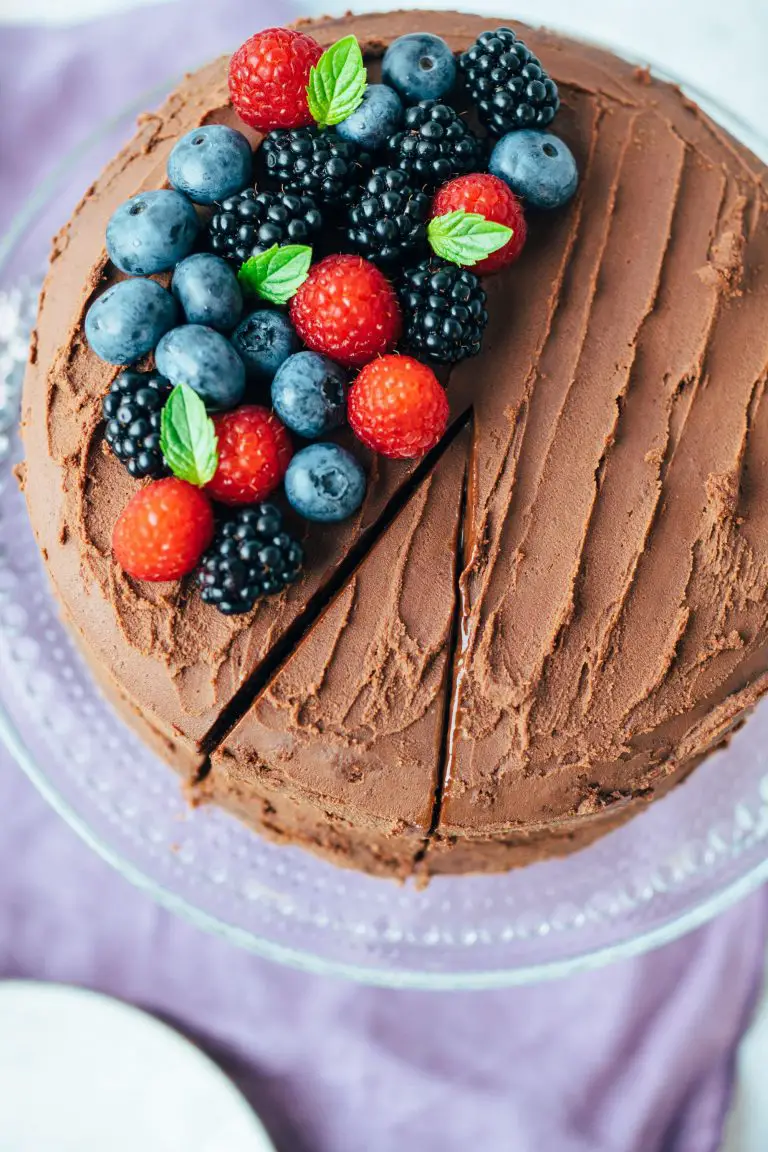 I don't want to promise you too much, but I literally fell in love with this cake. The layers of moist, chocolatey dough with the creamy chocolate filling is simply a dream. If you then eat a piece straight from the fridge, I can only congratulate you. What can go wrong in the production process? It is better to be well informed beforehand than to experience disappointment afterwards.
The consistency of the dough is crucial. Depending on the flour, the dough can sometimes become a little too liquid or too firm. Feel free to take a look at the video, there I show the ideal consistency of the dough.
Test dough with a wooden stick after baking time is up, once baked, the wooden stick will come out clean.
Always allow cake layers to cool well, if they are still too warm, the frosting will melt. I always plan enough time when baking cakes.
Allow frosting to set for some time in the refrigerator and only then spread on the cake.
TIP: If you don't want to bake gluten-free, then you can replace the flour 1:1 with spelt or wheat flour and cornstarch.
Otherwise, there is not much more to say about this delicious Cake not much more to say, except that we should definitely get started now. I hope you enjoy baking and of course about a review at the bottom of this page. If you post a picture, use the hashtag #veganevibes.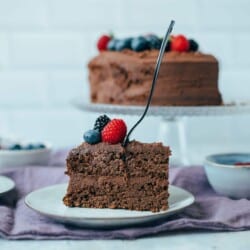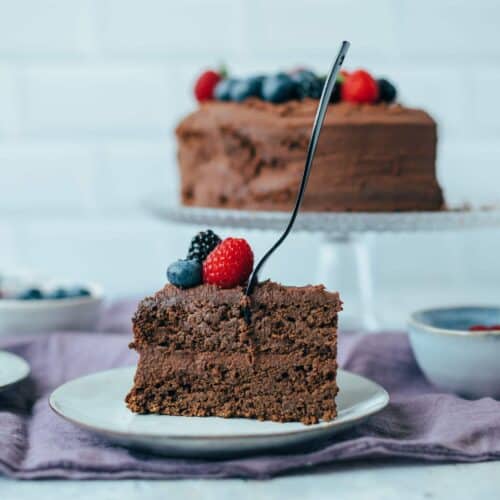 Chocolate cake (gluten-free, oil-free)
Simple, moist and chocolaty cake with a creamy frosting of chocolate and coconut cream. A dream for all chocolate fans, gluten-free and oil-free.
AUTOR: VEGANEVIBES
Anleitung 
Preheat the oven to 175 degrees Celsius and line two 20cm diameter springform pans with baking paper (bottoms) and (optionally) brush the sides with a little margarine.

TO MAKE THE TOUCHES , first add the dry ingredients, oat flour, buckwheat flour, cornstarch, cocoa powder, coconut blossom sugar and raw cane sugar to a bowl and whisk until everything is well combined. During this step, small lumps dissolve. Set aside.

90 g Oatmeal,

90 g Buckwheat flour,

30 g Cornstarch,

60 g Cocoa powder,

50 g Coconut blossom sugar,

100 g Raw cane sugar

In a second bowl, pour vegetable milk into a large bowl, add apple cider vinegar and baking soda. Stir briefly. The liquid should now foam slightly.

310 ml Plant milk,

7,5 ml Apple cider vinegar,

30 ml maple syrup,

3 tbspn Baking powder

Add applesauce, maple syrup, bourbon vanilla, , melted chocolate and pinch of salt and mix well once.

30 ml maple syrup,

30 g Applesauce,

70 g dark vegan chocolate,

¼ tbspn Bourbon vanilla ground,

1 Pinch Salt

Add to dry ingredients and mix until a uniform dough is formed.

Check the consistency of the dough, it should be easy to pour into the mold, but not too runny (see video). If too runny add more flour, if too solid add more vegetable milk.

At the very end, stir in the xanthan gum, which provides a better binding of the dough and is optional.

¼ tbspn Xanthan gum (optional)

Pour into the molds and smooth out.

Put in the oven and bake for

20 minutes

.

In the meantime, make the FROSTING. To do this, put the melted chocolate in a bowl with the coconut cream, maple syrup and salt and stir until everything is well combined. Place in the refrigerator and allow to set until the tart base is baked and completely cooled.

1 Pinch of salt,

150 g vegan dark chocolate,

½ Cup Coconut cream,

30 ml maple syrup,

¼ tbspn Bourbon vanilla ground

When the cake layers have finished baking, use a wooden stick to check if the cake is done. If the wooden stick comes out "clean", remove from oven and let cool completely.

Carefully remove cake layers from springform pans and let cool completely.

Place one layer on a cake plate and spread about half of the frosting on top. Place the second base on top and spread with the remaining frosting. Ideally, leave to infuse for another night in the refrigerator.

Decorate as desired, cut into pieces and enjoy!

Store in an airtight container in the refrigerator for up to 3 days.
Nährwertangaben
Serving:
1
Portion
Calories:
274
kcal
Carbohydrates:
49
g
Protein:
4
g
Fat:
10
g
Saturated Fat:
5
g
Cholesterol:
1
mg
Sodium:
119
mg
Potassium:
168
mg
Fiber:
3
g
Sugar:
32
g
Vitamin A:
64
IU
Calcium:
99
mg
Iron:
3
mg