Fluffy chocolate mousse made from two Ingredients , sounds almost too good to be true, right? That's exactly what I thought, until I tested it again to find that it's just outrageously delicious. Some things are just "simple" and great. I think of a sunset, a day at the seaside, a walk in the woods, or an afternoon nap in the hammock. At the moment my husband and I are thinking about whether we should go away for my birthday. I'm really torn, because on the one hand there's nothing against it and on the other hand Corona time doesn't exactly put you in a good mood. No wonder the demand for home pools and inflatable wading pools has never been greater. I say yes, it's the simple things that are sometimes just the best.
Quick chocolate mousse with only 2 ingredients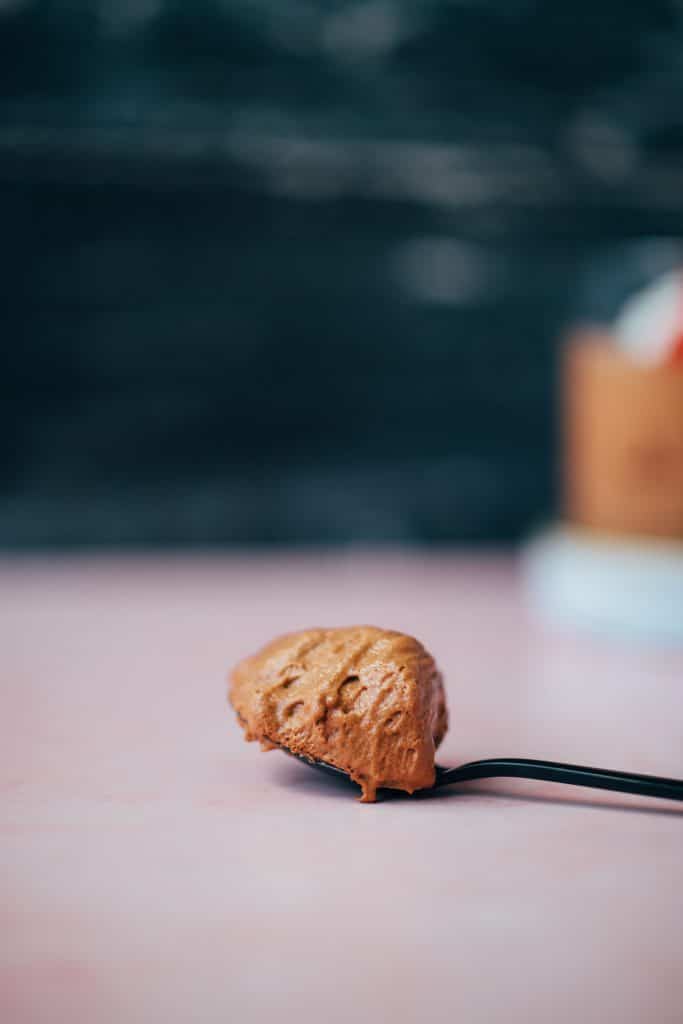 There has hardly been a shorter ingredient list in the history of veganevibes hardly existed. There are, believe it or not, only Two products that we need for our dessert today. Actually, there are three, but it also works great with just two. Giggle snow (or Aquafaba ) and dark vegan Chocolate or chocolate coating. You may now be wondering what the third "secret" ingredient is. Those who know me already suspect it: xanthan gum! Exactly, because the natural stabilizer derived from bacteria is for me a true miracle cure in vegan cuisine.
TIP: Xanthan gum sounds exotic and perhaps unhealthy, but it's not. It is obtained naturally and is approved for organic food. I appreciate it for various purposes, such as the preparation of Ice cream , Cashew cream and various other dishes in vegan cuisine. Xanthan gum should simply everyone have in the house.
Often mousse made from Aquafaba quickly becomes watery and partially collapses again. You can also avoid this with xanthan gum. This makes our dessert really nice and firm and still tastes great after 1-2 days in the refrigerator.
Vegan chocolate mousse from aquafaba goes simply always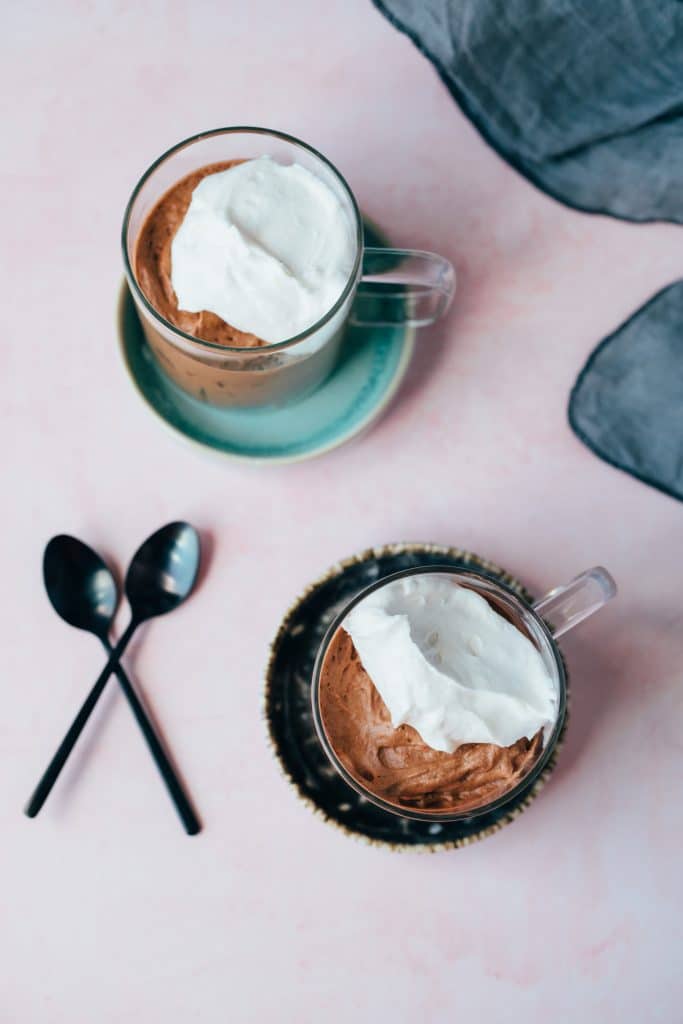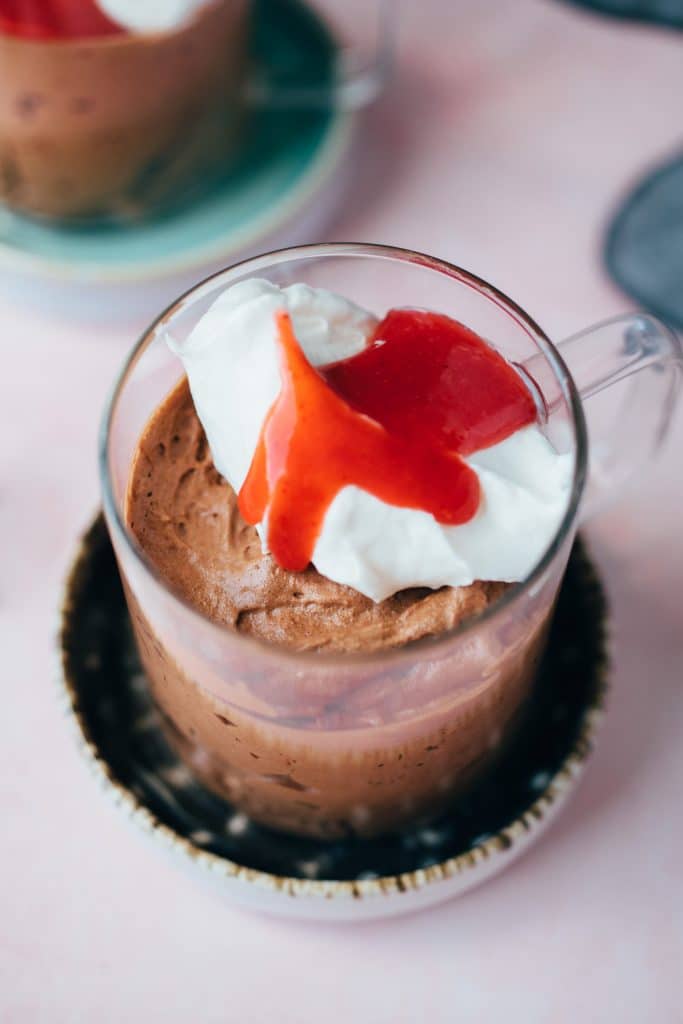 Perhaps you are just now asking yourself what can go wrong in the production of the Mousse everything can go wrong. Honestly, not much, but there are one or two pitfalls. Therefore, here are my tips and tricks so that it also succeeds for sure
Here are a few more tips to make it really work:
As already indicated Use of xanthan gum simply a dream. The mousse remains stable and does not become watery. I've linked you to the product I use in the ingredients list below.
The Chocolate should not be too hot , important point! If the melted chocolate is still too hot, the mousse may collapse. I always let the chocolate stand for a few minutes after melting and check the temperature with a finger (this also has advantages when you can snack directly).
The Aquafaba is not stiff enough, or was not made properly. Here you can find detailed instructions on how to make aquafaba.
The Chocolate quality is poor or not suitable. Make sure the chocolate is good quality, I use a dark vegan chocolate coating that I've linked you to below. Please note that the mousse may become bitter if you use a chocolate with a very high cocoa content. Add a little sweetener here if necessary.
Other than that, there's really not much that can go wrong, except that the Dessert runs out too quickly and you have to make more. As topping I use vegan cream and strawberry sauce, here you can let your imagination run wild.
What do we do with the leftover chickpeas? I suggest, Chickpea cookies , simple Chickpea Tikka Masala or Beet Hummus .
The fluffy chocolate mousse (2 ingredients) is:
chocolatey
creamy
fluffy
Few ingredients
Simply made
You love chocolates Mousse as much as I do? Then I look forward to a review at the bottom of this page. If you post a picture, feel free to use the hashtag #veganevibes.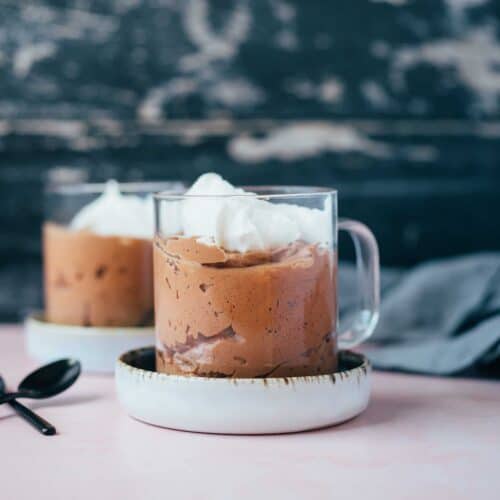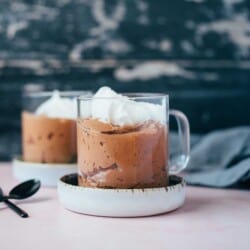 Chocolate mousse (2 ingredients)
Incredibly fluffy vegan chocolate mousse made from two ingredients. Fluffy whipped chickpea snow or aquafaba meets fine dark chocolate and becomes a dreamlike mousse.
AUTOR: VEGANEVIBES
TOPPING:
Vegetable cream

Strawberry sauce
Anleitung 
Strain chickpeas and pour chickpea water into a bowl.

Beat chickpea water in a food processor with a whisk attachment until a firm white and egg white-like mixture is formed.

Hint: You can't beat egg whites "too much", they will stay and keep firming up.

In the meantime, melt chocolate over a water bath. Do not allow to become too hot. Once the chocolate is melted, let cool for a few minutes. Before folding in the chocolate, test again with your finger to make sure it is not too hot. Temperatures that are too hot will cause the fake "egg whites" to collapse.

150 g vegan dark chocolate coating,

¼ tbspn Xanthan Gum,

Optional: ½ tsp cinnamon

Add chocolate to the faux egg whites and fold in with a whisk or silicone scraper. See video.

Pour into dessert glasses and let set for at least

4 hours

or overnight.

Vegetable cream,

Strawberry sauce

Garnish with desired toppings before serving and enjoy!

Store leftovers in an airtight container in the refrigerator for up to 3 days.
Notizen
*Strain chickpeas from the can and use water. Save chickpeas and make into hummus or curry.
Nährwertangaben
Serving:
1
Portion
Calories:
233
kcal
Carbohydrates:
24
g
Protein:
3
g
Fat:
14
g
Saturated Fat:
8
g
Cholesterol:
2
mg
Sodium:
8
mg
Potassium:
250
mg
Fiber:
4
g
Sugar:
15
g
Vitamin A:
19
IU
Vitamin C:
1
mg
Calcium:
23
mg
Iron:
3
mg