Chickpeas and Cookies ? Yes, that's exactly how I looked when I heard that for the first time. Yes, you can and even very, very well. I was at my brother-in-law's birthday dinner yesterday and the round was equally wide-eyed. Chickpeas may appear once in a hearty Recipe but in Cookies ? You usually only find white flour, margarine and sugar there, right? I found the idea in any case pretty gigantic and have made me a few days ago to try out. Do the cookies then taste like chickpeas? Can this really work? I have tried all this for you and you can find the answers below in the text.
Chickpea cookies with chocolate chips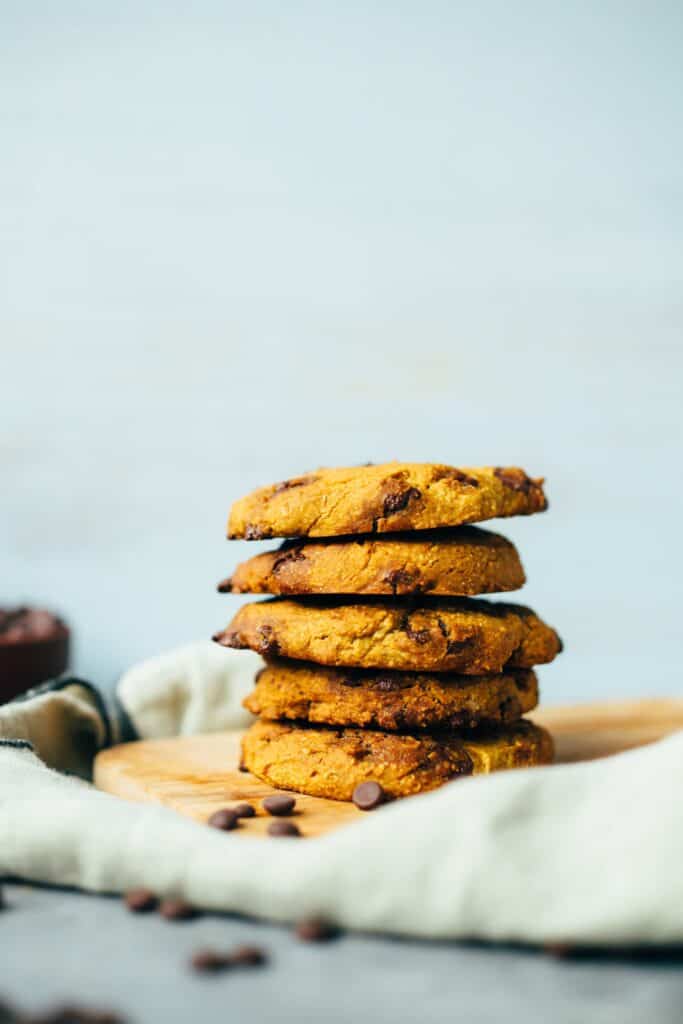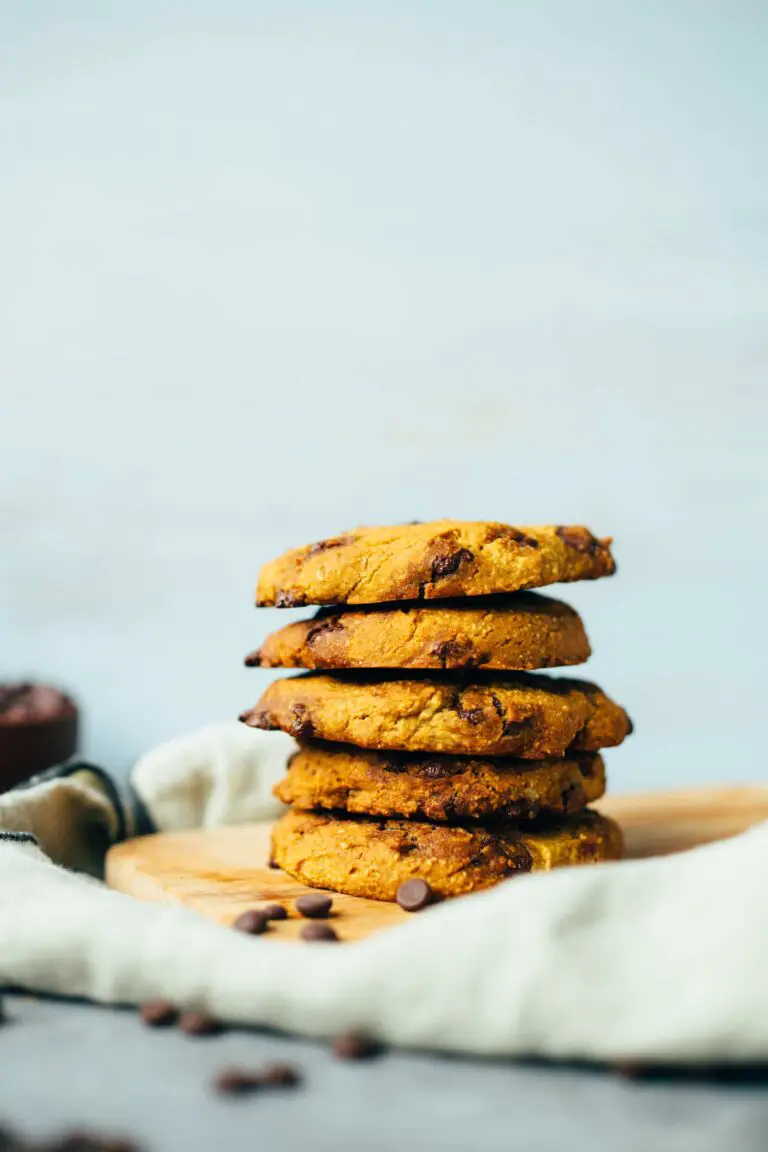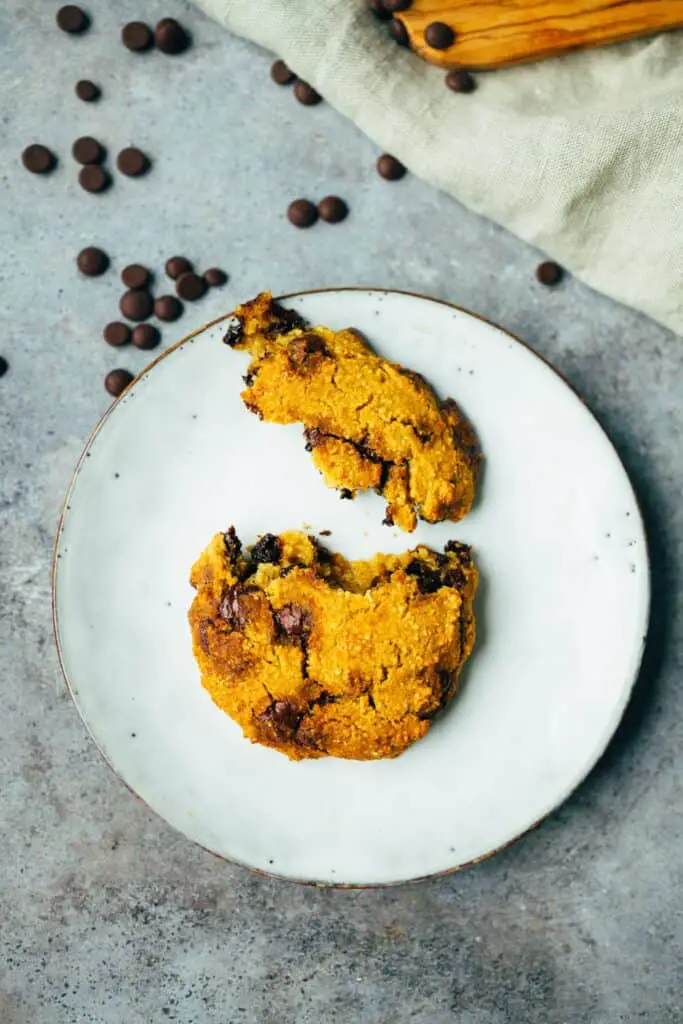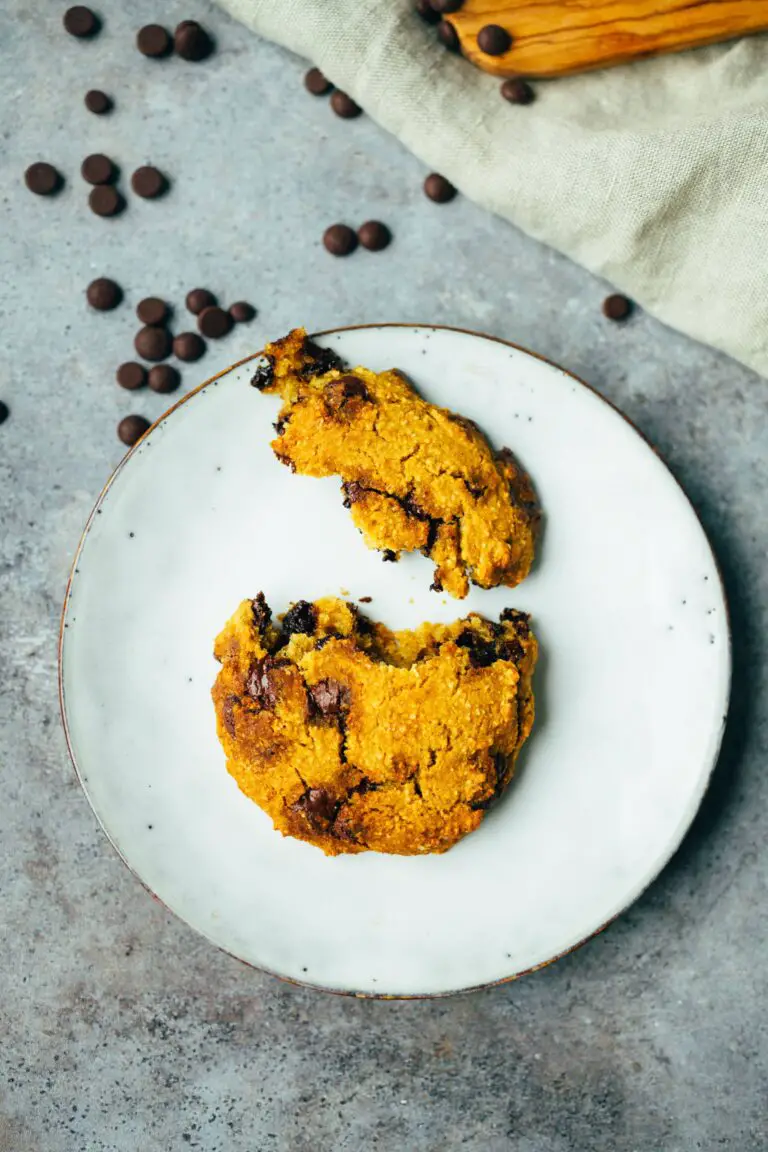 Chickpeas , oat flour, sugar, oil, baking soda, apple cider vinegar, bourbon vanilla, salt and Chocolate Chips . This looks like a pretty short ingredient list, and it is. I like to use chickpeas from the jar or from the can and have here immediately the first TIP I always make sure that the cans or jars are BPA free. You may now be asking yourself what BPA actually is and why it can be harmful.
What actually is BPA?
Bispehnol A (BPA) is a controversial substance that is used, among other things, for the screw caps of food cans. or glasses is used. According to EU regulation, BPA is prohibited for use in food packaging is permitted, as long as a certain limit value is adhered to. The problem with BPA is its hormone-like effect on the body, as has been shown in scientific studies. BPA becomes also repeatedly with infertility and other hormone-related diseases associated. For this reason, I consciously buy jars and cans, which are free from this substance. I have you my favorite manufacturer below linked at the ingredients. *Advertising since brand mention, but no Connection to the company.
But now we come back to the Cookies After all, today we are talking about these sweet sins. A prerequisite for making the dough is a food processor, so that the chickpeas become really nice and fine. Here are a few more tips and tricks to make sure the Cookies also succeed really well:
CHICKER BEANS: I super like to use chickpeas ready cooked from a jar or can. Nevertheless, I soak them again before use at least 30 minutes in cold, clear water before use. This reduces the intense smell of the chickpea water and also helps prevent gas buildup (you know what I mean by that).
CONSISTENCY: The consistency of the dough is a little softer, almost mushy than a "normal" cookie dough. But don't let that deter you, the cookies are just a tad harder to shape. I do this with moistened hands and it works wonderfully.
LET COOL: I understand that you want to eat these delicious vegan cookies right off the baking sheet. However, it's worth letting them cool down really well. Only then they taste really good and
HOW HEALTHY ARE CHICKPEAS?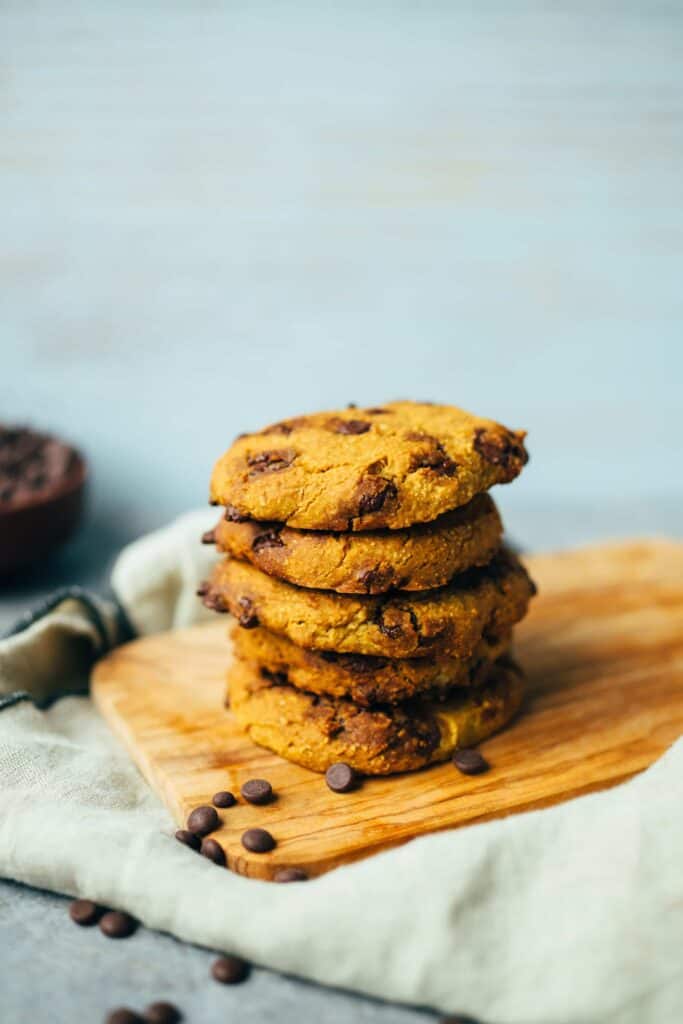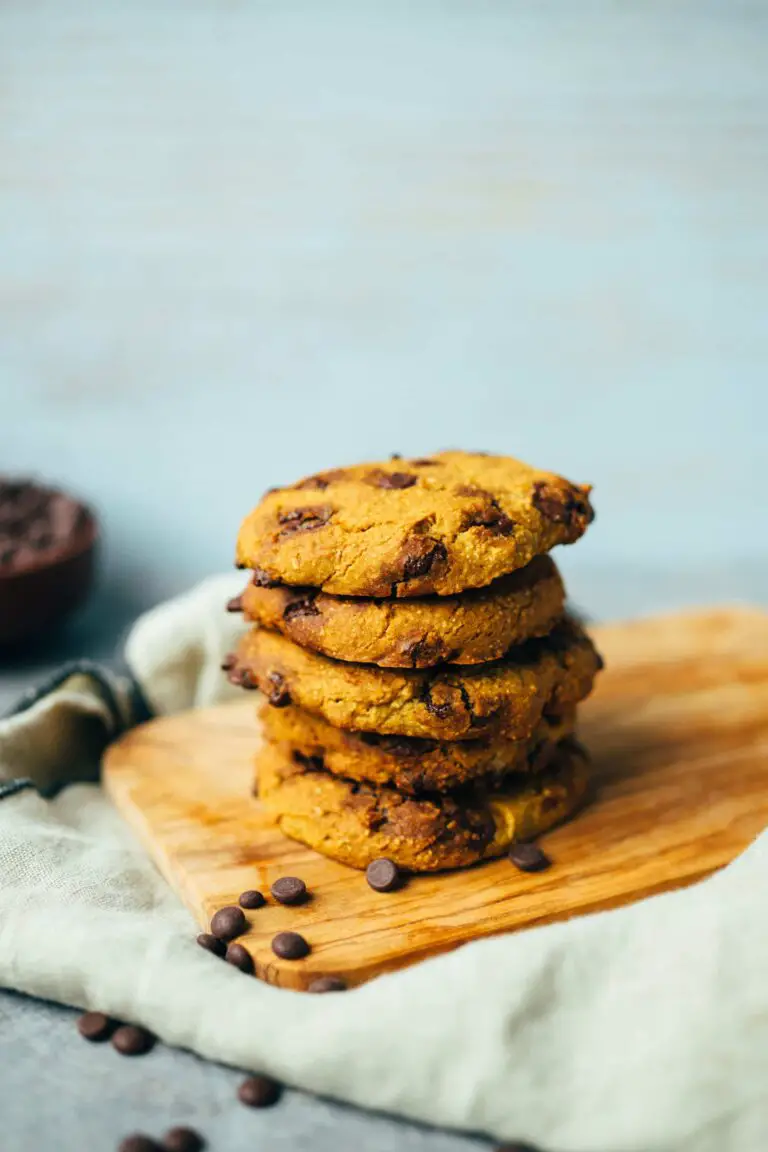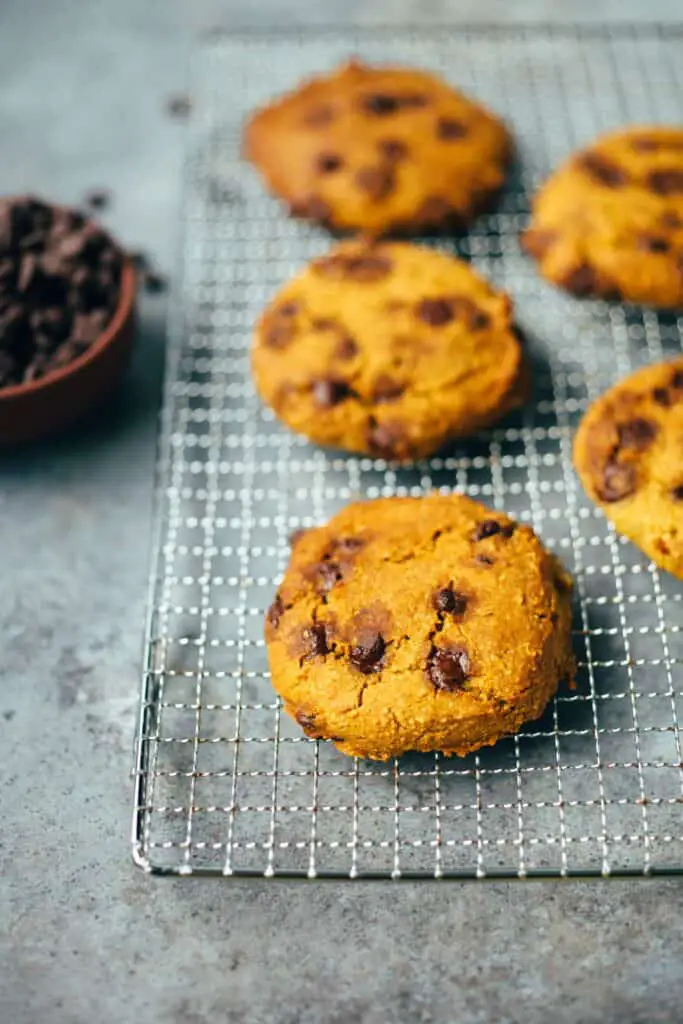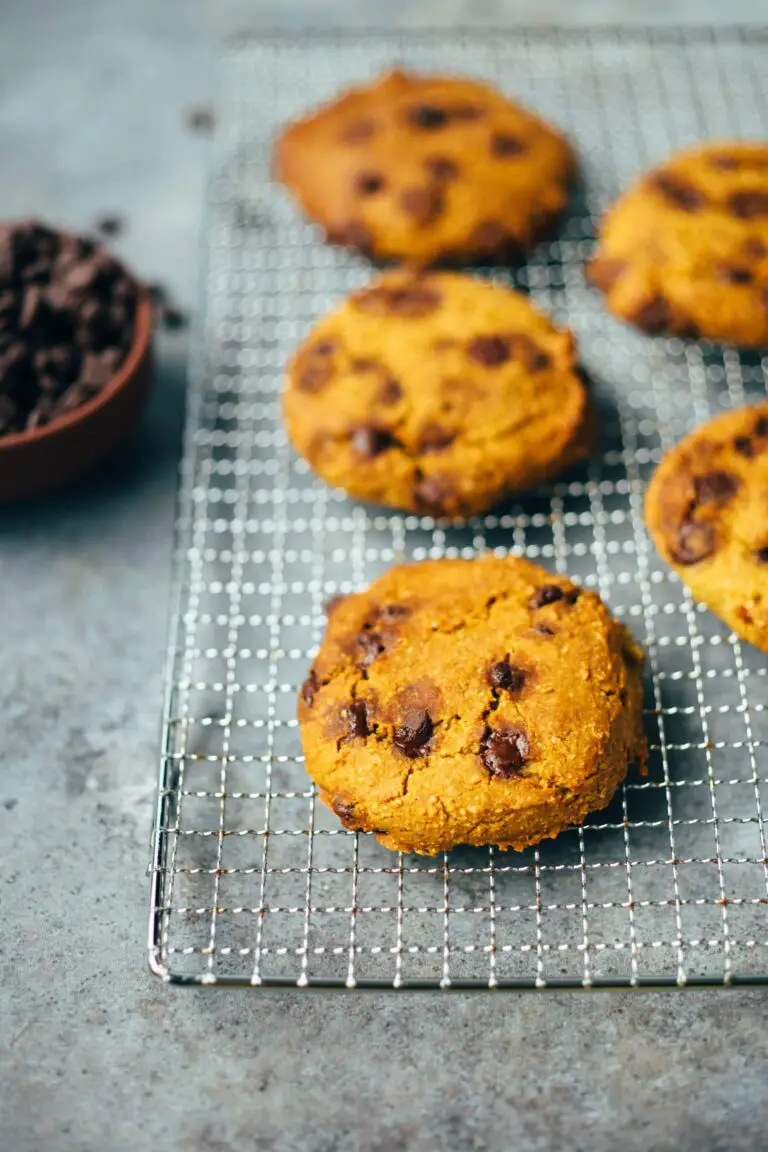 Now the only question is why they are so healthy. Chickpeas are actually so healthy. The little beauties are often called "the chicken of vegans" and are one of my absolute favorites when it comes to vegan cuisine. They are a healthy source of protein, particularly rich in vitamin K, magnesium and iron, and contain the essential amino acids valine, leucine and isoleucine. Need I say more? No? Then let's get started together.
Back to our Cookies by the way fits a glass Almond milk , a Caramel Latte or a hot cup of tea.
Are you ready for these incredibly delicious chocolate chip cookies with chickpeas ? They are:
Quickly made
Extra-chocolatey
Rich in Nutrients
Outside crispy
high protein
Pleasantly sweet
Let's go with these incredibly delicious vegan Cookies I wish you a lot of fun while baking and of course about a rating at the bottom of this page. If you post a picture, use the hashtag #veganevibes.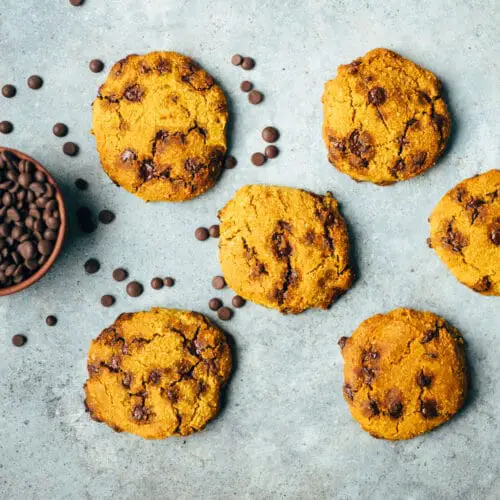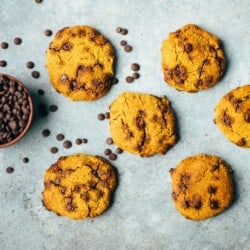 Chocolate chip cookies with chickpeas
Chickpea cookies vegan with chocolate chips with oat flour and dark chocolate chips. Rich in valuable protein and fiber. Perfect for the whole family.
AUTOR: VEGANEVIBES
Anleitung 
Preheat oven to 175 degrees, line baking sheet with parchment paper or a permanent baking mat.

FOR THE DOUGH Place chickpeas, oatmeal flour, sugar, oil, apple cider vinegar, baking soda, bourbon vanilla and sea salt in a blender and blend until a fine dough forms. The dough should be softer than a normal cookie dough but still malleable. See video. If too soft, add more flour, if too firm add a sip of vegetable milk.

265 g Chickpeas drained,

90 g Oatmeal flour,

100 g Raw cane sugar,

45 ml Frying and baking oil,

1 tbspn Apple cider vinegar,

½ tbspn Baking soda,

¼ tbspn Bourbon vanilla or ½ tsp vanilla extract,

A pinch of sea salt

Using your hands and a spoon, separate 14 even portions. Place on baking sheet, flatten and shape into cookies and place Chocolate Chips. Keep hands moist, this makes the work easier.

Put in the oven and bake for 20 minutes.

Remove from the oven and allow to cool completely. enjoy! Up to 5 days in shelf life. Uncovered at room temperature they become drier, in a box airtight they remain softer.
Nährwertangaben
Serving:
1
Cookie
Calories:
142
kcal
Carbohydrates:
21
g
Protein:
3
g
Fat:
6
g
Saturated Fat:
1
g
Cholesterol:
1
mg
Sodium:
46
mg
Potassium:
79
mg
Fiber:
2
g
Sugar:
12
g
Vitamin A:
20
IU
Vitamin C:
1
mg
Calcium:
20
mg
Iron:
1
mg