Who among you can say no to Double Chocolate? Not me, because I could die for Chocolate . I'm particularly fond of cookies, which are somehow so handy and just look tempting. You know those glass containers in various coffee shops? I was going to get one of these containers once, but then decided against it. Otherwise, I could also go right back to shopping for clothes and buy me two sizes larger. Joking aside, our today's Cookies come completely without oil or margarine, but unfortunately still contain calories. No one has ever invented cookies Cookies without sugar, fat and flour.
DOUBLE CHOCOLATE COOKIES FOR THE WIN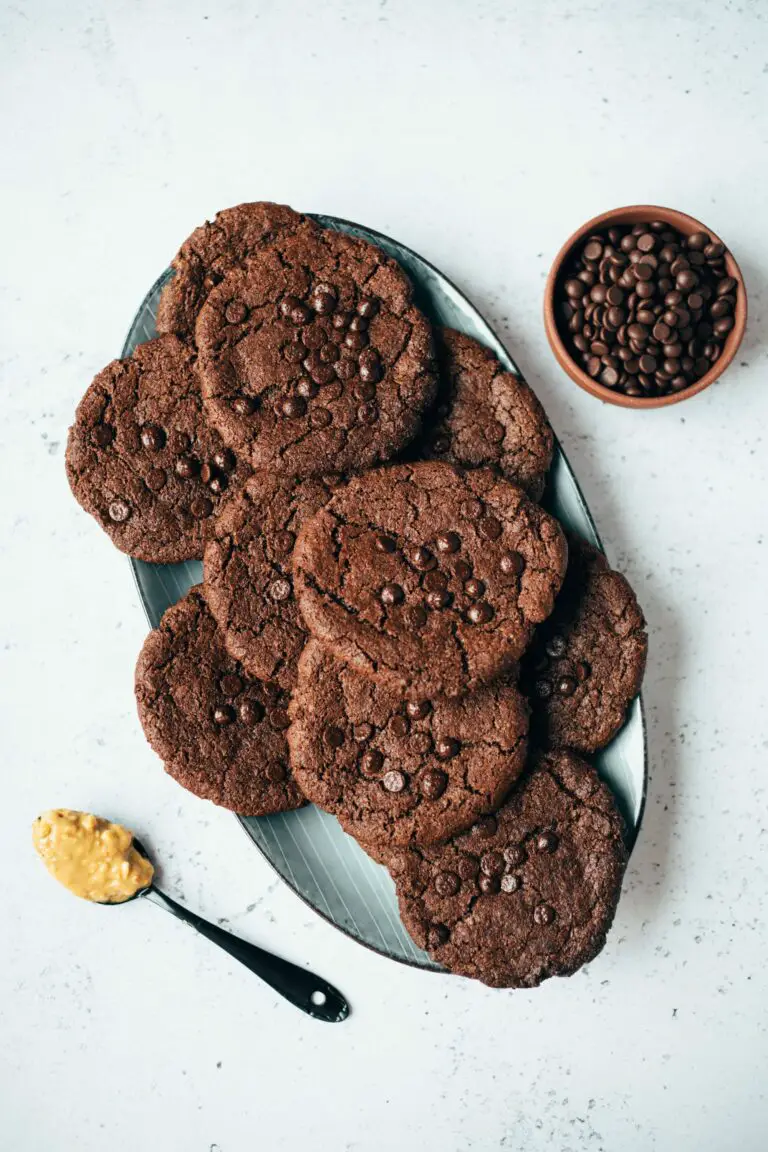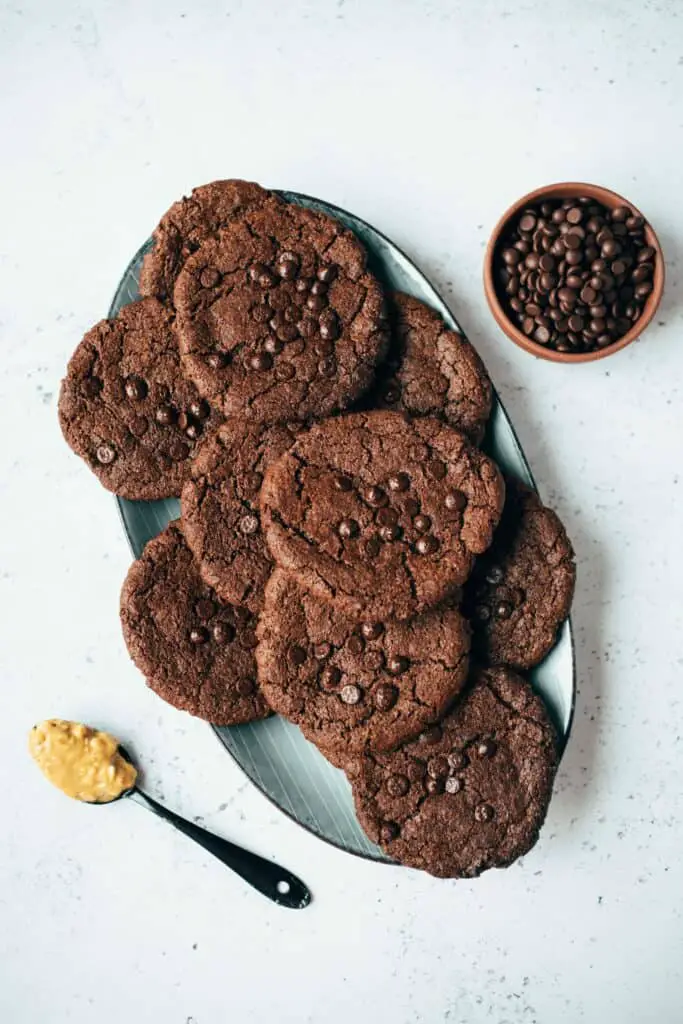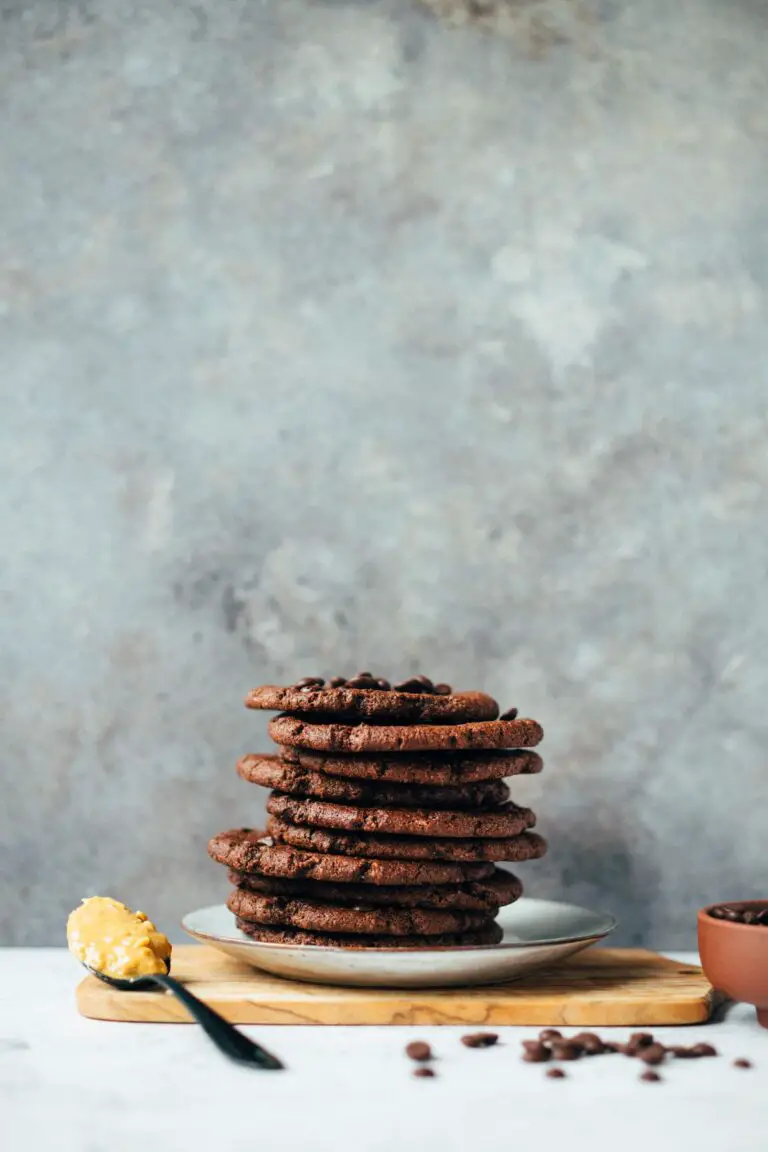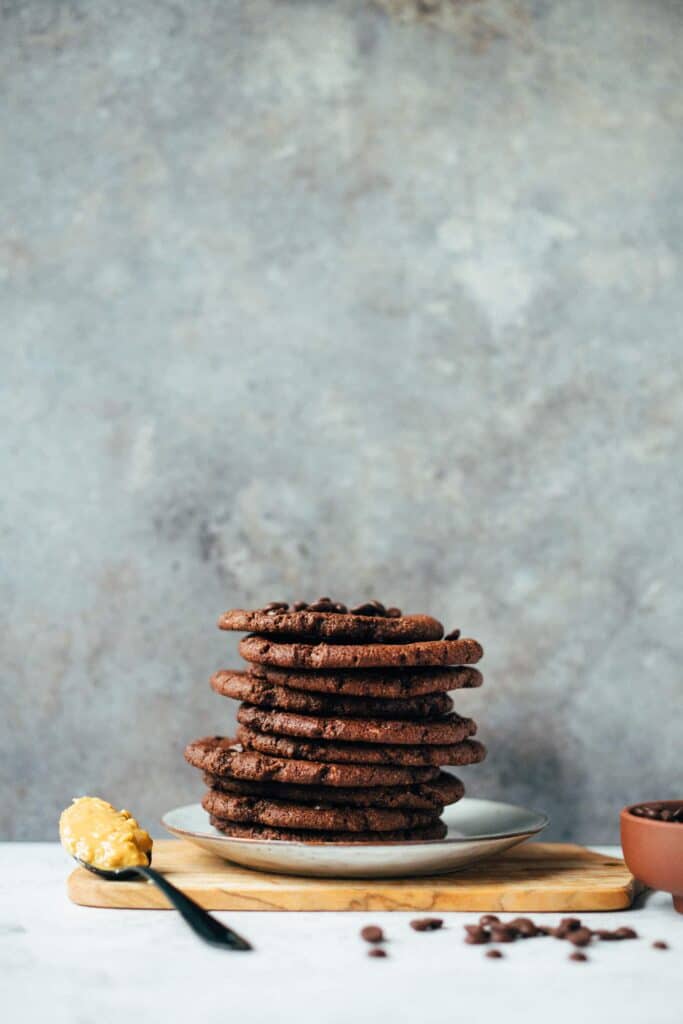 Almond paste, raw cane sugar (or another sugar of your choice), Flaxseed egg , applesauce, bourbon vanilla, spelt flour, baking powder, salt, cocoa powder and melted chocolate. These are the basic ingredients. What must not be missing in any case? Extra chocolate drops on top.
Place all ingredients in a bowl and mix with a silicone spatula, or wooden spoon until smooth . Divide into about 18 portions of 40g each, roll into a ball and place on the baking tray. Then just flatten once more and sprinkle with chocolate drops.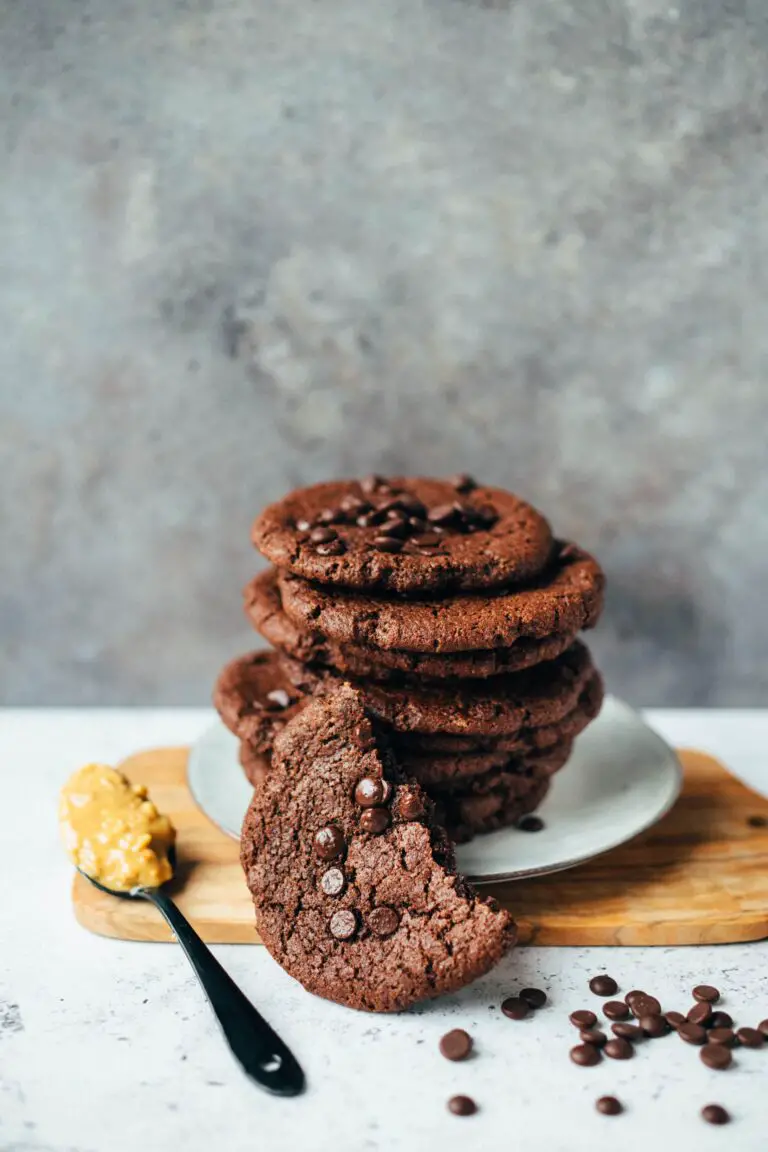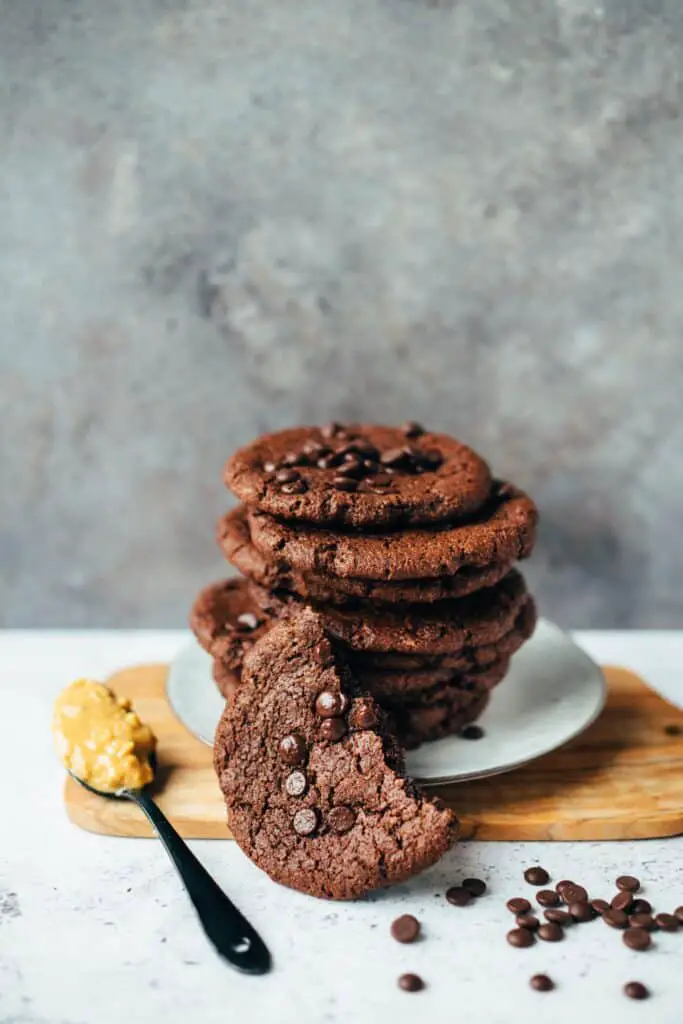 HOW HEALTHY ARE ACTUALLY OILS?
I deliberately omit the addition of oil this time, why? Oil is very, very high in calories, such as sunflower oil, which is 879 kcal per 100ml. Now you might think that nut muses also have a lot of calories. Right, because Almond paste also shines with 642 calories per 100g. The big difference, however, is that with pure oil, many fibers and macronutrients are no longer included. These are simply removed during the pressing of oil.
The more I learn about nutrition, the clearer it becomes that overconsumption of vegetable oils is not particularly valuable for health. I'm leaning more and more toward an oil-free diet consisting of whole fruits, nuts (which already contain all the important fats we need) and Vegetables and cereals. I would like to emphasize quite clearly that I do not want to do without oil from one day to the next, but simply use it more consciously. Because, of course, I want us to get the best out of our diet together.
How healthy is sugar in cookies?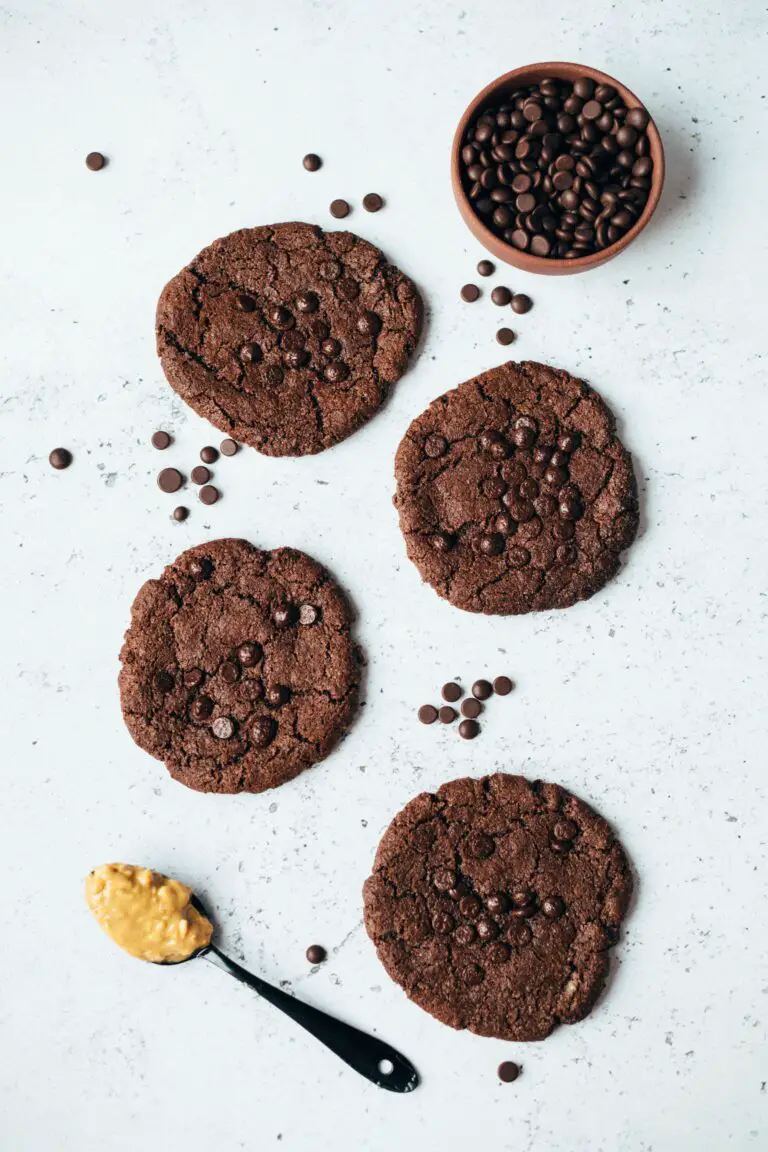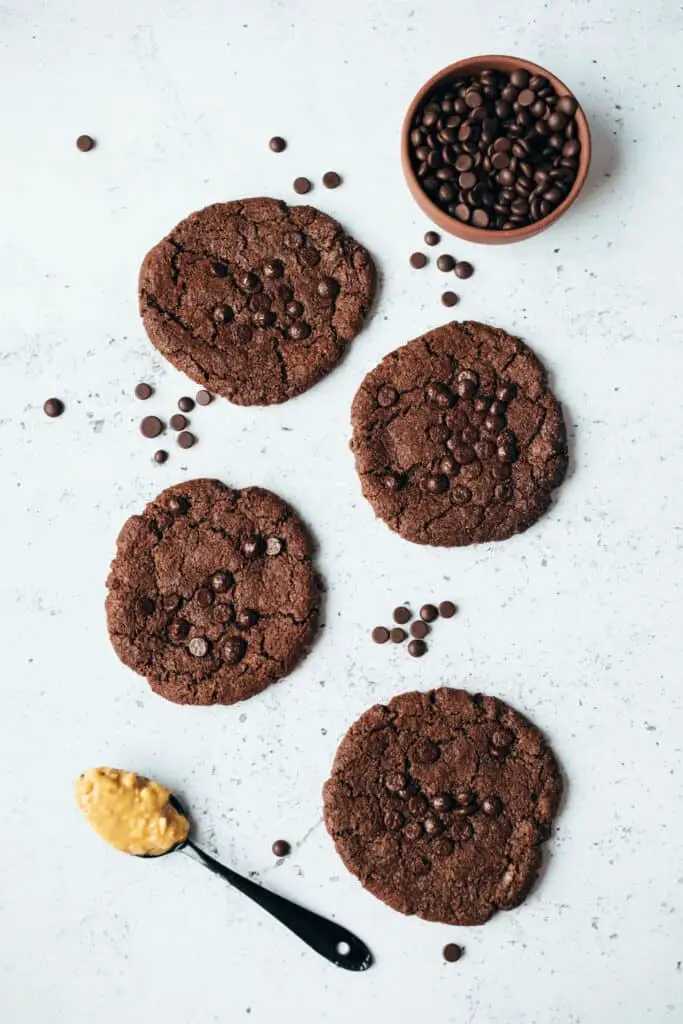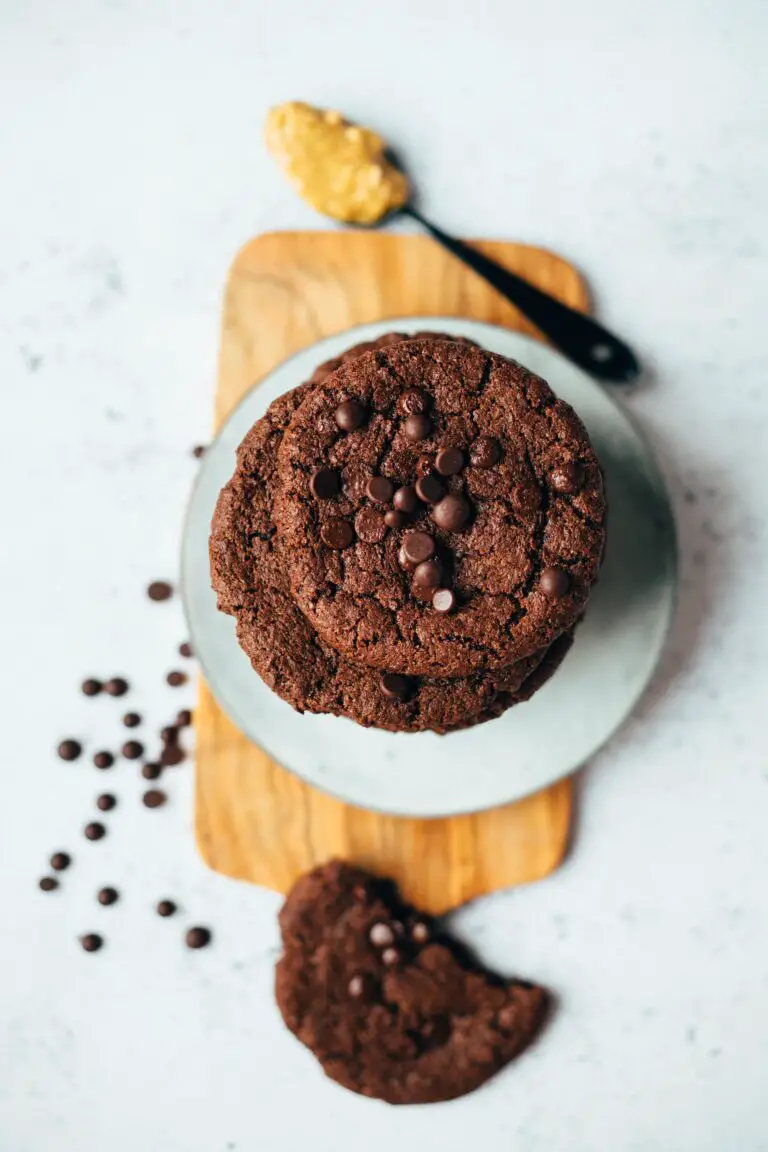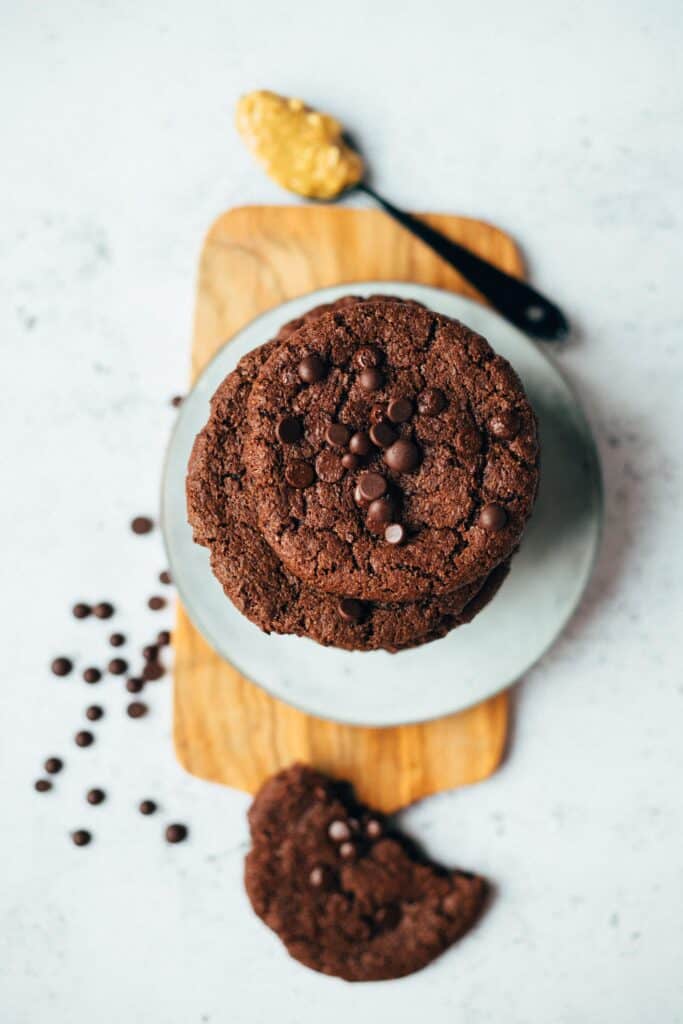 I think with Sugar we don't need to beat around the bush. Sugar is a raw material of which we generally consume far too much. But it's often the hidden sources of sugar that add up over the course of the day. Have you ever consciously looked at the label of an ordinary tomato sauce from the supermarket? Here, the types of sugar often mix together in a counter-colorful way. That's why I'm more into homemade dishes, where I can decide for myself how much sugar I use. Here are a few tips to reduce sugar consumption without having to go without:
Buy as little processed food as possible and cook for yourself. Even if it is more effort at first glance, your health will thank you. Pre-cooking pays off and takes out a lot of stress.
Avoid sugary drinks, including sugar substitutes and sweeteners (suspected of negatively affecting the intestinal flora). Consciously switch to water and spritzers with low juice content and tea.
If you buy ready-made products, then be sure to look at the ingredients. Sugar hides under many names in foods, the most common being sugar, glucose, glucose-fructose syrup, invert sugar syrup, dextrose, barley malt, and many more. The further forward the ingredient is in the row, the more of it is in the product.
Back to our Cookies (they should actually play the main role today). Perfect with a glass of Almond milk of tea, a Golden Latte or a hot cup of tea.
I don't know about you, but I'm sweetening up this gray day today with a delicious, homemade, vegan and oil-free Double Choc Cookie . Yum!
Are you ready for these incredibly delicious chocolate cookies? They are:
Quickly made
Extra-chocolatey
Inside soft
Outside crispy
oil-free
Pleasantly sweet
Let's go with these incredibly delicious vegan Cookies I wish you a lot of fun while baking and of course about a rating at the bottom of this page. If you post a picture, use the hashtag #veganevibes.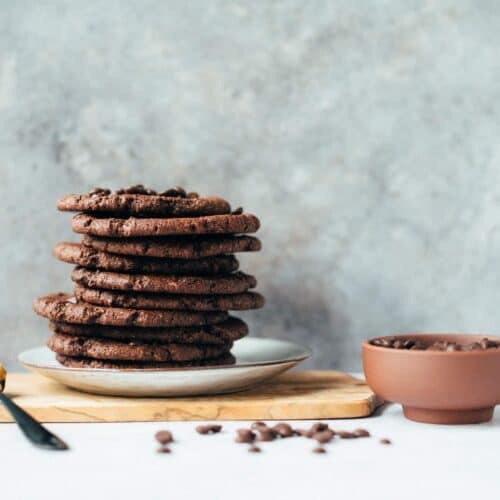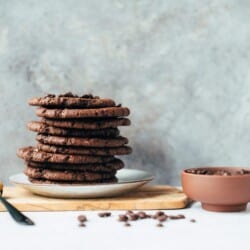 Double Chocolate Cookies
Vegan, oil-free Double Chocolate Cookies with fine spelt flour (or gluten-free flour blend). Extra chocolatey, crispy outside with soft center.
AUTOR: VEGANEVIBES
FOR THE COOKIE DOUGH:
1

Piece

Flaxseed egg (see detailed description flaxseed egg)

120

g

Almond paste or other nut paste of your choice

alternatively white almond paste or creamy peanut butter

150

g

Raw cane sugar

or another sugar of your choice, use a little less if needed

115

g

Spelt flour

or fine gluten-free flour mix if not gluten-free

39

g

Cocoa powder

64

g

Apple pulp

when using applesauce take a little less sugar, because it is already sweetened

½

tbspn

Baking soda

½

tbspn

Baking powder

100

g

liquid dark chocolate

melted
Anleitung 
Preheat oven to 175 degrees, line baking sheet with parchment paper or a permanent baking mat.

FOR THE DOUGH Combine almond paste, raw cane sugar, spelt flour, cocoa powder, apple pulp, baking soda, baking powder, vanilla, flaxseed egg, sea salt and liquid vegan chocolate in a large bowl and mix with a silicone spatula or preferably by hand until smooth.

1 Piece Flaxseed egg,

120 g Almond paste or other nut paste of your choice,

150 g Raw cane sugar,

115 g Spelt flour,

39 g Cocoa powder,

64 g Apple pulp,

½ tbspn Baking soda,

½ tbspn Baking powder,

¼ tbspn Bourbon vanilla or ½ tsp vanilla extract,

A pinch of sea salt,

100 g liquid dark chocolate

Using your hands and a spoon, separate 18 even portions. Shape into balls and roll once in the prepared coating. Place on baking sheet, flatten and shape into cookies. Decorate with chocolate drops as desired.

Dark vegan chocolate drops

Put in the oven and bake for

12 minutes

. At this baking time they become nice and soft. If you want them drier, increase baking time to 15 minutes.

Remove from the oven and allow to cool completely. enjoy!
Nährwertangaben
Serving:
1
Cookie
Calories:
138
kcal
Carbohydrates:
19
g
Protein:
3
g
Fat:
7
g
Saturated Fat:
2
g
Cholesterol:
1
mg
Sodium:
51
mg
Potassium:
106
mg
Fiber:
2
g
Sugar:
12
g
Calcium:
34
mg
Iron:
1
mg