Sun, sun, sun! Finally there is a little breeze of Spring around the corner, or am I just imagining it? At least the thermometer shows clear plus degrees and I am looking forward again to the little midday walks with our two huskies to get some sun. Today I'm going to take a quick look at the construction sites, because maybe you've already noticed that we'll be moving soon. Yes, that's right and I'm getting a proper, great new and most importantly spacious kitchen. Let's see, maybe I'll start a little garden too? Or first of all a herb garden? There is definitely enough space there.
Ayurveda style vegan cookies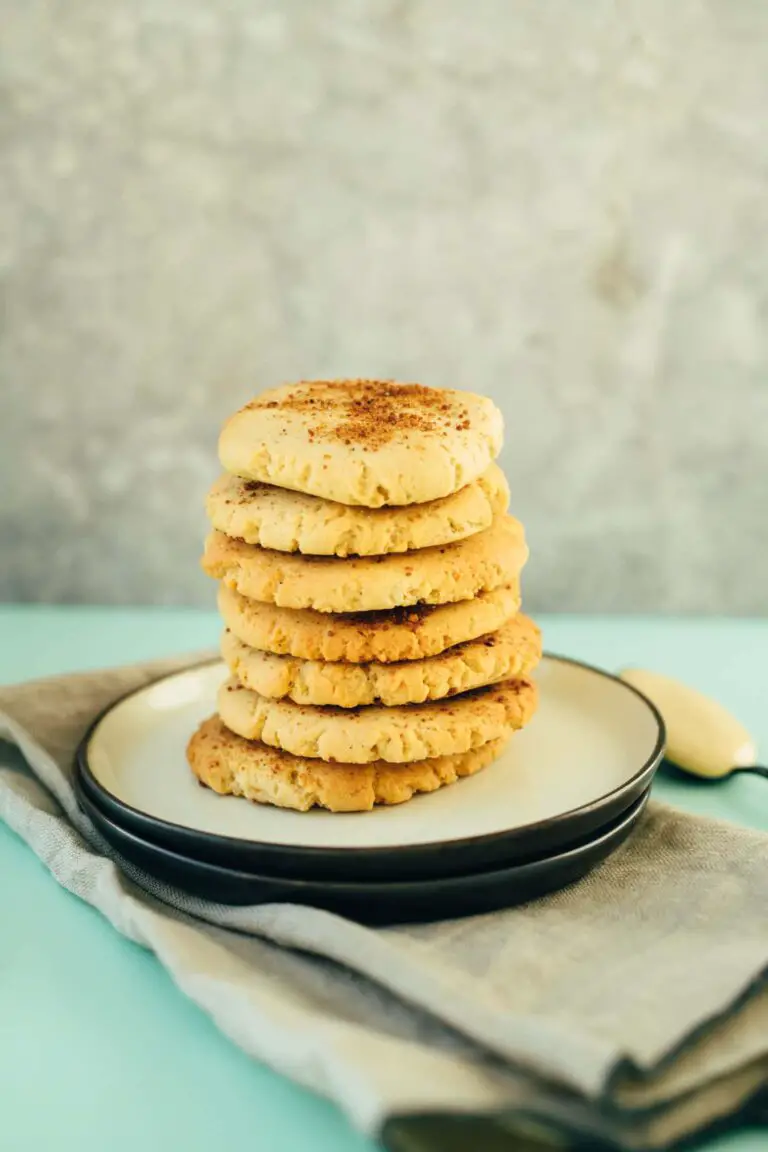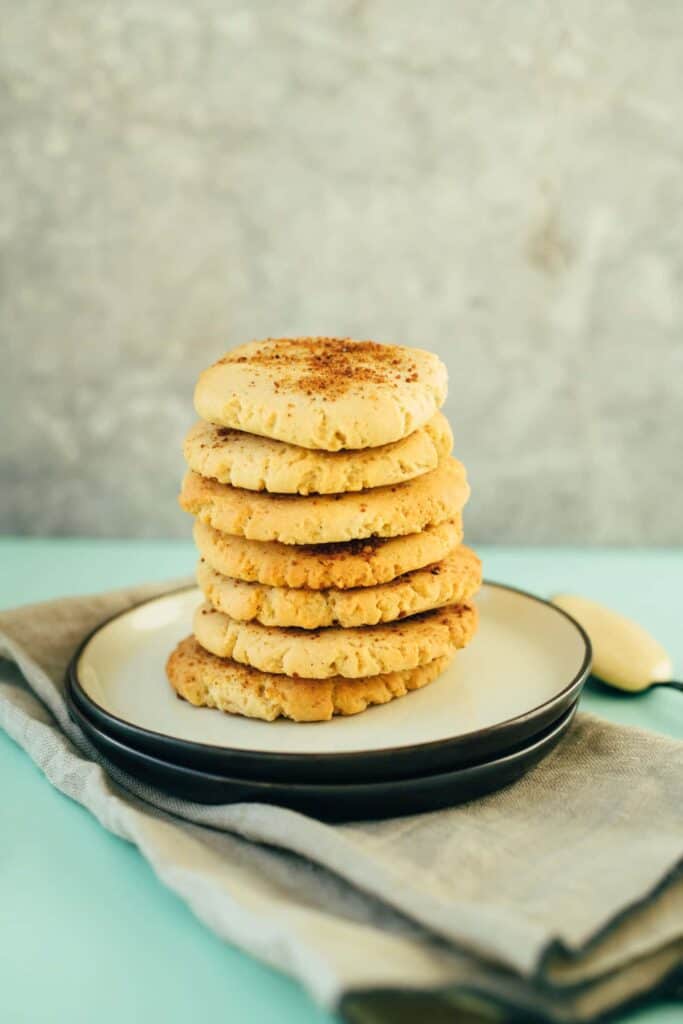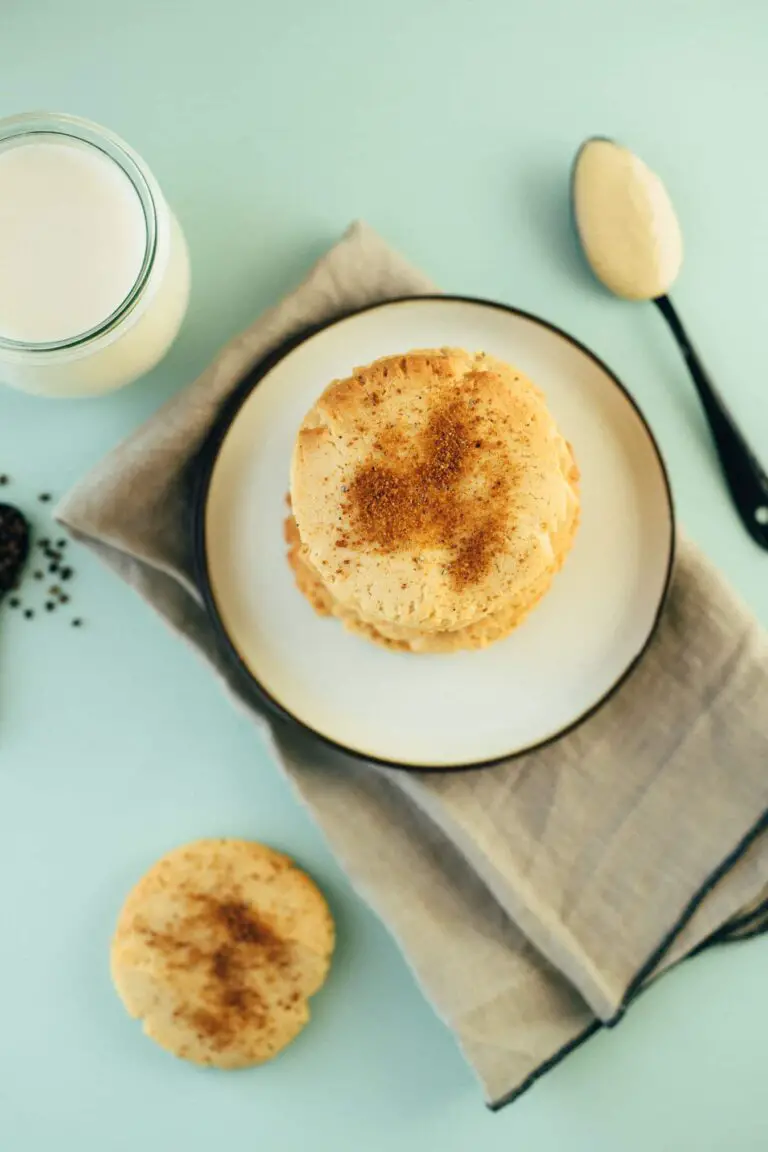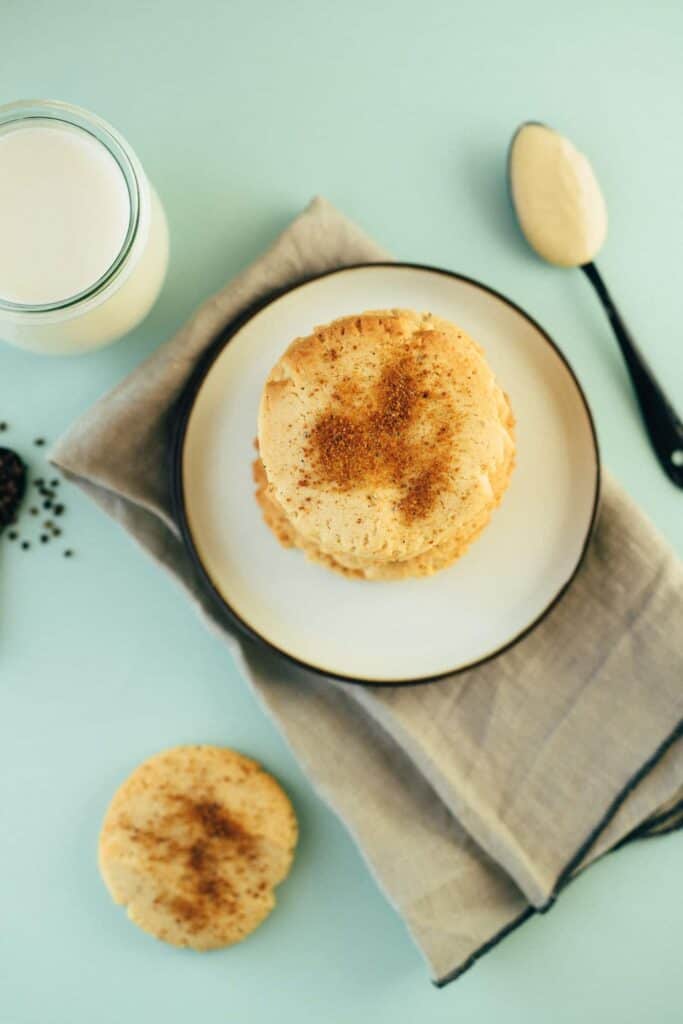 Cashew puree, oil, maple syrup, vegetable yogurt, almond flour, gluten free flour mix or fine spelt flour (for the non-gluten-free option), baking soda, baking powder, a pinch of salt and cardamom. The cardamom I grind fresh in the mortar, but there are already ready cardamom powder to buy as a spice. I find that the freshly mortared Cardamom however, is much more intense than the powder. Otherwise, there are the green cardamom capsules that you can also use here. Just put it in the mortar and go.
Simply place all ingredients in a bowl and mix with a silicone spatula, or wooden spoon to form a dough. It should look as nice as mine in the picture (self-praise stinks). All joking aside! Then all you need is a shallow dish of coconut blossom sugar and some ground cardamom. Finally, divide the dough into 16 even pieces, shape into cookies, and roll in the cardamom-coconut flower mixture. How that already smells!
How healthy is actually Cardamom?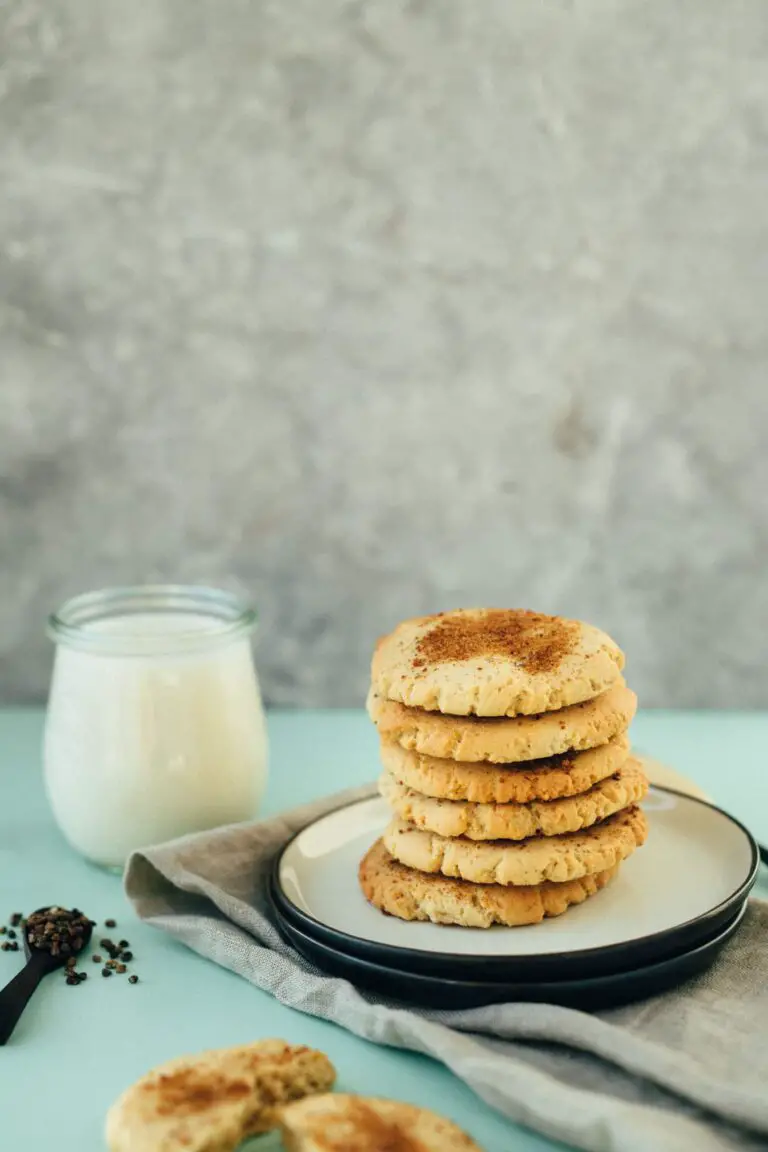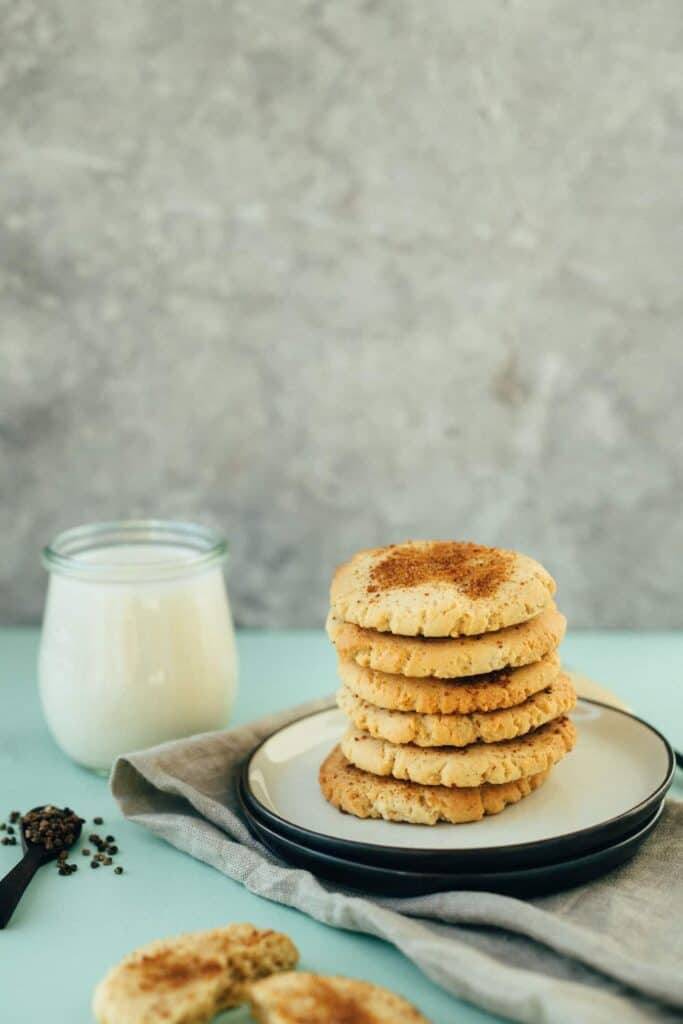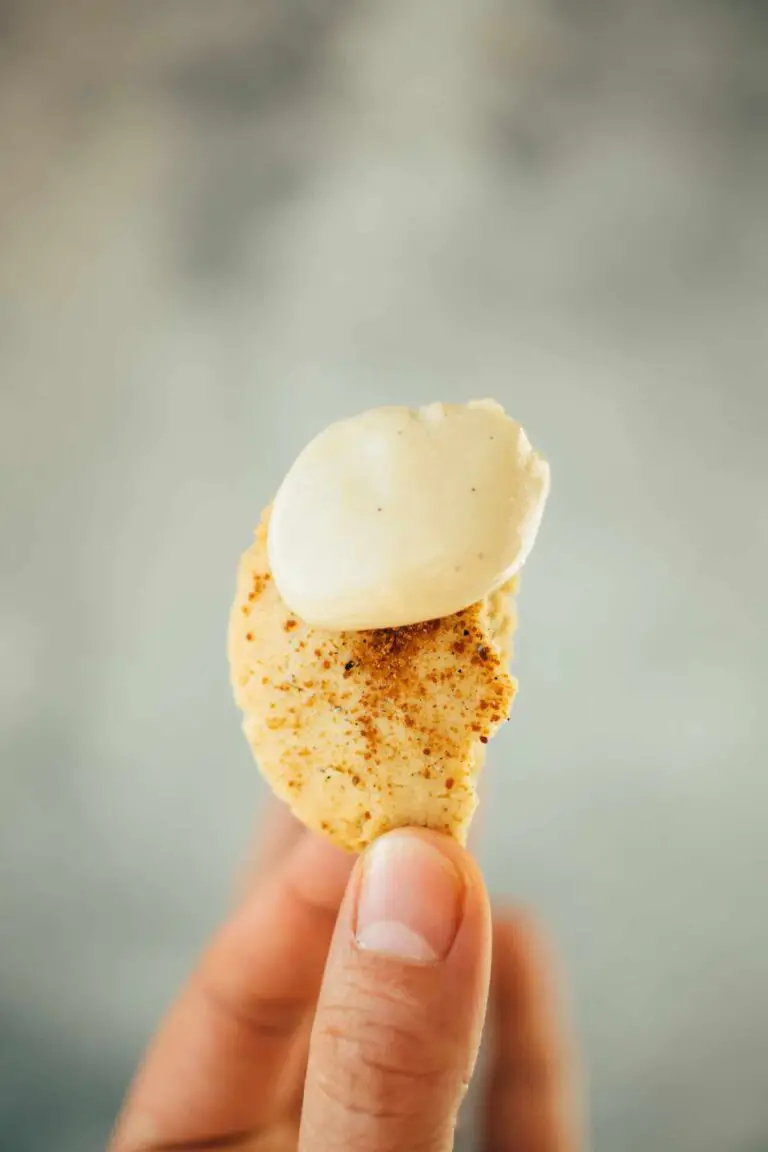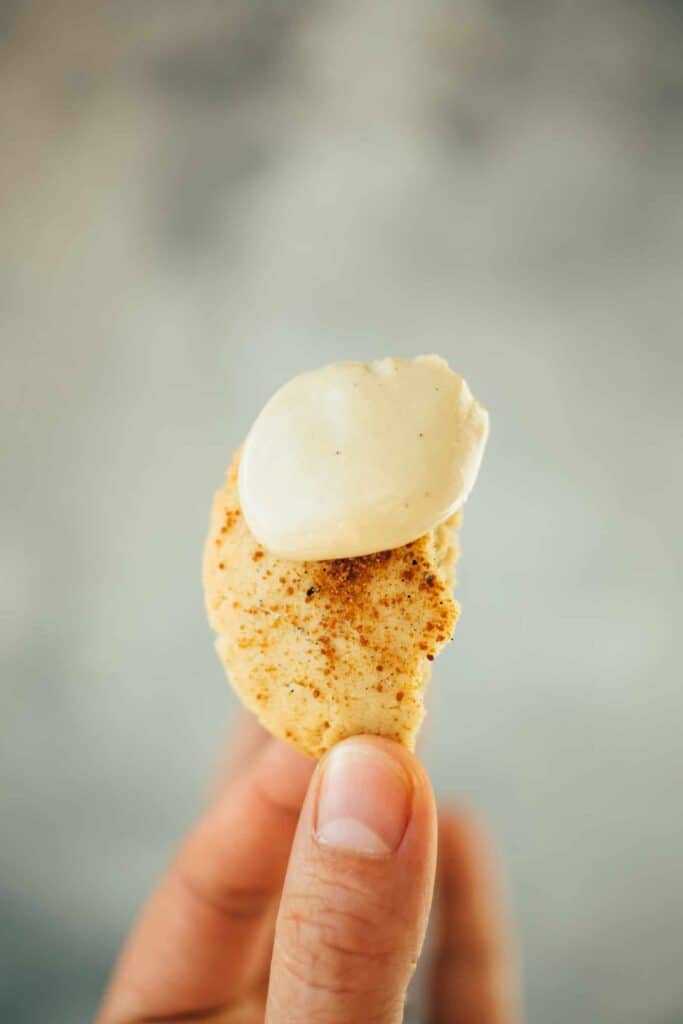 Cardamom is one of the oldest spices in the world and was already used by the ancient Indian Vedas. No wonder it has such an important position in Ayurveda today. It shall give people who do not like the intense flavor so much, but I must confess that I am totally in love with cardamom:
Stimulates the Digestion on
Has an appetizing effect (is that why I ate maybe 3 cookies at once?).
Alleviates Nausea and flatulence
Refreshes the Breath
Contains up to 7.5% essential oils (cineole), which have anti-inflammatory, analgesic and have an antibacterial effect
Perfect with a glass of Almond milk a Golden latte or a hot chocolate . I also like to dip the cookies in almond paste once in a while, so yummy!
I am of the opinion that the ayurvedic Spring can start from now on. Are you ready? With a tray, oven and a handful of ingredients, you're ready to go.
Are you ready for these aromatic cardamom cookies? You are
Quickly made
Crispy
Pithy
simple
Spicy
Let's go with these incredibly delicious vegan Cookies I wish you a lot of fun while baking and of course about a rating at the bottom of this page. If you post a picture, use the hashtag #veganevibes.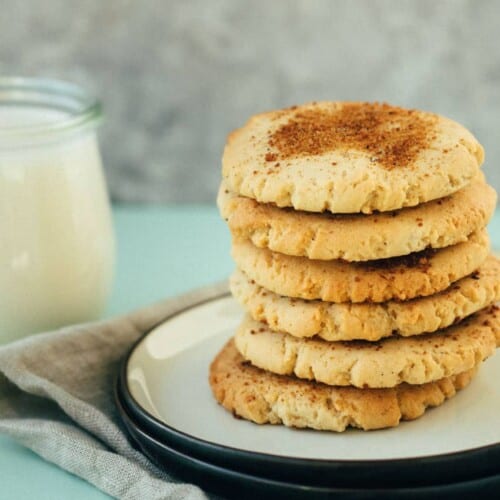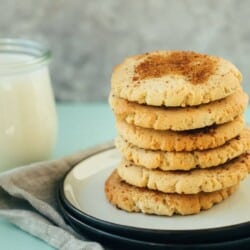 Vegan cardamom cookies
Vegan ayurvedic cardamom cookies naturally sweetened with maple syrup and coconut blossom sugar, topped off with freshly ground cardamom. Goodness-free, with almond flour and gluten-free flour blend, simply ideal for afternoon tea or sweet hunger in between.
AUTOR: VEGANEVIBES
FOR THE COVER:
45

g

Coconut blossom sugar or raw cane sugar

¼

tbspn

freshly ground cardamom capsules

or ½ tsp cardamom powder
Anleitung 
Preheat oven to 175 degrees, line baking sheet with baking paper. FOR THE COATING put all the ingredients in a shallow dish, mix and set aside.

45 g Coconut blossom sugar or raw cane sugar,

¼ tbspn freshly ground cardamom capsules

FOR THE DOUGH put all the ingredients one by one in a large bowl and mix with a silicone spatula or by hand until a smooth dough.

85 g Cashew butter or cashew puree,

54 ml Frying and baking oil or other high-heat oil,

107 ml maple syrup,

15 g Vegetable yogurt,

180 g gluten free flour mix,

32 g Almond flour,

½ tbspn Baking soda,

½ tbspn Baking powder,

A pinch of sea salt,

¼ tbspn freshly ground cardamom capsules

Using your hands and a spoon, separate 16 even portions. Shape into balls and roll once in the prepared coating. Place on baking sheet, flatten and shape into cookies.

Put in the oven and bake for

12 minutes

. At this baking time they become nice and soft. If you want them drier, increase the baking time to 15 minutes.

Remove from the oven and allow to cool completely. enjoy!
Nährwertangaben
Serving:
1
Cookie
Calories:
145
kcal
Carbohydrates:
16
g
Protein:
3
g
Fat:
8
g
Saturated Fat:
1
g
Sodium:
12
mg
Potassium:
88
mg
Fiber:
1
g
Sugar:
7
g
Vitamin C:
0.1
mg
Calcium:
23
mg
Iron:
0.8
mg