Who has anything against a creamy, hot Caramel Latte ? I don't think there will be many opponents. It's cold outside, but not really nice and icy, more like wet and cold. I so wish we had a thick layer of snow so we could have some real fun outside with the huskies. Every day I hope for a few snowflakes, but nothing comes. Dry, wet, cold, where are you rather snow? The other day I was talking to relatives who have lived here all their lives. In winter, there is said to have always been snow in masses in this area. Is it perhaps due to climate change and is it man-made? Good questions, with complex answers. Since I prefer to devote myself today to a very simple thing and that is a super creamy Hot drink . Are you with us?
Caramel latte vegan with CBD oil?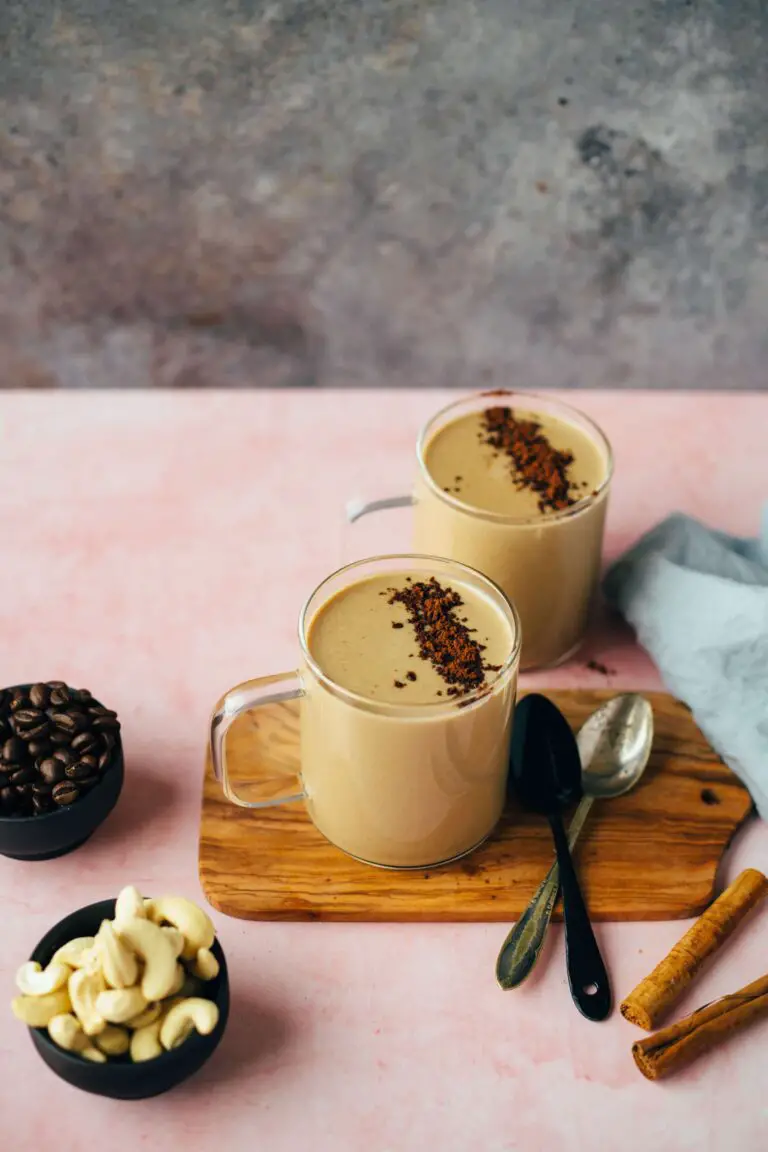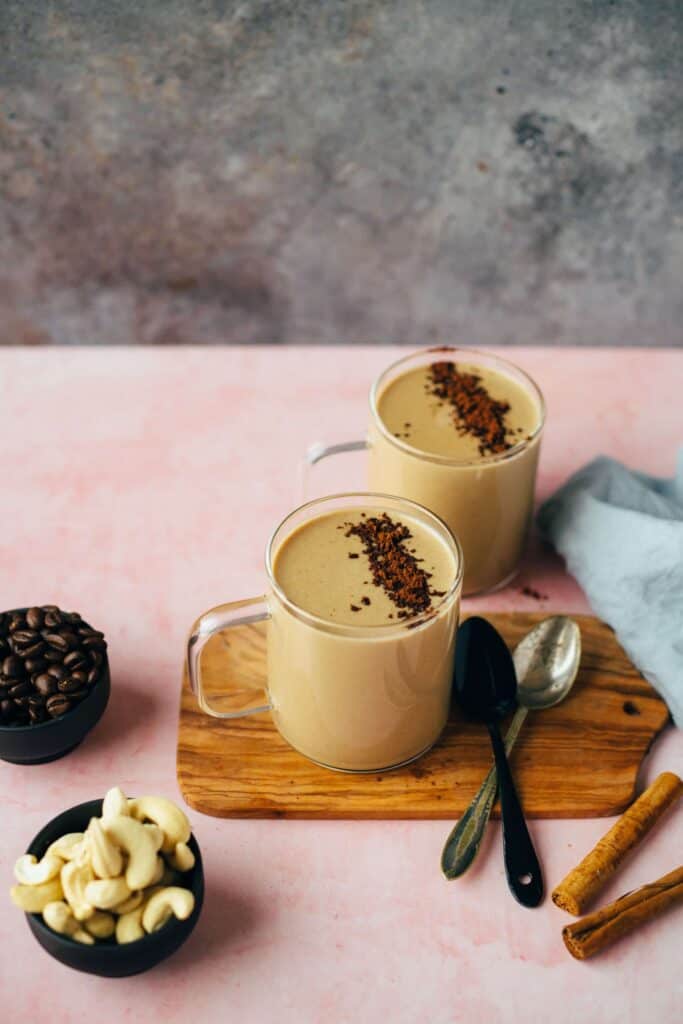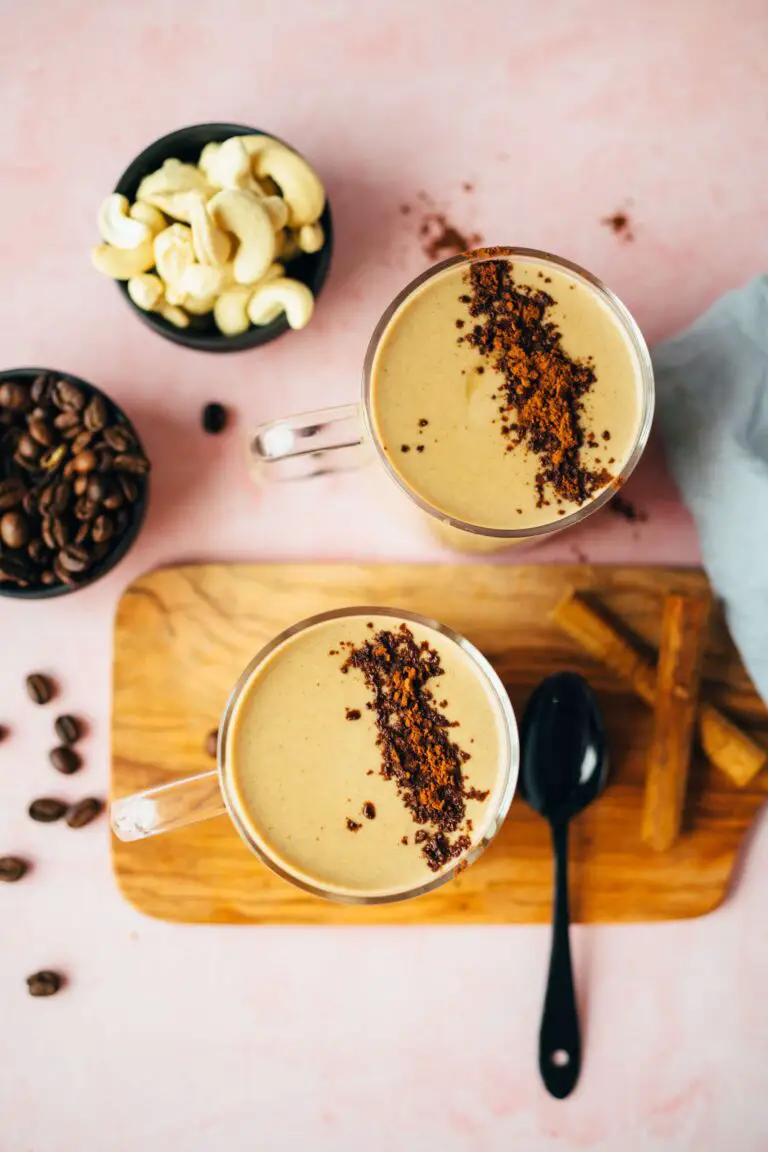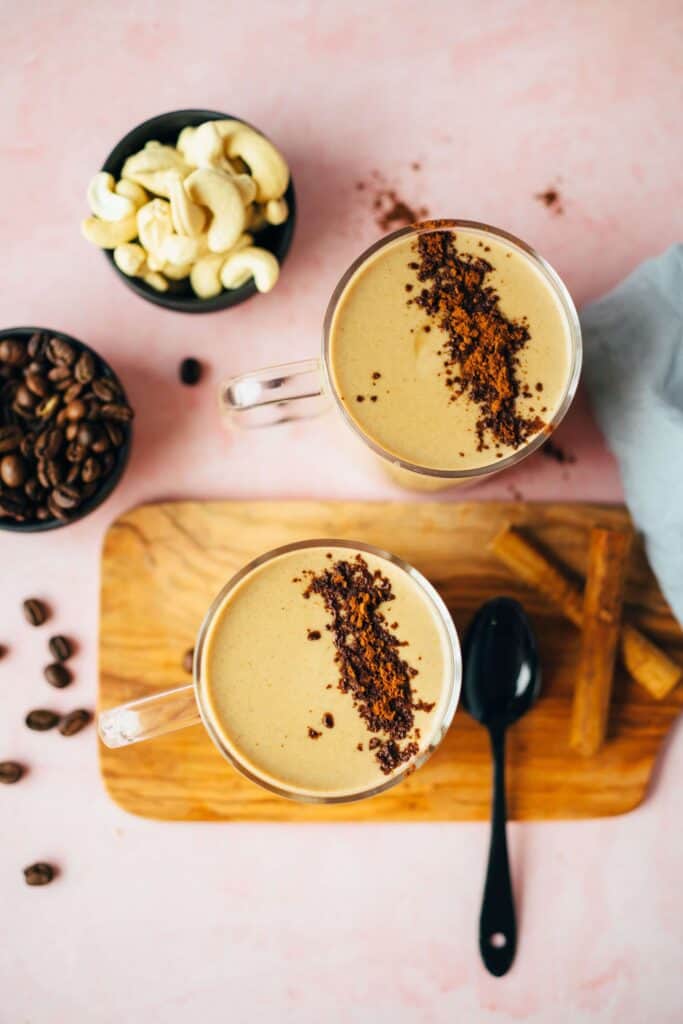 You read exactly right, because today it's not just about a Caramel latte that is incredibly creamy. No, that's not all, because today we are working with something very special and that is CBD oil. I have been using it for a while and am more than thrilled with it. But first, let's talk about the ingredients. Vegetable milk , cinnamon, bourbon vanilla, date (which is where we get the caramel flavor), nut butters, Cashews and espresso shots. Sounds good, doesn't it? The prerequisite is once again a good blender, so that everything is nice and fine. Alternatively, you can sieve out coarser pieces (e.g. dates). Once everything is mixed, the liquid is heated gently while stirring. I add the CBD oil just before eating, because it is raw and too high heat is not good.
How healthy is CBD oil actually?
What is the best way to start describing CBD oil? Maybe just with some prejudices? First of all, CBD has nothing to do with THC, so it does not have an intoxicating effect. For some of you these are now maybe even bad news, but sorry, no, CBD does not get you high. I think that's a very good thing, too, because I'm really only interested in the positive health benefits for our body, mind and soul interested. CBD is now relatively well studied and has also not much to do with hocus-pocus. The hemp plants simply brings very potent phytocannabinoids that interact with our endocannabinoid system. (ECS) interact. The receptors of this system are located everywhere in our body (intestines, arteries, heart, digestive tract, brain, reproductive organs, spleen, etc.). The main task of the ECS system in our body is the maintenance of homeostasis, It ensures that our body remains in balance, no matter what is happening on the outside. Recent studies show that the healthier a person's ECS is, the more healthier it is in general. A low concentration of Endocannabiniods in the blood is associated with diseases such as chronic pain, fibromyalgia, glaucoma or irritable bowel syndrome.
How does CDB work in our body?
Ok, now it gets whacky and it's about two "bliss molecules" anandamide (AEA) and 2-archidonoylglycerol (2-AG). These substances are obtained in our body from fatty acids and play a decisive role in the issues of fertility, appetite, up to the Depression and pain perception. In short, this endogenous Substances for us to get into a chilled state. With CBD we can support our body from the outside, so to speak, to return to a natural, relaxed state and without any intoxication. However, CBD is not only that, but can do so much more. CBD is a powerful antioxidant that can help us stay healthy, by fighting free radicals. Especially in our modern world we are constantly exposed to toxins (environmental toxins, alcohol, cigarettes, or simply too much stress). CBD can help us counteract this oxidative stress. Here other points where CBD can help very well:
Chronic Inflammation and autoimmune diseases
Fear, Depression and Post-Traumatic Stress Disorder
Intestinal diseases
Pain of all Type
Sleep problems
Cancer
Please note, at this point, that I am not a doctor and cannot make any health promises. My statements are based on careful research of technical literature. Please always talk to your doctor if you have health problems and clarify if CBD is right for you.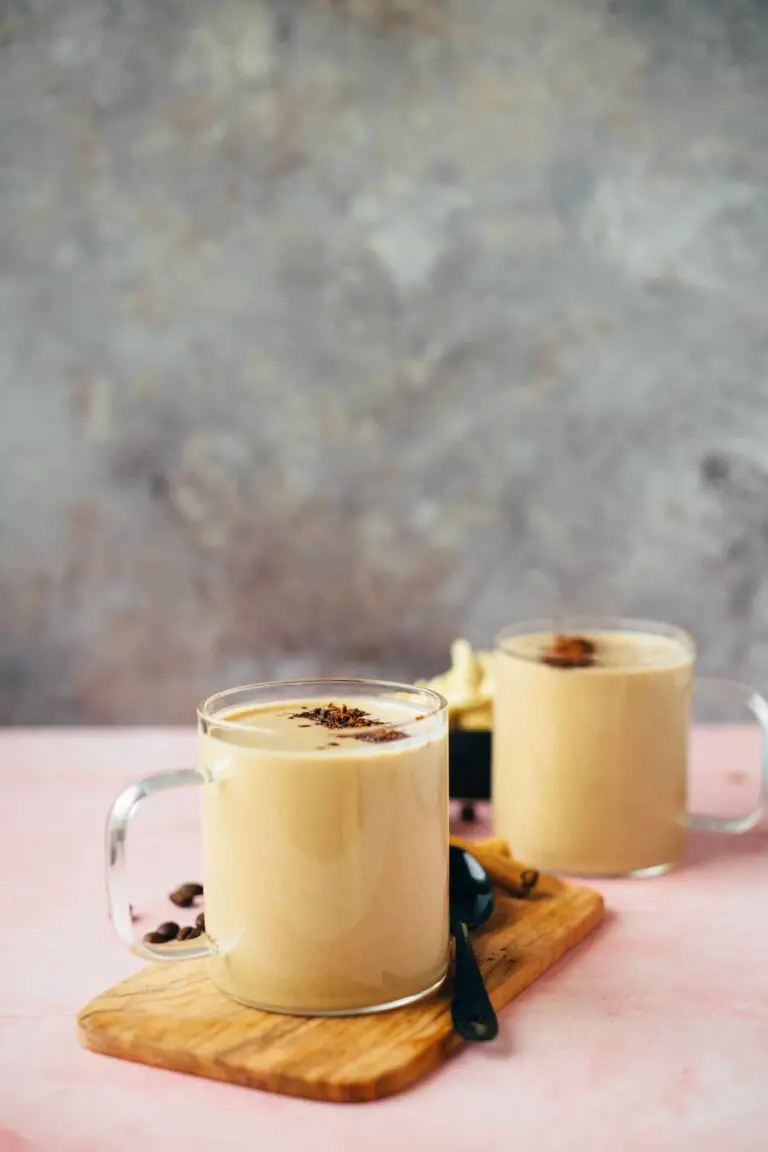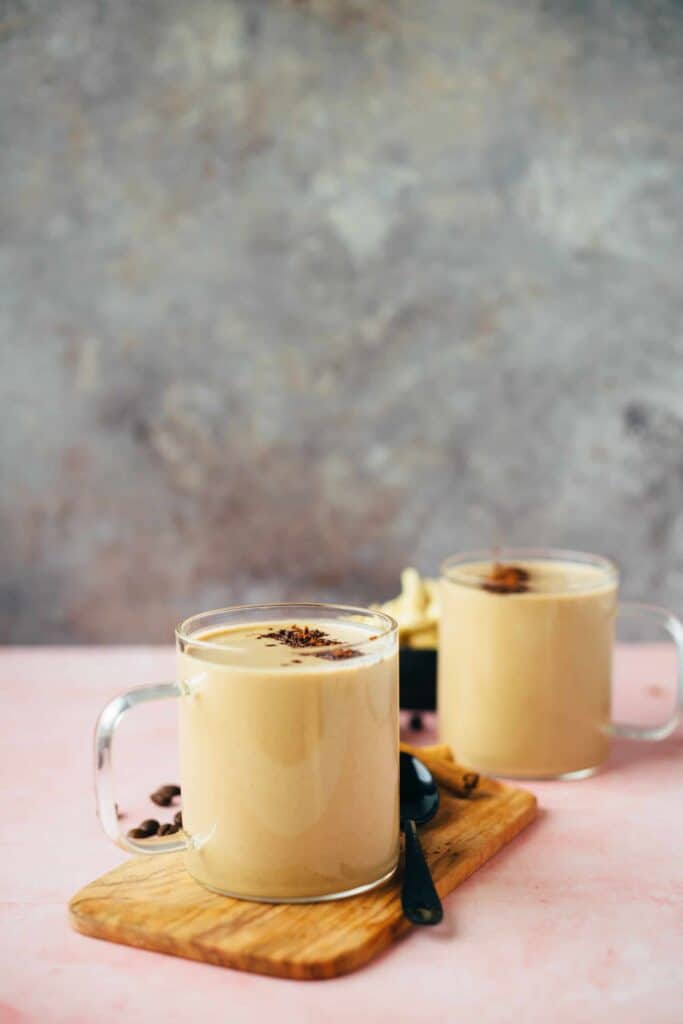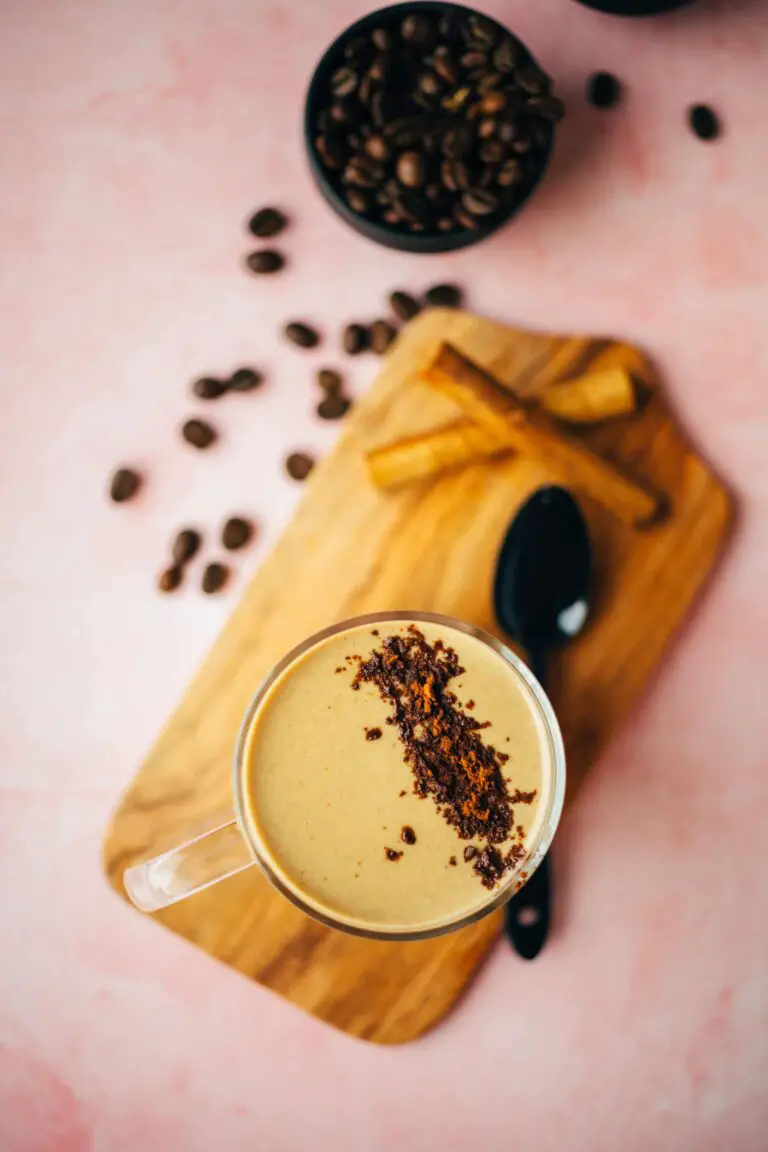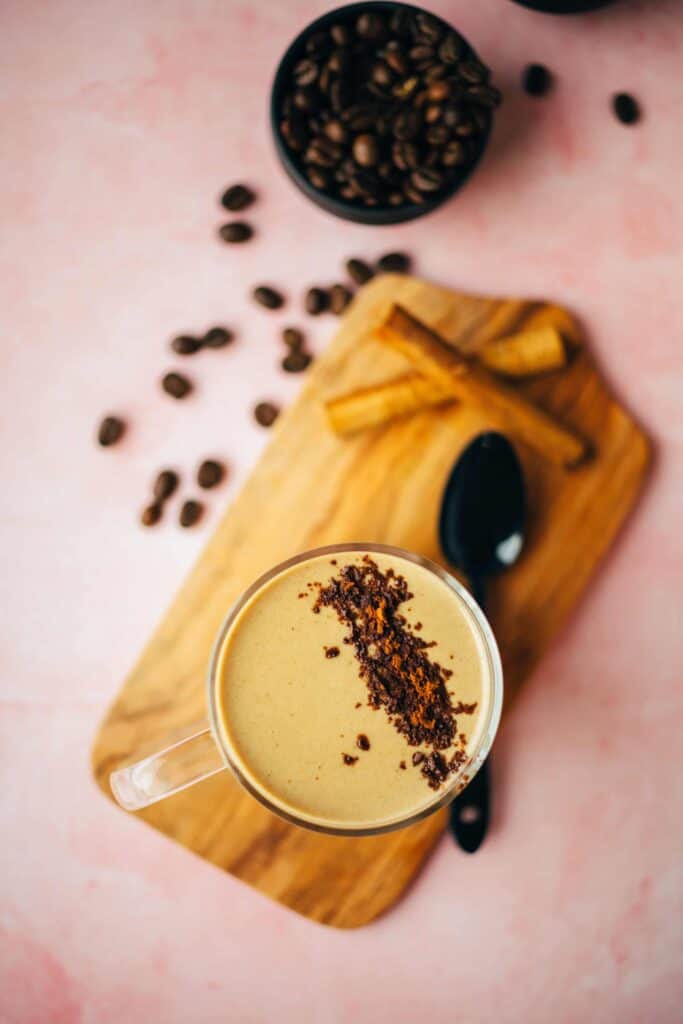 Let's get back to our delicious caramel Latte . By the way, the caramel taste comes from the Dates . Here you can also use ready-made date caramel or date syrup.
The caramel latte with CBD is:
Warming
Caramel
Naturally sweetened
Without Additives
Soothing and relaxing
It's Caramel Latte time! If you love the Recipe love it, I'd be happy to see a review at the very bottom of this page. If you post a picture, then like to use the hashtag #veganevibes.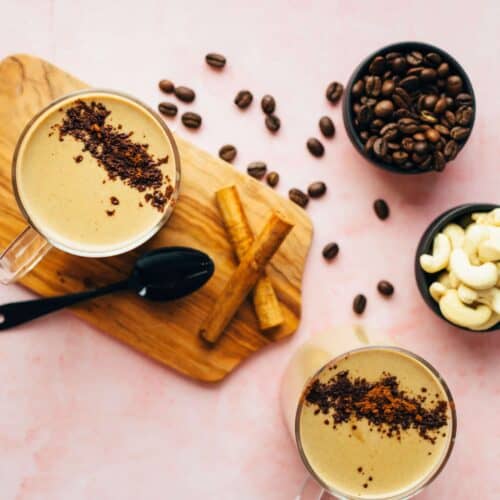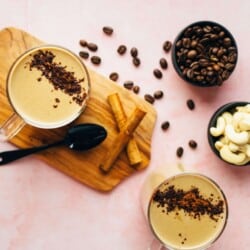 Vegan caramel latte with CBD oil
A wonderfully warming caramel latte, naturally sweetened with fine dates and wintry spices. Extra relaxing and soothing, thanks to the addition of CBD oil.
AUTOR: VEGANEVIBES
Anleitung 
Add plant milk, Medjool dates, almond paste, cashews, espresso, cinnamon, and bourbon vanilla to a high-powered blender and blend until a fine, creamy liquid is formed.

625 ml Oats Barista Milk,

4 Piece Medjool dates,

30 g Almond paste,

75 g Cashew kernels,

120 ml Shots espresso,

1 tbspn Cinnamon,

¼ tbspn Bourbon vanilla

Pour into a small saucepan and heat gently while stirring, do not boil!

Remove from heat and pour into two large cups.

Refine with CBD oil.

Optionally refine with cocoa or coconut cream and enjoy!

Cocoa powder to taste,

optional coconut cream

Best fresh.
Nährwertangaben
Serving:
1
Cup
Calories:
322
kcal
Carbohydrates:
33
g
Protein:
10
g
Fat:
19
g
Saturated Fat:
2
g
Sodium:
109
mg
Potassium:
390
mg
Fiber:
4
g
Sugar:
19
g
Vitamin A:
433
IU
Calcium:
354
mg
Iron:
4
mg