Caramel Cups my great love! For a long time I have been dreaming of this Recipe on my blog. Such a really nice crispy, crumbly base, filled with a soft caramel centerand topped with a thick layer of Chocolate . Quite new for me discovered and found good, I have coconut caramel. There is already a Date caramel on veganevibes and of course you can always use that for filling. At first, my husband and I were still a little skeptical about whether the coconut flavor in the Karame lldisturbs. But after eating all the cups after two days, I think the answer is more than clear. I say only addiction factor high 10! In any case, I am no longer surprised that despite enough exercise and healthy Diet just can not get rid of the rest of the belly.
Caramel Cups, na the water already running in the mouth?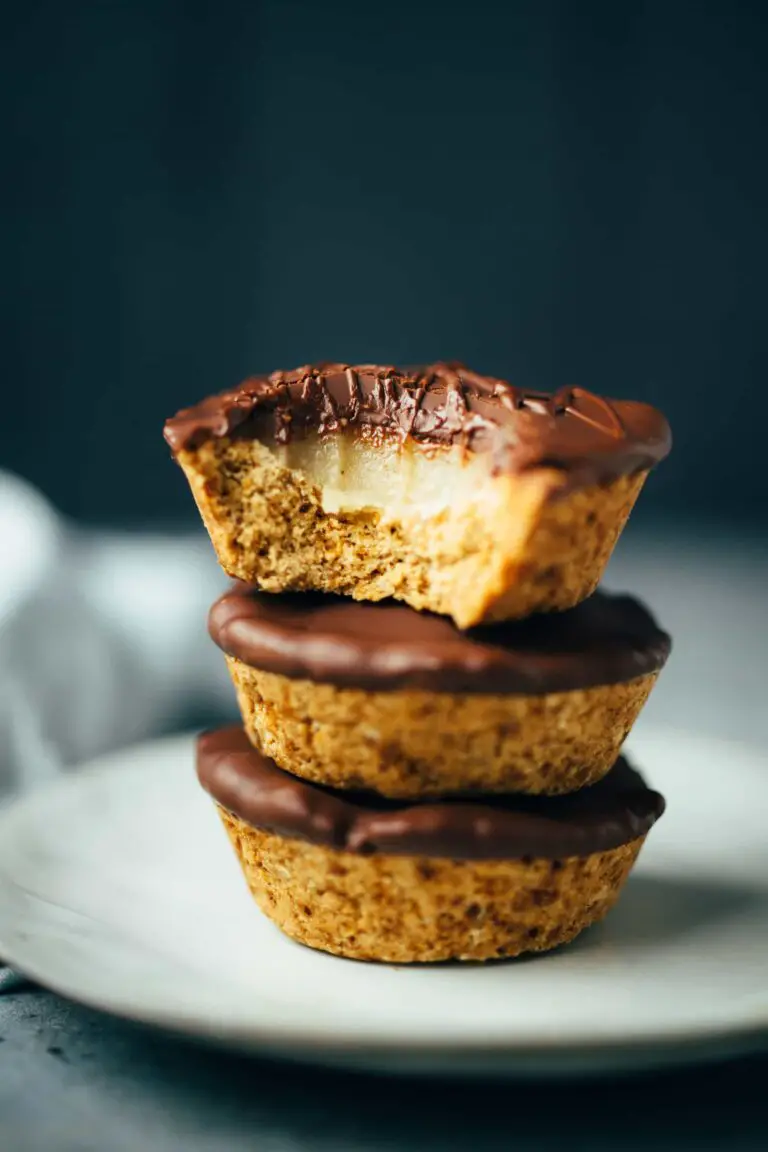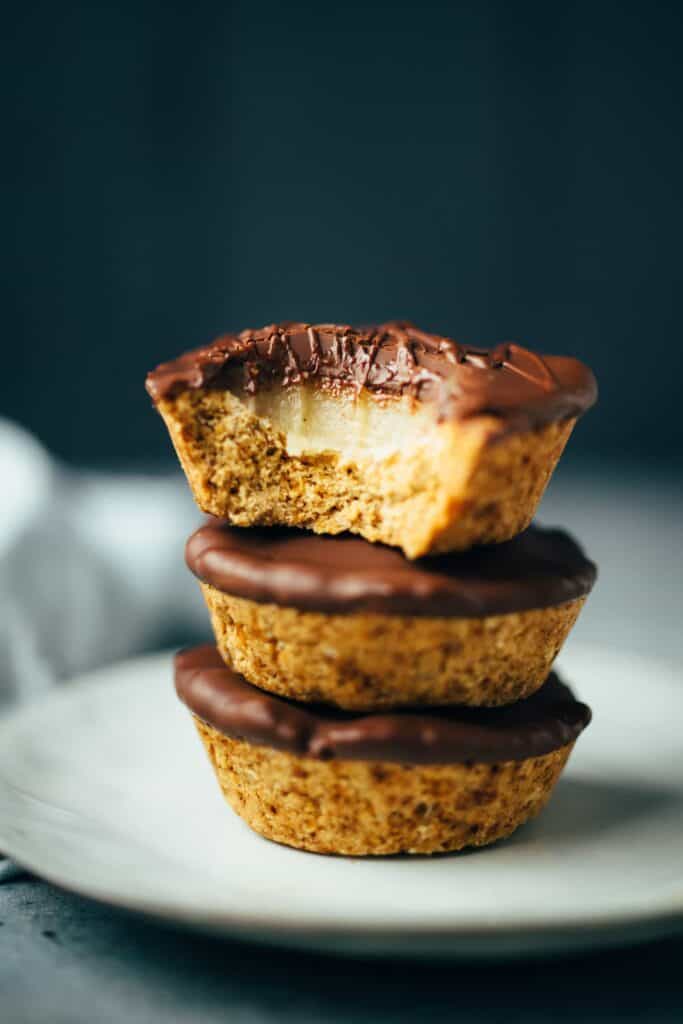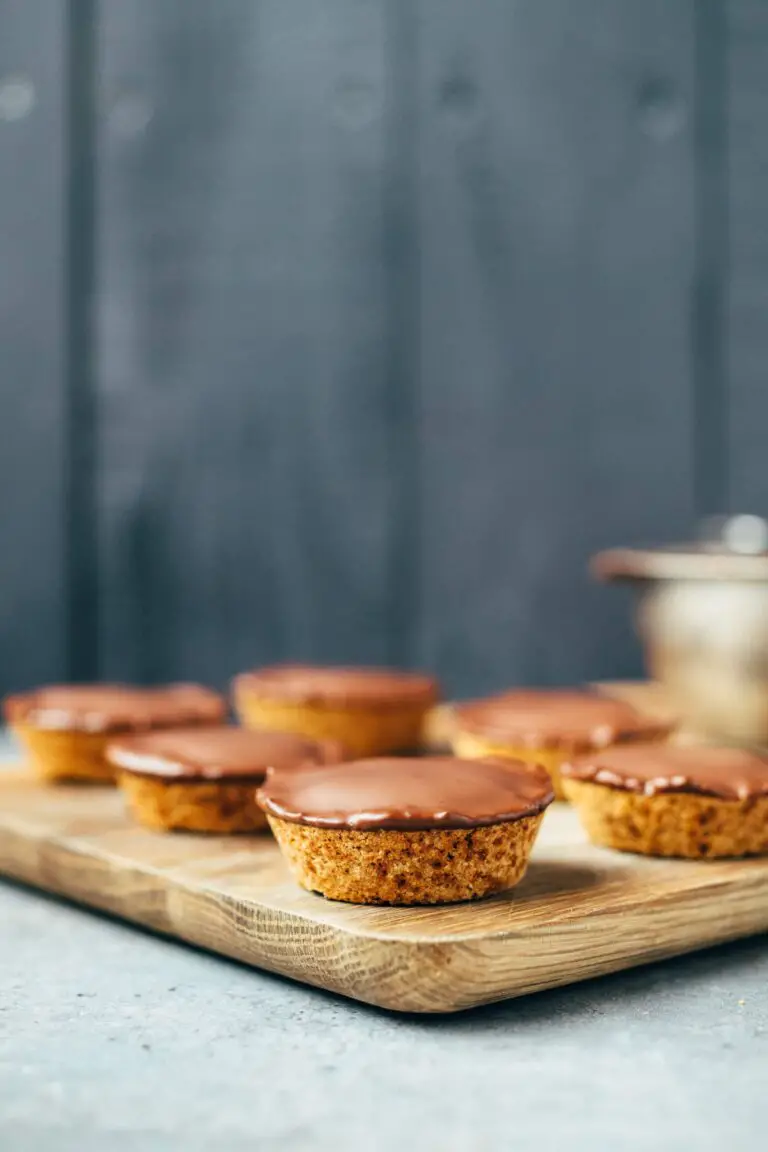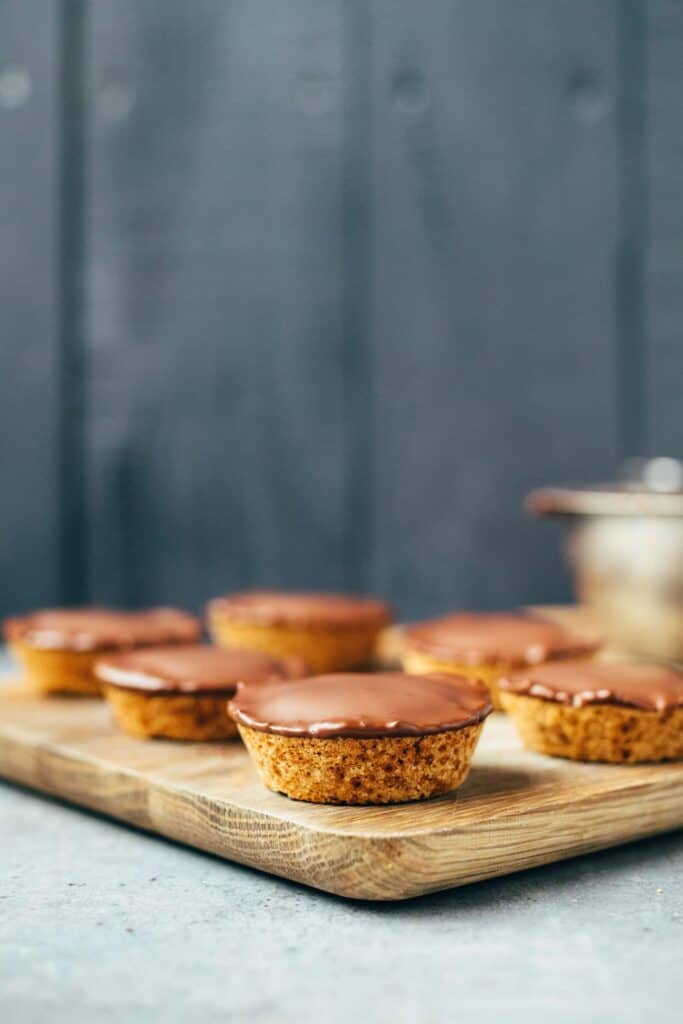 This Recipe consists of three parts. Once the base, which is the very first thing to bake. The consists of maple syrup, coconut puree, oatmeal flour, Buckwheat flour , coconut blossom sugar and a pinch of salt.
TIP: I simply grind my own oatmeal by running whole rolled oats through a high-powered blender. Otherwise, you can also buy it in well-stocked supermarkets or order it online. I've linked you to my favorite flour below in the ingredients (in case you don't have a blender at home).
Let's move on to the middle layer, the vegan caramel. The base for this is again coconut nut, maple syrup and a pinch of salt. The whole thing is briefly boiled together and voila, ready. I deliberately did not want to make an ordinary Caramel because I myself have so often not succeeded. One time it was too firm, then it all stuck to the pan, and the next time it just burned all over. Besides, the classic vegan Caramel also mostly with white sugar and margarine. I really wanted to do without that in this recipe. At the very end we top the pretty cups with a round of chocolate, who's with me?
Fine coconut caramel, who's up for it?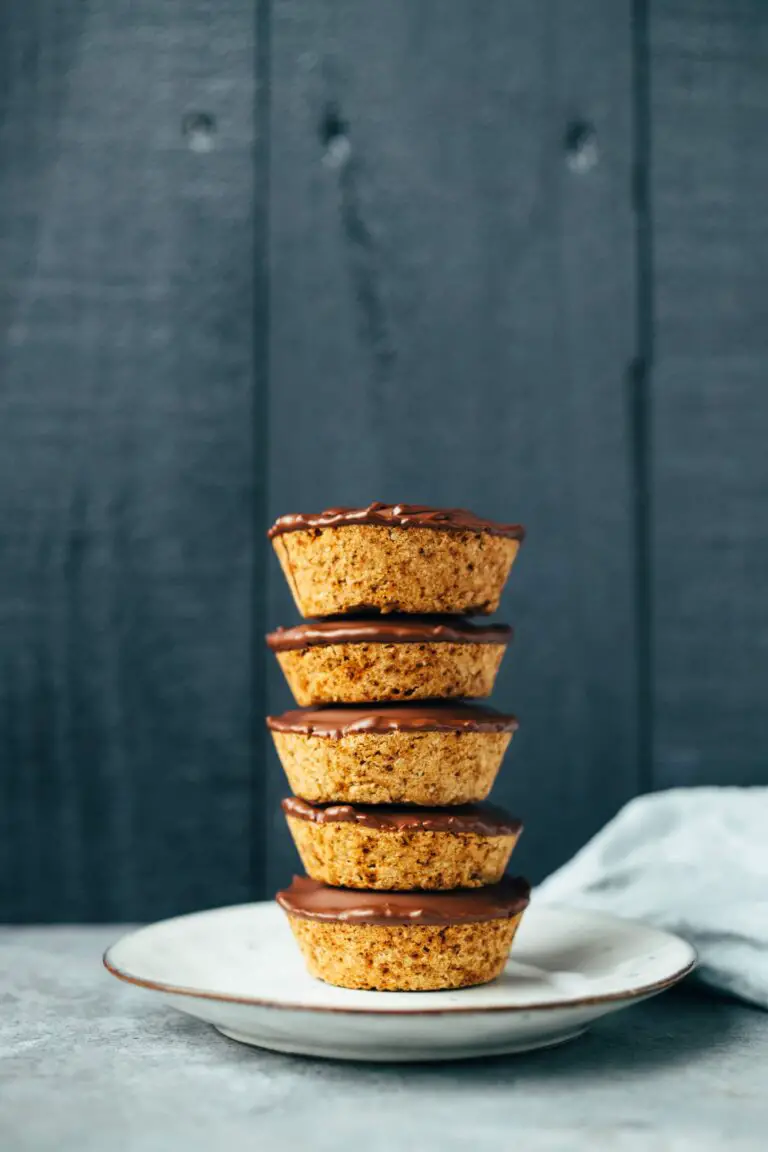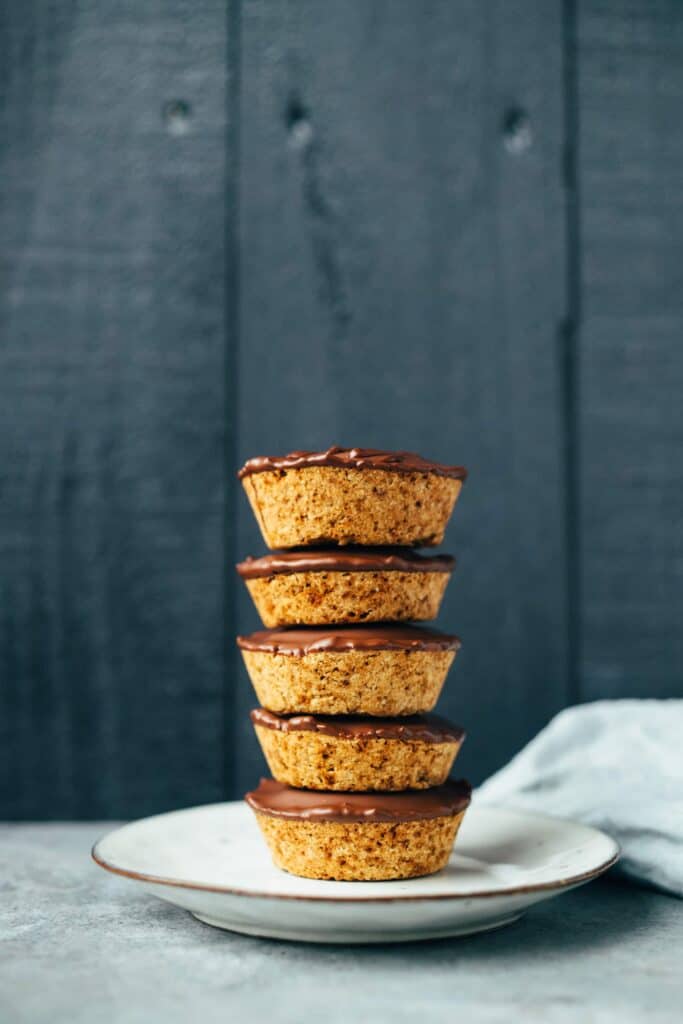 The coconut caramel is made on the basis of coconut puree and that consists of whole coconut flakes. A detailed description on how to make Coconut puree you can find here . It is also interesting to know the nutritional value of coconut flakes, which is often underestimated. Coconut shreds are made from the dried pulp of the coconut and are:
High in fat with 36.5g fat per 100g (so use wisely)
Rich in valuable magnesium
Rich in iron , sodium and selenium
It is important to know that coconut meat has a very high nutrient density, which means that it has a high fat content compared to manageable nutrient richness. It also contains a high proportion of saturated fatty acids, which can be recognized by the fact that it becomes solid when cooled. For me, shredded coconut and flakes definitely have a permanent place in the kitchen. Who does not feel like Coconut just make a portion of Date caramel .
Let's get started with these delicious, caramel cups. I wish you a lot of fun baking and of course a review at the bottom of this page. If you post a picture, use the hashtag #veganevibes.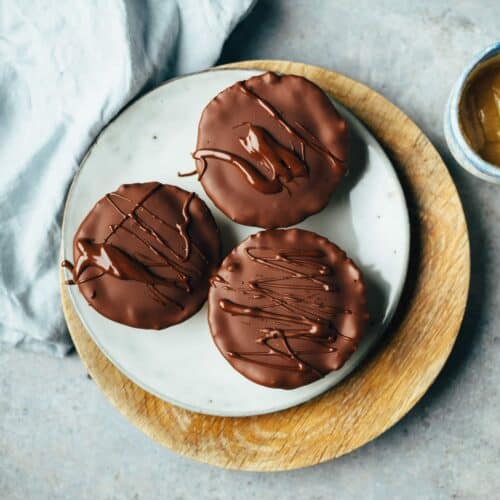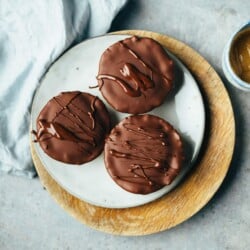 Caramel Cups
Extremely delicious gluten and oil free caramel cups for the perfect snack or the ideal vegan dessert, vegan and gluten free. Crispy base, with soft filling.
AUTOR: VEGANEVIBES
Anleitung 
Make one serving of coconut puree or date caramel. Alternatively, buy coconut puree ready.

Preheat oven to 175 degrees convection and provide a muffin tin. If it is not very well coated, cut small strips of baking paper (about 1×4 cm) and place them in the individual muffin cups. I didn't do this because my mold is really well coated.

FOR THE DOUGH provide a baking bowl. Pour in maple syrup, coconut butter, oat flour, buckwheat flour, coconut blossom sugar and salt. Knead with your hands until everything is well combined and you have a crumbly, but slightly sticky-moist dough.

75 ml maple syrup,

63 g Coconut puree,

90 g Oatmeal flour,

22,5 g Buckwheat flour,

35 g Coconut blossom sugar,

1 Pinch of salt

Divide into 10 portions (I do this by eye) and press one portion into each well of the muffin tin. Repeat until all 10 servings are used.

NOTE: Watch the video for more information.

Bake for 10 minutes and remove from the oven quickly. Don't bake too long or the bad ones will get dry.

In the meantime. FOR THE CARAMEL FILLING Place coconut puree, vanilla, maple syrup and pinch of salt in a small saucepan and bring to a boil once. Remove from heat and set aside.

126 g Coconut puree,

125 ml maple syrup,

¼ tbspn Bourbon vanilla

Remove the slightly cooled bottoms from the mold and fill each with a heaping tablespoon of caramel.

TIP: Before you cover the cups with chocolate, put them in the freezer for 10 minutes. This keeps the caramel stable and the chocolate solidifies faster.

50 g vegan dark chocolate

enjoy! Place remaining Caramel Cups in a resealable box and store in refrigerator or freezer. In the refrigerator they last about 1 week, in the freezer up to 4 weeks.
Nährwertangaben
Serving:
1
Cupcake
Calories:
264
kcal
Carbohydrates:
31
g
Protein:
3
g
Fat:
16
g
Saturated Fat:
13
g
Sodium:
18
mg
Potassium:
196
mg
Fiber:
1
g
Sugar:
17
g
Vitamin C:
1
mg
Calcium:
38
mg
Iron:
1
mg