Peanut Butter Cups Alert. The other day I was on Instagram again and scrolled through hundreds of pictures. Admittedly, I do this almost every day to get inspiration for new Recipes new ones. Then I saw it, a picture of the Reese's Peanut Butter Cups. They were also to blame for me gaining so much weight during my semester abroad in Hawaii. I am quite sure of that! I definitely had an instant Chocolate -hankering and had to Recipe immediately convert into a vegan variant. It wasn't particularly hard either and it only takes a little trick to make them perfect.
Vegan Peanut Butter Cups, or am I already in heaven?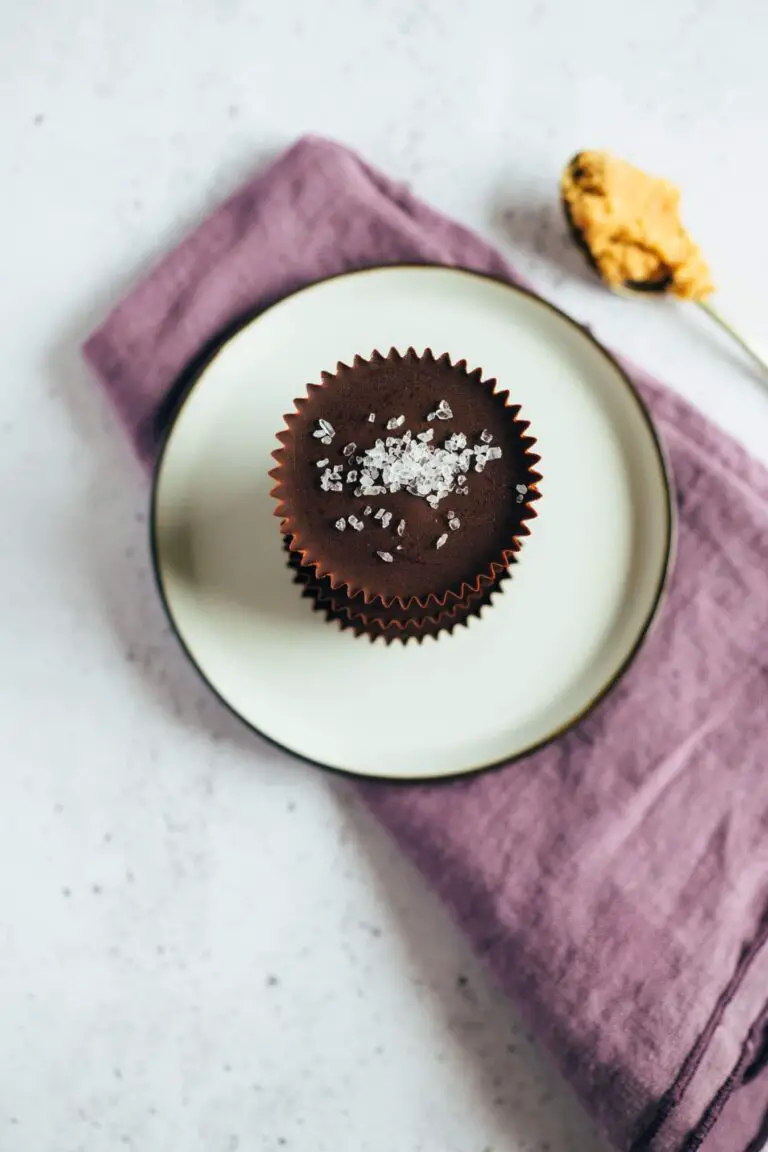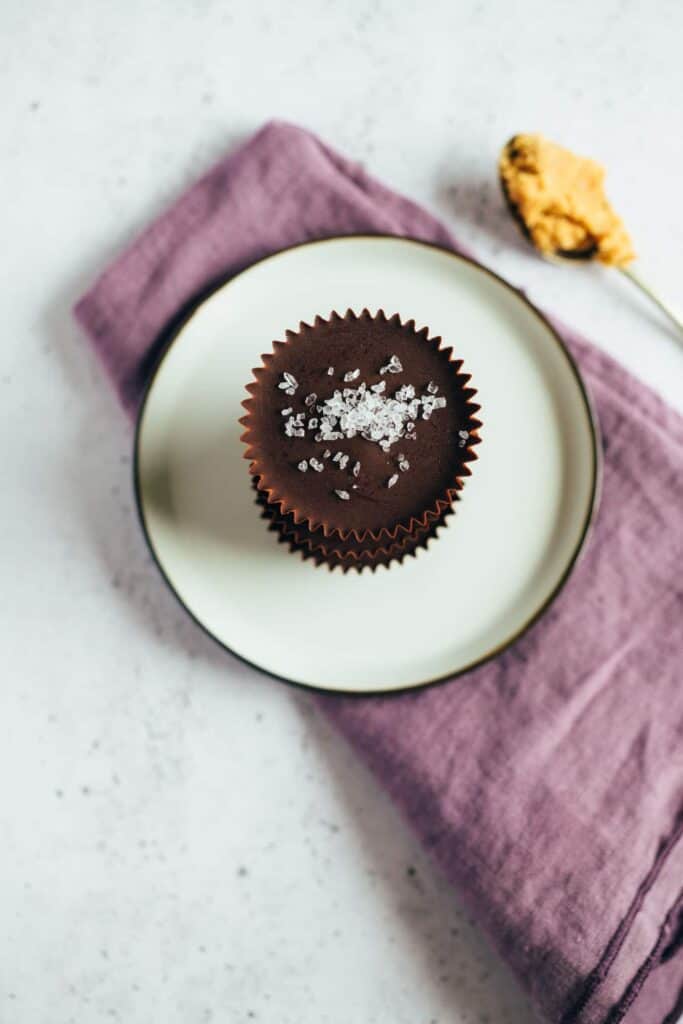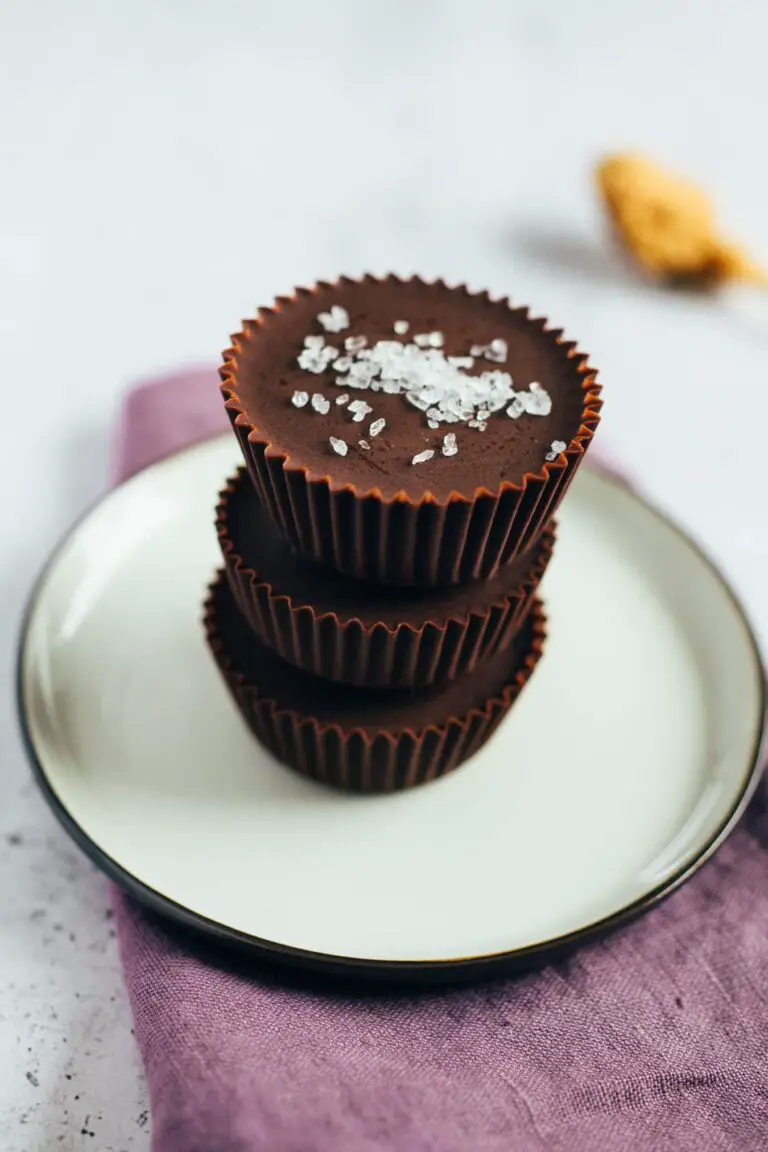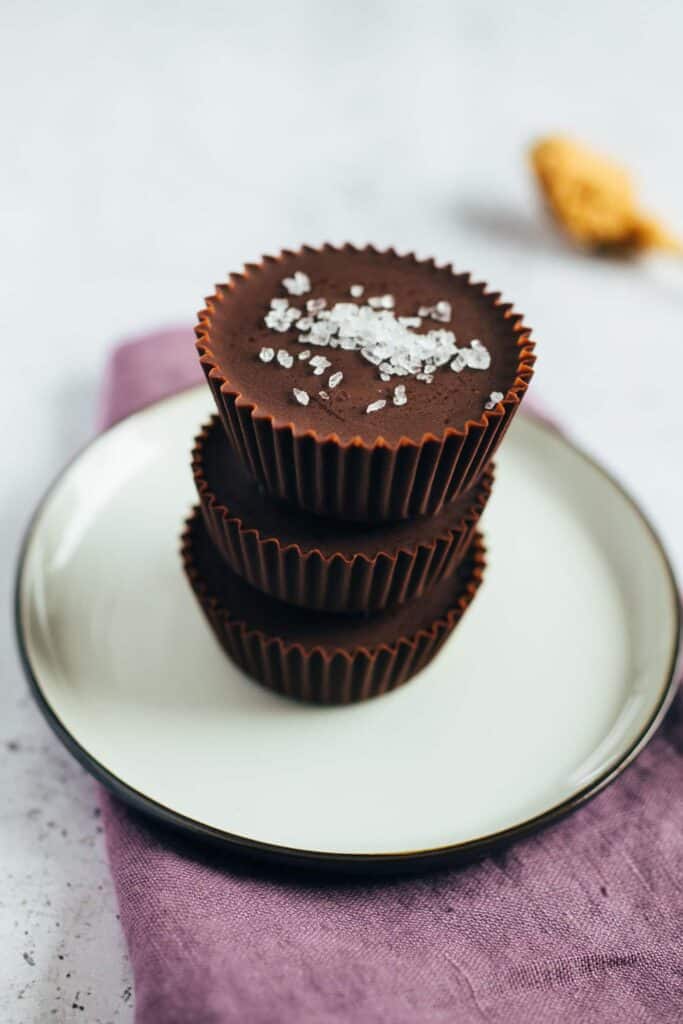 At the moment, I always have to smile a little when I discover various challenges on the Internet. Currently, for example, a 30-day sugar-free challenge is running and I envy all those who really manage to take no sugar at all. At the same time, I am also quite sure that if you strictly implement this, you will quickly lose a few kilos. If I think through my day and look carefully at where sugar is everywhere? Na Prost Mahlzeit, as we say in Bavaria. Sugar is simply added almost everywhere: In yogurt, cereal, ready-made sauces, Chocolate pudding and especially in various Drinks .
We come with this Recipe not completely without sugar, but with very little. In the first step, you can already pay attention to how much sugar is contained in your chocolate. If you want to switch to a healthier option, I'll show you how to make your own below. Chocolate can make. For the filling, I use unsweetened peanut butter, maple syrup, coconut flour and a good pinch of salt. If you think that maple syrup also contains sugar, you're actually right.
Is maple syrup actually healthy?
In any case, it is healthier than sugar:
Natural and low in calories (about one third of the calories of table sugar)
Rich in micronutrients (potassium, iron and zinc)
Gently processed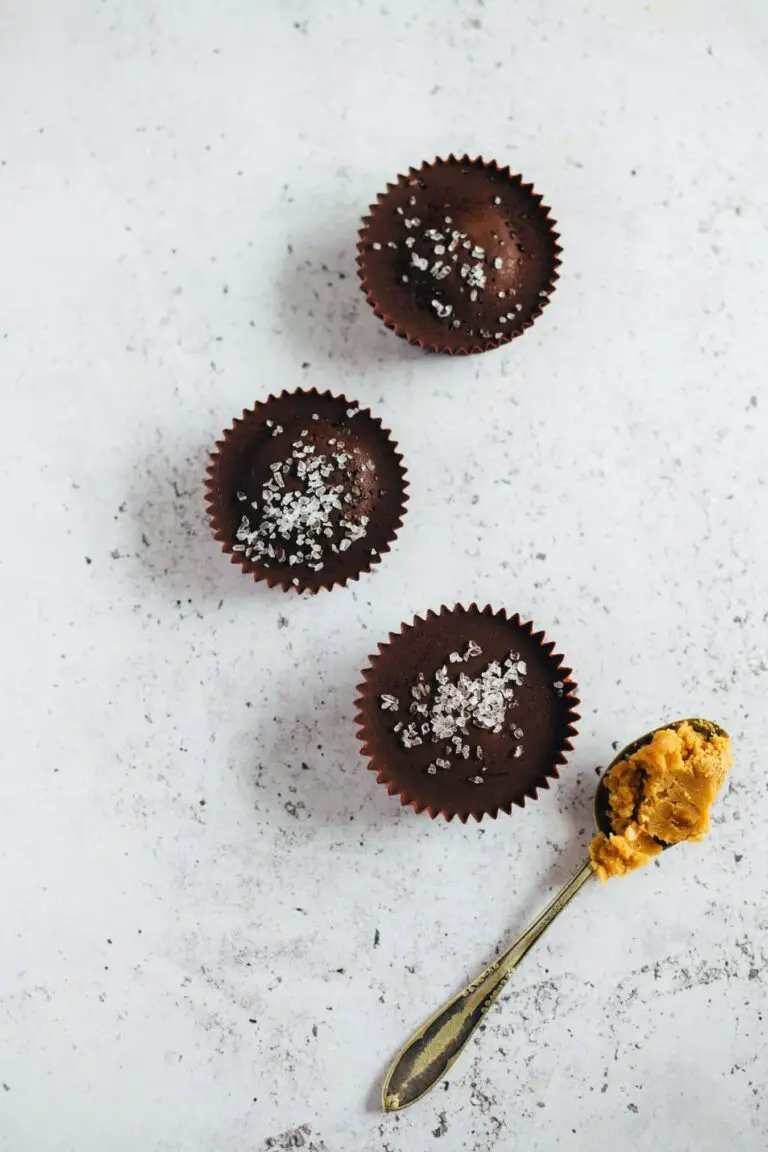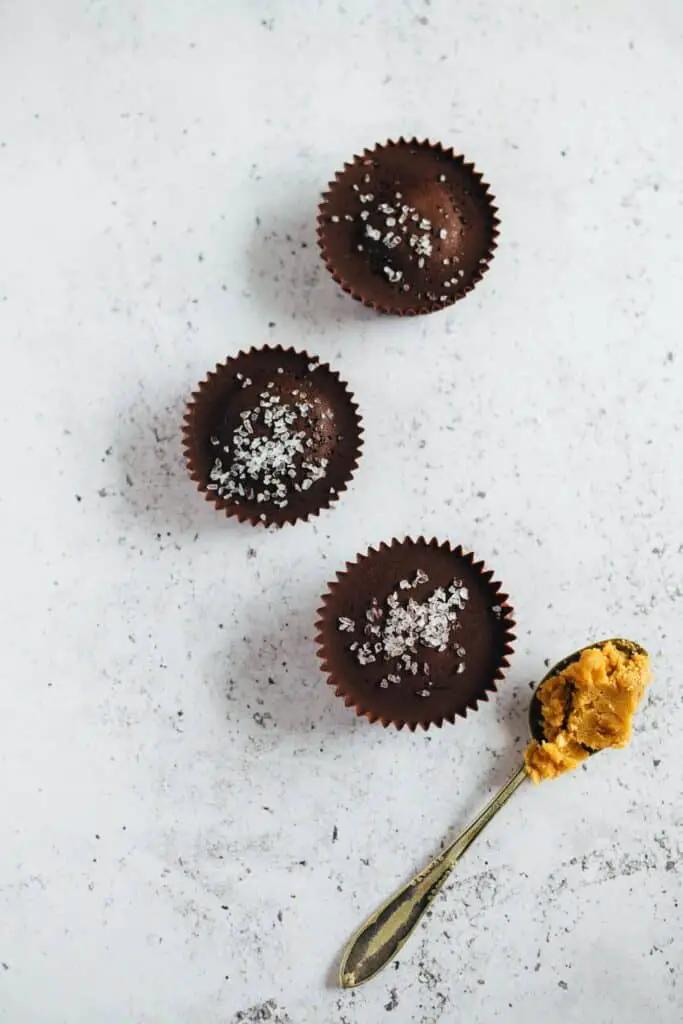 Of course, there are always disadvantages and one of them is the Maple syrup certainly the price, which is relatively high compared to household sugar. In addition, the transport route and thus the ecological footprint is somewhat larger than when buying domestic sweeteners such as thick juices. All in all, I wouldn't want to do without maple syrup and it comes in handy almost daily for me.
Let's get back to our peanut butter cups! What goes with it? I like them best as a dessert with almost anything Main course . Who likes nibbles it simply times so in between, when the vegan Chocolate hunger comes. If you like to experiment, mix it in homemade vanilla ice cream and make a "Peanut Butter Cup Vanilla Ice Cream".
The vegan peanut butter cups are:
chocolatey
Peanutty
Crisp
Easy to manufacture
Naturally sweet
If you are also such a big fan of vegan desserts as I am, then I would be happy to receive a review at the very bottom of this page. If you post a picture, use the hashtag #veganevibes.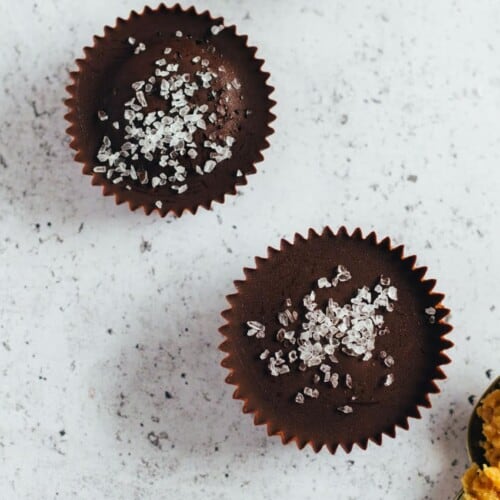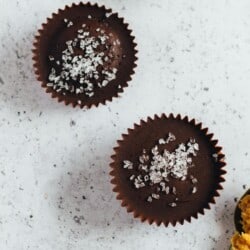 Vegan Peanut Butter Cups
Simple vegan peanut butter cups that are quick and easy to make. Filled with delicious peanut butter and naturally sweet maple syrup. Works great as a quick, vegan dessert or for those in-between chocolate cravings.
AUTOR: VEGANEVIBES
FOR THE CHOCOLATE LAYERS:
Anleitung 
Line a regular muffin tin with 8 baking cups or a mini muffin tin with 16 baking cups.

Chop chocolate into small pieces and melt carefully over a water bath.

265 g dark vegan chocolate

Place 1-2 spoonfuls of melted chocolate in each of the paper cups and place in the freezer.

While the Chocolate floor becomes firm, prepare filling.

FILLING: Place peanut butter, maple syrup, coconut flour and sea salt in a bowl and stir until well combined. The coconut flour makes the filling a little more "doughy" and easier to work with.

125 g Peanut butter,

43 ml maple syrup,

7 g Coconut flour,

1 strong pinch of sea salt

Separate filling into 8 (for regular muffin tin or 16 (for mini muffin tin-equal parts and get chocolate base from freezer.

Place one portion of filling on each chocolate base and drizzle with remaining melted chocolate until all is used.

Optionally sprinkle with sea salt and return to freezer.

Enjoy after about

10 minutes

! Keep remaining Peanut Butter Cups frozen and remove from freezer as needed.

Can be kept in the refrigerator up to 5 days, in the freezer up to one month.
Nährwertangaben
Serving:
1
Cup
Calories:
154
kcal
Carbohydrates:
11
g
Protein:
3
g
Fat:
11
g
Saturated Fat:
5
g
Cholesterol:
1
mg
Sodium:
40
mg
Potassium:
175
mg
Fiber:
2
g
Sugar:
6
g
Vitamin A:
5
IU
Calcium:
18
mg
Iron:
2.1
mg