Carrot Cake, or carrot cake somehow always reminds me of England. According to Wikipedia, this is not quite true, because it was the Swiss who first came up with the Rüblikuchen. Be that as it may, the cake is moist and tastes just great. The carrots give it an ingeniously mild, slightly sweet note and somehow you already have the feeling that you have eaten something healthy. Or is it just me? A bit plagues me then but always the guilty conscience, because I have during and after the shooting equal to two pieces eaten.
Carrot cake – juicy, vegan and gluten-free? Vegan Easter can come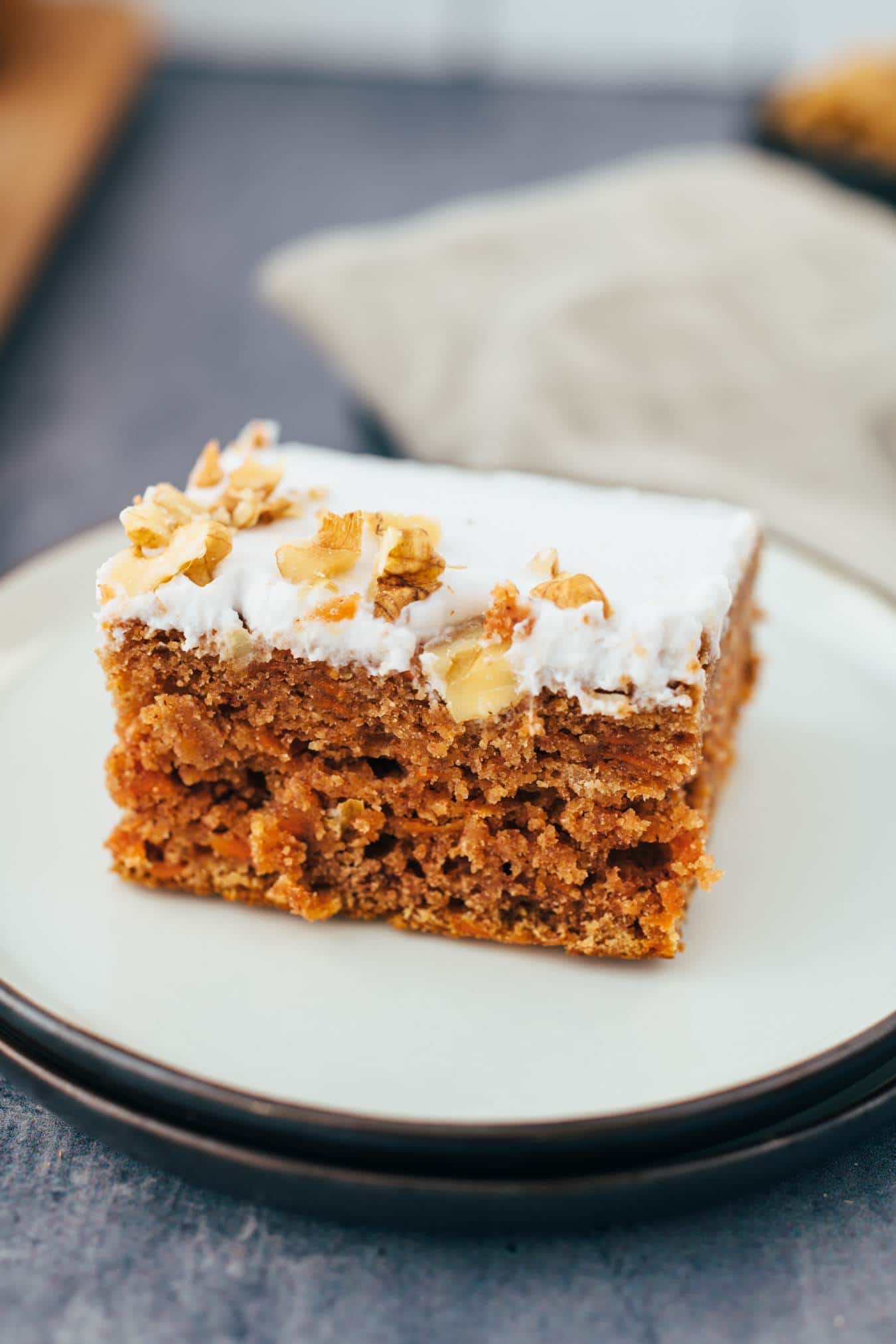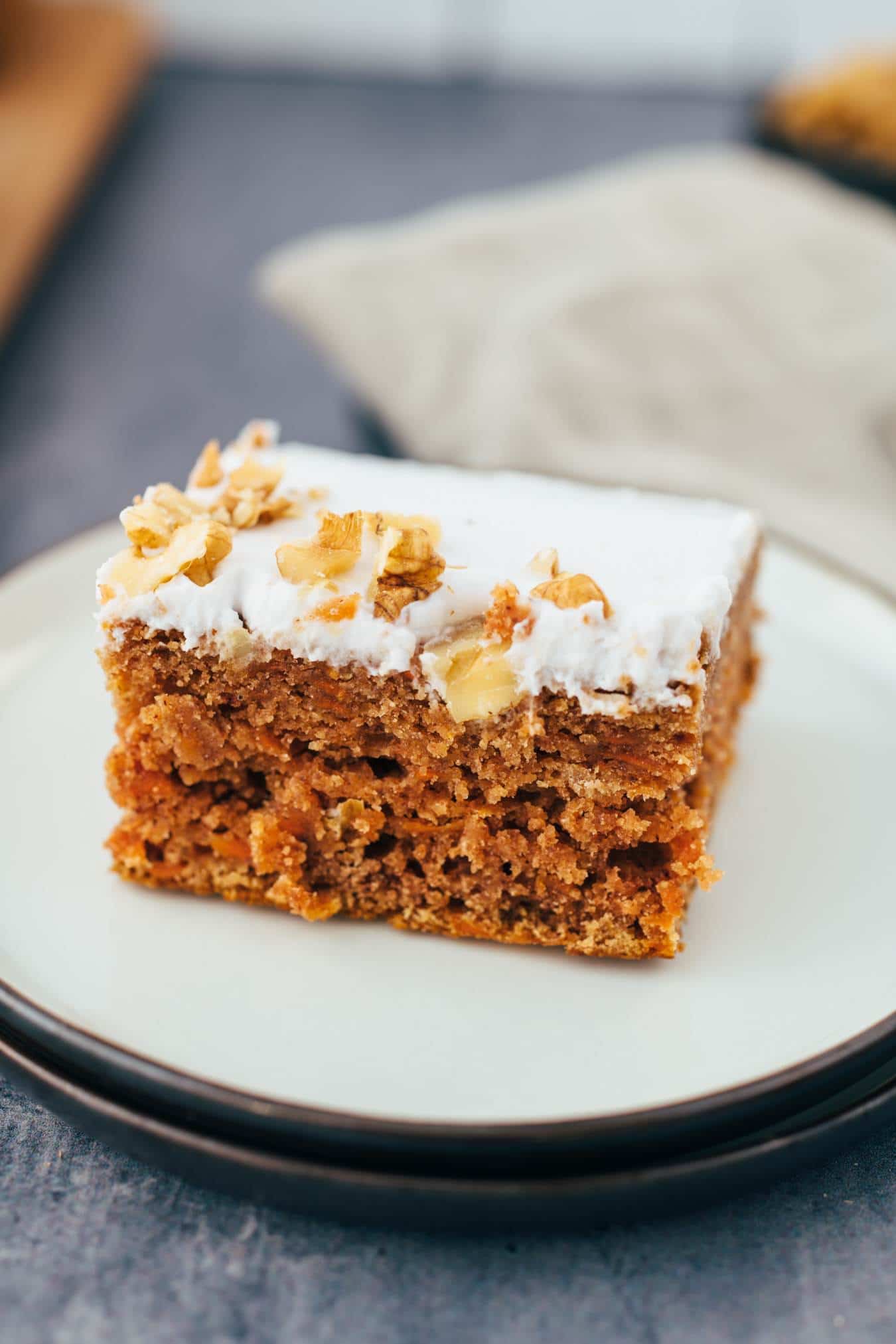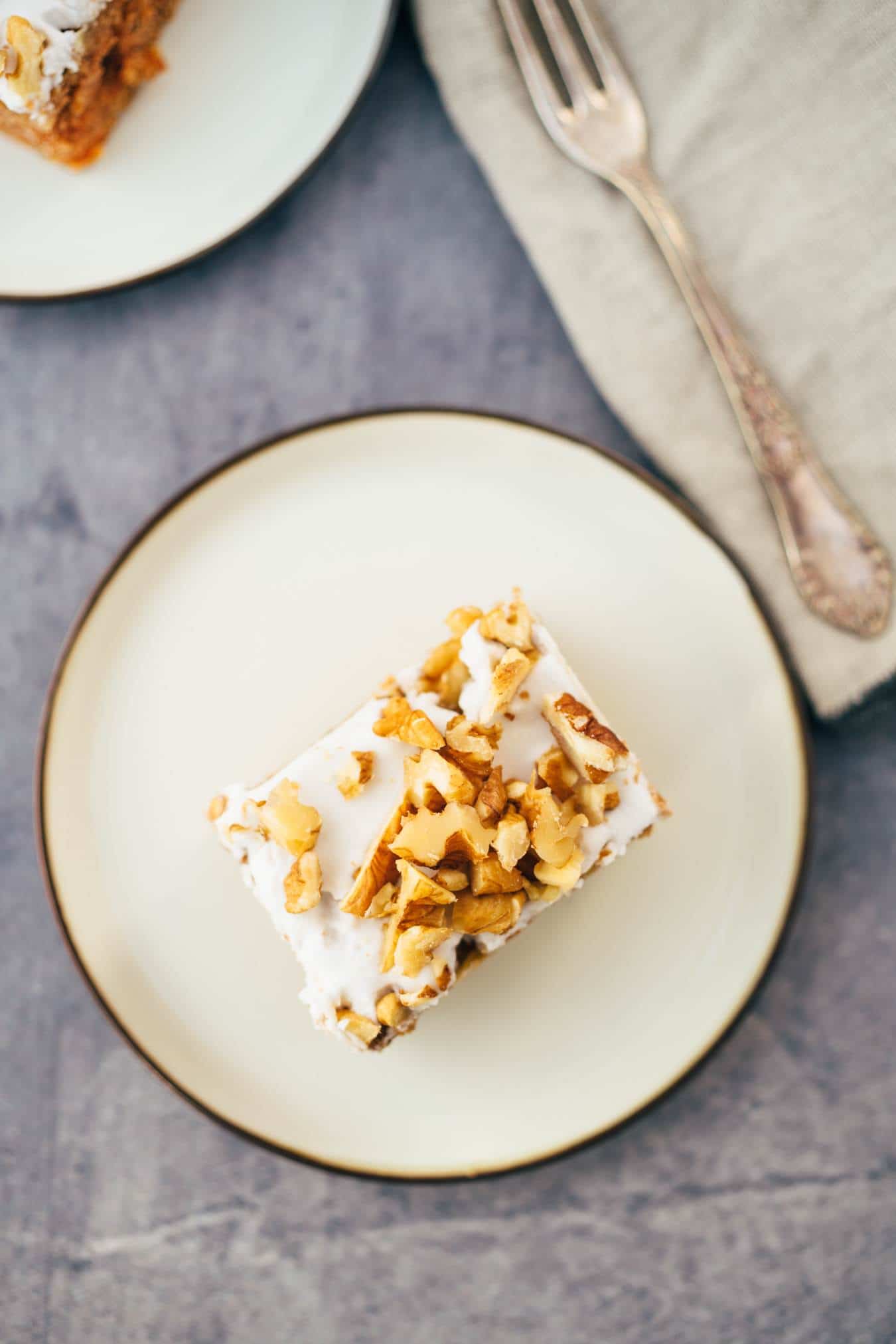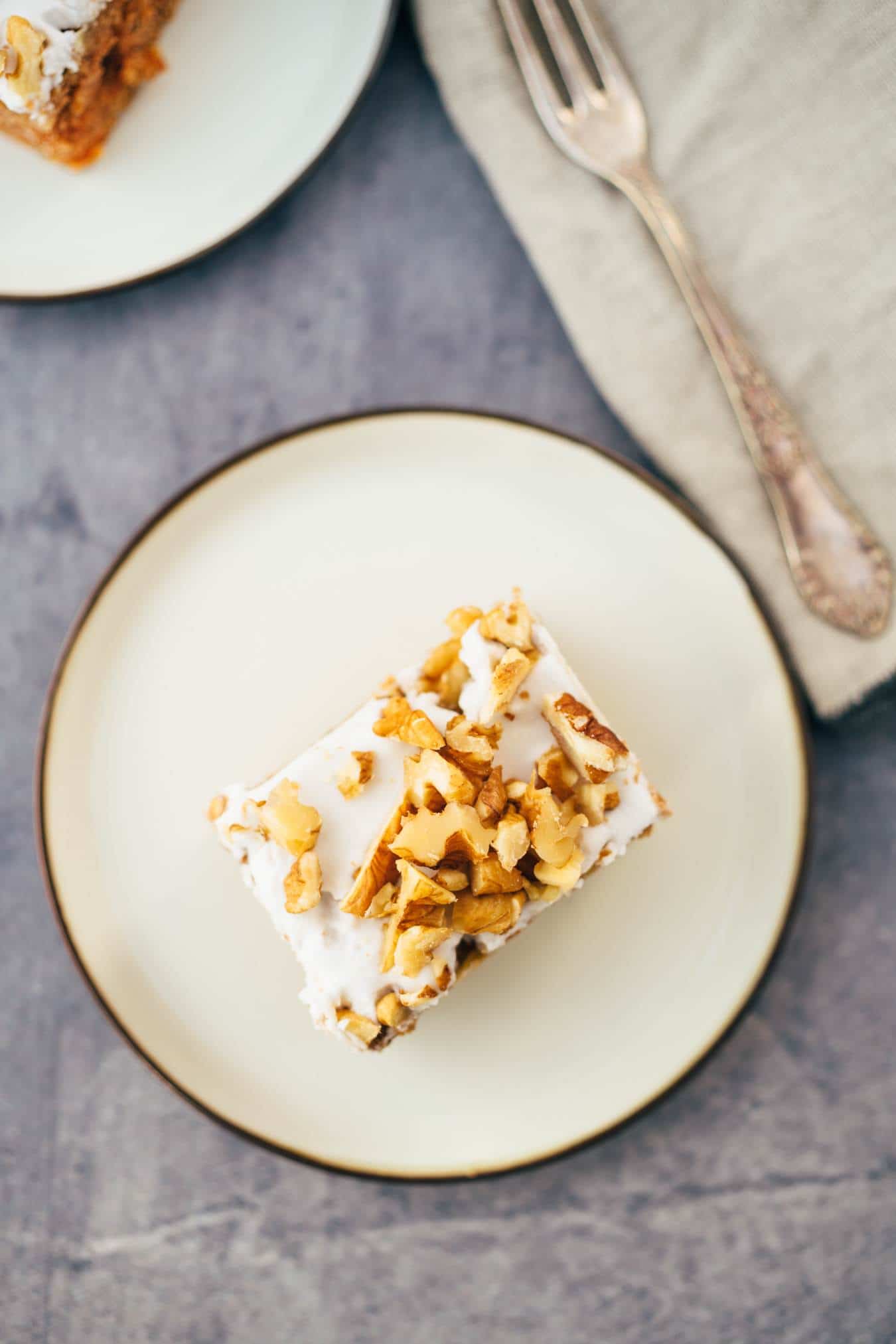 The only thing with gluten free cake is always such a thing is the binding. However, here I could rely on my Flaxseed Egg rely. This worked out great and the vegan carrot cake simply brings everything you want at a coffee party: It's sweet, juicy, has a subtle hint of cinnamon and nutmeg and above all makes one thing: addictive! Well, my dears, I warned you.
Here are some more interesting facts about carrots, because they contain much more than just vitamin A:
Rich in vitamins B1, B2, C and E
Rich in beta-carotene (converted to vitamin A when combined with fat).
Low calorie with only 25 kcal per 100g
Rich in selenium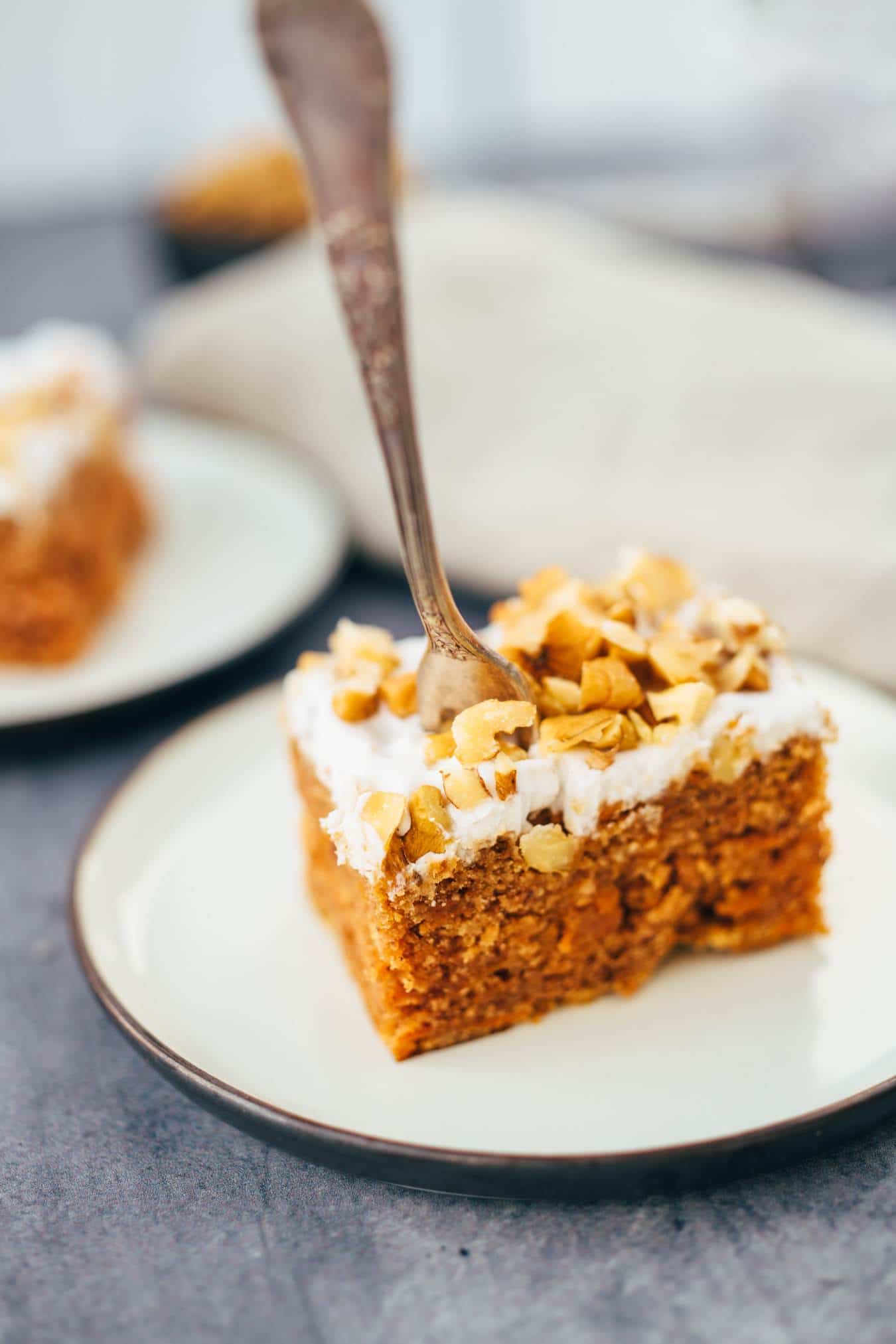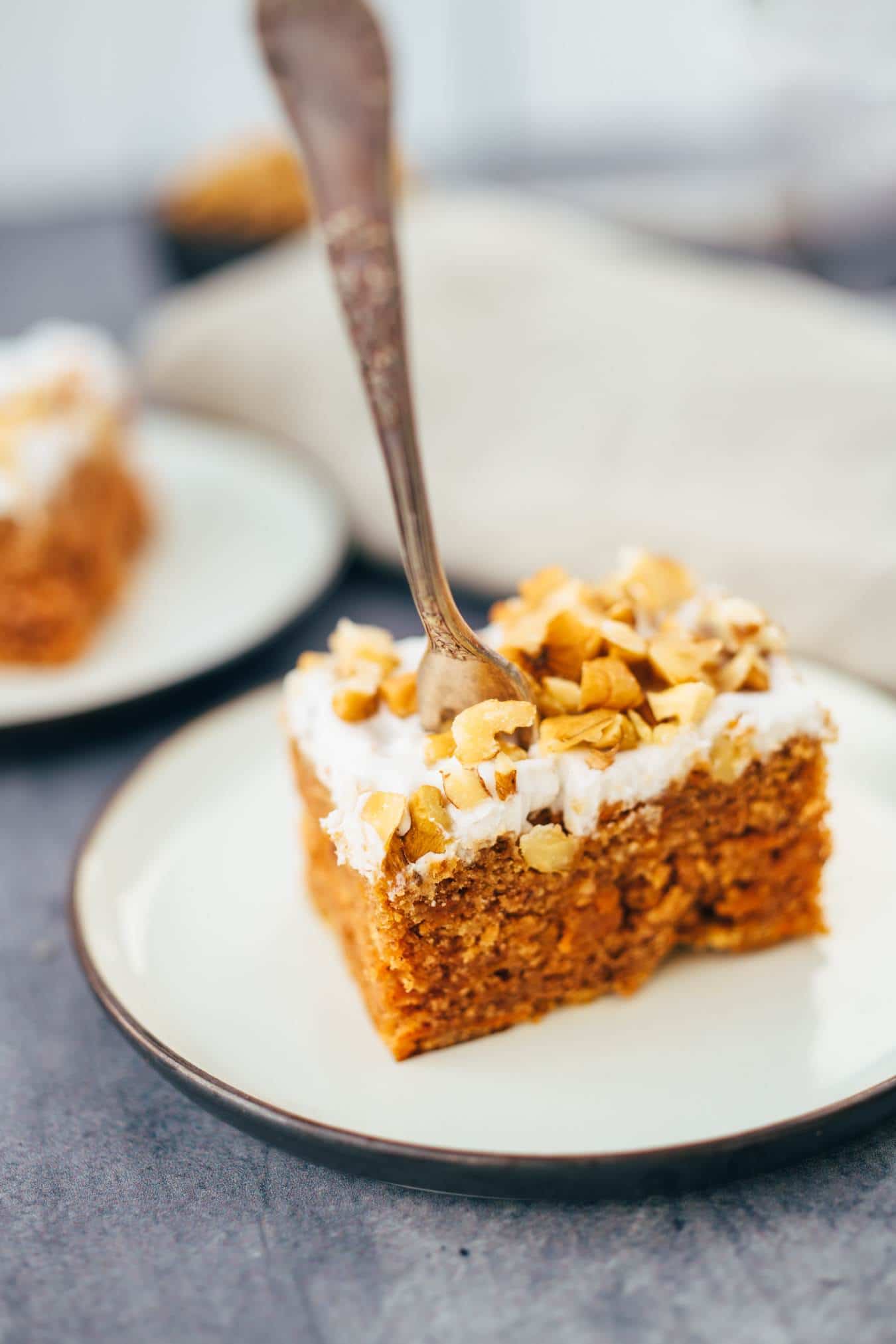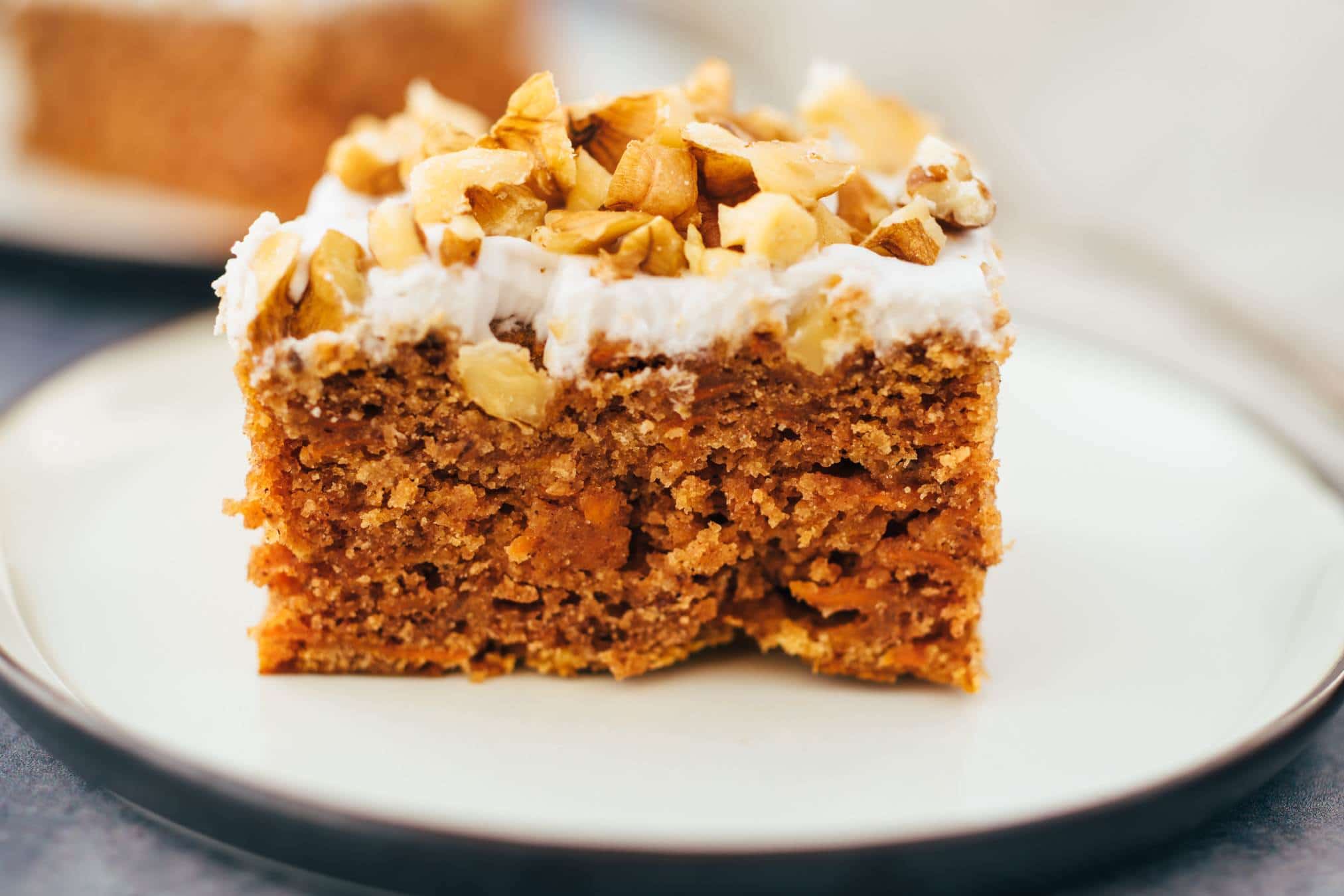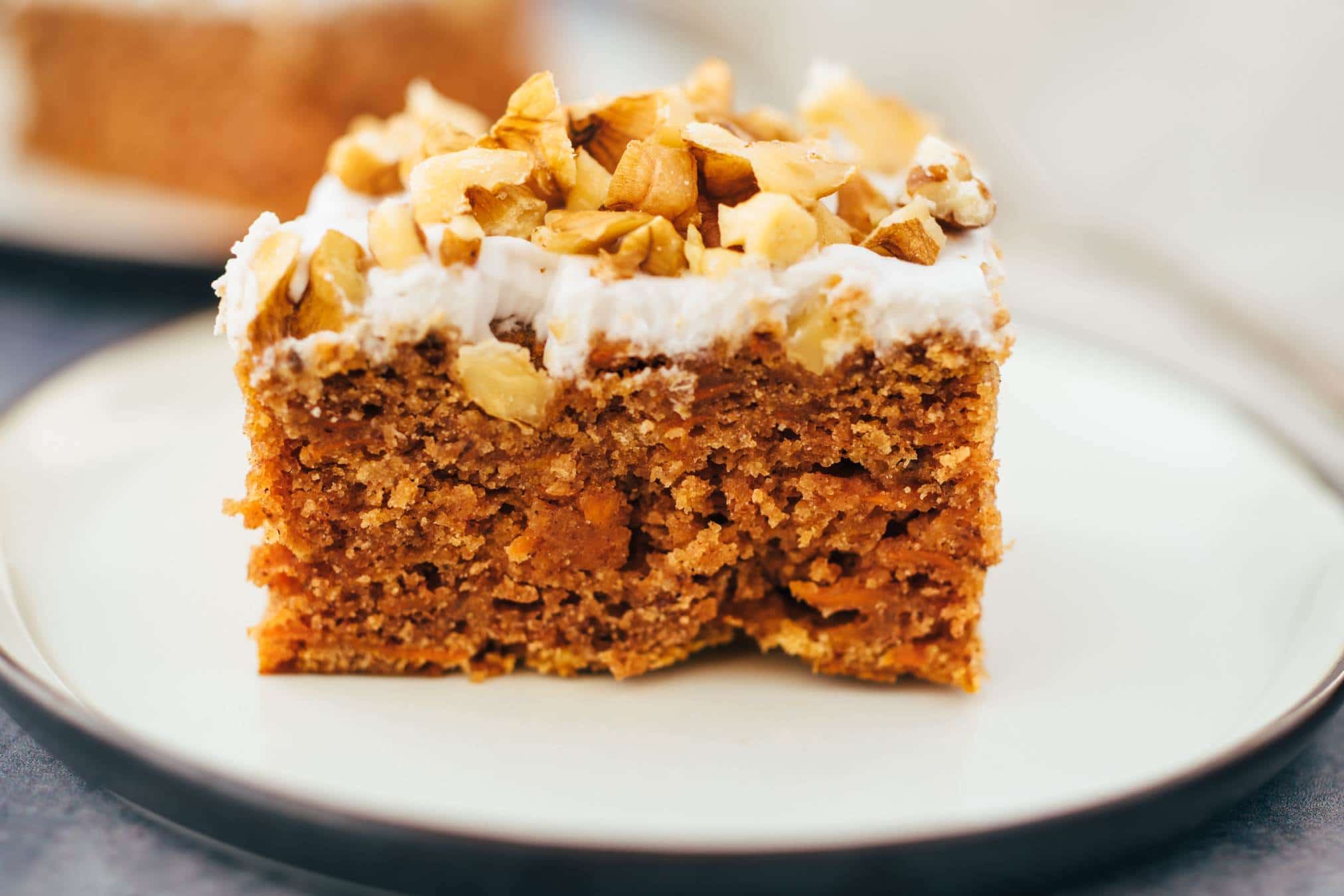 I always use Carrots organic quality and have them delivered without extra plastic packaging from the regional Eco box delivery. In my opinion, local organic carrots just have more flavor, or what do you think? Feel free to write me in the comments at the bottom.
Carrots contain much more than "just" beta carotene
Back to the essentials, our carrot cake. You really only need a bowl, a silicone scraper, a grater, a square baking pan, and an oven. Have I forgotten anything? Yes, of course, it's best to bring a few friends or even the whole family to eat this simple vegan cake. Favorite cake this simple vegan cake.
Healthy coconut oil, my simple gluten free flour mix , grated carrots, raw cane sugar and a few more spices, ready? Yes it's actually that simple and actually you can't go wrong, except? After all, there is always something that doesn't work. In fact, there are two things that could destroy your cake enjoyment. The baking time is too short and the cake is not properly baked through, or you stir too long and the baking soda loses its leavening power. Therefore my TIP: Stir only as much as necessary (small lumps will dissolve during baking) and, if in doubt, leave the cake in the oven for a few minutes after the end of the baking time.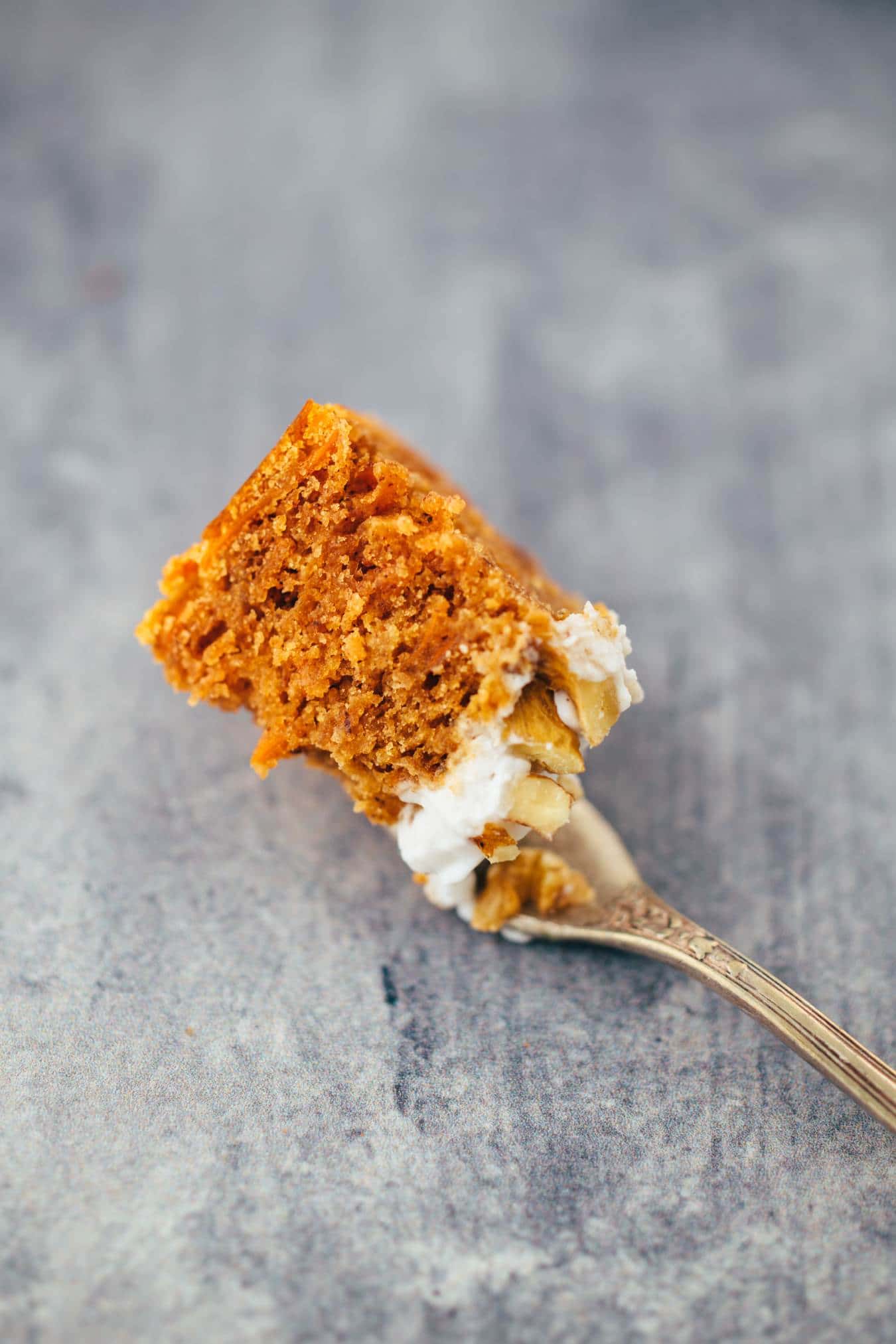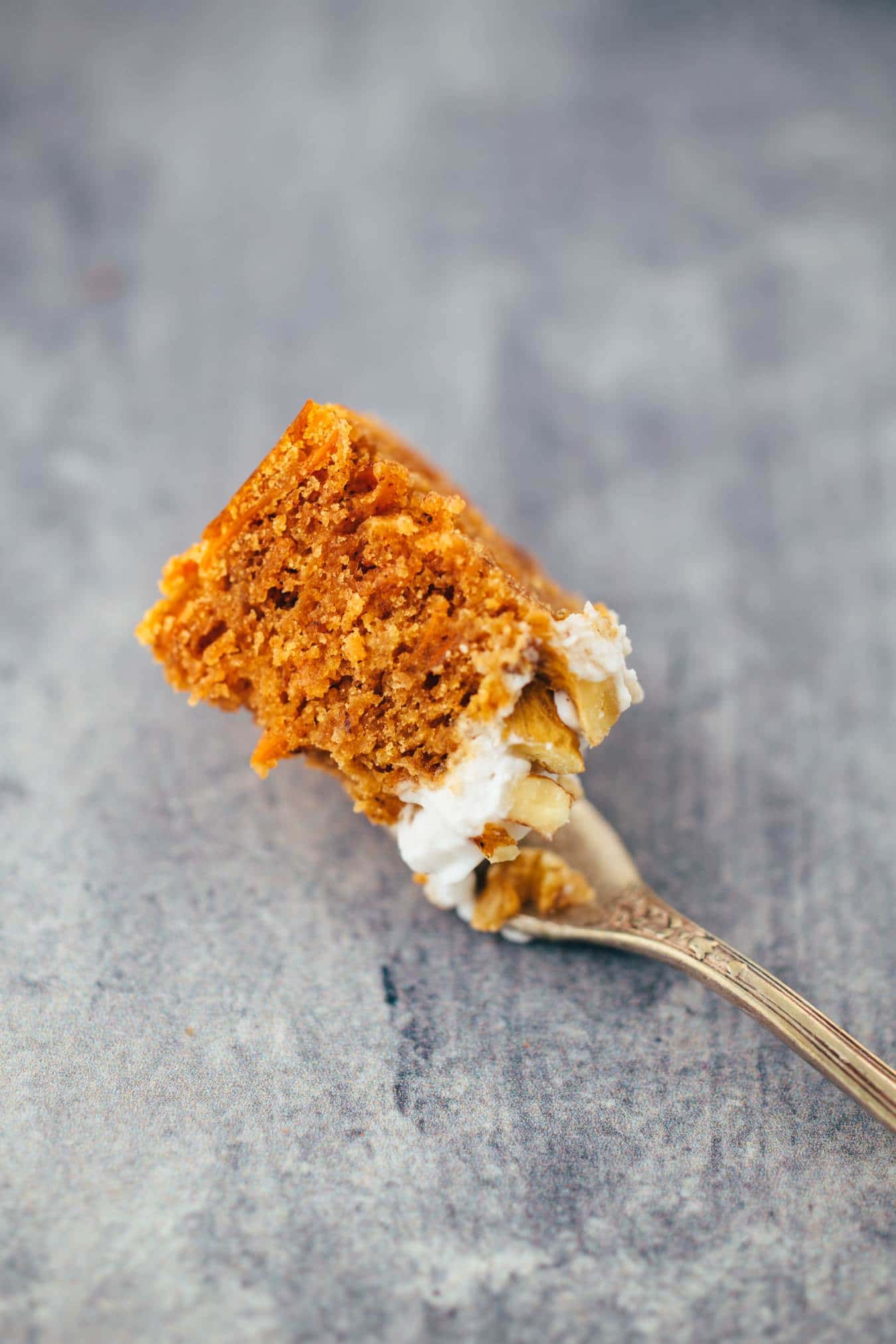 Now the only question is which frosting do I use for this cake? Cream! Best Coconut cream, homemade . On top I sprinkle coarsely chopped walnuts, ready!
Let's get started with this brilliant carrot cake. I hope you enjoy baking and of course about a review at the bottom of this page. If you post a picture, use the hashtag #veganevibes.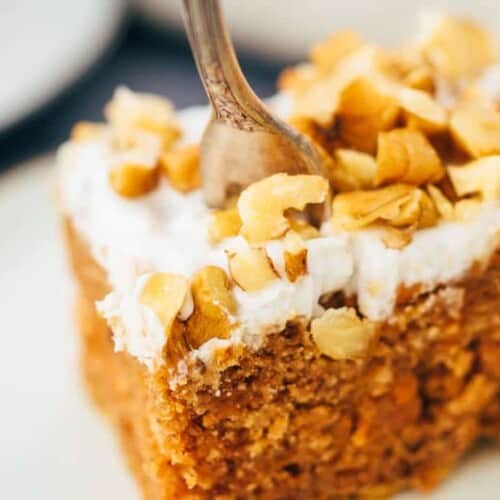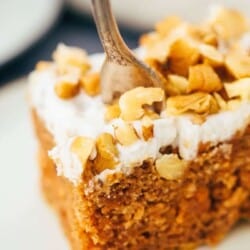 1-BOWL Juicy carrot cake (gluten-free)
Simple, moist, gluten-free carrot cake? Made with just one bowl, fluffy and moist inside, topped with creamy coconut cream and coarsely chopped walnuts.
AUTOR: VEGANEVIBES
Anleitung 
FOR THE CAKE Preheat oven to 175 degrees and grease a square baking dish (24×24 cm) with a little coconut oil and dust with gluten-free flour mix (optional).


For the carrot cake, set the flaxseed eggs in a large bowl and set aside.


Place a sifter over the bowl, sift in the flour, then add the baking powder, baking soda, cinnamon, bourbon vanilla, nutmeg, sea salt, apple pulp, coconut oil, almond milk (or other vegetable milk) raw cane sugar, and the flaxseed eggs and stir until everything is combined into a uniform batter. Alternatively, use a food processor or the dough program of a high-powered blender. NOTE: Do not stir too long, otherwise the leavening power of the natron will disappear.


265 g gluten free flour mix,

3 tbspn Baking powder,

1 tbspn Baking soda,

3 tbspn Cinnamon,

1 tbspn Bourbon vanilla,

1 Pinch of nutmeg,

¼ tbspn Sea salt,

125 g Apple pulp,

105 g melted coconut oil,

250 ml Almond milk or another vegetable milk,

200 g Cane sugar

Finally, fold in the grated carrots and pour the batter into the baking dish.

250 g finely grated organic carrots

Place in the oven, bake for 40-50 minutes and test with a wooden stick to see if the cake is done. When the wooden stick comes out clean, then the cake is ready. Turn off oven and leave cake in it for another 30 minutes. Only then remove from the oven and let cool completely (preferably one hour).


Spread

coconut cream

over carrot cake, garnish with walnuts and cut into 16 pieces. enjoy!

homemade coconut cream,

Walnuts

Store in an airtight container in the refrigerator for up to 5 days, keep frozen for a few weeks. However, fresh is best.

Notizen
NOTES /HELPFUL ACCESSORIES:
Nährwertangaben
Serving:
1
Piece
Calories:
265
kcal
Carbohydrates:
26
g
Protein:
2
g
Fat:
18
g
Saturated Fat:
14
g
Sodium:
58
mg
Potassium:
150
mg
Fiber:
2
g
Sugar:
14
g
Vitamin A:
2610
IU
Vitamin C:
1
mg
Calcium:
46
mg
Iron:
0.8
mg