I hate to say it, but it's getting cooler, or rather autumn is just around the corner. For me, it's always my brother's birthday on August 27 that kicks off the third season. However, I'm kind of looking forward to it, too. Finally, soups, hot drinks and sweaters again. In addition, our two Siberian Huskies are at their best when it gets cooler. Well, let's get to the real topic, today's lentil soup. It's really easy, delicious, fills you up and is so healthy. Perfect for days when you somehow do not feel like cooking, but still want something warm Food would like.
Vegan lentil soup for every day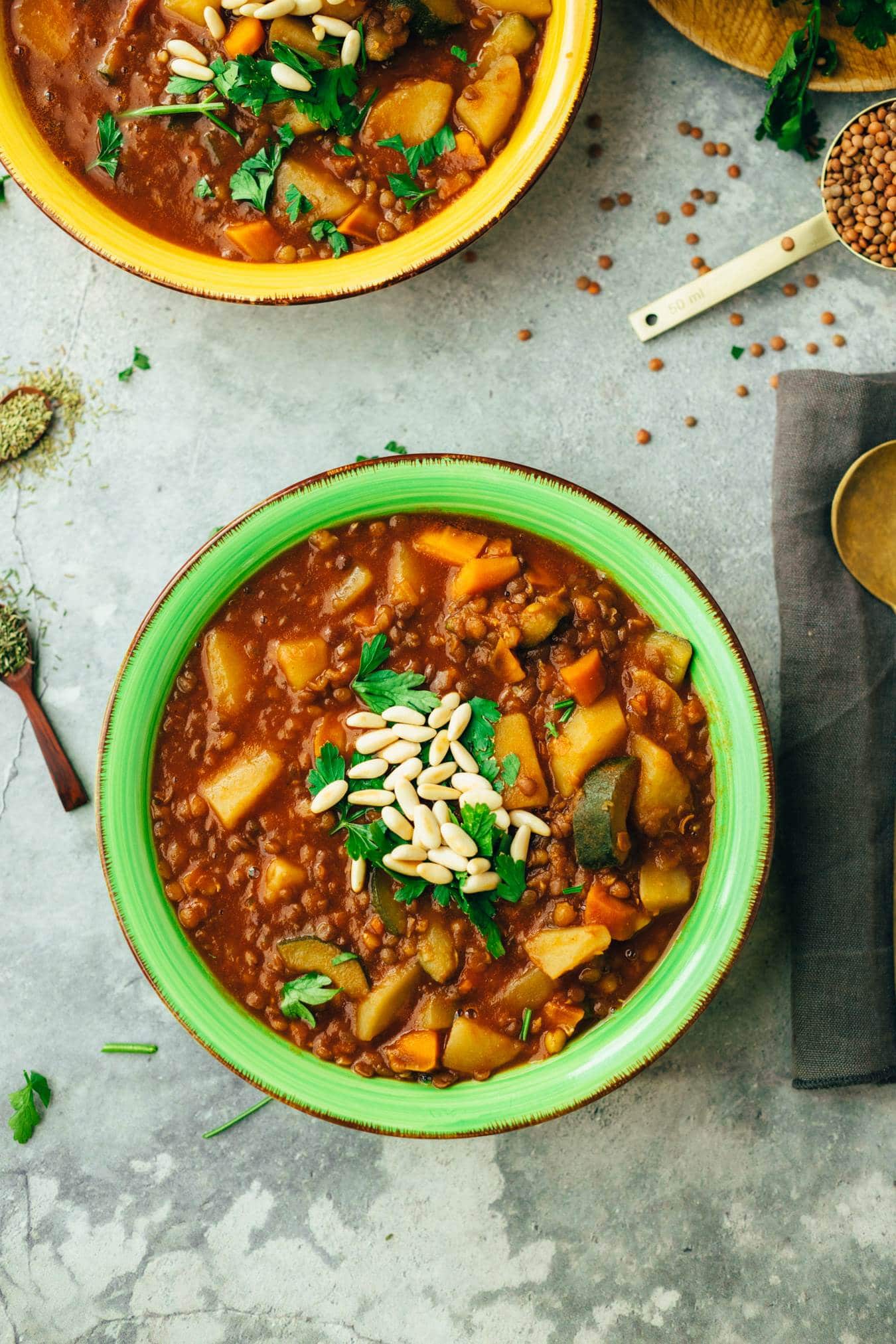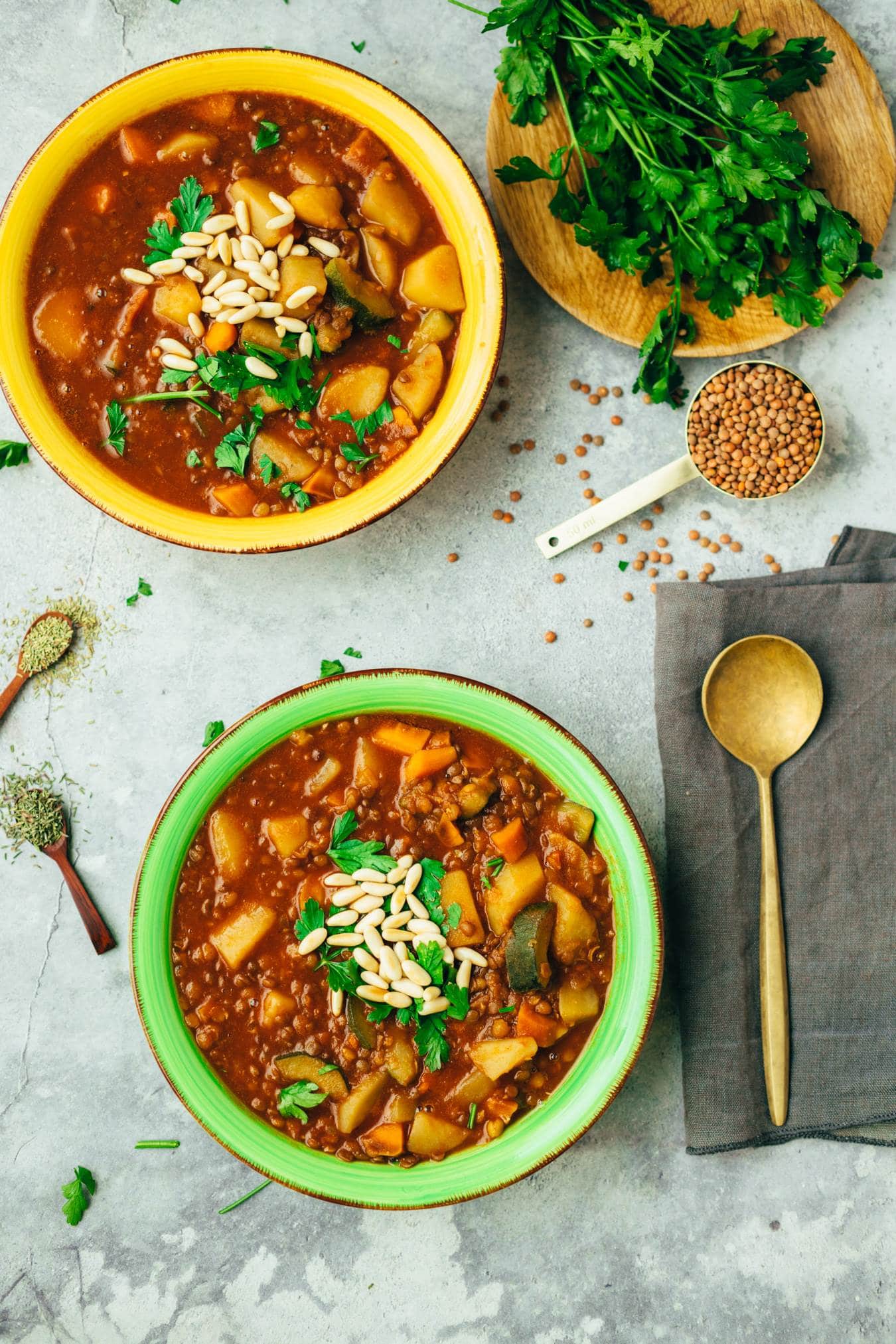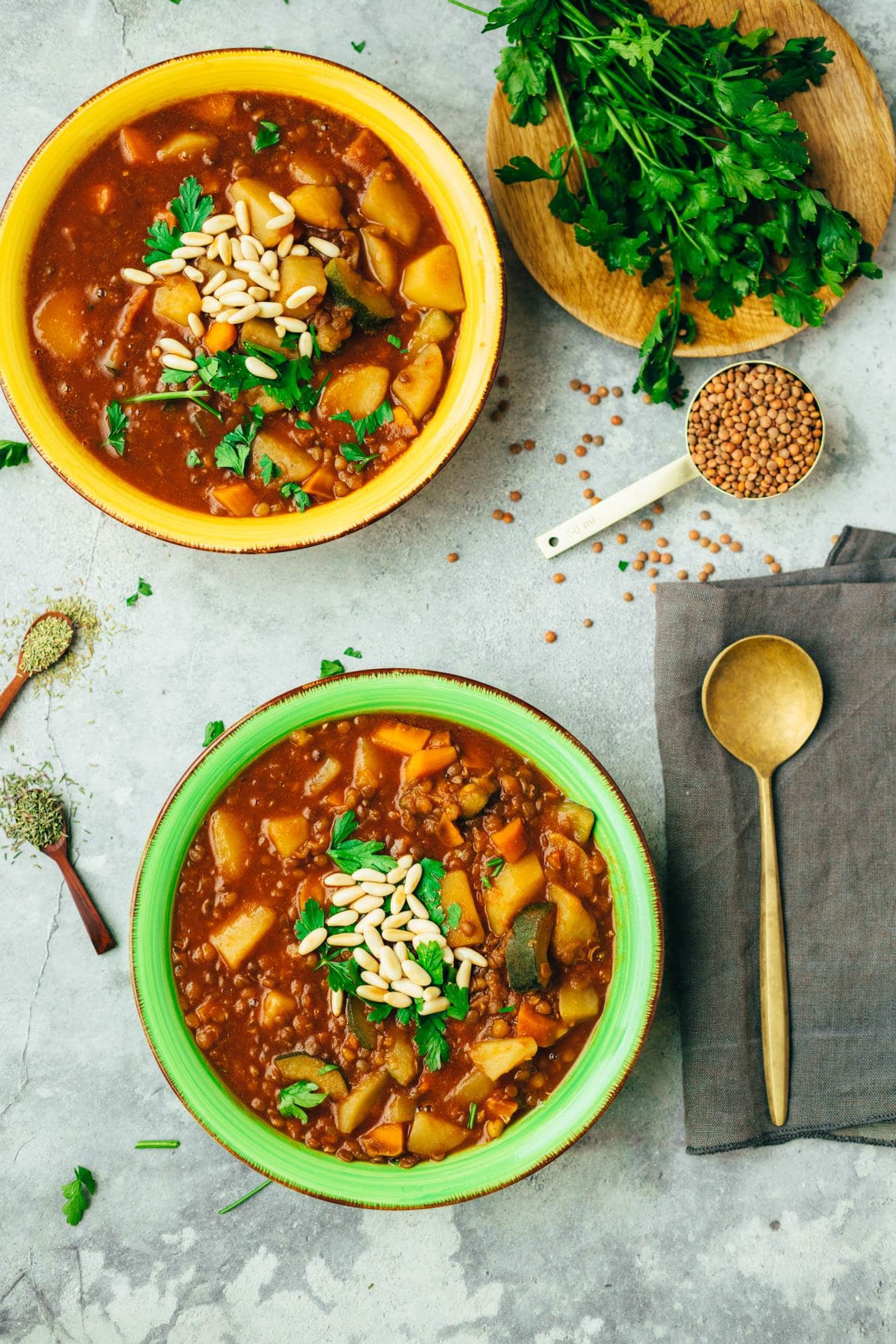 Vegan lentil soup, boring? Wrong.
For me, it's often the simple things that make me happy. During my researches I often come across Recipes that appeal to me but are far too complicated. Should I spend 100 euros first so that I can get started with the recipe? Good quality food yes, a cupboard full of knickknacks I'll never need again? No. Our soup creation today makes do with the simplest of ingredients. Garlic, onion, carrots, potatoes, vegetable broth, tomatoes, tomato paste, Lentils and spices. Perfect!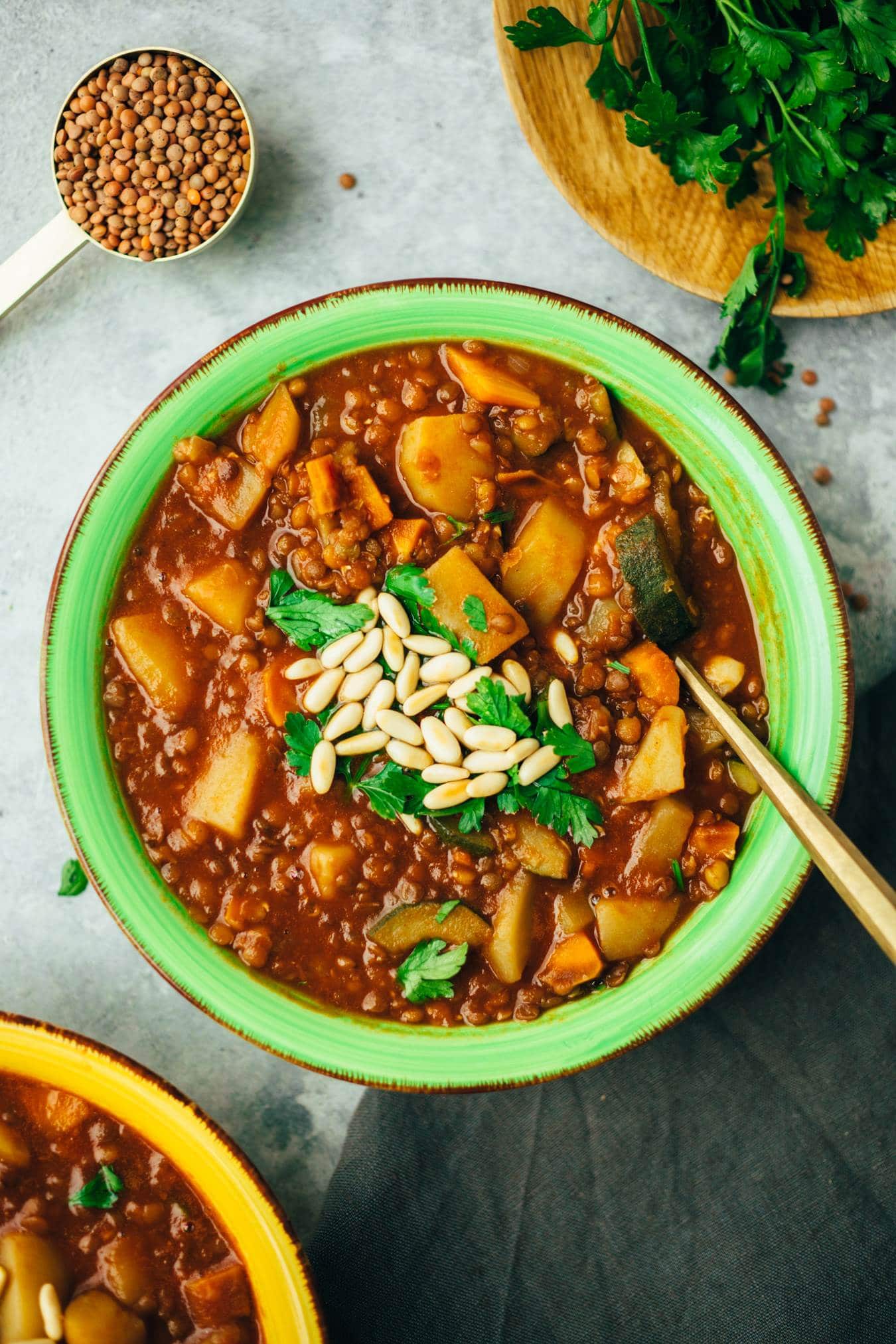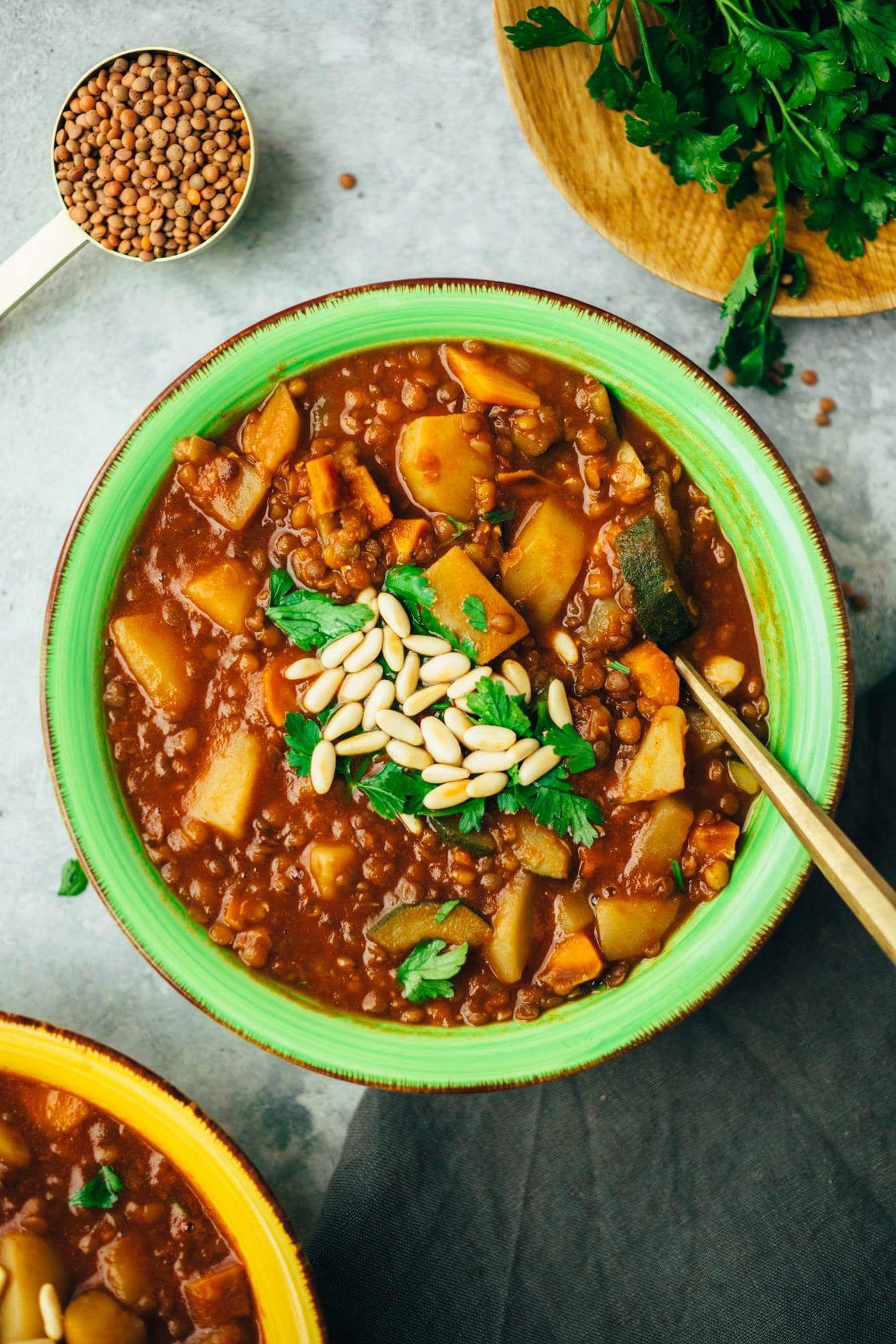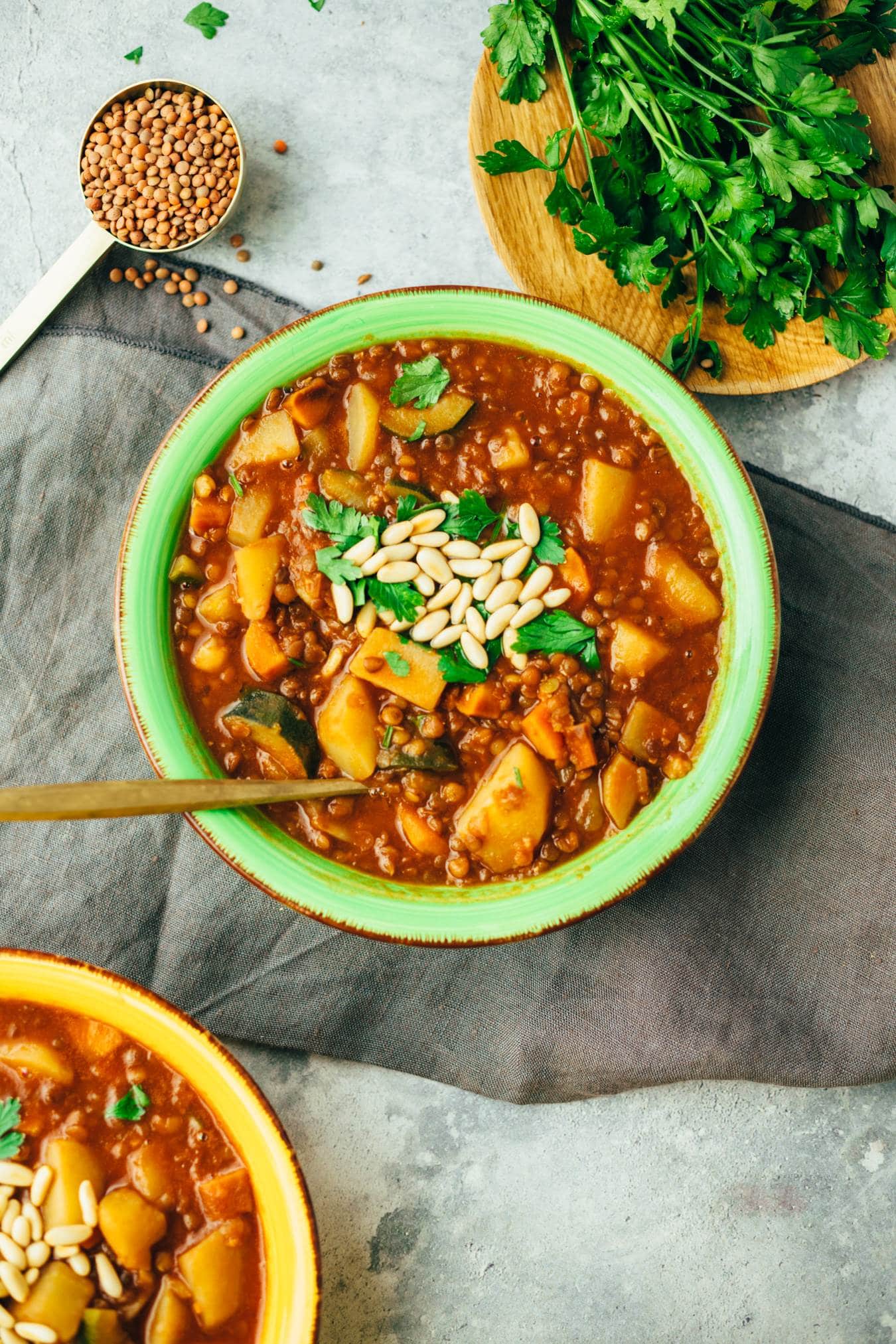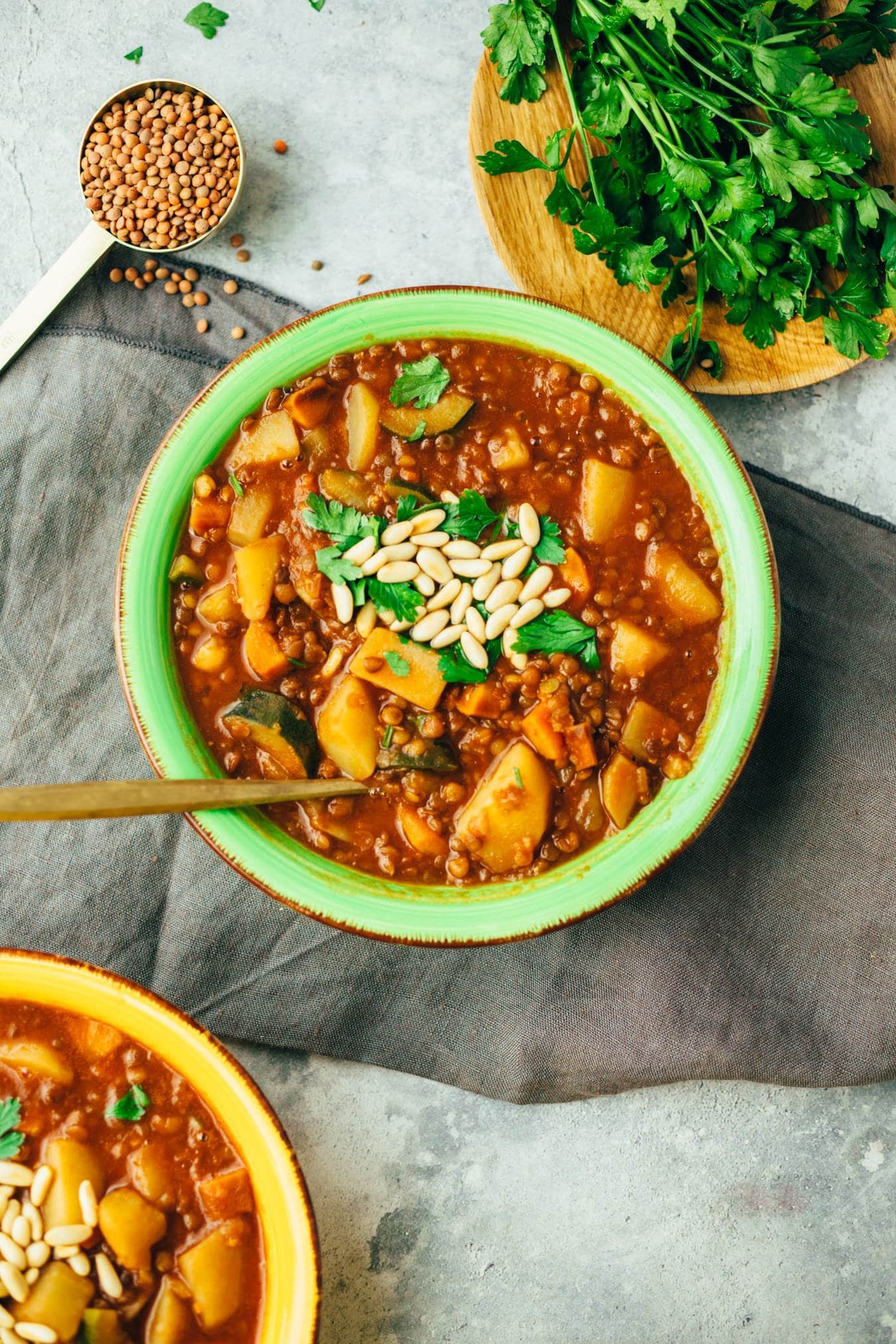 Lentil Fan Club! Are you with us?
Lentils were not on my menu at all for a very long time. why? Because at that time I did not eat so varied and often always the same thing came on the table. Lentils are really good sources of protein, which the body can use really well, especially in combination with cereals. Maybe a slice of whole wheat bread to go with it? The small legumes are rich in nerve-strengthening B vitamins and provitamin A, which the body converts into vitamin A. Vitamin E has a particularly protective effect on our cells. In addition, many important minerals such as potassium, calcium, magnesium and phosphorus. Not to mention their particularly high content of iron and zinc. Okay, I'm stopping again. Maybe I'll start a lentil fan club soon. Are you with us?
Roasted pine nuts, fresh parsley, whole grain bread with vegan margarine or delicious Naan bread or naan bread (gluten-free).
How long do lentils need to cook?
Here's an addendum on the subject of the cooking time of the lentils. This differs depending on the variety.
Red lentils 10-15 minutes (soaking not recommended).
Yellow lentils 10-15 minutes (soaking not recommended).
Beluga lentils 20 minutes (soaking is not necessary)
Puy lentils 25-30 minutes (soaking is not necessary).
Green lentils 30 minutes (soaking is not necessary)
Mountain lentils 30-40 minutes (soaking is not necessary).
Brown plate lentils (soaking recommended)
Please note: This is only a general recommendation for the cooking time of lentils. Please check the manufacturer's instructions on the packaging and ideally adhere to them.
Delicious lentil soup for every day (30 minutes)
Warming
Spicy
Rich in fiber and protein
filling
Easy to make
Are you ready the delicious and tasty vegan lentil soup? I wish you a lot of fun in recooking and of course a review at the bottom of this page. If you post a picture, use the hashtag #veganevibes.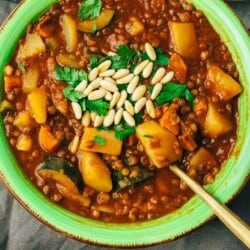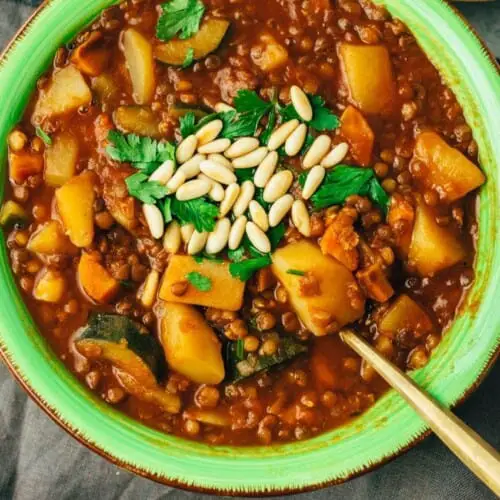 Delicious lentil soup for every day (30 minutes)
Delicious, warming and vegan lentil soup with fruity tomatoes. Ideal for the colder season with healthy protein from lentils. Ideal as an uncomplicated and quick dish for every day. Simple, quick and easy to make with just a few ingredients.
AUTOR: VEGANEVIBES
2

Piece

Garlic cloves

peeled and finely chopped

1

Piece

white onion and 2 shallots

peeled and finely chopped

30

g

Tomato paste

4

Piece

big carrots

1

Piece

large zucchini

washed and sliced

500

g

Potatoes, mainly waxy

peeled and cut into medium size

1

Liter

Vegetable broth

1 liter water + 2 tablespoons vegetable broth

250

g

Tomato pieces or passata

1 can or jar

190

g

Lenses

uncooked, I used brown lentils *cooking time may vary, see description cooking time lentils above in the text.

½

tbspn

Rosemary

dried

½

tbspn

Thyme

dried

1

tbspn

Turmeric

Salt and pepper to taste

optional: kale washed and cut into strips (according to season)
TO SERVE:
Fresh parsley

optional wholemeal bread

optional naan bread

optional roasted pine nuts
Anleitung 
Heat large pan with the frying oil on the stove. Sauté garlic and onion until translucent. Add tomato paste and stir briefly.

30 ml Frying oil or other high heat oil,

2 Piece Garlic cloves,

1 Piece white onion and 2 shallots,

30 g Tomato paste

Add carrots, zucchini and potatoes and sauté for another

3-5 minutes.

4 Piece big carrots,

1 Piece large zucchini,

500 g Potatoes, mainly waxy

Deglaze with vegetable broth, add tomato pieces, lentils, rosemary, thyme, turmeric. Stir, season with salt and pepper to taste. Stir in optional kale.

1 Liter Vegetable broth,

250 g Tomato pieces or passata,

190 g Lenses,

½ tbspn Rosemary,

½ tbspn Thyme,

1 tbspn Turmeric,

Salt and pepper to taste,

optional: kale washed and cut into strips (according to season)

Simmer over medium heat for

20 minutes

, until the lentils and remaining vegetables are nice and soft.

OPTIONAL: Heat pan and toast pine nuts in it without fat until they are already golden brown. Set aside. Tip: Be careful with the heat, the seeds can easily burn.

Divide soup into plates, garnish with (optional) parsley and pine nuts and serve. enjoy! Keeps up to 2 days covered in the refrigerator, frozen up to 4 weeks. Is very suitable for reheating.

Fresh parsley,

optional wholemeal bread,

optional naan bread,

optional roasted pine nuts
Notizen
NOTES /HELPFUL ACCESSORIES:
Nährwertangaben
Serving:
1
Portion
Calories:
311
kcal
Carbohydrates:
59
g
Protein:
18
g
Fat:
1
g
Sodium:
1514
mg
Potassium:
1603
mg
Fiber:
20
g
Sugar:
10
g
Vitamin A:
1670
IU
Vitamin C:
30
mg
Calcium:
87
mg
Iron:
9.6
mg