Carrot soup is a dream come true in orange! Autumn is practically on its way and with it comes soup time. I love to always have a homemade soup ready to go. Thus, I can quickly conjure up an appetizer (or even a main course) on the table. Little effort, but full of flavor and extra vitamins, minerals and fiber. I was lucky enough to get a huge box of vegetables from my sister-in-law's (and brother-in-law's) organic garden with super lots of carrots. The interesting thing is the shape of homegrown carrots, because they look so nothing like their siblings in the supermarket. In the home garden, each carrot is different, sometimes large, small, thin, thicker, and if you are lucky, you can even find a twin carrot. In the supermarket one resembles the other and I sometimes wonder if children still know what natural vegetables look like. What do you think? I have heard that some children think that the milk comes from a purple cow?
Creamy vegan carrot soup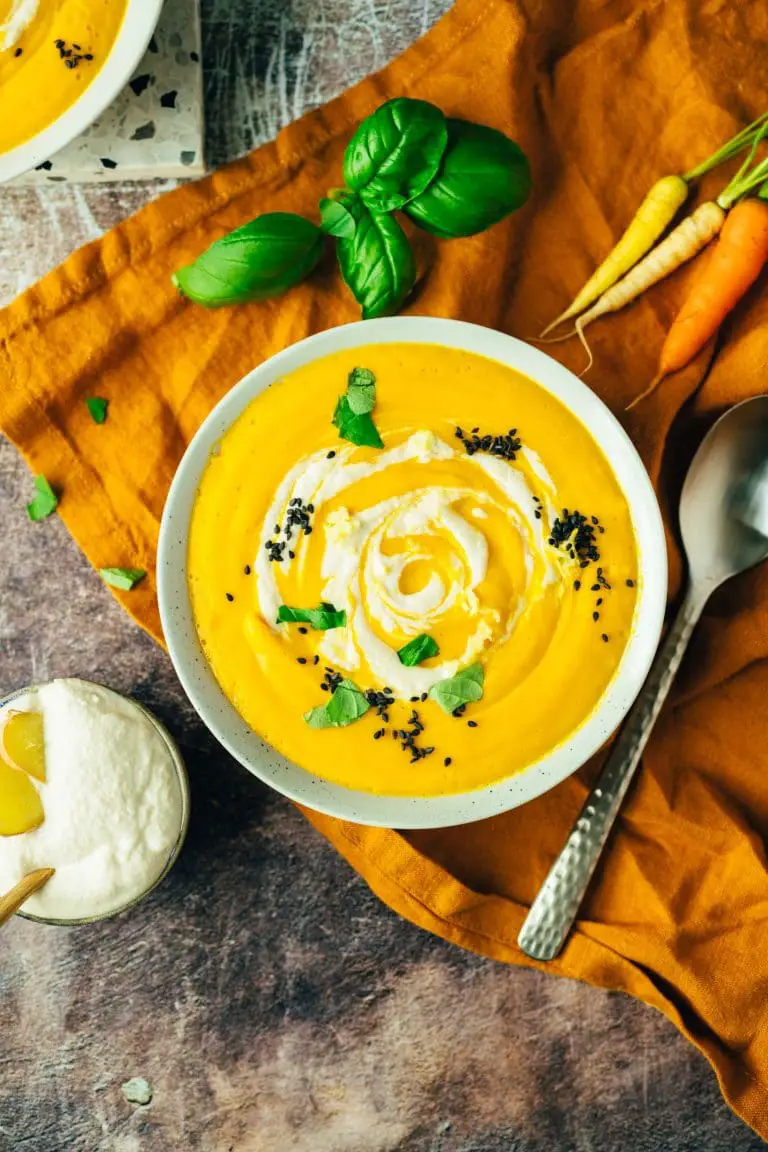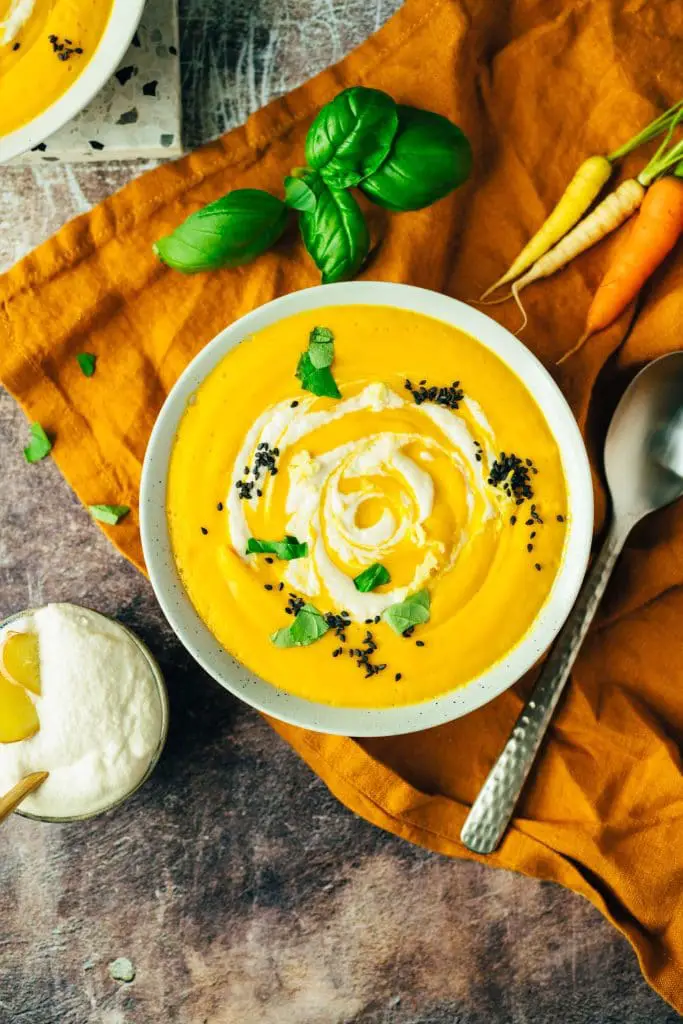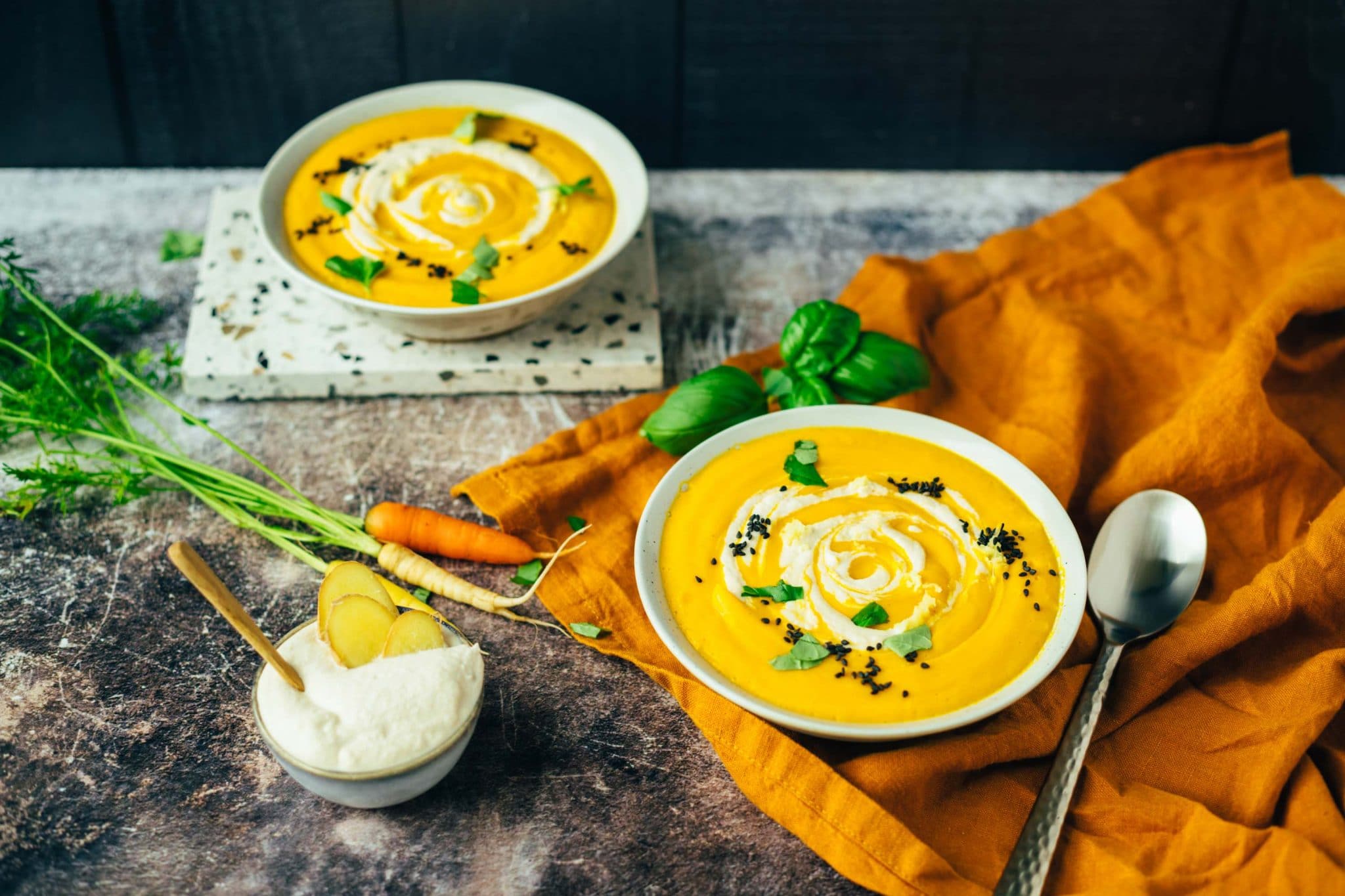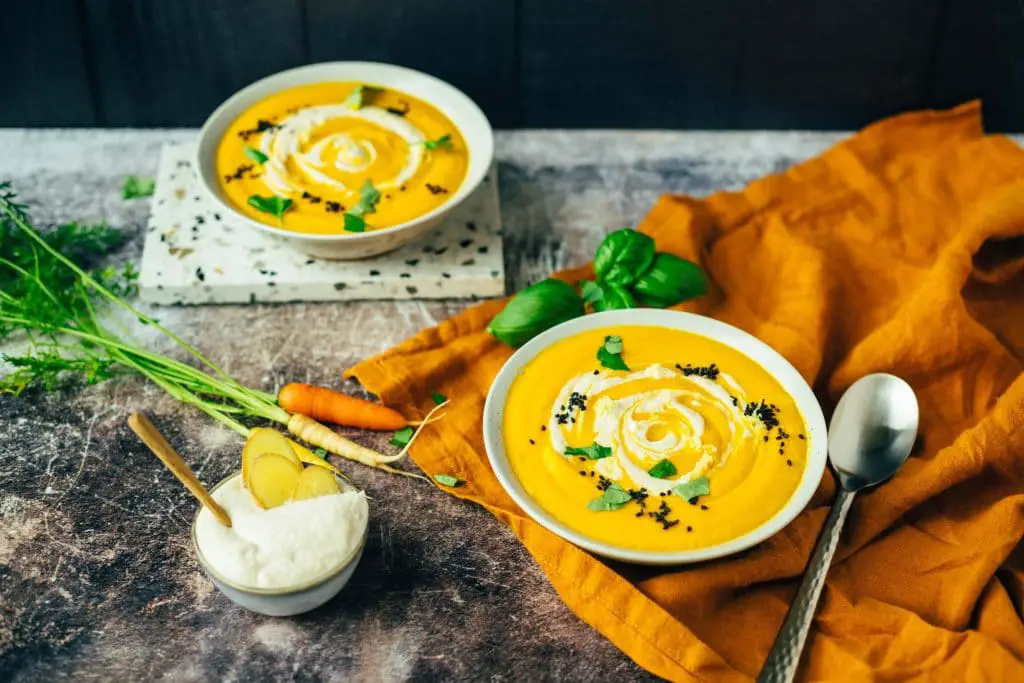 Our soup today is a dream in orange! Depending on how intensively the carrots are colored, the color of the soup at the end is also very individual. For example, I had a mix of orange, yellow and light yellow. The preparation is super easy and the only thing that really takes work is peeling the carrots.
Heat a little oil, add onion and garlic, carrots, potato, vegetable broth, salt, ginger and a pinch of nutmeg. That was it. I'm a total sucker for twists and my favorite thing to do is always try to add something special to simple dishes this way. The carrot goes well with a ginger cream, which I prepare from cashews and simply add some grated ginger. But you can also use any vegetable cream you want.
TIP: If you want an extra creamy soup, you can mix 2-3 tablespoons of cashew cream directly into the soup.
How healthy are actually carrots?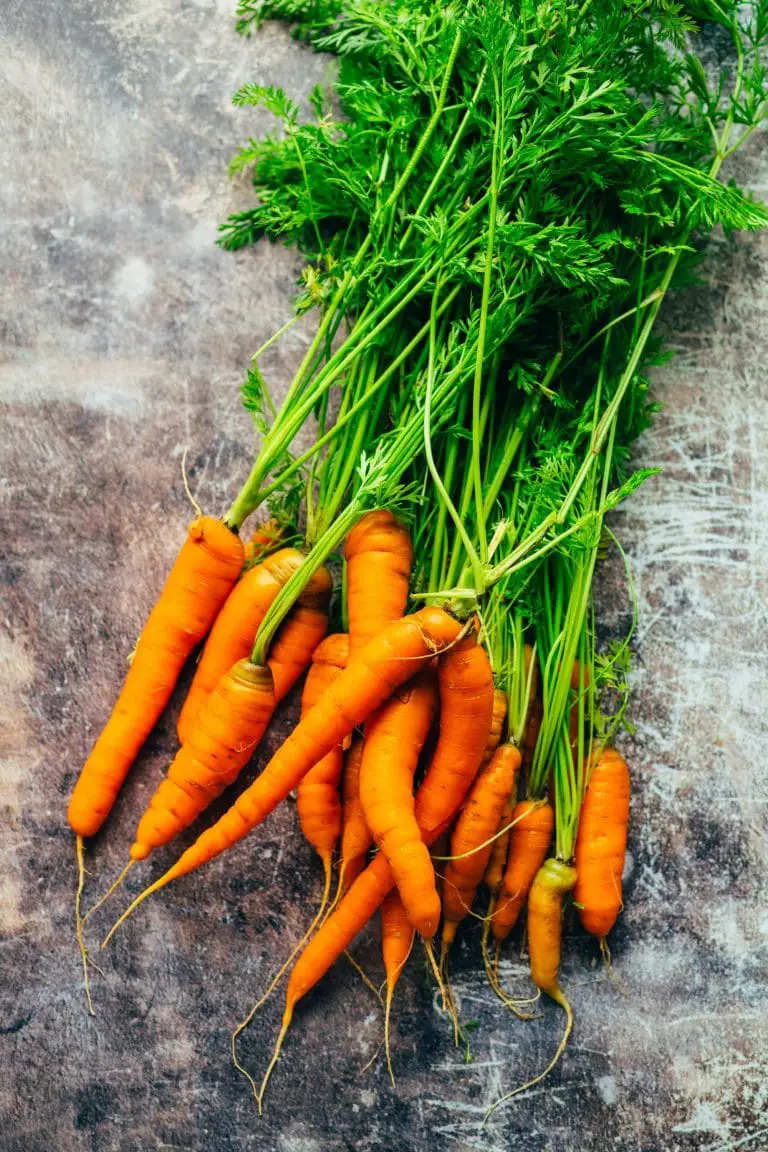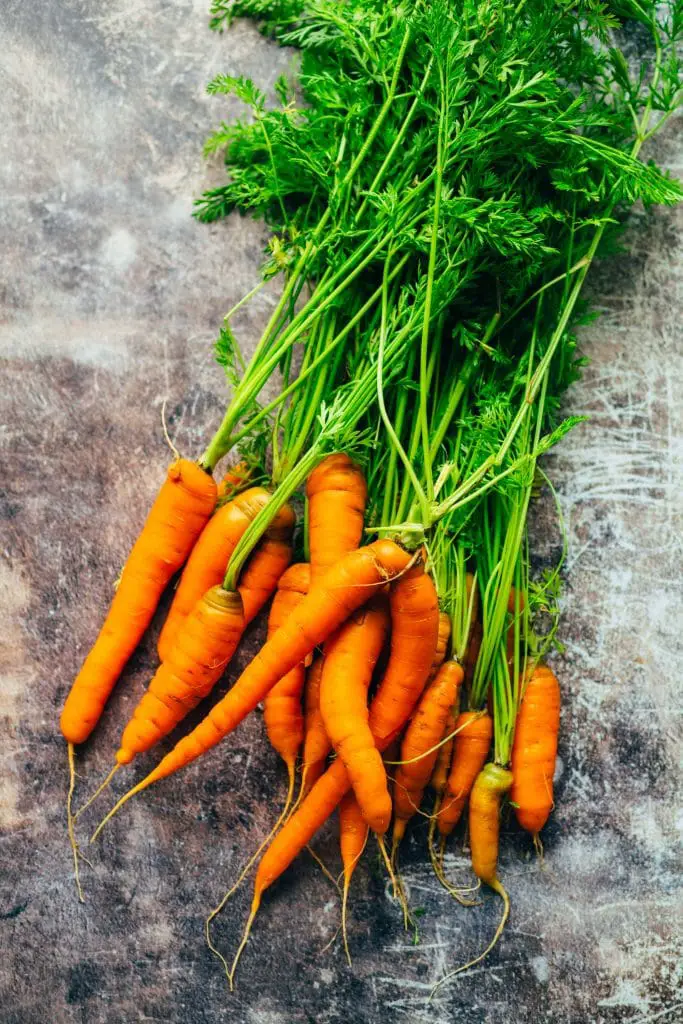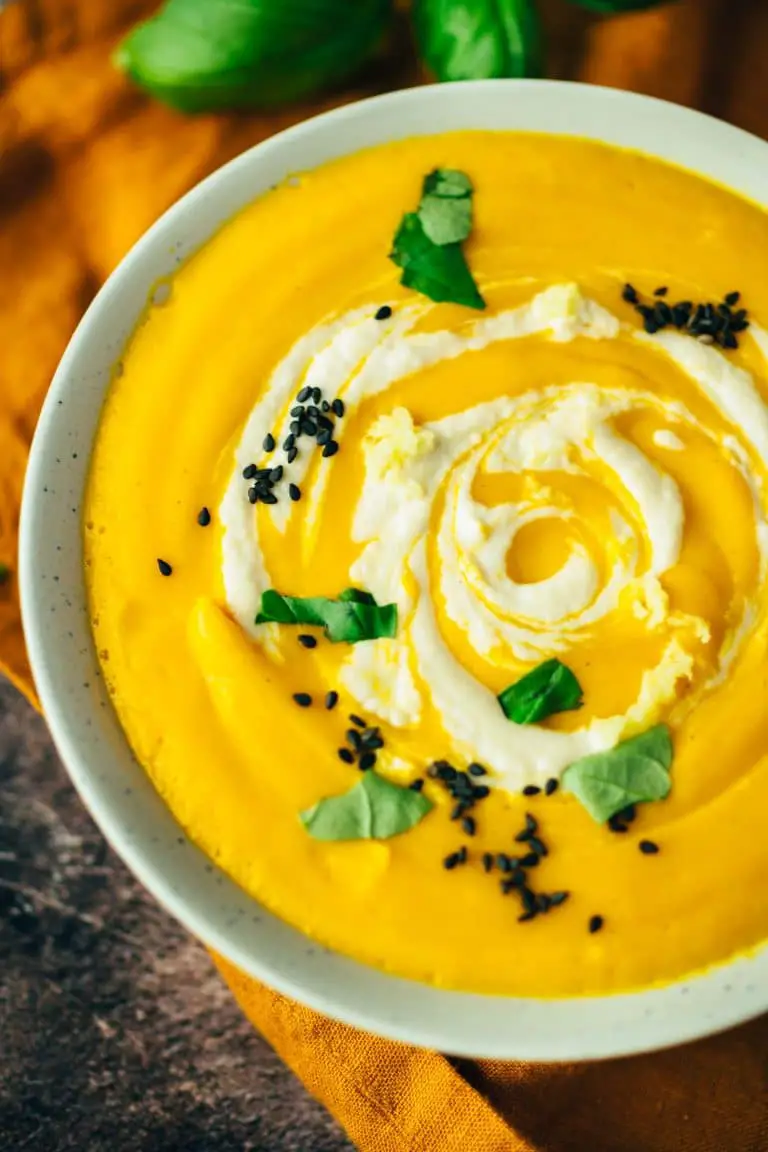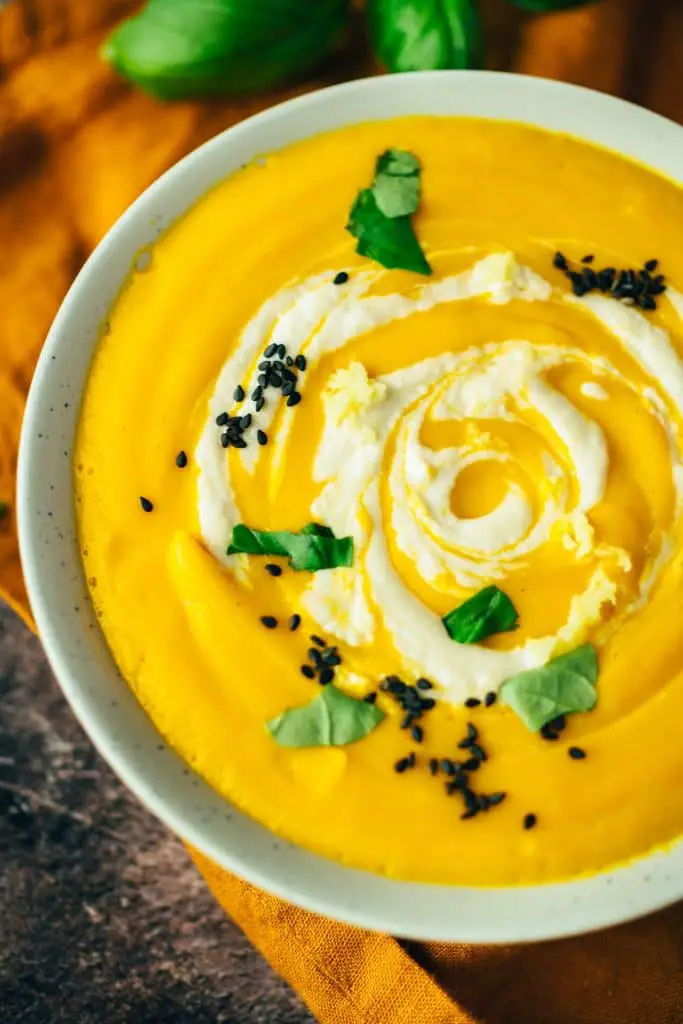 Carrots belong to the so-called root vegetables and are characterized by a particularly low calorie content with only 31 kcal/100g.
Low calorie
Rich in potassium, vitamin E and carotenoids
Can be eaten raw and cooked
In the cooked state, the ß-carotene is particularly well bio-available (in the raw state only about 1/3 is usable)
The carrot greens are rather bitter, but can be used as a very healthy addition to smoothies
Consist of about 10 percent carbohydrates, the soluble fiber contained can have a positive effect on blood sugar levels
TIP: The addition of oil can help to better absorb the nutrients of the yellow root vegetable. Here, even a small drop of oil in the carrot juice or in the dip to the raw vegetable plate is enough. If you want to improve the supply of omega-3 fatty acids (DHA and EPA), you can add a few drops of microalgae oil before serving. I've linked you my favorite brand below.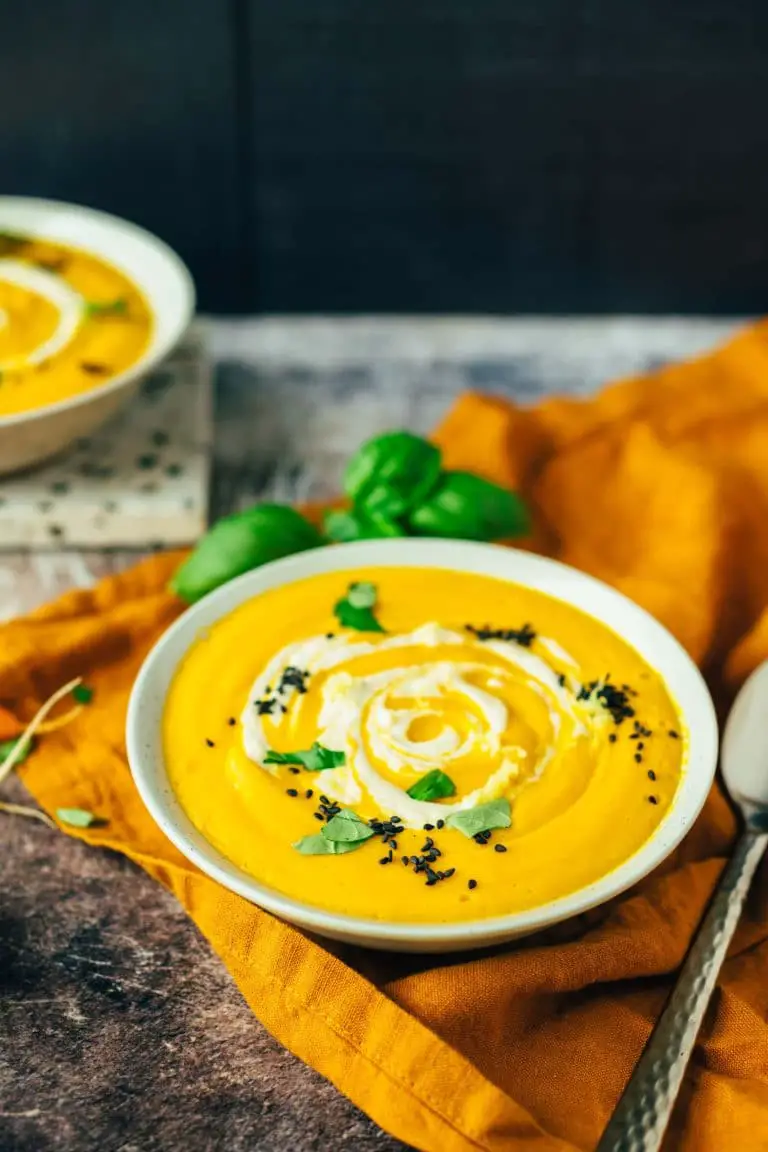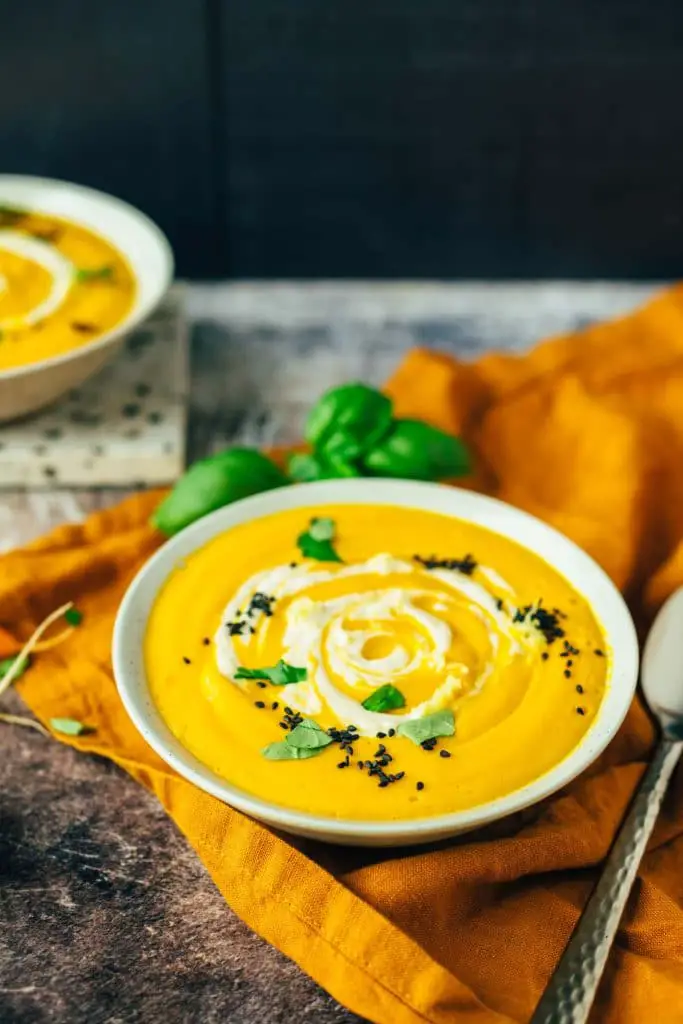 What else is important in the preparation of the soup?
In its original form, the soup is very creamy and almost like a Puree . If you want it runnier, just add as much vegetable broth until you get the consistency you want.
When pureeing, it also comes down to your personal preferences. I like it when there are still a few pieces of vegetables in the soup. That's why I always puree only a portion(about 2/3 of the soup) in a high-powered blender. You can also use a magic wand, but then the soup will not be as super fine as with a high-powered blender.
If you like the carrot soup very thick, then I recommend cooking and reheating with closed lid . Due to the puree-like consistency, it can easily splatter during cooking.
If it can't be carrot soup today, then I recommend my potato leek soup, mung dal soup, or a delicious lentil soup for every day.
The creamy carrot soup with ginger cream:
Warming
Light ginger spiciness
creamy
Full of healthy ingredients
Quick and simple
Are you ready the delicious and tasty, vegan and warming carrot soup? I wish you a lot of fun in recooking and of course a review at the bottom of this page. If you post a picture, use the hashtag #veganevibes.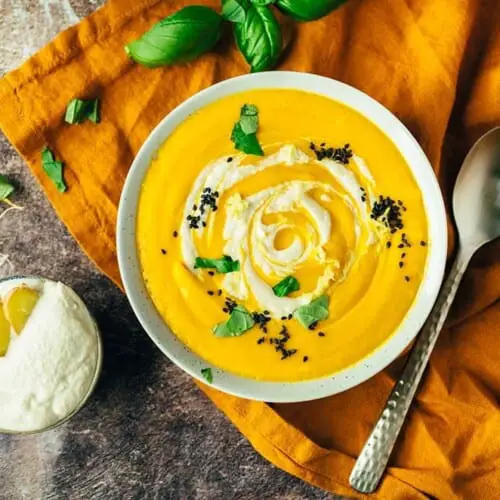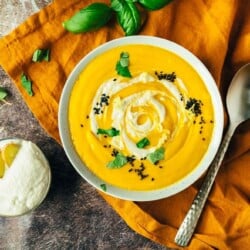 Carrot soup with ginger cream
Quick, warming and vegan carrot soup, refined with a fine ginger cream. A perfect dish for the whole family, high-yield and inexpensive with a subtle twist.
AUTOR: VEGANEVIBES
30

ml

Frying oil or other high heat oil

2 tablespoons, feel free to omit if oil-free

1

Piece

light onion or 2 shallots

peeled and finely chopped

2

Piece

Garlic cloves

Peeled and finely chopped or pressed

1000

g

Carrots

peeled and cut into coarse pieces, carrot greens can be kept for smoothies (best to wash and freeze immediately)

250

g

Potatoes*

peeled and cut into pieces, equals 2-3 medium potatoes, for early potatoes just weigh them out

30

g

Soup powder

2 tablespoons, vegan and organic

1000

ml

Water

more at will

1

tbspn

Ginger powder

or 2 tsp freshly grated ginger

¼

tbspn

Nutmeg powder

½ – 1

tbspn

Salt

½

tbspn

black pepper
FOR REFINING (optional with coconut milk):
50-100

ml

Cashew cream

homemade

2

tbspn

freshly grated ginger

More vegetable broth to dilute according to taste
TO SERVE:
Sourdough bread

Fresh ginger

Sprouts
Anleitung 
Heat pot with frying oil.

30 ml Frying oil or other high heat oil

Add onion and garlic and sauté briefly while stirring.

1 Piece light onion or 2 shallots,

2 Piece Garlic cloves,

1000 g Carrots,

250 g Potatoes*,

1 tbspn Ginger powder,

¼ tbspn Nutmeg powder,

½ – 1 tbspn Salt,

½ tbspn black pepper,

Pepper to taste

Add carrots, potatoes, vegetable broth, ginger powder, nutmeg, salt and pepper and bring to a boil once.

30 g Soup powder,

1000 ml Water

Simmer for about

20-25 minutes

until the carrots are soft.

Puree finely with a hand blender or high-powered blender.

TIP For refinement, add 2-3 tablespoons of cashew cream or another vegetable cream to taste to the soup.

If you like the soup finer and more liquid add as much vegetable broth until the desired consistency is reached.

Pour into plates, garnish as desired, serve and enjoy!
Nährwertangaben
Serving:
1
Portion
Calories:
159
kcal
Carbohydrates:
25
g
Protein:
2
g
Fat:
6
g
Saturated Fat:
4
g
Sodium:
241
mg
Potassium:
690
mg
Fiber:
6
g
Sugar:
11
g
Vitamin A:
33755
IU
Vitamin C:
11
mg
Calcium:
68
mg
Iron:
1
mg