Sweet potato and bean stew is exactly what Food , which I love so much at the moment. It feels like we've had more or less April weather since December and it alternates between warm, cold, snowfall, sleet and everything else that goes with it. I'm a huge fan of cold weather, but please no dingy wet and cold. It gives me chills just thinking about it. This is exactly why I love stews, because they just give you everything you need. Just the color of this Recipe makes already right mood, as I find. When I take a look at the weather forecast, I'm already looking forward to the coming weeks. It remains soups and stews time! Yhuhuu!
Sweet potato and beans stew my loves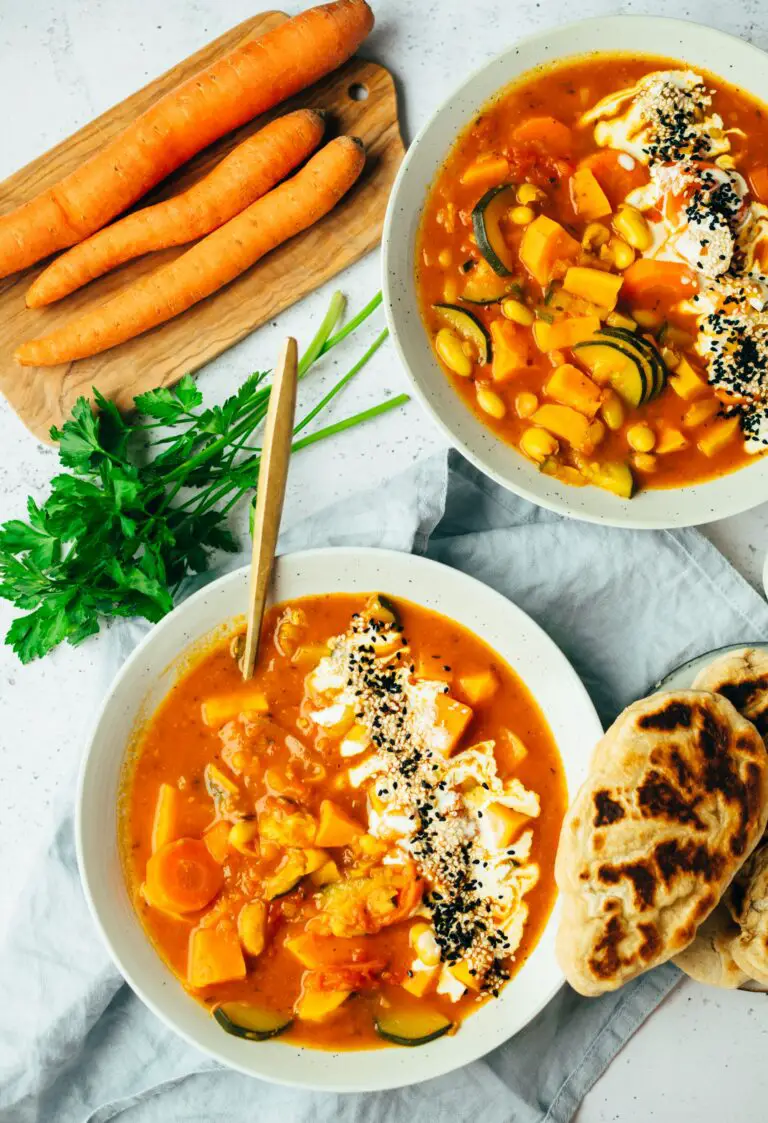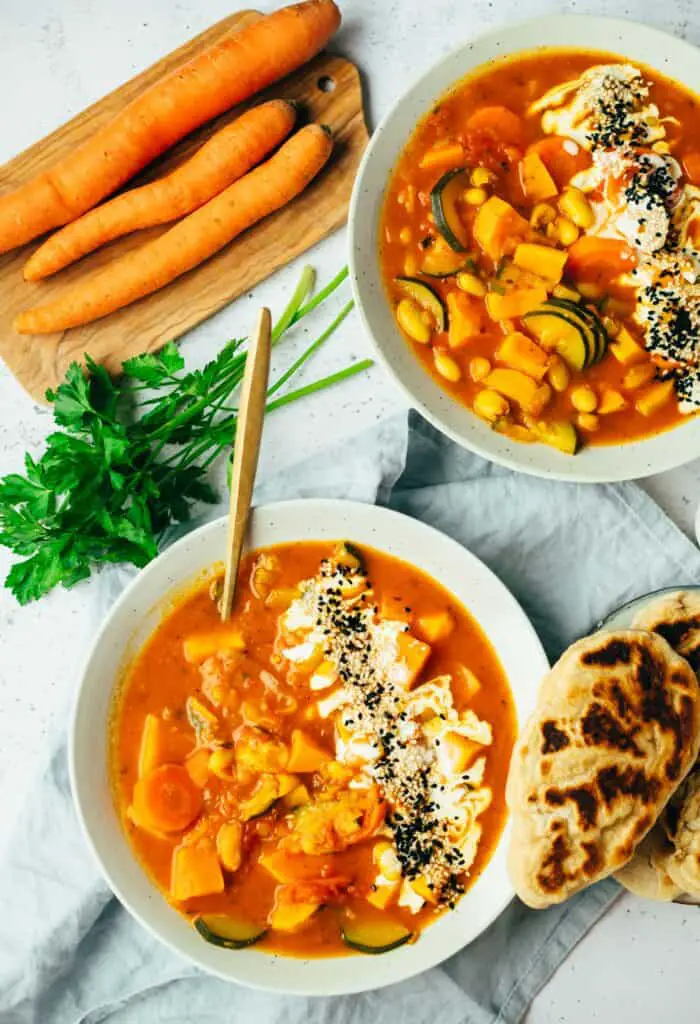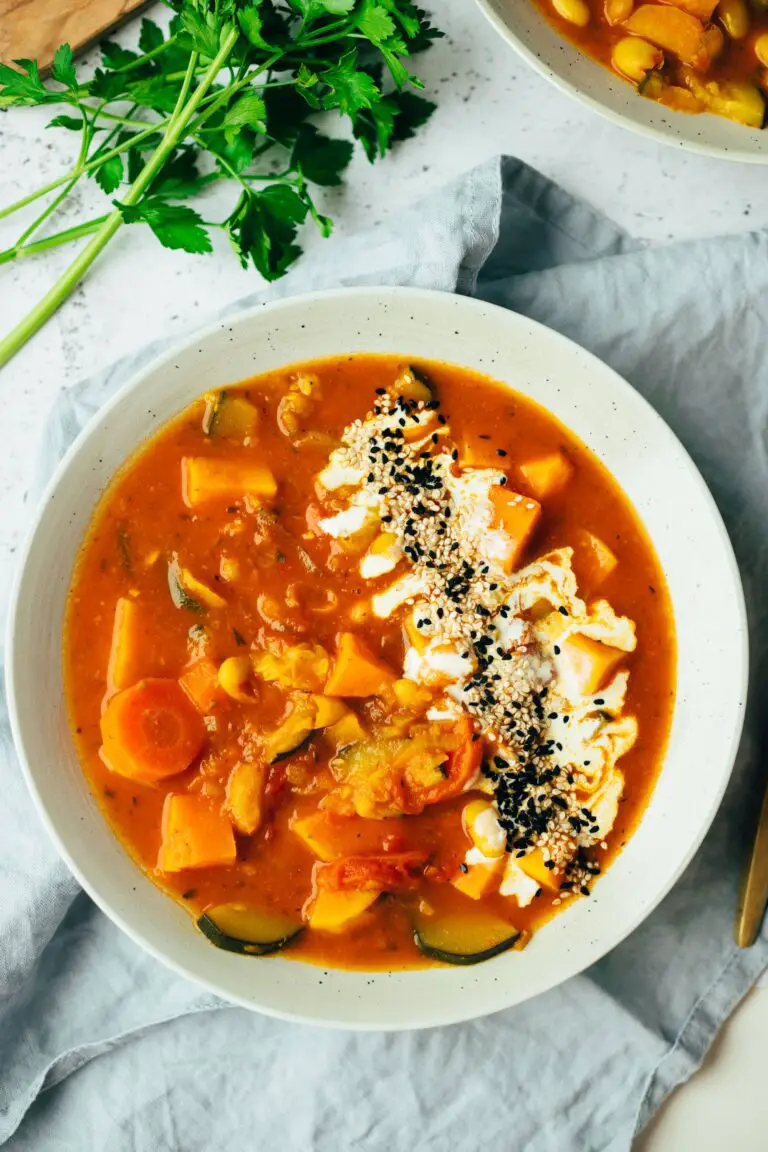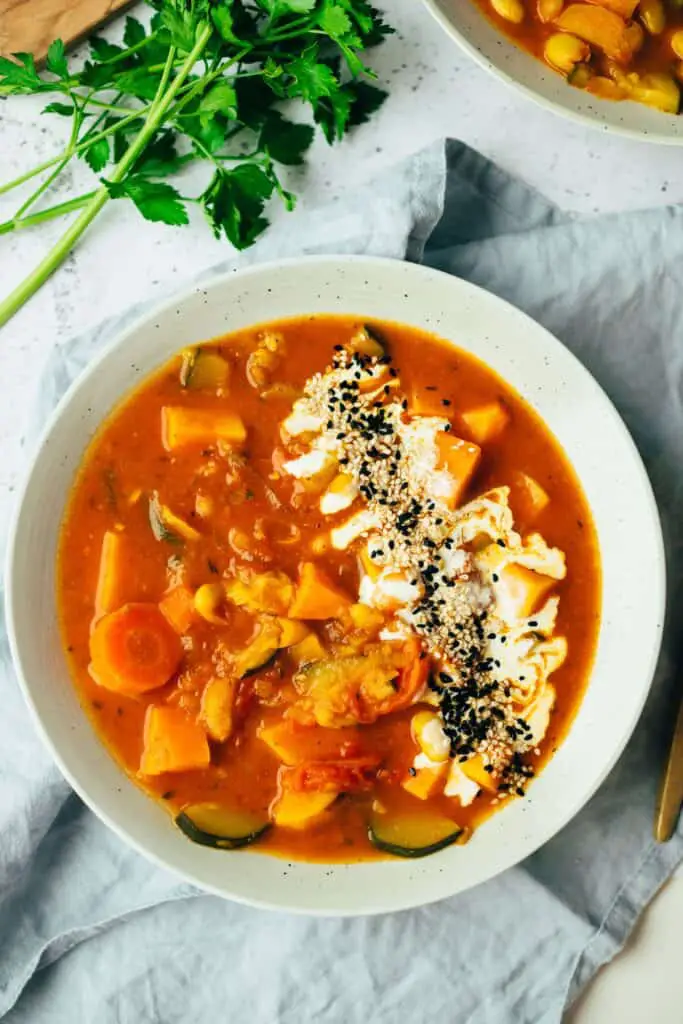 The stew is once again quickly made and you do not need exotic ingredients for it. Sweet potatoes Onion, garlic, tomato paste, passata (or canned tomatoes), white beans ( Cannellini beans ), Carrots zucchini, vegetable broth, rosemary, thyme, turmeric, coconut blossom sugar, pepper and a little salt. The whole is then put into a large pot, cover it, simmer for 20 minutes and the stew is ready, which literally makes you warm around the heart.
How healthy are white beans?
Let's take a closer look at white beans today. I've become an extreme fan of beans of all kinds and also try to put some on the table every day. Whether in the form of hummus or other Spreads , Soups , stews, main dishes or also with the Baking . Here I am just thinking about the cookies with Chickpeas , Yummy! By the way, this tasty candy can also be used to trick children quite well by simply sneaking some legumes into their cookies. Let's take another closer look at white beans. Cannellini Beans originate from America and South America and are packed with nutritional benefits for the human body:
Rich in valuable vegetable proteins (energy supply and satiety)
Antioxidants, fiber and iron
Vitamin K
Phosphorus, copper, manganese, potassium and molybdenum
Magnesium (arterial health and blood flow)
flavonoids and pytochemicals (to help eliminate toxins from the body)
are associated with a lower incidence of cardiovascular disease, as well as prostate and colon cancer
I could go on endlessly with the list of positive qualities and there are also few disadvantages that could come along with eating beans.
TIPS: To make beans generally easier to digest, it is important to soak and cook them. I don't know anyone who eats beans raw, but you never know. If you are using dried beans, it is best to soak them overnight and then cook them until soft according to package instructions. I like to use ready cooked beans from PVC free cans and soak them in cold water for another 30 minutes before processing. Experience has shown that they are then easier to digest (this statement is based on personal experience in terms of gas formation, if you know what I mean). In addition Phytic acid degraded, a so-called anti-nutrient that inhibits the absorption of nutrients. Boiling and soaking partially breaks down the undesirable acidity, provided the cooking water is not used further.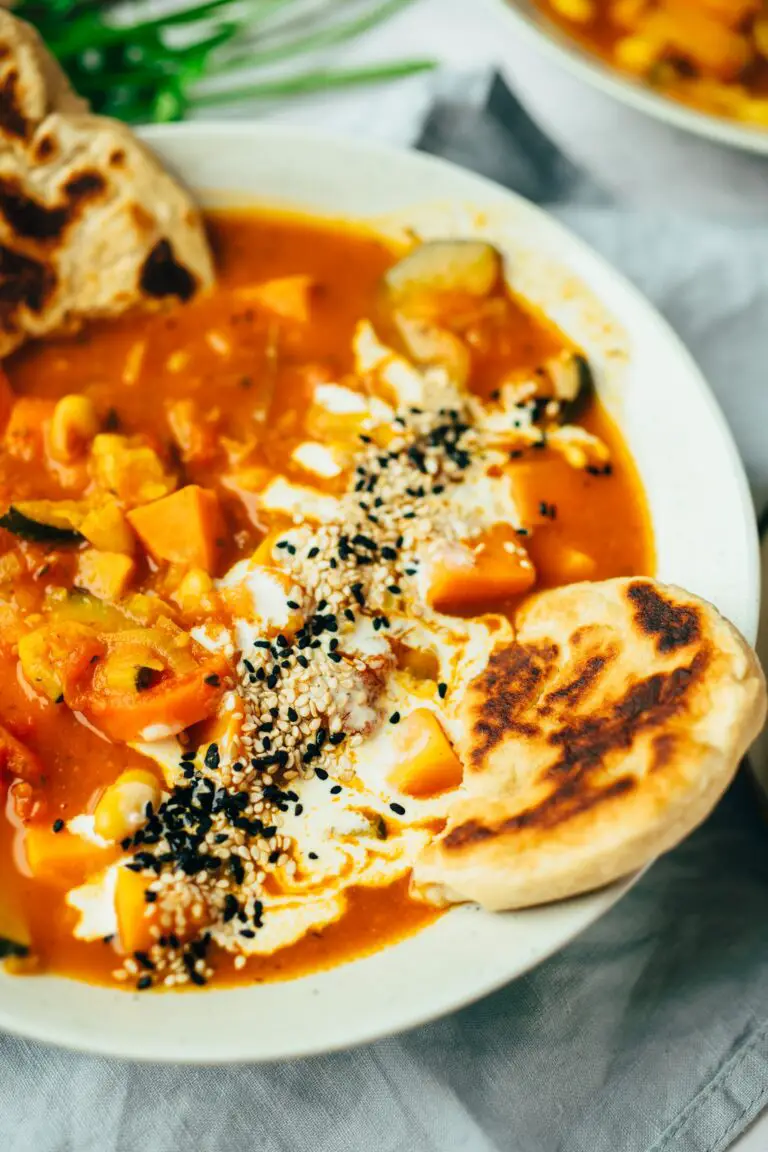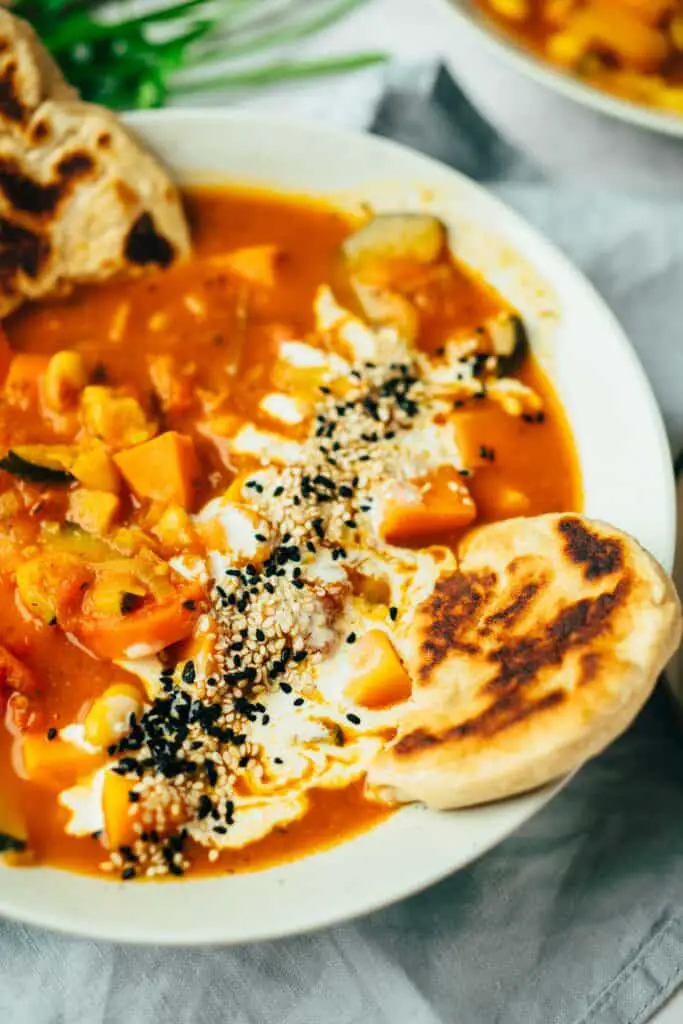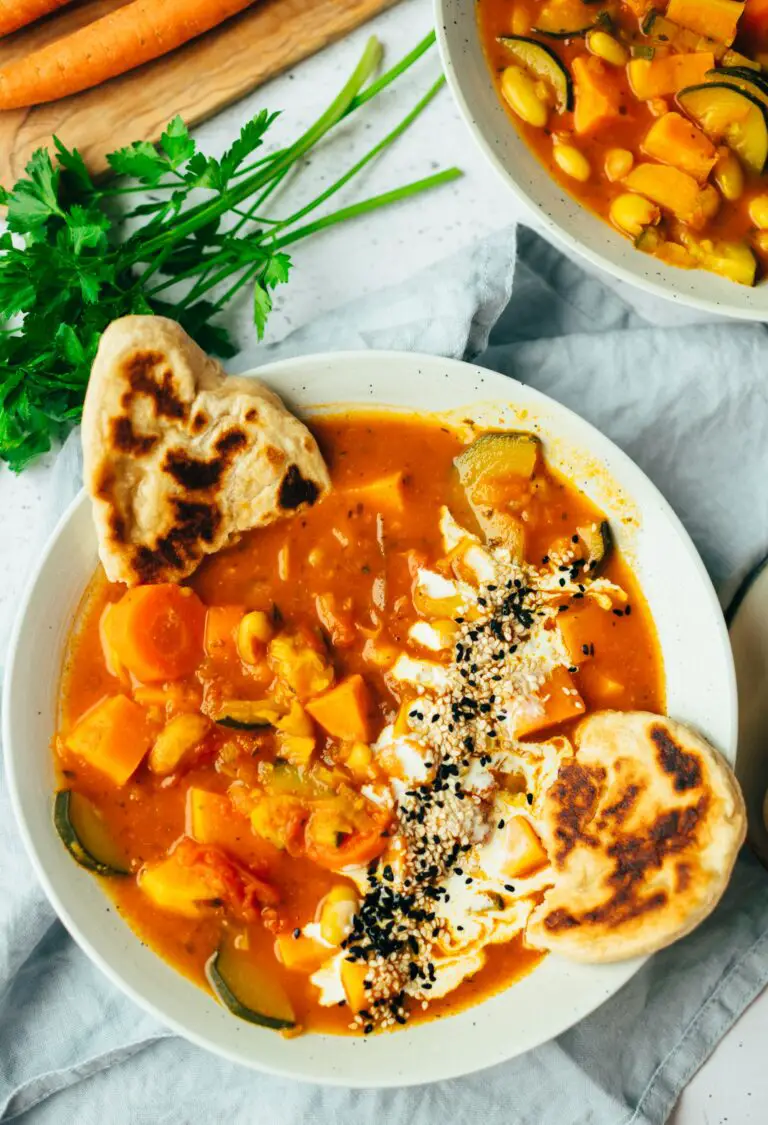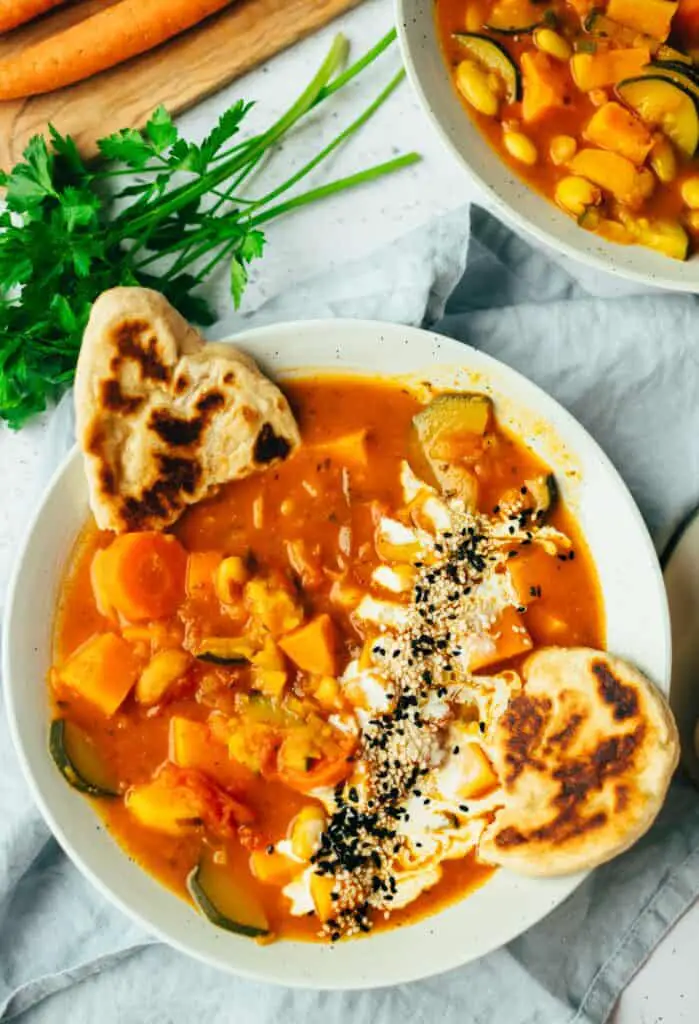 Vegan stews are like balm for the soul
Freshly baked bread is especially delicious with this stew. Naan , Spelt bread or crispy rolls .
Sweet Potato and Bean Stew (30 minutes) :
Warming
aromatic
Rich in Fiber and protein
filling
Easy to make
Are you ready for this warming Stew ? I wish you a lot of fun in recooking and of course a review at the bottom of this page. If you post a picture, use the hashtag #veganevibes.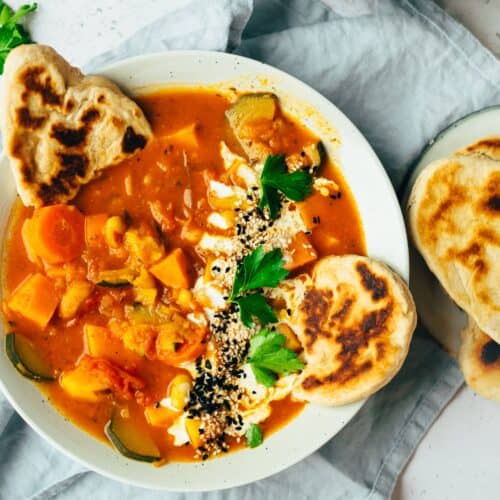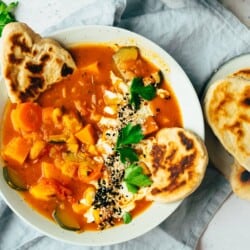 Sweet potato and beans stew (30 minutes)
Delicious, warming and vegan stew with sweet potato and white beans. Ideal for the colder season with healthy protein from cannelli beans. Perfect as an uncomplicated and quick dish for every day, suitable for the whole family.
AUTOR: VEGANEVIBES
TO SERVE:
Fresh parsley

optional wholemeal bread

optional naan bread

optional roasted pine nuts
Anleitung 
Heat large pot with the frying oil on the stove. Sauté garlic and onion until translucent. Add tomato paste and stir briefly.

30 ml Frying oil or other high heat oil,

2 Piece Garlic cloves,

1 Piece red onion and 2 shallots,

30 g Tomato paste

Add carrots, zucchini and sweet potatoes and sauté for another

3-5 minutes.

3 Piece medium carrot,

1 Piece large zucchini,

500 g Sweet potatoes

Deglaze with vegetable broth, add tomato pieces, white beans, rosemary, thyme, turmeric, coconut blossom sugar. Stir, season with salt and pepper to taste. Stir in optional kale.

1 Liter Vegetable broth,

250 g Tomato pieces or passata,

240 g Cannellini beans – drained and washed – or a jar before draining,

½ tbspn Rosemary,

½ tbspn Thyme,

1 tbspn Turmeric,

1 tbspn Coconut blossom sugar,

Salt and pepper to taste

Simmer for

20 minutes

over medium heat until the vegetables are nice and soft.

Fresh parsley,

optional wholemeal bread,

optional naan bread,

optional roasted pine nuts

Divide soup into plates, garnish with (optional) parsley and serve. enjoy! Keeps up to 2 days covered in the refrigerator, frozen up to 4 weeks. Is very suitable for reheating.
Nährwertangaben
Serving:
1
Portion
Calories:
299
kcal
Carbohydrates:
54
g
Protein:
8
g
Fat:
8
g
Saturated Fat:
6
g
Sodium:
1758
mg
Potassium:
1144
mg
Fiber:
10
g
Sugar:
18
g
Vitamin A:
19459
IU
Vitamin C:
19
mg
Calcium:
99
mg
Iron:
4
mg