Mung Dal Soup has saved me this week. Perhaps you are now wondering how a Soup can save me? Well, with all the Christmas recipes that I am currently making and testing, such a healthy Soup in between a true miracle. To my surprise, I never thought that mung dal could taste so delicious. In the process, I just started experimenting and this is what came out. So who in between times a little time out from Cookies , Cake , Roast and co. is exactly right here.
Delicious mung dal soup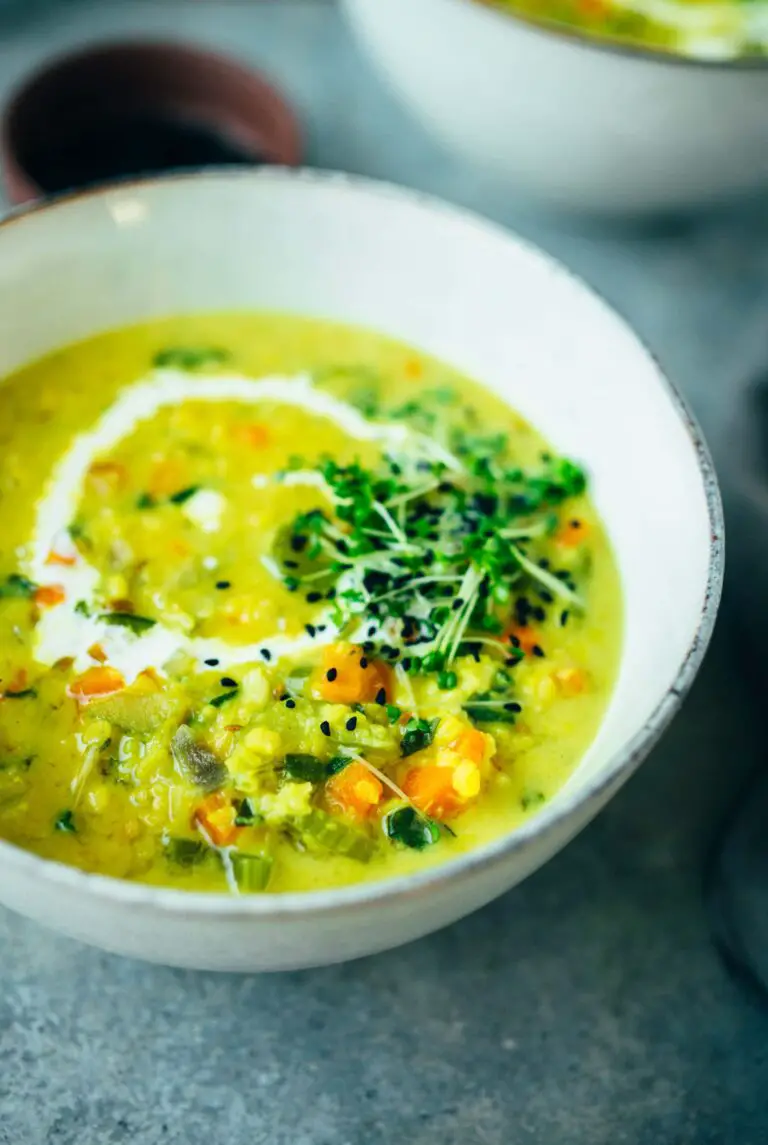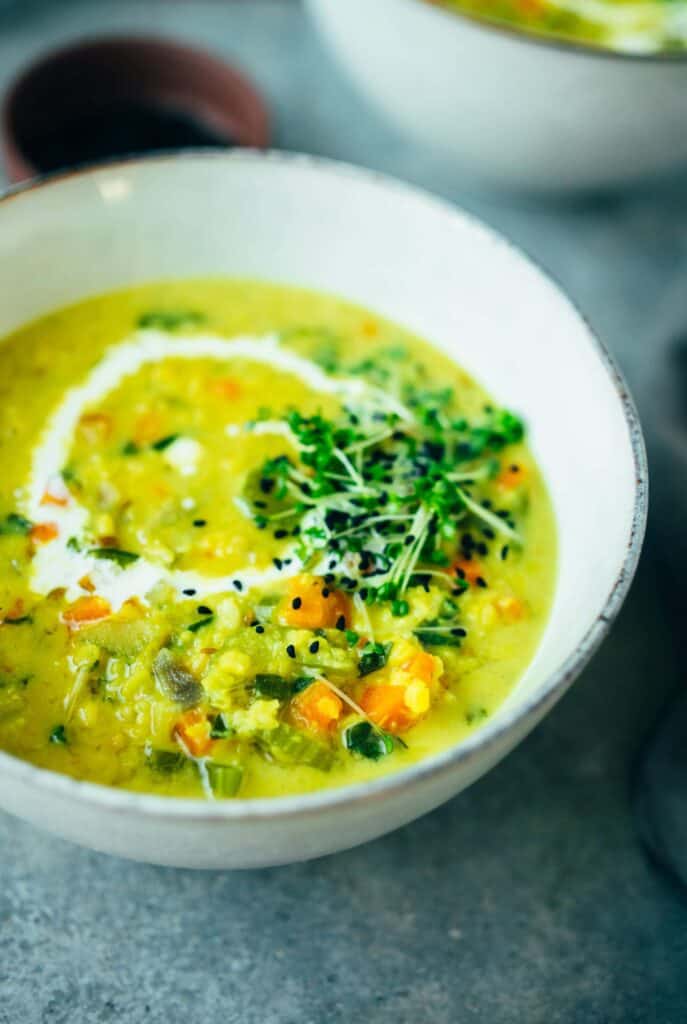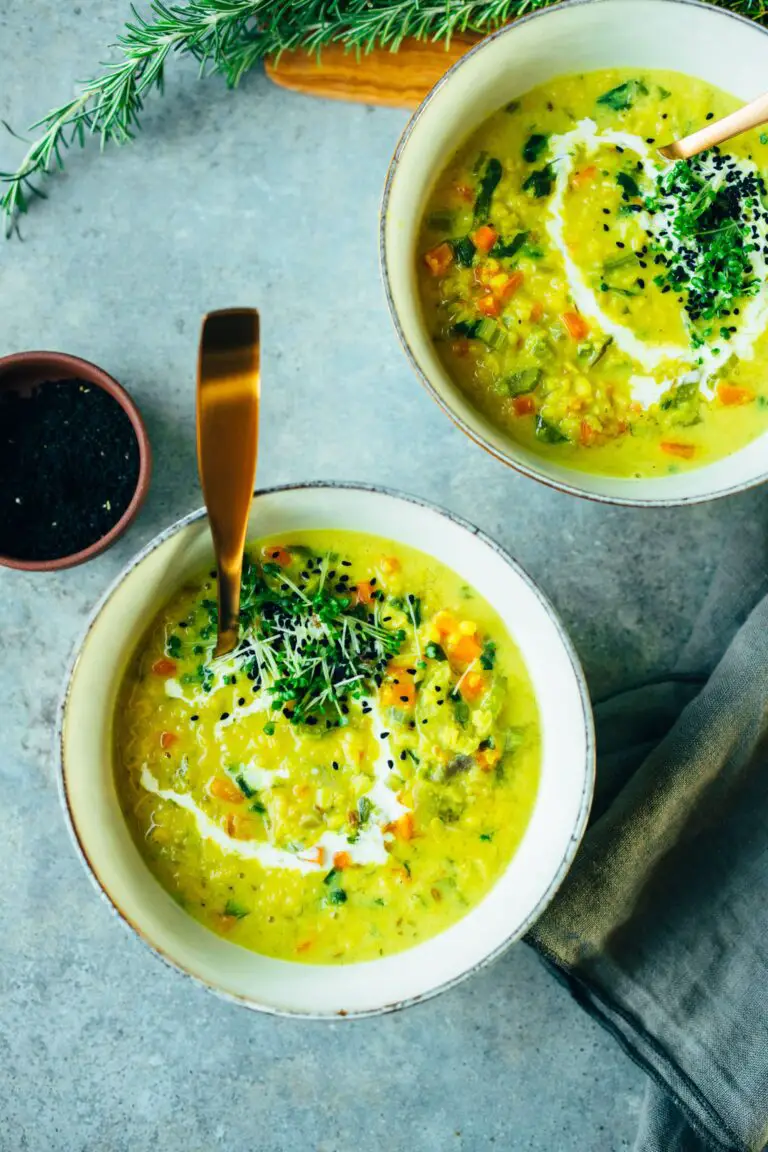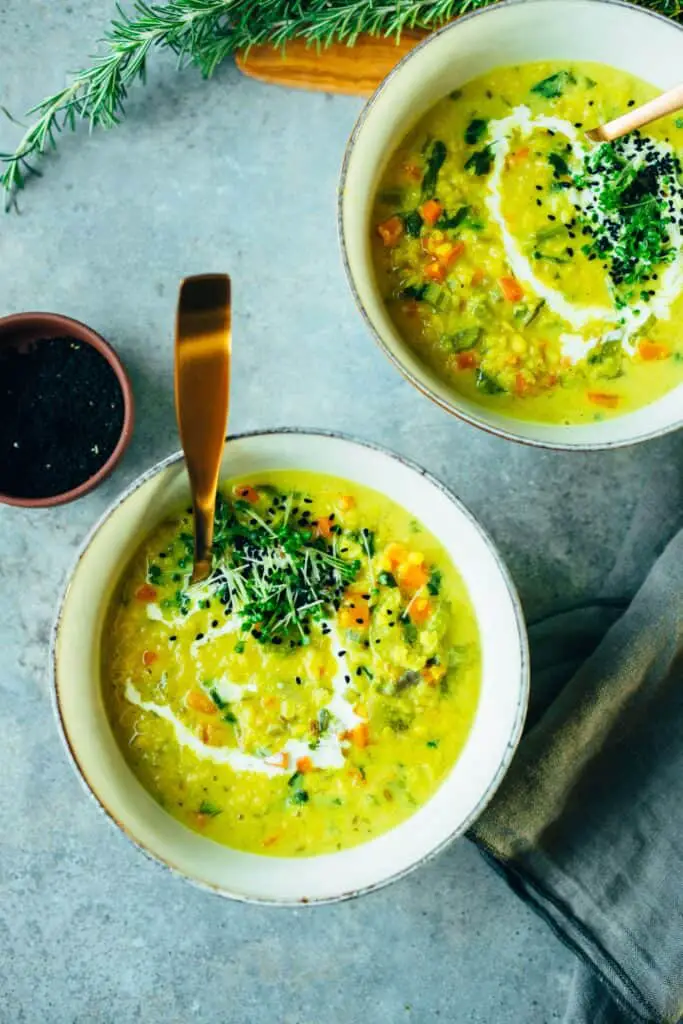 Mung Dal, so delicious and so underrated! Originally, a reader brought it to my attention and asked if I could do something with mung beans. No sooner said than done, the yellow beans promptly landed in my shopping cart.
Mung Dal is actually in the ayurvedic Kitchen at home and can be used very versatile. You have the agony of choice between a creamy Dal to Rice or vegetable. In Ayurveda, Mung Dal is suitable for all doshas, i.e. Pitta, Vata and Kapha. The classic version uses Ayurvedic spices such as asafoetida, pippali and fenugreek. Unfortunately, I did not have all this in the house and just made a delicious soup out of it. If you want to know more about Ayurveda, I recommend the following. Book "Like Newborn…" which I found very informative: https://amzn.to/2RpQfNX
What goes into it? A little oil (can be omitted), cumin, turmeric, coriander, nutmeg, cardamom, cloves, rosemary, onion, carrots, celery, ginger, mung dal lentils, salt, pepper, vegetable broth and a dash of Vegetable cream (optional).
TIP: I also like to use sesame oil for roasting, which warms in the cold season!
How healthy are mong beans in soup?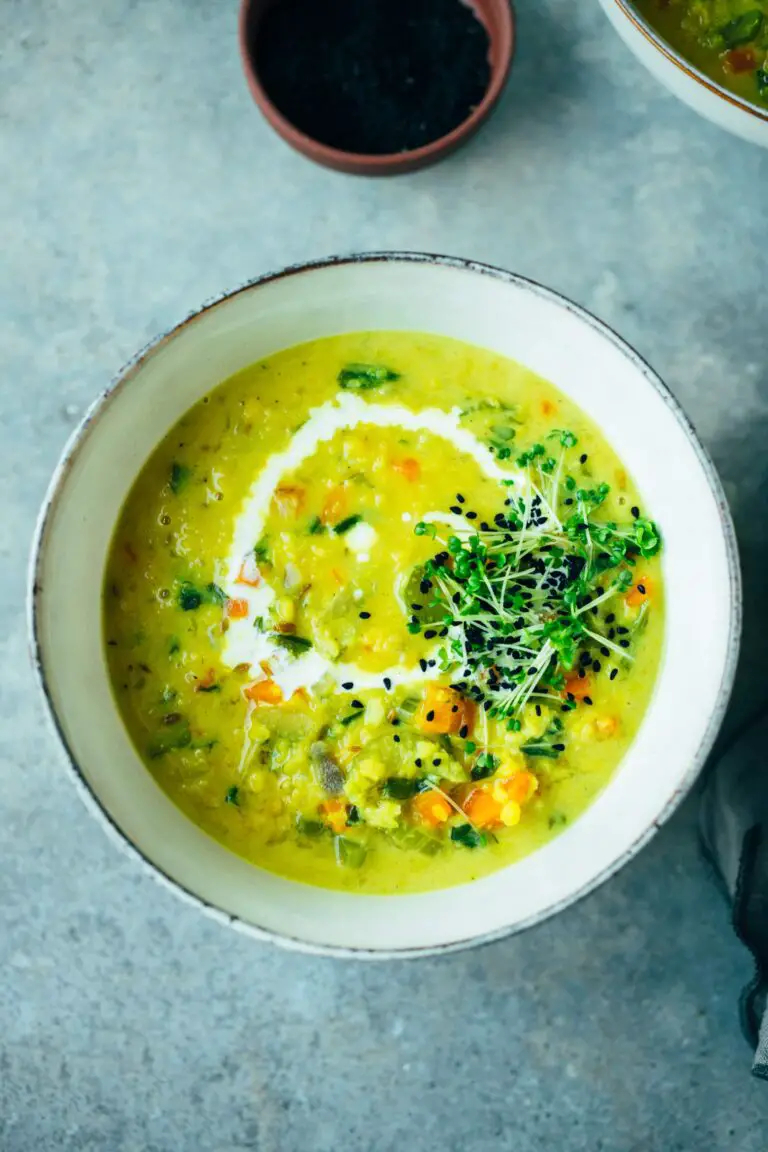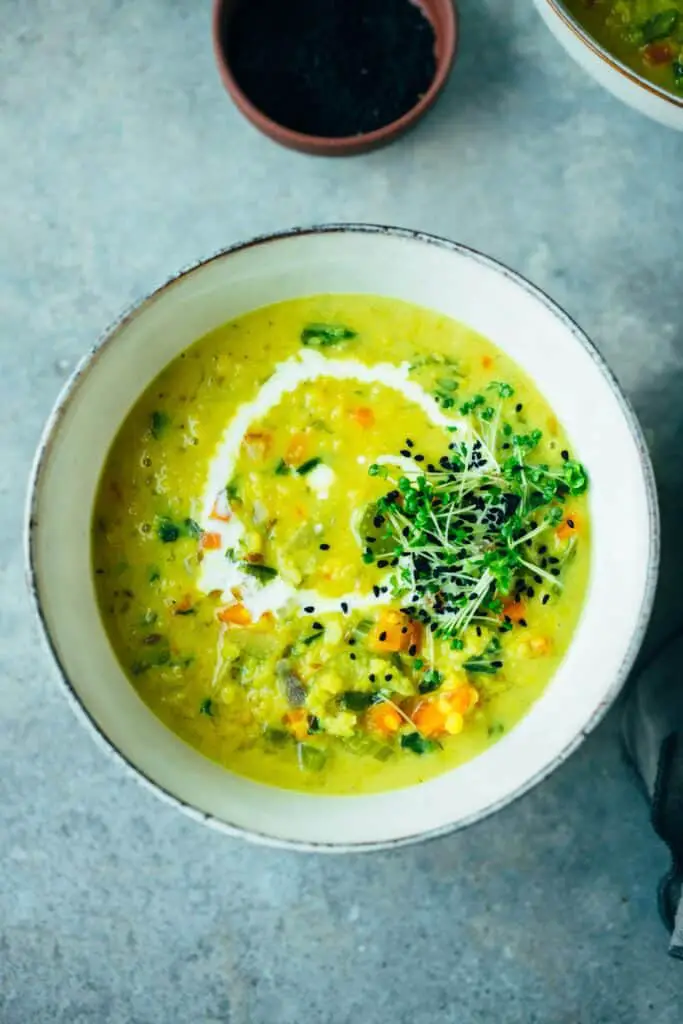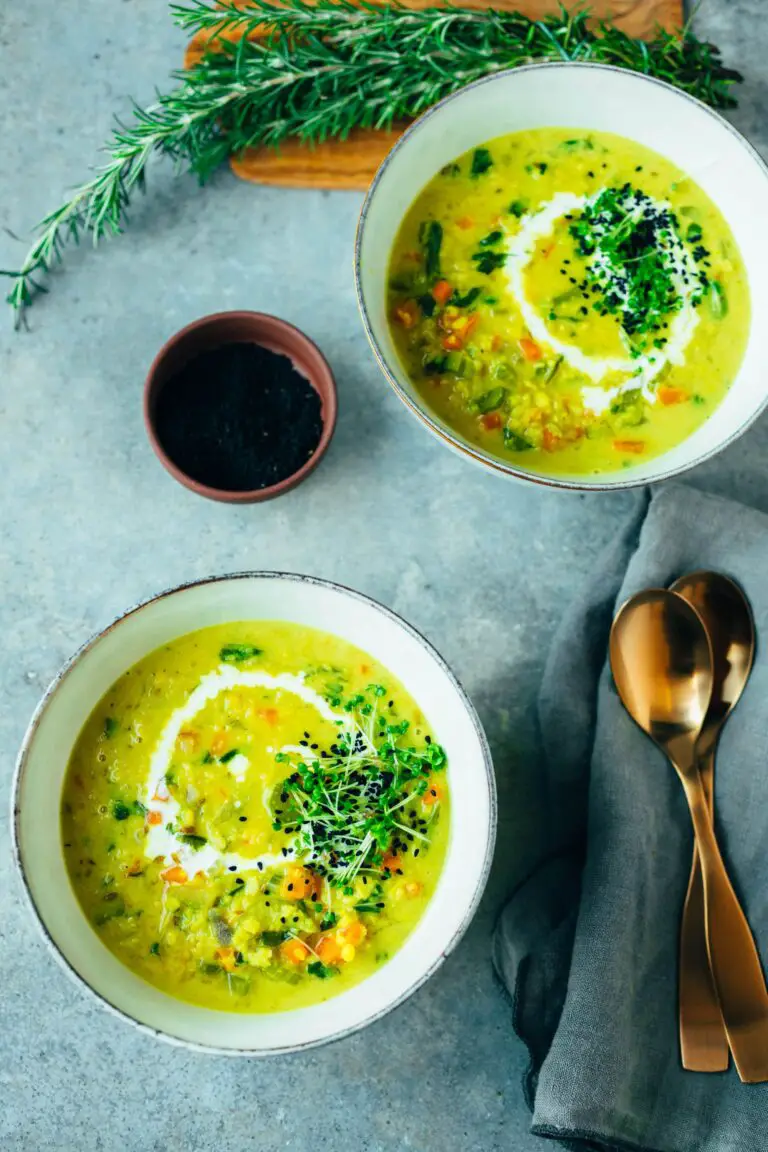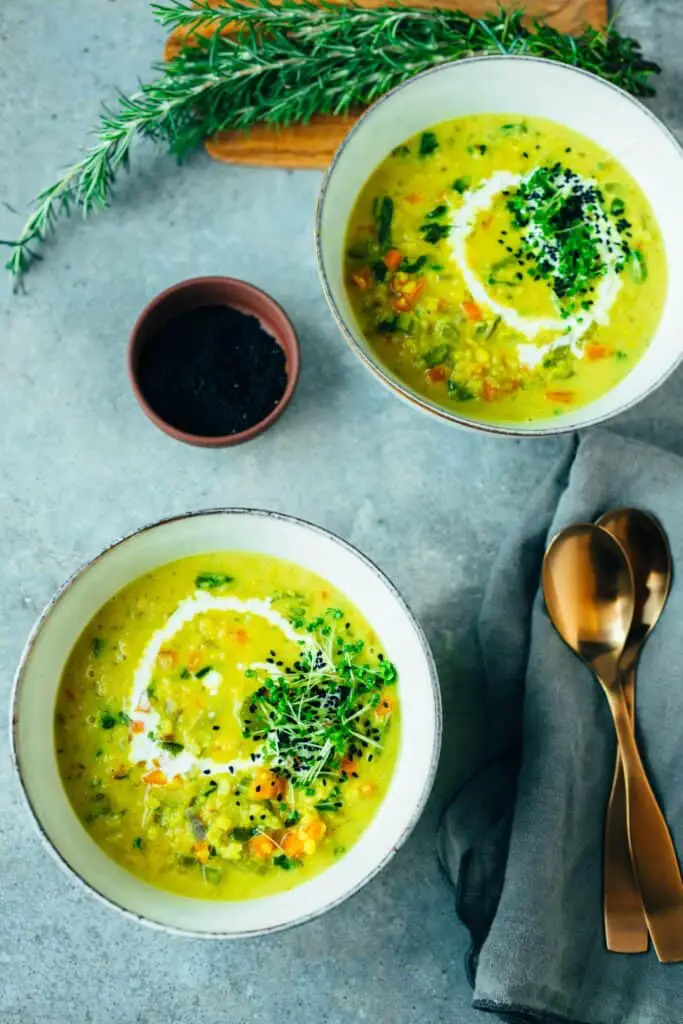 Mung beans are often totally underestimated Kitchen often totally underestimated, but they are an extremely good source of vegetable protein:
24g protein on 100g
Rich in essential amino acids
Rich in Minerals such as magnesium, iron and zinc
Rich in Dietary fiber
Included Vitamin A, B, C and E
TIP: Mung beans half and peeled do not need to be soaked for long before processing. It is enough to rinse them briefly under water just before use.
If you Soup during the cold season, then I recommend you my Cold tonic for this.
The vegan mung dal soup is:
Warming
Ideal for cold Days
Healing
Full of healthy Ingredients
Fast and simple
Are you ready the delicious and tasty, vegan and warming mung dal soup? I wish you a lot of fun in recooking and of course a review at the bottom of this page. If you post a picture, use the hashtag #veganevibes.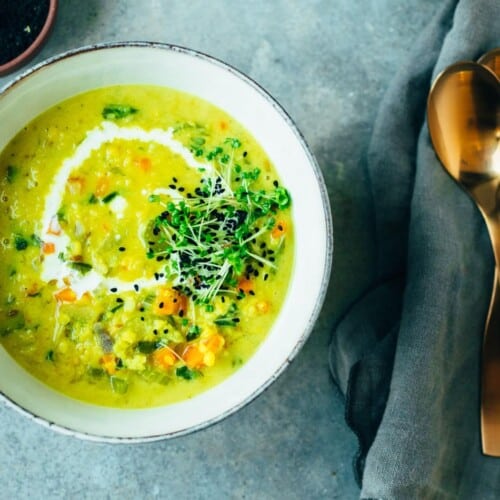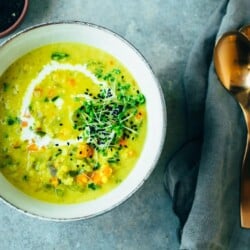 Mung Dal soup vegan
Quick, warming and vegan mung dal soup with peeled and halved mung beans. A wonderful dish that has its origins in Ayurvedic cuisine.
AUTOR: VEGANEVIBES
30

ml

Frying oil or other high heat oil

feel free to omit if oil-free

1

Piece

red onion or 2 shallots

peeled and finely chopped

70

g

Celery sticks

washed and finely chopped, 4 sticks

130

g

Carrots

halved and cut into slices,

180

g

Mung Dal

Mung beans, peeled and halved,briefly rinsed under cold water

30

g

Soup powder

vegan and organic

1000

ml

Water

1

tbspn

Cumin

Whole or powder

½

tbspn

Turmeric

dried

½

tbspn

Coriander

dried

¼

tbspn

Cardamom

dried

¼

tbspn

Cloves

dried

1/8

tbspn

Nutmeg

ground

1

Twig rosemary

1

tbspn

Ginger

freshly grated, alternatively 1 tsp ground

Vegetable cream to refine at will
Anleitung 
Heat pot with frying oil.

Add cumin, turmeric, coriander, cardamom, cloves, nutmeg, rosemary, onions, carrots and celery and sauté briefly.

30 ml Frying oil or other high heat oil,

1 Piece red onion or 2 shallots,

70 g Celery sticks,

130 g Carrots,

1 tbspn Cumin,

½ tbspn Turmeric,

½ tbspn Coriander,

¼ tbspn Cardamom,

¼ tbspn Cloves,

1/8 tbspn Nutmeg,

1 Twig rosemary,

1 tbspn Ginger,

Salt to taste,

Pepper to taste

Add mung dal beans and ginger and pour vegetable broth. Season with salt and pepper to taste and simmer over medium heat for

20 minutes

.

180 g Mung Dal,

30 g Soup powder,

1000 ml Water

At the end of the cooking time (optional), finish with vegetable cream and divide into plates.

Vegetable cream to refine at will,

Spelt roll,

Rosemary,

Black cumin seed,

Sprouts,

Spelt bread

Garnish as desired, serve and enjoy!
Nährwertangaben
Serving:
1
Portion
Calories:
245
kcal
Carbohydrates:
32
g
Protein:
12
g
Fat:
8
g
Saturated Fat:
6
g
Sodium:
94
mg
Potassium:
158
mg
Fiber:
6
g
Sugar:
3
g
Vitamin A:
5612
IU
Vitamin C:
2
mg
Calcium:
48
mg
Iron:
2
mg