Stollen Time! It is exasperating with all the Calorie Bombs but they just taste good. At the moment I have to hold back a bit anyway, because I smashed my tooth at the weekend. No, I wasn't fighting, I was messing with an olive. Unfortunately, it was stronger than my tooth and won the fight. Of course, not on the side with the healthy teeth, but where I already had problems with a nerve and a huge filling is inside. Since I doubt that you are now interested in detail, I'll just tell you more about the delicious Marzipan Stollen. Are you ready?
Stollen my dears! Marzipan Stollen, Yum!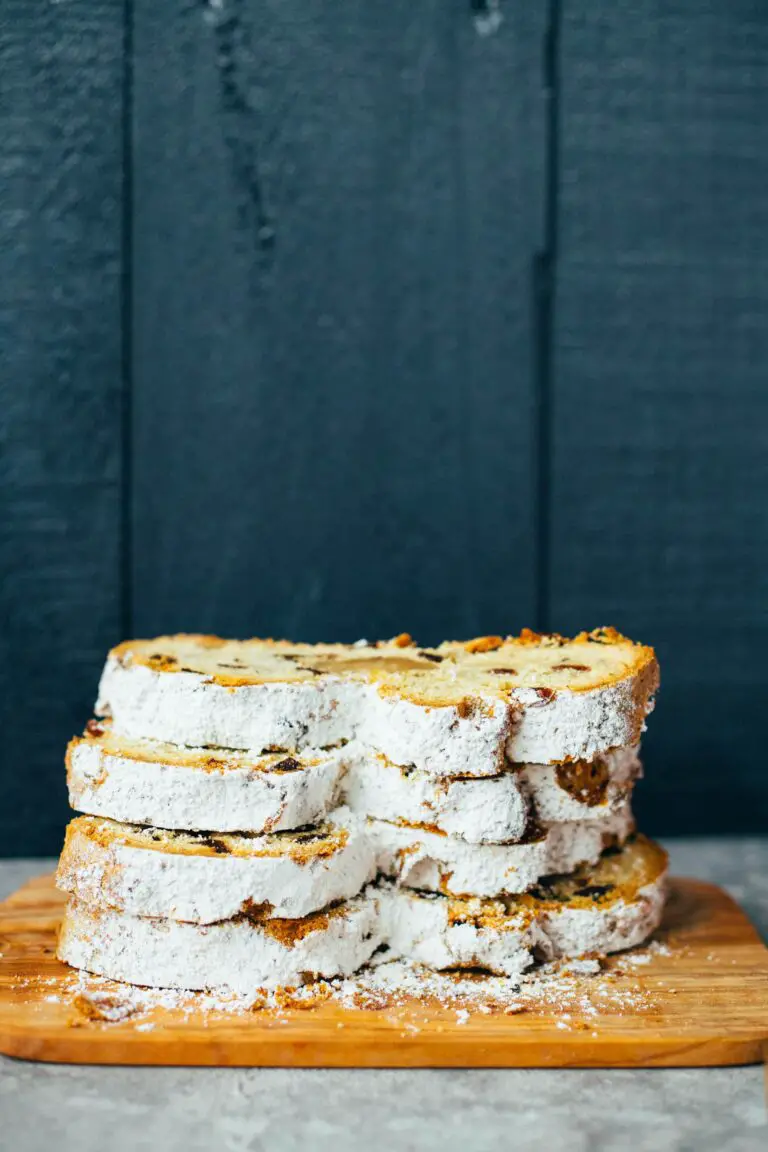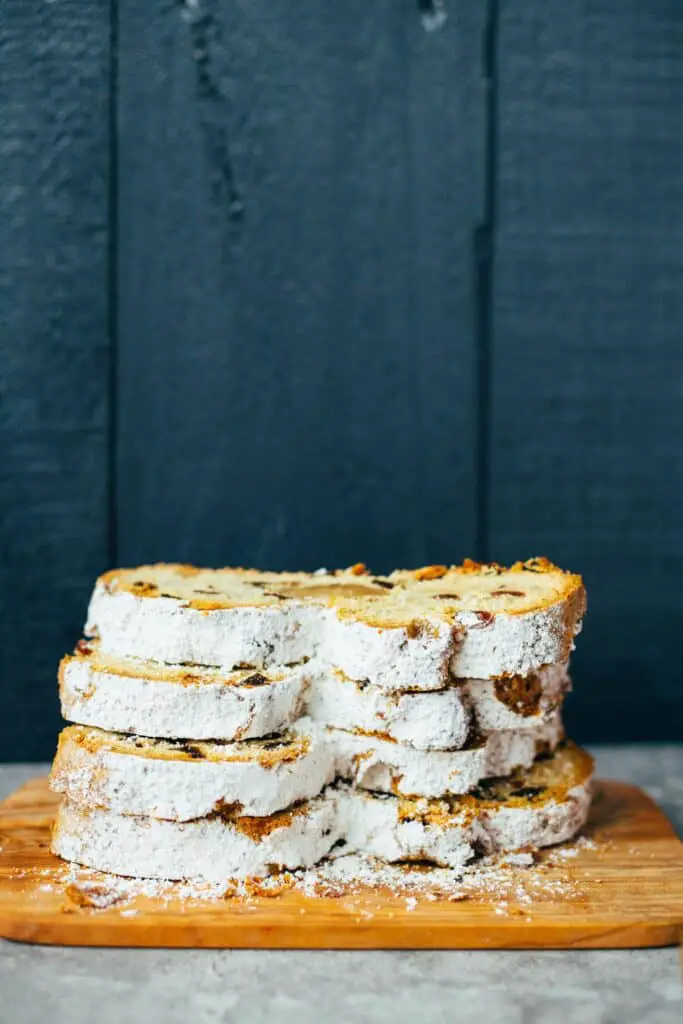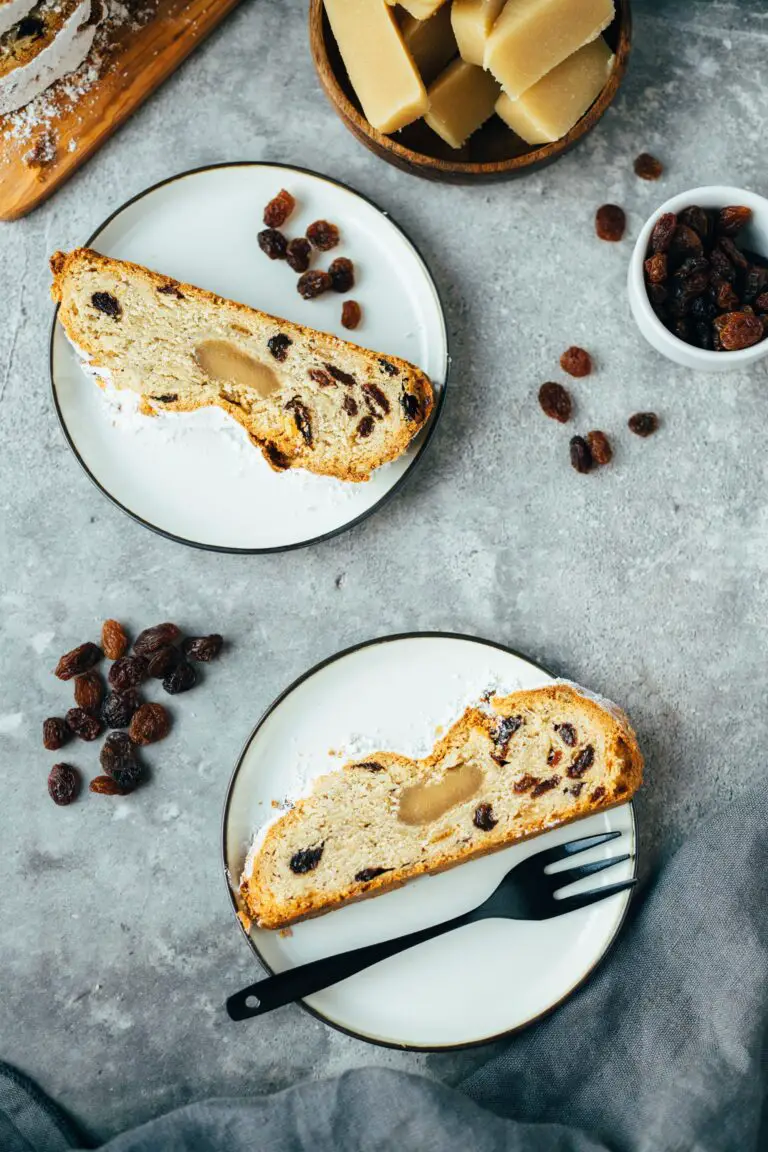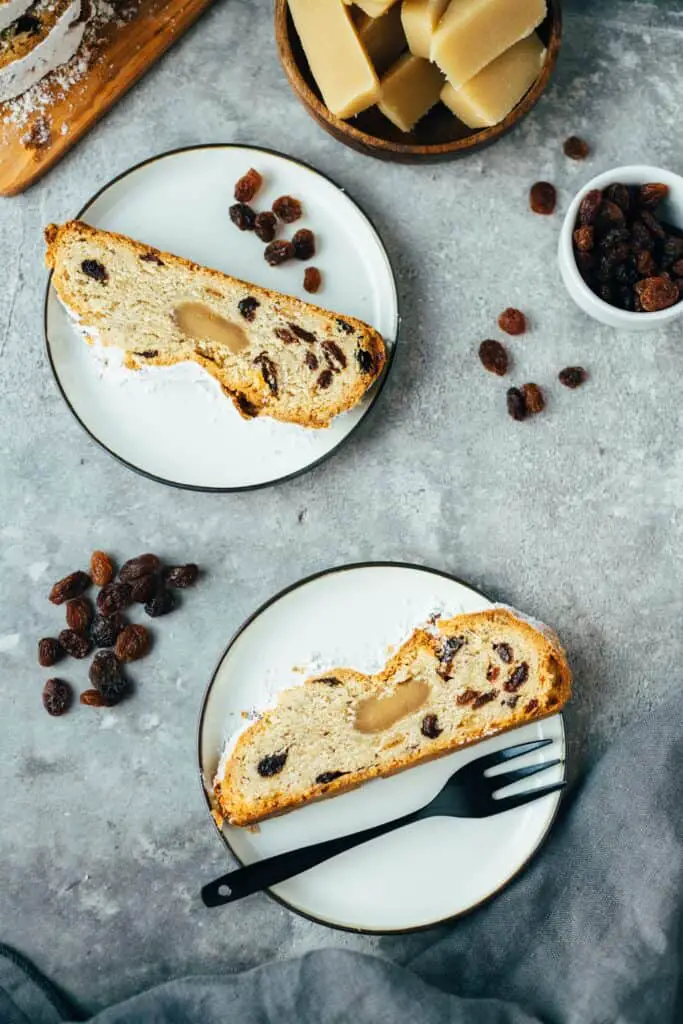 When I think of Stollen, that I always have to think of the times when I still lived at home and as a teenager I always smeared quite thick butter on the Stollen. It was quite delicious and I still like to make it today (with vegan margarine). Healthy low-fat and plant-based diet or not, Christmas cookies is just fun and as long as it doesn't provide the bulk of your daily calories, that's perfectly ok too. I have also used in the version less than half the sugar than in the original recipe. To be honest, I still find the sweetness totally sufficient.
On this occasion, I also have to think of a very funny thing. The other day, an advertisement in a gossip magazine caught my eye at the doctor's office. Pictured was an ordinary spoon, with a hollow curved upwards. This trough leads to using 20% less sugar. In the associated Recipe was then also portioned with this spoon. According to the motto that renunciation is so easy if you only order this spoon. You can look at it any way you want, but honestly, with a little common sense, you should be able to manage to put about 20% less on a spoon. Well, be that as it may, I will not order this magic spoon from the well-known discounter in any case.
Vegan Christmas Stollen Fun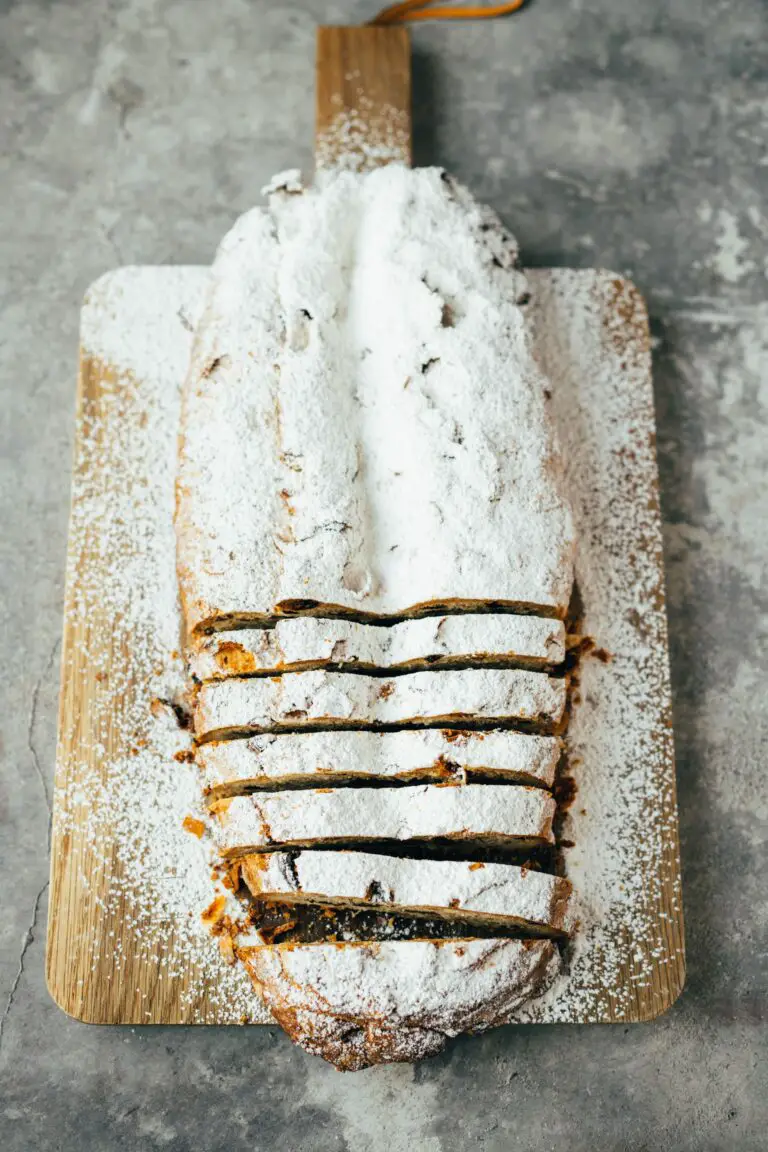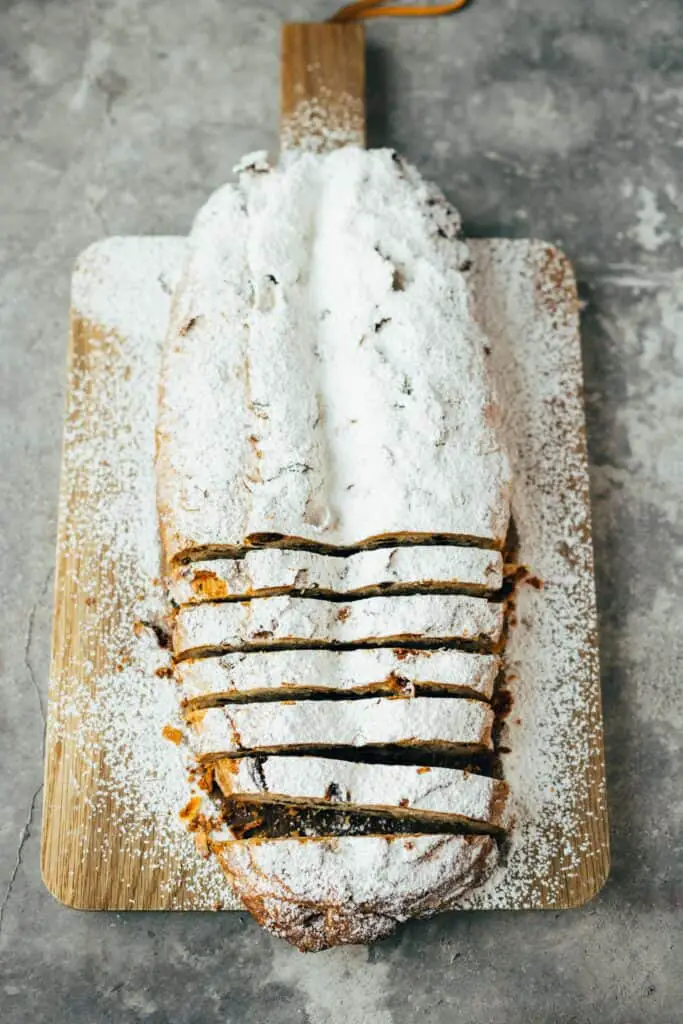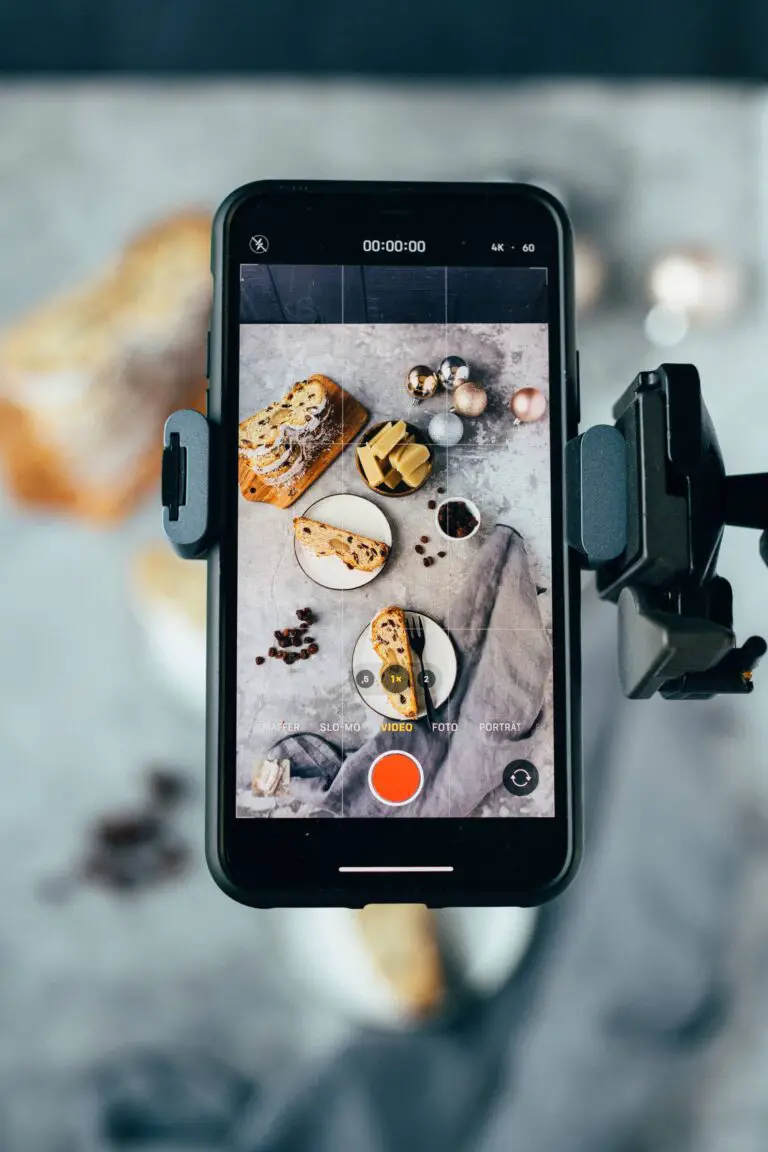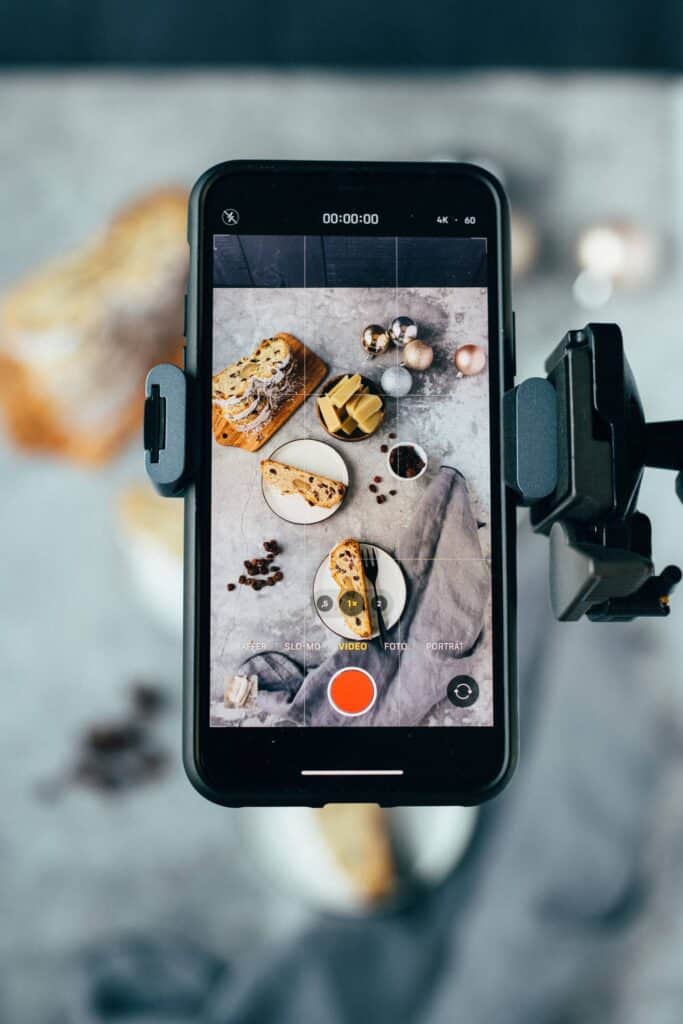 I use to make the dough my Food processor, more specifically my MagiMix (advertising since brand name, unpaid). You can also work with the hand, but that is then already a Feat of strength. Meanwhile, almost everyone has a food processor standing around at home, I would definitely go for that. Install dough hook and go it goes!
The ingredients are manageable and beautifully Christmasy. Started with. Flaxseed egg , spelt flour (unfortunately I haven't tested gluten-free yet), dry yeast, Vegetable milk , raw cane sugar, vegan margarine, orange zest , raisins, flaked almonds, vegan marzipan raw paste, candied orange peel, bourbon vanilla and a pinch of salt. As a topping, there's a thick layer of powdered sugar and for those who can't get enough calories, I have a special tip.
TIP: Melt a few tablespoons of vegan margarine in a saucepan. Poke holes in the cooled stollen with a wooden skewer, run the melted margarine over it, and brush with a pastry brush if necessary.
Here are a few more tips & tricks for maximum baking fun:
For stollen, it is better to lower the oven temperature (160 degrees convection) and bake longer, otherwise the crust can brown quite quickly and the stollen can become very dry.
Removeraisins that stick to the outside of the dough before baking. Otherwise they burn and become slightly bitter ( see video! )
Siftpowdered sugar onto the still hot stollen directly after baking. Add more powdered sugar on top as needed before serving.
Not in the mood for this delicious marzipan cake? Then I recommend Vanilla crescent cookies , Spitzbuben , Nougat balls , Chocolate cinnamon curls and Cinnamon stars .

I hope you enjoy baking and of course about a review at the bottom of this page. If you post a picture, use the hashtag #veganevibes.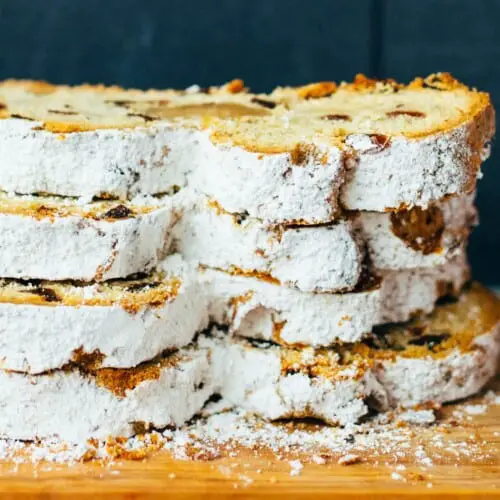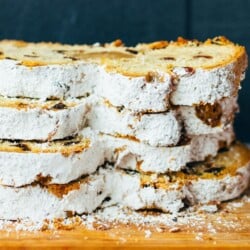 Marzipan Stollen
Simple, crumbly and vegan marzipan stollen with soft core of marzipan. Perfect, shelf-stable cookies for your vegan Christmas.
AUTOR: VEGANEVIBES
TO DISPLAY:
Icing sugar to taste

I use organic powdered sugar or grind raw cane sugar very finely in a high-powered blender
Anleitung 
Preheat oven to 180 degrees (top/bottom heat) or 160 degrees (hot air) and line a baking sheet with a permanent baking mat (or baking paper).

For the dough Place flaxseed egg, spelt flour, dry yeast, lukewarm vegetable milk, raw cane sugar, margarine, raw marzipan paste, orange zest, bourbon vanilla and a pinch of salt in a food processor and process to a firm, smooth dough. The dough should have a good firmness and be easy to shape (see video). If the dough is too soft, add a little more flour, if too firm, add a sip more vegetable milk.

1 tbspn Flaxseed egg,

500 g fine spelt flour type630 or wheat flour type550,

1 Pack Dry yeast,

150 ml Vegetable milk, lukewarm (not hot!),

100 g Raw cane sugar,

100 g vegan margarine,

½ tbspn Bourbon vanilla,

A pinch of salt,

100 g vegan marzipan raw paste,

1 EL Orange peel, freshly zested

Place in a large baking bowl, add raisins, flaked almonds and candied orange peel. Knead with your hands until everything is well combined with the dough.

200 g Raisins,

100 g Flaked almonds,

50 g Candied orange peel

Cover with a cloth and let rise for an hour in a room-warm place without drafts.

At the end of the rising time, place directly on the permanent baking mat or baking paper and flatten into a square with your hands.

FOR THE FILLING Form marzipan raw mass into a roll (see video!) and place in the center of the dough. Then fold the lower side first and then the upper side inward. Press in once at the top with the edge of your hand to create the typical stud shape.

100 g vegan marzipan raw paste

Put in the oven and bake for one

hour

.

Remove from oven and sprinkle with powdered sugar while still hot.

OPTIONAL: Using a wooden stick, prick the entire surface of the stollen and brush with melted margarine.

Cut into slices, enjoy! Alternatively, wrap beautifully and give as a gift.

Notice: Traditionally, the Stollen should go through 14 days before eating. Well-intentioned, but it doesn't quite work for us.
Nährwertangaben
Serving:
1
Piece
Calories:
365
kcal
Carbohydrates:
54
g
Protein:
8
g
Fat:
14
g
Saturated Fat:
2
g
Sodium:
61
mg
Potassium:
203
mg
Fiber:
7
g
Sugar:
16
g
Vitamin A:
21
IU
Vitamin C:
1
mg
Calcium:
45
mg
Iron:
3
mg