I love nougat balls and I hope you feel the same way? At first, I wasn't sure if Nougat was available without any problems. Then I discovered it and I am thrilled. After I have then long puzzled, what I do with it, have me these Balls smiled at me. Crumbly on the outside and soft on the inside with a soft nougat center. It doesn't get any better than this, does it? The only thing that is not so much fun is rolling 80 balls. There are people who love to bake for hours. Cookies baking. I'm thinking of a baking afternoon with my sister-in-law, with whom I processed what felt like 10 kilos of dough. At the end I felt like I ran a half marathon and did some biceps exercises with a tree trunk in between.
Nougat balls, with soft core! I repeat nougat…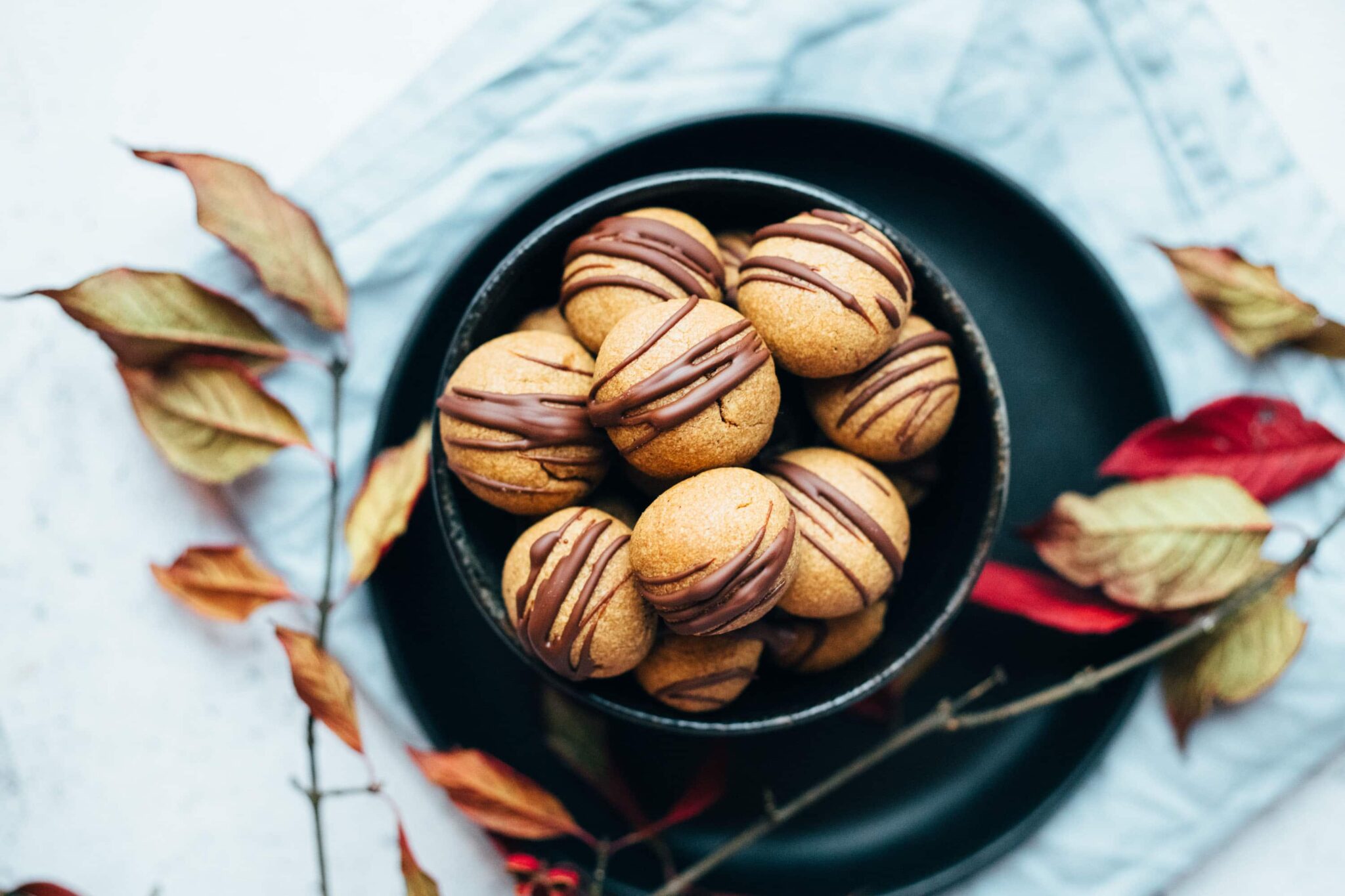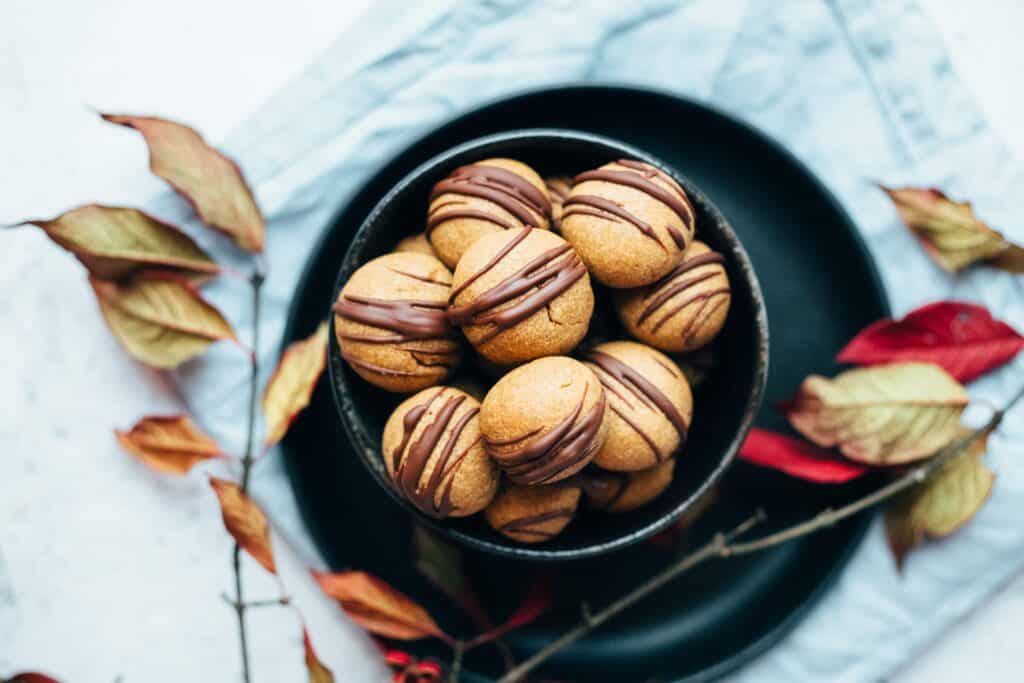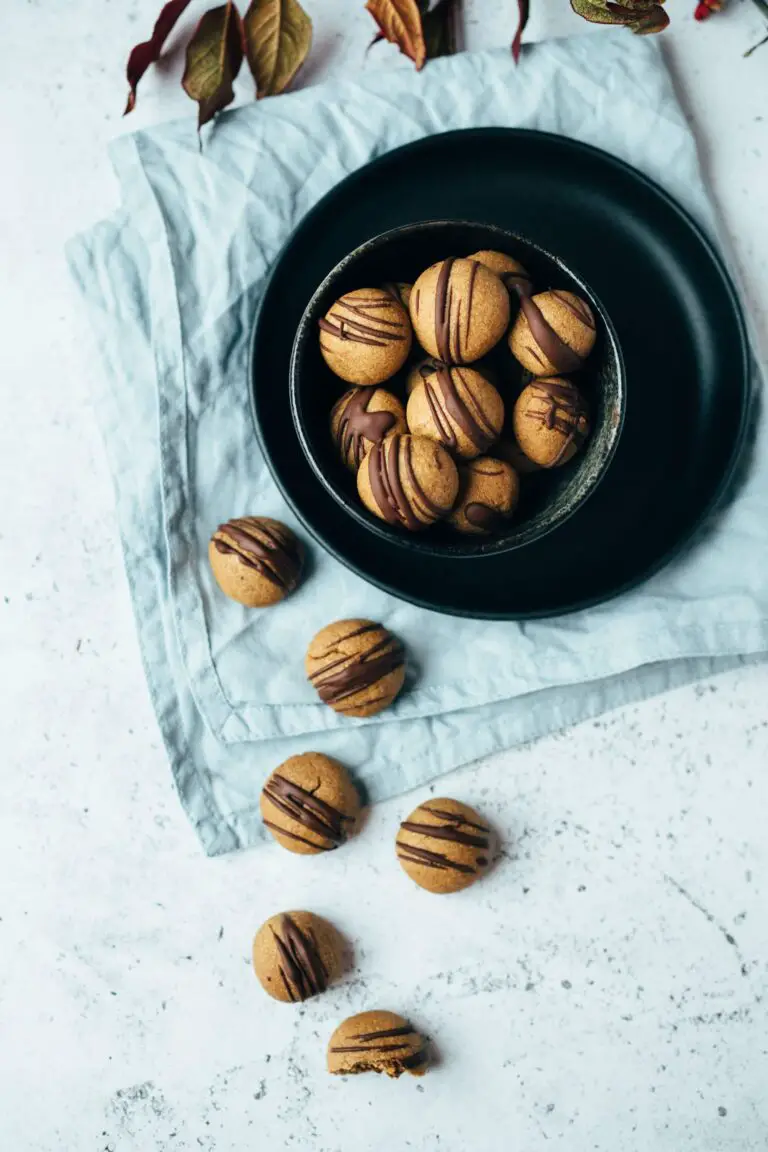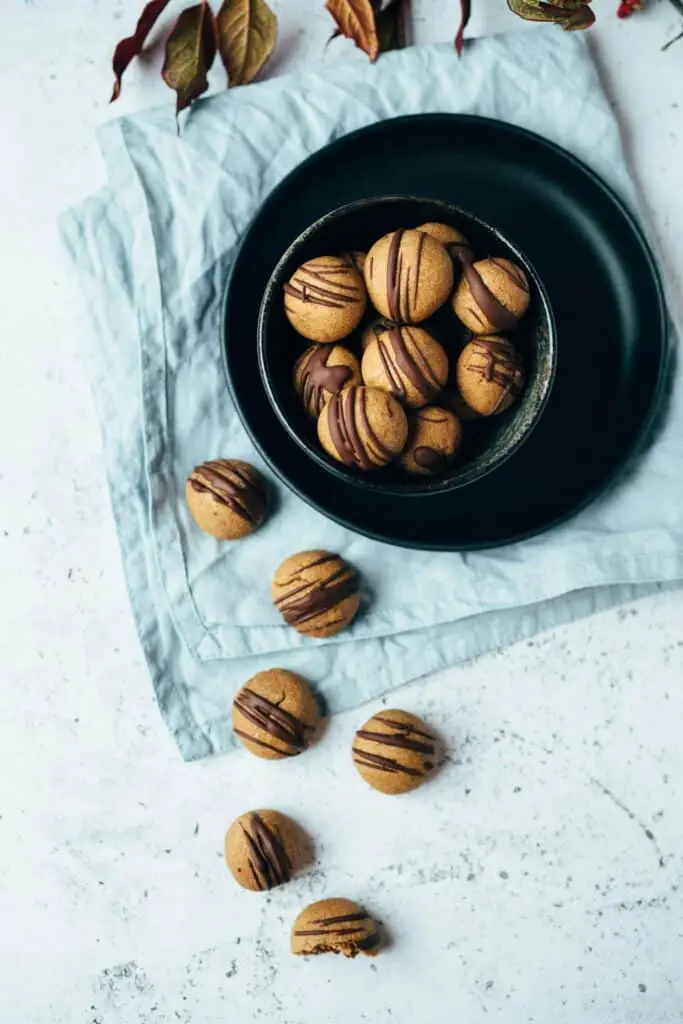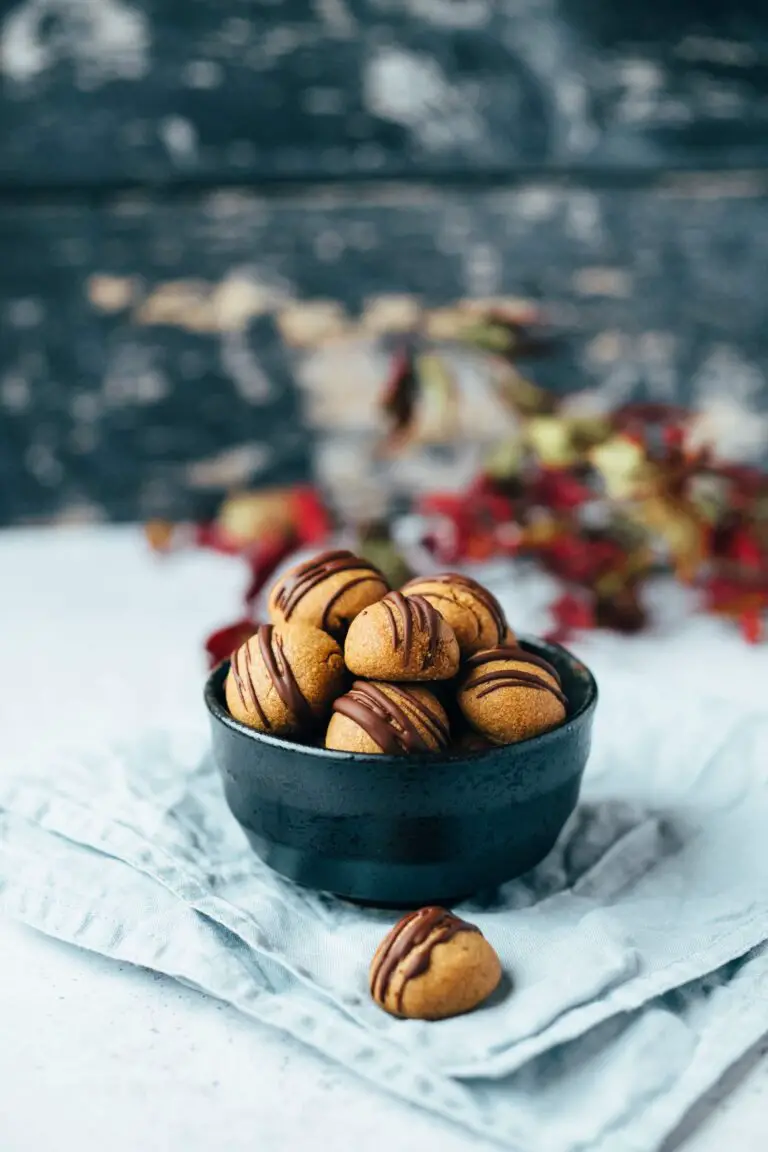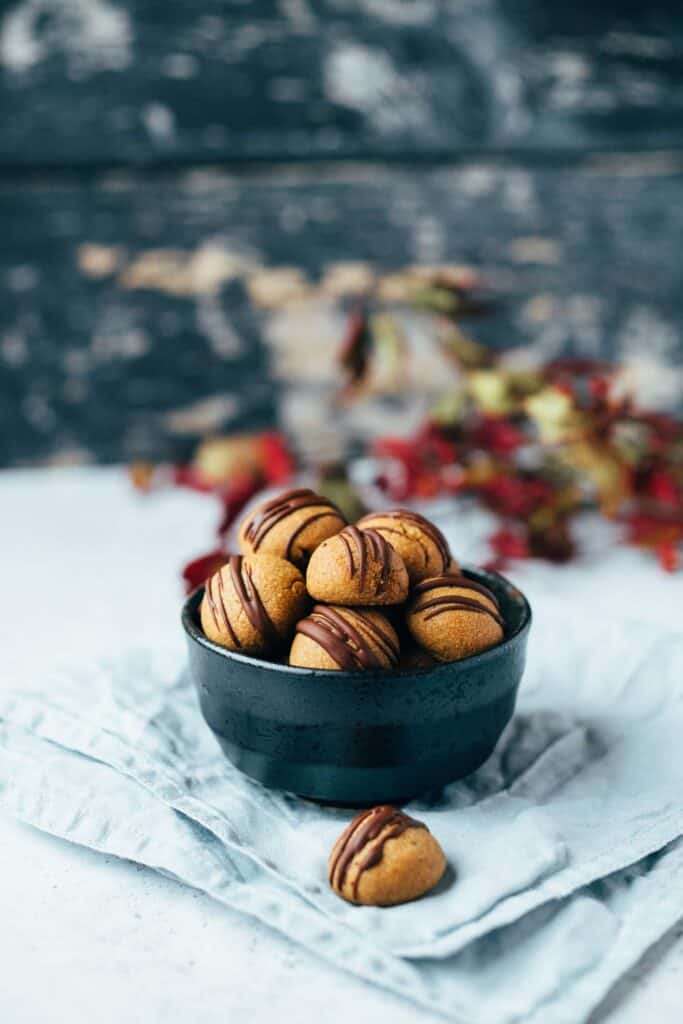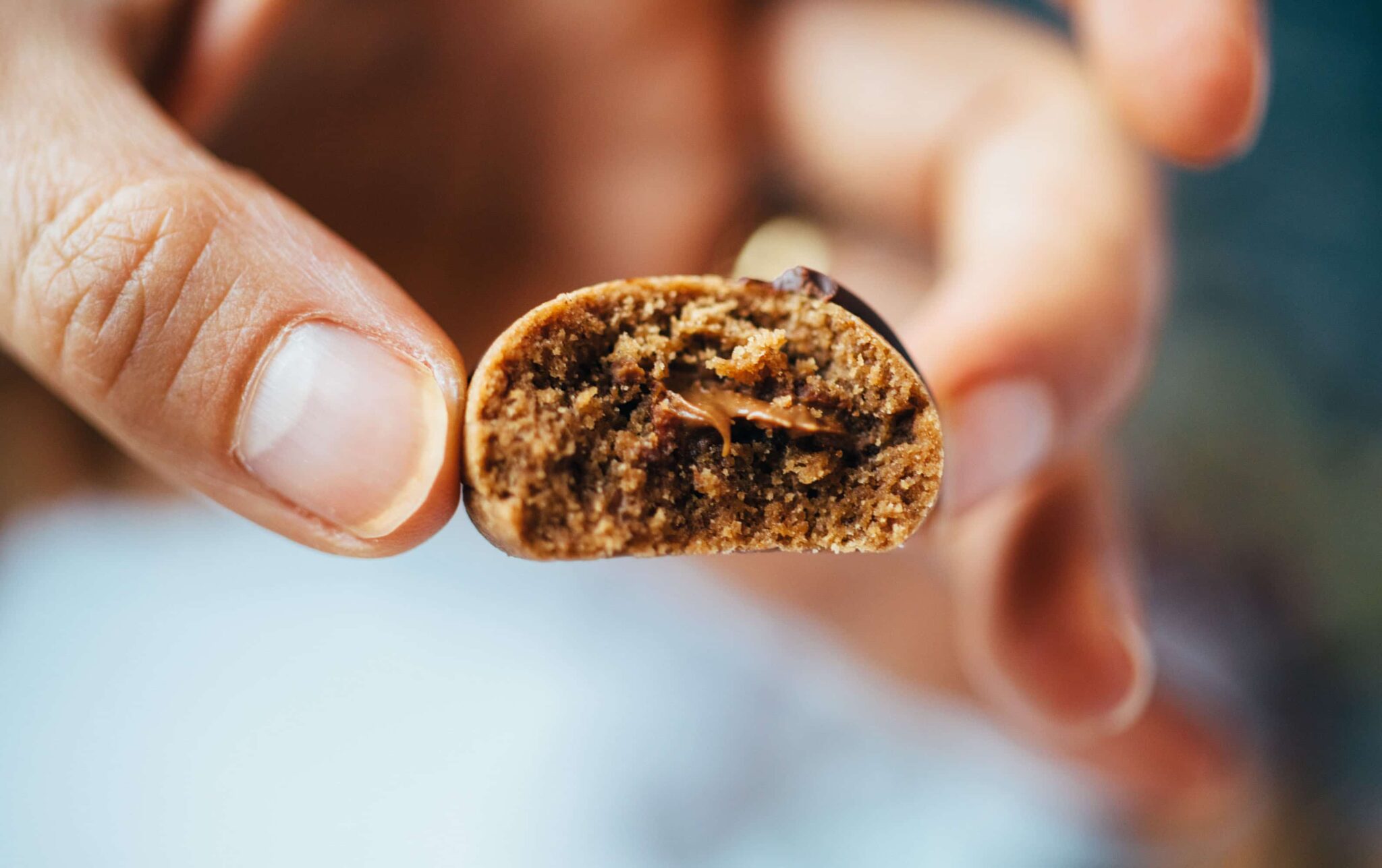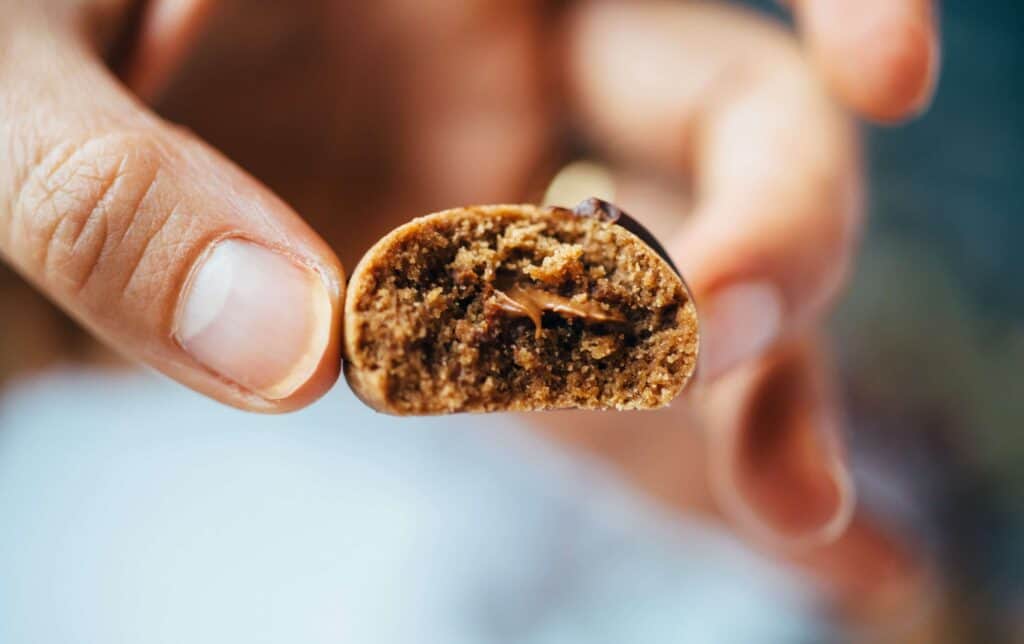 Small note still on the subject of sugar-free Christmas . There are people who consistently give up sugar and everything that is similar to sugar. For all those I recommend my Bliss Balls which are sweetened exclusively with dates.
For everyone else, today we have delicious, crumbly nougat balls. Making them is really easy, just allow a little time for rolling the little beauties. Some dexterity is also required when it comes to getting the nougat center into the ball. I always like to get a few helpers there, in the sense of husbands, relatives and friends who get in the way.
Flaxseed egg , vegan nougat, spelt flour, vegan margarine, baking powder, cinnamon, vanilla, a dash of Vegetable milk and a pinch of salt. Some extra nougat for the filling and dark chocolate for decoration.
Roll the vegan nougat baby
I use my food processor for the production, more precisely my MagiMix (advertising since brand mention, unpaid). Otherwise, any commercially available food processor will also work or you work by hand. But that is then I in the truest sense of the word real manual labor. The dough should be uniform and firm at the end, but easy to shape. If it is a tad too dry, it is best to add a dash more Vegetable milk in it.
TIP: The dough does not necessarily need to go back into the refrigerator. Many blogs promote this, however I personally find that it works wonderfully without this step.
Here are a few more tips & tricks for maximum baking fun:
Preheat oven
Use a permanent baking mat and thus save a lot of baking paper
In between now and then some nougat snacking, that does not hurt 🙂
Fancy these delicious nougat balls on your Cookie plate ? Then I recommend you Vanillekipferl, Spitzbuben, Bärentatzen, Schoko-Zimt Kringel and Zimtsterne. I hope you enjoy baking and of course about a review at the bottom of this page. If you post a picture, use the hashtag #veganevibes.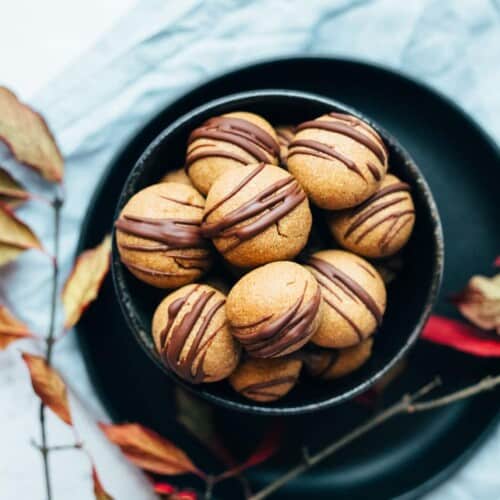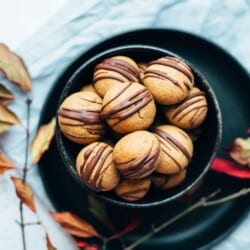 Nougat balls with soft core
Simple, crumbly and vegan nougat balls with soft core of nougat. Christmas flavored with vanilla and cinnamon and decorated with fine chocolate.
AUTOR: VEGANEVIBES
TO DISPLAY:
100

g

vegan dark chocolate coating

melted
Anleitung 
Prepare flaxseed egg and set aside.

Preheat oven to 180 degrees (top/bottom heat) or 160 degrees (hot air) and line a baking sheet with a permanent baking mat (or baking paper).

For the dough, combine flaxseed egg, spelt flour, vegan nougat, baking powder, vegan margarine, cinnamon, vanilla and sea salt in a bowl or food processor. Work with hands or dough program until smooth. The dough should have a good firmness and be easy to shape (see video). If the dough is too soft, add a little more flour, if too firm, add a sip more vegetable milk.

1 Flax seed egg,

200 g vegan nut nougat,

300 g fine spelt flour type630 or wheat flour type550,

100 g vegan margarine,

1 tbspn Baking powder,

½ tbspn Cinnamon,

½ tbspn Bourbon vanilla,

A pinch of salt,

1 tbspn Almond milk

Form dough into a large lump, then cut in half lengthwise, quarter, and cut into eighths. Then cut into 80 equal parts.

Cut nougat for the filling into 80 equal pieces or fill as you feel.

Take one piece of dough at a time, flatten, place the nougat piece on top and enclose with the dough. Once again, briefly form into a ball between your hands and place on the baking sheet.

Repeat until all the dough is used.

Put in the oven and bake for

12 minutes

. Remove from the oven and allow to cool completely.

In the meantime, carefully melt the vegan chocolate coating over a water bath and decorate the balls with it.

100 g vegan dark chocolate coating

Give away immediately or nibble and enjoy!

Lasts about 3 weeks in a tightly sealed tin (if not eaten first).
Nährwertangaben
Serving:
1
Piece
Calories:
55
kcal
Carbohydrates:
4
g
Protein:
2
g
Fat:
4
g
Saturated Fat:
1
g
Sodium:
27
mg
Potassium:
32
mg
Fiber:
1
g
Sugar:
1
g
Calcium:
6
mg
Iron:
1
mg