We all need to be strong for once. Christmas time is calorie time and there even the healthiest plant eater in the world is not spared. Honestly, I've tried all sorts of super healthy cookies and there's bound to be a delicious recipe or two in there. However, there is so very deep inside me a longing for classic, crumbly and addictive cookies from my childhood. Here Spitzbuben are in first place, next to Linzer cookies, Bear paws and Coconut macaroons . I'm already looking forward to a lovely plate of cookies and a chilled out holiday season with lots of punch and hot chocolate .
Christmas time is vegan Spitzbuben time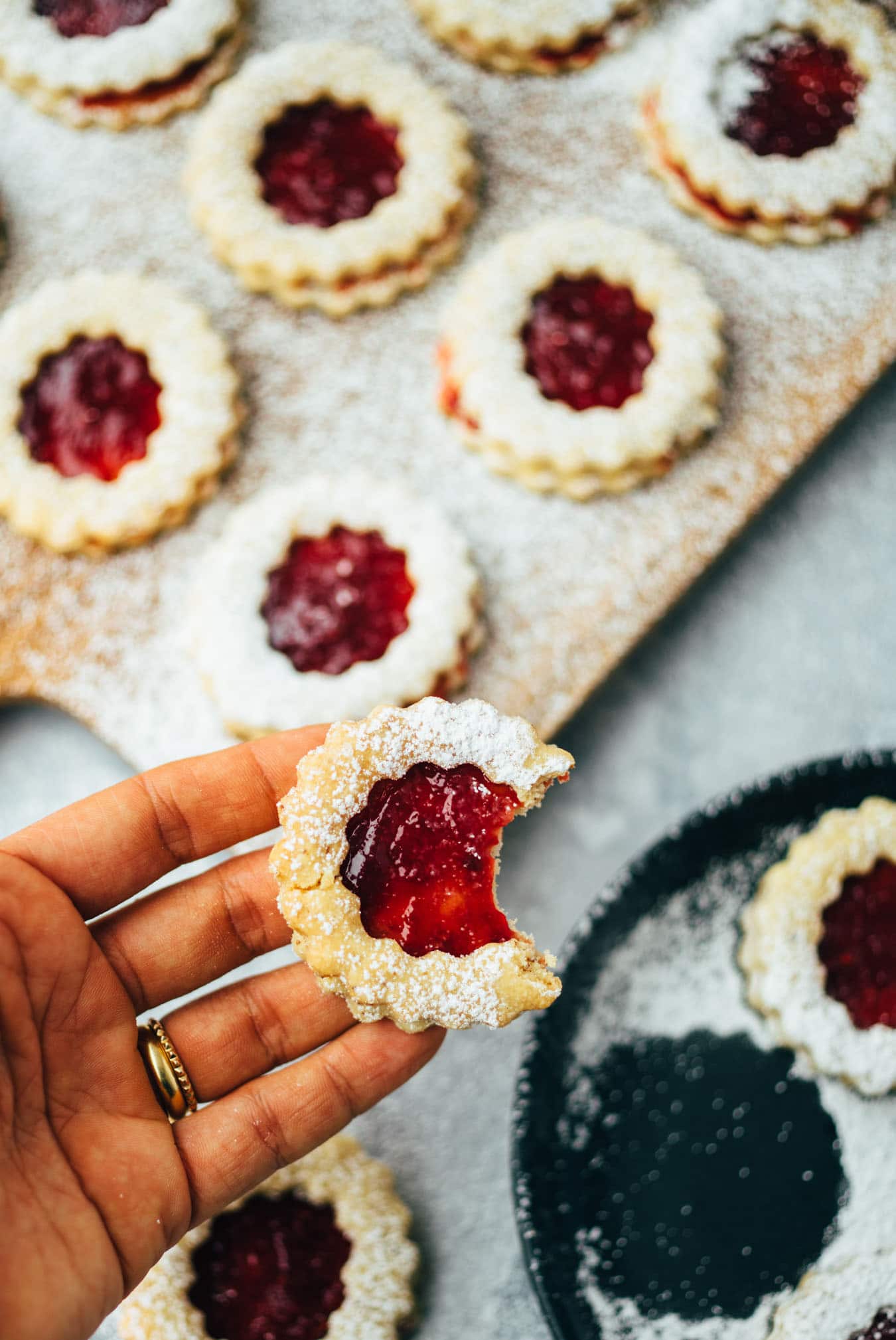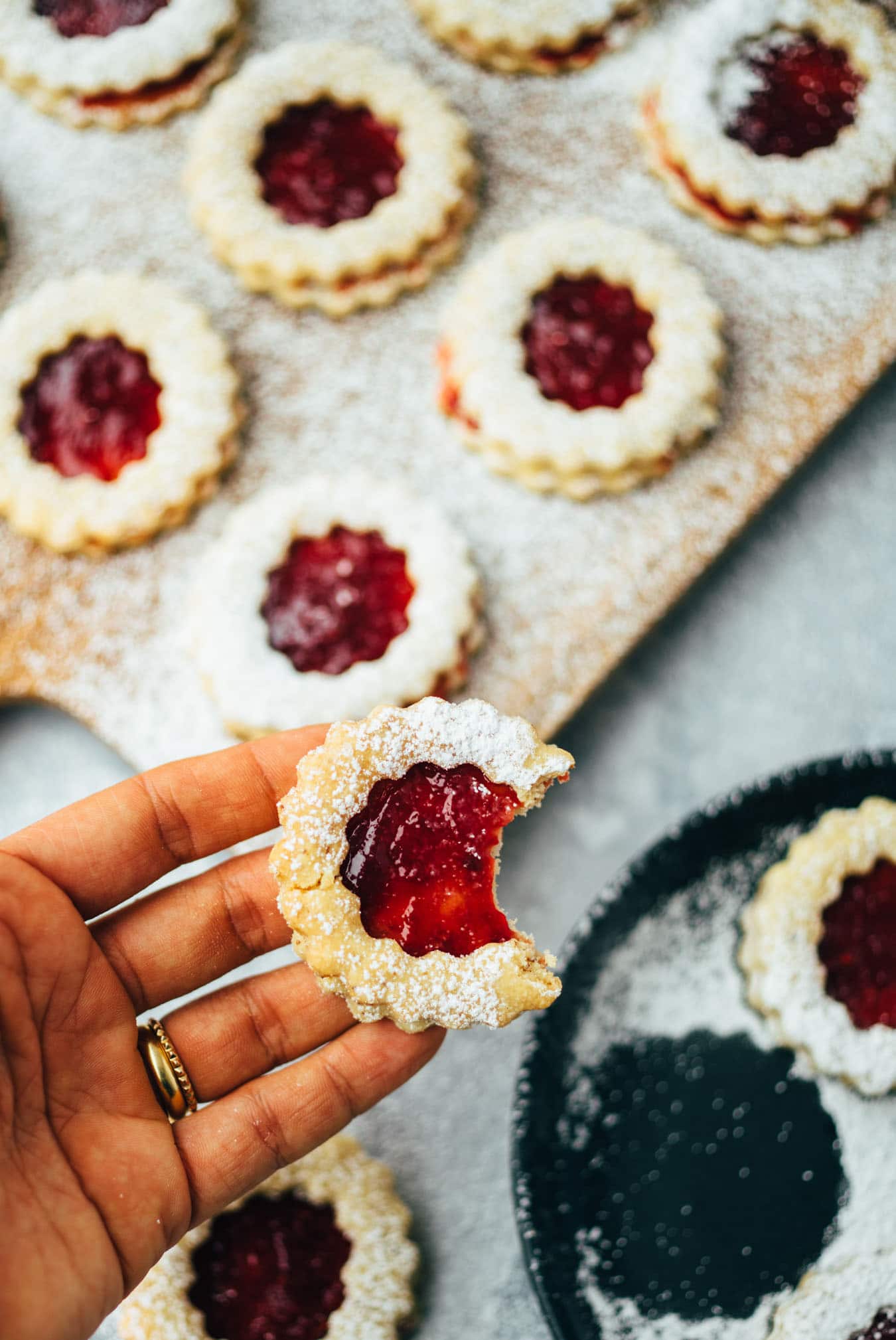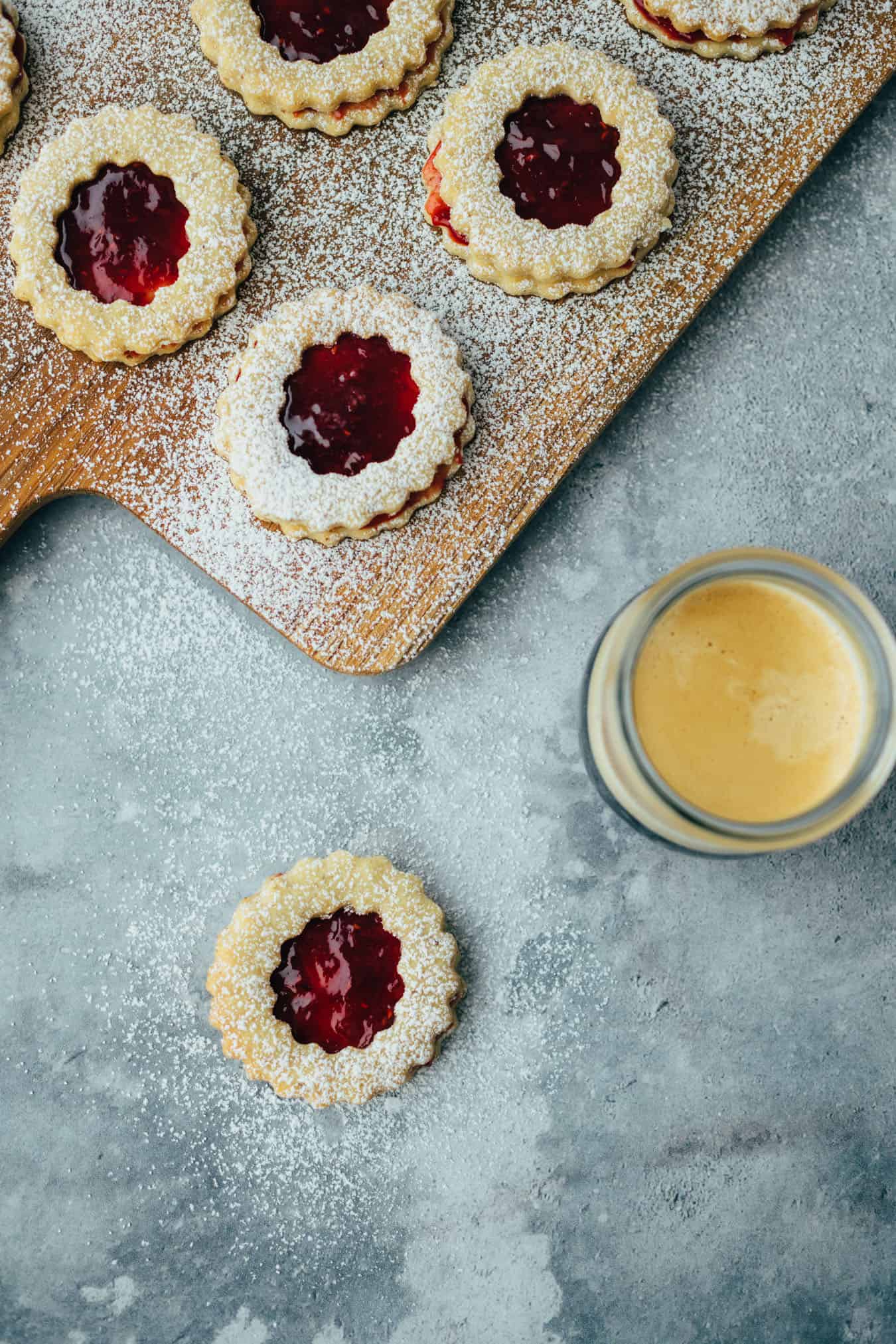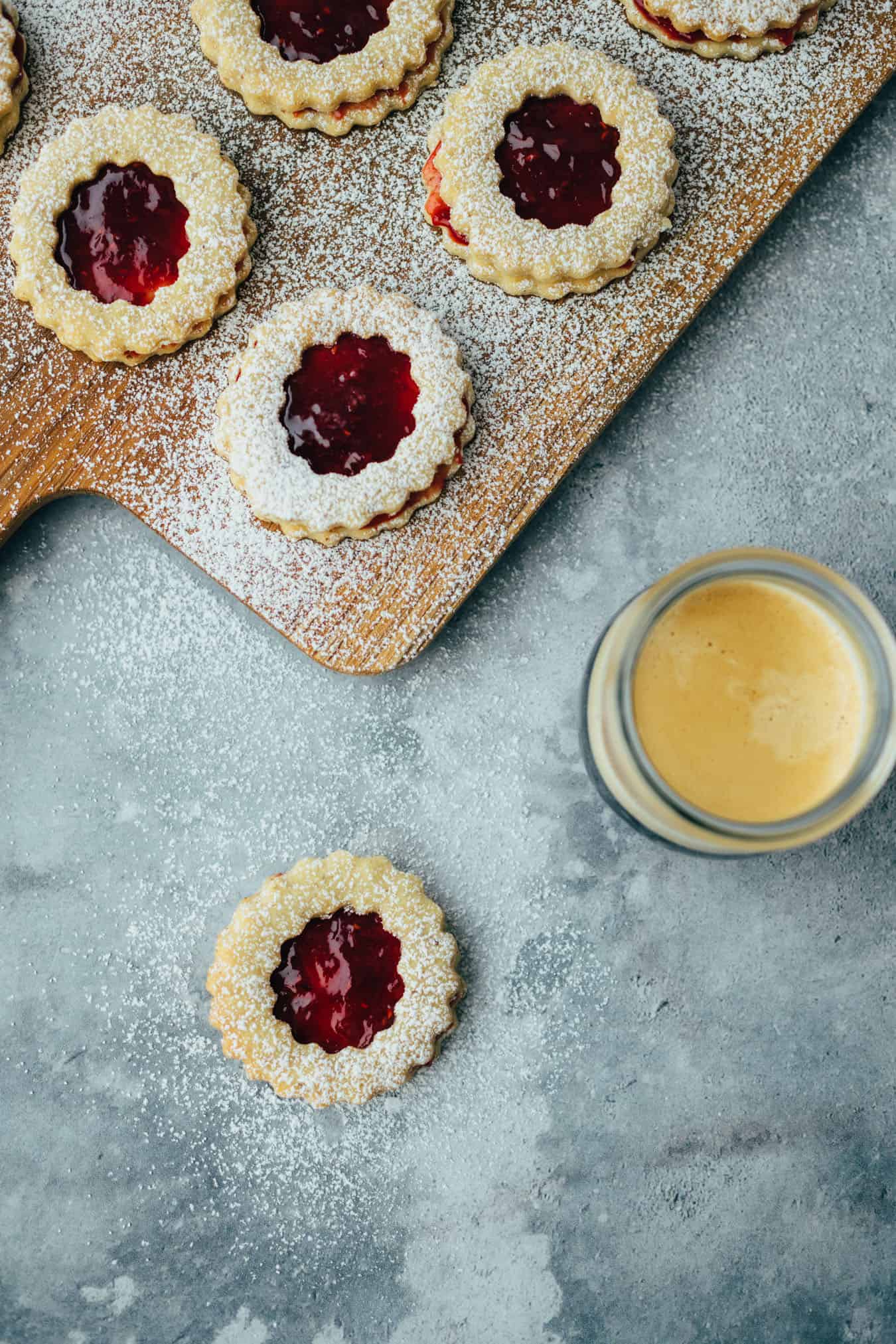 Spitzbuben are, as it were, double-decker cookies that are glued together in the middle with jam. The ingredient list is short and simple, flour (I use very fine spelt flour this time), vegan margarine, raw cane sugar, Almond milk , bourbon vanilla ground, flaxseed flour. For the filling I use raspberry jam and of course the powdered sugar may not be missing at the very end.
A little tip about flaxseed meal: I always grind mine myself in the food processor. Why is that, you might be thinking at this point. There are also ready flaxseed meal to buy. The disadvantage of groats from the supermarket is that they have already been processed and the valuable linseed oil has been extracted. This oil in turn contains valuable omega-3 and omega-6 fatty acids, which are essential for our body. Therefore, it is best to grind flax seeds yourself and store them in an airtight container in the refrigerator or freezer.
Vegan baking without egg?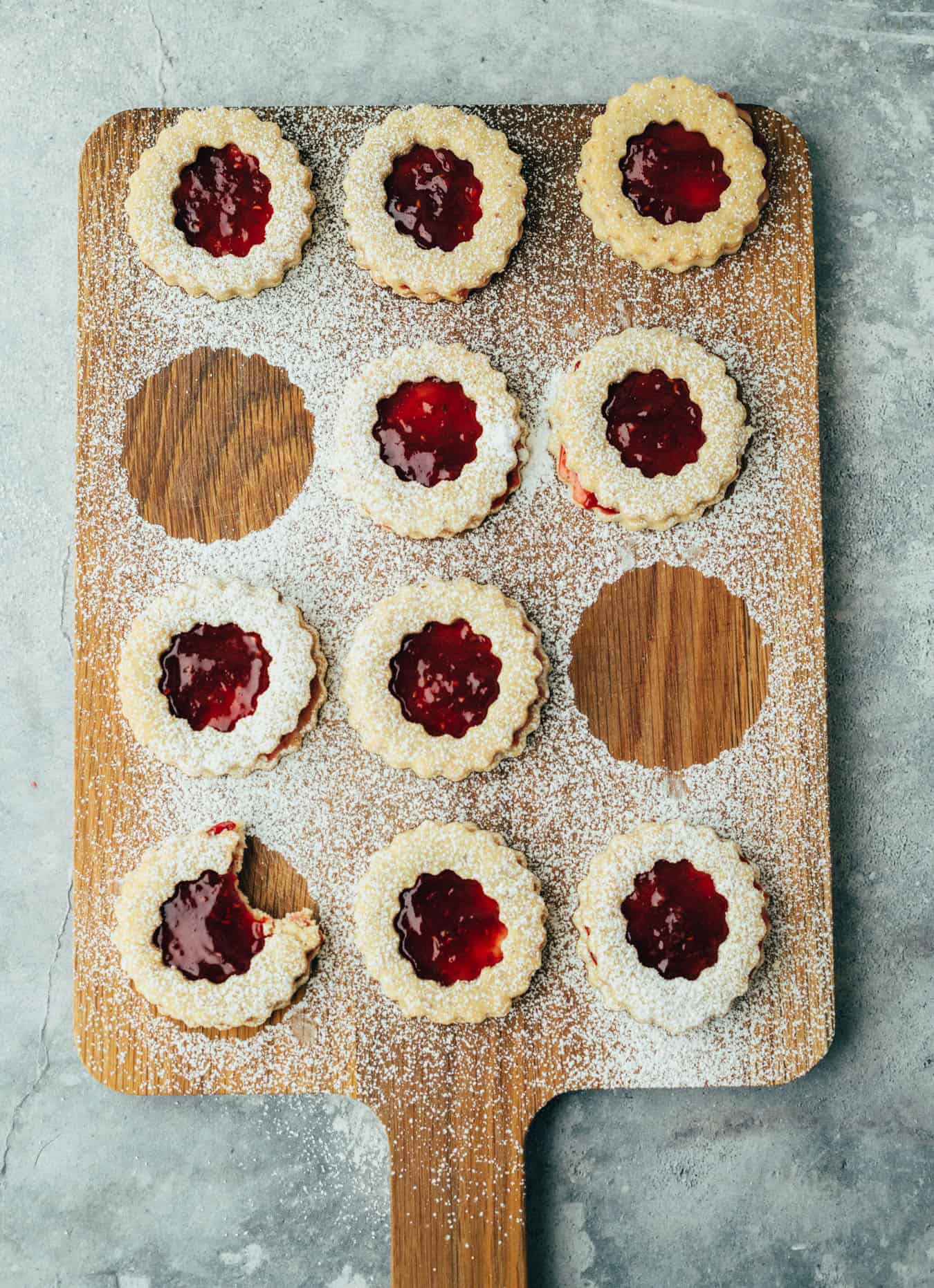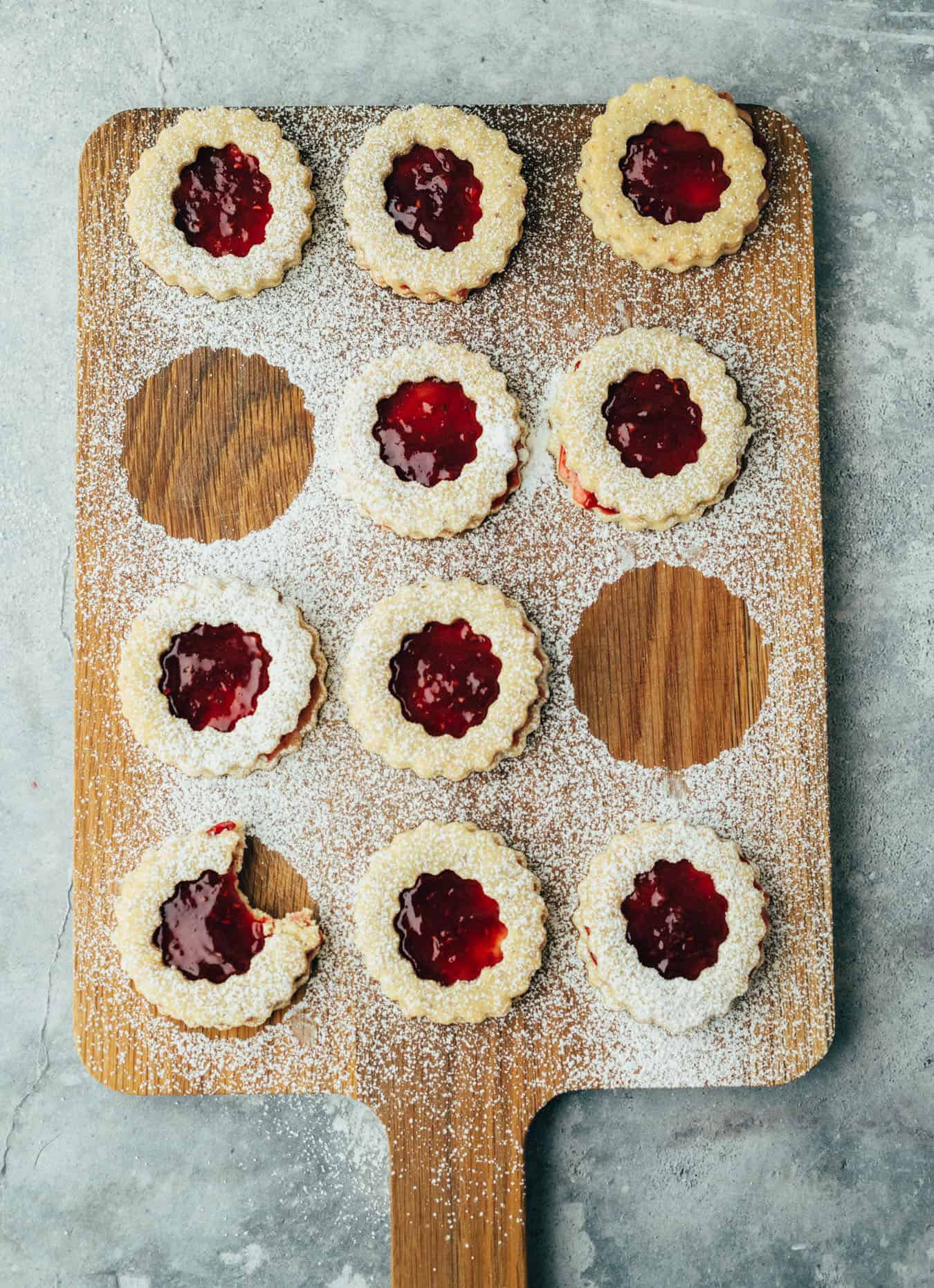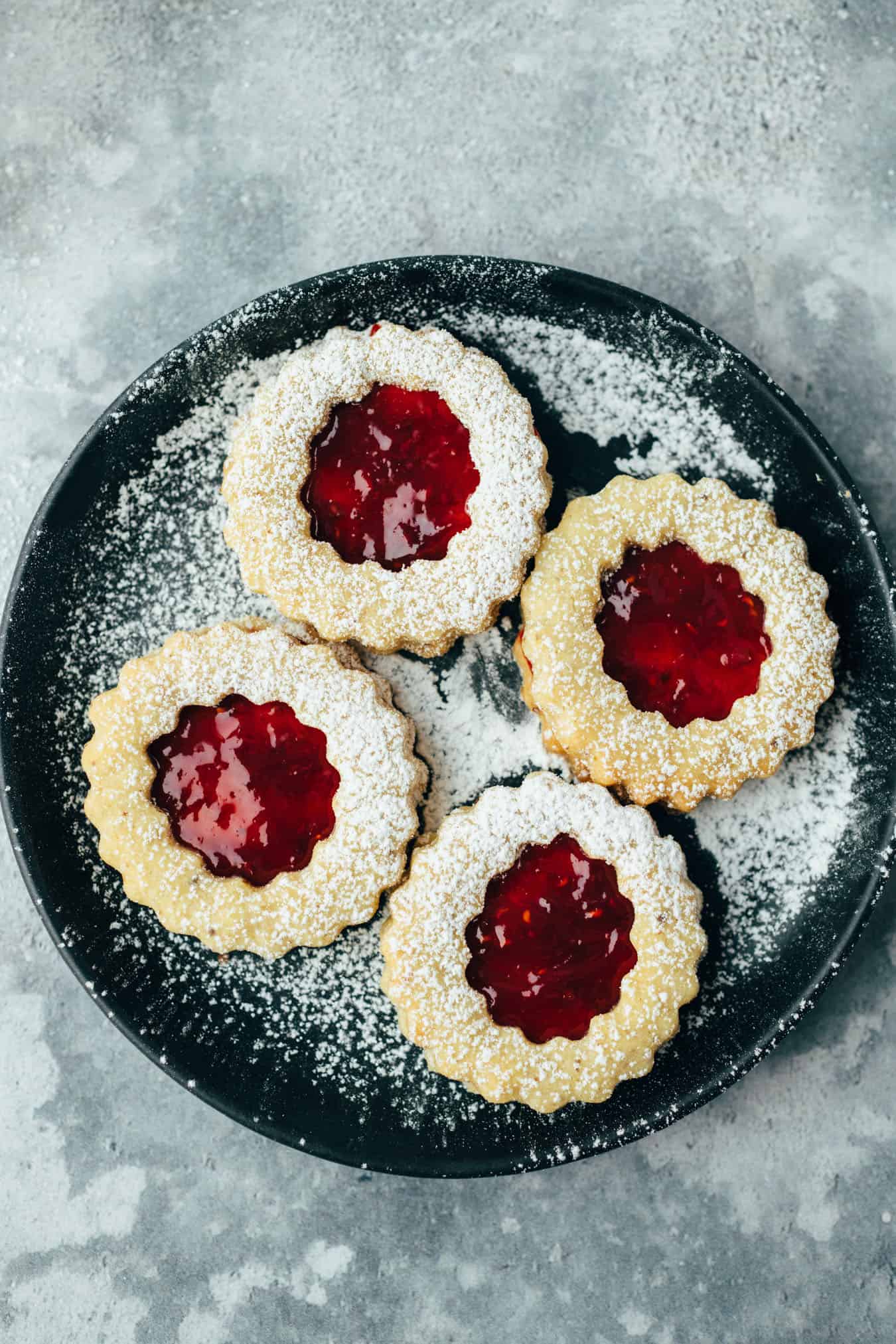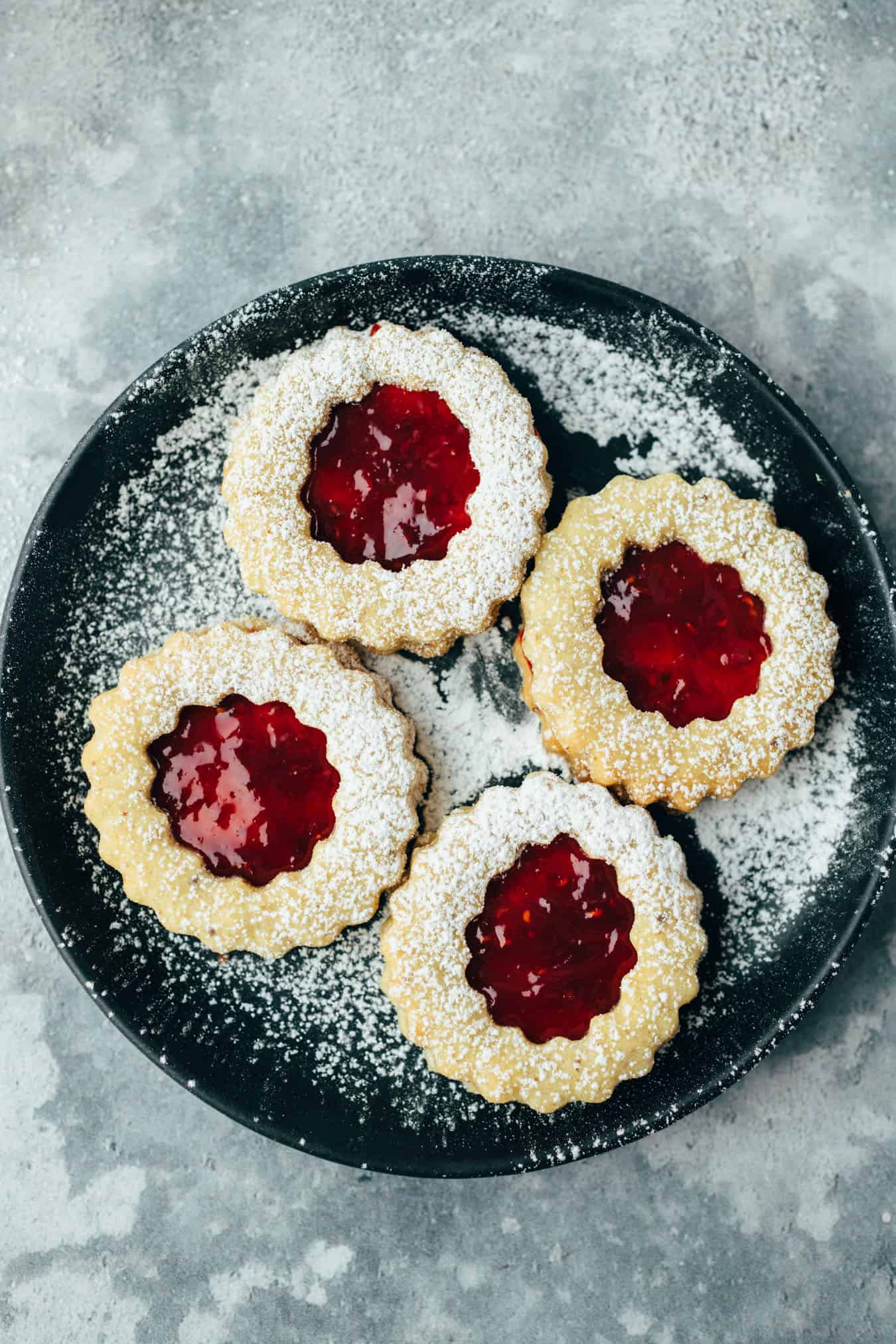 Yes, this is possible and works absolutely without any problems. I replace the egg as described above with a flaxseed meal that provides a good binding. Alternatively, soy flour is suitable or any other Egg substitute , which is suitable for baking.
Now that we have worked all the ingredients into a smooth dough, it goes into the refrigerator for another 30 minutes or so. This step ensures that it is easier to roll out afterwards.
Bake Vegan Spitzbuben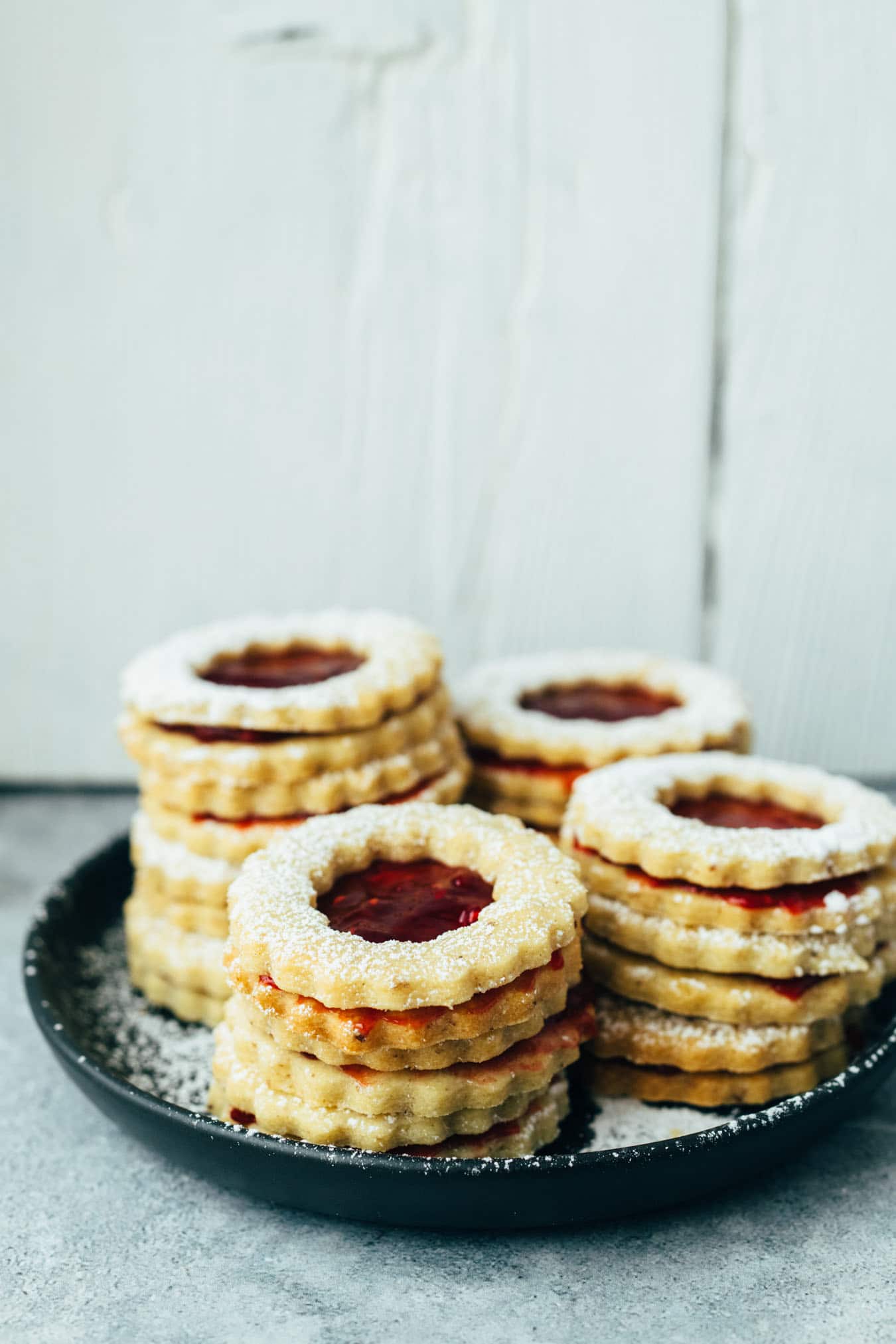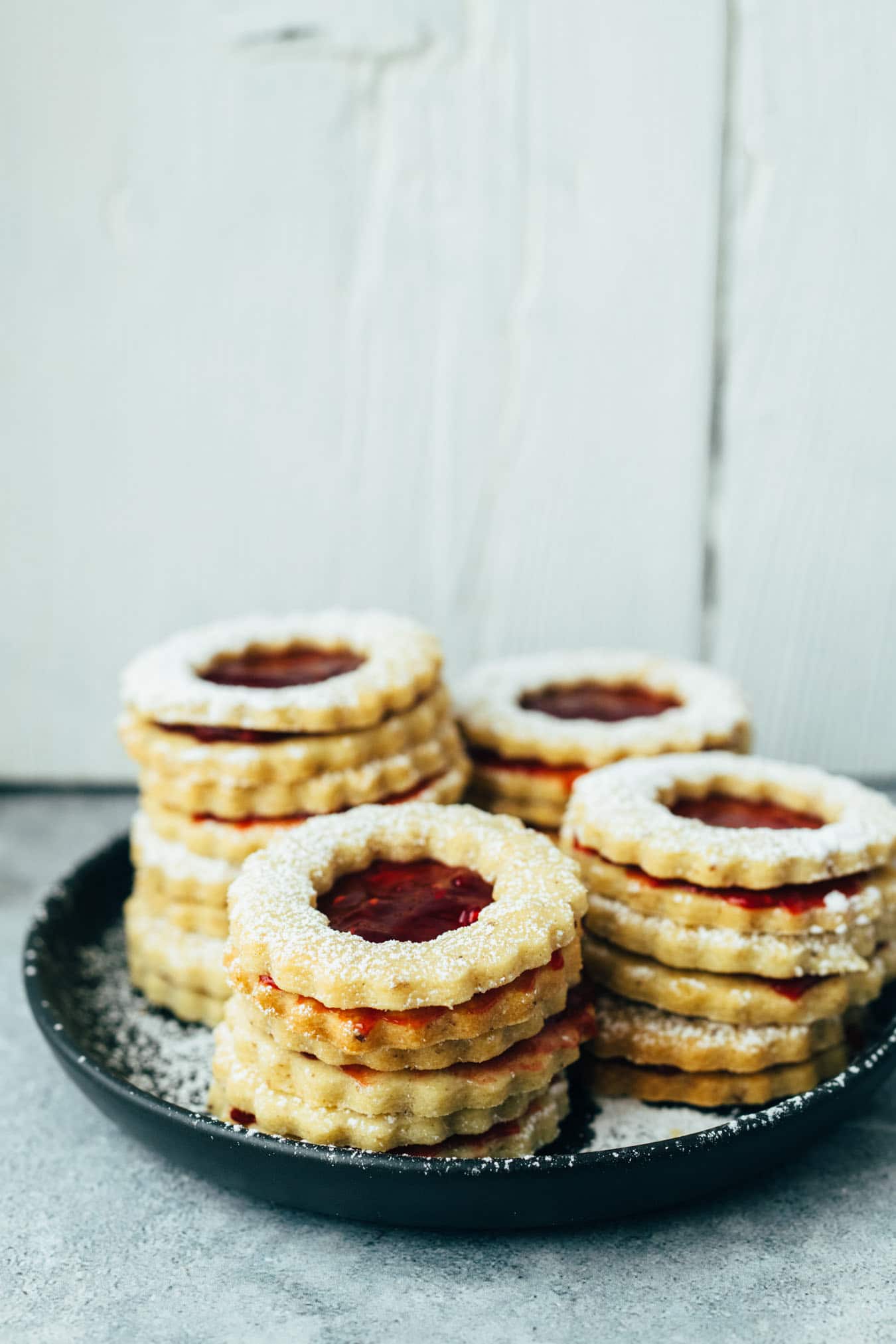 If you want to spice up the cookies a bit more with nutrients, you can mix 1-2 tablespoons of chia seeds into the jam or blend them in with a high-powered blender.
For the filling, basically different types of jam are suitable, but I like raspberry the best. The slight tartness is just a wonderful contrast to the sweetness of the dough. Now add a coffee or a Golden Latte and I'm floating in vegan Christmas heaven. Yummy!
Let's get started with these incredibly delicious Spitzbuben. I hope you enjoy baking and of course about a review at the bottom of this page. If you post a picture, use the hashtag #veganevibes.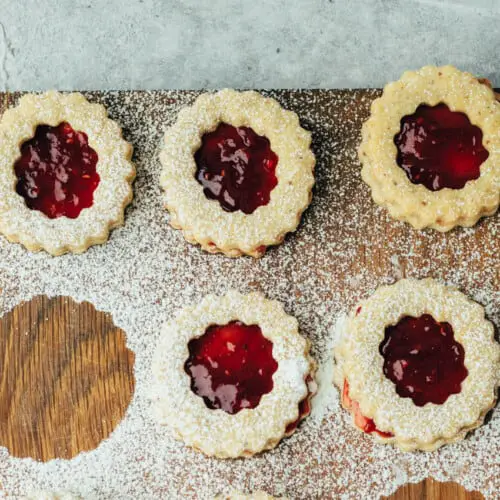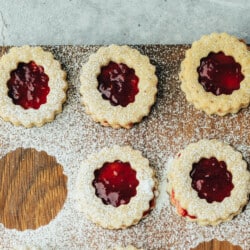 Vegan Spitzbuben
Simple, crumbly and vegan Spitzbuben cookies filled with delicious raspberry jam and topped with fine powdered sugar. Perfect for the vegan Christmas cookie plate.
AUTOR: VEGANEVIBES
FOR THE DOUGH:
15

g

Flaxseed meal

Soy flour or egg substitute of choice, *can also be omitted, but makes for a better binding.

200

g

vegan margarine

I take organic Alsan

100

g

Raw cane sugar
TO FILL:
optional 1-2 tablespoons chia seeds
TOPPING:
optional organic powdered sugar to taste
Anleitung 
Preheat oven to 160 degrees and line a baking tray with baking paper.

For the dough Combine spelt flour, flaxseed meal, vegan margarine, raw cane sugar, almond milk and bourbon vanilla in a large baking bowl. Blend with hands or a food processor until smooth.

300 g fine spelt flour type630 or wheat flour type550,

15 g Flaxseed meal,

200 g vegan margarine,

100 g Raw cane sugar,

30 ml Almond milk or another vegetable milk,

½ tbspn Bourbon vanilla ground or 1 tsp vanilla extract

Cover and refrigerate for at least 30 minutes.

Roll out on a floured work surface and cut out with two different cookie cutters (one large and one smaller to make the hole in the center for the lid). For me it was 15 bottoms and 15 lids each.

Spread on baking sheet and bake for a maximum of 20 minutes, until cookies are cooked through but not too brown.

Remove from the oven and allow to cool completely. Spread jam on the bottoms and place a lid on each. Press briefly and you're done.

250 g Raspberry jam bought or homemade,

optional 1-2 tablespoons chia seeds

Optionally sprinkle with organic powdered sugar.

optional organic powdered sugar to taste

Keeps up to 2 weeks when covered at cool room temperature (similar to other long-life pastries such as Stollen).
Nährwertangaben
Serving:
1
Cookies
Calories:
124
kcal
Carbohydrates:
16
g
Protein:
1
g
Fat:
5
g
Saturated Fat:
1
g
Sodium:
48
mg
Potassium:
11
mg
Fiber:
1
g
Sugar:
7
g
Vitamin C:
0.7
mg
Calcium:
4
mg
Iron:
0.6
mg