One question in advance, how many of you don't like vanilla cookies? No? Then please read on anyway, because maybe you'll make them anyway and give them to a loved one? In fact, the Kipferl are among the most popular Cookies of the Germans and storm every year again the Christmas cookies charts . That's exactly why I didn't want to withhold it from you. What could be better than a snowy winter day, a crackling fireplace and a bowl full of vegan Cookies ? The beauty is that you can really wow anyone with these little works of art…vegan or not. I would say let's get started together.
Vanilla crescents – a must have!
Where do these famous and popular crescent-shaped cookies actually come from? They are an absolute classic among Christmas cookies and are said to have a German-Austrian origin. The name comes from the vanilla it contains and the shape that resembles a "Kipferl". In Bavaria, there are rolls that are also called Kipferl. If you want to know more about this, please leave me a comment. The most important thing is the powdered sugar at the end, which is sprinkled on the still half-warm vanilla crescents. I must admit that I can hardly resist. My husband has also already asked me to please hide the crumbly beauties. That's always a good sign for me and tells me it tastes good! Let's get started together, are you with me?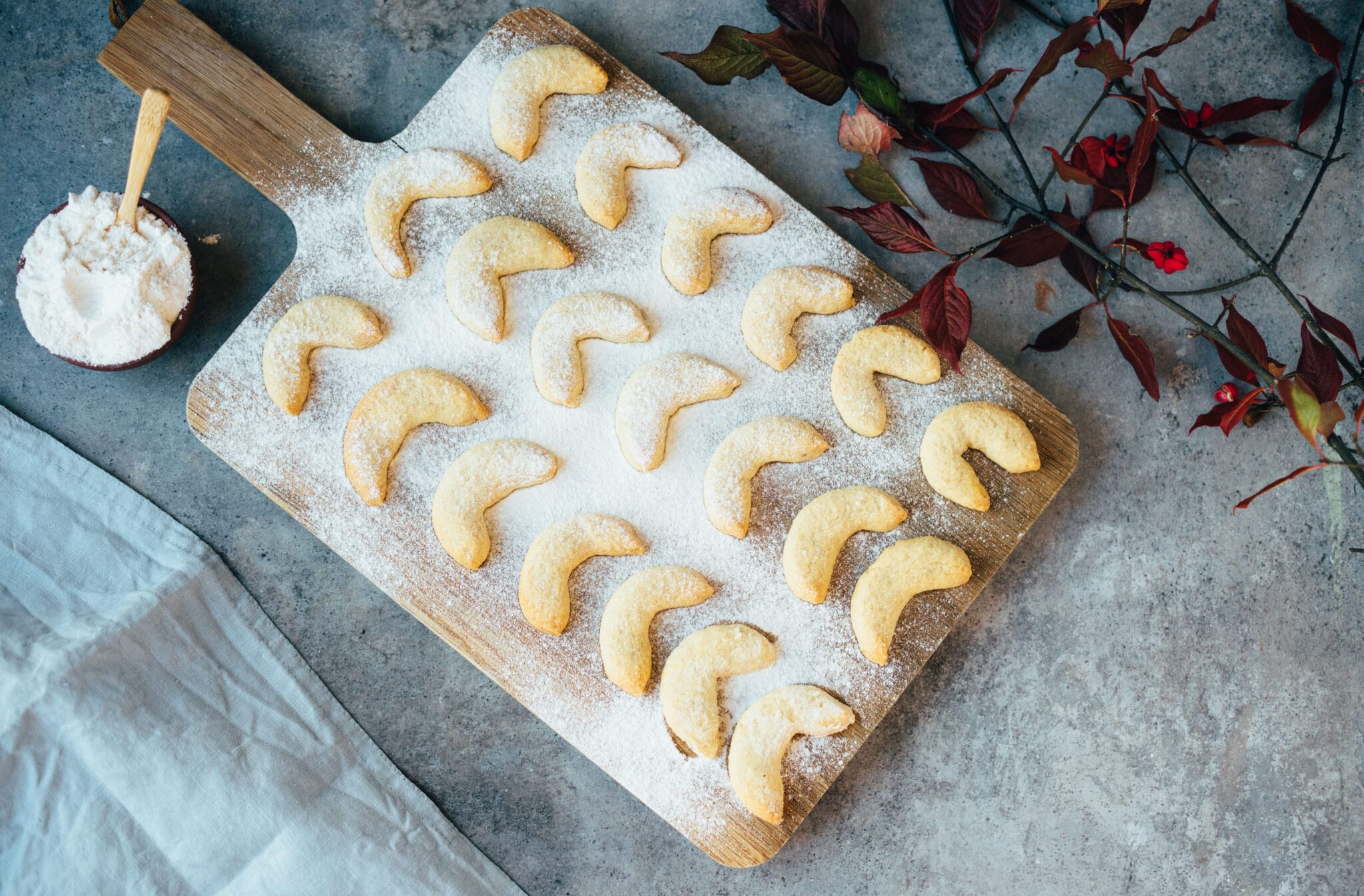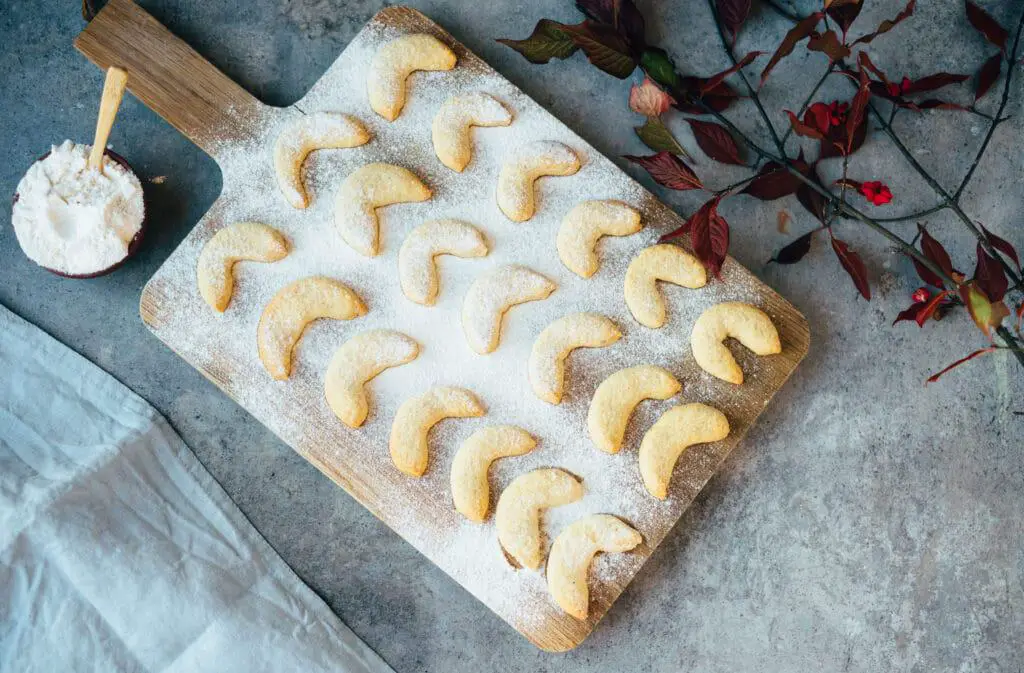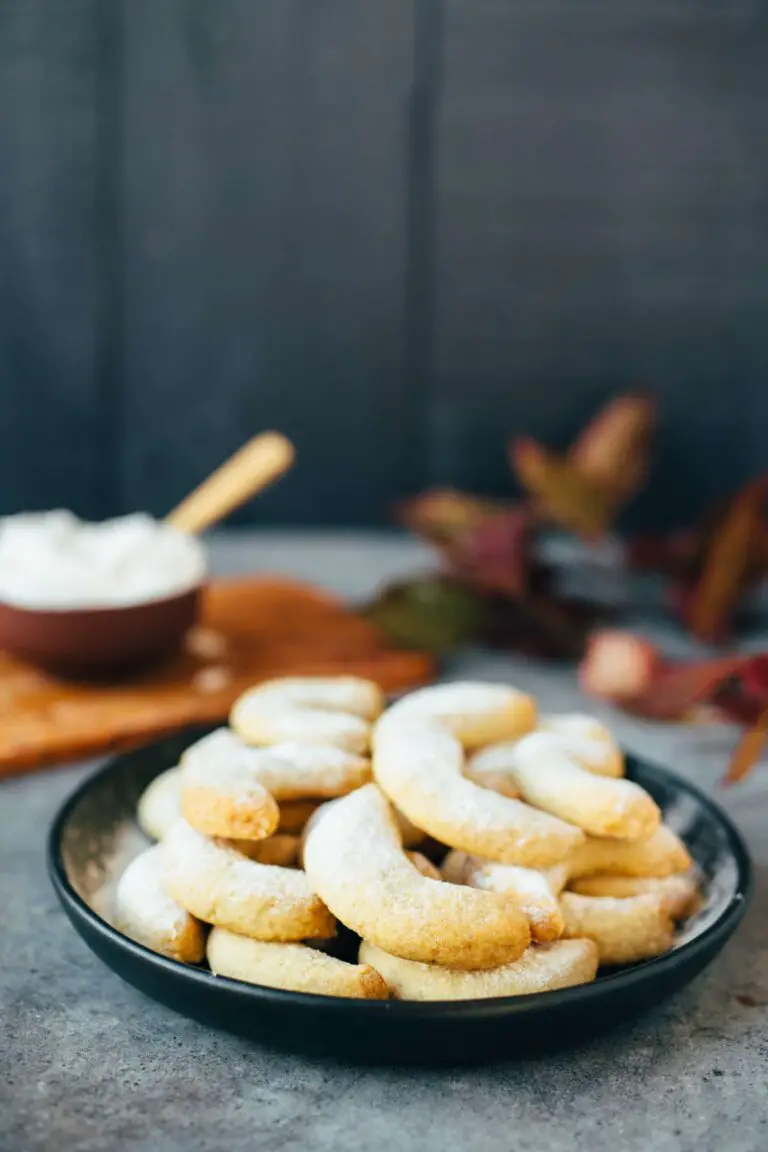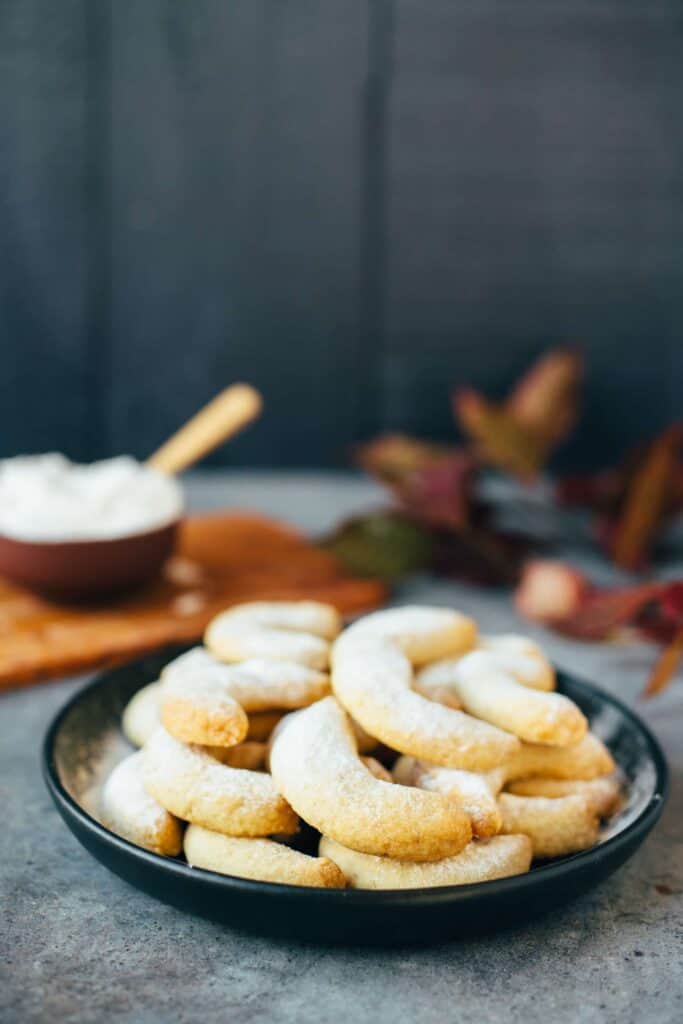 Last year I dealt with a topic that I then very quickly let stay again. Healthy sugar free Cookies . I had bought a book and studied everything in detail. The result was somehow not very satisfying, honestly the Recipes just tasted sh…. After a few tries, I got so fed up that I just threw the book into the wood stove. Maybe someone can still inspire me from healthy, sugar-free Christmas specials but currently cane sugar, maple syrup and vegan margarine remain allowed. Then rather less of it and enjoy, than compulsively gulp down sugar-free, dry Pastry dry pastries (and then smiling at the same time).
Our vanilla crescents today are really quick to make and you don't need a lot of skills to make them either. A food processor, nimble hands, an oven and a handful of ingredients. Spelt flour, ground almonds, raw cane sugar, vegan margarine, Vegetable milk , bourbon vanilla and salt. For decorating, I use organic powdered sugar, or just grind up some raw cane sugar in my food processor.
Your vegan Christmas can come – Vanillekipferl Time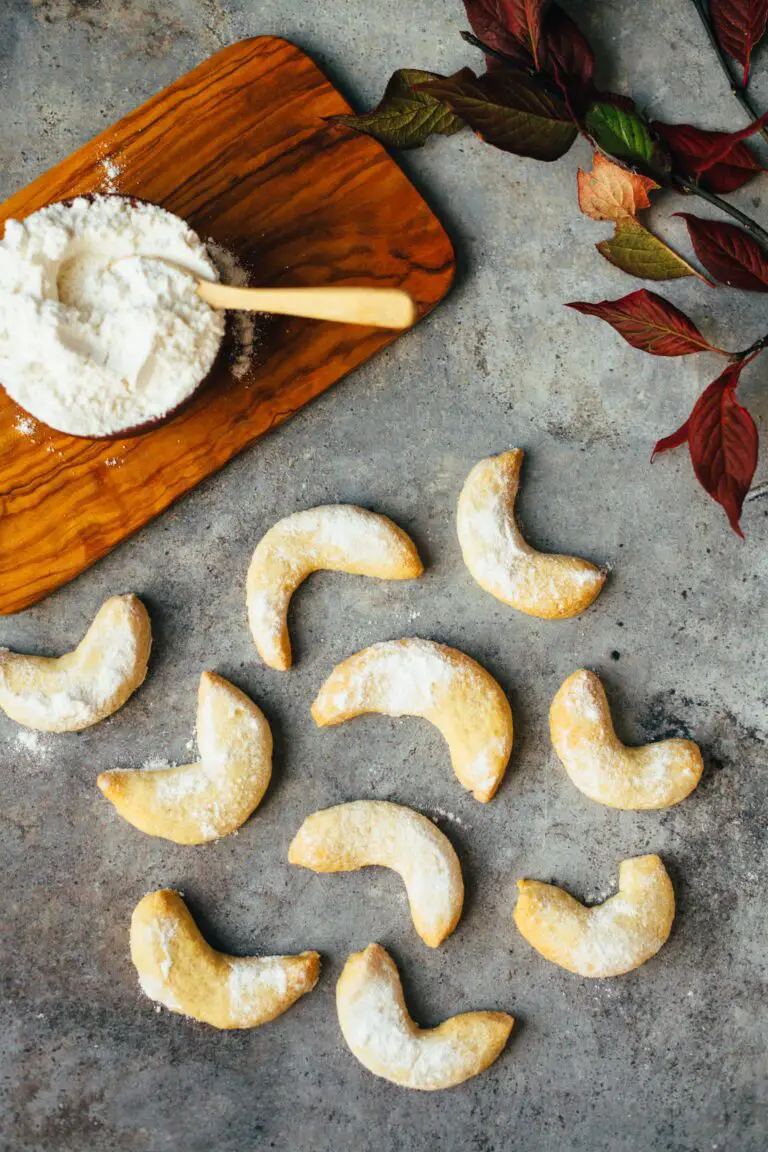 TIP: If you work quickly and your kitchen doesn't necessarily have subtropical temperatures, then you don't need to refrigerate the dough again (as recommended in many recipes). This step is often recommended to make the dough easier to work with. Not absolutely necessary from my point of view.
Here are a few more tips & tricks for maximum baking fun:
Preheat oven: some people claim that preheating is not such an important step and is not ecologically sound. Honestly, I can only guarantee a perfect result when the oven is at operating temperature. Therefore, preheat the oven and let's go!
Permanent Baking Mat: I recently ordered permanent baking mats, a good step to save waste. The mats are made of silicone (not plastic) and can be used up to a temperature of 230 degrees. Simply rinse and reuse. Last a few years and save endless amounts of baking paper.
Sprinkle powdered sugar on the still hot vanilla crescents, then it holds really well. On the cold Kipferl it rather rolls off again.
Craving more vegan cookies on your cookie plate? Then I recommend Gingerbread cookies , Spitzbuben , Bear paws , Chocolate cinnamon curls and Cinnamon stars .
Let's start with these incredibly delicious vanilla crescents. I hope you enjoy baking and of course about a review at the bottom of this page. If you post a picture, use the hashtag #veganevibes.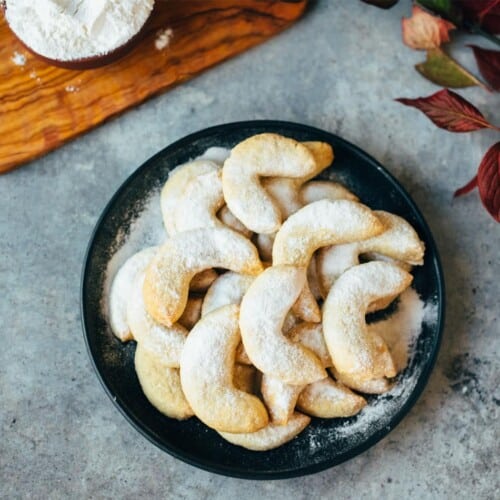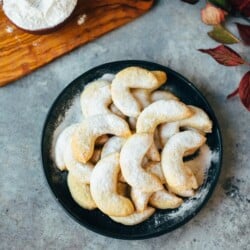 Vanilla crescent vegan
Simple, crumbly and vegan vanilla crescents with fine powdered sugar. Extremely delicious in the cold season and especially on the Christmas cookie plate.
AUTOR: VEGANEVIBES
FOR THE TOPPING:
Organic powdered sugar to taste

or simply finely grind raw cane sugar in a high-powered blender
Anleitung 
Preheat oven to 180 degrees (convection) or 200 degrees (top-bottom heat) and line a baking sheet with a permanent baking mat (or baking paper).

For the dough Place spelt flour, ground almonds, raw cane sugar, vegan margarine, almond milk, vanilla and sea salt in a bowl or food processor. Work with hands or dough program until smooth. The dough should have good firmness and be easy to roll out (see video). If the dough is too soft, add a little more flour, if too firm, add a sip more vegetable milk.

200 g fine spelt flour type630 or wheat flour type550,

100 g ground almonds,

80 g Raw cane sugar,

140 g vegan margarine,

45 ml Almond milk,

1 tbspn Bourbon vanilla,

A pinch of salt

Form dough into a large lump, separate a portion and shape into a finger-thick roll. Cut into 4-5 cm long pieces and shape into crescents. Spread on the baking sheet and place in the oven. Bake for

10 minutes

until the croissants are lightly browned.

Remove from the oven and immediately sprinkle with powdered sugar (on the still hot croissants).

Repeat baking process until all croissants are baked.

Sprinkle with more powdered sugar if needed and enjoy!

Organic powdered sugar to taste

Lasts about 3 weeks in a tightly sealed tin (if not eaten first).
Nährwertangaben
Serving:
1
Cookies
Calories:
76
kcal
Carbohydrates:
7
g
Protein:
1
g
Fat:
5
g
Saturated Fat:
1
g
Sodium:
28
mg
Potassium:
20
mg
Fiber:
1
g
Sugar:
2
g
Calcium:
9
mg
Iron:
1
mg