Is there anything better than a hot vegan chicken soup? Surely one or the other thinks now, why I call my soup chicken soup, although there is no chicken in it. It is a challenge to find the right vegan names for classic dishes of the German cuisine to find. Meat is now Vleisch or the good old butcher shop is suddenly called Vetzgerei. I think everything is allowed and you should also show a little tolerance here. On this occasion I have to smile briefly and think of a comment of an acquaintance who had asked me some time ago, why vegans actually want to eat something like sausage? I have thought about this for a long time and in my opinion it has a lot to do with enjoyment. What should be vegan liver sausage bread be reprehensible? Well, let's get to the essence of this post, chicken soup, or maybe we want to call it chicken soup or henasuppn?
Vegan chicken soup, not only suitable for vegans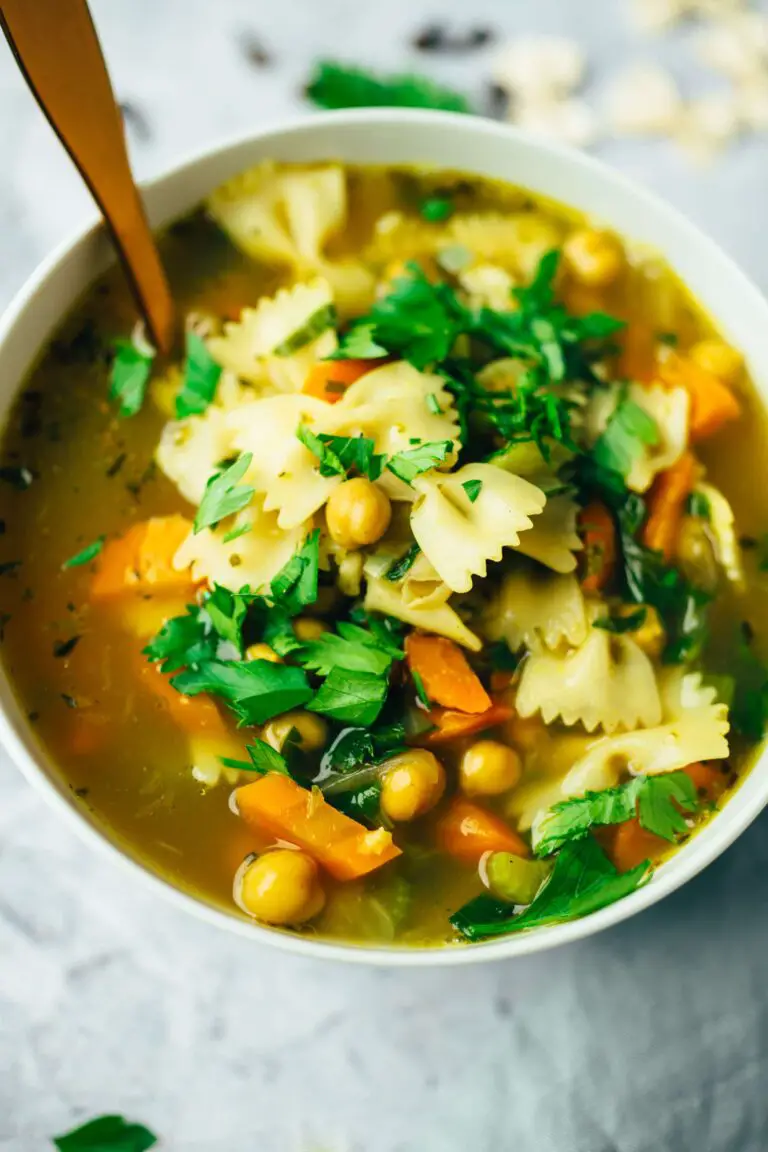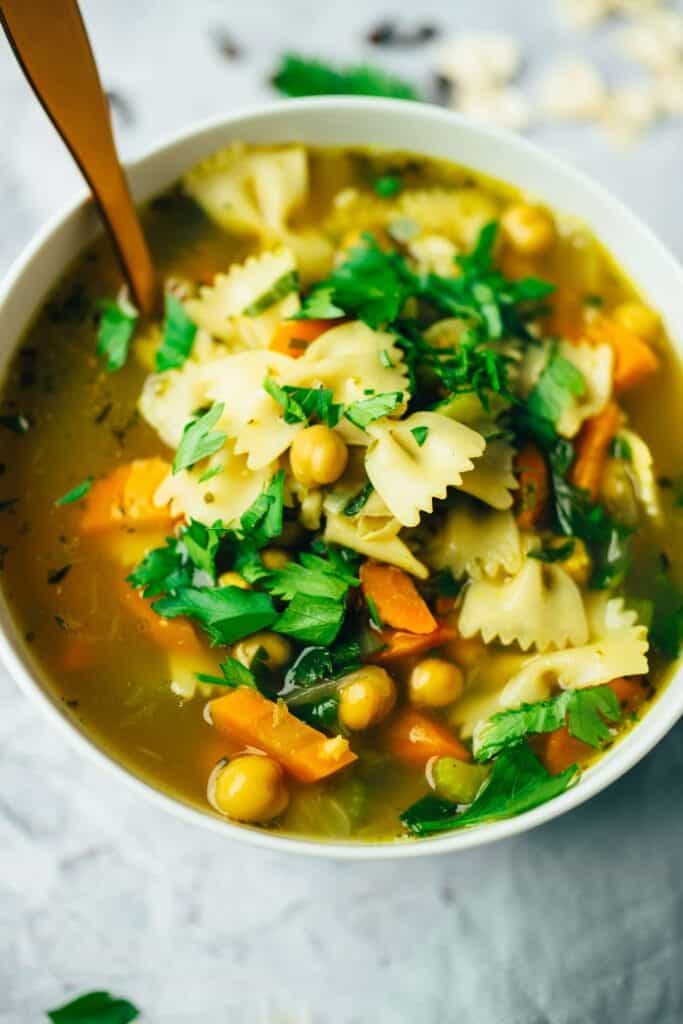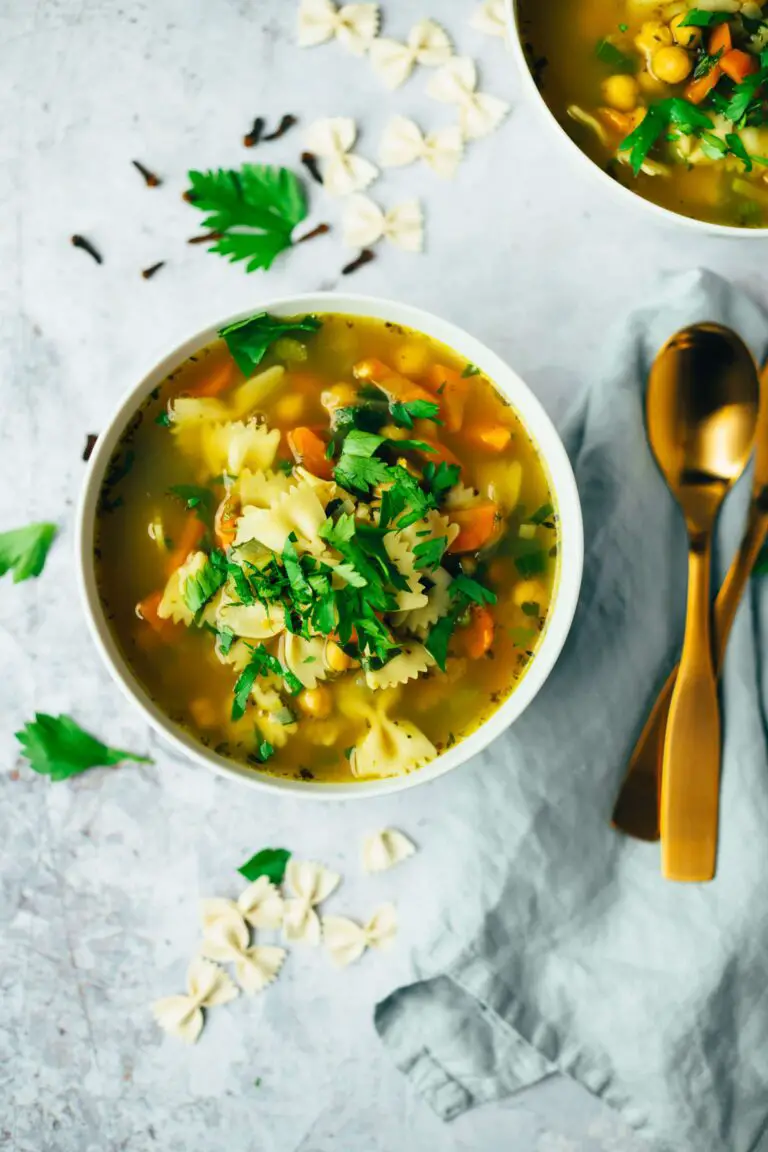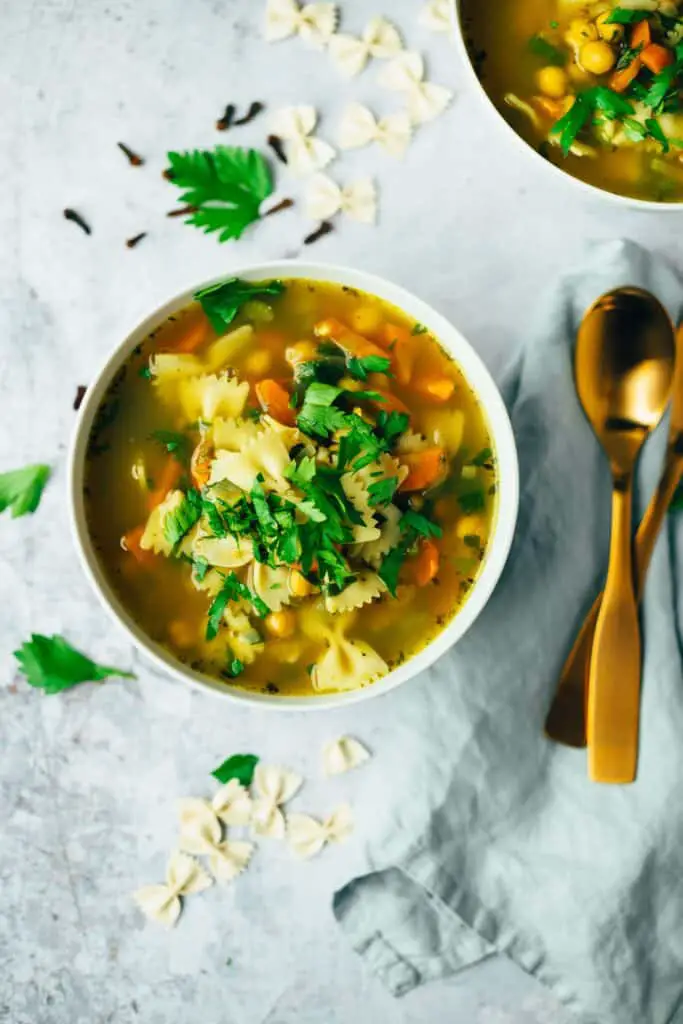 Actually, there is only a small but subtle difference in making a vegan chicken soup. Well, not so easy, is it? Sure, the chicken is out and the Chickpeas are in. The small pale yellow protein bombs are also sometimes called "the chicken meat of vegans". That's it, because the rest is virtually identical to my grandma's recipe.
Frying oil, red onion, carrot, celery, thyme, oregano, sage, rosemary, marjoram, nutmeg, turmeric, vegetable broth, chickpeas, soup noodles and tamari. If you like, you can season with salt and pepper, but I found the seasoning with tamari to be absolutely sufficient. I could literally lie down in this soup and eat it virtually day and night. Especially when the weather gets worse, the days shorter and the cold wetness moves into the country.
TIP: When it comes to ready-made vegetable broths, I personally always make sure that they are organic and vegan. Just check the label to see what exactly is in it. Animal ingredients and a whole range of additives often creep into the product. I have linked you my favorite product below.
Chickpeas – vegan protein bombs!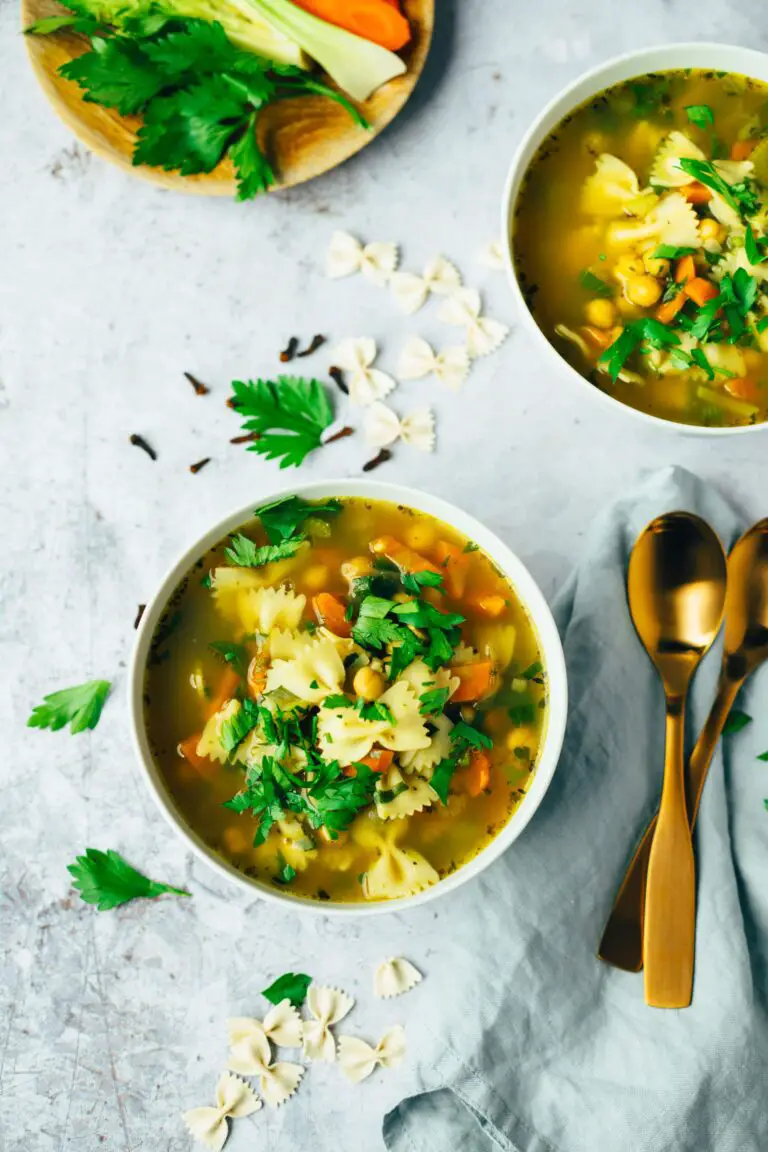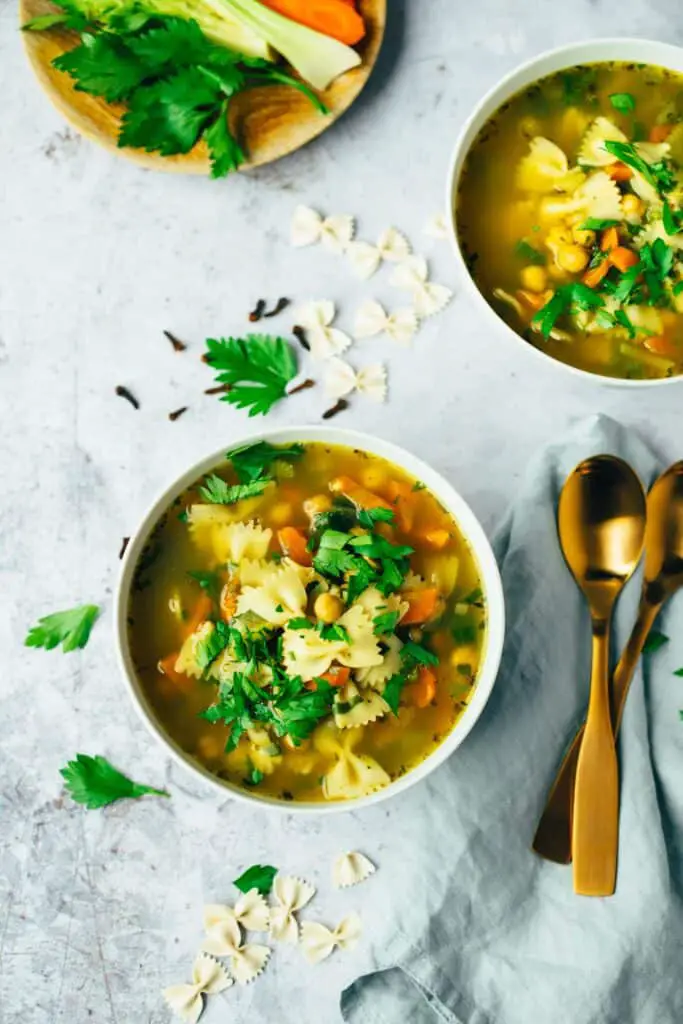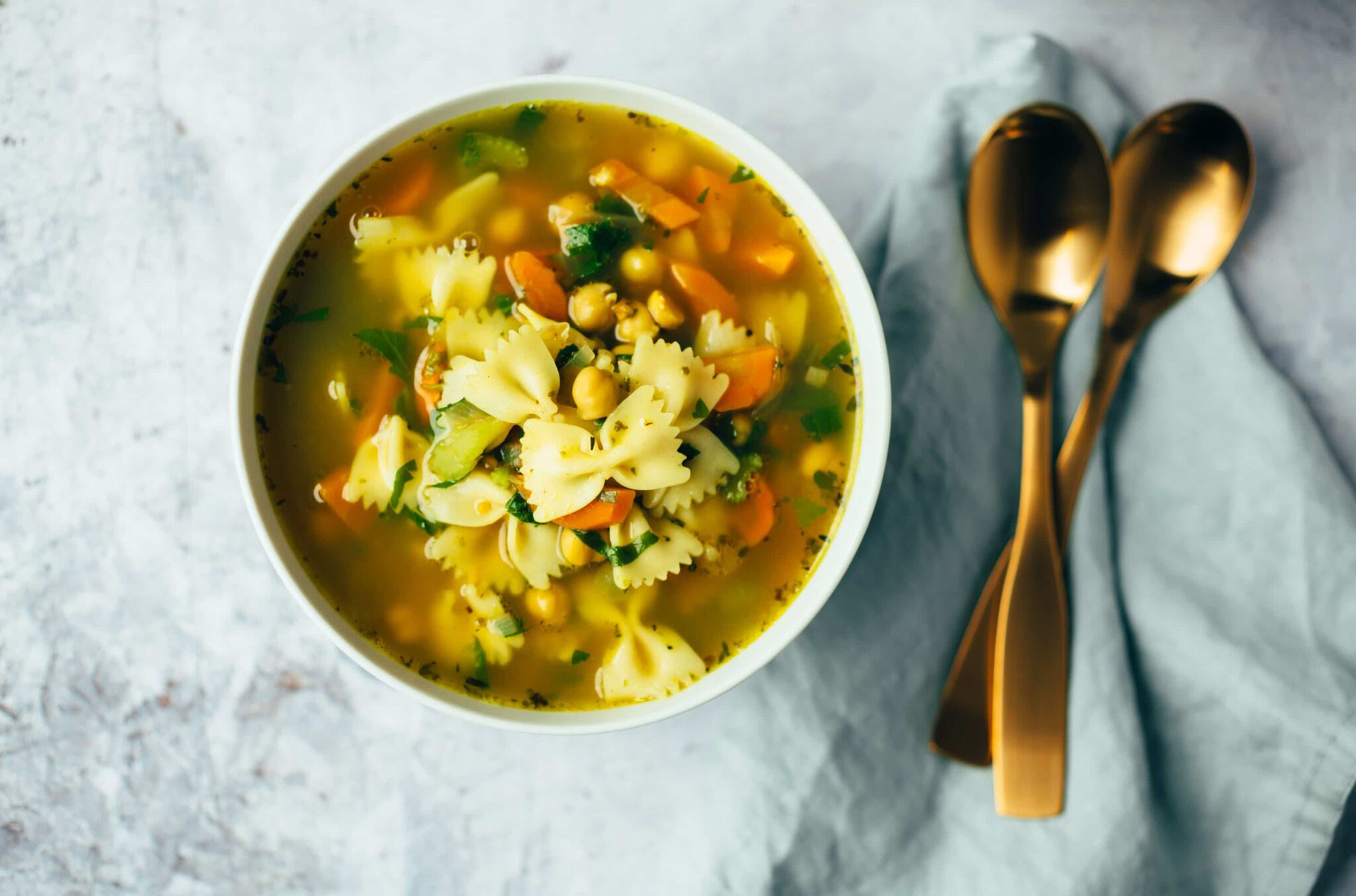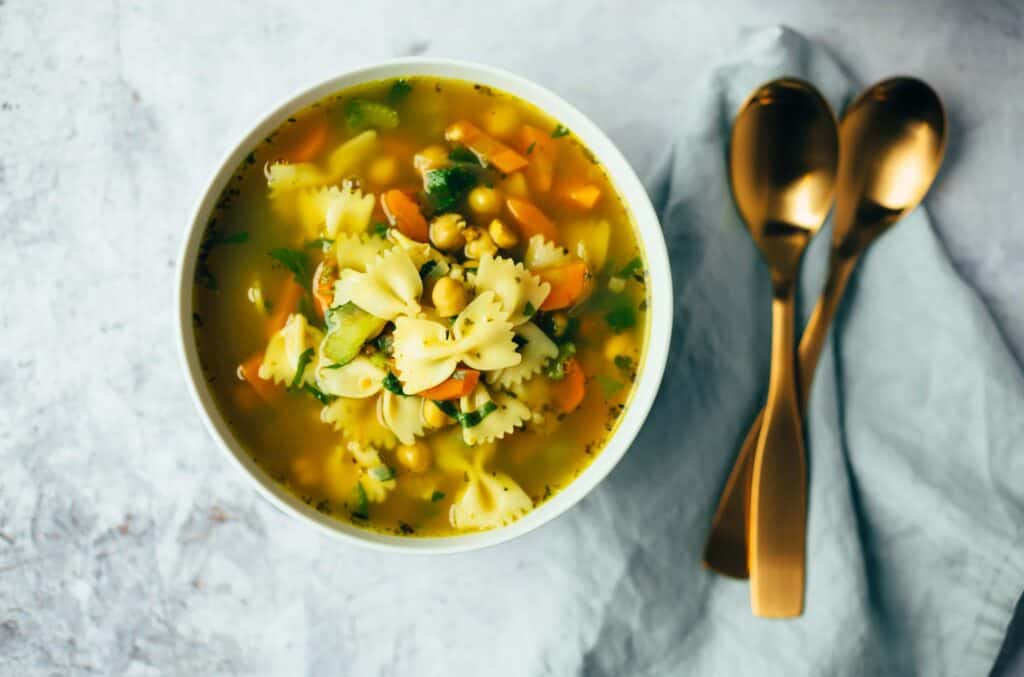 Chickpeas are often totally underestimated in German cuisine, but they are an extremely good source of protein for vegans and those who want to become one:
20g protein on 100g
Contain almost all amino acids, especially the essential amino acids lysine and threonine (best combined with a cereal or rice to enhance the amino acid profile. to complete)
Rich in Minerals such as magnesium, iron and zinc
Rich in Dietary fiber
Included Vitamin A, B, C and E
TIP: If you want to use chickpeas in the dried state, it is best to soak them overnight in cold water and then cook them. The cooking time of the soup is then extended accordingly (cooking time about 2 hours). For canned or jarred chickpeas, I recommend thorough washing and a brief 15-minute soak in cold water. This makes them more digestible.
If you have a cold at the moment, then I recommend you additionally my Cold Tonic . Otherwise a slice Spelt bread or a Spelt bread roll excellent with it.
Grandma's chicken soup is vegan:
Warming
Ideal for cold Days
Healing
Full of healthy Herbs
Fast and simple
Are you ready the delicious and tasty, vegan and warming chicken soup? I wish you a lot of fun in recooking and of course a review at the bottom of this page. If you post a picture, use the hashtag #veganevibes.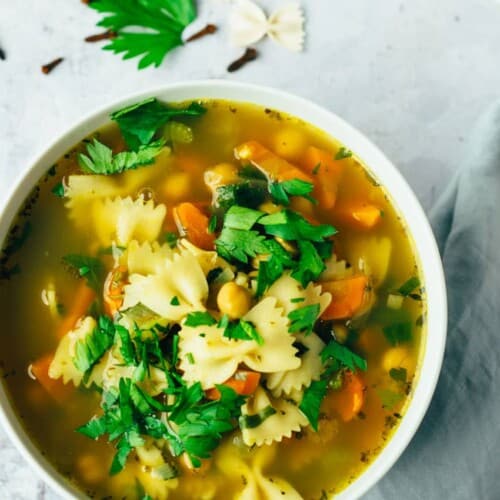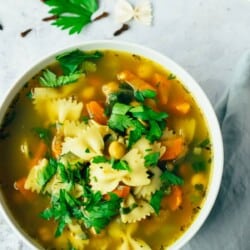 Grandma's chicken soup vegan
Quick, warming and vegan chicken soup with chickpeas, full of healthy herbs and vegetables. Healing and highly recommended especially for colds.
AUTOR: VEGANEVIBES
30

ml

Frying oil or other high heat oil

2 tablespoons, feel free to omit if oil-free

1

red onion or 2 shallots

peeled and finely chopped

70

g

Celery sticks

washed and finely chopped, 4 sticks

130

g

Carrots

halved and sliced, 1 cup

265

g

Chickpeas drained* –

1 can or jar with 400g

30

g

Soup powder

2 tablespoons, vegan and organic

1000

ml

Water

4 cups

½

tbspn

Thyme dried

or 1 tsp fresh

½

tbspn

Oregano

dried

½

tbspn

Sage

dried

½

tbspn

Rosemary

dried

½

tbspn

Marjoram

dried

¼

tbspn

Turmeric

ground

1/8

tbspn

Nutmeg

ground

Optional: ¼ tsp clove powder

or 3 cloves finely mortared

1

Bay leaf

500

ml

hot water

2 cups, for the pasta

70

g

Soup noodles

1/3 cup, I take small farfalle

30

ml

Tamari

2 tablespoons, or other soy sauce of choice

Salt to taste

Be careful with vegetable broth already salted
Anleitung 
Strain chickpeas. Chickpea water (aquafab save for another recipe.

265 g Chickpeas drained* –

Heat pot with frying oil.

30 ml Frying oil or other high heat oil

Add in onion, celery, carrots, chickpeas and vegetable broth and stir once. Infuse with water.

1 red onion or 2 shallots,

70 g Celery sticks,

130 g Carrots,

265 g Chickpeas drained* -,

30 g Soup powder,

1000 ml Water

Thyme, oregano, sage, rosemary, marjoram, turmeric, nutmeg, (optionalaPour in cloves and bay leaf and continue stirring.

½ tbspn Thyme dried,

½ tbspn Oregano,

½ tbspn Sage,

½ tbspn Rosemary,

½ tbspn Marjoram,

¼ tbspn Turmeric,

1/8 tbspn Nutmeg,

Optional: ¼ tsp clove powder,

1 Bay leaf

Bring to a boil and simmer, covered, for 20 minutes.

Add soup noodles and pour 500ml of hot water. Simmer for another 4 minutes (depending on the cooking time of the pasta).

500 ml hot water,

70 g Soup noodles

Refine with tamari and season to taste.

30 ml Tamari,

black pepper to taste,

Salt to taste

Divide among soup plates, garnish with parsley and enjoy.

Spelt roll,

Spelt bread,

Fresh parsley to taste
Nährwertangaben
Serving:
1
Portion
Calories:
261
kcal
Carbohydrates:
36
g
Protein:
9
g
Fat:
10
g
Saturated Fat:
6
g
Sodium:
510
mg
Potassium:
397
mg
Fiber:
7
g
Sugar:
6
g
Vitamin A:
5542
IU
Vitamin C:
3
mg
Calcium:
65
mg
Iron:
2
mg