Apple-carrot Salad or carrot-apple Salad , which do you prefer? Strictly speaking, it's more of a carrot-apple salad because the percentage of Carrot is much higher. In the end, it doesn't matter, because it should simply taste good. It definitely does and after the somewhat heavier dishes at the holidays, a welcome change. It's January and once again #veganuary time, a great opportunity to enter the world of plant-based eating. It's crazy what's going on at the moment, because apparently even the Golden Globes are being vegan . I think it's great because there's just nothing wrong with the fact of eating more plants. There is usually a downside to all trends, but with vegan food I can think of little to no arguments against it. Or who has anything against happy animals, more land for reforestation and lower cholesterol?
Creamy vegan apple carrot salad, YEP!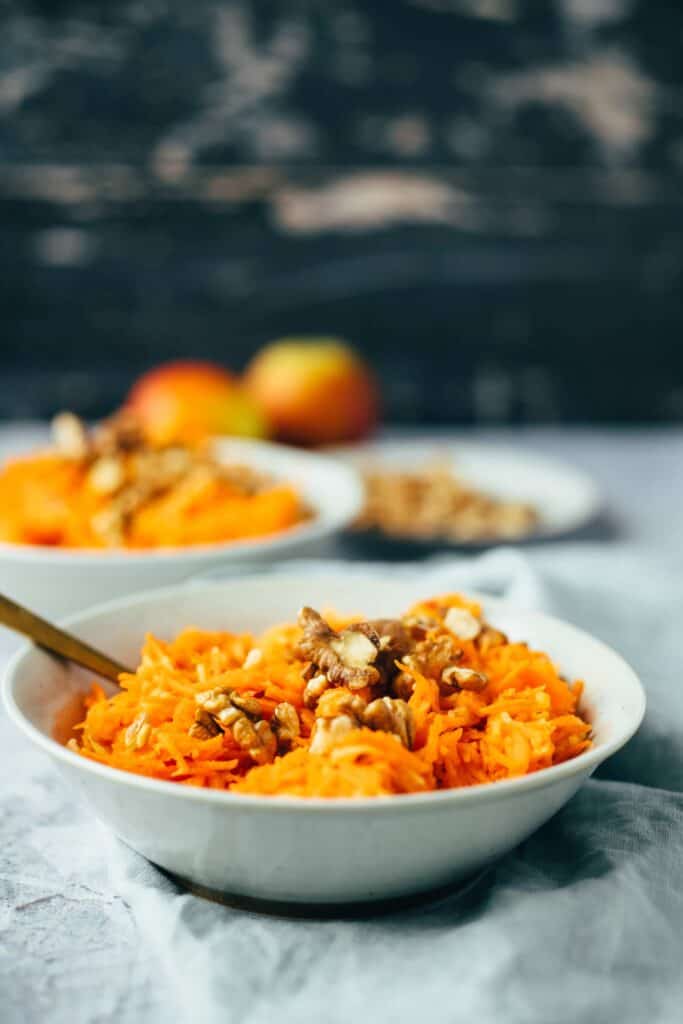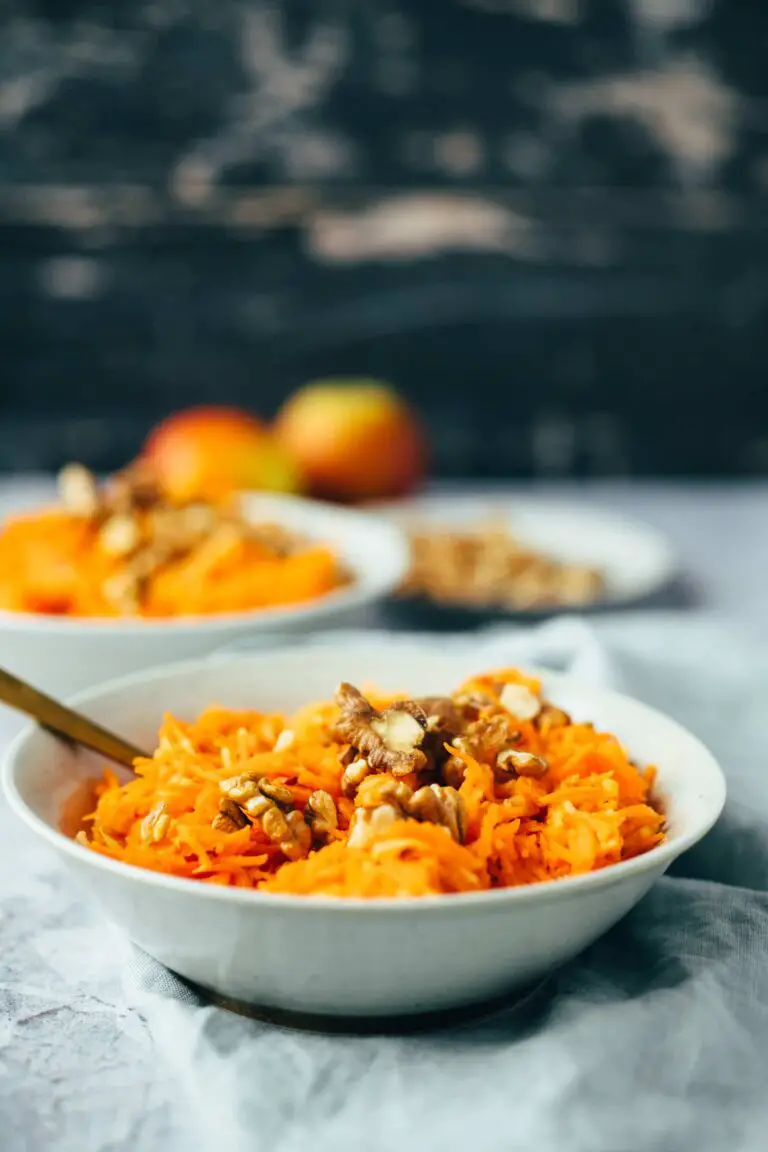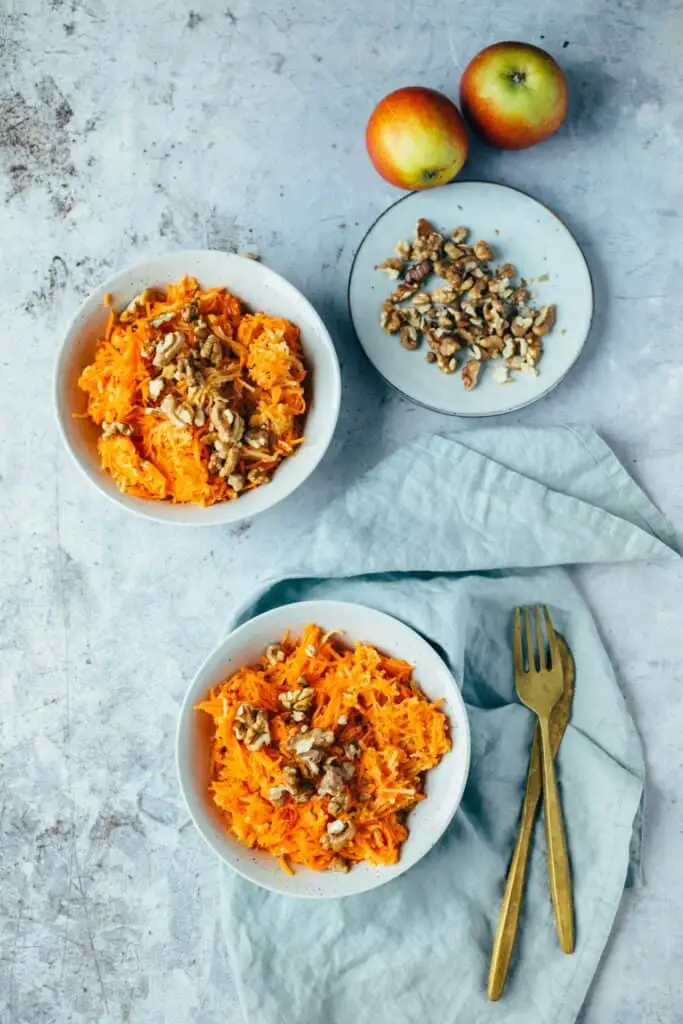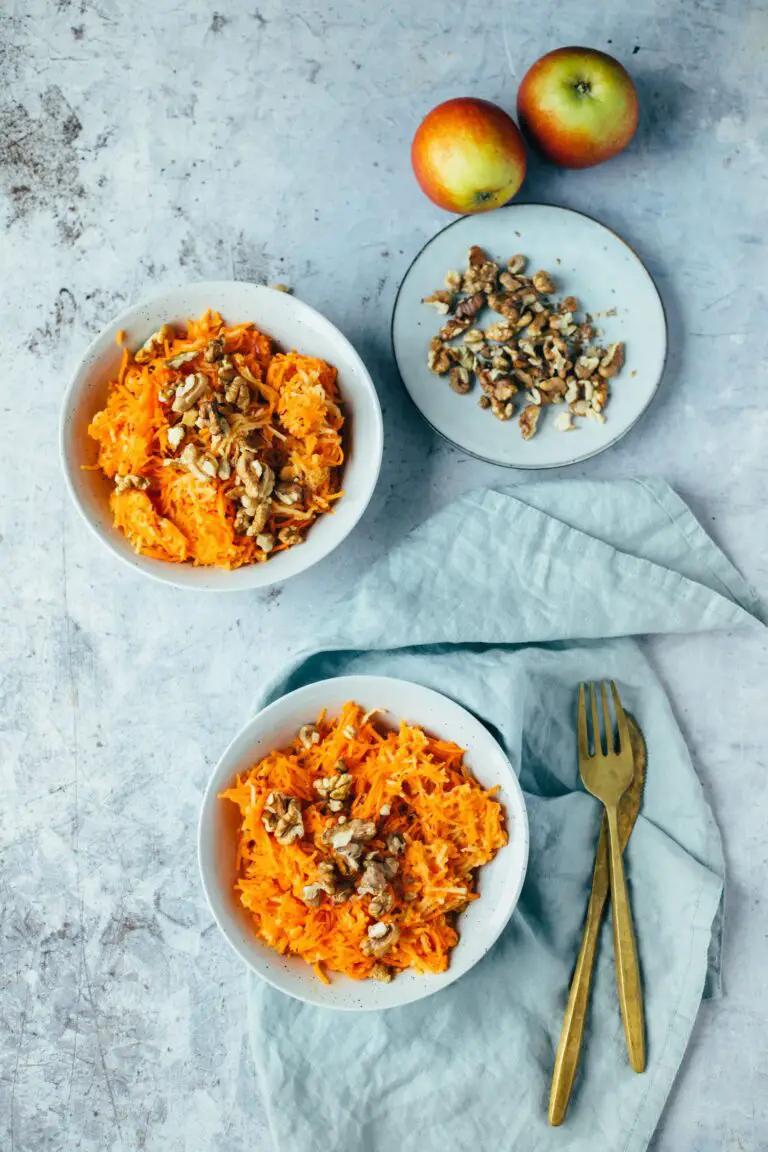 The recipe smiled at me because it reminds me back to my childhood and the great raw vegetable salads my mom made. Beautifully arranged, easy to put in. Back then, everything was made with cream, and we now have good alternatives. I use soy cream in my dressing today, but you can use any vegetable Cream use. Maybe you feel like making your own Cashew cream own?
Apple Carrot Lover Salad
Let's look again at the details, carrots, Apples , grated small with a grater or as in my case with a food processor. Add a nice dressing of apple cider vinegar, olive oil, maple syrup, salt, vegetable cream and a good pinch of fresh pepper. The whole thing is topped with roasted walnuts, which I roast in a pan, completely without oil.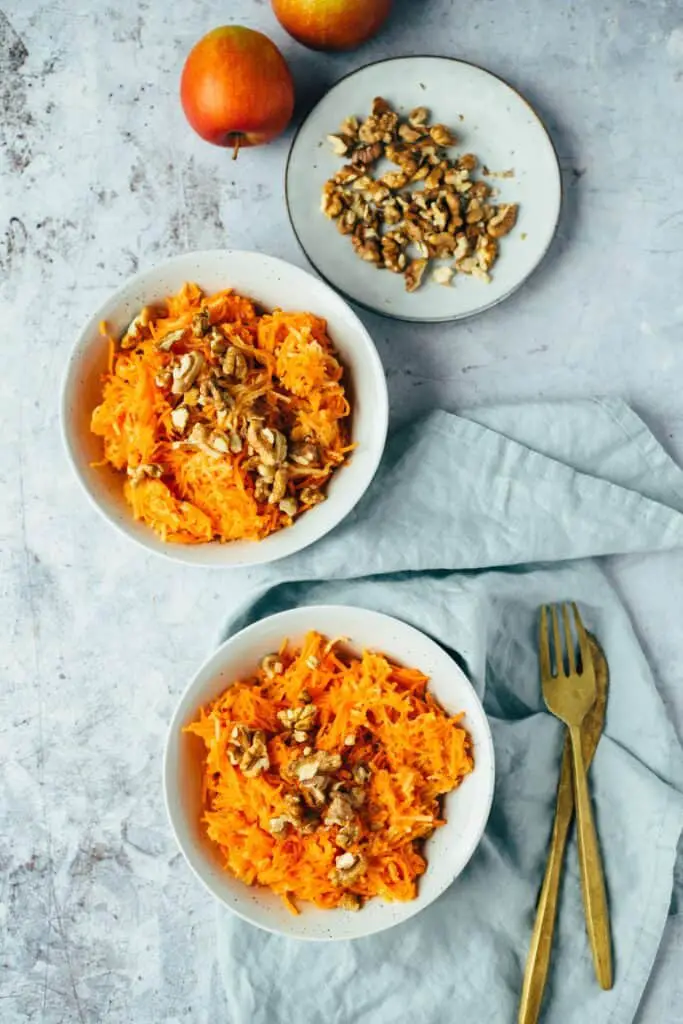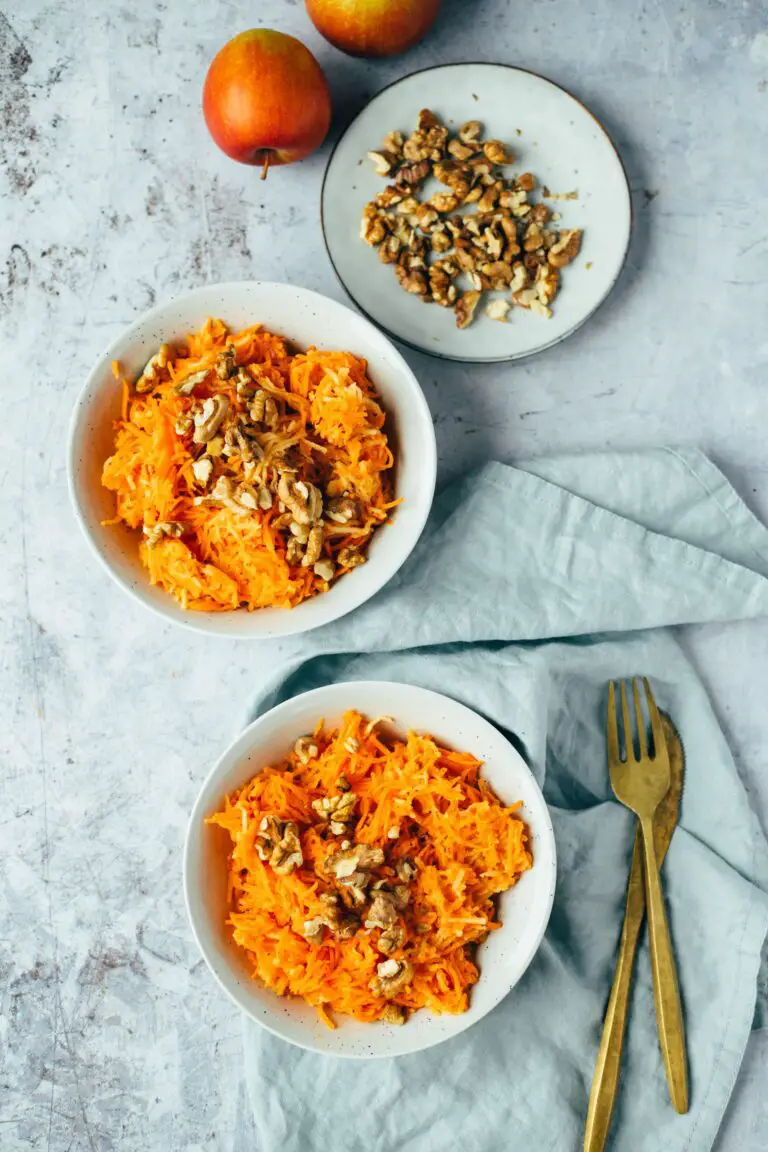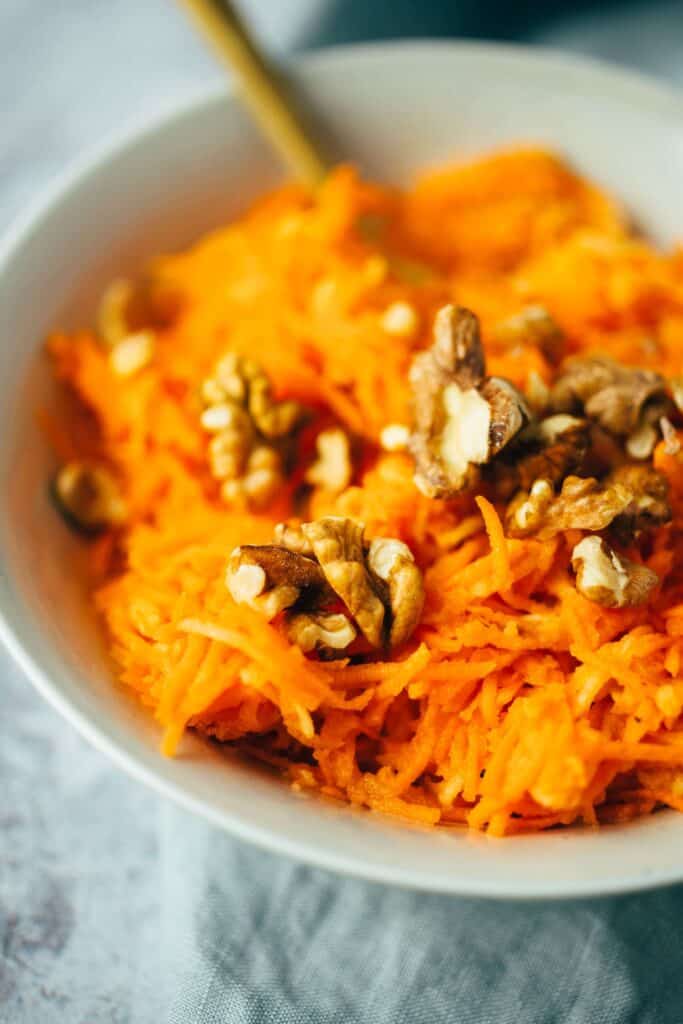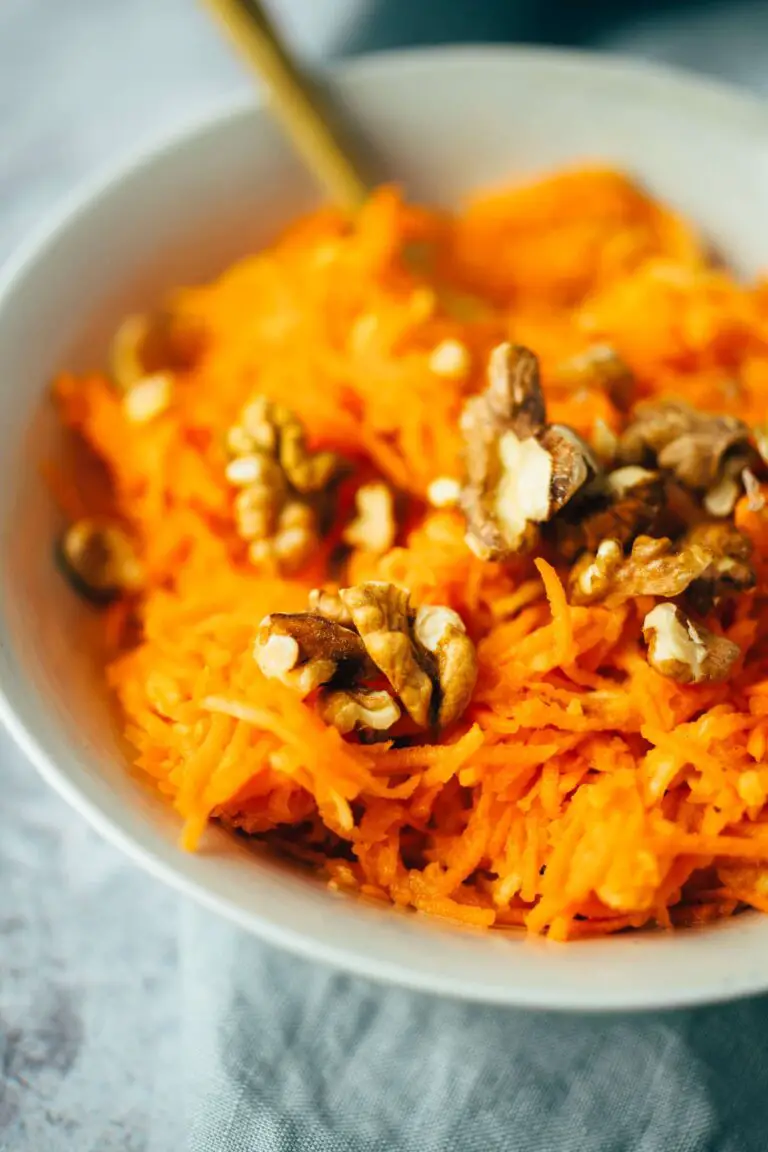 How healthy are actually walnuts?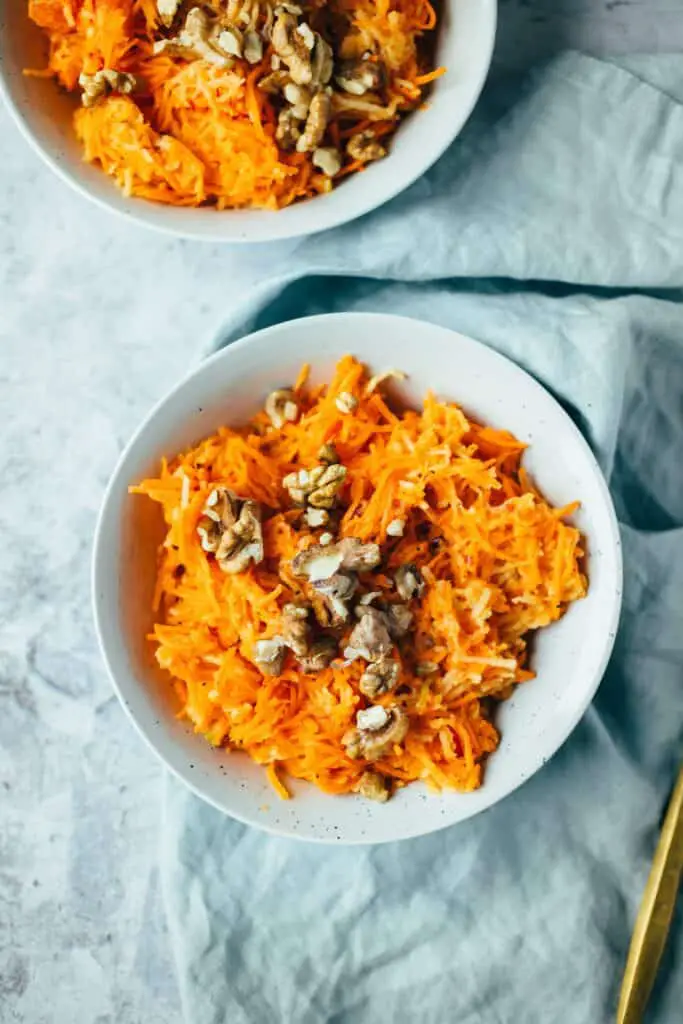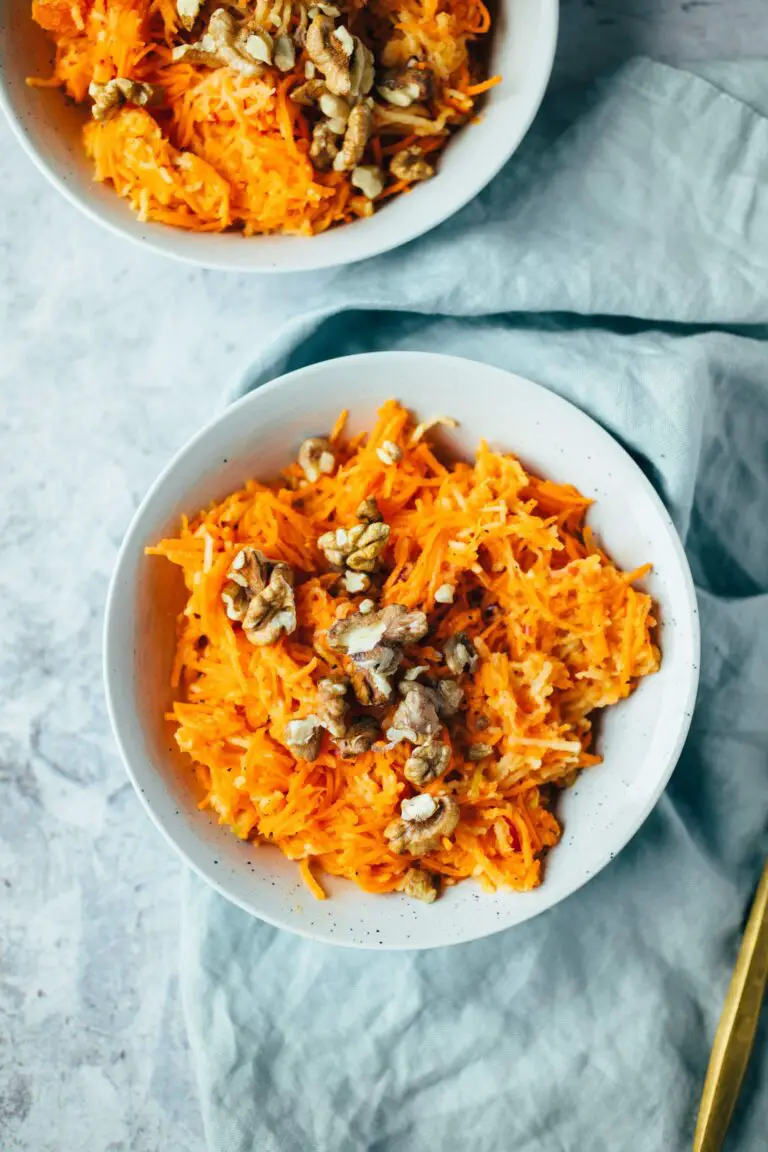 I would once claim very healthy, but since I am not an expert, I looked around on the portal of Dr. Greger. Dr. Michael Greger is a physician who specializes in evaluating and summarizing countless studies. Here are a few interesting facts from his website about walnuts:
The NOT eating walnuts can increase heart attack risk by up to 50% compared to eating one serving per week. why? Because the nuts contain substances that provide healthy arterial function
Walnuts contain healthy polyunsaturated fatty acids
contain Beta-Sistosterol (a plant sterol ester that can lower cholesterol levels).
Pedunculagin (a polyphenol also found in pomegranate).
Tocopherols (forms of vitamin E), the combination of these three ingredients is said to give walnuts their health-promoting properties.
Ideal to this Salad are homemade spelt bread , Wholemeal bread roll or a main course such as my potato gratin (Dauphinoise).
Creamy apple and carrot salad:
hearty
Creamy
aromatic
sweet and sour
raw food
Well, did you get a craving for this delicious, vegan salad ? I wish you a lot of fun in recooking and of course a review at the bottom of this page. If you post a picture, use the hashtag #veganevibes.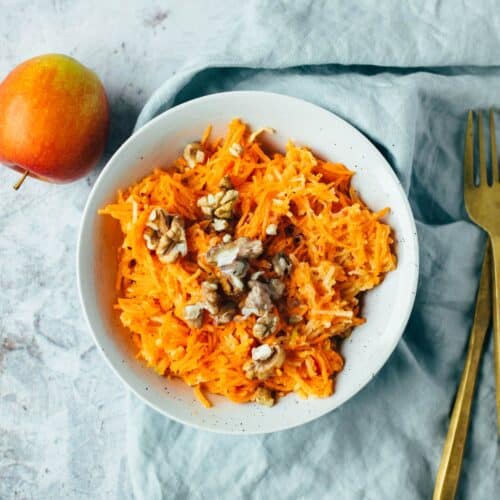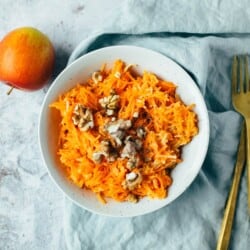 Creamy apple and carrot salad
Creamy apple-carrot salad for every day prepared in just 10 minutes, enhanced with a delicious vegetable cream and toasted walnuts.
AUTOR: VEGANEVIBES
FOR THE SALAD:
360

g

Apples

washed, core removed

430

g

Carrots

peeled and finely grated, equivalent to x large carrots

50

g

Walnuts
SUPPLIES:
Anleitung 
Finely grate apples and carrots using a grater or food processor. Set aside.

360 g Apples,

430 g Carrots

FOR THE DRESSING Whisk olive oil, apple cider vinegar, maple syrup, vegetable cream salt and pepper in a small bowl or add directly to the bowl with the shredded carrots and apples. Mix well until everything is combined.

15 ml Olive oil,

30 ml Apple cider vinegar,

15 ml maple syrup,

30 ml Vegetable cream,

Salt to taste,

Pepper to taste

Heat a pan and add the walnuts. Roast gently until a light fragrance appears.

TIP: It is better to work with less heat first, as the nuts burn easily and this tastes inedibly bitter.

TIP: Ideally, leave the finished salad (without walnuts) in the refrigerator for a few hours.

To serve, divide into bowls and decorate with the toasted walnuts. Enjoy!

Store remaining salad (without nuts) in an airtight container in the refrigerator for up to three days.
Nährwertangaben
Serving:
1
Portion
Calories:
228
kcal
Carbohydrates:
28
g
Protein:
3
g
Fat:
13
g
Saturated Fat:
1
g
Sodium:
82
mg
Potassium:
510
mg
Fiber:
6
g
Sugar:
18
g
Vitamin A:
18008
IU
Vitamin C:
10
mg
Calcium:
57
mg
Iron:
1
mg