Indian Potato Stir Fry? Something hot from the pan in this weather? Yes absolutely I would say. Especially in hot temperatures I like to eat very warm or lukewarm and preferably really great spiced. Of course, I don't mind if it goes fast either, and it does with this dish. Put the pan on, add the ingredients, put the lid on and let it simmer. Just today at noon I treated myself to a serving and I think I'll eat a piece of my new chocolate tart recipe later, too. Somebody has to eat all that, right? I definitely hope that with this recipe I can give you a great new inspiration for a quick, easy and incredibly delicious dish.
Indian Potato Stir Fry "Lasooni Aloo Palak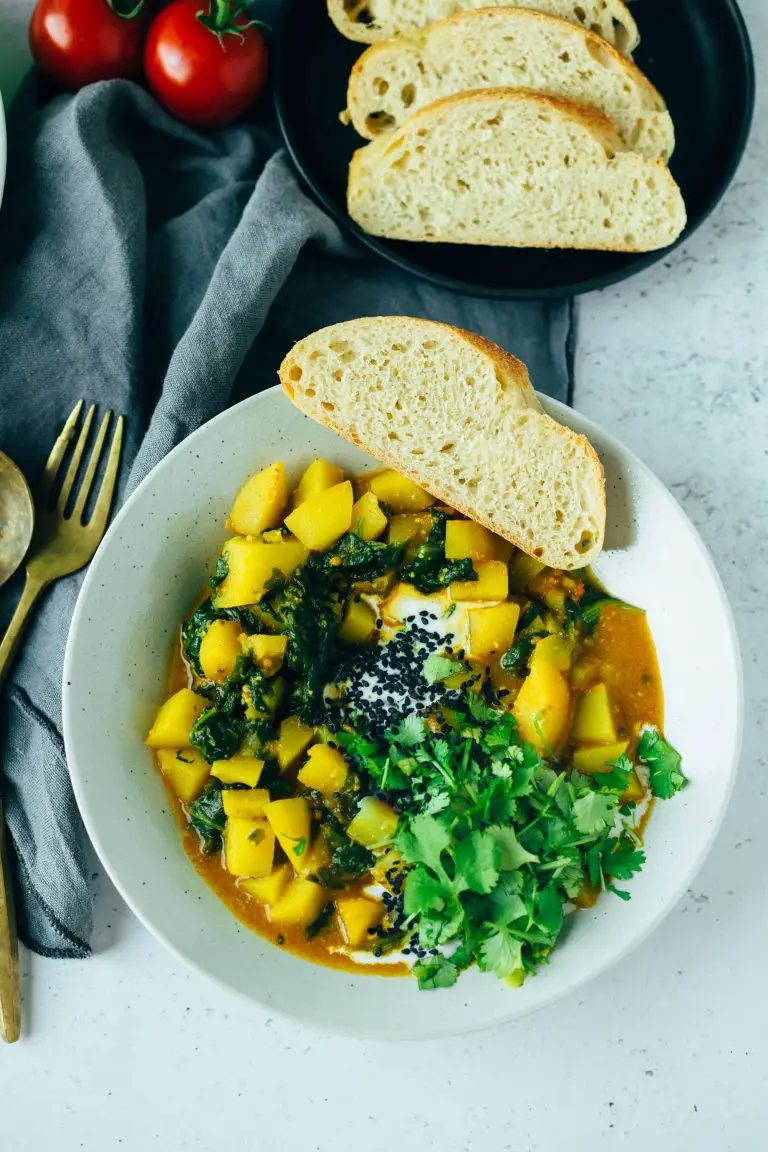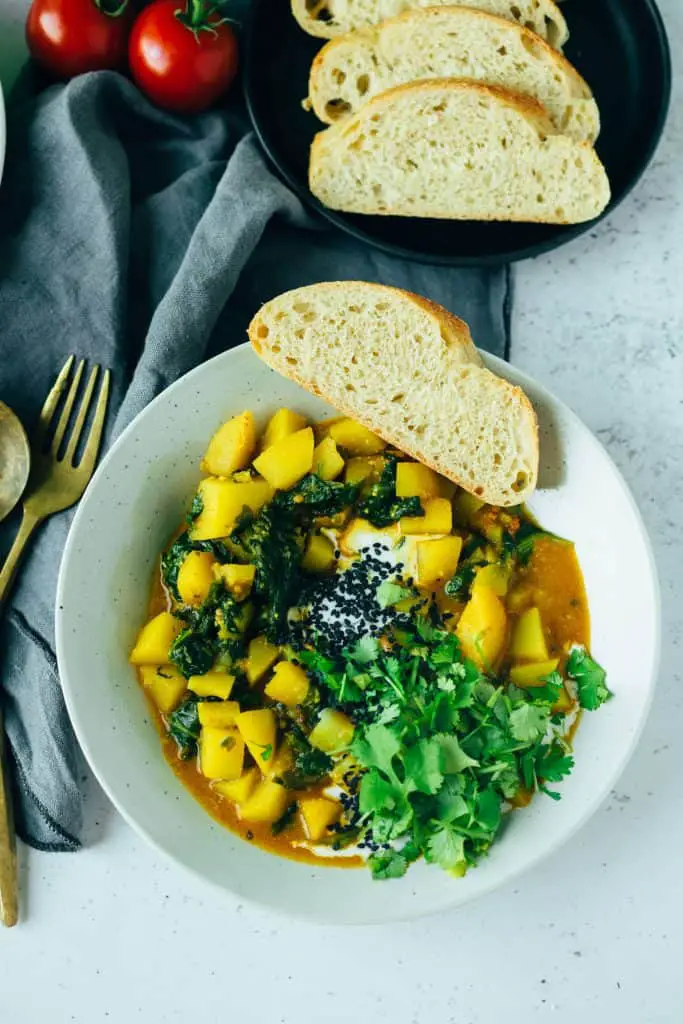 Fast, faster fastest, that's what this dish is. Heat the oil in the pan and heat the spices in it. Fat is supposed to be a flavor carrier, as we all know, so I always use a little bit of it to really bring the spices to life. Mustard seeds, turmeric, paprika, cumin, garlic granules or fresh garlic and mix once really nice in the hot oil. Add to this potatoes, peeled and cut into small pieces.
TIP: I use waxy, or predominantly waxy potatoes in this dish. These varieties still have a great bite even after cooking time and don't get mushy as quickly. I also pay attention to organic quality with potatoes, as with all other foods. Meanwhile, you can get them almost in every (even conventional) discount store.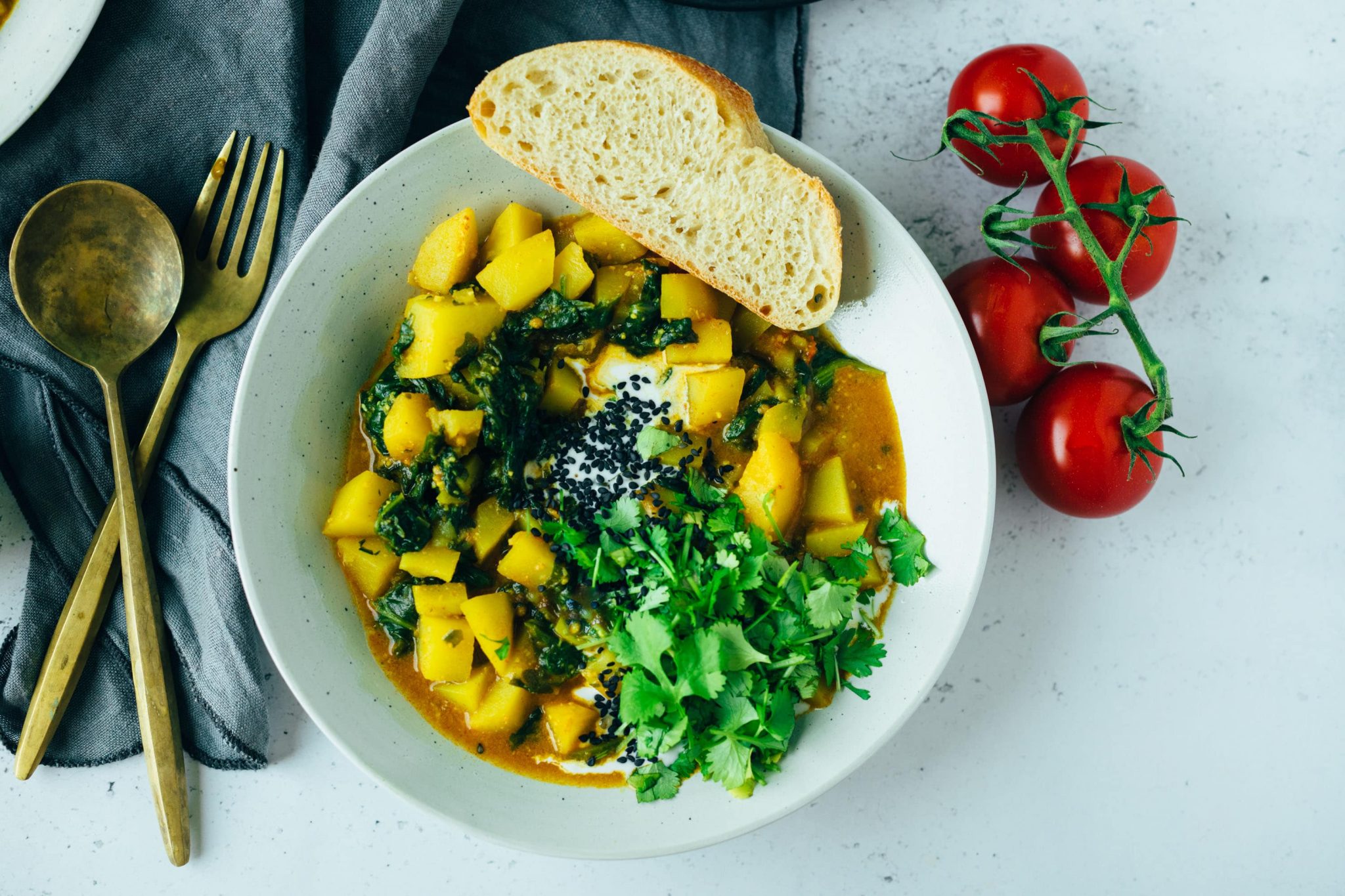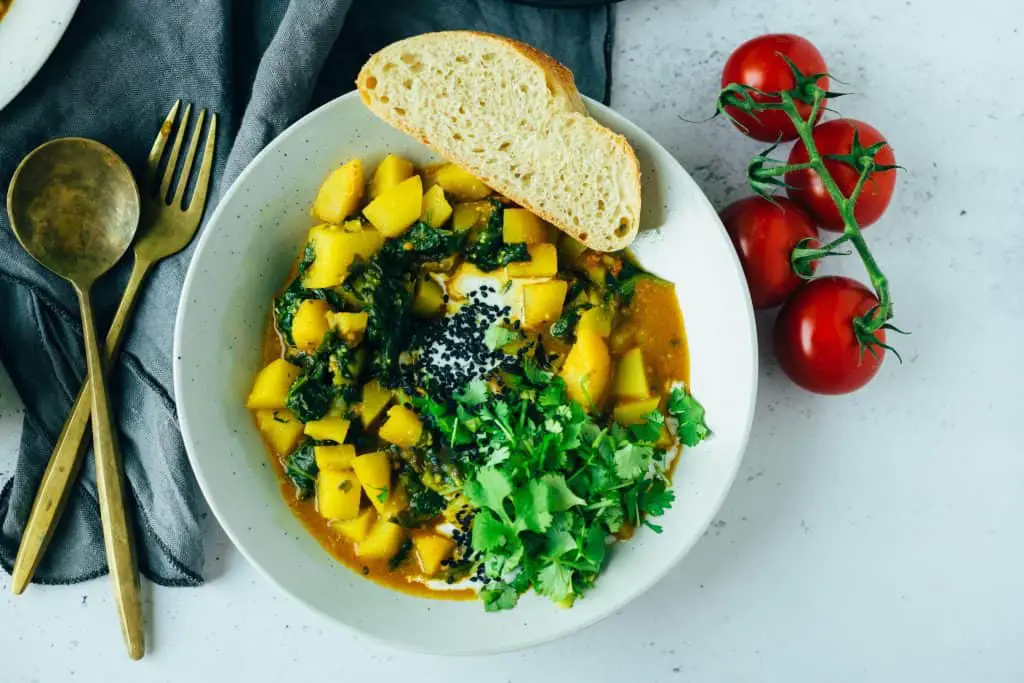 Add to this diced tomatoes and spinach. For spinach , you can use fresh or frozen. I use frozen spinach leaves in this recipe and add them right at the beginning. If you use fresh spinach, add it at the end of the cooking time. All that's missing is a hefty pinch of salt and water. Put the lid on and cook for 15.
TIP: Eine fine touch you also get if you replace part of the water with coconut milk.
Spinach keep oxalic acid low?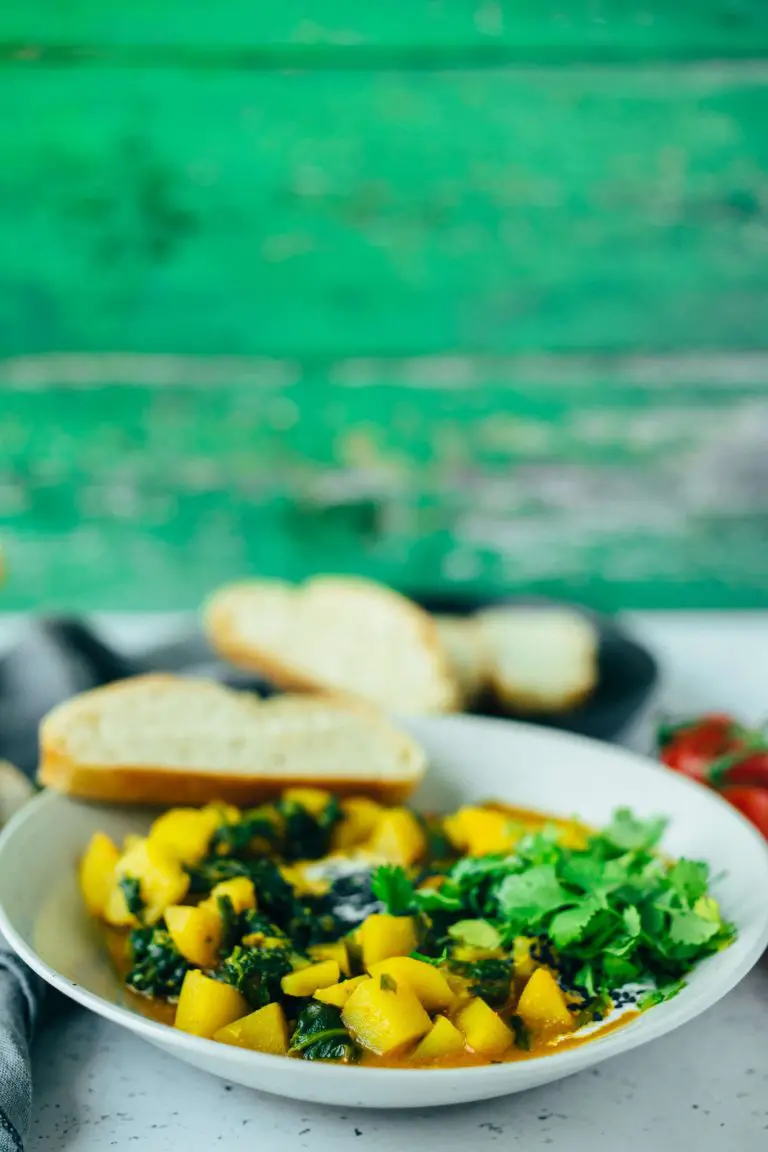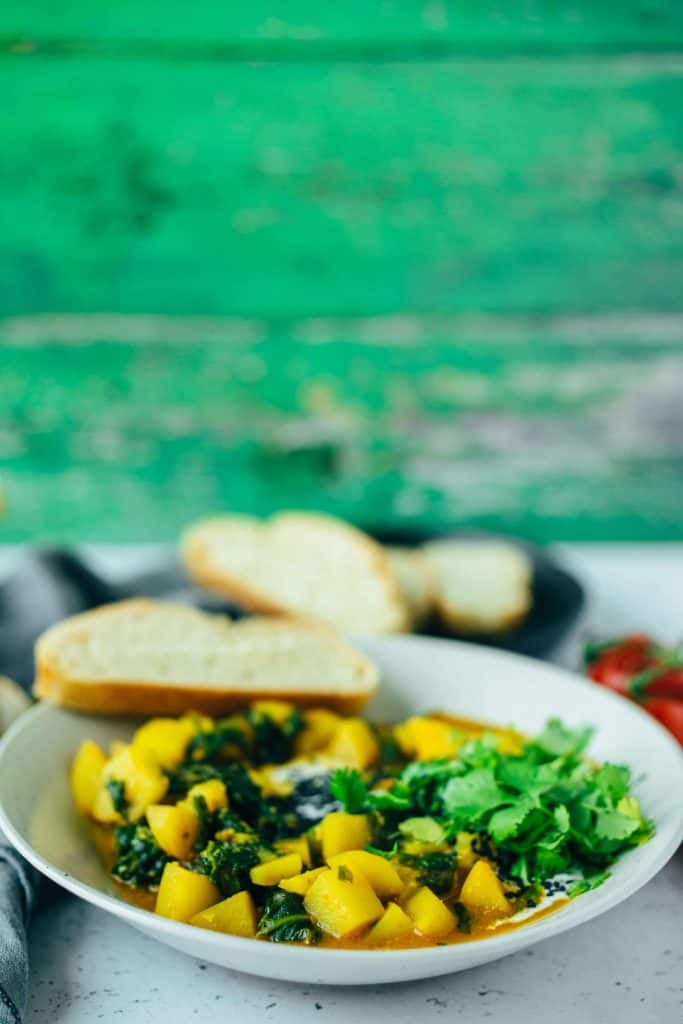 Let's talk about spinach for a minute. On the net and in the social media you currently read a lot about spinach and oxalic acid. A very famous celebrity has even given up his vegan lifestyle because he got kidney stones. Afterwards, it came out that he really did put large amounts of spinach in his smoothie every day. Importantly, the acid can only become a problem if you consume really large amounts of it or have a genetic predisposition to forming kidney stones. So how can you reduce the likelihood of ingesting too much oxalic acid?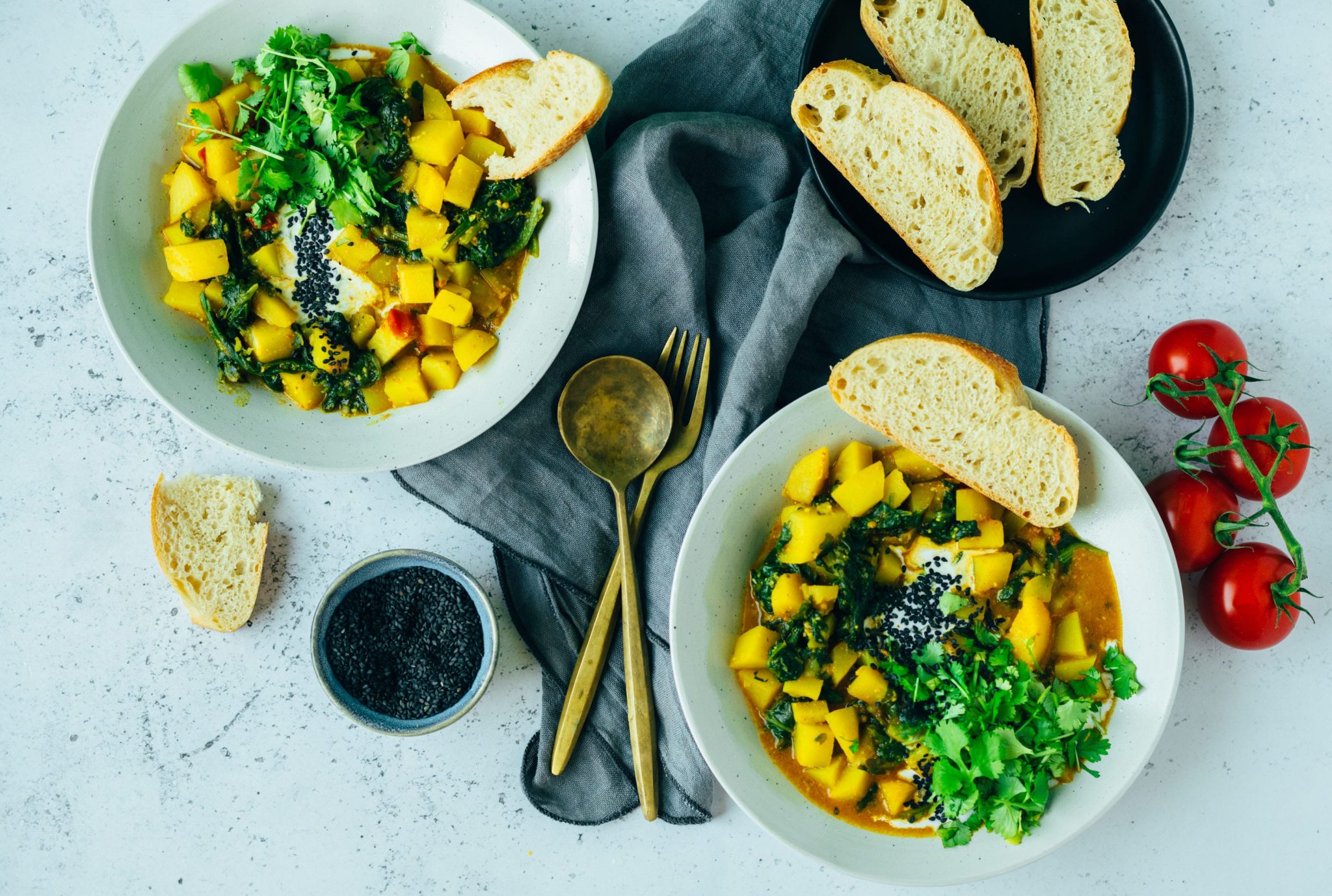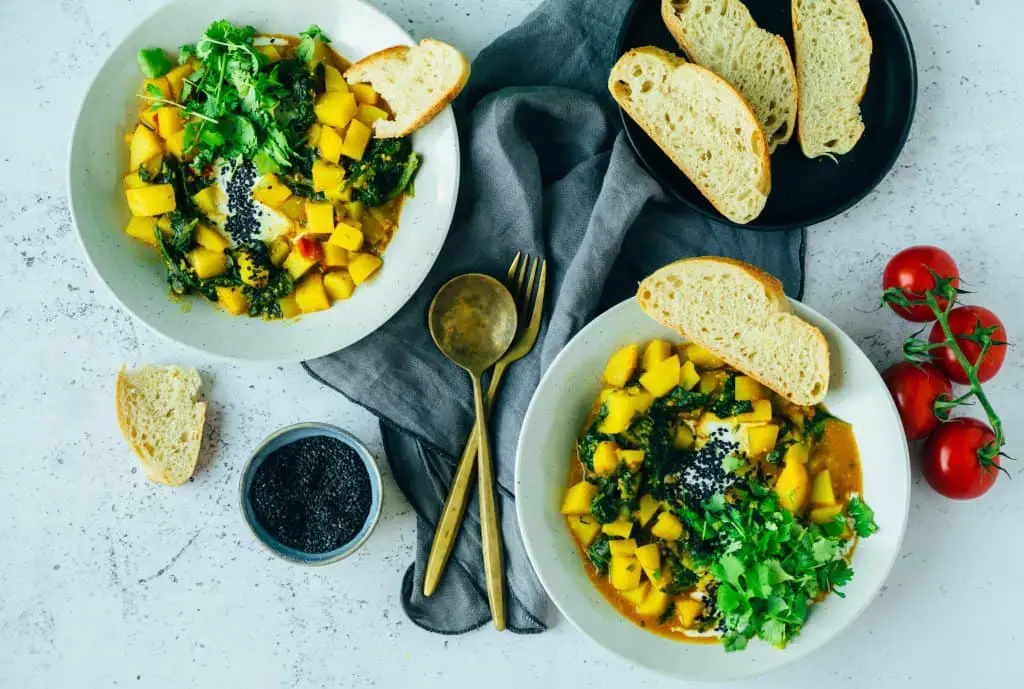 The key to success is variety. If you really do eat spinach every day, try using kale, lamb's lettuce or other green leafy vegetables. Sprouting or fermentation also reduces the oxalic acid content.
Generally speaking, spinach is very healthy and consists of 91 percent water. Besides, in the green leafy vegetables you can find vitamin A, vitamin C, vitamin K1, iron, calcium and folic acid. The latter is especially important for women who want to become pregnant, are pregnant and also breastfeeding.
What goes with this Indian spiced stir fry? Especially delicious with this stew is freshly baked naan, baguette or rice.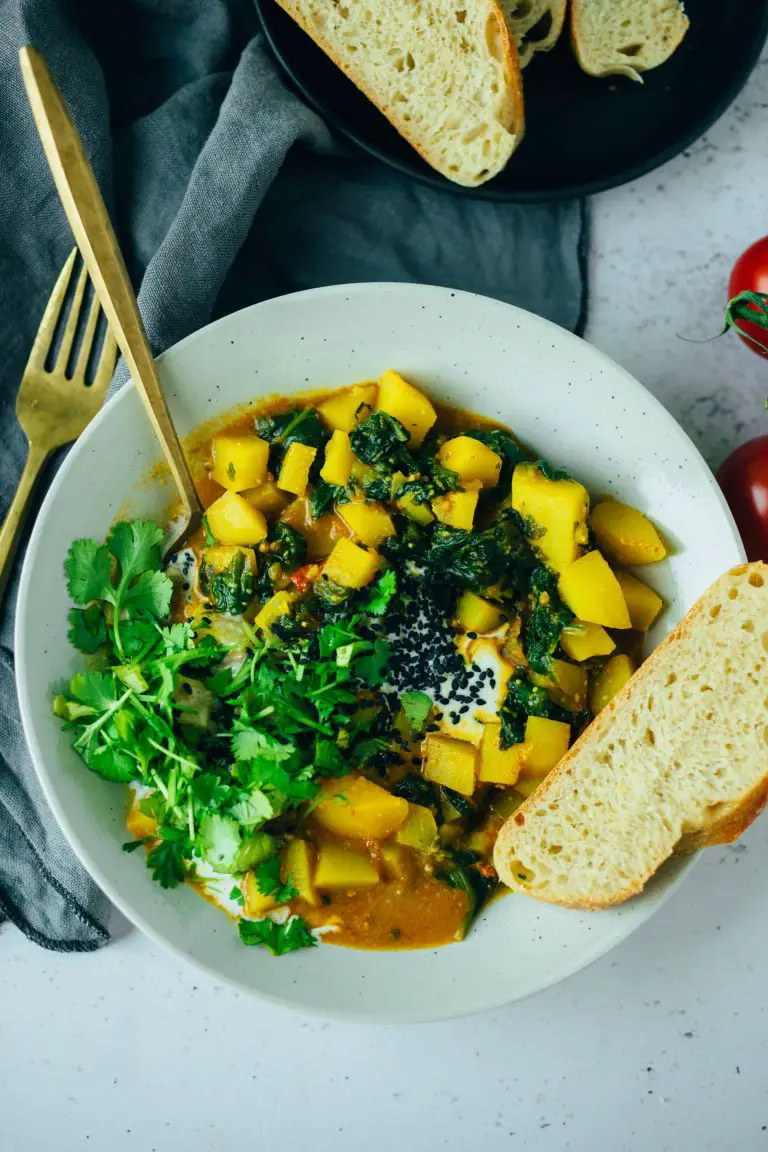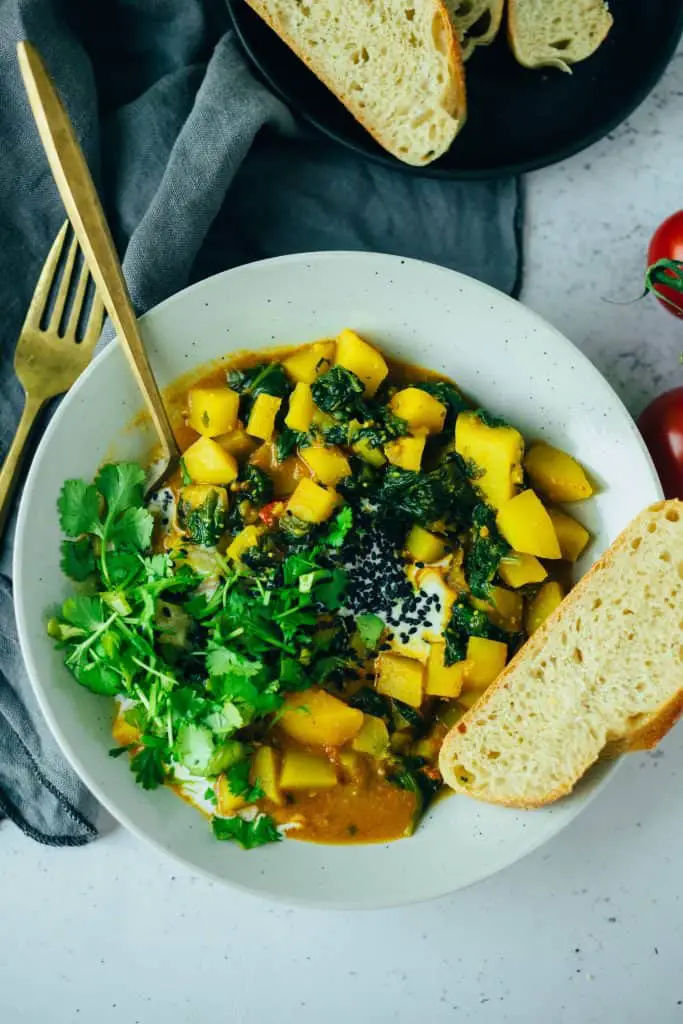 Indian Potato Stir Fry (25 minutes)
Indian spiced
aromatic
Rich in fiber and protein
filling
Easy to make
Are you ready for this quick stir fry? I wish you a lot of fun in recooking and of course a review at the bottom of this page. If you post a picture, use the hashtag #veganevibes.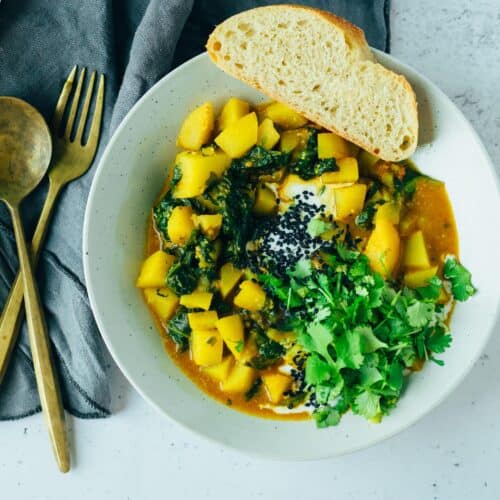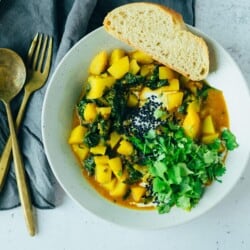 Indian Potato Stir Fry (25 minutes)
Delicious, quick and vegan Stir Fry with fine Indian spices. A skillet dish with potatoes, tomatoes and spinach. Perfect as a quick, healthy lunch or dinner.
AUTOR: VEGANEVIBES
15

ml

Frying oil or other high heat oil

if oil free use vegetable broth

½

tbspn

Mustard seed

alternatively use 1 tsp hot mustard

½

tbspn

Turmeric

1

tbspn

Paprika

1

tbspn

Cumin

2

tbspn

Garlic granules or alternatively 2 cloves of garlic

peeled and finely chopped

500

g

Potatoes

firm or mainly firm boiled, peeled and cut into small cubes

1

medium tomato

Stalk removed, cut into cubes

150

g

frozen leaf spinach

250

ml

Water

more as needed

125

ml

Coconut milk

optional

1

tbspn

Salt
TO SERVE:
Fresh coriander leaf

Vegan cream

Rice

Baguette at will
Anleitung 
Heat large pan with the frying oil on the stove. Add mustard seeds, turmeric, paprika, cumin and garlic granules to the pan and heat while stirring.

15 ml Frying oil or other high heat oil,

½ tbspn Mustard seed,

½ tbspn Turmeric,

1 tbspn Paprika,

1 tbspn Cumin,

2 tbspn Garlic granules or alternatively 2 cloves of garlic

Add potato cubes, tomatoes and spinach leaves and mix well once.

500 g Potatoes,

1 medium tomato,

150 g frozen leaf spinach

Add water, (optional) coconut milk and salt. Stir again and place lid on pan.

250 ml Water,

125 ml Coconut milk,

1 tbspn Salt

Cook for 15 minutes. After 10 minutes, briefly check if there is still enough water in the pan. If necessary, add water.

Optionally refine with coconut milk.

Season to taste, divide into plates and finish with cilantro leaf, black sesame seeds and vegan cream to taste.

Fresh coriander leaf,

Black sesame,

Vegan cream

enjoy! Best fresh, keeps 2-3 days covered in the refrigerator.
Nährwertangaben
Serving:
1
Portion
Calories:
239
kcal
Carbohydrates:
10
g
Protein:
5
g
Fat:
22
g
Saturated Fat:
18
g
Sodium:
270
mg
Potassium:
579
mg
Fiber:
3
g
Sugar:
2
g
Vitamin A:
9553
IU
Vitamin C:
13
mg
Calcium:
114
mg
Iron:
4
mg