Spinach crepes with Asparagus and Mozzarella . Who has already had enough of Asparagus ? I definitely haven't yet and I'm looking forward to the next delivery of the Ökokiste. Asparagus season is really one of the most beautiful times of all for me. I love the vegetables in all variations and today I came up with something completely different. Why not try a green crepe? I actually like the French classics best with sweet fillings like. Bananas , nut puree, Nutella or Cream . I was all the more taken with this version, with delicious green asparagus and "melted" mozzarella. In times of Corona, cooking food and feasting is my daily highlight. I hope I can inspire you with this Recipe a little inspiration.
Spinach crêpes with asparagus and mozzarella cheese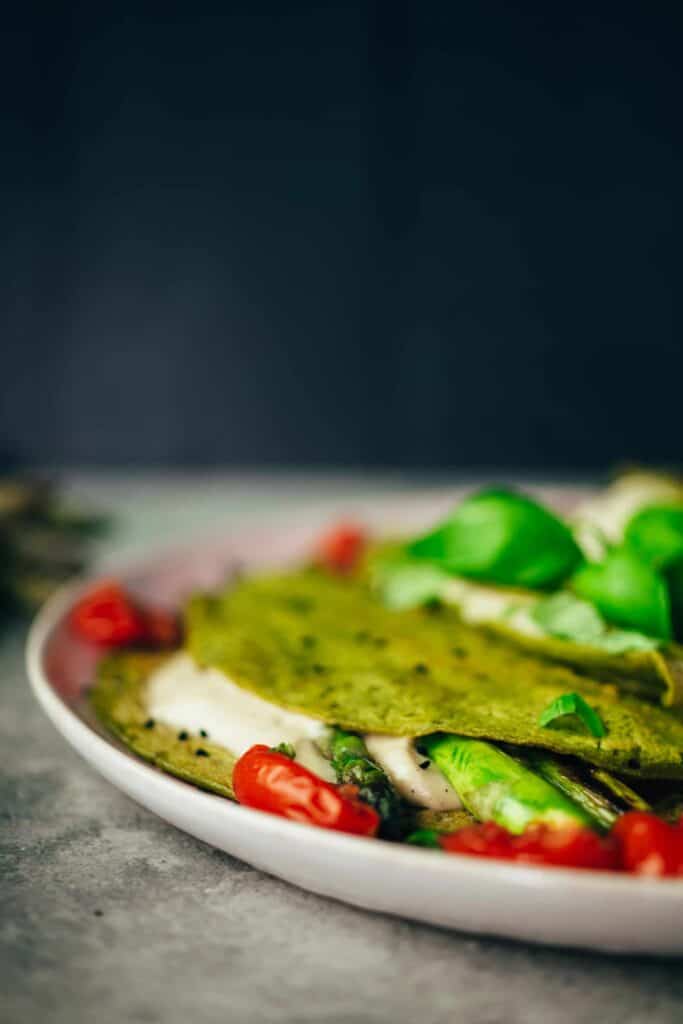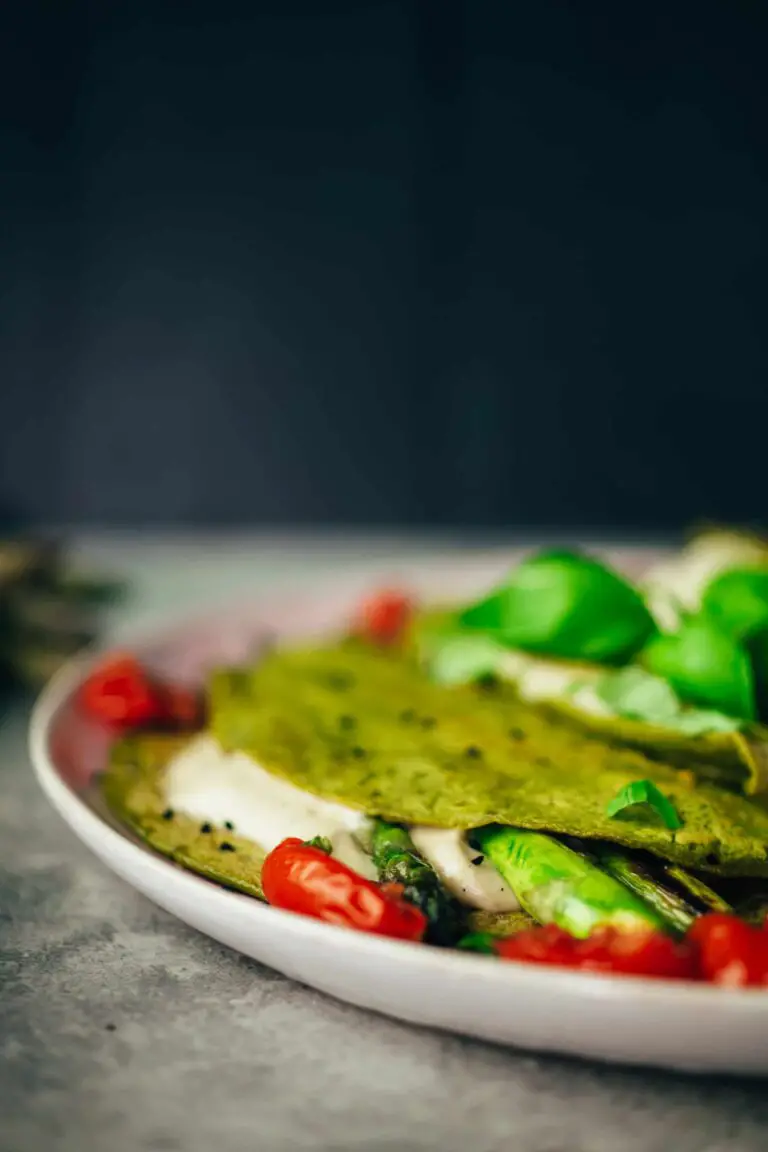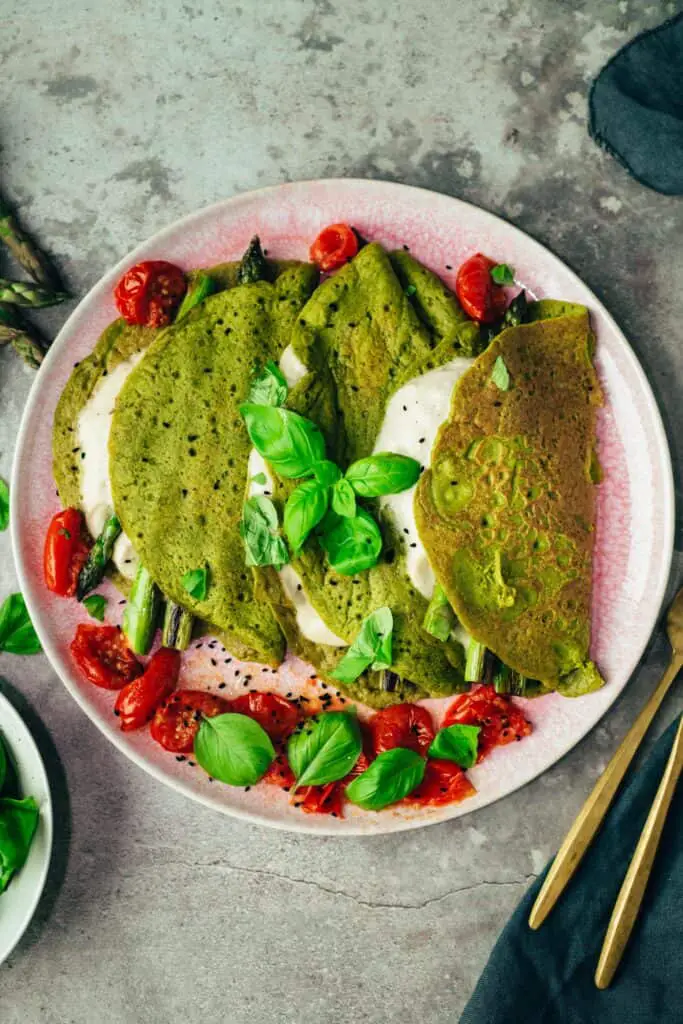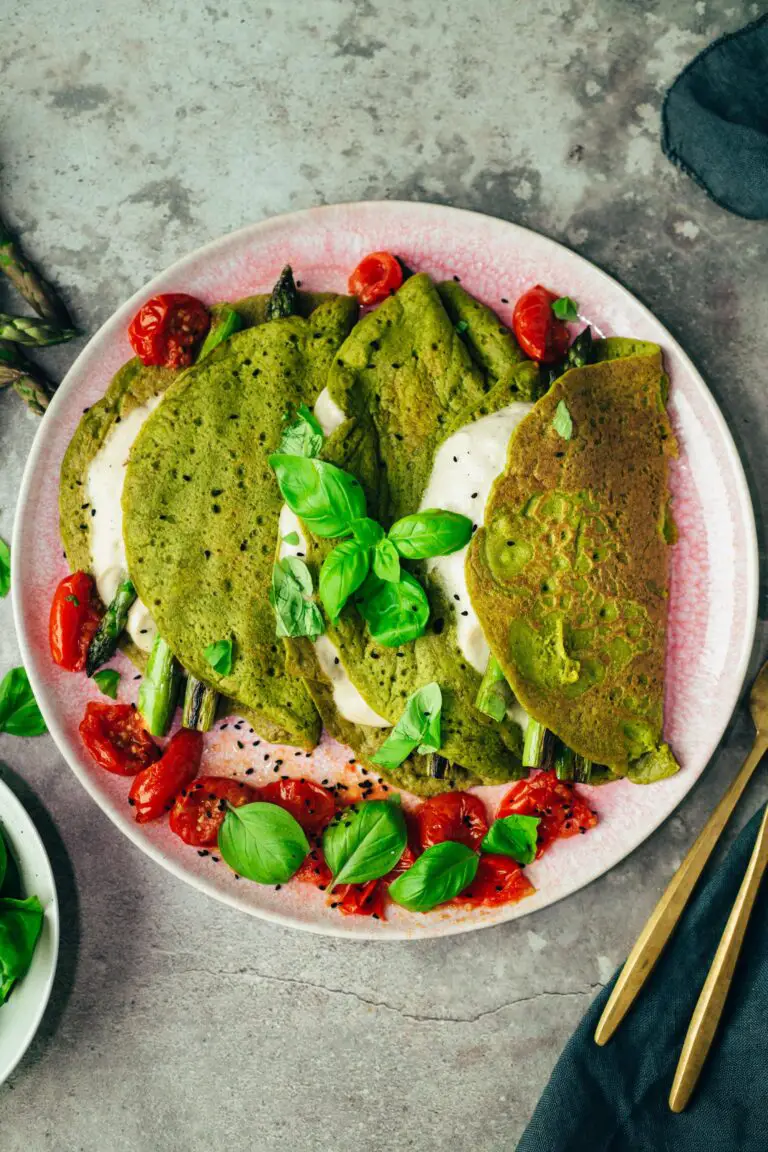 How does a crêpe actually differ from Pancake ? Pancakes are baked a little thicker, while crêpes are very thin. There is also a specially heated circular plate for baking for this purpose, which one or the other enthusiast certainly has at home. To spread the dough, use a so-called dough rake, which makes the crêpe dough extra thin. Honestly, I don't have these special utensils in my kitchen and just use my coated pan.
The ingredients for this fine spinach crepe are very manageable and the preparation could not be easier. Vegetable milk , fresh spinach, basil, gluten-free flour mix, locust bean gum, lemon juice, salt and pepper. This all goes into a high-powered blender and is blended into a liquid paste. Off into the pan with it and fill delicious with vegan mozzarella and fried Asparagus . In terms of taste and, above all, color, cherry tomatoes fried in the pan go well with it.
The Mozzarella in this recipe is a slight variation on my original recipe, here on my blog . why? Because the original recipe is designed for a relatively solid, vegan mozzarella. My version here in this recipe is a little more liquid and more reminiscent of a "melted", creamy version.
What is actually carob bean gum?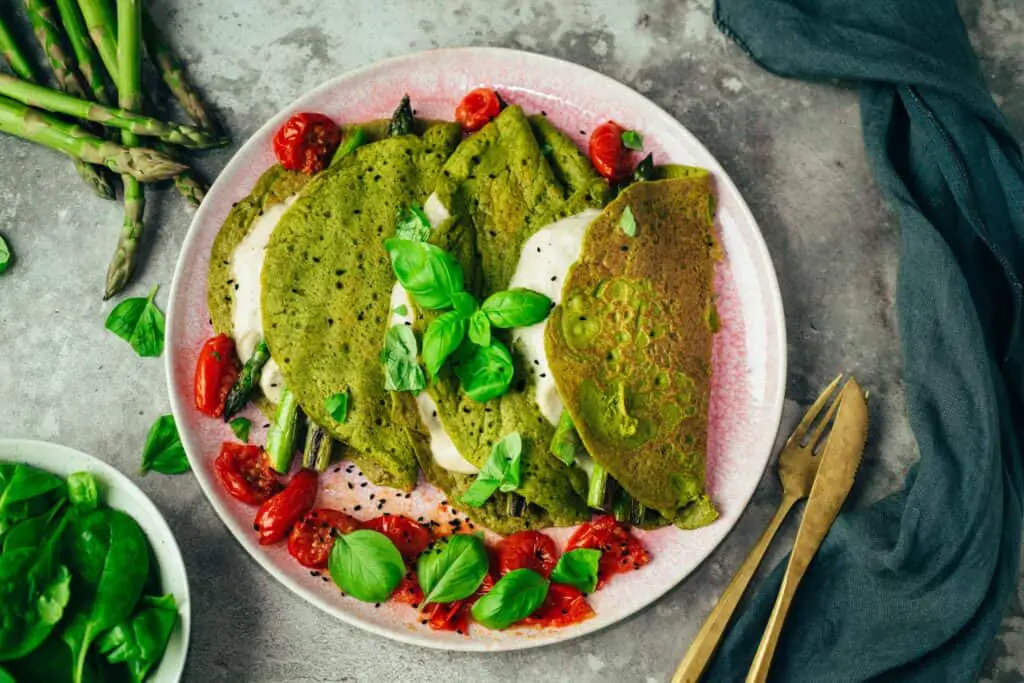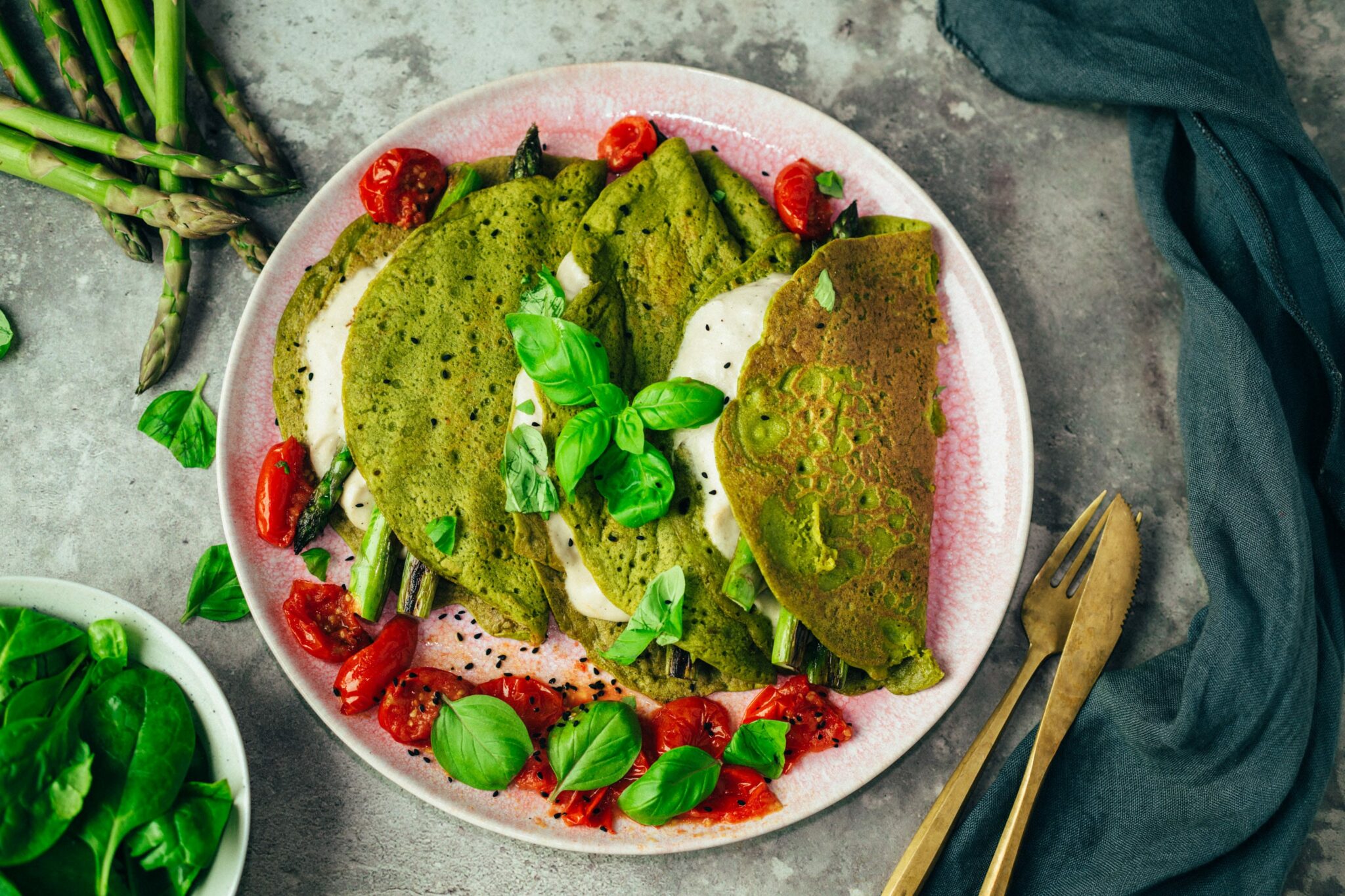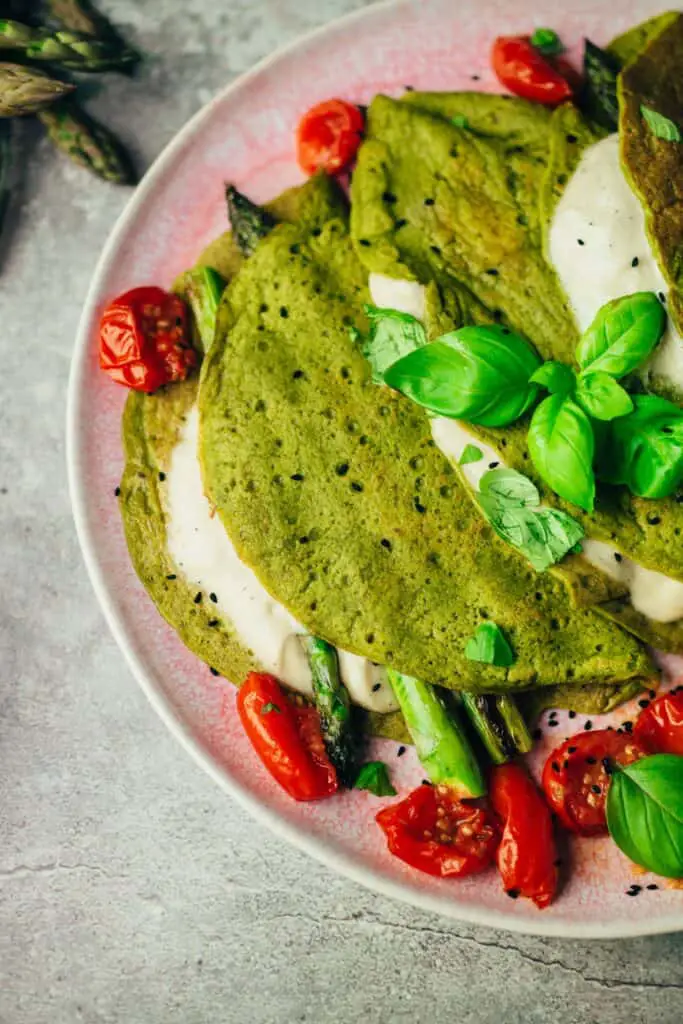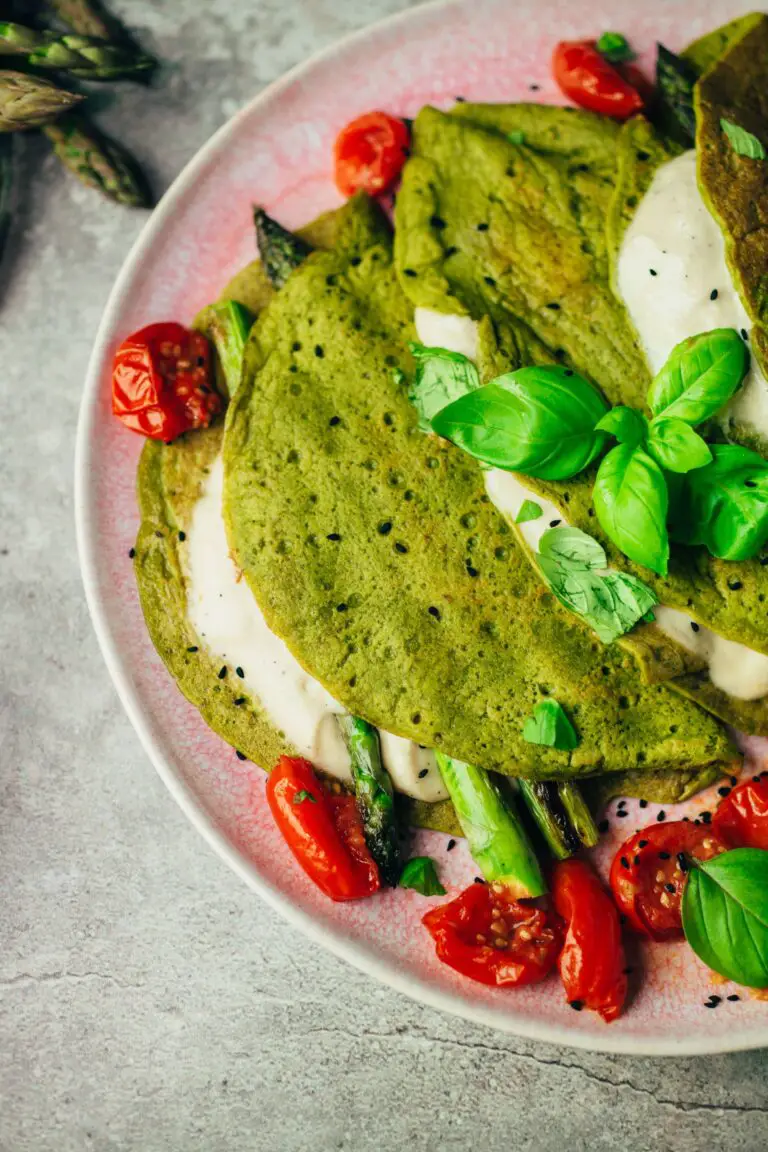 In this Recipe I once again use locust bean gum. When making gluten-free doughs, these are a real magic ingredient. Gluten-free flours Are free of gluten protein (gluten) and therefore not so easy to process. Accordingly, they are baked goods, Cakes and Breads often very crumbly and unstable. Locust bean gum is perfect for this problem. It helps the batter to bind better and also makes these crêpes stable in the pan.

Here are a few more interesting facts about locust bean gum:
Is obtained from the fruit of the carob seed tree
Tastes slightly sweet and has a great resemblance to cocoa
Rich in fiber and calcium
Low fat
Versatile binder, especially for vegan baked goods
So, I think we have put enough theory behind us. I would suggest we start with this great, green gourmet recipe. If you don't feel like a crepe today, I recommend my creamy pasta with green asparagus and mushrooms , Quiche with green asparagus or Pizza with ricotta and green asparagus.
The spinach crepes with green asparagus are:
aromatic
creamy
spring green
filling
Easy to manufacture
Let's get started with this delicious crepe. I wish you a lot of fun with the re-cooking and am happy about a review at the bottom of this page. If you post a picture, use the hashtag #veganevibes.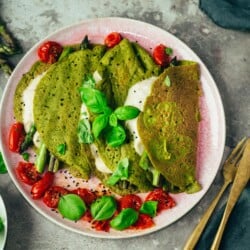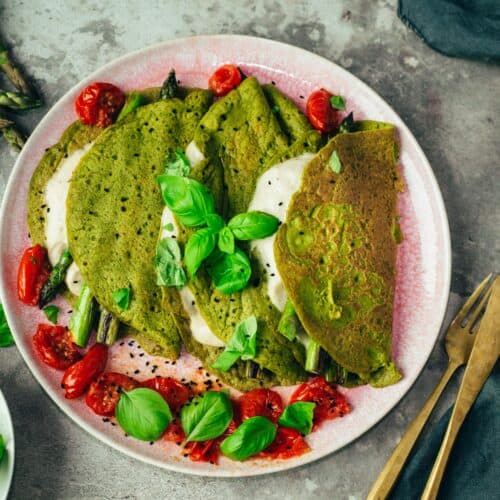 Spinach crêpes with mozzarella and green asparagus (gluten-free)
Delicious spinach crêpes with a fine filling of "melted" mozzarella and roasted green asparagus. Perfect as a springtime lunch or dinner.
AUTOR: VEGANEVIBES
FOR THE CREPE BATTER:
360

ml

Plant milk

I use oat milk

160

g

Spinach

2 cups, washed, I use baby spinach

80

g

Basil leaves

1 cup

180

g

gluten free flour mix

1 ½ cups, for a gluten version simply use wheat or spelt flour (without carob bean gum).

1

tbspn

Locust bean gum

optional, but provides a much better binding in the dough

30

ml

Lemon juice

1

tbspn

Salt

Frying oil for baking out to taste
FOR THE "MELTED" MOZZARELLA:
FOR THE ASPARAGUS:
300

g

green asparagus

washed, woody ends removed

1-2

tbspn

Frying oil for baking out
TO SERVE:
100

g

Cherry tomatoes

halved and fried in a little oil

Fresh basil to taste
Anleitung 
80 g Cashews,

250 ml Plant milk,

4 tbspn Tapioca starch,

2 tbspn Nutritional yeast flakes,

1 tbspn white miso,

1 tbspn Lemon juice,

1 fresh garlic clove,

optionally some freshly zested lemon peel

Pour into a small saucepan and heat over medium heat until the liquid begins to thicken. Stir again and again with a silicone spatula. In the beginning, lumps are formed, which dissolve with time. Once the liquid has thickened and looks like a "melted mozzarella," remove heat and set aside.

Heat a pan with a little oil and fry THE GREEN SPARGELS in it. The temperature can be a little higher (I use level 7 of 10 on my stove). After 2-3 minutes, turn over asparagus spears, after about 10 minutes the spears should be well browned and the heat can be removed. Set aside. In the same pan, fry cherry tomato halves.

300 g green asparagus,

1-2 tbspn Frying oil for baking out

FOR THE CREPE Dough, place all ingredients in a high-powered blender and blend on high speed until uniform. Set aside.

360 ml Plant milk,

160 g Spinach,

80 g Basil leaves,

180 g gluten free flour mix,

1 tbspn Locust bean gum,

30 ml Lemon juice,

1 tbspn Salt,

Pepper to taste,

Frying oil for baking out to taste

Heat large frying pan or crêpe plate with a little oil and pour about 1/6 of the batter into the pan for one serving. Using a pastry rake or tilting the pan, spread the batter evenly and thinly in the pan. Bake for 1-3 minutes per side, depending on the thickness of the dough, turning carefully.

Once both sides are baked through, spread one side with 1/6 of the mozzarella and top with 3-4 asparagus spears.

"Fold" crêpe closed with a spatula, press once and repeat until all 6 crêpes are done.

Garnish with cherry tomatoes, basil and black sesame seeds, serve and enjoy! Best fresh.

100 g Cherry tomatoes,

Fresh basil to taste,

Black sesame
Notizen
Time calculation without the preparation of mozzarella and green asparagus
Nährwertangaben
Serving:
1
Piece
Calories:
308
kcal
Carbohydrates:
46
g
Protein:
11
g
Fat:
10
g
Saturated Fat:
2
g
Sodium:
183
mg
Potassium:
582
mg
Fiber:
6
g
Sugar:
11
g
Vitamin A:
3875
IU
Vitamin C:
18
mg
Calcium:
233
mg
Iron:
5
mg