This recipe surprised myself. I myself am (was) a huge Mozzarella Fan and have after the conversion to vegan no longer eaten. Admittedly, I didn't really miss anything, but it was always quite nice. Especially on a sunny evening on a loungy balcony, I've enjoyed a plate of tomato mozzarella (or caprese) like this. Then recently I could no longer resist the temptation! The reason? An Instagram picture featuring an incredibly delicious looking Pizza Mozzarella , purely vegetable! I went searching, tasting and found the perfect recipe.
Make vegan mozzarella yourself? Surprisingly simple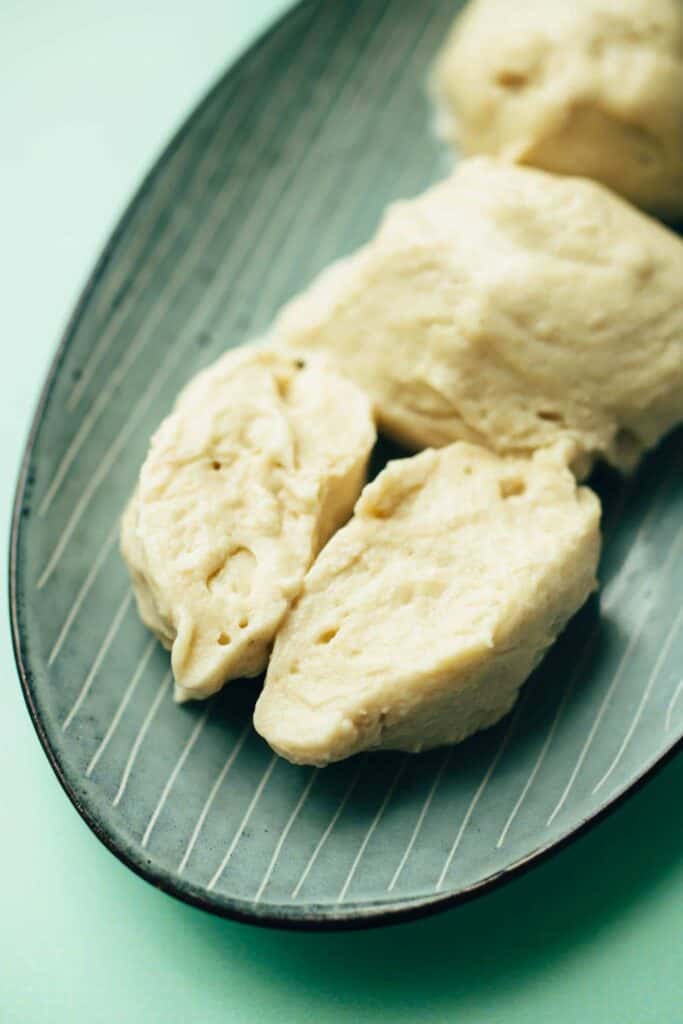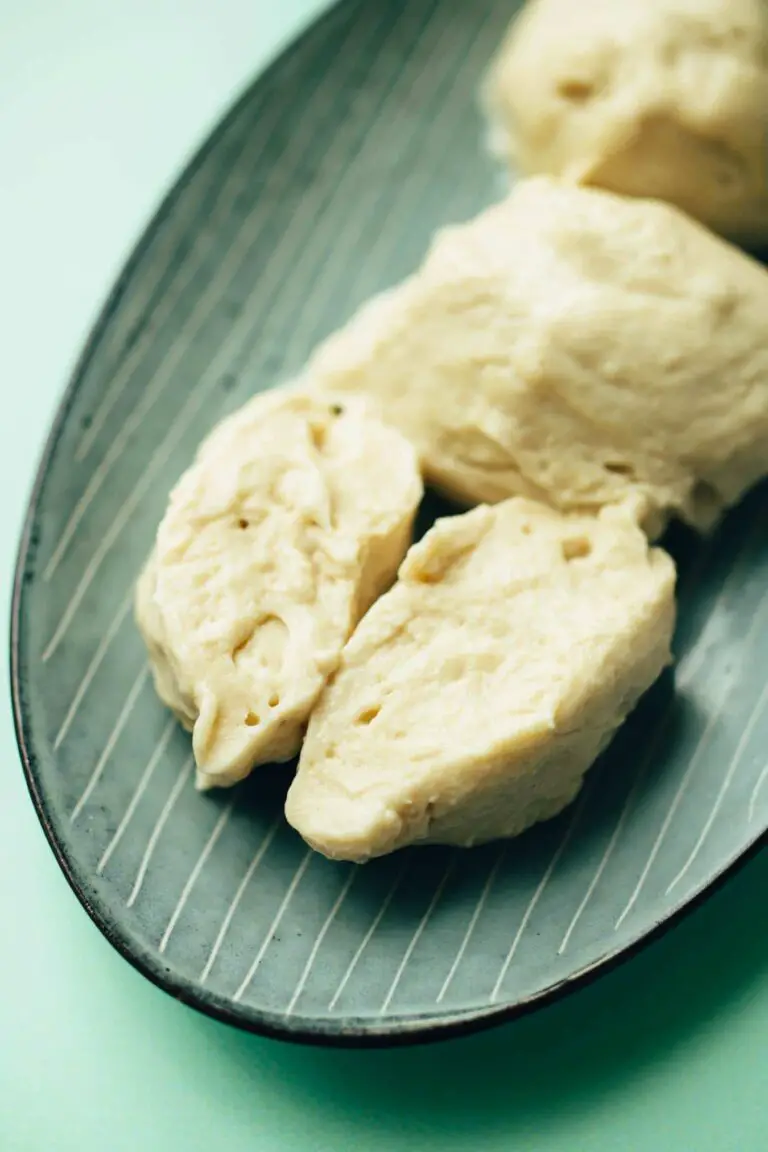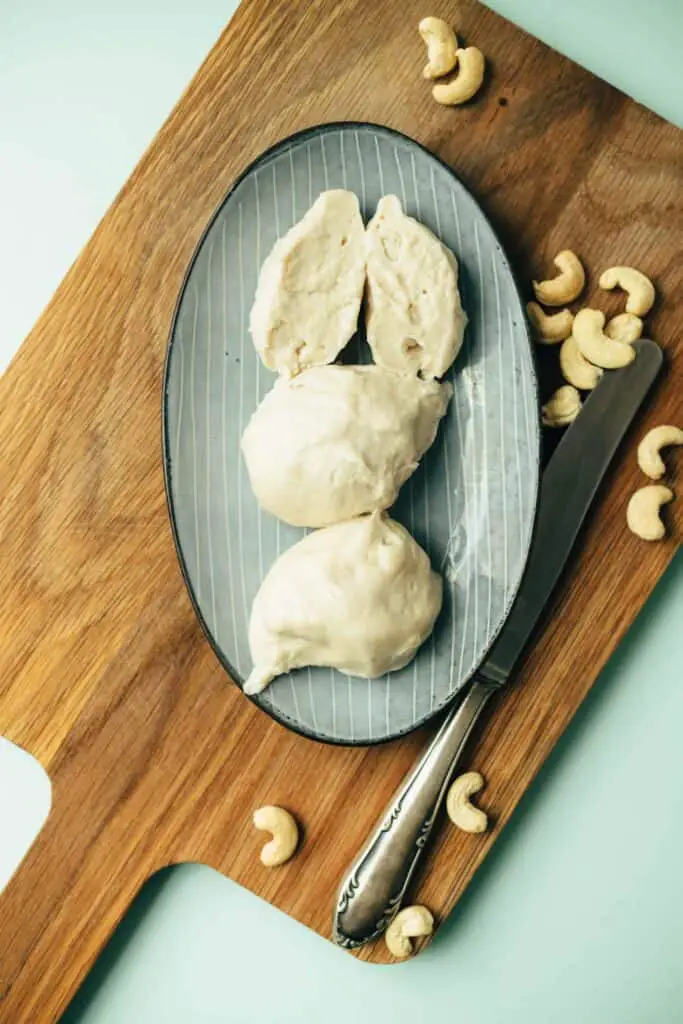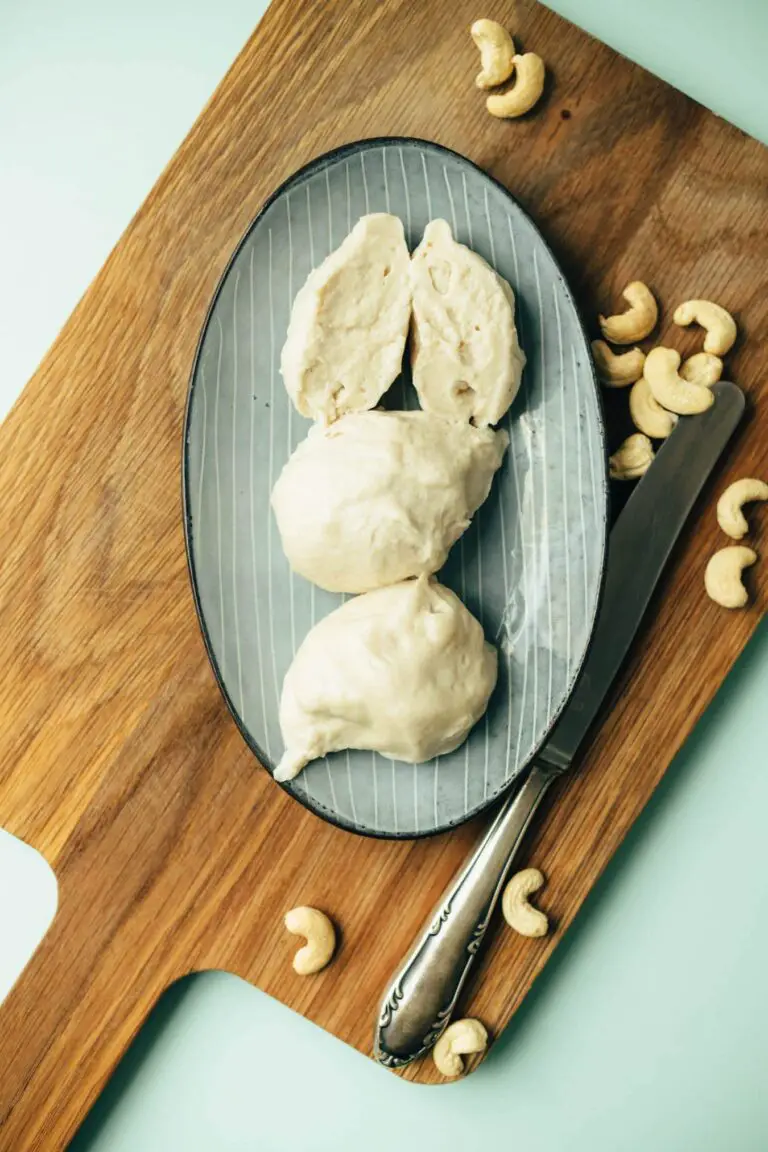 Let's take a look at the list of ingredients. Cashews Coconut yogurt, lemon juice, sea salt, tapioca starch and (optional) agar agar, Almond milk sea salt, tapioca starch and (optionally) agar agar. I have tested both variants, with and without agar agar. The result was good both times, however, the "cheese" with agar agar becomes a tad tougher as well as the original mozzarella. The other ingredients are always plant-based foodie always in the house. The only thing that was also new to me at first is tapioca starch.
What actually is tapioca starch?
Tapioca starch is a virtually tasteless starch derived from the root tubers of the cassava plant. It is gluten-free and an ideal binder for many dishes in vegan cuisine. In our case, thanks to its strong binding properties, it is wonderfully suitable for the production of pure vegetable mozzarella.
In many recipes you will also find nutritional yeast among the ingredients for a cheesier taste. However, after testing, I am of the opinion that it is not necessary at all. why? Mozzarella in its original form also tastes rather neutral to slightly salty and just does not have the typical "cheesy" taste. I deliberately do without it and am very happy with the result.
Plant-based mozzarella is quite sexy
What else should you pay attention to during production?
Here are my tips and tricks:
Cashews definitely need to be soaked if you don't have a high-powered blender in the house. I work with my Blendtec (advertising because brand name) and soak the cashews before not. Otherwise, there are two very good methods for soaking, which you can find entirely below in the preparation steps find.
It's absolutely worth investing in a good high-powered blender in vegan cooking.
It is best to use a small milk pan or saucier. I use a silicone spatula for stirring, but wood also works.
Quenching in an ice water bath is optional, however, I found that the mozzarella becomes prettier. However, this can also be pure imagination, I have tested both variants and the "cheese" was super in both cases.
Other than that, there really isn't much to consider because the recipe is really simple and extremely straightforward.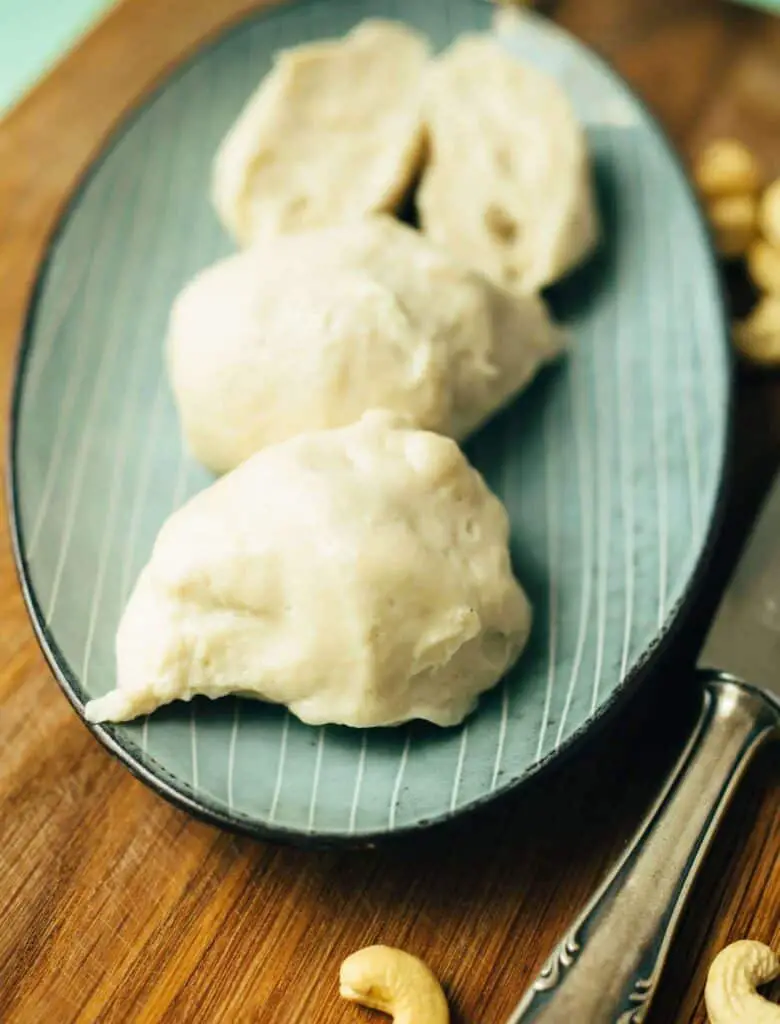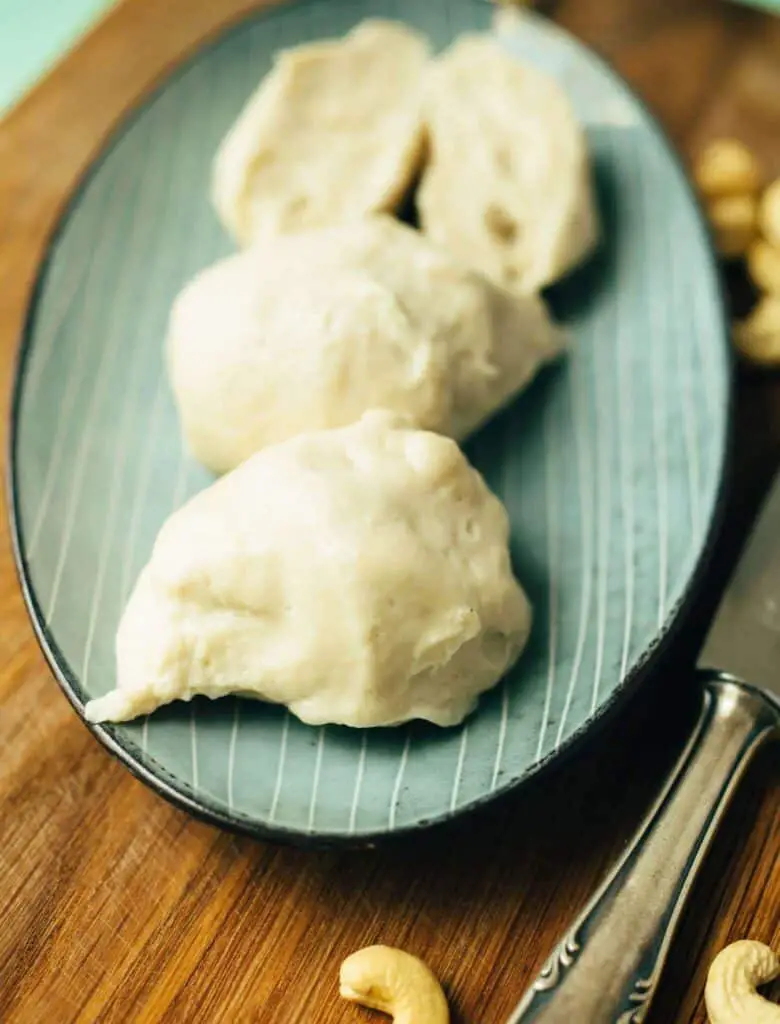 This mozzarella is wonderfully versatile and works especially well for vegan mozzarella pizza, tomato mozzarella, as a topping on a delicious salad , Pasta , or just for snacking.
The vegan mozzarella is:
Pulling
Neutral
Slightly salty
Easy to manufacture
Delicately melting
If you're as big a mozzarella fan as I am, I'd love a review at the very bottom of this page. If you post a picture, use the hashtag #veganevibes.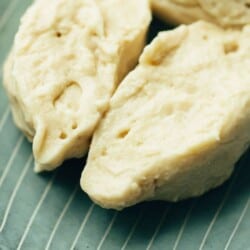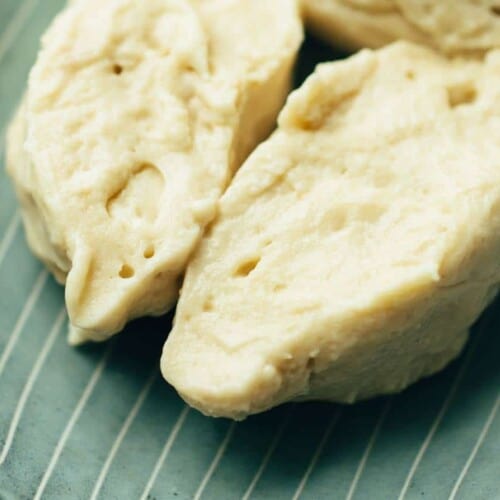 Make vegan mozzarella yourself (6 ingredients)
Simple vegan mozzarella "cheese" that is uncomplicated to make in. Versatile for many Italian classics, with a neutral to slightly salty note. Typically chewy and absolutely free of lactose.
AUTOR: VEGANEVIBES
FOR THE WATER BATH (optional):
1

Bowl with leavening water

Ice cubes at will
Anleitung 
Soak cashews according to either of the above ( SEE INSTRUCTIONS ) or optionally omit this if using a high-powered blender.

Strain cashews, pat dry in a clean kitchen towel and place in blender.

Add the remaining ingredients to the blender and blend until smooth and creamy.

120 ml Almond milk or another vegetable milk,

60 g Coconut yogurt,

30 ml Lemon juice,

½ tbspn Sea salt,

28 g Tapioca starch,

1 tbspn Agar agar (optional)

Place in a small saucepan and heat while stirring.

Stir constantly until the measures thicken (takes about

3-4 minutes

).

Don't panic if the liquid starts to clump at first, this is normal. Just keep stirring.


Remove heat as soon as the measures are nice and chewy and can hardly be "stirred".

Place in a bowl and set aside.

Optionally prepare ice bath.

Ice cubes at will,

1 Bowl with leavening water

Using a spatula or spoon, separate the desired portions and dip briefly into the ice bath. Without ice bath just separate and form into a ball.

Cool completely and store covered in the refrigerator.

Keeps up to 4 days airtight in the refrigerator, best fresh.

If your blender is not that powerful, no problem:
Simply soak the cashews beforehand using one of the two methods below:You can find my article on soaking cashews here.QUICK SOAK METHOD (duration 60 minutes): Place cashews in a heatproof bowl and pour scalding hot water over them. DO NOT CO VER and leave to infuse for one hour. Drain and process.LONG-SOAK METHOD (duration 6 hours): Soak cashews in cold water and COVER. Drain and process after 6 hours or overnight.
Notizen
NOTES /HELPFUL ACCESSORIES:
Nährwertangaben
Serving:
1
Ball
Calories:
208
kcal
Carbohydrates:
16
g
Protein:
7
g
Fat:
13
g
Saturated Fat:
2
g
Sodium:
97
mg
Potassium:
198
mg
Fiber:
1
g
Sugar:
2
g
Vitamin C:
2.9
mg
Calcium:
65
mg
Iron:
2.1
mg