Where has the time gone? Since we got back from vacation, I feel like I'm losing time and space. My brother asked me last weekend what I had been up to all week and somehow it took me quite a while to answer him. Right now we are in the middle of remodeling our new house and I am more busy organizing than doing my favorite thing: Delicious, vegan dishes to create. Honestly, I can't wait to finally move into our new home and most importantly, cook in my new kitchen.
Vegan Austria or simply spinach dumplings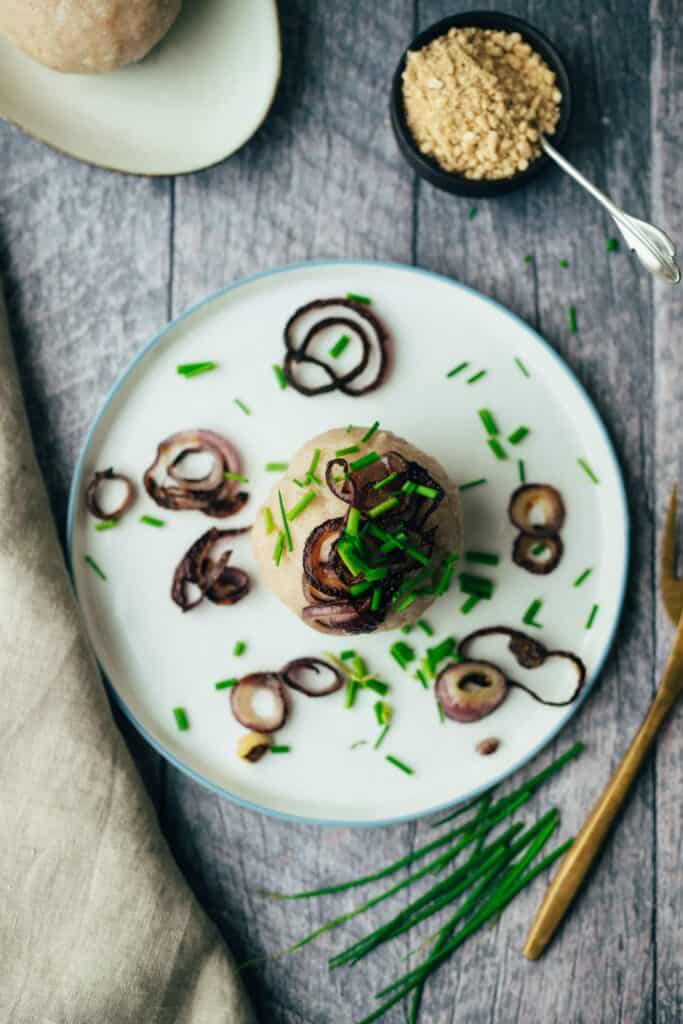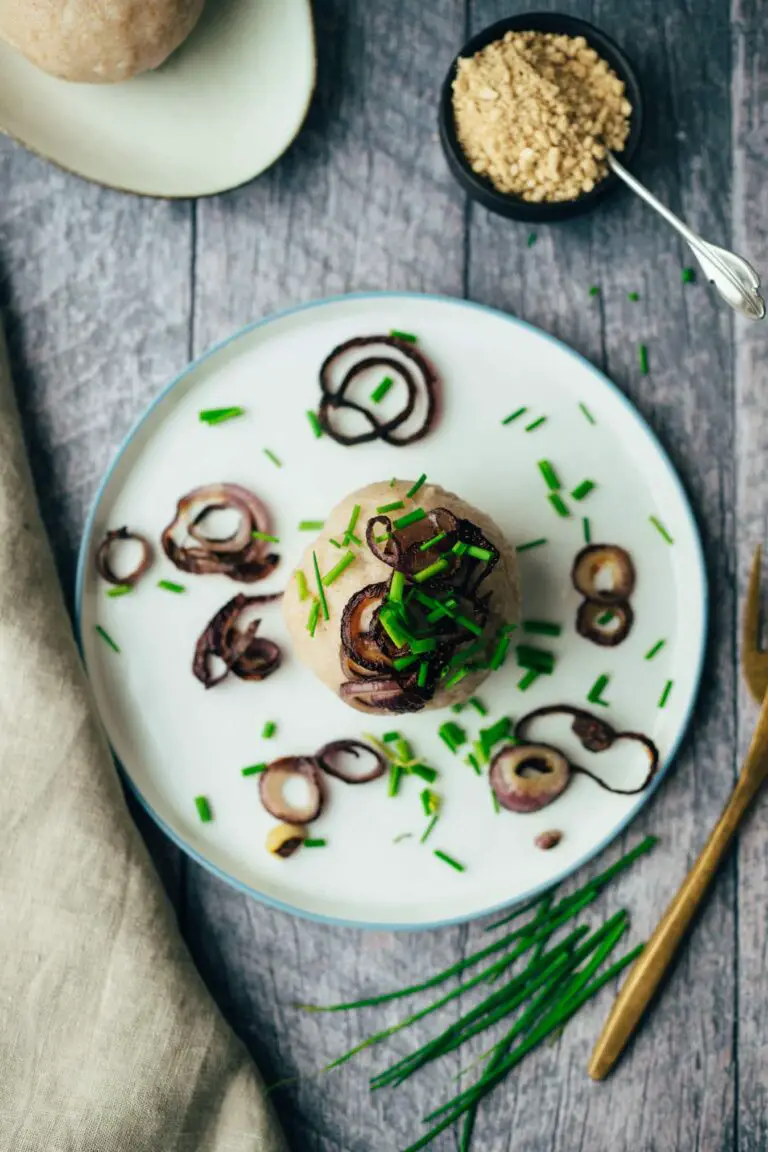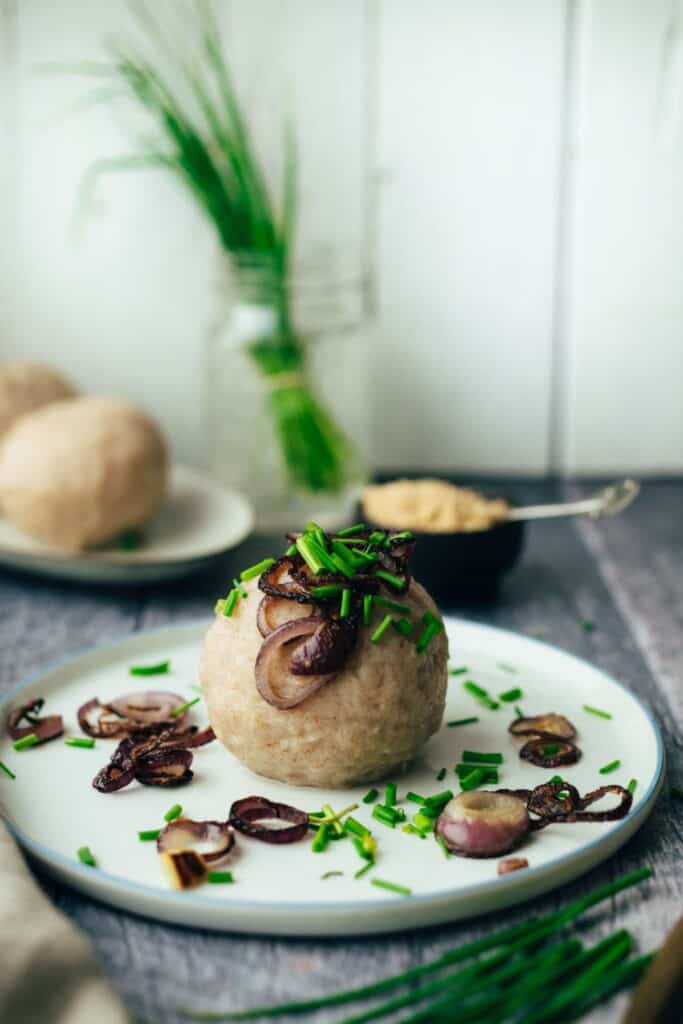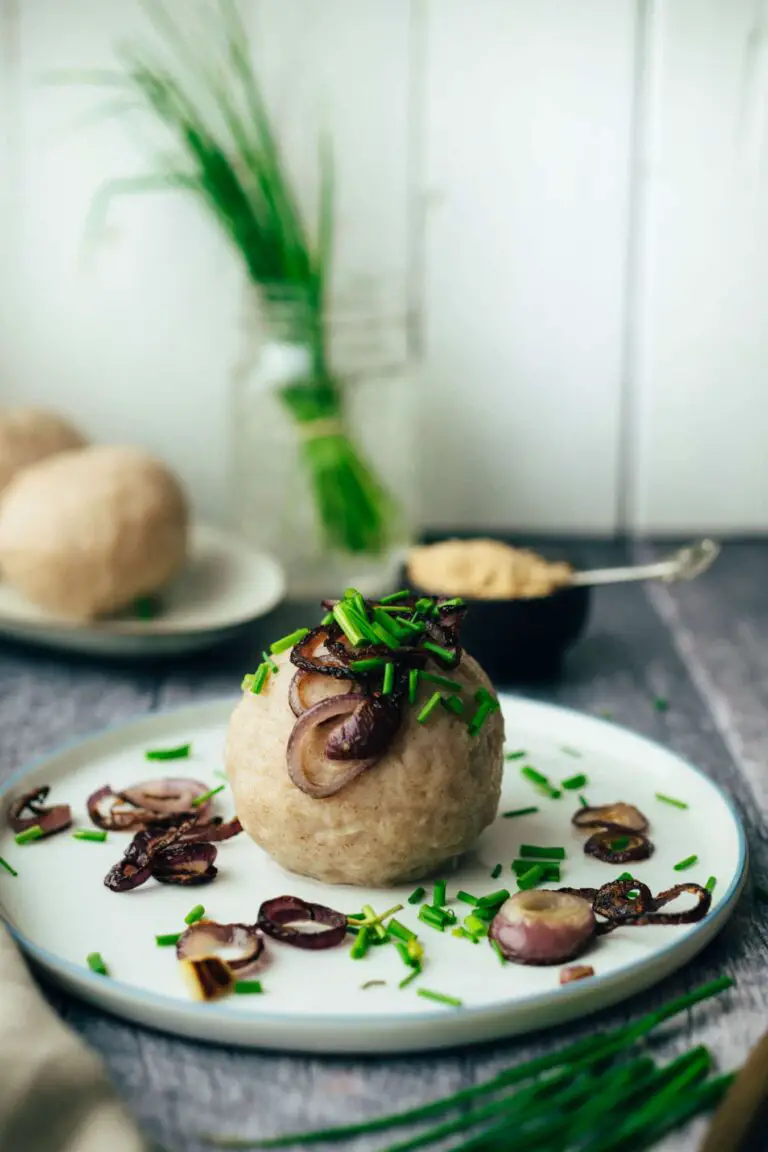 In terms of cuisine, we Bavarians are not far from our Austrian neighbors. Since I personally love the hearty cuisine of the Austrians very much, spinach dumplings just did not leave my mind. This time not as bread dumplings, but with potatoes, flour and cornmeal. The "Feta-Spinach" filling consists of onion, Spinach , garlic, almond flour, nutritional yeast, lemon juice, salt and pepper. The filling is then rolled into a small ball, put on the dumpling dimensions and close with your hands. Then it goes off into hot salted water and in 15 minutes everything is ready.
Who is a potato fan here?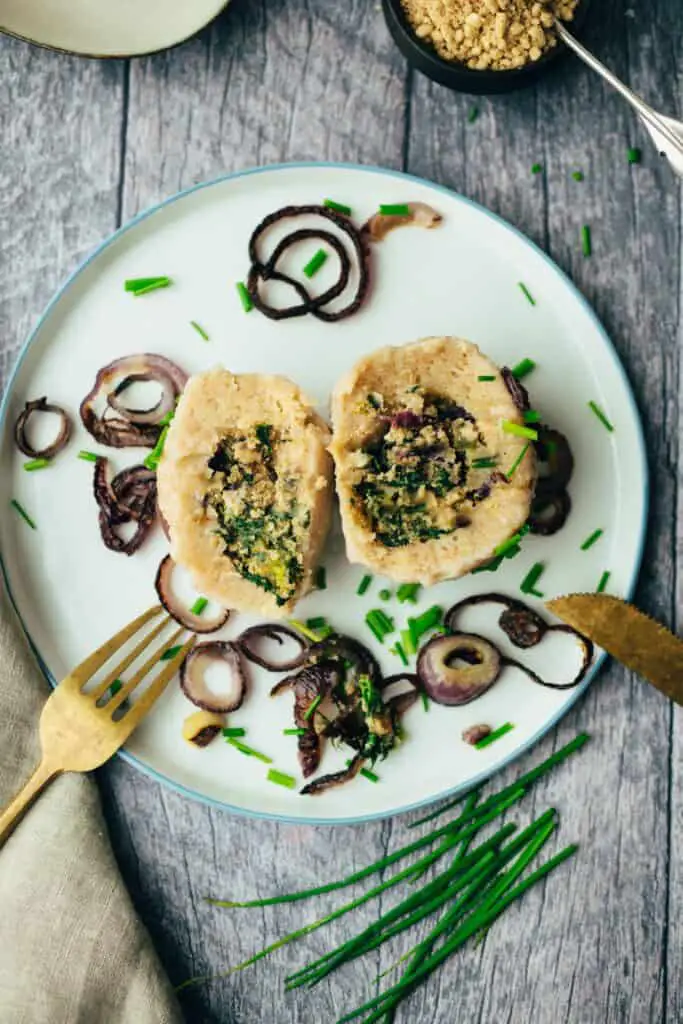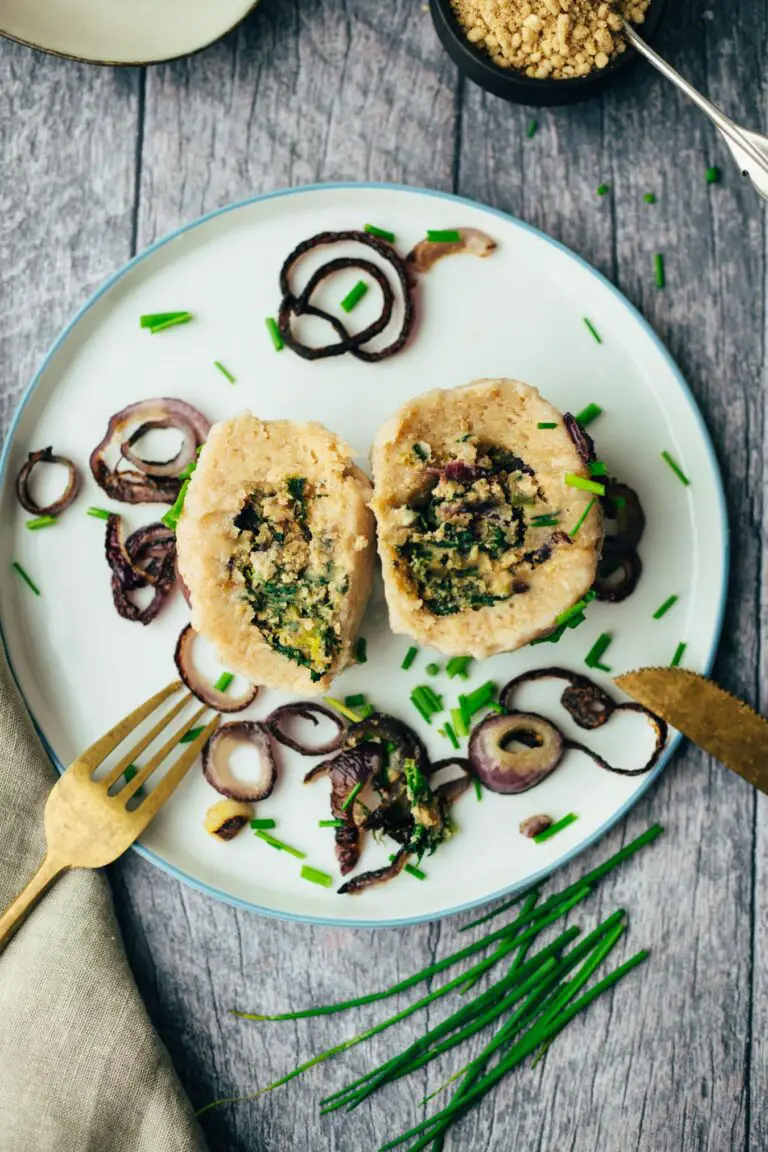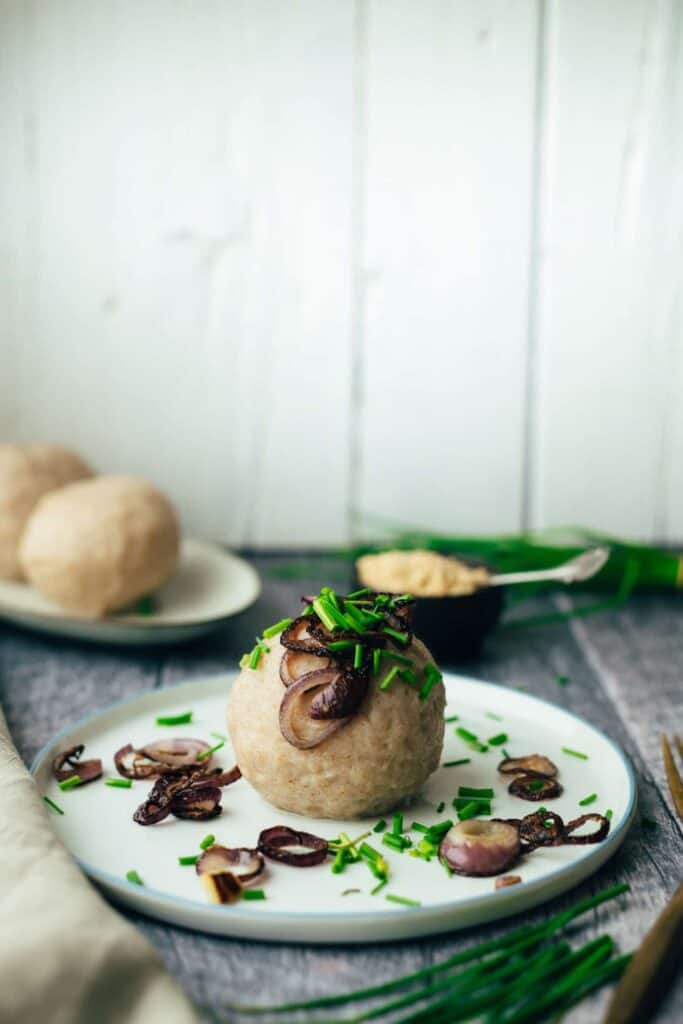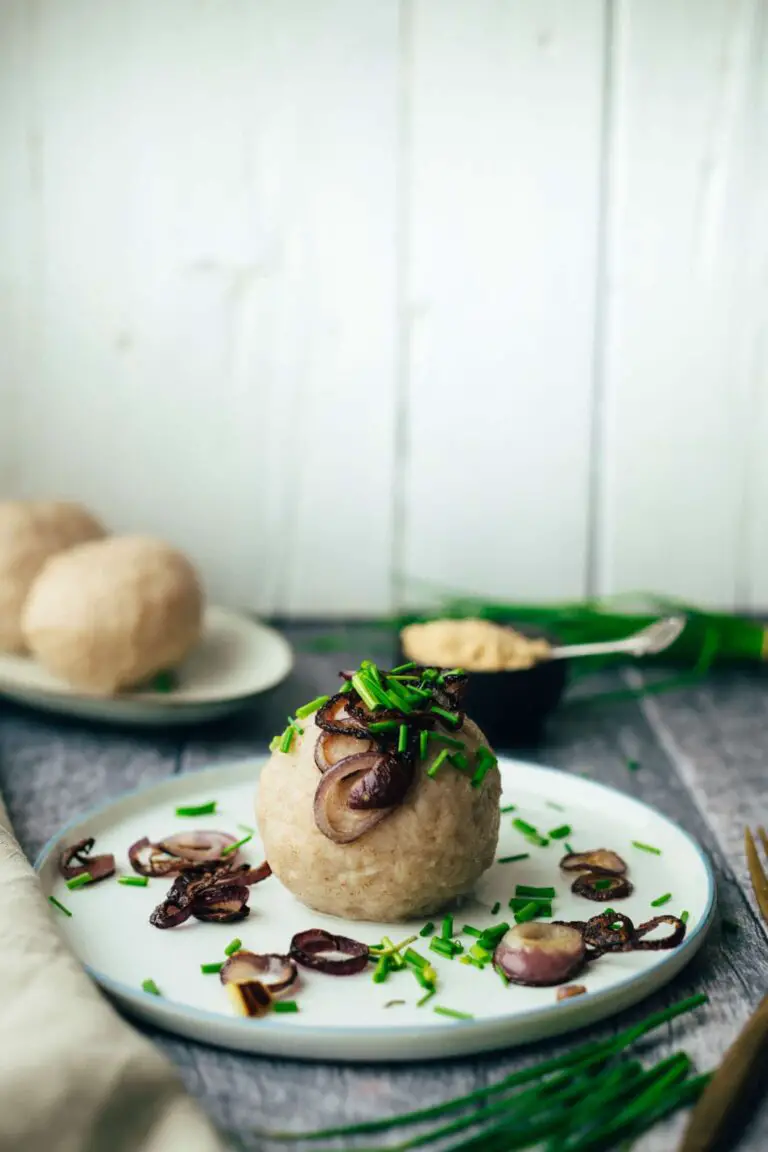 There are yes from time to time voices that say, Potatoes are not healthy. Various studies are said to have shown this and that. I do not fully share this theory and believe that you should eat as varied as possible. With me the potato comes certainly not every day on the table, but now and then I love French fries , or a curry with Potatoes . No question!
No matter, I want my spinach dumplings now! The only hurdle in making this recipe is time. I usually love dishes that are done in under 30 minutes done, but here you need to allow a little tad more time. The potatoes are first boiled in salted water, then rinsed and peeled. In the meantime, make the filling. The finished dumplings are then once again in bubbling salted water and voliá! I recommend crispy roasted onion rings, a delicious salad and if you like you can add some melted vegan margarine.
The dumplings with feta and spinach filling are:
Hearty
filling
Austrian
aromatic
simple to be produced
Let's start with this Austrian classic, a real mountaineer's meal. I wish you a lot of fun with the re-cooking and am happy about a review at the bottom of this page. If you post a picture, use the hashtag #veganevibes.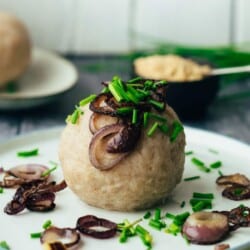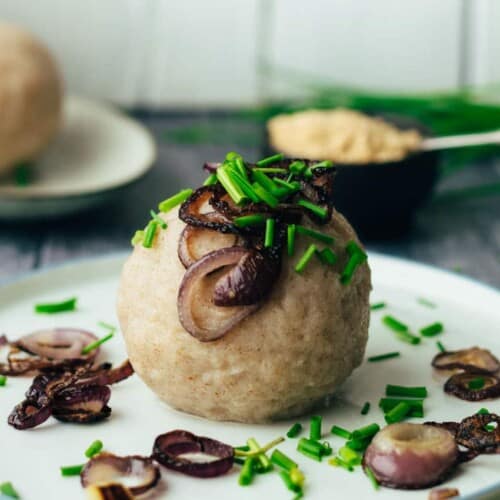 Dumplings with feta and spinach filling
Hearty, incredibly flavorful dumplings stuffed with spinach and vegetable feta. Topped with crispy fried onion rings and fresh chives. Ideal for those who like Austrian dishes.
AUTOR: VEGANEVIBES
FOR THE FETA AND SPINACH FILLING:
TOPPING:
2

red onions

cut into rings and fried in a little oil until golden brown

Chives to taste
Anleitung 
Boil potato in its skin in bubbling hot salted water for about 20 minutes. Prick with a fork and check if the potatoes are cooked when the cooking time is over. Drain, rinse with cold water and set aside.

For the FETA SPINACH STUFFING heat a pan with a little oil. Add the onion and garlic and sauté until translucent. Add spinach and continue to saute until spinach has softened and decreased in volume. Add almond flour, nutritional yeast, lemon juice and black pepper and saute, stirring, until everything is well combined. Remove from heat and set aside.

15 ml Frying oil or other high heat oil,

55 g red onion,

3 g Garlic cloves,

150 g Spinach,

50 g Almond flour,

1 tbspn Nutritional yeast,

15 ml Lemon juice,

Black pepper to taste

For the dumpling dough peel the potatoes (be careful hot!) and put them in a large bowl. Mash with a potato masher or your hands, add flour and semolina. Season with salt and knead until everything is combined into a uniform dough. If you like it very fine, you can also use a food processor for this step.

250 g Potatoes,

150 g fine spelt flour,

50 g Wheat grits,

¾ tbspn Salt,

1 Pinch of nutmeg

Heat a large pot of salted water for the dumplings.

Reheat pan previously used for feta-spinach filling and fry onion rings in a little oil until golden brown.

Divide dough into 8 equal portions and flatten by hand (see picture). Place FETA-SPINAT filling in the center and seal with the dough from the inside out until an even dumpling is formed. Repeat until 8 dumplings are formed.

Place the dumplings in the salted water and boil for 15 minutes. Remove from water and serve directly.

Top with fried onion and fresh chives (optional margarine) and enjoy!

2 red onions,

Chives to taste,

Salad to taste

Spinach dumplings are best enjoyed fresh, can also be wonderfully prepared the day before.
Nährwertangaben
Serving:
1
Dumplings
Calories:
217
kcal
Carbohydrates:
26
g
Protein:
8
g
Fat:
9
g
Saturated Fat:
2
g
Sodium:
70
mg
Potassium:
409
mg
Fiber:
6
g
Sugar:
1
g
Vitamin A:
3515
IU
Vitamin C:
16.2
mg
Calcium:
77
mg
Iron:
3.8
mg