Tikka, what is that actually? I have only ever known Tikka Masala. Actually, tikka comes from tikka masala and that is a special preparation with curry spices. I wanted to vary the whole once, omit the meat of course and conjure up a delicious salad from it. Maybe there is one or the other reader who is familiar with Indian cuisine and can tell you exactly what tikka originally means? Especially now in late summer, you want one or two "light" dishes that are nevertheless full of healthy ingredients. High nutrient density, low energy density, this is the diet that many modern people want. For me personally, this is the biggest advantage of a whole-food, vegan diet. Unfortunately, we are no longer outdoors all day like our ancestors. A well-stocked spice drawer helps and we want to make the most of it today.
Tikka Masala, or Tikka Salad? Let's get it on!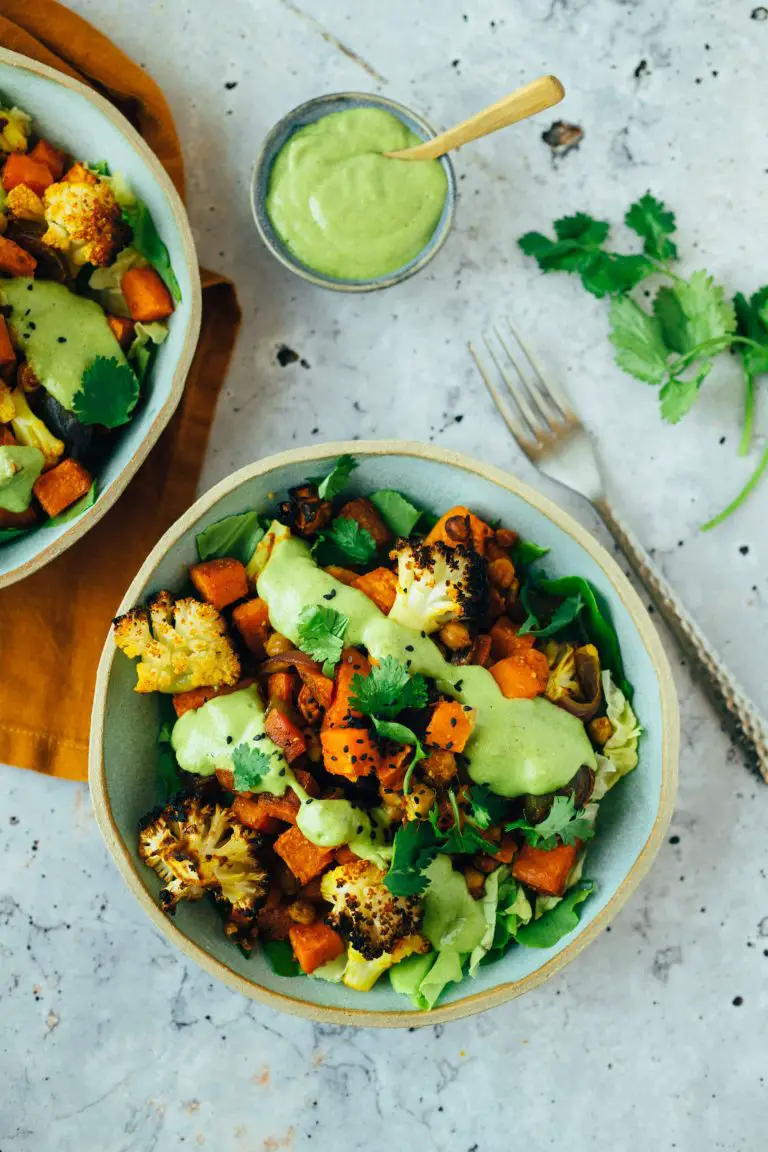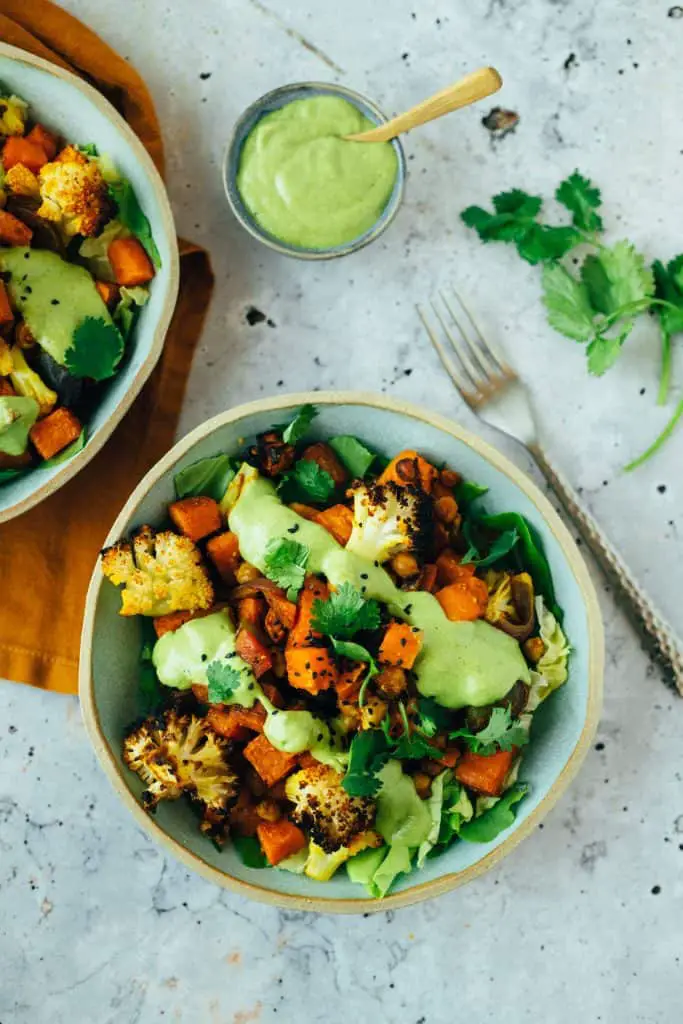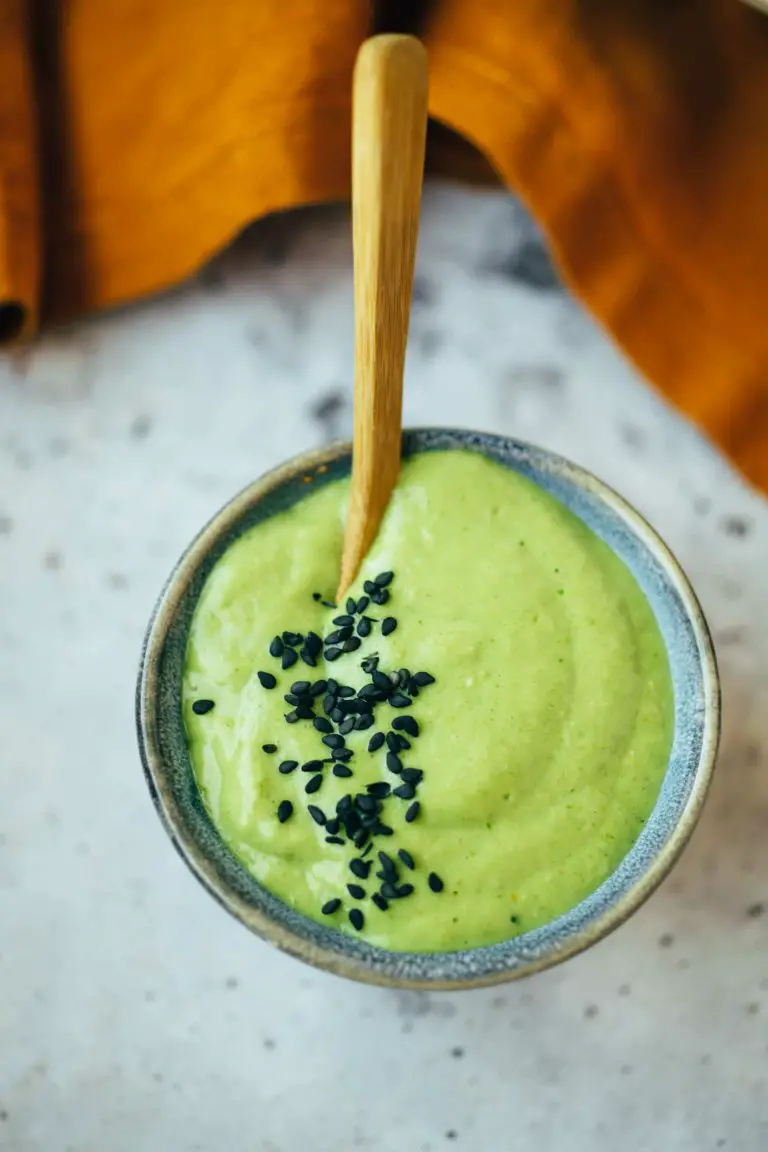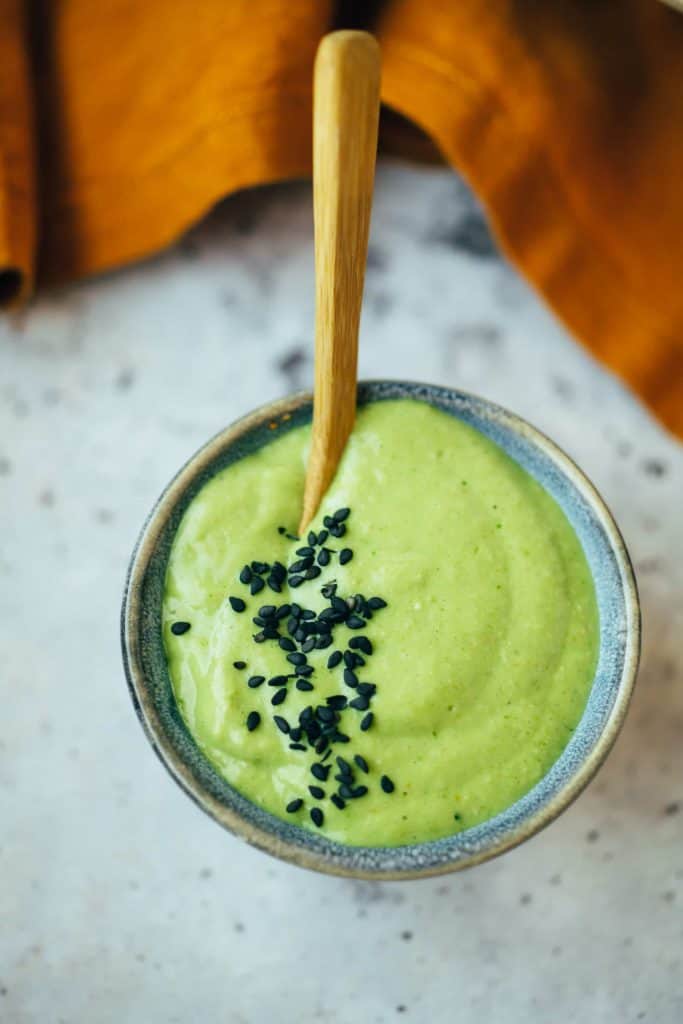 Our dish is basically composed of two components, the oven-roasted vegetables and an addictive sauce. Let's start with the vegetables. I use cauliflower, red onion, sweet potato and chickpeas. They are briefly marinated in a great tikka marinade of lemon juice, ginger, garlic, bird eye chili, salt, paprika powder, curry powder, coriander powder, tapioca starch, water and oil. Then the vegetables go into the oven and stew comfortably while we make the chutney in the meantime.
All that's missing is our coconut chutney made with coconut puree, water, bird eye chili, fresh cilantro leaf, ginger, salt, coconut sugar, mustard seeds and some cayenne pepper. This is all blended together in a blender to make an irresistible salad dressing and is sort of the crowning glory of our recipe today. Of course, you can use the chutney for many other dishes, including pizzas, wraps, rice dishes and sandwiches.
TIP: If you don't have coconut puree at home, you can easily make it from coconut flakes. Alternatively, you can mix the coconut shreds (30g) together with 120ml of hot water once vigorously and then let it swell for 5 minutes. Add all other ingredients and blend again on high speed until everything is combined into a creamy sauce.
What actually is tapioca starch?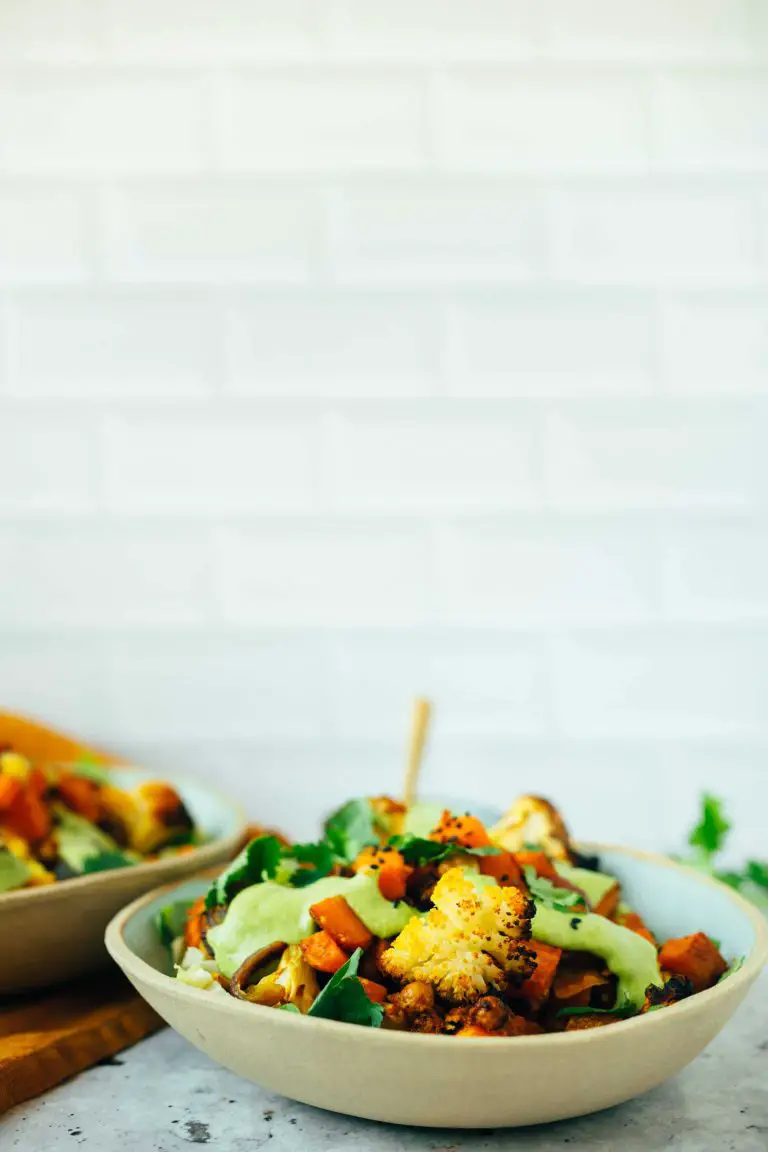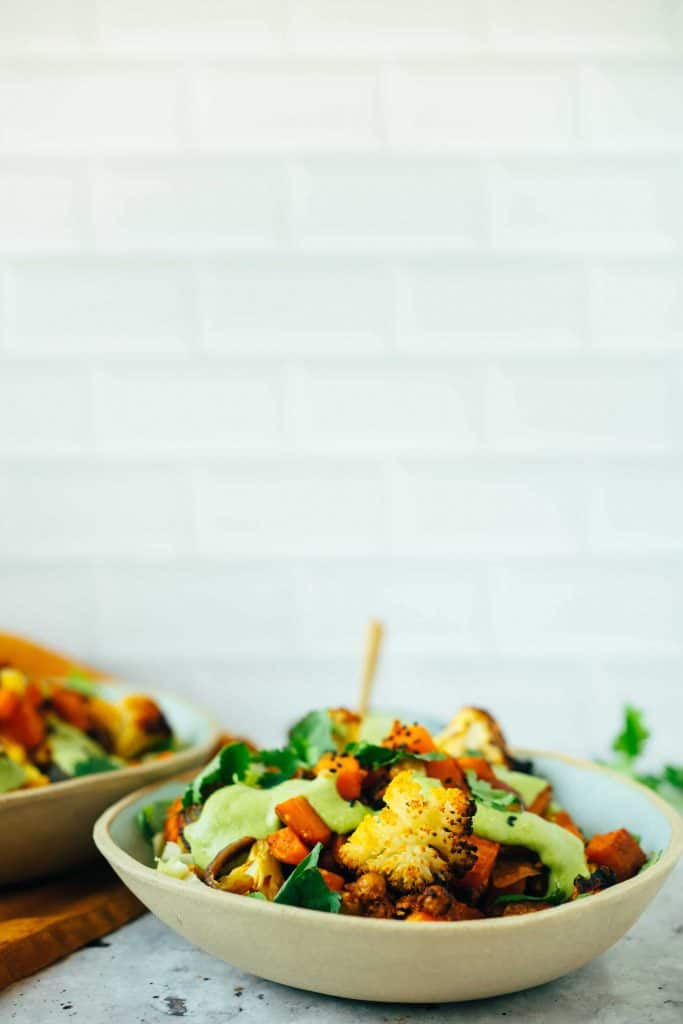 Lately I like to use tapioca starch again and again. Therefore, in this post I wanted to briefly discuss what it actually is exactly and what benefits it offers for the vegan diet.
Tapioca is a vegetable starch obtained from the root of the cassava. It was already cultivated by the Mayas and is characterized by a neutral taste. It is suitable for the preparation of sweet and savory dishes. Tapioca is particularly interesting for people with gluten intolerance. It is also free of allergens and is therefore also a precision landing for allergy sufferers. In addition to starch, there are also tapioca pearls, which can be found in popular bubble tea drinks.
Tapioca is obtained from the brownish root tubers of cassava. The root tubers of the tropical shrub plant consist of 35 percent starch, which is later processed into tapioca.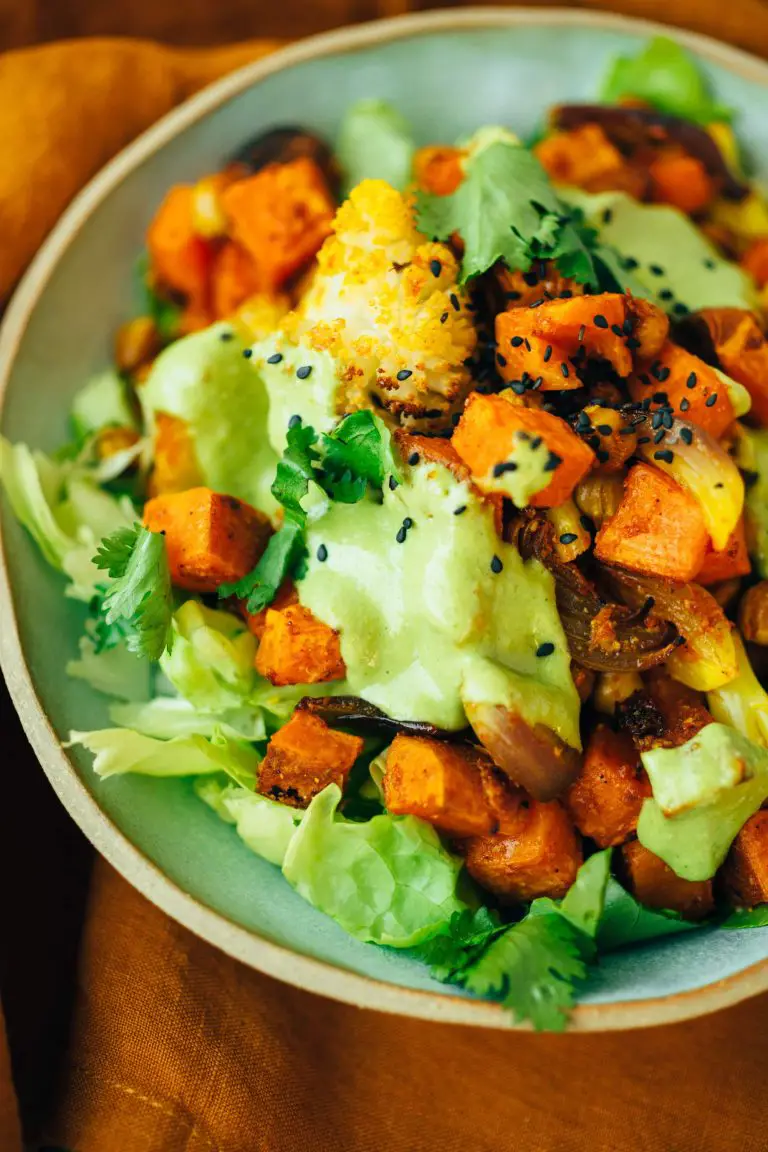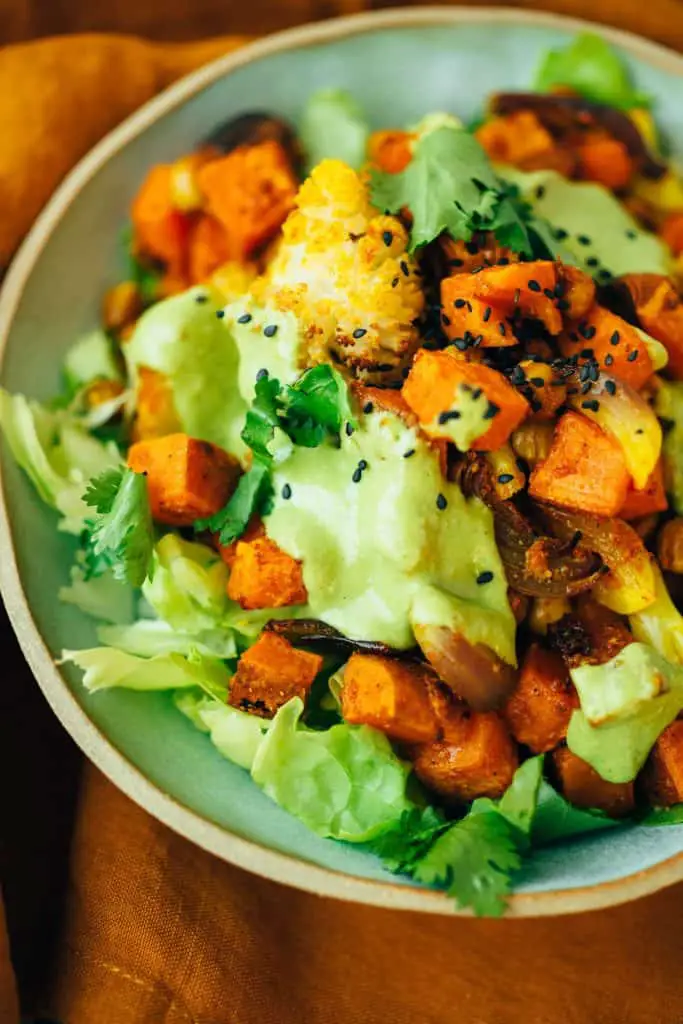 TIP: You'll already find tapioca in some of my recipes, like Mylky Way vanilla ice cream bars, vegan mac and cheese (instant), or vegan mozzarella.
Salad with tikkavegetables and coconut chutney:
Indian
spicy
aromatic
Full
simply made
Well, did you get a craving for this delicious, vegan and wholesome salad? I wish you a lot of fun in recooking and of course a review at the bottom of this page. If you post a picture, use the hashtag #veganevibes.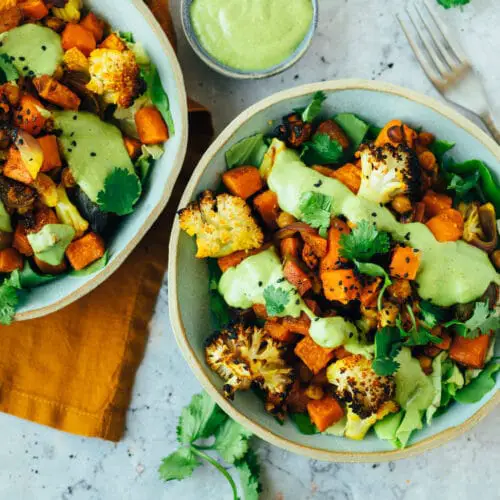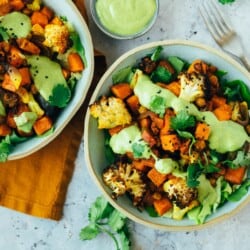 Salad with tikka vegetables and coconut chutney
Delicious and simple Indian salad with vegetables, chickpeas and refreshing coconut chutney. A delicious, wholesome dish for lovers of flavorful, vegan dishes.
AUTOR: VEGANEVIBES
Anleitung 
Preheat the oven to 215 degrees Celsius (190 degrees Celsius top/bottom heat) and line a baking tray with a baking mat or baking paper.

FOR THE VEGETABLES Place cauliflower, sweet potato, chickpeas and red onion in a large bowl. Set aside.

200 g Cauliflower,

1 Piece medium sweet potato,

265 g Chickpeas drained – save chickpea water optional for other recipes. 1 can or jar with 400g,

80 g red onion

FOR THE MARINADE: Place lemon juice, fresh ginger, garlic cloves or garlic granules, Bird Eye Chili, curry powder, paprika powder, cilantro, tapioca starch, water and oil in a blender and blend on medium speed to a fine dressing. Set aside. Alternatively, work with a bowl and a hand blender.

30 ml Lemon juice,

2 tbspn fresh ginger,

2 Garlic cloves,

1-2 Bird Eye Chili or other chili of your choice,

1 tbspn Curry powder,

2 tbspn Paprika powder,

1 tbspn Coriander,

2 tbspn Tapioca starch,

45 ml Water,

15 ml Frying and baking oil

Note: It is best to work with a smaller blender jar, otherwise the blade may spin. Large blender jars of high-performance blenders need a certain filling volume to work. Alternatively, simply use a hand blender.

Add the MARINADE to the vegetables and mix thoroughly until the marinade is well combined with the vegetables. Pour onto the baking sheet, spread evenly and place in the oven. Bake for 30 minutes.

In the meantime, PREPARE the COCOO NUT CHUTNEY . For this, put coconut puree, hot water Bird Eye Chili, fresh coriander leaf, ginger, coconut blossom sugar, mustard seeds, salt and cayenne pepper in a blender and blend to a creamy dressing. Depending on your preference, add more or less water.

50 g Coconut Mush,

30 ml hot water,

1-2 Bird Eye Chili,

3 tbspn fresh coriander leaf,

1 tbspn Ginger,

½ tbspn Coconut blossom sugar,

½ tbspn Mustard seeds,

½ tbspn Salt,

A pinch of cayenne

Note: Alternatively, use a hand blender. If the dressing is too liquid, add ¼ tsp xanthan gum and mix again. Season and set aside.

optional ¼ tsp xanthan gum

Divide salads among plates, arrange oven vegetables on top and dress with dressing. Garnish with toppings of your choice and enjoy!

black sesame,

Fresh coriander leaf,

Lime Quarter,

2 Cups mixed leaf salads to taste

Best enjoyed fresh. Store remaining vegetables and chutney (without lettuce) in airtight containers in the refrigerator for up to 3 days.
Nährwertangaben
Serving:
1
Portion
Calories:
289
kcal
Carbohydrates:
35
g
Protein:
10
g
Fat:
14
g
Saturated Fat:
6
g
Sodium:
98
mg
Potassium:
599
mg
Fiber:
9
g
Sugar:
8
g
Vitamin A:
446
IU
Vitamin C:
44
mg
Calcium:
68
mg
Iron:
4
mg