This Bánh Mi (or Banh Mi) Sandwic h I have admired so often, but never really made. Often I shy away from Courts that are not so familiar to me and it takes me a while to warm up to them. Strange, isn't it? What a man (farmer) does not know, he does not eat. Honestly, this applies 100 percent to my grandma, who will now be 95. But since I'm still a few years younger, I can still try out everything *laughs*. Joking aside, I love being a food blogger because I'm practically forced to keep trying new things and am always pleasantly surprised. Especially with this Sandwich it has me once again literally "blown off the stool" so delicious it was. Well, do you fancy some new Asian flavors? Then let's get started.
Bánh Mi (Banh Mi) vegan sandwich, yes please!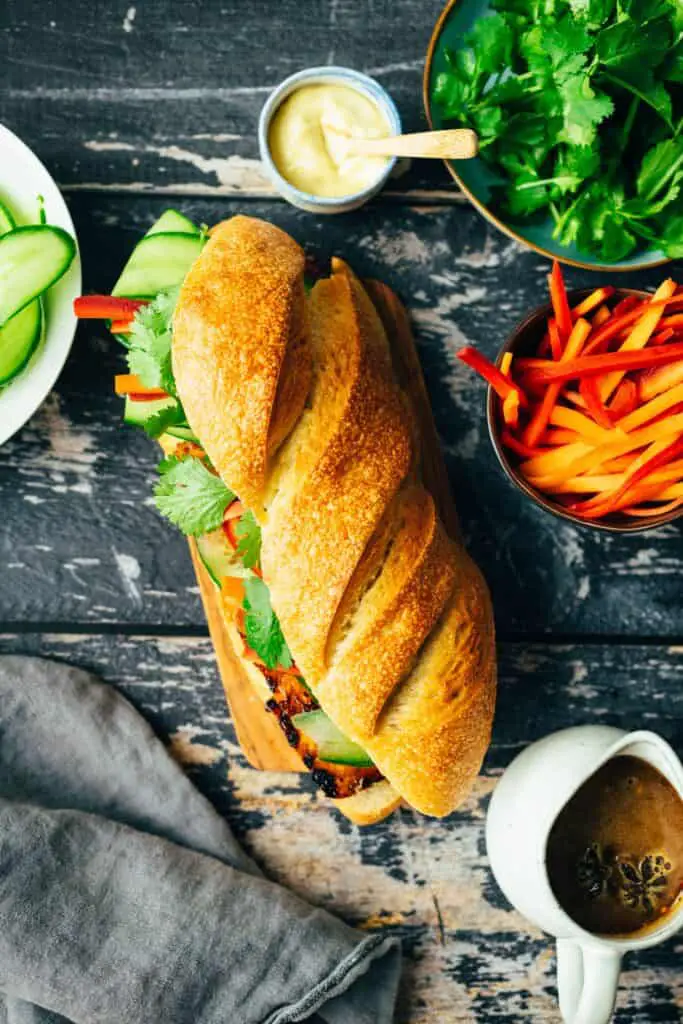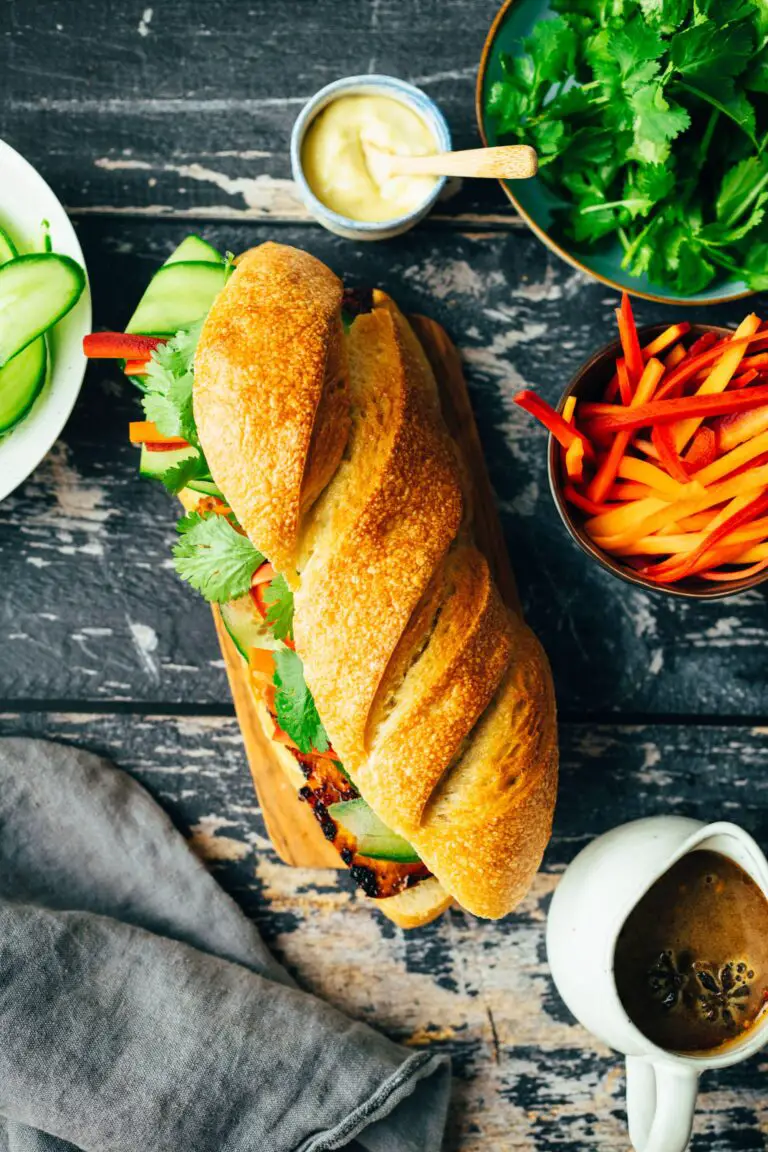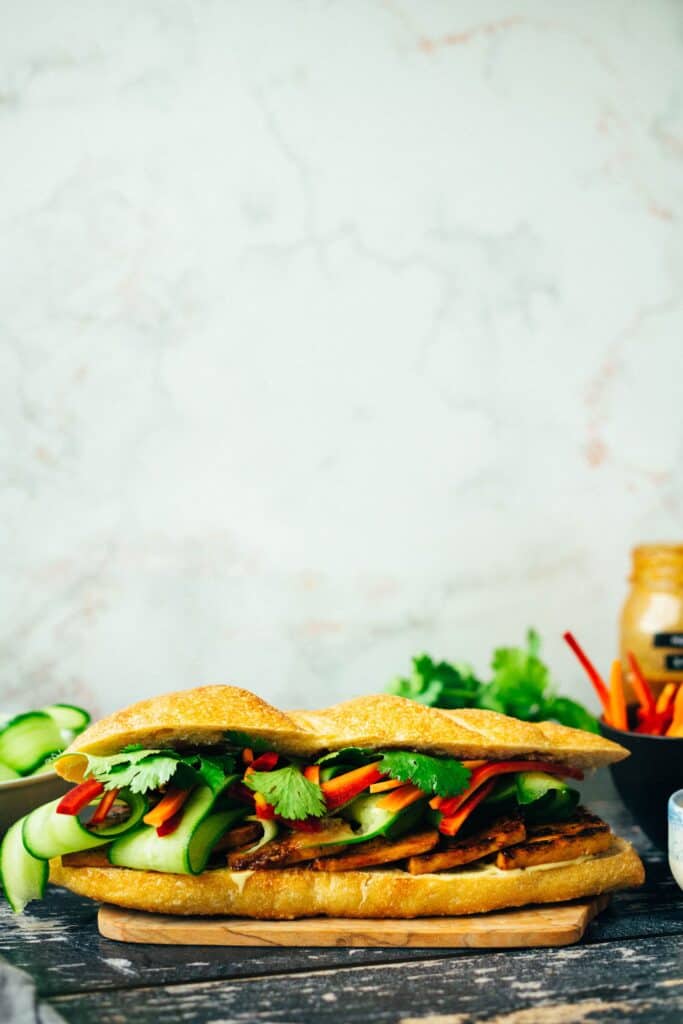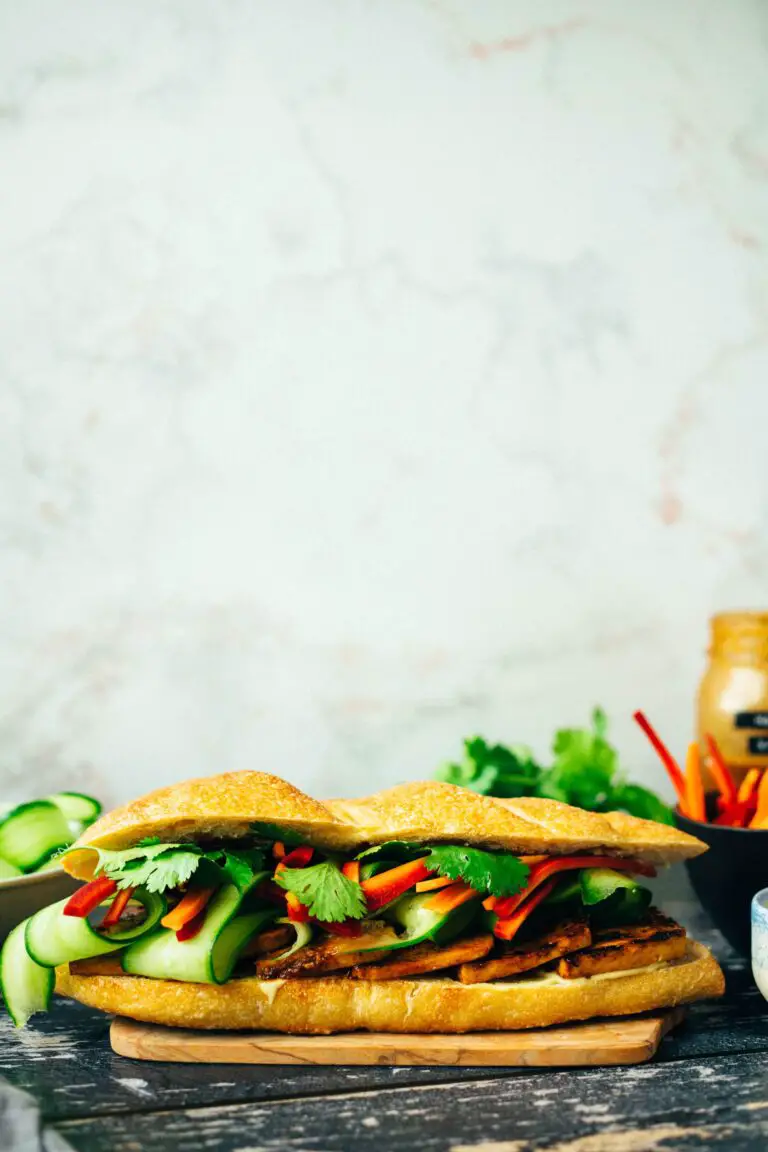 Bánh Mi, stands for "breakthrough. Sandwich " if you believe the translations that circulate on the Internet. It's supposed to be poor people food and a mix of French and Asian cuisine. Originally it is not made with Tofu but with chicken meat. But what would be veganevibes , if we would not conjure up a delicious vegan version of it. The Tofu is first pressed and then cut into slices. Then marinated and seared hot in a pan. In parallel, put the carrot sticks in a vinegar brine, it gives them a great taste. Now all you need is a delicious baguette and you're good to go. Vegan mayo , hot sauce, cucumbers and fresh cilantro leaf must not be missing, of course.
Vegan Vietnamese Ban Mi Style Kitchen
Here again is a summary including tips and tricks for a quick and smooth success:
CARROTS: You can also prepare the carrots a day in advance and let them soak at room temperature.
MAJO: Here are now good vegan alternatives in the supermarket or online. But if you like, you can also make your own Cashew mayo make one yourself. Here's also directly to the recipe.
MARINATE: You can also marinate the tofu the day before. Then it can also be left in the refrigerator for one night. In the meantime, I love my tofu press and put the tofu in it a good two hours before I use it for pressing. This saves kitchen roll and cumbersome weighing down with cookware and other crazy ideas. I have linked you my tofu press below at equipment
BAGUETTE: Here you are spoilt for choice between white bread or a wholemeal variant. Both are allowed.
How healthy is actually coriander? banh mi baguette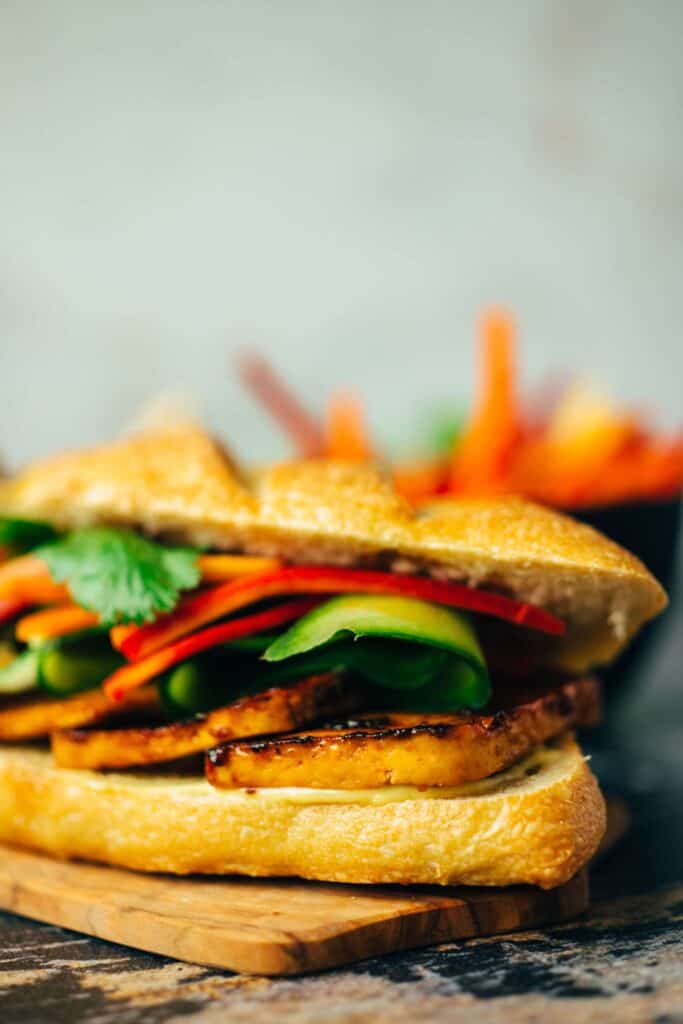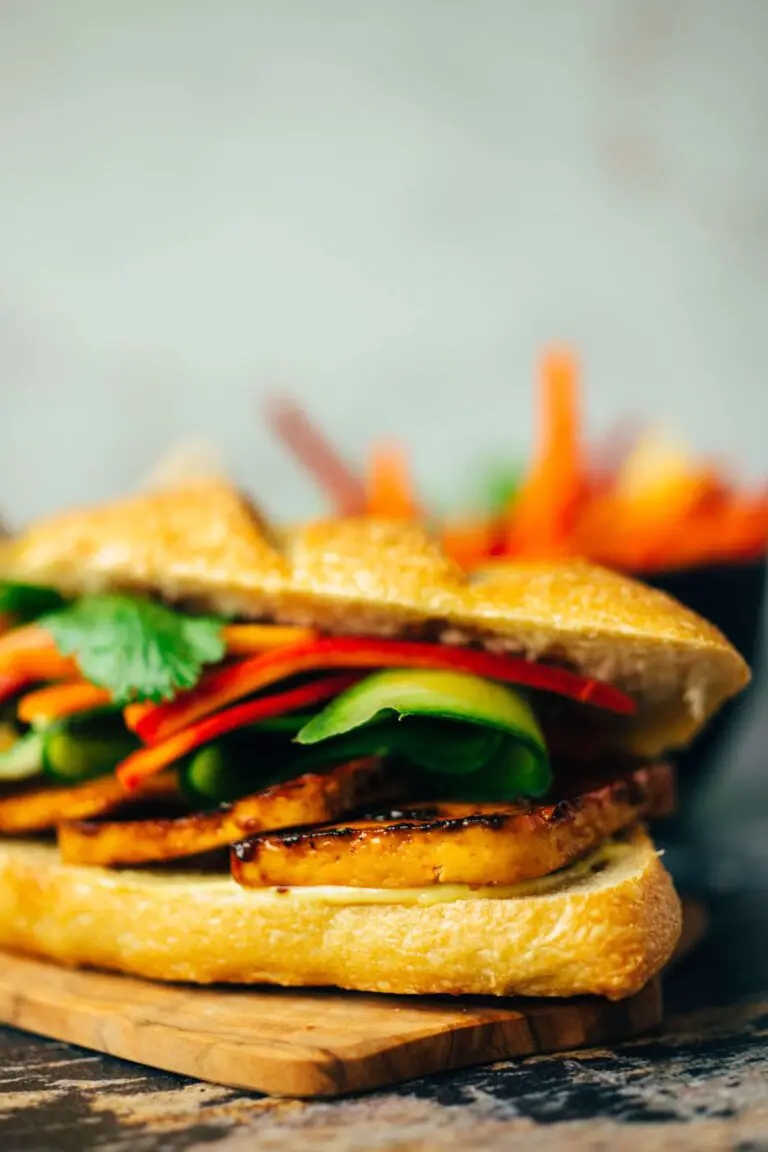 I was honestly surprised when I started researching about cilantro. The spice really has it in spades in a positive sense. Here are the most important facts:
DETOX: Japanese researchers found that coriander is able to eliminate heavy metals such as mercury from the body.
ANTIOXIDANTS: there are a lot of antioxidants in the green leaves. The secondary plant compounds can naturally counteract chronic inflammation and aging processes.
ANTIBIOTIC: U.S. studies have shown that the substance dodecenal in cilantro has a strong antibiotic effect and can even kill salmonella more effectively than chemical drugs. However, coriander does this without any side effects.
DIGESTION: Thanks to numerous essential oils (linalool, geraniol, coriandrol, borneol), coriander can help digestion.
So my dears, after all the theory I would say, let's devote ourselves to practical implementation. Come on! Fits perfectly with Sweet potato fries and the combibantion with hoisin sauce is just a dream.
The Vietnamese Bánh Mi Sandwich is:
aromatic
simple to be produced
filling
Asian
Extremely tasty
I wish you a lot of fun with Recipe n and of course I am happy about a rating at the bottom of this page. If you post a picture, use the hashtag #veganevibes.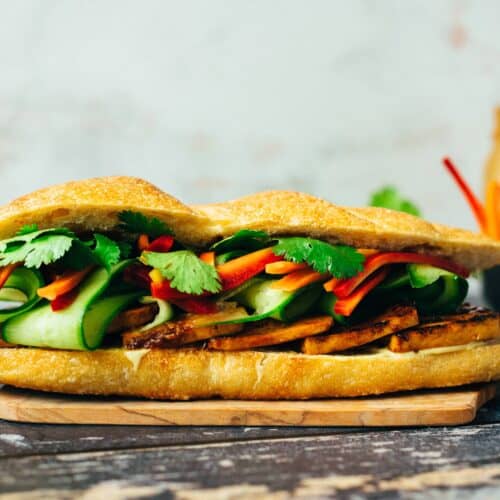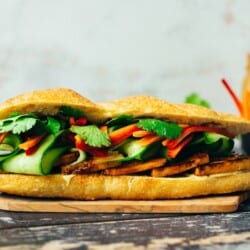 Vietnamese Bánh Mi Sandwich
Incredibly flavorful Bánh Mi sandwich with marinated tofu, pickled carrots, cucumber, cilantro and delicious sauce.
AUTOR: VEGANEVIBES
FOR THE ACETIC CARROTS:
4

Piece

medium carrots

120

ml

hot

Boiling water

120

ml

white vinegar

alternatively apple cider vinegar

18

g

Raw cane sugar

alternatively another sweetener of choice

1

tbspn

Sea salt
FOR THE MARINATED TOFU:
200

g

Tofu nature – I take the products of Taifun *advertising since brand mention

but no connection to the company

2

Garlic cloves

pressed or finely chopped, alternatively 1 tsp garlic granules

30

ml

Tamari

or any other soy sauce of your choice

15

ml

maple syrup

or other sweetener of choice

15

ml

Sesame oil

or another tasteless oil, omit if oil-free

30

ml

Lime juice

1-2

Bird Eye Chili or any other chili of your choice

optionally more oil for frying
FOR THE SANDWICH:
2

Piece

large baguettes for 2 people

or 4 smaller baguettes

30

g

vegan mayo

gladly homemade or bought

30

g

spicy sauce

optional can also be omitted

1

Piece

big cucumber

peeled into long strips with the vegetable peeler

15

g

fresh coriander leaf
TO SERVE:
Hoisin sauce to taste

Fresh chili slices to taste

Fresh lime

quartered at will
Anleitung 
For the carrots: Peel carrots, carefully cut into fine sticks and place in a canning jar or bowl. Add hot water, vinegar, raw cane sugar and salt. Put the lid on the jar and shake vigorously. Alternatively, mix well in the bowl until everything is combined. Let stand at rum temperature (happy to prepare the night before).

4 Piece medium carrots,

120 ml hot,

120 ml white vinegar,

18 g Raw cane sugar,

1 tbspn Sea salt

Remove tofu from packaging and ideally squeeze in a tofu press for 15 minutes until almost no liquid remains. The less liquid in the tofu, the better it can absorb the marinade.

200 g Tofu nature – I take the products of Taifun *advertising since brand mention

Alternatively, wrap tofu with paper towel or a clean kitchen towel and weigh down with a heavy object. Let stand for 15 minutes until the liquid is squeezed out as best it can.

Slice tofu and set aside.

For the marinade provide the tofu press or a bowl. Add in garlic, tamari, maple syrup, sesame oil, lime juice and Bird Eye Chili and stir once with a spoon. Add the tofu slices and toss once until the marinade has coated the tofu. Set aside and allow to marinate briefly. Like to marinate the night before and let it marinate in the refrigerator.

200 g Tofu nature – I take the products of Taifun *advertising since brand mention,

2 Garlic cloves,

30 ml Tamari,

15 ml maple syrup,

15 ml Sesame oil,

30 ml Lime juice,

1-2 Bird Eye Chili or any other chili of your choice

Heat pan, remove tofu slices from marinade and add to pan. Sear for 3-5 minutes on each side. Add remaining marinade and simmer until all is evaporated (see video):

optionally more oil for frying

FOR THE SANDWICH Cut open baguettes. Spread base with vegan mayo. Spread hot sauce on top, arrange tofu slices, cucumber strips, pickled carrots and garnish with cilantro greens. Spread hoisin sauce on top to taste

2 Piece large baguettes for 2 people,

30 g vegan mayo,

30 g spicy sauce,

1 Piece big cucumber,

15 g fresh coriander leaf

Cut baguettes in half and enjoy!

Hoisin sauce to taste,

Fresh chili slices to taste,

Fresh lime

Best enjoyed fresh or the same day.

Carrots can be kept in an airtight container for up to 2 weeks.

Hoisin sauce can be kept in an airtight container for up to 2 weeks.
Nährwertangaben
Serving:
1
Piece
Calories:
341
kcal
Carbohydrates:
24
g
Protein:
11
g
Fat:
22
g
Saturated Fat:
3
g
Sodium:
2304
mg
Potassium:
87
mg
Fiber:
2
g
Sugar:
16
g
Vitamin A:
436
IU
Vitamin C:
7
mg
Calcium:
133
mg
Iron:
2
mg